Give your wardrobe a boost with these crochet skirt patterns. From minis to maxis, you'll find skirts for all bodies!
We are featuring mini, midi and maxi crochet skirt patterns. They come in different sizes, lengths, and designs ideal for women of all ages and sizes. Because they come together fairly quickly, you can be wearing your new handmade crochet skirt in no time!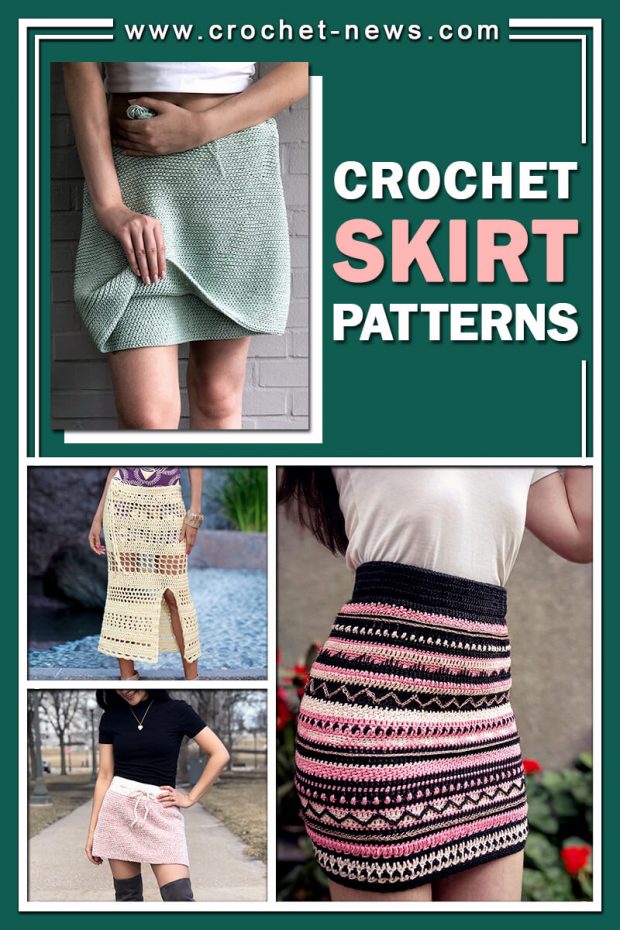 Pair these skirts with your favorite top and you are ready for anything – a party or an office meeting or a family dinner. There is a skirt here for every occasion!

1. Crochet Lola Skirt Pattern by Evelyn And Peter
This Crochet Lola Skirt Pattern is written in 3 sizes ranging from 1-6 years with instructions on making a larger or smaller size. with an elasticized waist, this skirt is very practical to put on and take off.

You can choose to work the skirt in one solid color or make a vertically striped skirt using 2 or more colors, or even self-striping yarn. It would look very pretty either way!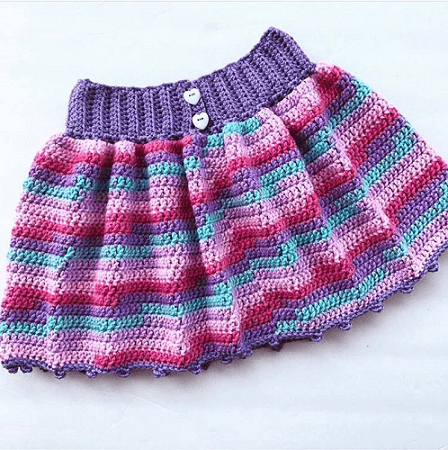 Get the Pattern by Evelyn And Peter here

2. Crochet Lace Skirt Pattern by Moara Crochet
This Crochet Lace Midi Skirt is filled with delicate and detailed textures and created from a variety of simple crochet stitches. This skirt may look complicated but it is simple to make, with step by step written photo instructions.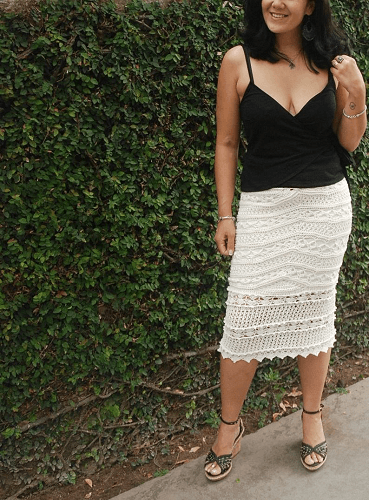 Get the Pattern by Moara Crochet here

3. Your Everyday Plaid Skirt Crochet Pattern by EClaire Makery
Warm and festive, this skirt will have you wishing for the Holidays. Your Everyday Plaid Skirt Free Crochet Skirt Pattern is ready for time outside in the cool, crisp air, or a day inside cuddled on your favorite chair.

This crochet skirt pattern is perfect for you or your daughter to make and use so often you'll forget that you're even wearing it! It works up easily for beginners and experts! Because this skirt is custom to your size, you will feel like you have a personal tailor.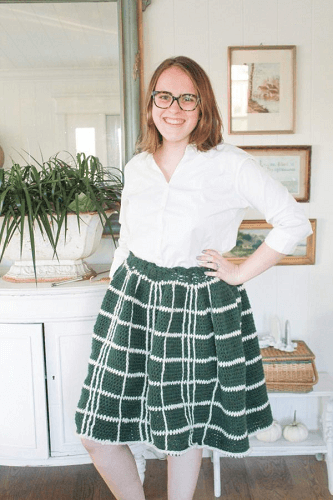 Get the Pattern here

4. Crochet Velvet Skirt Pattern by Knit Cro Addict
If you've ever wanted a beginner-friendly crochet skirt pattern, your day has come! This velvet beauty is so comfortable, you'll love wearing them. It's an easy pattern that can be made in one evening depending on your skill level and the length you want.
Get the Pattern here

5. Crochet Maxi Skirt Pattern by Krinichka
This gorgeous one-of-a-kind maxi skirt prominently features the pineapple stitch. The pattern includes sizes from small to 5 extra-large and uses crochet charts in several sections for a graphic way to see the pattern.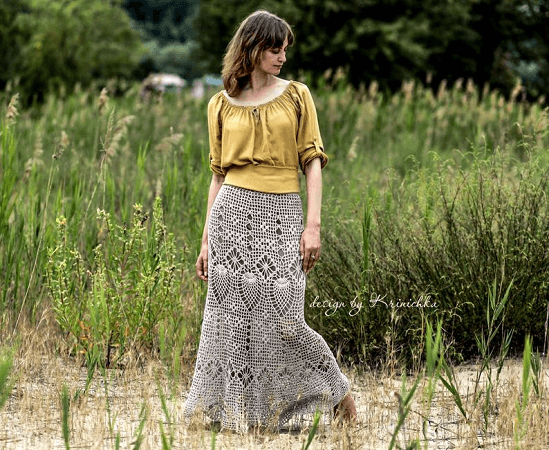 Get the Pattern by Krinichka here

6. Crochet Skirt Pattern by Dora Does
This is a relatively simple crochet pattern which shows off the texture of the beautiful herringbone stitch. The skirt is worked waist down from the ribbed waist band (where you may learn a new trick or two!) with some simple increases around the hips.

The repetitive rounds in the main body of the skirt are perfect for mindful crochet and stitchflixing!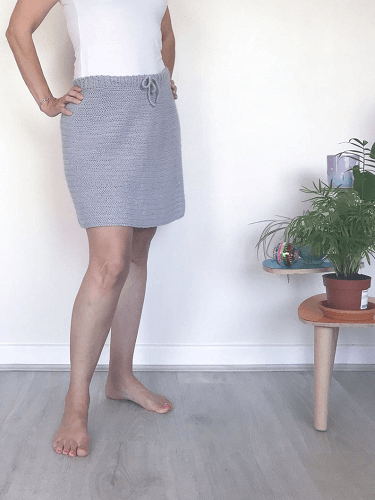 Get the Pattern by Dora Does here

7. Chasing Chevrons Crochet Skirt Pattern by A Crocheted Simplicity
This Chasing Chevrons Crochet Skirt is a very versatile skirt as it can be made in any color combo and made to be more dressy or more casual depending on the color, ribbons, appliques etc.

The lovely thing about this skirt is that it "flares up" as your child twirls. What little girl doesn't love that?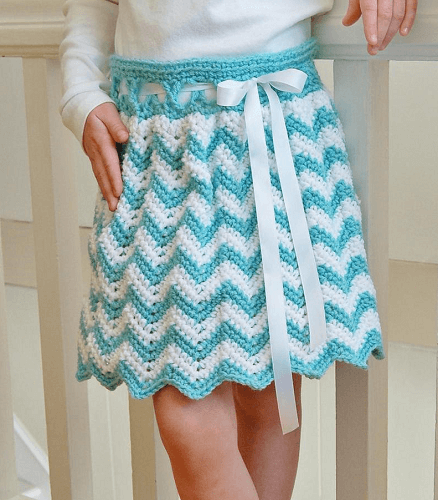 Get the Pattern by A Crocheted Simplicity here

8. Crochet A-Line Skirt Pattern by Crochet Cakes
Crochet A-Line skirts are a must in your wardrobe. So simple to make and so easy to style. This A-Line skirt is very simple to crochet, all you need to know is how to make hdc stitches and the suzzette stitch.
Get the Pattern here

9. Modern Melissa Skirt Crochet Pattern by Underground Crafter
This Modern Melissa Skirt has a great texture and the denser fabric of the Tunisian crochet. The vertical lines that it creates are very slimming, and the way the fabric drapes hugs your curves with a very little shaping.

The dense Tunisian crochet stitches make lining optional, or you can wear it over leggings, tights, or slip shorts. It makes a great first garment pattern for an adventurous beginner, but it's interesting enough to keep a more experienced crocheter interested.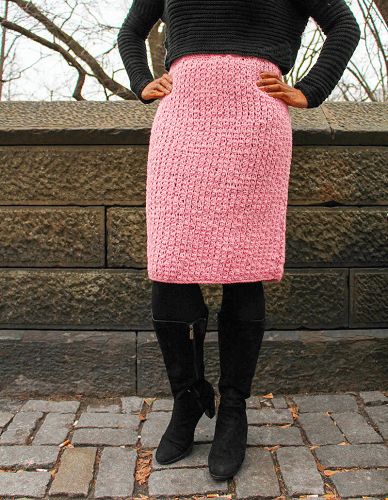 Get the Pattern here

10. Crochet Summer Mini Skirt Pattern by My Beautiful Stuff
This colorful crochet mini skirt beauty will make you the center of attention without having to say a word. A good combination of bright pieces and high-waist gives an exclusive look. Perfect to pair with a cardigan and solid color blouse.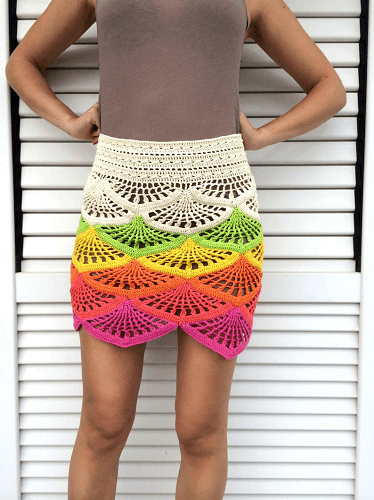 Get the Pattern by My Beautiful Stuff here

11. Reversible Crochet Skirt Pattern by Wilmade
Whether it's summer or winter, this Reversible Crochet Skirt has got you covered! Save time and money by making this simple skirt which can be worn two ways. Make one, get two!

This reversible skirt is very simple and easy to make. This skirt will save you both time and yarn as you only have to make one skirt for two different outfits!
Get the Pattern here

12. Beach Skirt Crochet Pattern by Concept Creative Store
Bohemian style is very trendy – you can count on this beautiful skirt with asymmetric hem to keep your look cool. It can be worn with slip skirt or without it (as a beach skirt) – both ways look great.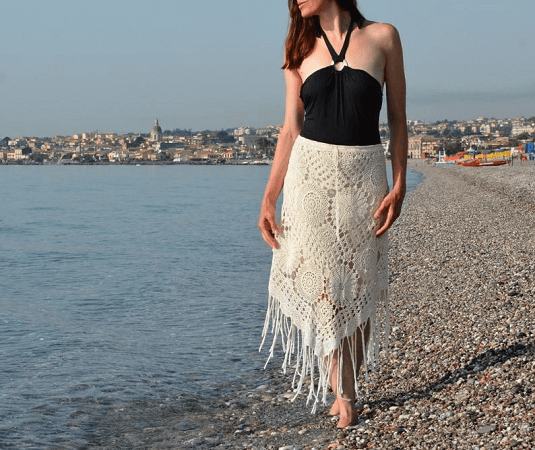 Get the Pattern by Concept Creative Store here

13. Crochet Caribbean Skirt Pattern by Red Heart
Here's a beautiful, crocheted skirt to wear over a bathing suit while strolling along the beach or over a tunic in the city. It definitely gives an elegant look giving you yet another reason to gran your hooks and yarn.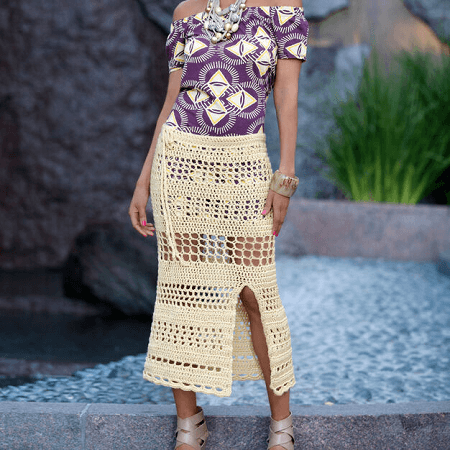 14. Sea Breeze Crochet Skirt Pattern by Drops Design
If you were to wear a crocheted skirt to your next yacht club get-together, this is what it might look like. Be sure to pack this gorgeous Sea Breeze Striped Skirt for your next vacation or trip to the beach!

This nautical skirt is made using superfine cotton and features a high waist and fun striped pattern that is universally flattering. Six size options are included in the pattern.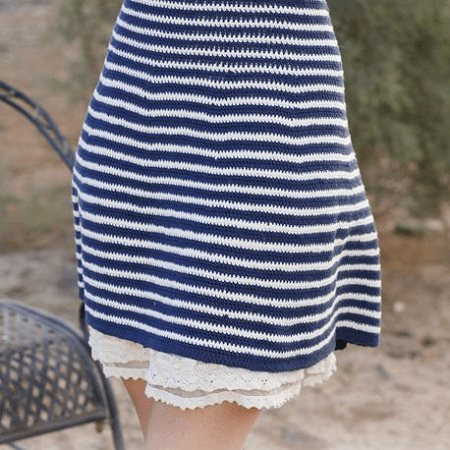 Get the Pattern here

15. Crochet Tribal Mini Skirt Pattern by The Magic Loop
You don't have to be an expert in making clothes to know how to take measurements for this crochet skirt. Using elastic band makes it really easy to adjust to all sizes, from toddler to large adult sizes.

This pattern shows you how to make a mini skirt but you can make it as long or as short as you want. The skirt is made in one piece, no sewing needed. Beginner friendly!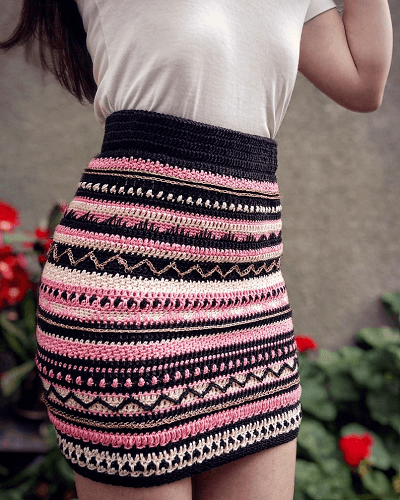 Get the Pattern by The Magic Loop here

16. Little Textures Baby Skirt Crochet Pattern by Two Brothers Blankets
This Little Textures Baby Skirt is a fun project is an adorable crochet baby skirt that is full of fun texture! This easy skirt with ruffles is great for baby to wear with your favorite onesie or can even be worn in photos and for dress up!

The skirt is worked from the top down with an optional straight or ruffled trim. There is also a drawstring option to get a better fit for baby in the waist.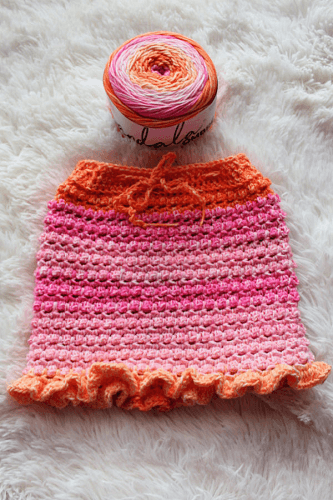 Get the Pattern here

17. Easy Ruffle Skirt Crochet Pattern by KT And The Squid
The pattern may look difficult but it is easy enough for an advanced beginner. The pattern is written for girl sizes XXS/2, XS/4, S/6, M/8-10, and L/12-14. Use one color or several colors for a fun look. Perfect for Fall or Winter with a pair of leggings!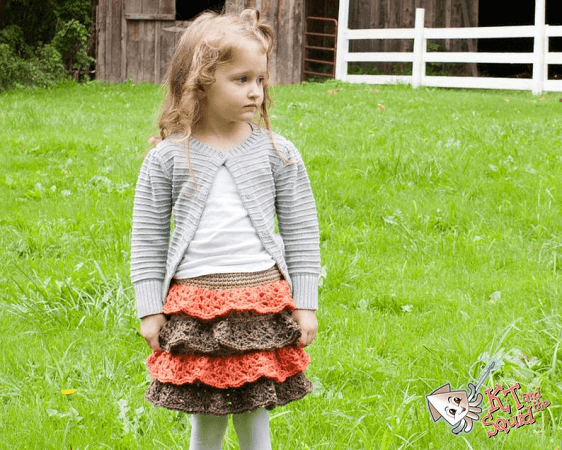 Get the Pattern by KT And The Squid here

18. Crochet Granny Square Skirt Pattern by Red Heart
Granny squares add a pop of pattern and color to this amazing crochet skirt! First, you'll practice double crochet to make full and half motifs that will be seamed together. Half double crochet stitches are then worked in the round, along the top edge to create the main body.

Simple decreases shape the hips and waist, while the waistband features single crochet ribbing through the back loop. It's a flattering style on many body types, so the pattern is offered in a range of sizes.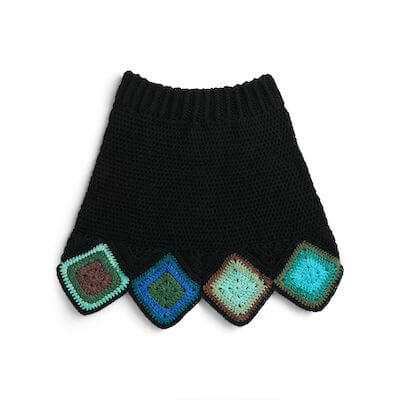 19. Easy Crochet Skater Mini Skirt Pattern by TCDDIY
This is for a cute crochet skater skirt pattern that's beginner friendly! It features the moss stitch and double crochets for the skirt making it light weight and a slip stitch band for ultimate stretch!

This will take you just a few hours to complete (if you make a size small), but this could easily be made into the cutest maxi skirt too!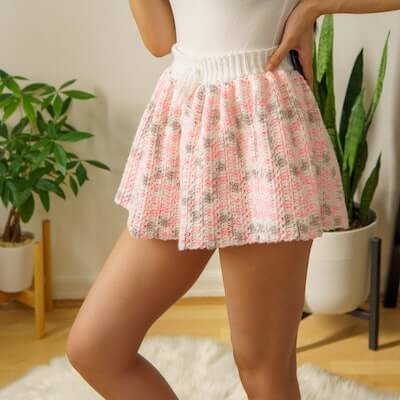 Get the Pattern by TCDDIY here

20. Crochet Mesh Skirt Pattern by Muto Crochet Designs
Mesh Skirt Coverups have been popular since the 60's. Teasing, feminine and edgy, It is great for a beach party or as coverup at the beach or a pool party for the ultimate boho vibe.

This pattern will provide you with specific instructions for making the cover-up in size XS – XXL (Extra Small – Extra Extra Large).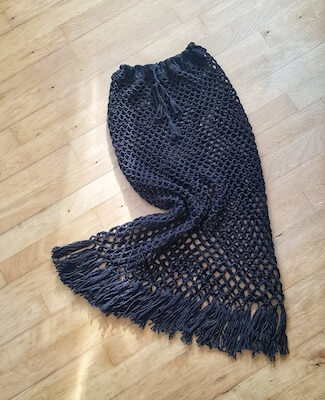 Get the Pattern by Muto Crochet Designs here

21. Looped In Love Crochet Skirt Pattern by Jessie At Home
Here is a fun skirt for all ages that flares between vertical sections of looped stitches. It's made from the top down, so it can be made to any length that suits your fancy. The longer the skirt, the more yarn it will take.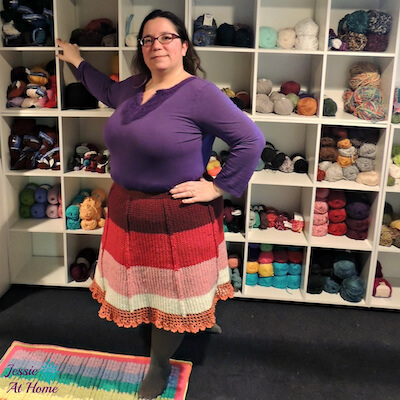 Get the Pattern here

22. Ruffled Crochet Skirt Pattern by Hooked On Homemade Happiness
Who doesn't love summer fashion? It's all about skirts, bright colors and having fun with what you wear! That's exactly what this Ruffled Crochet Skirt Pattern delivers!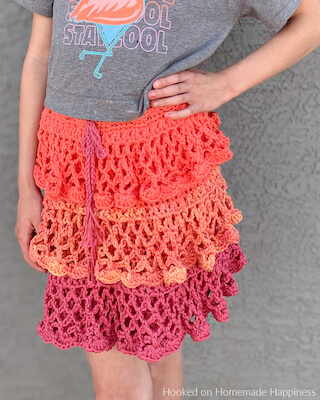 Get the Pattern here

23. Delphinium Summer Crochet Skirt Pattern by Sincerely Pam
This Delphinium Summer Skirt Crochet Pattern is a fun design written for kids size 2-12. The shell pattern is dense enough that it isn't see-through, and there is lots of texture thanks to every 3rd round being worked in the back loops.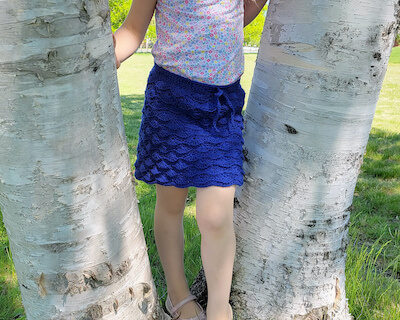 Get the Pattern here

24. Crochet Spiderweb Skirt Pattern by Josi Hannon Madera
This long, pretty skirt is form-fitting at the top, but it finishes in a dramatic flair of spider-web-inspired crochet lace.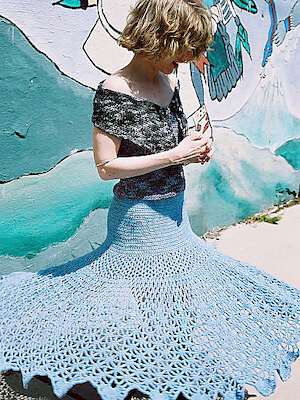 Get the Pattern here

25. Peekaboo Petal Skirt Crochet Pattern by Seams By Sky
Looking to crochet a timeless wardrobe staple, or something you can wear from spring though fall? With cotton/acrylic blended DK yarn and an F5/3.75mm hook, even beginners can make this sleek skirt in just about a week!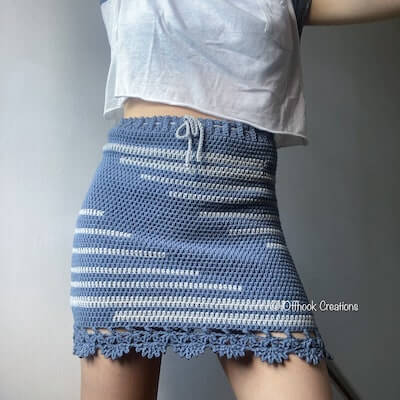 Get the Pattern by Seams By Sky here

26. Triangles Crochet Skirt Pattern by Yarnspirations
The fashionable flair of this crochet skirt comes by way of a colorful imitation patchwork design. You'll crochet in rounds from the bottom up, doing waterfall crochet, single crochet, double crochet, half double crochet, crochet in ends, and color change techniques.

The stunning design perfectly complements a solid color top for a summer look you'll want to flaunt all season long!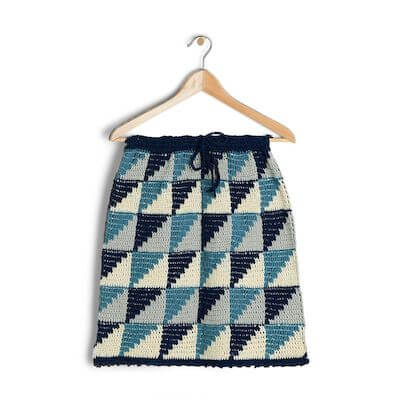 27. Tessa Skirt Crochet Pattern by Kickin Crochet
This Tessa Skirt Crochet Pattern features a variation on the granny with a circular puff stitch-centered square. This skirt is written for girls size 2 up to women's size 5X, and it's also super easy to modify for different sizes, The elastic waistband also ensures a good fit – no skirts falling down over here!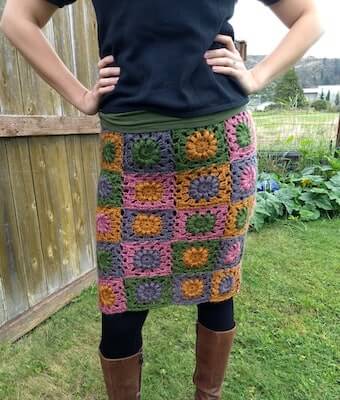 Get the Pattern by Kickin Crochet here

28. Star Stitch Crochet Midi Skirt Pattern by Little Conkers
This simple-to-construct crochet skirt is worked in a star stitch to give a subtle and elegant textured finish.

This simple but elegant, knee-length midi skirt is a great place to start if you've been doubtful about crocheting items of clothing beyond scarfs and hats!
Don't know the crochet star stitch? Learn it now.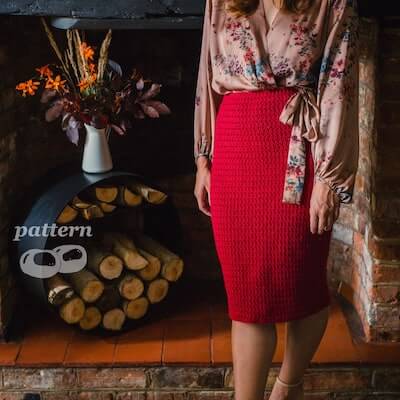 Get the Pattern by Little Conkers here

29. Eventide Maxi Crochet Skirt Pattern by We Crochet
There's nothing like a cool breeze in the hot summer. This lovely crochet skirt was inspired by the look of the evening wind blowing through waves of grass on the seashore.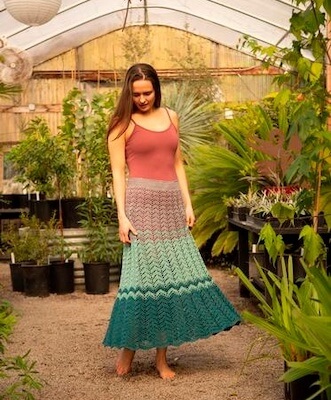 Get the Pattern here

30. Pleated Mini Skirt Crochet Pattern by My Hobby Is Crochet
This is an easy pattern for a cute pleated mini skirt for little girls with an elasticized waist, very practical to put on and take off. You can choose to work the skirt in one solid color, or make a vertical striped skirt using 2 or more colors, like pictured.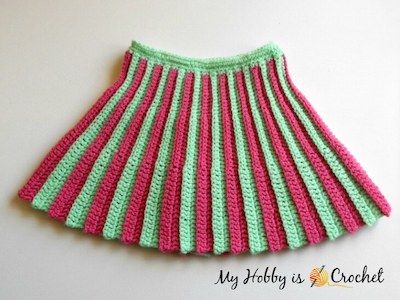 Get the Pattern here
Crochet Skirt Frequently Asked Questions
How do you crochet a skirt?
The techniques you'll need to make a crocheted skirt will vary depending on the pattern you're using and the style of skirt you're making. A classic pencil skirt, for example, may only require basic crochet stitches, whereas a tennis skirt may require more complicated pleating or ribbing.
The majority of patterns will use a series of increases to shape the body of the skirt as it progresses from the waist, followed by a broad hem to finish the bottom. Finally, an elastic band or an I-cord will be used to secure the waistline.
How do you crochet a flowy skirt?
Flowy skirts are created by adding a lot of increases around the circumference as you go. If you just crochet a round with the same number of stitches each time, you'll end up with a straight skirt. However, if you add staggered increases, you'll get a flowy skirt.
How much yarn do you need for a crochet skirt?
It totally depends on the pattern. The longer the skirt, the more yarn you'll need. However, unless you're making a mini skirt, you should expect to spend a lot of money on yarn.
What type of yarn is best for crochet skirts?
I think that the best results require wool yarn because it has such elasticity and holds its shape well—both important considerations for a skirt.
GIVE YOUR WARDROBE A TOTAL UPGRADE BY WHIPPING UP THESE FASCINATING CROCHET SKIRT PATTERNS!
These skirts are great for crocheting special gifts for the women and girls in your life. Once you're done making one, take a photo of it and share it on our Facebook Page. We always love seeing your works!

Let's face the fact that the crochet staples looking quite 1970's inspired. It's safe to say, there is kind of boho, hippie touch that makes these clothes look individual and very original. Explore our wardrobe of crochet clothing patterns and gorgeous garments including crochet shorts, crochet tops, crochet dresses, sweaters, cardigans, corset and a lot more!
There are so many ways to wear your crochet designs, so save yourself a trip to the mall and get hooking with your favorite crochet skirt patterns!