If you'd like to try crocheting a unique piece of clothing, a crochet skirt pattern would be a lovely choice. They come in different sizes, lengths, and designs ideal for women of all ages and sizes. Because they come together fairly quickly, you can be wearing your new handmade skirt in no time!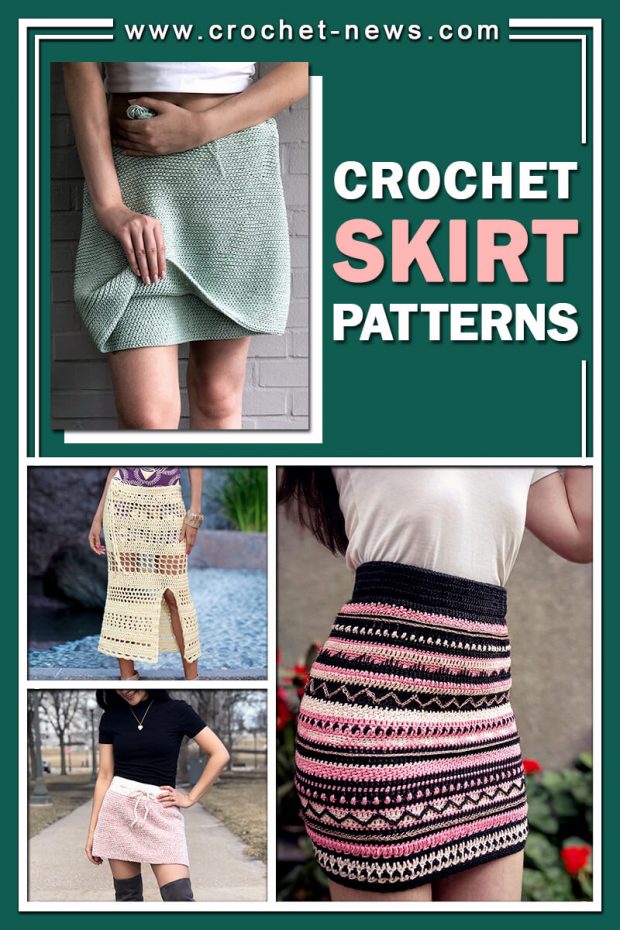 Pair these skirts with your favorite top and you are ready for anything – a party or an office meeting or a family dinner. There is a skirt here for every occasion!

1. Crochet Lola Skirt Pattern by Evelyn And Peter
This Crochet Lola Skirt Pattern is written in 3 sizes ranging from 1-6 years with instructions on making a larger or smaller size. with an elasticized waist, this skirt is very practical to put on and take off.

You can choose to work the skirt in one solid color or make a vertically striped skirt using 2 or more colors, or even self-striping yarn. It would look very pretty either way!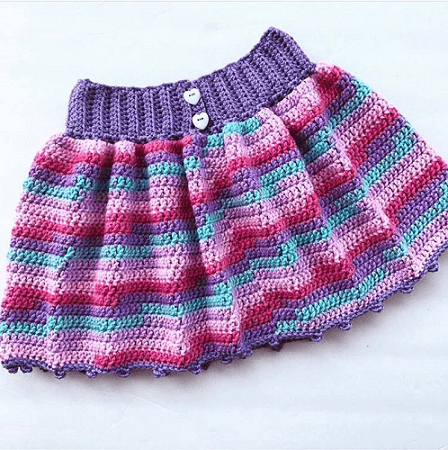 Get the Pattern by Evelyn And Peter here

2. Crochet Lace Skirt Pattern by Moara Crochet
This Crochet Lace Skirt is filled with delicate and detailed textures and created from a variety of simple crochet stitches. This skirt may look complicated but it is simple to make, with step by step written photo instructions.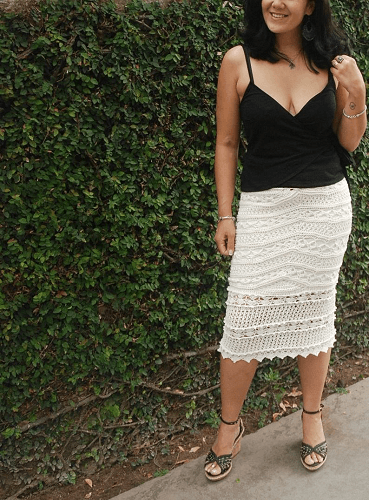 Get the Pattern by Moara Crochet here

3. Your Everyday Plaid Skirt Crochet Pattern by EClaire Makery
Warm and festive, this skirt will have you wishing for the Holidays. Your Everyday Plaid Skirt Free Crochet Skirt Pattern is ready for time outside in the cool, crisp air, or a day inside cuddled on your favorite chair.

This crochet skirt pattern is perfect for you or your daughter to make and use so often you'll forget that you're even wearing it! It works up easily for beginners and experts! Because this skirt is custom to your size, you will feel like you have a personal tailor.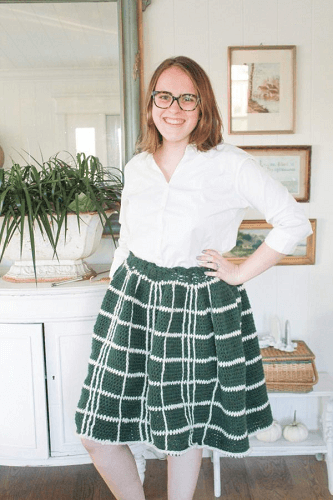 Get the Pattern here

4. Crochet Velvet Skirt Pattern by Knit Cro Addict
If you've ever wanted a beginner-friendly crochet skirt pattern, your day has come! This velvet beauty is so comfortable, you'll love wearing them. It's an easy pattern that can be made in one evening depending on your skill level and the length you want.
Get the Pattern here

5. Crochet Maxi Skirt Pattern by Krinichka
This gorgeous one-of-a-kind maxi skirt prominently features the pineapple stitch. The pattern includes sizes from small to 5 extra-large and uses crochet charts in several sections for a graphic way to see the pattern.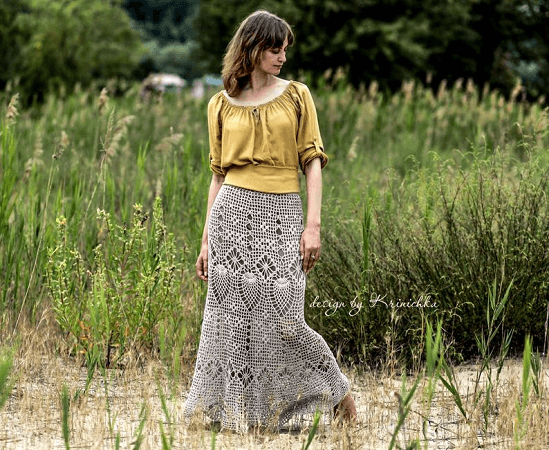 Get the Pattern by Krinichka here

6. Crochet Skirt Pattern by Dora Does
This is a relatively simple crochet pattern which shows off the texture of the beautiful herringbone stitch. The skirt is worked waist down from the ribbed waist band (where you may learn a new trick or two!) with some simple increases around the hips.

The repetitive rounds in the main body of the skirt are perfect for mindful crochet and stitchflixing!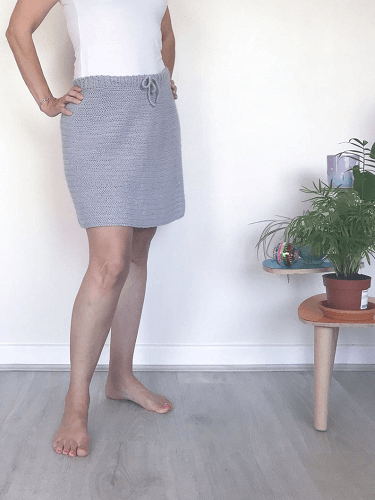 Get the Pattern by Dora Does here

7. Chasing Chevrons Crochet Skirt Pattern by A Crocheted Simplicity
This Chasing Chevrons Crochet Skirt is a very versatile skirt as it can be made in any color combo and made to be more dressy or more casual depending on the color, ribbons, appliques etc.

The lovely thing about this skirt is that it "flares up" as your child twirls. What little girl doesn't love that?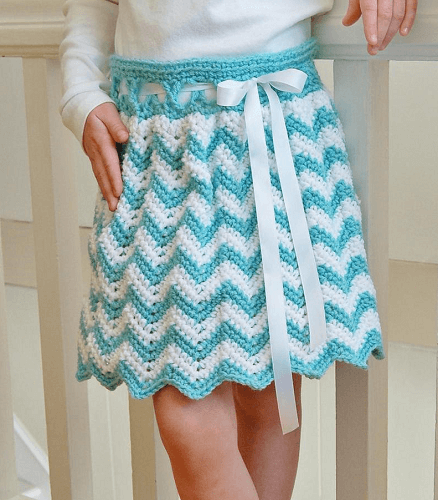 Get the Pattern by A Crocheted Simplicity here

8. Crochet A-Line Skirt Pattern by Crochet Cakes
Crochet A-Line skirts are a must in your wardrobe. So simple to make and so easy to style. This A-Line skirt is very simple to crochet, all you need to know is how to make hdc stitches and the suzzette stitch.
Get the Pattern here

9. Modern Melissa Skirt Crochet Pattern by Underground Crafter
This Modern Melissa Skirt has a great texture and the denser fabric of the Tunisian crochet. The vertical lines that it creates are very slimming, and the way the fabric drapes hugs your curves with a very little shaping.

The dense Tunisian crochet stitches make lining optional, or you can wear it over leggings, tights, or slip shorts. It makes a great first garment pattern for an adventurous beginner, but it's interesting enough to keep a more experienced crocheter interested.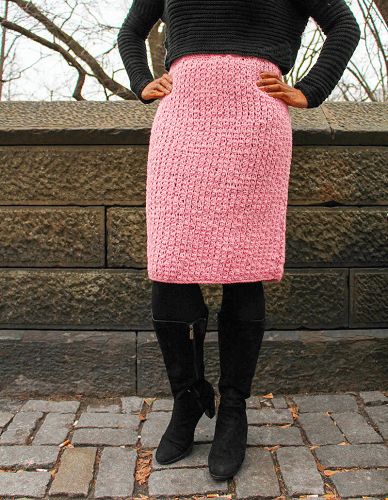 Get the Pattern here

10. Crochet Summer Mini Skirt Pattern by My Beautiful Stuff
This colorful crochet mini skirt beauty will make you the center of attention without having to say a word. A good combination of bright pieces and high-waist gives an exclusive look. Perfect to pair with a cardigan and solid color blouse.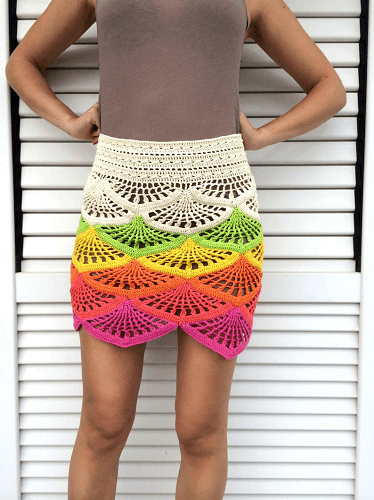 Get the Pattern by My Beautiful Stuff here

11. Reversible Crochet Skirt Pattern by Wilmade
Whether it's summer or winter, this Reversible Crochet Skirt has got you covered! Save time and money by making this simple skirt which can be worn two ways. Make one, get two!

This reversible skirt is very simple and easy to make. This skirt will save you both time and yarn as you only have to make one skirt for two different outfits!
Get the Pattern here

12. Beach Skirt Crochet Pattern by Concept Creative Store
Bohemian style is very trendy – you can count on this beautiful skirt with asymmetric hem to keep your look cool. It can be worn with slip skirt or without it (as a beach skirt) – both ways look great.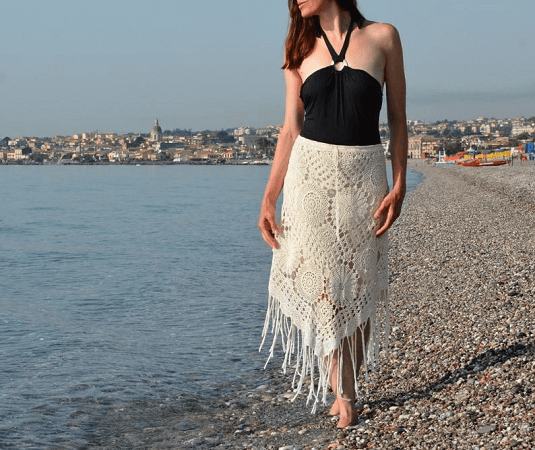 Get the Pattern by Concept Creative Store here

13. Crochet Caribbean Skirt Pattern by Red Heart
Here's a beautiful, crocheted skirt to wear over a bathing suit while strolling along the beach or over a tunic in the city. It definitely gives an elegant look giving you yet another reason to gran your hooks and yarn.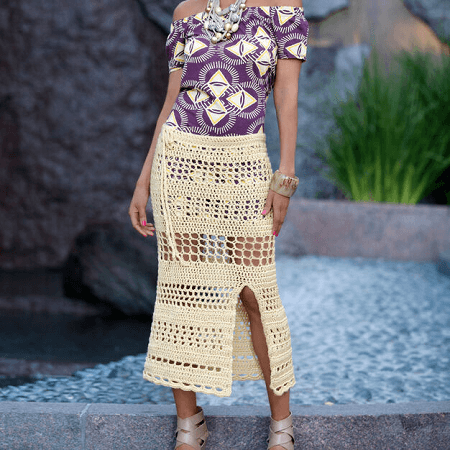 Get the Pattern here

14. Sea Breeze Crochet Skirt Pattern by Drops Design
If you were to wear a crocheted skirt to your next yacht club get-together, this is what it might look like. Be sure to pack this gorgeous Sea Breeze Striped Skirt for your next vacation or trip to the beach!

This nautical skirt is made using superfine cotton and features a high waist and fun striped pattern that is universally flattering. Six size options are included in the pattern.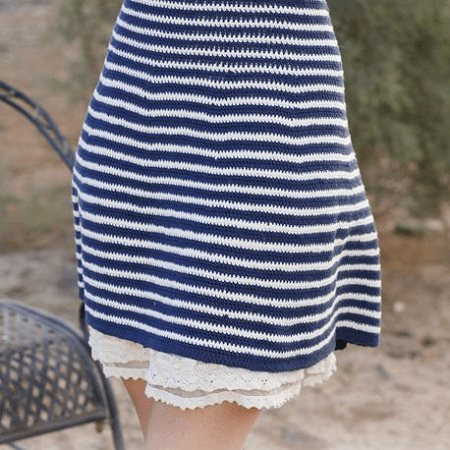 Get the Pattern here

15. Crochet Tribal Mini Skirt Pattern by The Magic Loop
You don't have to be an expert in making clothes to know how to take measurements for this crochet skirt. Using elastic band makes it really easy to adjust to all sizes, from toddler to large adult sizes.

This pattern shows you how to make a mini skirt but you can make it as long or as short as you want. The skirt is made in one piece, no sewing needed. Beginner friendly!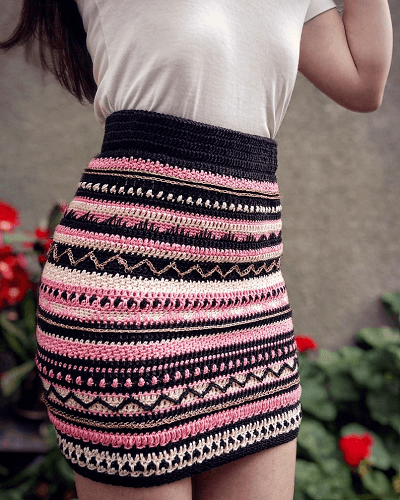 Get the Pattern by The Magic Loop here

16. Little Textures Baby Skirt Crochet Pattern by Two Brothers Blankets
This Little Textures Baby Skirt is a fun project is an adorable crochet baby skirt that is full of fun texture! This easy skirt with ruffles is great for baby to wear with your favorite onesie or can even be worn in photos and for dress up!

The skirt is worked from the top down with an optional straight or ruffled trim. There is also a drawstring option to get a better fit for baby in the waist.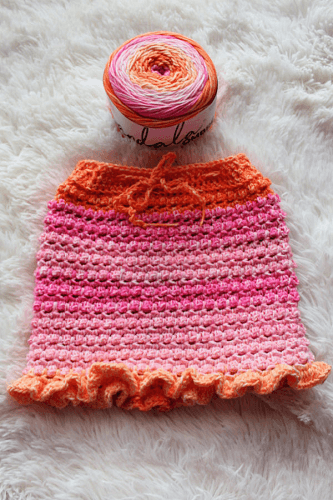 Get the Pattern here

17. Easy Ruffle Skirt Crochet Pattern by KT And The Squid
The pattern may look difficult but it is easy enough for an advanced beginner. The pattern is written for girl sizes XXS/2, XS/4, S/6, M/8-10, and L/12-14. Use one color or several colors for a fun look. Perfect for Fall or Winter with a pair of leggings!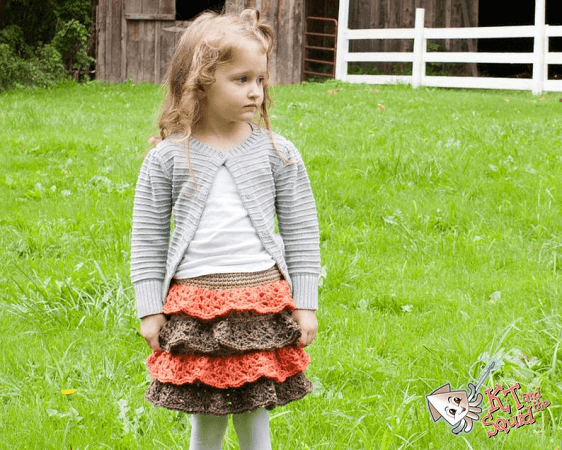 Get the Pattern by KT And The Squid here
Give your wardrobe a total upgrade by whipping up these fascinating crochet skirt patterns!
If you make skirts out of these patterns, would you mind sharing your finished works with us, please? Post it on our Facebook Page. We'd love to see your efforts!
And if you're eager to find a lot more crochet clothing patterns, we have a collection here where you can find fashion-forward garments that are all worthy addition to your wardrobe. Dresses, tops, you name it!
We hope this collection of crochet skirt patterns comes in handy, and now that the season of Summer is almost knocking, get started and upgrade your wardrobe!