Crocheters, you'll be in doggy heaven with these gorgeous crochet dog patterns that include amigurumi dogs, blankets, outfits, and more!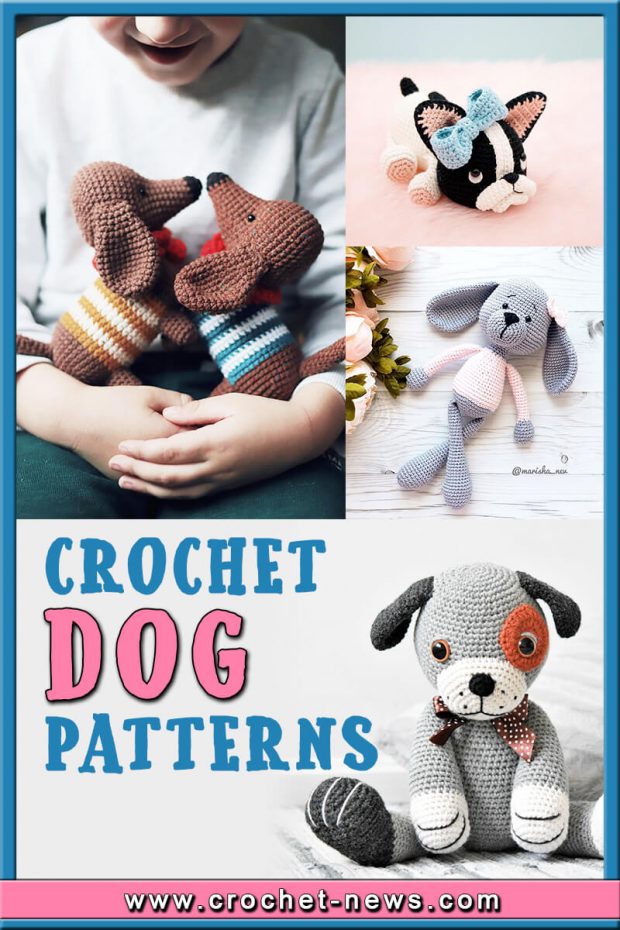 Crocheted dogs can be your kid's best toy to snuggle and play with. There is a little bit of everything listed here. From plushies to hats to blankets!
Now you can make your own Crochet Dogs with this super adorable collection of ideas.

1. Cuddle-Sized Puppy Dog Amigurumi Pattern by Storyland Amis
With a size of 8 in. (20.5 cm.) tall, Chet, The Cuddle-Sized Puppy Dog is sure to be a lovely cuddle buddy for anyone.
Chet is like any other puppy in that he loves to frolic and play! But when he gets tired from all his playing after a long day, he's ready to settle down and snuggle with you!
Made with a worsted weight yarn, Chet is sure to be incredibly soft and cuddly – a great choice for a child of any age and would make a perfect baby shower gift.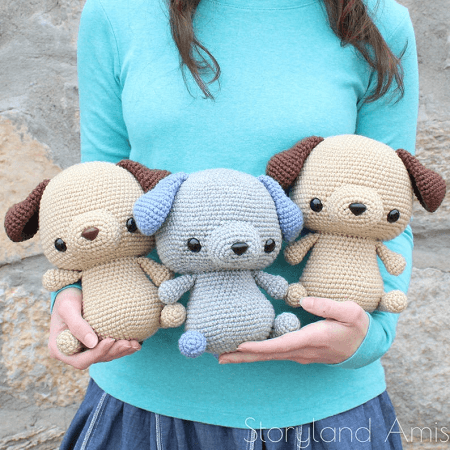 Get the Pattern by Storyland Amis here

2. Crochet Dachshund Dog Pattern by Sweet Patterns Lab
Cute and loveable, with a long sleek body and floppy ears, this crochet dachshund dog is just waiting to snuggle!
It measures 15cm – perfect for being held or sitting in your room. Its size may vary depending on the size of the hook and yarn you use.
Get the Pattern by Sweet Patterns Lab here

3. Belle, The Boston Terrier Puppy Amigurumi Pattern by The Little Hook Crochet
Belle, the Boston Terrier puppy is not a morning puppy but once the day gets going, she will be sure to bring a smile to your face as she messes up your yarn stash.
The pattern is absolutely perfect, Easy to follow, with a lot of markers and photos explaining even the harder places to sew.
Are you the proud owner of a Boston Terrier? If so, this lovely Boston Terrier Puppy Crochet Pattern is definitely for you!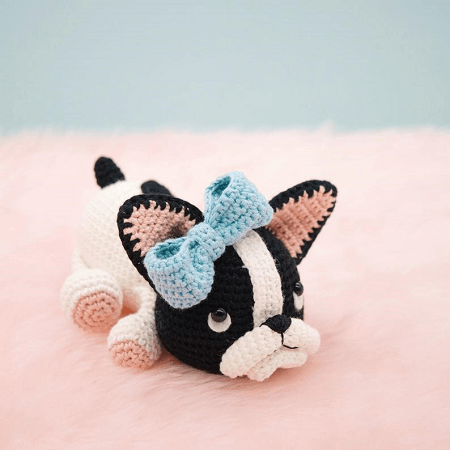 Get the Pattern by The Little Hook Crochet here

4. Crochet Puppy Hat Pattern by Repeat Crafter Me
Kids will go crazy over this Crochet Puppy Dog Hat. Whether or not you own a dog, this free crochet hat pattern is definitely a must-do.
The pattern includes instructions for making multiple hat sizes, so you can make one for your newborn baby, for a toddler, and even for yourself!
The earflaps will keep you warm, and brown buttons for the eyes add a nice finishing touch.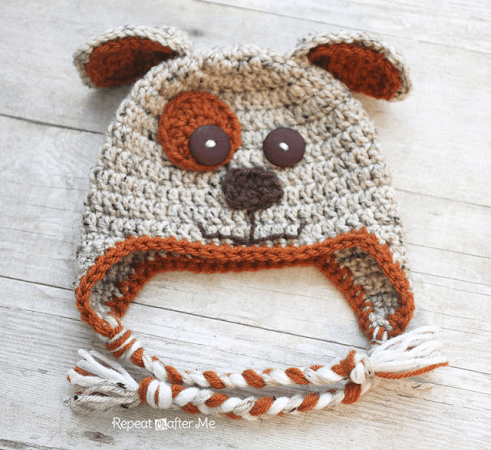 Get the Pattern here

5. Hot Dog Free Crochet Pattern by Stringy Ding Ding
Crochet a hilarious "hot dog" with this free crochet pattern!
With the dog's red body and with ketchup and mustard over him, this amigurumi toy does look like our favorite hot dog in a bun. Well you can't eat this hot dog, but you can crochet it for your four-legged friend!
Try out this adorable hot dog – perfect to make for the summer time!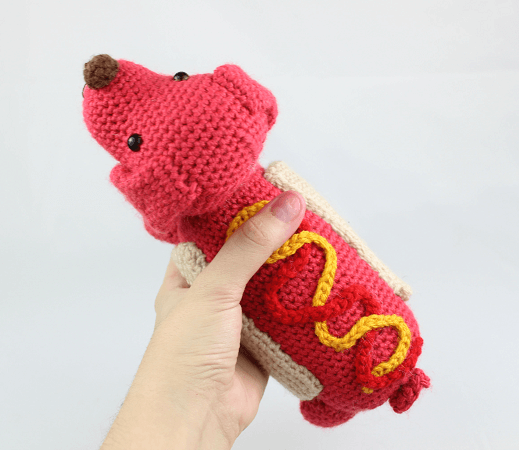 Get the Pattern here

6. Scrappy, The Happy Puppy Amigurumi Pattern by One And Two Company
Scrappy, the Happy Puppy Amigurumi is the perfect friend for your child, sweet and charming, you can customize it as you like.
He would be a fantastic gift for a nursery or even do it for yourself to keep. Whatever colors you choose to use, you will surely have fun making him!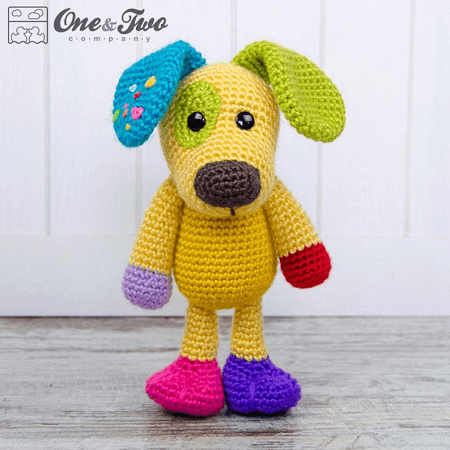 Get the Pattern by One And Two Company here

7. Crochet Dog Applique Pattern by Fancy Infancy Crochet
This darling dog applique can be used for a wide variety of craft projects including card making, scrapbooking, craft embellishments, and sewing accessories. It can be sewn onto anything you desire!
This applique is made of fine weight cotton and acrylic blend yarn but you can use this pattern to make larger or smaller applique by using finer or bulkier yarn.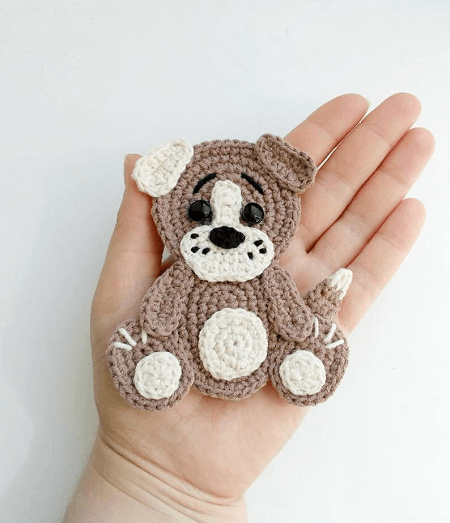 Get the Pattern by Fancy Infancy Crochet here

8. Dog Loaf Crochet Pattern by Knot Too Shabby Crochet
This Dog Loaf Crochet Pattern includes Corgi Loaf, Pug Loaf, Rottweiler Loaf, Frenchie Loaf, Husky Loaf, Shepherd Loaf, and many more.
It consists of 6 face shapes, 3 ear shapes, an optional tail, and endless color combinations!
And by changing up the yarn color, and a few changes here and there, you can loaf-mode any creature!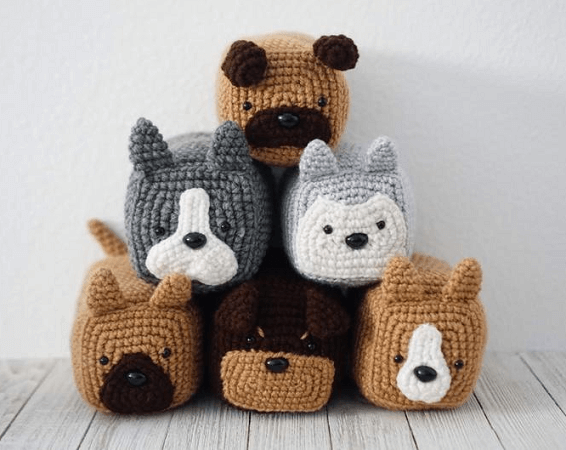 Get the Pattern by Knot Too Shabby Crochet here

9. Dash, The Dog Crochet Pattern by Yarn Society
Dash The Dog Crochet Pattern is the perfect amigurumi pattern for puppy lovers.
He is crocheted in worsted weight yarn is approximately 5 inches tall.
Crochet this adorable amigurumi puppy with its cute little eye patch so he can play, eat and snuggle with you!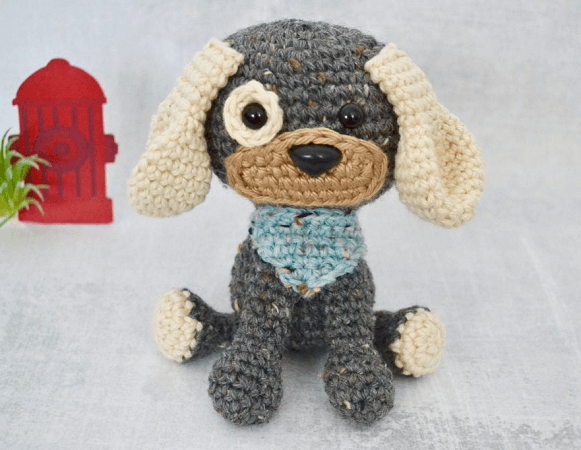 Get the Pattern here

10. Adorable Crochet Dog Pattern by Michele Wilcox
Designed by Michele Wilcox, the adorable puppy pictured below is crocheted using a specialized yarn, is tiny, and easy to take along with you. If he gets dirty, he is also washable!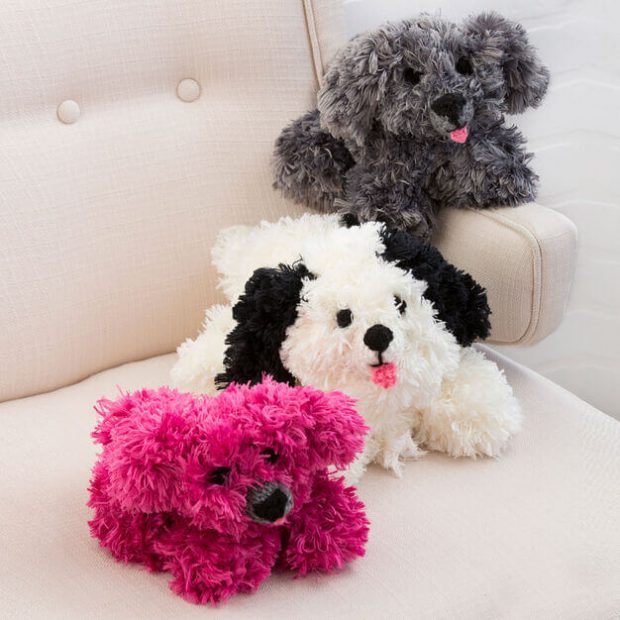 Great for gifts for all ages and all genders! He works wonderfully for birthdays or to wish someone to get well. You could make one up in a bright color to keep a loved one company in the hospital, or in their room at a nursing home. His small size makes him very versatile.
Since he is small, soft and has crocheted eyes and nose, he also makes a great gift for a baby shower or a small child.
The eyes and nose are crocheted making this little guy great for small children.

About the Yarn
This crochet dog pattern is worked using Red Heart Boutique Fur, which comes in 8 colors.
It can be a bit difficult to find, but online is probably your best bet. I was able to find it a few places online, except for the Red Heart store itself.
Perhaps there are similar yarns to this one in other brands.
This pattern works up fast and easy with this yarn, which is surprisingly easy to use and very forgiving. Also, it doesn't shed!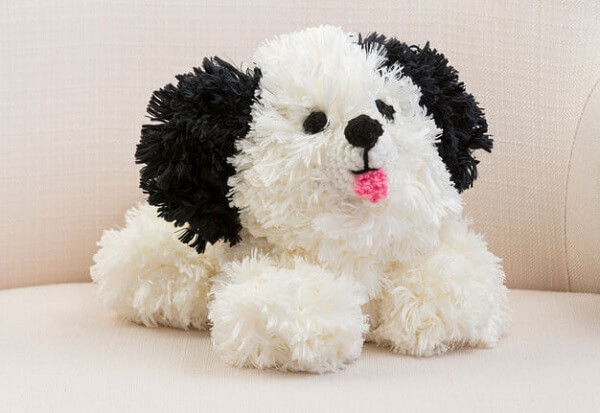 About the Crochet Dog Pattern
This pattern is a free instant download. It doesn't take a lot of materials and is quick and easy to work up. It uses only basic stitches and just a little bit of sewing to piece the puppy together. Once you secure some fur yarn, you have the bulk of your materials already, with just a little bit of worsted weight yarn for piecing together and making the eyes, nose, and tongue.
Skill Level
Easy/Beginner
Gauge
You won't need to worry about gauge with this project.
Materials Needed
4 balls of fun yarn–if making a single color dog, you will need 4 in one color; if making a two-color dog, you will need 3 of one and 1 of the other color
Worsted weight yarn–black, white and light pink (small amounts only)
Crochet Hooks–US Q (16 mm) and US G-6 (4 mm)
Stitch Marker
Yarn needle
Fiberfill stuffing
Finished Size
— 13″ long
The pattern is written in row by row instructions
Stitches Used
Chain Stitch – learn the chain stitch
Single Crochet – Tutorial for single crochet
sc2tog (single crochet two stitches together) – Video tutorial to learn this stitch
Sewing
How to Work sc2tog
To work the special stitch whenever you see "sc2tog"–
(in the next stitch, insert hook, yarn over, pull up loop) two times, then yarn over again, bring hook through all 3 loops that are now on your hook.
This is a great beginner pattern to practice your skills and finish with an adorable puppy for yourself or to give as a gift.
Stock up on some fur yarn and make up several of these little guys to have on hand for gifts. There's no way he won't bring a smile to anyone's face!

11. Free Crochet Poodle Pattern by Lucy Kate Crochet
What could be cuter than your very own Crochet Poodle Puppy?
An adorable amigurumi poodle puppy with her beautiful curly hair will light up the room wherever you take her.
If you think you've got what it takes to keep this poodle in the style to which she is accustomed then she'd love to come and live with you!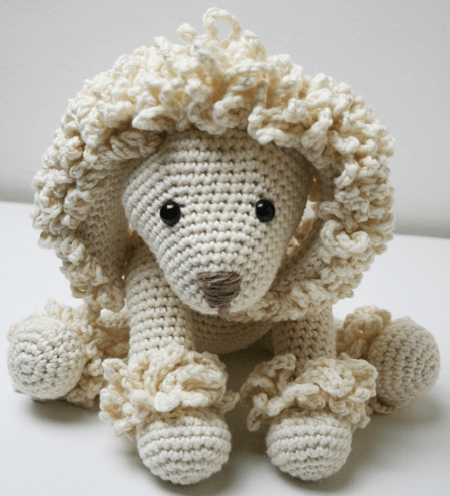 Get the Pattern here

12. Crochet Puppy Blanket Pattern by Owl B Hooked
This filet crochet baby blanket features a subtle, peek-a-boo puppy design with no need for several color changes or ends to weave in. Or add all the color your heart desires!
Simple, modern and unique, it makes for a special baby birthday gift. The size allows it to be used as a security or snuggle blanket through toddlerhood as well!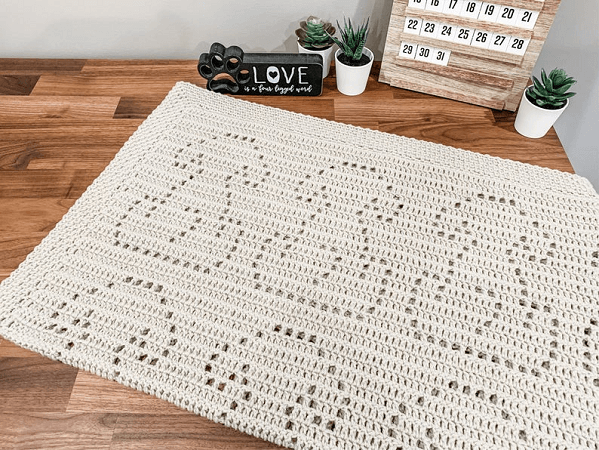 Get the Pattern by Owl B Hooked here

13. Dotty The Dog Crochet Pattern by Maschefuer Masche
Meet Dotty, the Dalmatian dog. He likes to play and chew on his bones. He would love to sit on your bed and desk as well!
You can use any type of yarn with appropriately sized hooks to create different sized/colored/textured Dalmatians with this pattern.
The best part about an amigurumi is that each and every one is unique and different. So, create your very own Dotty to keep you company!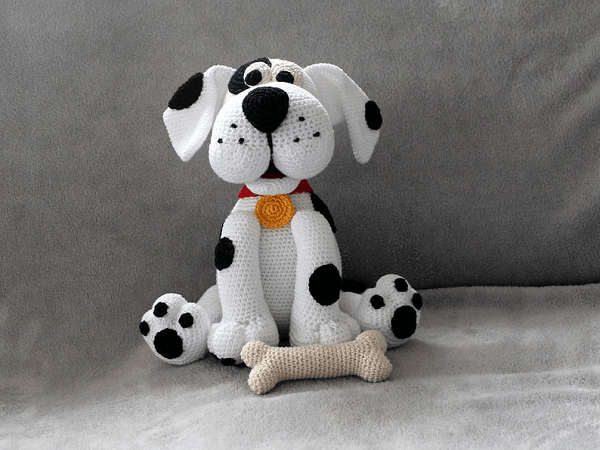 Get the Pattern by Maschefuer Masche here

14. Dog Ragdoll Crochet Amigurumi Pattern by Ala Sascha
This dog ragdoll is a wonderful toy and sleeping buddy! Even though the body is flat like a lovey, this puppy dog will leave much more room for imagination and be a best friend to toddlers and older children too.
Its finished measurements are approximately 32cm/12.5inch high from head to toe and 17cm/6.5inch wide.
This little doggy is a wonderful toy and cuddle buddy to both little boys and girls!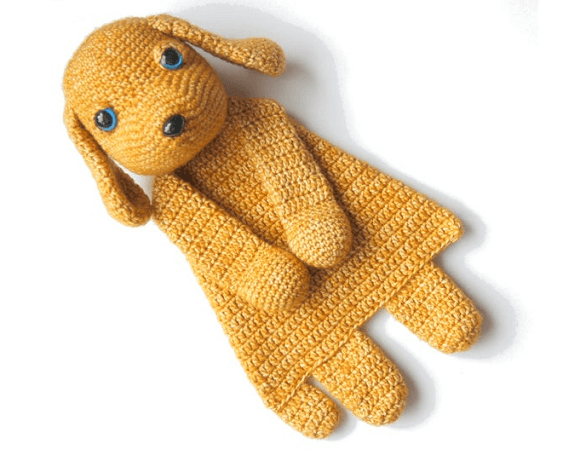 Get the Pattern by Ala Sascha here

15. Crochet Puppy Dogs Pattern by Jen Hayes Creations
Talk about cute! This Crochet Puppy Dogs Pattern is a versatile pattern that can be used to create a broad range of dog styles from short to long-haired varieties.
Begin by making the base of the dog (without fur) which alone is a beautiful dog and then, if desired, add additional yarn loops to personalize the look of your dog even more.
And don't forget the collar! There's a pattern included for this too!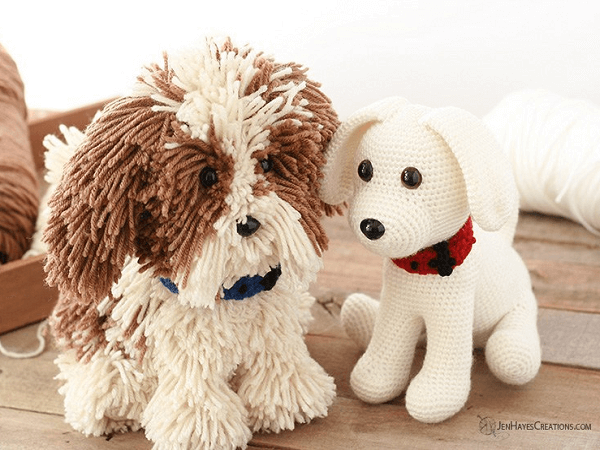 Get the Pattern here

16. Cube Puppy Dog Amigurumi Pattern by Crafty Bunny Bun
If you are looking for an instant mood lifter, you might want to make this Cube Puppy Dog!
With this adorable and very easy amigurumi pattern you will create cute little dogs that you can stack one on another!
These puppies will be a hit with anyone who likes dog softies. They can be made in quantity, decorated in various ways, and will be a great addition to your stuffed toys!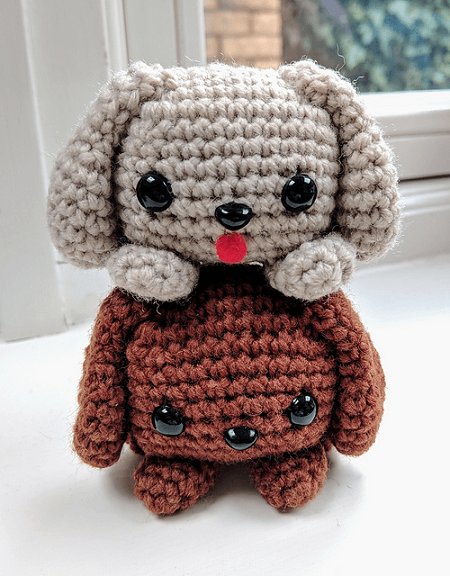 Get the Pattern here

17. Pillow Dog Crochet Pattern by Toys By Hvatik
This Pillow Dog Crochet Pattern will help you to make a very soft and cute pillow that is a great gift for children, adults, and for your bedroom, nursery, living room!
The finished size of the sample is 30×30, but you may have a little less or more. It all depends on the yarn and hook size you decide to use.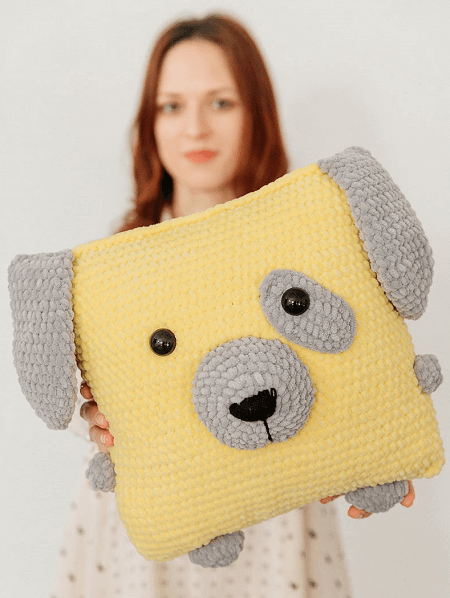 Get the Pattern by Toys By Hvatik here

18. Amigurumi Sweet Dog Pattern by Amigurum
This amigurumi sweet dog would be a perfect gift for baby showers, christenings, birthdays, and holidays.
The height of finished amigurumi dog is about 25 cm (9.8″). She has no hard parts so she is easy to care for and safe to play with.
This amigurumi dog is a perfect playmate for children of all ages. Its soft and cuddly!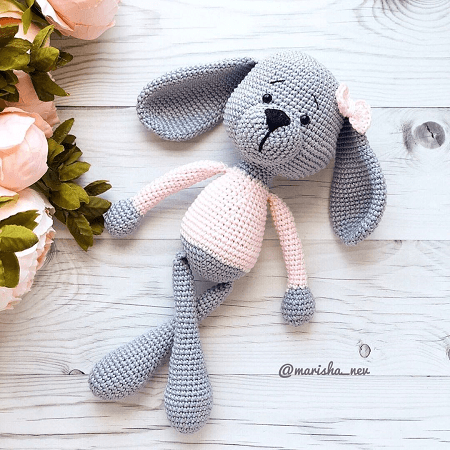 Get the Pattern here

19. Dog And Paw Potholders Crochet Pattern by Little Owls Hut
Why not decorate your kitchen with these adorable dog and paw potholders? These potholders are exactly what you're looking for to make for your doggie loving family and friends.
The dog potholder finished size is approximately 16 x 19 cm (6.3 x 7.5 inches) while the paw measures 16.5 x 17 cm (6.5 x 6.7 inches).
When not in use, these cute potholders can also be made as wall decor or a small decorative pillow if you make 2, sew together and stuff.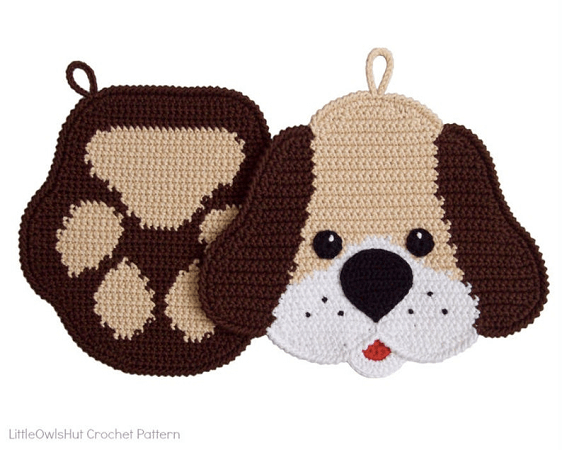 Get the Pattern by Little Owls Hut here

20. Amigurumi Dogs Crochet Pattern by All About Ami
Crochet these exquisite and adorable amigurumi dogs!
The yarn is fuzzed up using a dog slicker brush to give an almost felted look, and the color is added with Sharpie markers!
Their brushed fur and color give them a realistic appearance, and two different ear and snout options are given so that you can personalize your own dogs!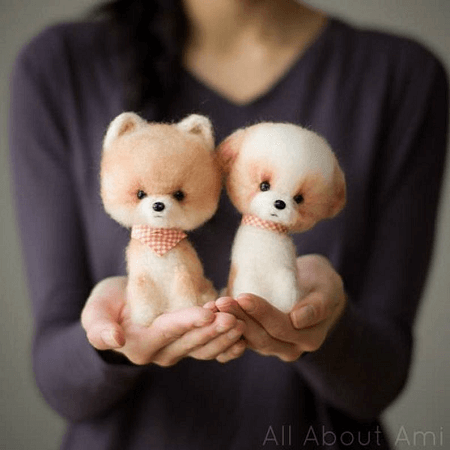 Get the Patternn by All About Ami here

21. Amigurumi Schnauzer Dog Free Crochet Pattern by Projectarian
Meet Winchesterton the Third. He's a Schnauzer dog.
The first part of the pattern will teach you how to make the dog's body from start to finish, without any fur. The second part will be a tutorial on how to make and attach your very own handmade doggy fur, so keep an eye out for that!
This Amigurumi Schanauzer dog is a great gift for anyone who is a fan of the old man looking pup!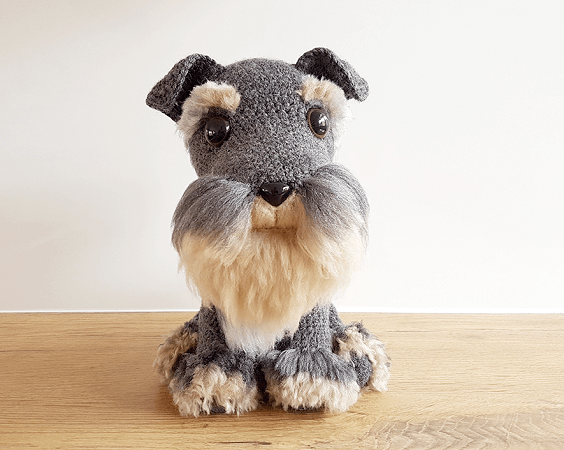 Get the Pattern here

22. Puppy Keychain Amigurumi Pattern by Yarns Truly
It's back to school time again and this puppy keychain amigurumi can be done in under an hour (or even less if you're a fast crocheter).
A little extra detail for a child's backpack or a keychain for your teen, and why not? even yourself! This is the perfect gift for dog lovers of all ages.
Put it on your keys, purse, backpack, or wherever you like. You may not be able to take your dog everywhere but this is the next best thing!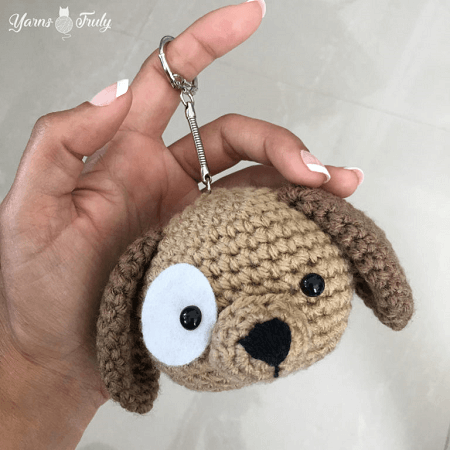 Get the Pattern here

23. Bulky And Quick Dog Blanket Crochet Pattern by MJs Off The Hook
Who can resist a cuddly cute dog blanket?
Designed as a gorgeous hooded fringe throw – wrap yourself in the warmest puppy dog hug!
You will get all warm and fuzzy just looking at these little cuties! The best part is this blanket folds into a little pillow to display on your couch or bed.
For best results use the recommended yarn in these adorable colors!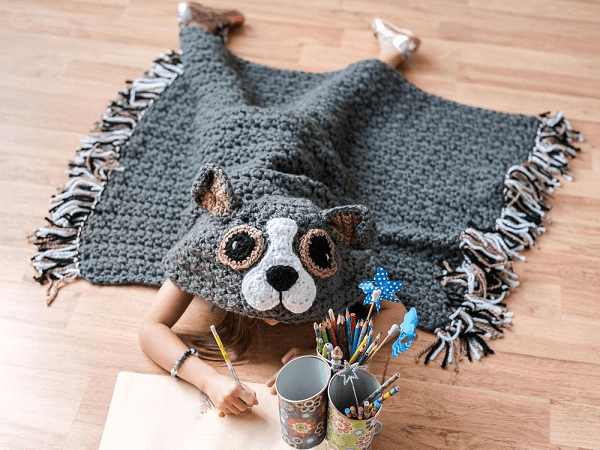 Get the Pattern by MJs Off The Hook here

24. Basset Hound Puppy Amigurumi Pattern by Lisa Jestes Designs
Who can resist those big and tender puppy eyes?! This sweet basset hound is begging you to feed him lots of treats and love.
The finished size of the puppy is about 10 inches tall x 8 inches wide. This size is obtained using a 3.75mm crochet hook.
This cute little basset hound pup is oh-so-cute and perfect gift for a little one coming into your life.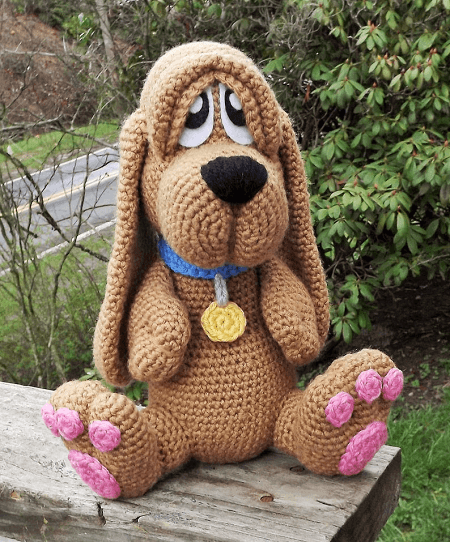 Get the Pattern by Lisa Jestes Designs here

25. Newborn Puppy Hat And Diaper Cover Crochet Pattern by Handmade This And That
This adorable set is perfect for your next photography session!
The set comes with patterns for the hat, diaper cover, and amigurumi bone. It is crocheted with worsted weight yarn so it is extra comfortable for delicate baby skin.
Make this gorgeous outfit for a newborn. It is very gender neutral and suitable for boys or girls. It will be the best baby shower gift for all the moms-to-be!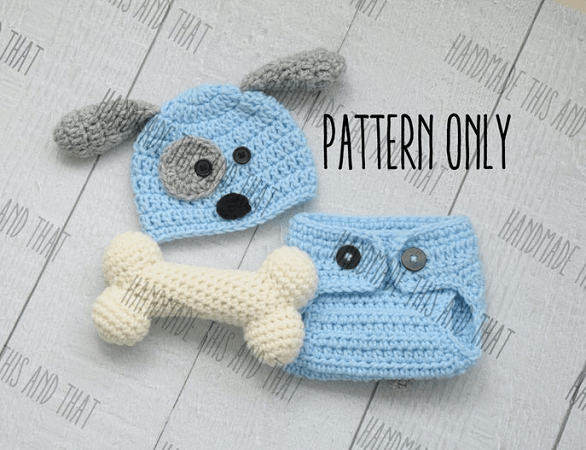 Get the Pattern by Handmade This And That here

26. Fluffy Dog Amigurumi Pattern by Ami Amour
Here's a Dog Amigurumi Pattern, but with a twist! Use Brush Crochet Technique to create a very fluffy dog!
All you need is a Pet Slicker Brush (the kind that you use to brush out your cat or dog) and you'll be able to fluff up your amigurumi to create an adorable and realistic furry texture.
This is a free crochet pattern and includes easy to follow instructions as well as a video tutorial to show you how to go about brushing your amigurumi.
Soon you'll have your very own fluffy dog to carry around everywhere!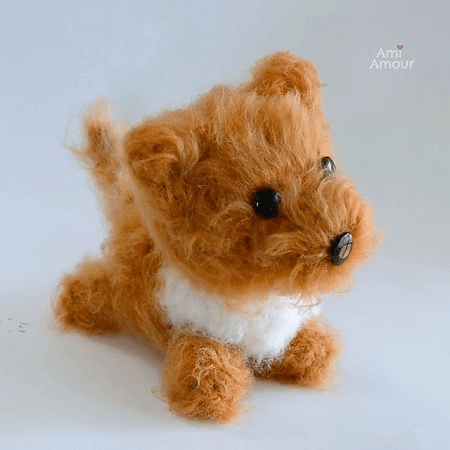 Get the Pattern here

27. Balloon Dog Crochet Pattern by Vliegende Hollander
Now you can make your very own crochet balloon dog!
This one won't inflate and let you down during parties or other festive activities, that's for sure! This is also perfect for balloon animal enthusiasts or anyone who loves a whimsical take on a plush dog!
When made with the described yarn and hook size, this dog will become about 8″/20cm tall.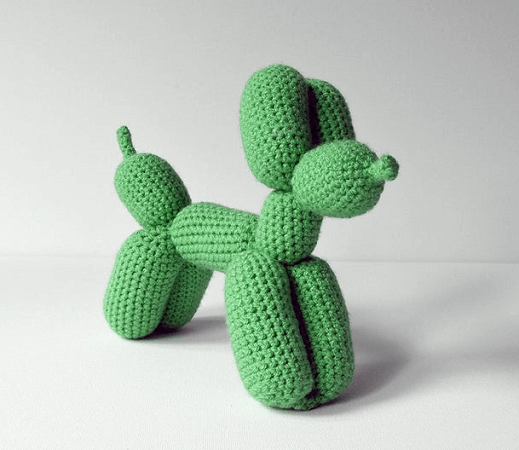 Get the Pattern by Vliegende Hollander here

28. Amigurumi Dog Cupcake Pattern by Amigurumi Today
Create a super cute no-calorie dog cupcake with this delicious amigurumi pattern and simple decorating tips!
This Amigurumi Dog Cupcake Pattern doesn't take too much yarn. Get any sweet colors of yarn you have, and you'll end up with a kawaii appetizing toy!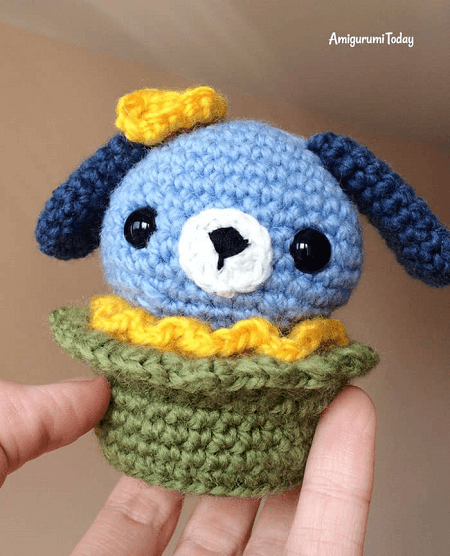 Get the Pattern here

29. German Shepherd Dog Crochet Pattern by Amber Craft Store
This German Shepherd has the coloring and attributes of a realistic Shepherd. He measures 40cm tall when sitting.
The pattern is easy to follow but requires a lot of work. While the technique is advanced, the step by step instructions makes it super easy to figure out.
Make a bunch for all your Shepherd lovers in your life and they will think you're paw-some!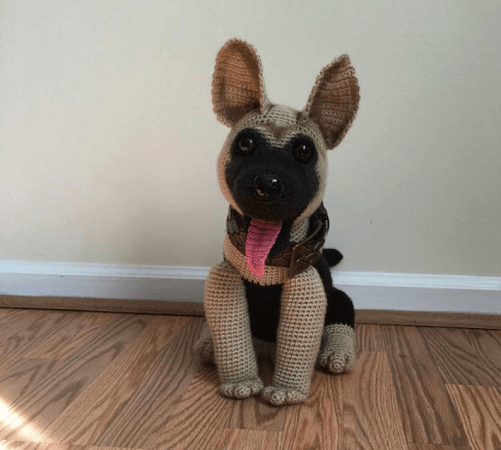 Get the Pattern by Amber Craft Store here

30. Crochet Beagle Dog Pattern by Liefen Uniek
A true friend and a cheerful spirit, this crochet beagle dog will be a wonderful gift for someone who's as special as he is!
This realistic canine creation yips to life with imagination, hook, and yarn. It will bring delight to any Beagle lover.
His finished measurement will be about 20 cm with hook 2.0 mm, depending on the thickness of the yarn that you use.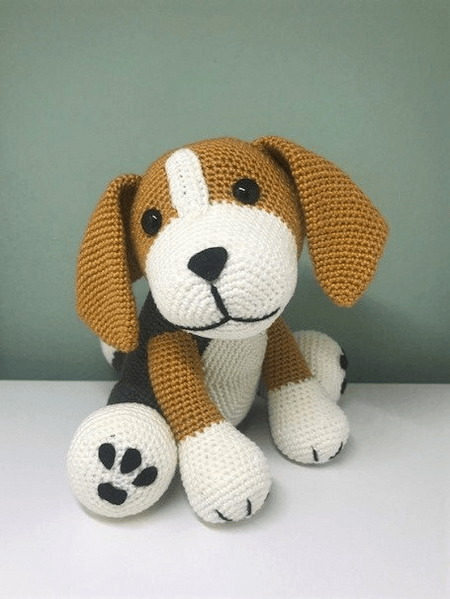 Get the Pattern by Liefen Uniek here

31. Joe, The Puppy Amigurumi Pattern by One And Two Company
Meet Joe, The Puppy Amigurumi. He is the most faithful companion, an inseparable friend forever!
He is very affectionate and is always licking everyone. It's a very easy and fast pattern to make and looks great with any type of yarn.
Have you already thought about how you are going to make yours?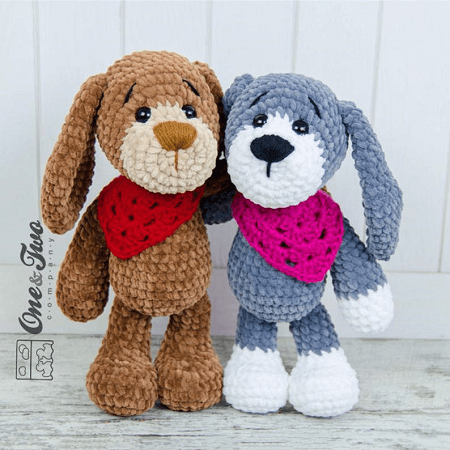 Get the Pattern by One And Two Company here

32. Big Puppy Crochet Pattern Lilleliis
This big lovable puppy is a cute friend for little girls or boys. Made with soft woolen yarn – he is superb for cuddling.
He has big paws, a cute eye patch, and sweet freckles on his muzzle. A dream toy for any toddler!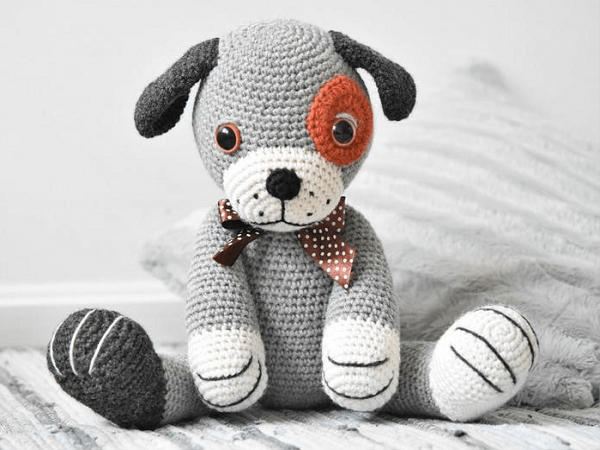 Get the Pattern by Lilleliis here
So which of these dog breeds and cute patterns are your favorites?
We would love to see how your doggies come out – please post a pic in our Facebook Page. We'd love to see your creations if you're willing to share!
For more adorable amigurumi patterns, click here. And check out these Crochet Dog Sweaters, Crochet Dog Hats and Crochet Dog Blankets.
The little ones in your life will always get to hold on to the keepsake you made with your bare hands.
Time to grab your hook and get started on these adorable, fun, and easy crochet dog patterns!