Are you looking for a crochet deer blanket pattern for your little one who loves this woodland creature? Or want to give something spiffy new work of art to your favorite hipster, hunter, or even better, to keep for yourself?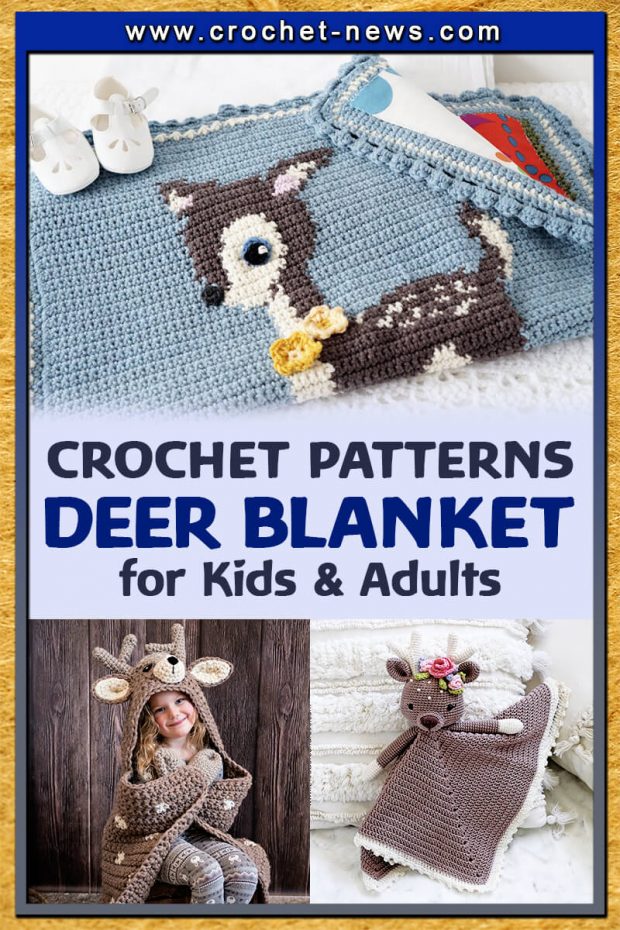 10 Deer Crochet Blanket Patterns
These crochet deer blankets make wonderful baby gifts and a must-have piece for those of you who are obsessed with this creature like most of us here. They are too cute to pass by!
1. Deer C2C Blanket Crochet Pattern by Make And Do Crew
This corner to corner crochet deer afghan will be a hit with your favorite baby, hipster, or hunter! This ad-free, printable crochet pattern includes the pixel graphs to crochet two different sized blankets–a baby afghan or a larger throw.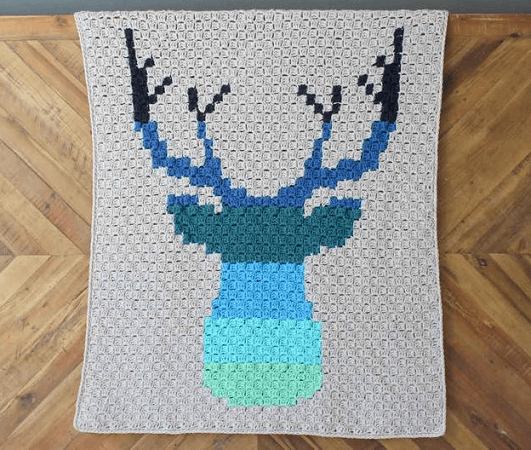 Get the Pattern by Make And Do Crew here

2. Woodland Deer Hooded Blanket Crochet Pattern by Crafting Happiness UK
What a great idea! This beautiful 2in1 blanket is also a decoration for your room. Use it to keep warm and snugly, and when you are done with it, fold it and display it on your sofa, armchair, or bed.

The hooded blanket is suitable for girls or boys alike and would look gorgeous folded away on your sofa. Designed to be a full-body blanket.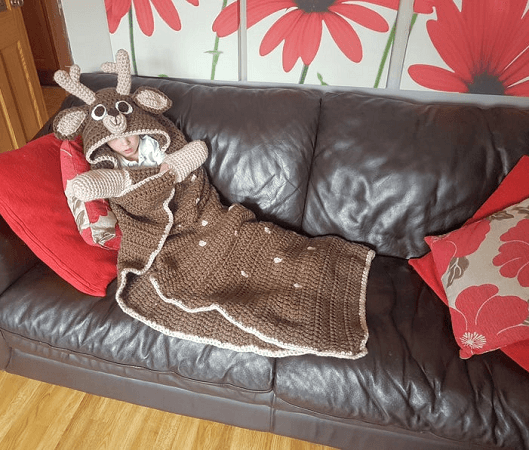 Get the Pattern by Crafting Happiness UK here

3. Crochet Little One Blanket Pattern by Colors And Shape Design
This Crochet Little One Blanket Pattern requires only three crochet stitches – chain stitch, single crochet, and the popcorn stitch. Do you notice the deer created by puffy popcorn stitches? We're sure kids and adults alike will enjoy running their fingers through these puffy stitches!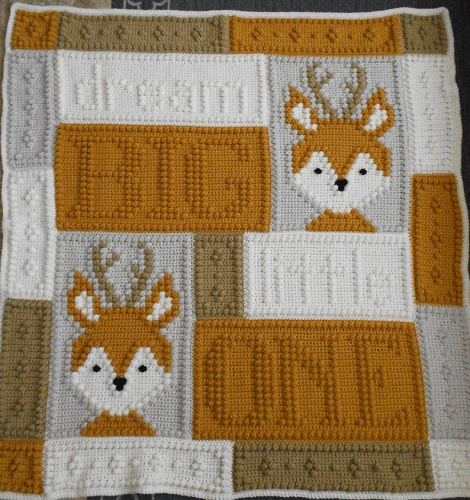 Get the Pattern by Colors And Shape Design here

4. Deer Crochet Blanket Pattern by Little Doolally
This Deer Crochet Blanket Pattern includes lots of photos and a color change grid to guide you through making this lovely bright blanket for your baby or as a wonderful, colorful gift. Only very basic crochet stitches were used to create this adorable blankie!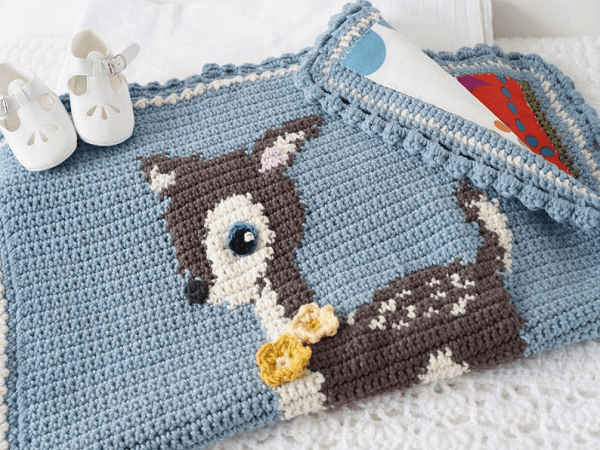 Get the Pattern by Little Doolally here

5. Crochet Antler Blanket Pattern by TLB Patterns
This Crochet Antler Blanket Pattern is a gorgeous addition to your home decor with simple, clean lines and a modern flare. Antlers are a symbol of gentleness, harmony, and unconditional love, making this a beautiful handmade gift.

But honestly, you're going to want to keep this treasure for yourself. This blanket is cozy and warm and a true joy to make!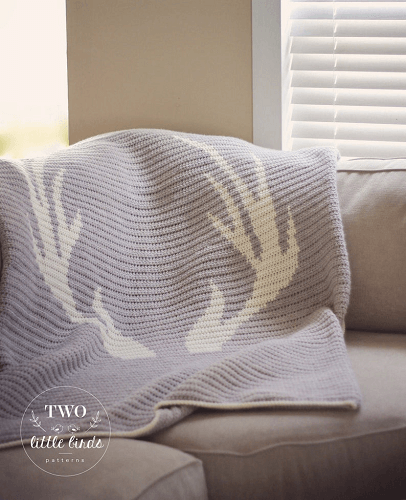 Get the Pattern by TLB Patterns here

6. Woodland Deer Baby Blanket Crochet Pattern by Crafting Happiness UK
This pattern will create a baby blanket size 116cm by 78cm (46in by 31in), but you can make yours as small or as large as you like by changing the number of hexagons used.

Use it as a blanket in the pram or car seat or use it as a play mat, and when you are done, fold it away and display it in your nursery. Hung it on the pram and the baby will be entertained looking at it.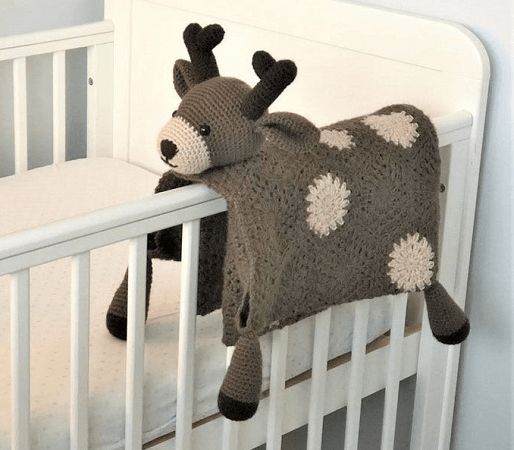 Get the Pattern by Crafting Happiness UK here

7. Crochet Deer Security Blanket Pattern by Theodore And Rose
Finley is a beautiful little Fawn who loves frolicking in the meadows making flower crowns. She also loves cuddles, making her the perfect little friend.

This is a plush toy and security blanket all in one! It's perfect for a baby's little hands and will surely become a friend for your baby. It's a perfect gift for newborns! You can create something really special for the little one!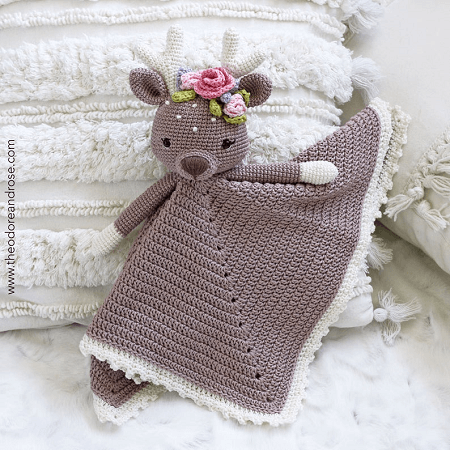 Get the Pattern by Theodore And Rose here

8. Deerly Beloved Blanket Crochet Pattern by Sweet Potato Patterns 3
This Deerly Beloved Blanket is a unique design, full of rich texture, and features the popular deer silhouette that pops and gives you that warmth of home or a weekend at the cabin feels. This blanket is a show-stopper that everyone is going to love.

The design of the blanket features a detailed and intricate frame that has twisting cables and an eye-catching pattern Likewise, the corner piece has a touch of whimsical charm in a circle pattern that also features textured raised cables.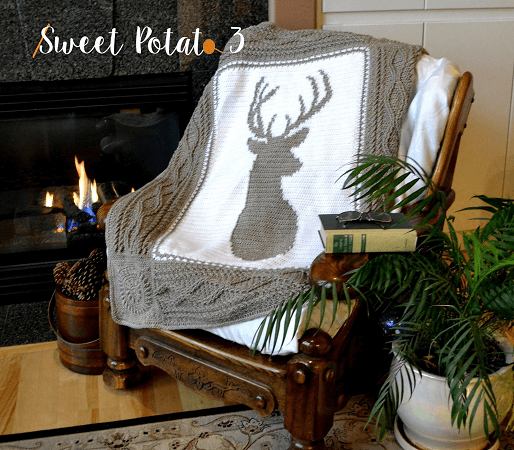 Get the Pattern by Sweet Potato Patterns 3 here

9. Free Crochet Deer Blanket Pattern by Make And Do Crew
Whether you're a hipster, a hunter, or planning a woodland-themed nursery, this corner to corner crochet graphgan will compliment your modern rustic style.

Made with half double crochet C2C stitches, you'll "illustrate" your deer before adding the perfect playful pom pom edging. Try it in ecru and red to add a splash of Scandinavian style to your holiday decor.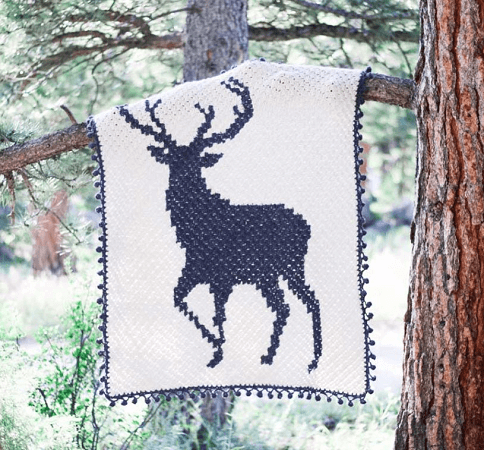 Get the Pattern here

10. Crochet Deer Blanket Pattern by MJs Off The Hook Designs
Prepare for your little one's mini winter hangout with his friends by making this deer blanket for him. It's thick enough to keep him warm, but also loose enough so he can still play around.
We'll talk more about the crochet deer blanket pattern, so stick until the end!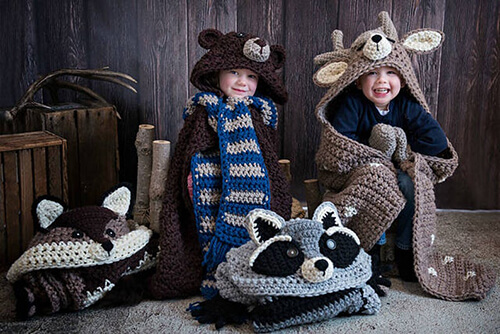 The Designer of the Crochet Deer Blanket
Are you looking for other hooded animal blanket patterns? MJsOffTheHookDesigns has a lot of different animal designs you can choose from!
In fact, if you're planning to have a party for your little one where everyone will wear such blankets, you'll surely have mini zoo. The kids will surely be comfy, cozy, and cute!
Looking at the other patterns in their shop, it seems as if they focus mostly on comfy garments. Aside from the hooded blankets, they also have patterns for cardigans, mermaid blankets, and beanies.
So if you're looking for a blanket or other gifts for your loved ones this winter, you should definitely check out their etsy shop.
The Bulky Yarn Used to Make the Crochet Deer Blanket
Since the recommended yarn for this pattern is no longer available, we searched for a similar one. Our search ended when we found The Charisma Yarn by Loops & Threads, a 100% acrylic and bulky yarn.
This yarn is usually used in making afghans, scarves, cowls, and hat. Because it is soft and bulky, it also works perfectly with blankets.
In addition to that, The Charisma Yarn comes in skeins that weigh 100 grams and is 100 meters long. They are available in both solid and striped colors.
If you're having trouble looking for the exact yarn color you'll need for this pattern, you can use the following colors: Bone, Pecan, and Taupe.
Let's Find out More About the Crochet Deer Blanket Pattern!
Ready your materials and let us learn more about how to make this crochet deer blanket pattern!
When we saw the deer design of this hooded blanket, we were instantly ready to click the checkout button! The head of the deer is intricately done, and every detail is just too cute.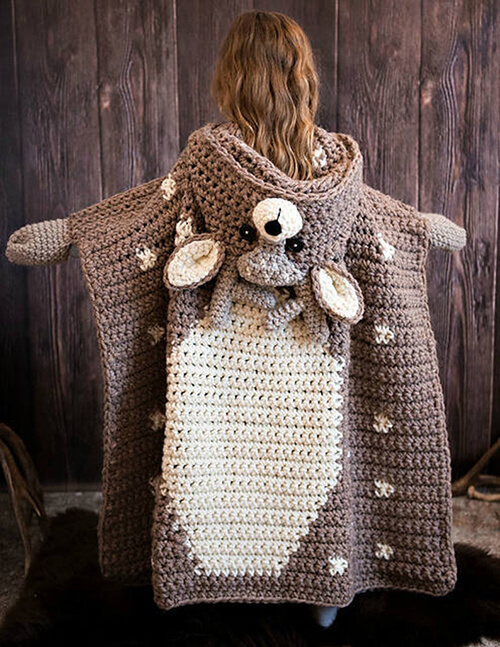 In addition to that, the blanket also turns into a pillow when it is folded. Folding it in such a way where the head of the deer ends up at the top is the best way to make the pillow.
Additionally, the crochet blanket itself also has lovely details. In fact, a tail is graphed into the blanket as well as some spots similar to a real deer. It even has hoof mittens to keep the hands warm.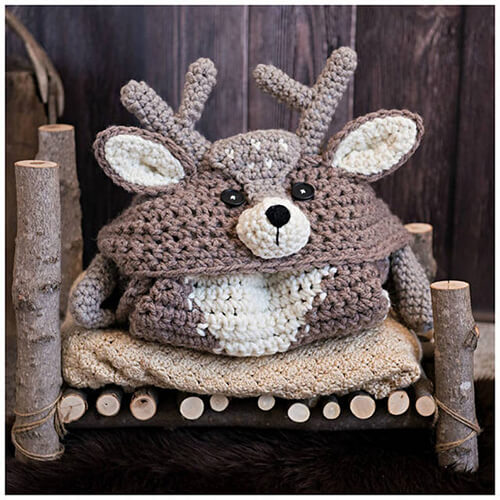 Worried you're too big to fit in a kid-sized hooded blanket? Worry not because this crochet blanket also comes in an adult-sized pattern!
Now kids and grown-ups can enjoy this comfy and cuddly crochet deer blanket!
Skill Level
Intermediate
Materials Needed
US Q (16mm) or size needed to obtain gauge
US M/13 (9mm) or size needed to obtain gauge
Yarn needle
2 black buttons (30mm)
A small amount of worsted weight yarn or thread for sewing (in cream)
A small amount of black worsted weight yarn for nose
Polyester fiberfill for muzzle
Finished size
Kids Size
Blanket – 42" x 32"
Hood – 21″
Adults Size
Blanket – 52" x 42"
Hood – 23"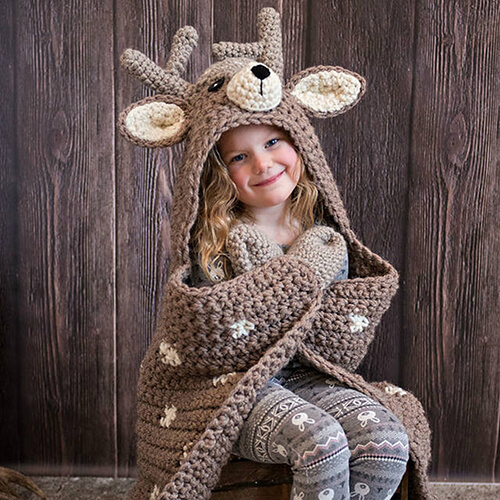 Have you finished working on your crochet deer blanket pattern?
If you made it for your little one, we're sure he's now cuddling with his comfy and fluffy crochet hooded deer blanket. However, if you made it for yourself, it's possible you are now using it while you're working on other crochet projects!
We hope you had lots of fun doing it! We love seeing your works! So don't forget to post your hooded blanket on our Facebook Page!
Looking for other deer-themed projects? You might like these 21 Adorable Reindeer Amigurumi patterns!
We hope you had fun working on this crochet deer blanket pattern, what are you planning to make next?
Complete your woodland-themed home with these adorable crochet deer blanket patterns!
We would love to see how it turned out. Share your finished snuggly blankets with us on our Facebook Page. Check these 12 crochet deer patterns if you love deers, and our huge collection of Crochet Blanket Patterns if you love, well, blankets. Be sure to also check them out!
We hope you had fun going through these crochet deer blanket patterns. Happy crocheting!