Whether you're preparing for your little one's nursery or you're planning for your Christmas decoration, we're sure you'll find patterns you'll like in our crochet deer pattern list!
Christmas and the coming of a new baby are both something to look forward to. To help you prepare for these events and to lessen your anxiousness, we prepared a few deer crochet patterns you can work on.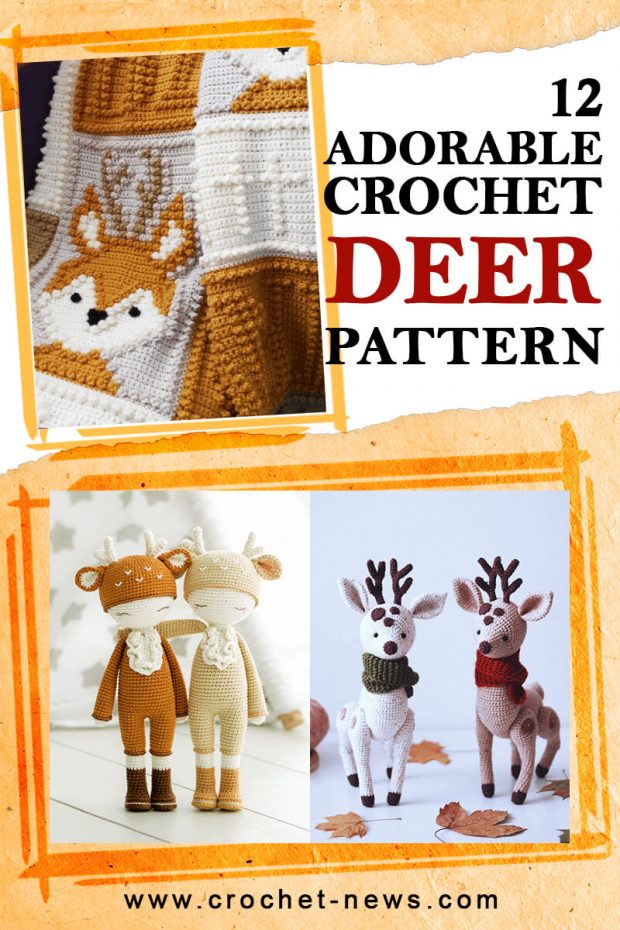 Are you excited to work on a project with your yarn and hook again?
1. Crochet Woodland Deer Blanket Pattern By MJsOffTheHookDesigns 
Let's start this crochet deer pattern list with something we think you have already seen our Crochet deer blanket pattern for kids and adults article.
When we read that they also have a pattern for an adult-size woodland deer blanket, we knew we had to click the buy button!
Aside from how comfy and cozy this blanket looks, we are amazed by all the details the designer included in this deer blanket. The blanket is intricately done, and all the details are just too cute!
We're pretty sure everyone will be impressed with how they designed the hood of this deer blanket, but have you seen the back part of it?
They even added a graphed tail and a few deer spots so the blanket won't look too plain when seen from behind.
A cute, comfy, and blanket, what more can you ask?
2. Crochet Deer Teether Pattern By HouseSleepingToys 
If you want to stay in the woodland theme for your little one's nursery, then you'll surely need this crochet deer pattern for his teether!
Made using wood, hollofayber, and yarns in different colors, we're sure you'll love this woodland-themed baby teether! It's so cute you might even use it as a room decoration when your baby is a little older.
Using pastel colors emphasized the calm vibe of this woodland creature. The wavy collar, the subtle blush, and the spots on its head made this deer teether the perfect addition to any nursery.
3. Crochet Little One Deer Blanket By ColorandShapeDesign 
Do you notice the crochet deer pattern created by the puffy popcorn stitches used in this blanket? We're sure kids and adults alike will enjoy running their fingers through these puffy stitches!
We love how they used colors that are associated with deers. This definitely helped us see the design easier!
Since this blanket is made in separate pieces, this blanket can be a great practice project if you're trying to learn how to sew blankets together.
They included the instructions on to complete the blanket and a link to their Youtube videos to guide you while working on the pattern.
Learn how to do the Crochet Popcorn Stitch here.
4. Forest Friends Crochet Deer Pattern By TheHatandI
Ohhh, another deer crochet pattern for the little ones – and adults too!
Easily turn your little kid into a woodland creature for a costume party she'll attend by making this crochet deer hat for her! You can even make the fox and raccoon if he's going with his friends.
The little flower details definitely added a tiny bit more cuteness to this already adorable hat!
5.  Winter Girl Deer Crochet Pattern By Jojilie 
We are loving this unique take on a crochet deer pattern! Instead of making another deer amigurumi, they made a Winter Deer Girl.
Kids love playing dress-up, especially with their dolls. Luckily, you can easily do that with this Winter Deer Girl.
Since the whole doll is made separately from the clothes, kids can easily change the outfit of the doll. You can even crochet other outfits for your little one's doll.
So if you're looking for a present for your little kids who love playing with dolls, you should definitely consider this pattern.
To make it more fun, make other doll patterns from the same designer to mix and match their outfits!
6. Crochet Newborn Outfit Deer Pattern By BeeMineCrochet 
We also included a crochet deer pattern specifically for newborns. If you're thinking of buying a little something for your expecting friend, this would be a great gift.
With this pattern, you'll be able to make a newborn diaper cover and a hat. Although the size of the diaper cover is for newborns only, the hat comes in sizes for 0 to 3 months.
Since it only uses the basic stitches, you won't have a hard time working on this deer crochet pattern. Any experience working in rounds will come in handy when working on this pattern because you will have to work in rounds to complete the antlers and the hat.
7. Friendy Annie The Deer Crochet Pattern By AradiyaToys
Add an element of fantasy to your little one's toy box with this crochet deer pattern!
Friendy Annie the Deer is part of AradiyaToys famous group of Friendies. They are said to look like ordinary toys, but in reality, they come to life when you're not around.
Although Annie is known to be an adventurer, and can sometimes cause minor accidents because she is too fidgety, friendies are actually great helpers.
If you're wondering how your kid is able to keep his room so clean, it's probably because of the friendies.
There are four more Friendy patterns from AradiyaToys, and we're sure you'll love all of them!
8. Crochet Deer Amigurumi Pattern By SweetPatternsLab
Want a unique looking deer? Line this deer amigurumi pattern with the other crochet deer patterns and it will surely stand out!
As compared to the previous crochet deer patterns, this one looks more firm and more detailed. Did you see those perfectly shaped ears and those detailed limbs?
Even though this pattern is highly detailed, the pattern is intended for beginners. In fact, it has 24 pages of detailed instructions with high-quality pictures of the process.
Just like other amigurumi pieces, you have to know how to crochet in rounds and how to make a magic ring. As it is targetted for beginners, you'll only be using the basic stitches.
It is important to note, though, that the scarf is a knitted piece. If you are also a knitter, you'll be needing the purl and knit stitch for the scarf.
However, feel free to make a crochet scarf instead if you don't really knit.
9. Sugarplum the Deer Free Crochet Amigurumi Crochet Pattern By lilleliis
For those who want to give amigurumi a try, this free crochet deer pattern is perfect for you!
Standing only 5 inches tall, the aptly named Sugarplum the deer is such a cutie! With its size, beginners will not be overwhelmed with the work they have to do.
We all know yarns can be expensive, but with this project, you probably won't have to buy any yarns at all. To complete the whole project, you will only need 25 grams of the main color and a few grams of the accent colors.
Make an adorable deer and at the same time learn how to make an amigurumi with this Free Sugarplum the Deer pattern!
10. Red Heart Doggie Deer Snood By Yarnspirations
For our dear fur moms, dress up your little ones with this adorable Doggie Deer Snood!
Whether you're making your little one the main subject of your photoshoot or just want him to look good whenever you take your afternoon walks, this deer snood is perfect for him!
It comes in four sizes so we're pretty sure your pet will fit in it.
To create a soft and comfy garment for your fur baby, you'll be using the Red Heart Soft Yarn. It comes in a wide range of colors, but it is best to pick the color that will look best on your dog.
Show your little doggie how much you appreciate him by working on this Red Hear Doggie Snood Crochet Deer Pattern!
11. Crochet Christmas Decoration By RNata
It really is beginning to look a lot like Christmas, especially when you work on these Crochet Christmas Decorations!
We know this list is all about crochet deer patterns, but we can't resist the charm of these Christmas decors! Besides, aside from the usual Santa and elf designs, you'll also get a crochet deer pattern right?
The details they included in their designs are quite impressive! We really appreciate their effort in adding the tiniest details from the pattern in the elf's hat to the little accessories on the deer, Santa, and the cupcake!
12. Fluffy Crochet Deer Pattern By FavoritePlushToys 
This doe-eyed little one is the last pattern on our crochet deer pattern list! Aside from its visible fluffiness, we decided to include this on the list because of its overloading cuteness.
Whoever sees the eyes of this little deer would find it hard to resist cuddling with it! It is as if his eyes are always asking for a long hug.
So if you have a little kid who loves cuddling with his toy, or even an adult friend who needs as fluffy and incredibly soft company, this would be a great gift!
Complete your Woodland Themed Project with these Adorable Crochet Deer Patterns!
This crochet deer pattern list has a lot of great projects for those who love woodland deer creatures! We would definitely try more than one of these patterns.
Let us know which one you choose to work on by posting your works on our Facebook Page! We love hearing your stories and experiences so don't forget to include a little storytime in your post.
If you're preparing for Christmas, we have some reindeer patterns you'll surely enjoy making!
We hope you had fun going through these crochet deer patterns, what other patterns do you want to see next?