For centuries, hats have served as fashion statements that make any outfit instantly more exciting. They are fun to wear, but sometimes they can get boring over time. If you feel like your hats(crocheted or not) need a makeover, here are crochet flowers for hats to make them fresh again.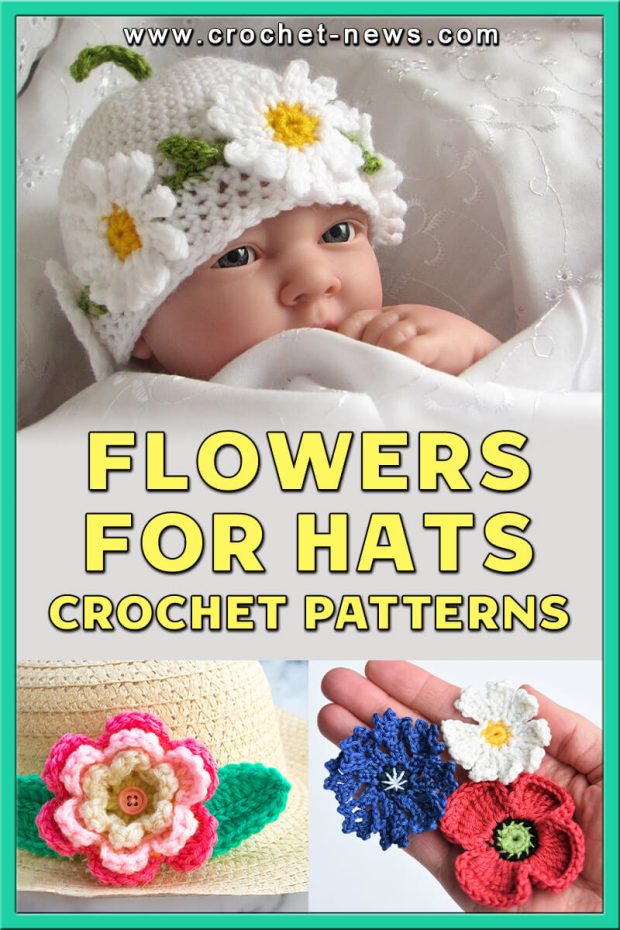 If you are looking for a bit of spring or beautiful ways to embellish your hats, these crochet flowers for hats will do the trick.
21 Crochet Flowers for Hats Patterns
These flowers are also a great way to jazz up any project, whether it be a crocheted blanket, a sweater, or anything else, including things that are not crocheted themselves. They will provide lots of colorful flowery goodness, that's for sure!

1. Bramble Flowers Crochet Pattern by Annie Design Crochet
These pretty flowers only take minutes to crochet, and are perfect for adding as embellishments to your projects. You can add a pin to the back of the flower to make a brooch, or add one to a child's hat.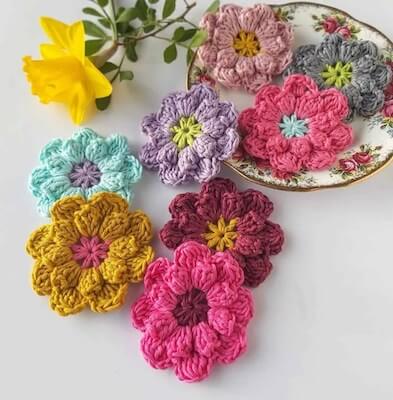 Get the Pattern here

2. Crochet Hat With Flowers by Kirsten Holloway Designs
Flowers make a cute accessory to add to any little girls hat. This pattern includes 2 different flower tutorials, as well as leaves. This easy hat pattern starts at the top and is crocheted in the round. Change the color for the band, or leave it the same! Your flowers can be any color and you can arrange them in any way you like.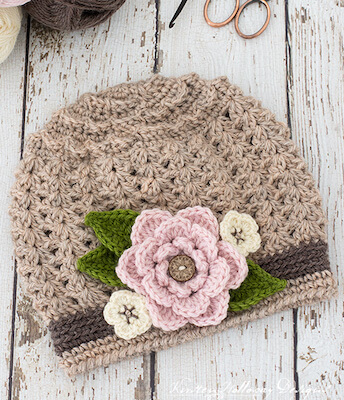 Get the Pattern here

3. Crochet Flower Pattern For Hats by Club Crochet
When you crochet this two-round five-petal flower, it will have a buttonhole right in the center of it. You can add the button to attach the flower to an item such as a hat. Alternatively, you can simply leave it open for a lacy floral design.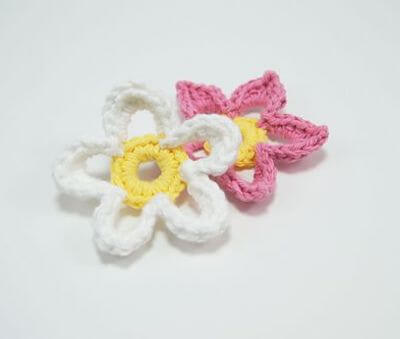 Get the Pattern here

4. Puff Crochet Flower for Hat Free Pattern by Bella Coco Crochet
You can choose to join these puff flowers together to make a larger project such as a scarf or a blanket Or you could use them individually to add to something like a crochet hair band or a crochet hat.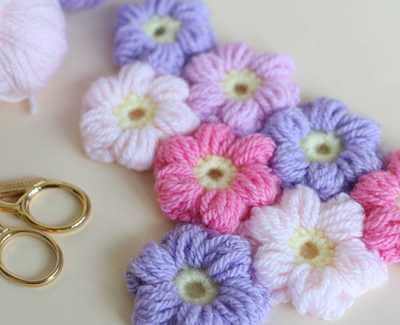 Get the Pattern here

5. Crochet Flowers For Hats by Naztazia
Here is a crochet flower for a hat or headband. It is a layered flower that takes very little yarn to make. The leaves are also very simple to crochet! Multi-layered flowers like this are really pretty and can be great for using up scrap yarn.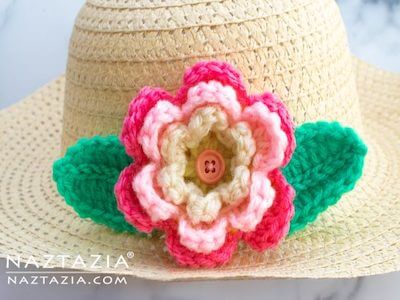 Get the Pattern here

6. Rose Easy Crochet Flower for Hat Pattern by Vi Tasja
This crochet rose flower pattern is the perfect project to add a little beauty to your world. This crochet rose works up quickly and will be a great addition to many projects including hats.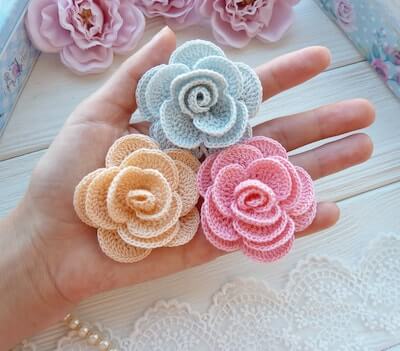 Get the Pattern by Vi Tasja here

7. Simple Daisy Crochet Pattern by Daisy Cottage Designs
This little daisy crochet pattern is very simple – they might take three minutes to whip up. This little flower is a great beginner crochet pattern, too! These flowers are great for embellishing hats, blankets, and bags.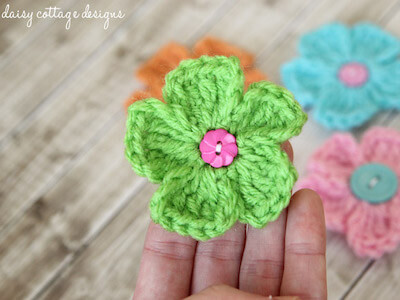 Get the Pattern here

8. Popcorn Stitch Crochet Flower Pattern by B.Hooked Crochet
If you're looking for a textured and versatile crochet flower to add a unique touch to your recently finished crochet hats or knitting project, look no further than this Popcorn Stitch Flower. It'll bring the right amount of three dimension for a subtle pop of texture. Add a button in the center for even more personality.

This quick little embellishment will give you lots of practice working the popcorn stitch, an excellent stitch for bringing texture to your projects. You decide how big you want your flower to be with a single round of petals, two or three – it's up to you!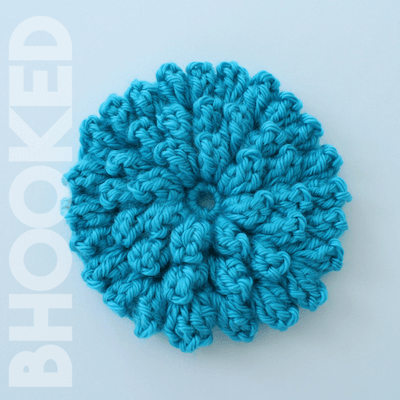 Get the Pattern here

9. Crochet Daisy Chain Hat Pattern by Keepers Cottage Crafts
This is for a pretty little hat with a garland of daisies, cute as a button. The finished hat would make a great photography prop for those precious early baby photos.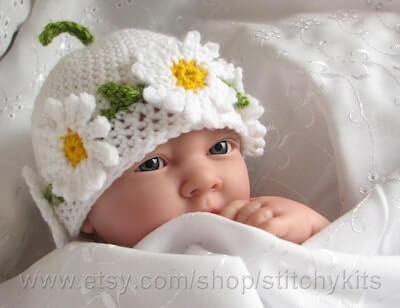 Get the Pattern by Keepers Cottage Crafts here

10. Crochet Plumeria Flowers For Hats by Gool Gool
These Hawaiian Plumeria flowers, with a touch of color painted by hand, would look amazing as hairclips, hair pins or appliques on your bag or hat.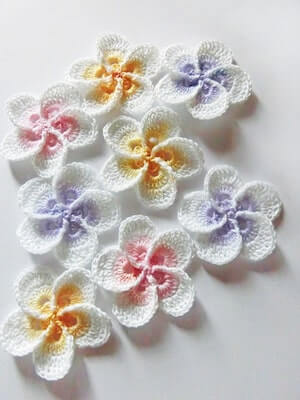 Get the Pattern by Gool Gool here

11. Crochet 3D Peony Flowers Pattern by Annie Design
These 3D crochet flowers are the perfect relaxing little project and you can use them in so many creative ways. They only take minutes to make, and just use scraps of cotton yarn.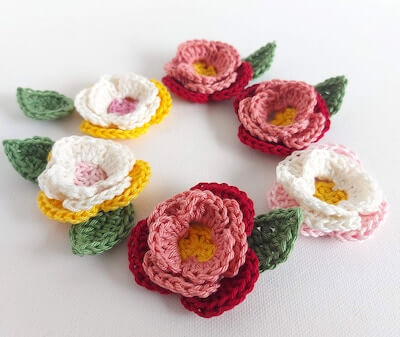 Get the Pattern by Annie Design here

12. Crochet Loom Flowers Pattern by Petals To Picots
These pretty loom flowers are so quick and simple to whip up! All you need is a round loom, some leftover yarn, and a tapestry needle. These yarn flowers are perfect for embellishing anything from baby hats, to scarves, to Spring and Easter decor!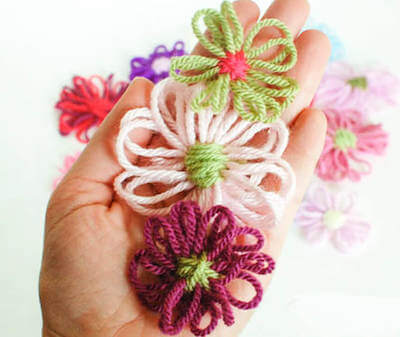 Get the Pattern here

13. Crochet Olivia's Flower Pattern by Felted Button
This easy crochet flower for hat can be worked up quickly using your choice of yarn and hook to make colorful and varied embellishments for scarves, hats, hair clips, headbands, bags or anything else you can think of.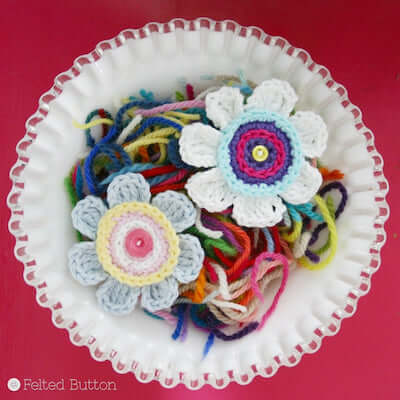 Get the Pattern here

14. Three Crochet Flowers Pattern by The Woolly Baa Designs
This is a pattern for three crochet flowers: two styles of sunflowers, and the daisy/gerbera pattern. Add some personality to your little ones crochetd hats this spring with these delightful flowers.

Winsome and sweet, their bright petals will warm up any day. A project small enough that you can pick a handful of colors like you're picking flowers for a bouquet!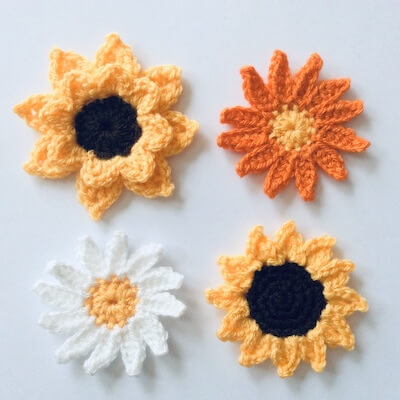 Get the Pattern by The Woolly Baa Designs here

15. Crochet Flower Appliques For Hats by Sweet Bee Crochet
These sweet little flowers take 15 minutes to make and use such a small amount of yarn. These motifs are great little accents to add to other projects like bags, blankets, hats, or you could even use them for a spring or summer themed bunting.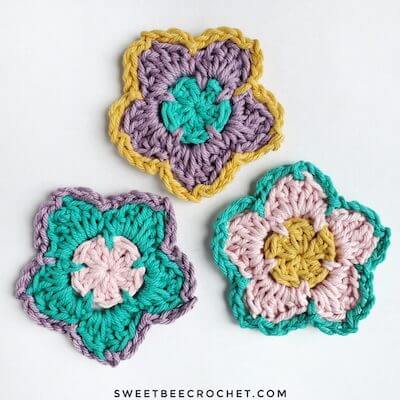 Get the Pattern here

16. Simple Crochet Flower for Hat Free Pattern by Persia Lou
Learn how to crochet flowers with this easy crochet pattern that creates small, simple flowers. These cute little flowers are quick to make and are perfect for embellishing any crochet project!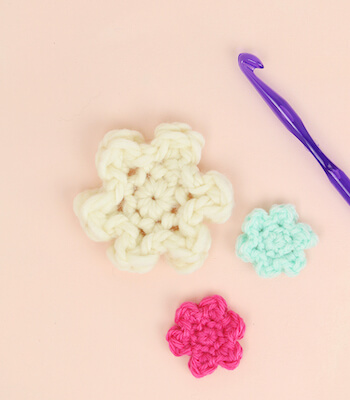 Get the Pattern here

17. Crochet Field Flowers Pattern by Lilleliis
This crochet flowers for hats pattern includes instructions of 3 gorgeous field flowers – cornflower, poppy and daisy. Finished flowers can be used for different boho style hair accessories like hair clips, ponytail holders, brooch pins or hats, or embellish home decorations like garlands and wreaths.
Get the Pattern by Lilleliis here

18. Free Crochet Flower Applique Pattern by Crochet N Create
Use this pretty and cute flower applique for hats, bags, blankets, etc. It is easy and quick to crochet, you can also make lots and join them together for afghans and throws if you wish.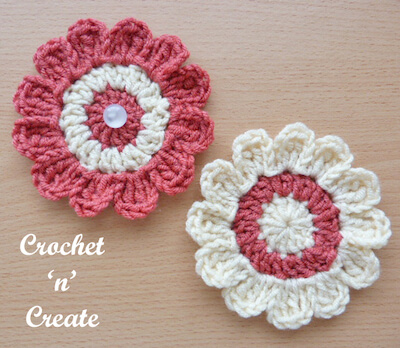 Get the Pattern here

19. Large Crochet Flower Pattern For Hats by Daisy Cottage Designs
As shown, this large crochet flower has 3 layers and is approximately 4 inches in diameter. There are directions below to make the flower as large as you want it, though!

This flower is the perfect embellishment for hats, bags, and so much more. Whipped up in half an hour or less, it's a great last-minute gift or accessory for that new outfit.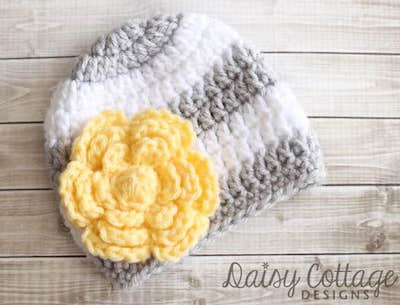 Get the Pattern here

20. Crochet Colorful Flowers Pattern by The Hat And I
These flowers are colorful addition for hats, scarves, blankets, bags or any project that needs a little something extra. You can use any scraps of yarn you have in your stash – the more colorful, the better!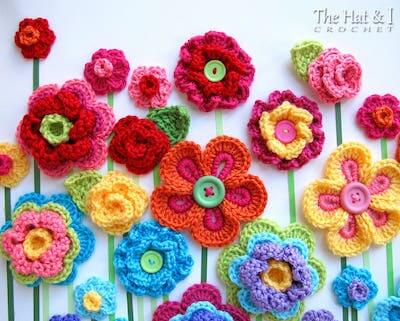 Get the Pattern by The Hat And I here

21. Easy Crochet Flower for Hat Brooch Pattern by Craft Passion
This is a quick crochet project that you can do while watching your favorite TV program or while your baby is having a nap. At best if you have some leftover yarns to de-stash or making a brooch to go with your knitting and crochet piece.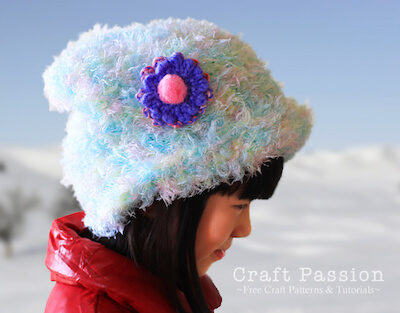 Get the Pattern here
WITH AN ASSORTMENT OF FLOWERS, YOU'LL BE ABLE TO MATCH YOUR HATS TO ANY OUTFIT OR OCCASION WITH THESE CROCHET FLOWERS FOR HATS.
We hope you have fun with these crochet flowers. Don't forget to share pictures of your projects with us on our Facebook Page. We can't wait to see how you use them!

Wouldn't it be so convenient if you could find different crochet hat patterns that would work for these crocheted flowers? Check out the following posts:
Crochet Slouchy Beanie Patterns
These crochet flowers for hats are simple little crochet projects that are perfect wind down at the end of a busy day. Enjoy getting creative with your yarn scraps!