There's one staple of Parisienne style that you may have avoided for fear of not being able to pull it off: The beret. This iconic chapeau has been a runway staple for fashion houses for years, and some style icons have worn this headpiece with ease. And now, so can you! By choosing a crochet beret pattern to make.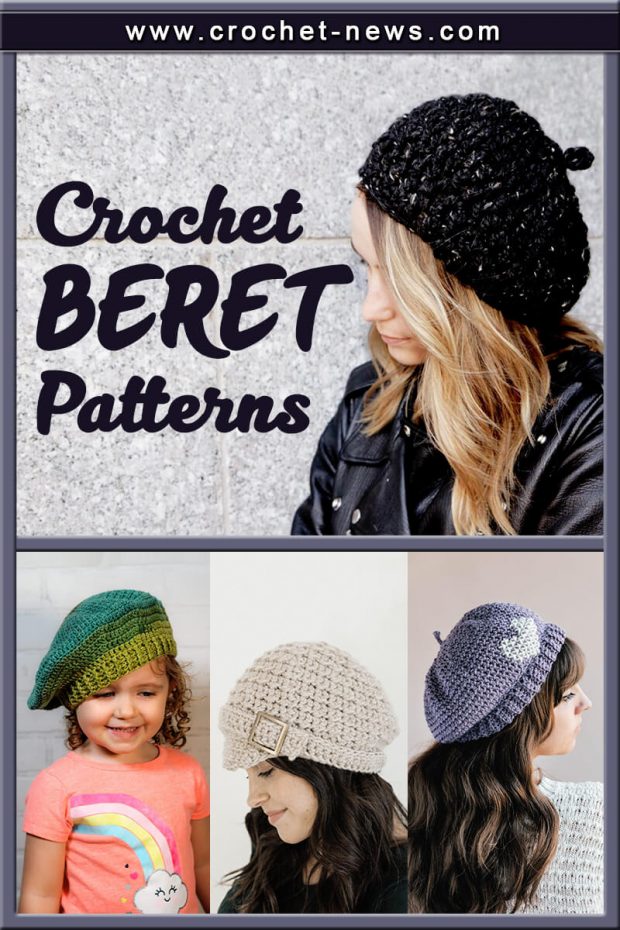 The classic beanie has long reigned supreme as the essential cozy wardrobe staple you need for the winter months, but it looks like the beanie is about to be beat and the beret is making a comeback!
The beret has never just been a fashionable accessory, with a political history dating back to the 1500s – berets are far from basic!

1. Red Heart Bridgette Free Crochet Beret Pattern by Yarnspiration
Bring a carefree spirit to your winter wardrobe. This supple, crochet beret adds spirited style that stands out, so it's a must for fashionistas. Simply select from so many solid and striped colors to make it personal for you.
If you prefer a closer fit, insert an elastic for the perfect finish. Use 1 ball of Wine color to complete the rich version shown.
Get the Pattern here

2. Twilight Mandala Beret Crochet Pattern by Stitching Stone Design
Here is a mandala inspired crochet beret pattern. The deep, rich colors are reminiscent of a sky at twilight. You'll love working the pattern for this wearable work of art and want to make at least one for yourself and several to give as gifts.
It's stretchy, so one size fits most women. Perfect for Christmas, Hanukkah, Birthdays, Mothers' Day and many other occasions. The flat top part of the beret measures just over 10" across.
The head opening is designed to be stretchy, so one size fits most women. The pattern includes suggested changes to fit a small child or larger than average adult head size.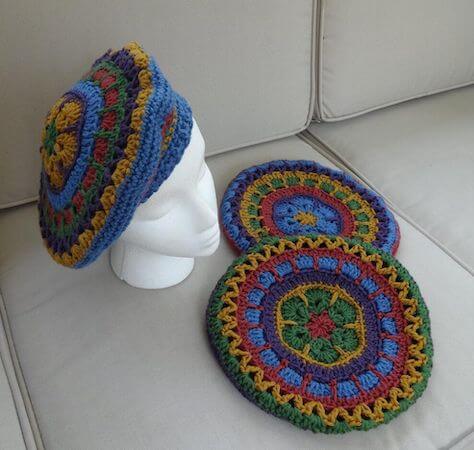 Get the Pattern by Stitching Stone Design here

3. Easy Beret Crochet Pattern by Winding Road Crochet
Want to try something new? Make an adorable crochet beret to change up your style. This beret can be worn in so many different ways and works up very quickly. This easy beret crochet pattern includes sizes Preemie through adult.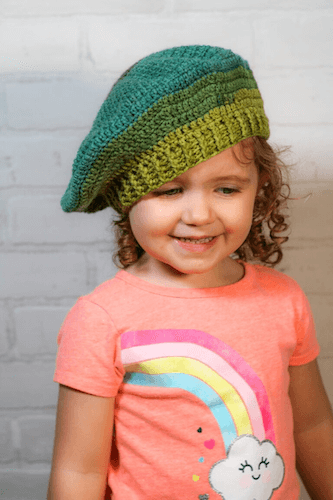 Get the Pattern by Winding Road Crochet here

4. Classic Beret Cap Free Crochet Pattern by Megmade With Love
This Classic Beret Cap is part newsboy, part fashionable beret, and it's just plain cute! This free crochet beret pattern features a really pretty textured even moss stitch that is simple enough to create along with a decorative strap and oh so cute buckle.

It's the perfect, chic finish to a basic outfit, because lets be real — just pop it on and you can pretend you actually put in some real effort into getting ready!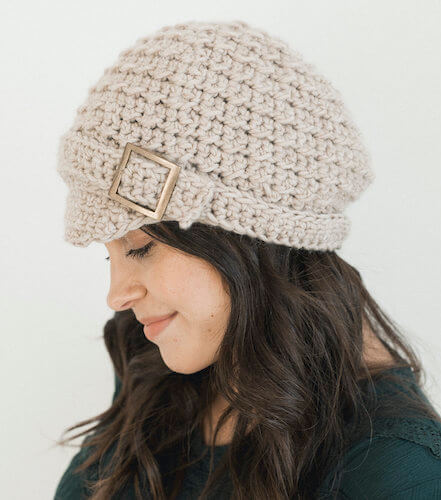 Get the Pattern here

5. Mori Crochet Beret Pattern by Morale Fiber
This Mori Beret starts with a basic, easy pattern the utilizes worsted weight yarn and half-double crochet to create a beret or tam style hat with a timeless silhouette. The main hat pattern includes tips for custom sizing and bright tutorial photos to show the details of the pattern.

Stick with the classic, sleek beret style and make one for every outfit or create a cute and whimsical wardrobe staple by adding one (or several!) of the 5 Extra Feature options: Mini Antlers, Ears (Small or Large), Leaves, or Mushroom Speckles!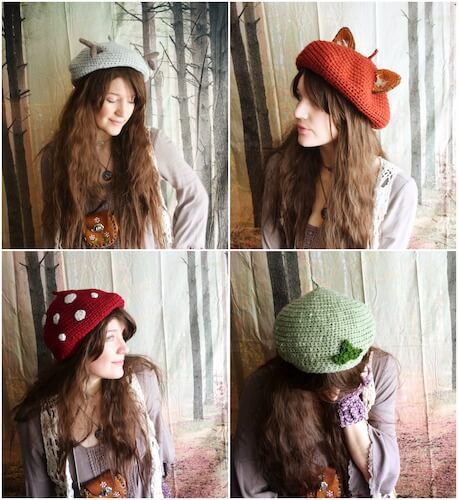 Get the Pattern by Morale Fiber here

6. Seraphina Beret Crochet Pattern by Alyse Crochet
Seraphina is an exquisite crochet beret pattern featuring a delicate and beautiful flower design, with a ribbed brim for snugness and comfort. This hat is classy and feminine, and its eye-catching design is sure to attract attention!
Get the Pattern by Alyse Crochet here

7. Mock Bobbles Beret Crochet Pattern by Underground Crafter
This Mock Bobbles Beret updates a classic style with a pop of texture. This pattern uses a combination of tall and short stitches to create the look of bobbles in an easier way.

Use a neutral color or you could completely change the look with a vibrant or pastel yarn. Best of all, this hat is available in three sizes — infant, child, and adult — so you can make a matching family set.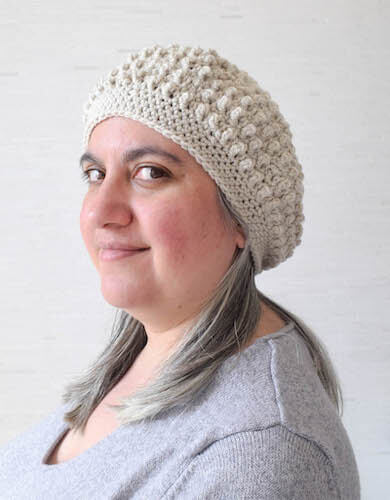 Get the Pattern here

8. Haven Slouchy Beret Crochet Pattern by Naturally Nora Crochet
This Haven Beret is a simply cute slouchy hat featuring timeless stripes and an understated rose accent. You will love the easy fit and simple, timeless feel. It is a lovely blend of clean, modern simplicity, vintage appeal, and feminine flair.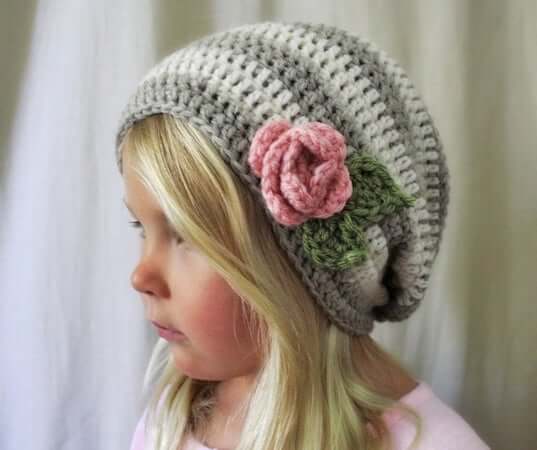 Get the Pattern by Naturally Nora Crochet here

9. Women's Crochet Beret Pattern by Christa Co Design
This Women's Beret has a vintage vibe. The tonal mustard color keeps this crochet set looking fresh and on season. You will love the flexibility of this hat – it can be adjusted to suit your liking.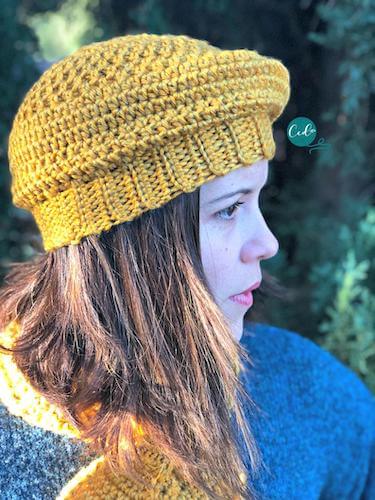 Get the Pattern by Christa Co Design here

10. Crochet Parisienne Beret Pattern by Sewrella
This Parisienne Beret is the hat of european dreams! With simple stitches and all-in-one construction, this hat works up fast and is sure to please all the girls in your life!
You could get really creative with embellishments here and stitch on 3D flowers, other appliques, or just leave your simple beret bare!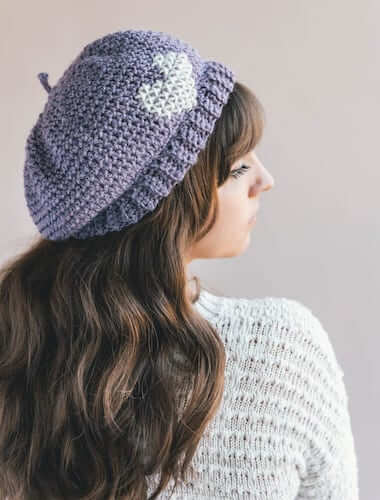 Get the Pattern here

11. Classy Houndstooth Beret Crochet Pattern by My Dancing Hook
This Classy Houndstooth Beret is subtly textured with the beautiful color work of a houndstooth effect. It is an all-time classic vintage style accessory from autumn to spring. It is so easy to style and it instantly elevates your look without coming off as 'too much'! Play with different color combos, or go for solid!
Get the Pattern by My Dancing Hook here

12. Starburst Beret Crochet Pattern by B.Hooked Crochet
This luscious beret was inspired from the Jasmine stitch, a unique star stitch hybrid that can be modified with many different stitches to create the starburst pattern. For this crochet pattern, you will have to use double crochet clusters to create the stunning starburst pattern.
Perfect for spring, this Starburst Beret offers style and warmth in mild temperatures.
Get the Pattern here

13. Quick Beret Crochet Pattern by Beaded Wire
You can crochet this hat in two hours; its an easy pattern that works up quickly. Great for beginners and great for last minute gifts. This versatile hat can be worn as a traditional beret or pushed back a little as a modern slouchy hat. It uses worsted weight yarn.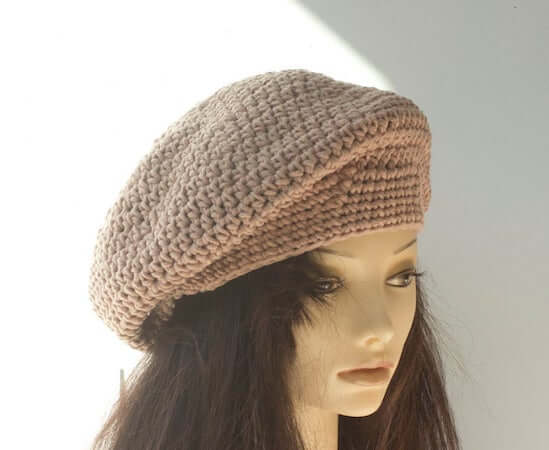 Get the Pattern by Beaded Wire here

14. French Beret Crochet Pattern by Hopeful Honey
Imagine yourself strolling the streets of Paris before settling into a cute cafe, while wearing this French Beret. With an effortless slouchy look and a cute, classic pom pom to top it off, this crochet beret pattern is a keeper.
Wear it out for a stylish, everyday look that manages to be carefree and elegant.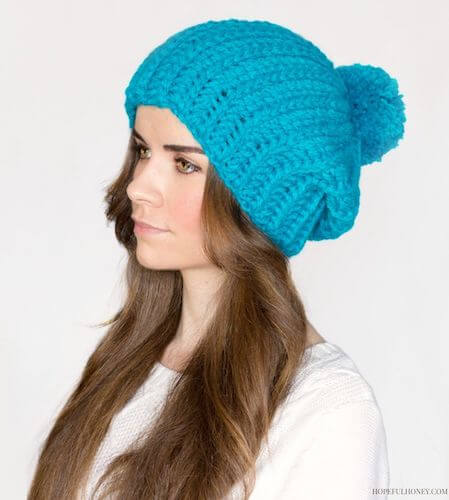 Get the Pattern here

15. Crochet Beret Pattern by Jayda In Stitches
Make yourself a cute and trendy Beret in less than an afternoon! Use self-striping yarn for a quick and pretty pattern or use a solid color to match your favorite spring coat.
Adorable on adults, teens and children alike. This easy pattern is suitable for beginners who are comfortable with very basic crochet stitches.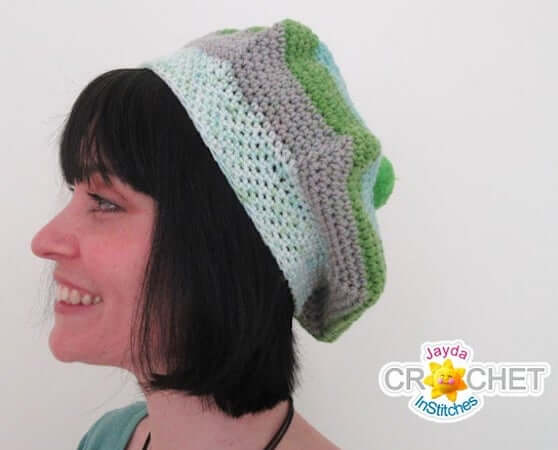 Get the Pattern by Jayda In Stitches here

16. Slouchy Beret Crochet Pattern by Red Heart
Are you wondering what to get for that lady who has everything? How about this stunning crochet beret? Stitched with only 1 ball of yarn, you get all the texture and color changes without switching yarns.
Simply focus on the pattern and let the yarn do the rest. It's fun to crochet and a stylish accessory to give – if you can part with it!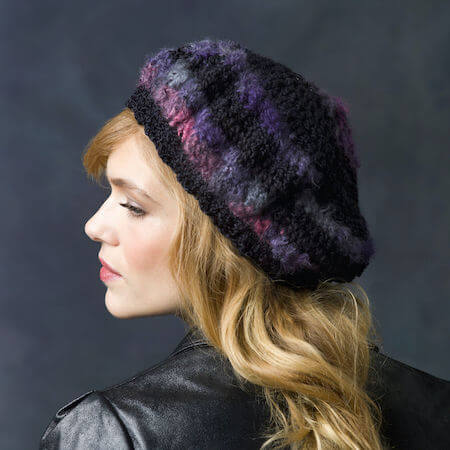 Get the Pattern here

17. Crochet Stroll Beret Pattern by The Velvet Acorn
Hats are so vital to winter, that you have to own more than one. Try this smart beret in any stunning color you envision. We love this as a fashionable gift for little ones and teens.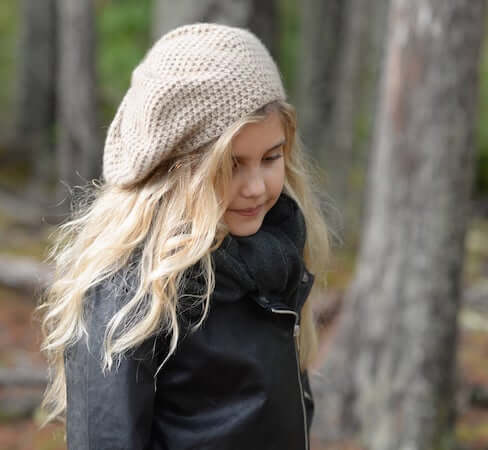 Get the Pattern by The Velvet Acorn

18. Marseille Felted Beret Crochet Pattern by The Madame Hatter
This Marseille Felted Beret is hand crocheted with wool yarn and then heat treated to tighten up all of the stitches giving it the wonderful texture you see in the picture.

The pattern will give you all of the instructions on how to make this hat from start to finish. Do not be intimidated by felted/fulled crochet. It is very simple to do!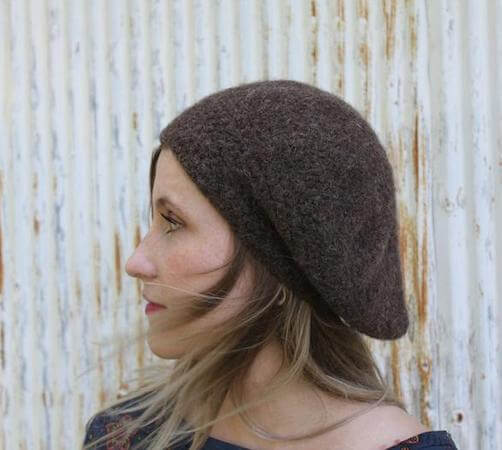 Get the Pattern by The Madame Hatter here

19. Crocodile Stitch Slouchy Beret Crochet Pattern by Bonita Patterns
If you want a statement piece, then this Crocodile Stitch Slouchy Beret will do the trick! Featuring the ever-popular crocodile stitch, we think this hat is worth your crochet time.

This is a more advanced pattern so if you're just learning to crochet you might want to save this one for later, it's something to look forward to!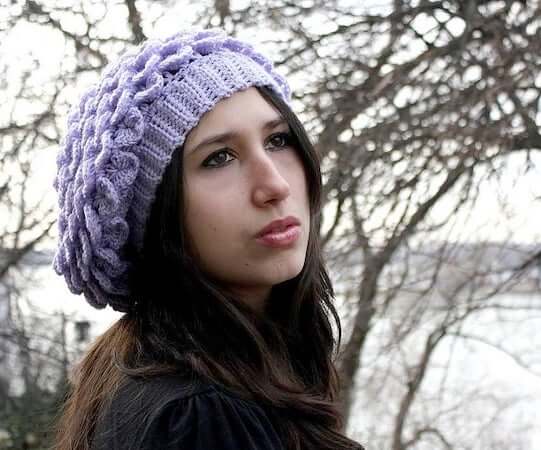 Get the Pattern by Bonita Patterns here

20. Classic French Beret Crochet Pattern by Hopeful Honey
Say "bonjour" to your new favorite hat. This Classic French Beret is the perfect pattern for ladies who want to feel chic and elegant.

It's an easy crochet pattern to complete and is written for people ages 13 and up, although it is easy to adjust if you want to make a smaller hat for your child. Wear this stylish hat with pride and imagine you are strolling the streets of Paris.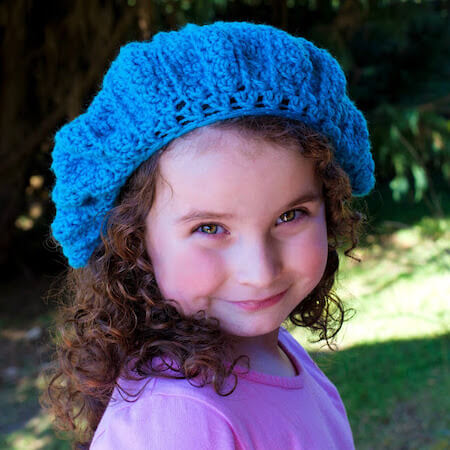 Get the Pattern here

21. Daisy Beret Crochet Pattern by Sew Silly Lily
This Daisy Beret is a really fun, bright beret/tammy style hat with ever-growing daisy motif and pom pom center. It's a lovely, easy to wear shape that's perfect for throwing on when it gets chilly and it's quick to crochet.

The beret is approximately 55cm around the head and there will be some natural stretch in the yarn. The daisy motif is about 24cm across the top. The motif can be expanded and the sizing could be adjusted if you need to.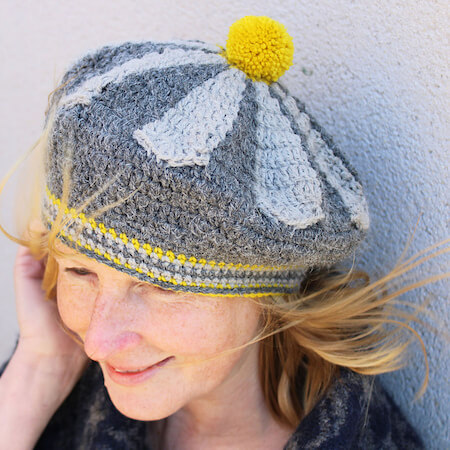 Get the Pattern by Sew Silly Lily here

22. Pleated Beret Crochet Pattern by Lisa van Klaveren
This simple crocheted beret is worked mostly using single crochet. The little pointed "nub" at the top of the hat may be easily omitted if it isn't your style.

Design features full-fitting beret style top which is pleated around the ribbed band. Hat may be embellished as shown with a pretty ribbon or crocheted i-cord which is threaded through the pleats near the brim.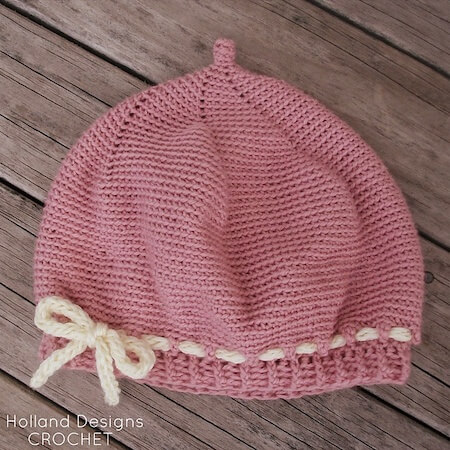 Get the Pattern by Lisa van Klaveren here

23. Wave Stitch Crochet Beret Pattern by Yarnspirations
Work from the top down to make this trendy, wavy beret. Finish your project with an intriguing sheen by crocheting in your favorite color of metallic yarn. Select any shade for a striking, silvery finish. For the eye-catching version shown, try your beret in blue.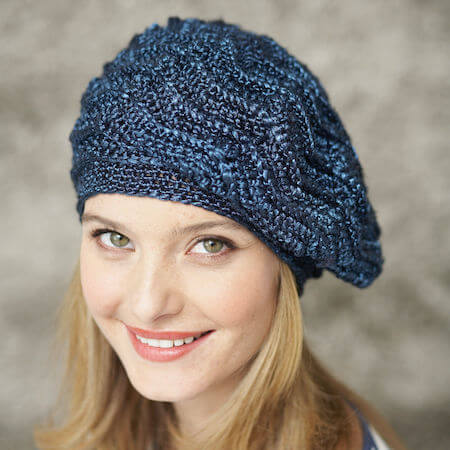 Get the Pattern here

24. Peaches & Cream French Beret Crochet Pattern by Olivia Kent
Add some French charm to your wardrobe with this peachy beret! This hat was designed with a cool Autumn Parisian afternoon in mind, making it the perfect accessory for when you need some extra layers to keep you warm on those chillier days.
Get the Pattern by Olivia Kent here

25. Crochet Cabled Beret Pattern by Knit And Crochet Ever After
Whether you're planning on hitting the slopes or the snowy urban streets, this bulky beret will keep you looking cool and feeling warm. This cabled beret is made from bulky yarn, so it works up really quickly.
Start this weekend and wear it on Monday.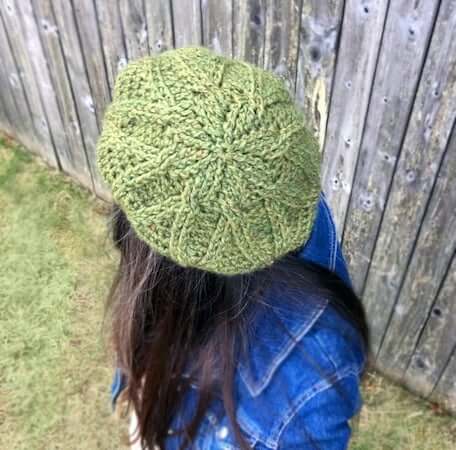 Get the Pattern by Knit And Crochet Ever After here

26. Evie Beret Free Crochet Pattern by Lulu Loves
This pattern is for this beautiful, timeless crochet beret. Featuring crochet bobbles to give it a lovely design and texture. You can use chunky or aran weight yarn with the same hook to create a sturdy or soft beret.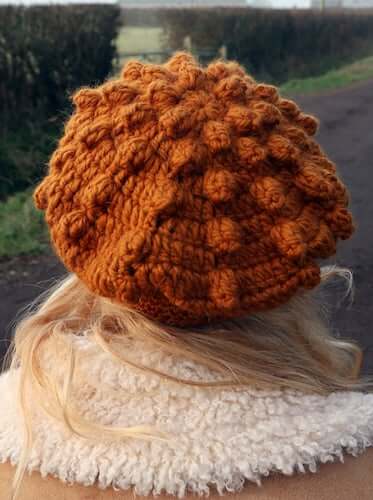 Get the Pattern here

27. Crochet Slouchy Beret Pattern by Two Of Wands
Exude style and sophistication with this modern slouchy beret. Sometimes it's hard to look chic in the winter when you're all bundled up, but this hat has a certain "je ne sais quoi" that will instantly dress up any ensemble.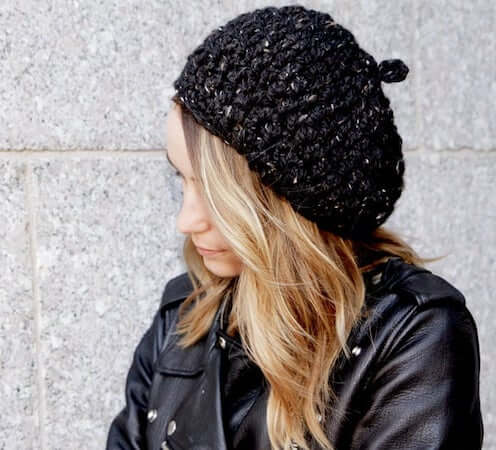 Get the Pattern by Two Of Wands here

28. Heart Beret Crochet Pattern by Sarah Taylor
This Heart Beret Crochet Pattern will help you to share the love in a unique way – don't wear your heart on your sleeve when you can wear it on your head instead!
You will only need one skein of light worsted (double knitting/8 ply) yarn in the main color and an oddment for the heart motif.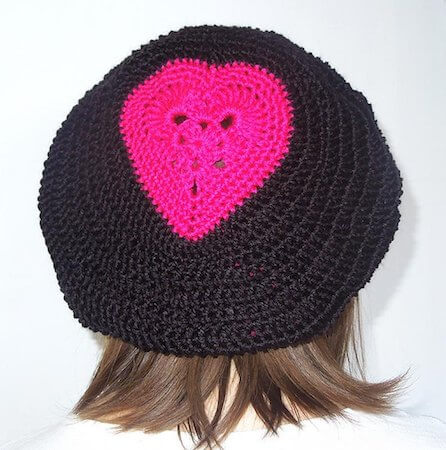 Get the Pattern by Sarah Taylor here

29. Arctic Edge Brimmed Beret Crochet Pattern by Crochet Spot Patterns
For a great style, and necessary warmth for those cold days, this Arctic Edge Brimmed Beret is sure to come in handy! The brim is made onto the beret using double strands and simple crochet stitches, while the band and button add the finishing touch.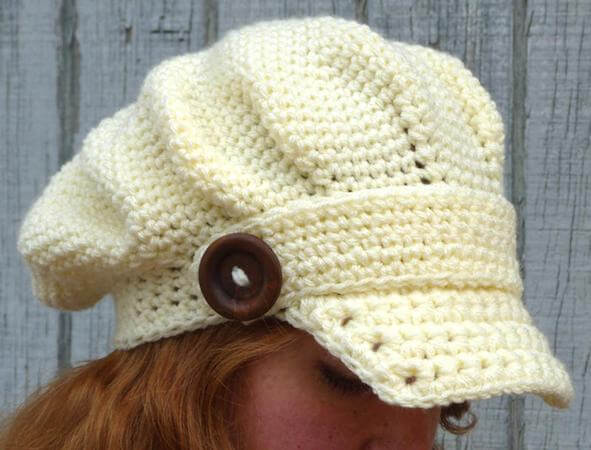 Get the Pattern by Crochet Spot Patterns here

30. Lacy Beret Crochet Pattern by Yarnspirations
A little girl's Sunday best is about to get even better with this pretty beret. It's an easy care finish for this accessory that gets its start in the colors she loves. With so many incredible color combination to spark the imagination, you may want to make more than one.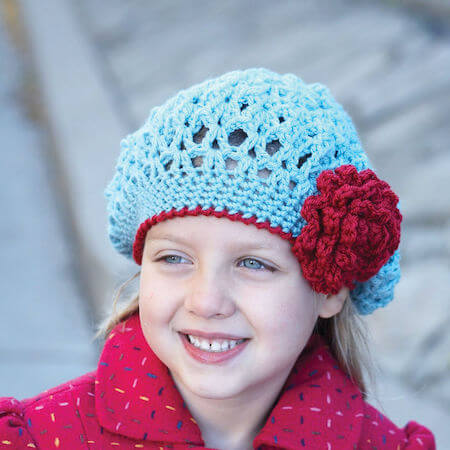 Get the Pattern here
NOW, TRY MAKING A SLEEK AND CHIC BERET WITH ONE OF THESE CROCHET BERET PATTERNS!
If you've got a beautiful end result – and of course you do – show it off! Share it on our Facebook Page. We'd love to see it! Looking for more head accessories? Check out our huge collection of Crochet Head Wraps, Twisted Headbands, Bucket Hats, Ear Flap Hats, and even Crochet Crown Patterns that are all trendy and stylish!

For now, make a bunch of these patterns in your favorite colors, and you'll have a crochet bere to match whatever you wear!