Enjoy the daily walks in winter wonderland without freezing your ears off by armoring yourself with a handmade, soft and warm hat! We're totally loving these crochet ear flap hats!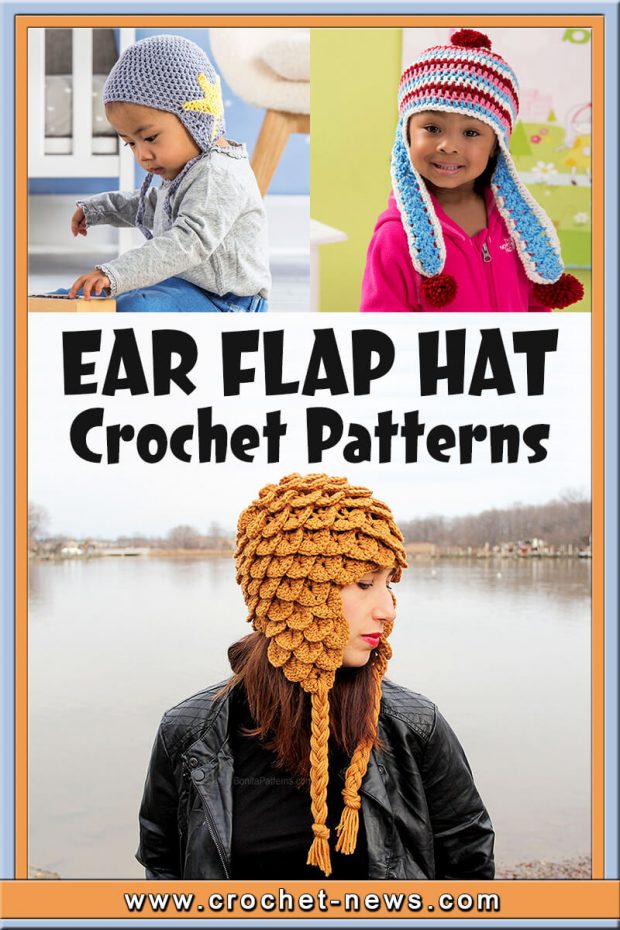 Sometimes a regular crochet hat just doesn't cut it. For the days that are bitingly cold, you need a little something more than just a fitted skull cap or a slouchy beanie.
These ear flap hats do the job by keeping your head and ears cozy for protection from wind and snow. From darling pint-sized designs for babies to trendy styles you will love, you're sure to find an ear flap hat for every member of your family.

1. Easy Ear Flap Crochet Hat Pattern by The Pattern Paradise
This Crochet Rainbow Earflap Hat is a cute basic earflap crochet hat perfect for girls or boys and great for using up scraps. A cheery and bright crochet hat that's perfect for everyone, plus the earflaps added for extra warmth is sure to make this a favorite!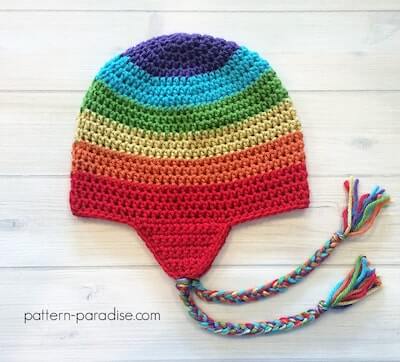 Get the Pattern by The Pattern Paradise here

2. Snowy Earflap Hat Crochet Pattern by Red Heart
This darling hat is perfect for keeping warm in the winter! This crochet hat with ear flaps includes five sizes so you can crochet it to fit any child perfectly.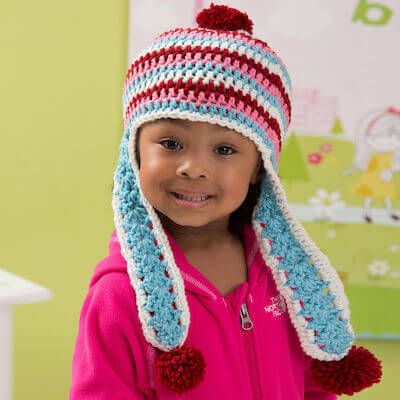 Get the Pattern here

3. Crochet Earflap Beanie Pattern by Fiber And Hook
Great for all ages, this beanie features earflaps, tassels and three pom poms! Great for babies, toddlers, kids, teens and adults! Attach a button or flowers to put your own unique mark on this hat.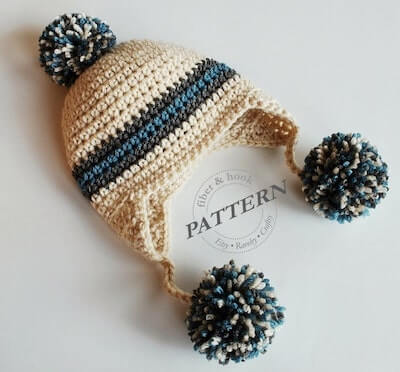 Get the Pattern by Fiber And Hook here

4. Crochet Snowflake Baby Hat with Ear Flaps Pattern by Yarn Blossom Boutique
Perfect for those winter months, this adorable hat keeps whoever wears it nice and warm. The pattern includes detailed instructions and materials list. Perfect for either gender and any age, this hat looks great on newborns and adults alike!
If you like snowflakes then be sure to check out our compilation of different snowflake patterns to choose from.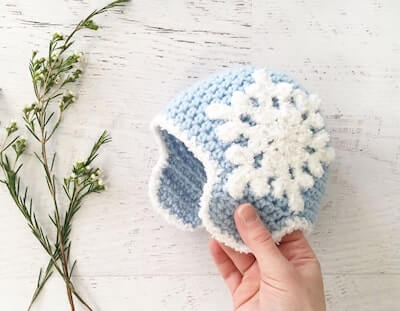 Get the Pattern by Yarn Blossom Boutique here

5. La Vie en Rose Ear flap Crochet Hat Free Pattern by Kirsten Holloway Designs
This sweet ski hat crochet pattern for babies-adults is simple, yet stylish and makes a great winter hat for those crocheters who are comfortable with beginner patterns, and want to try their hand at something a little more complex (but still "easy"). Six sizes are included so you can crochet one for each person in your family!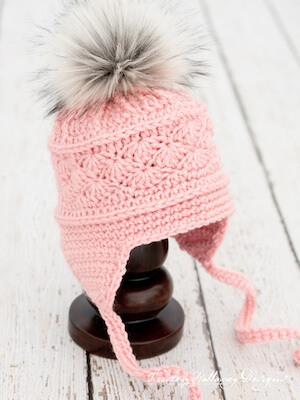 Get the Pattern here

6. Bobble Poof Crochet Ear Flap Hat Pattern by Moogly
This Bobble Poof Crochet Earflap Hat Pattern has a whole lot going on, and it adds up to a fun toque for both kids and adults! This stocking cap is easily customizable too – it works just as well with or without the earflaps and pompom on top.
With this crochet hat with ear flaps you can make a great hat for men and women, boys and girls – and now newborns too!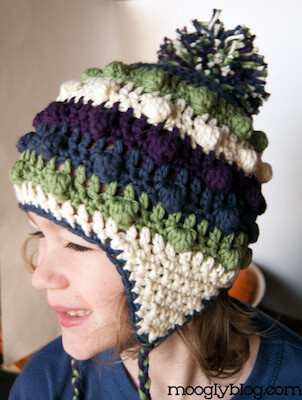 Get the Pattern here

7. Ear flap Crochet Hat Pattern by Made With A Twist
Meant to sit loosely on the hair, no more hat head of the wearers of this earflap hood! Made of super bulky yarn, the hood is simple to crochet in just over an hour and it's a beautiful accessory for even the pickiest of gift-getters.
Whip some up in every color to add to your gift-giving list or craft fair inventory this holiday season.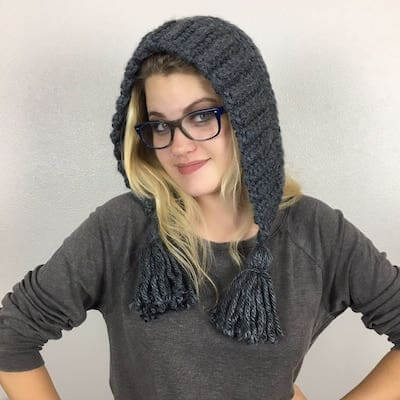 Get the Pattern by Made With A Twist here

8. Burlington Crochet Ear Flap Hat Pattern by Two Of Wands Shop
This one has oversized flaps for full coverage and extra warmth, and the lightweight roving it is made of keeps it from weighing your head down.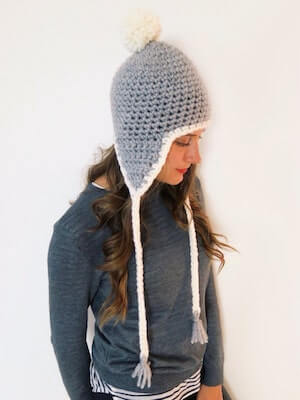 Get the Pattern by Two Of Wands Shop here

9. Men's Ear Flap Hat Crochet Pattern by Heather C Gibbs
The earflap hat is a quintessential men's crochet hat pattern. It's perfect for skiiing and other cold weather activities. It also has style, so a guy can comfortably wear it out to the bar.
This crochet hat with ear flaps pattern is special because of the graphic colorwork you'll work as you stitch.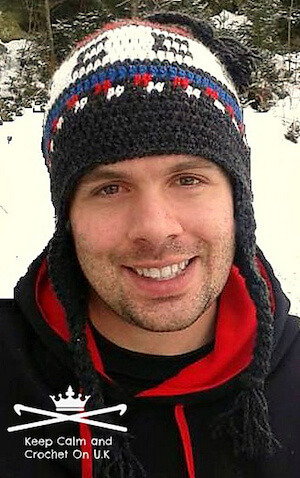 Get the Pattern here

10. Crocodile Stitch Crochet Ear flap Hat Crochet Pattern by Bonita Patterns
The whimsical crocodile stitch – with its 3-D look akin to scales, petals, leaves, or even berries – easily captures people's hearts and imaginations.
This Crocodile Stitch Earflap Hat is as versatile as it is charming, so stitch one up and get transported into the realm of the flower-bedecked wee folk or impish and troublesome swamp dragons!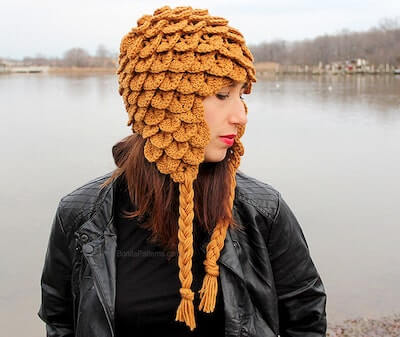 Get the Pattern by Bonita Patterns here

11. Crochet Owl Ear Flap Hat Pattern by Yarnutopia
This Crochet Owl Ear Flap Hat is such a fabulous hat for your winter wardrobe! Change things up with this hat to make it uniquely your own – Eye color, Pom Poms, and yarn color can give this owl different characteristics!

Even if you don't want the owl look, you can create a plain hat with poms and crocodile stitch earflaps and still have a wonderful hat! This hat is sure to be a real "hoot" in a crowd!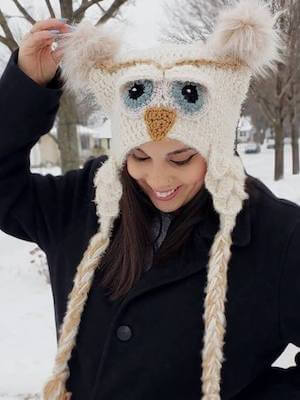 Get the Pattern here

12. Baby Hat with Ear Flaps Crochet Pattern by Yarnspirations
Keep baby cozy in this toasty crochet hat featuring ear flaps for extra warmth! The body is worked in the round from the top down using half double crochet. Ear flaps are made separately starting at the center of the star, with each point worked continuously.

Flap is then worked by filling in the gaps formed between two of the stars, using stitches of various heights, for a cool jagged effect. After sewing flaps to the hat, a single crochet border with built-in short ties, completes the adorable look.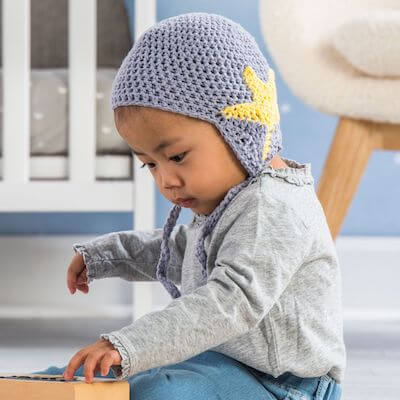 Get the Pattern here
STAY WARM AND MAKE A STATEMENT WITH THESE CROCHET EAR FLAP HAT PATTERNS!
We'd love to see your hats if you end up finishing some. Share them over our Facebook Page–it brings us great joy to see your projects!

If you like making your own accessories, you might also like our collection of crochet scarf, berets, head wraps, headbands, shawls, cape, bucket hats, and more crochet clothing patterns we have on our site. Your to-crochet list is about to get really long!

For now, make a bunch of these patterns in your favorite colors, and you'll have a crochet ear flap hat to match your winter outfit!