It's not only superheroes who need capes! These crochet capes below are a delightful mix of shawls, cardigans, and ponchos. They can be made in many different styles and sizes – from ones that wrap around your shoulders to hooded designs that drape over your back, reminiscent of a superhero's cape.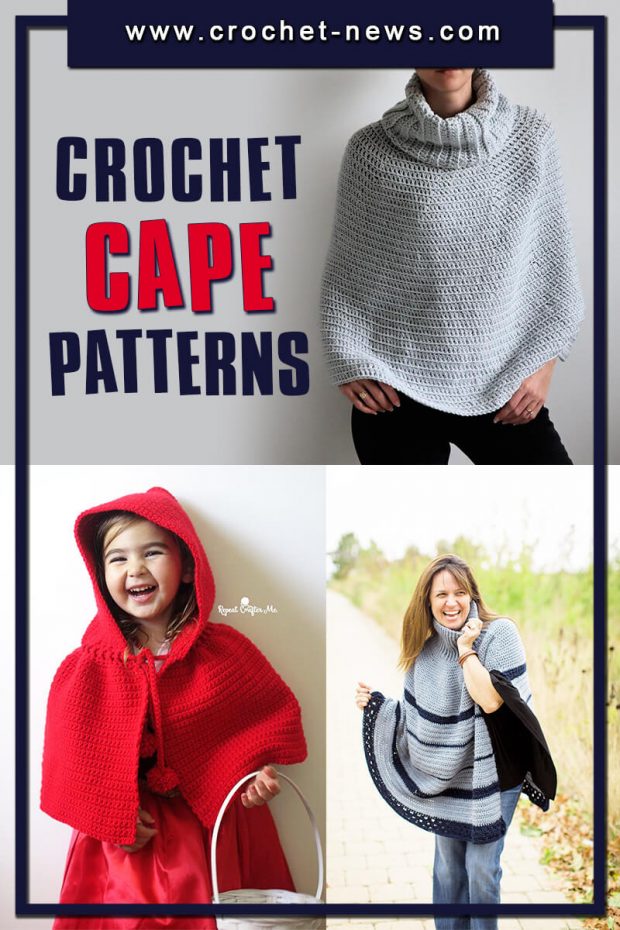 Capes are the new shawls. They are effortless cover-ups, casual fashion statements, great for layering, can even be worn as tops over a camisole. Need I say more? From winter-ready to light and lacy, and from children, adults, and babies – we have patterns for all!

1. Cozy Cowl Cape Crochet Pattern by Yarnspirations
Picture yourself in the simple beauty of this cowl neck cape, keeping you warm on cool autumn days. Choose your best colors then head out looking fabulous in the luxurious comfort of your finished project. Plus, the beautiful flared drape is so flattering, it makes a loved addition to anyone's closet.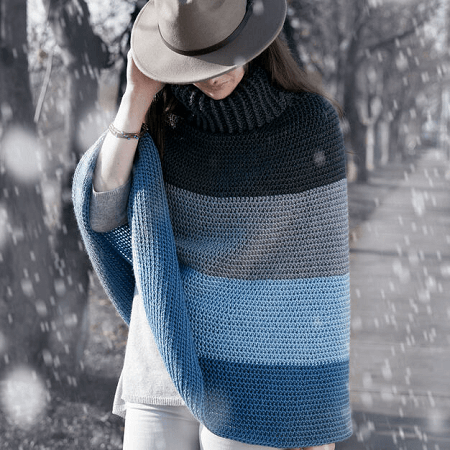 Get the Pattern here

2. Crochet Cape Pattern by Maggie's Crochet
Add some classic style to your wardrobe this winter by making this long hooded cape. The pattern is perfect for either a casual or dressy occasion. All you need is a worsted weight yarn of your choice to achieve the style you desire. With one size fits most, this pattern is ideal for all body types.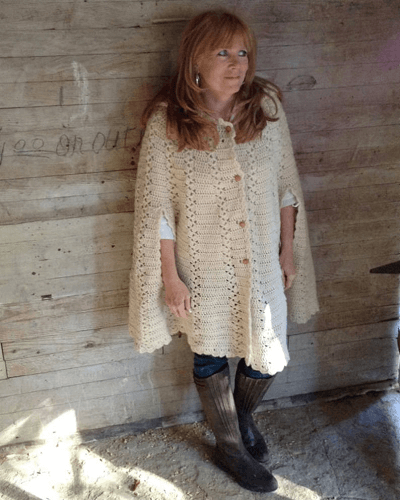 Get the Pattern by Maggie's Crochet here

3. Children's Infinity Cape Crochet Pattern by Briana K Designs
Isn't it so much fun to dress our children in stylish and beautifully handcrafted clothing? The wonderful aspect about this fashion cape is it can be worn in the crisp fall or cool summer evenings to keep the bugs and chill away yet not be too hot. And as an extra layer in the winter, it could even be worn over a coat.

This pattern uses a fun and innovative technique for cables that do not have gaps or holes behind them, pop, and have a beautiful start and finish.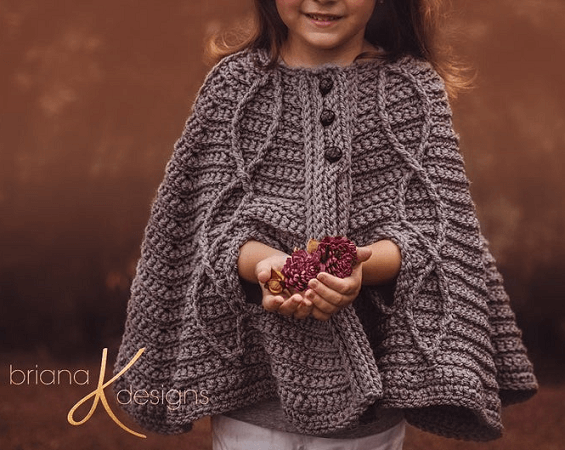 Get the Pattern by Briana K Designs here

4. Crochet Turtleneck Cape Pattern by Stitch And Hustle
This Turtleneck Cape features a slit side to make it functional and keep your arms accessible. Perfect for a cup of coffee on the porch on a brisk morning or carrying your bag to the market. The turtleneck has textured crochet ribbing to give you all the cozy feels. You can even wear this cape around your house as a sort of blanket shirt!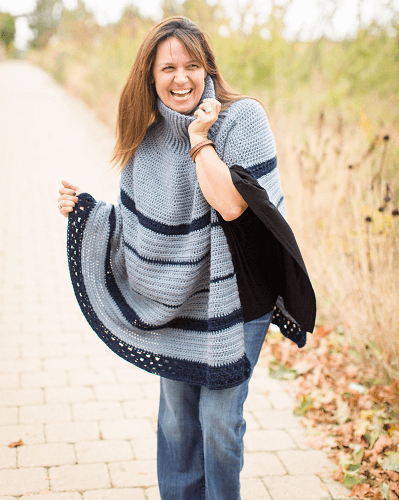 Get the Pattern here

5. Crochet Princess Cape Pattern by Winding Road Crochet
Keep your little girls warm while letting them play 'princess' all the time. This Princess Cape works great for dress up, as a way to keep them warm on Halloween or just as a nice light coat in the fall or spring. They will look and feel royal. Pick colors that match their favorite princess. Use the flower motif provided or a different motif to add a special detail.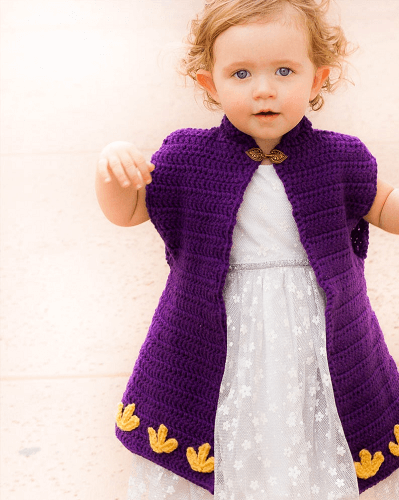 Get the Pattern by Winding Road Crochet here

6. Crochet Capelet Ponchette Pattern by Patterns By Krissy
This lovely Capelet Ponchette is so beautiful. It is easy and so fast to make. You can wear it over a sleek dress, or pair it up with jeans. You can use a 3 weight yarn that achieves the gauge listed in the pattern. This design has a large neckline, which makes it a cool item to wear this spring and summer.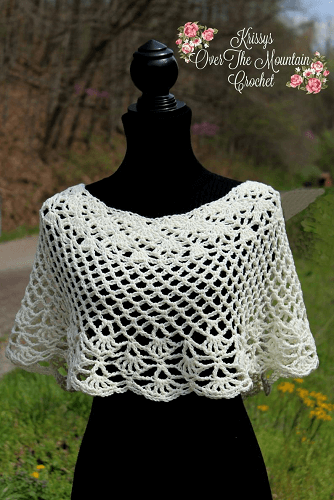 Get the Pattern by Patterns By Krissy here

7. Crochet Granite Cape Pattern by All About Ami
Crochet this gorgeous garment featuring the granite stitch that is wonderful for beginners. This Granite Cape is perfect for the transitional weather as you can layer it over your outfits and wear it during chilly days! It is comfortable and stylish and will be a favorite in your wardrobe!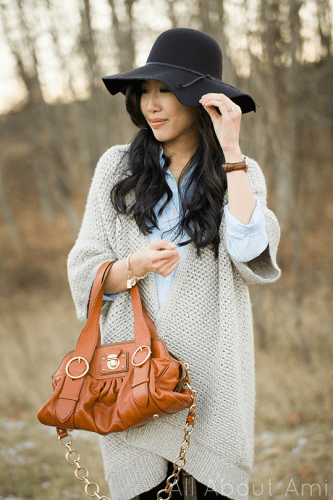 Get the Pattern here

8. Crocodile Stitch Hooded Cape Crochet Pattern by Bonita Patterns
This Crocodile Stitch Hooded Cape is straight out of a fairy tale. This unique and eye catching cape is the perfect addition to your handmade closet and makes an amazing one of a kind gift for a loved one. The crocodile stitch featured in this hood is much easier to crochet than it looks!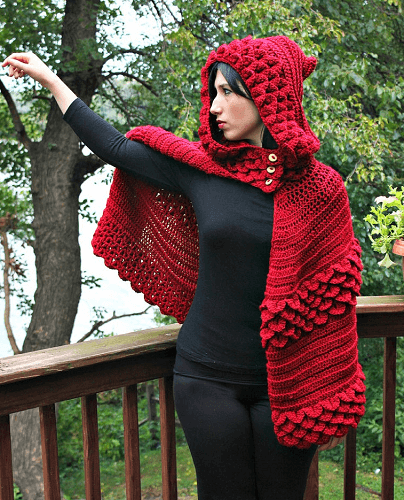 Get the Pattern by Bonita Patterns here

9. Mystical Cape Crochet Pattern by Red Heart
Whip up a little black magic with your crochet hook with this beguiling crochet cape that is perfect to wear on Halloween or anytime. It's an easy project that's just the thing when you need a bit of warmth with dramatic flair! Simple to size, it also features a fun pompom tie for an enticingly playful finish!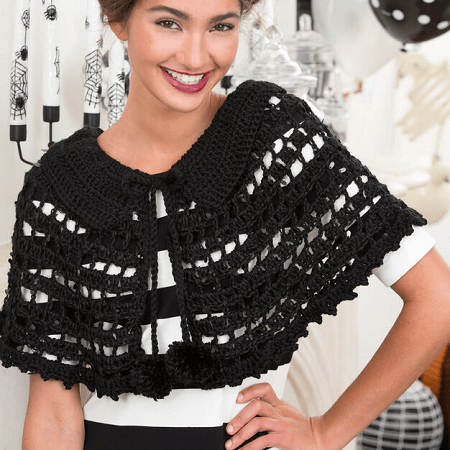 Get the Pattern here

10. Crochet Capelet Pattern by Sarah Taylor Designer
This Crochet Capelet Pattern is designed to keep you extra warm and cozy and ultra stylish at the same time. The roll neck replaces the need for a scarf, and the edging detail adds an extra style element to the finished capelet.

The finished capelet measures approximately 21" (53.5 cm) from the top of the neck edge (before rolling down) to the bottom of the lower edge. The pattern comes in three sizes: Small, Medium to Large, and XL to XXL.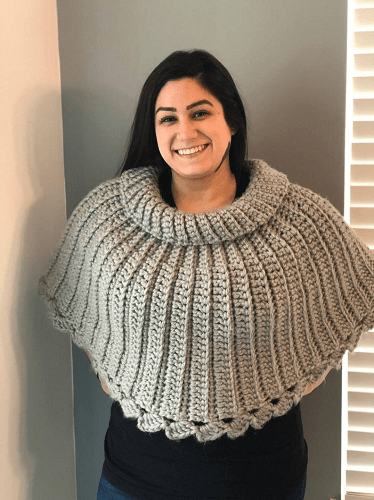 Get the Pattern by Sarah Taylor Designer here

11. Easy Crochet Cape Pattern by Simple Things By Tia
This cape is scrumptious!! It's super simple, too, using only single crochet and double crochet stitches. Besides being strikingly unique, it's incredibly comfortable and warm. Perfect for a stroll through the woods on a cool morning, or as a cozy extra layer sitting around a fire on those long winter nights ahead.

The cape is made up of three panels that you sew together, leaving a gap at the bottom for your hands to slide through. It's one size, but it can be easily adjusted by increasing or decreasing the panels.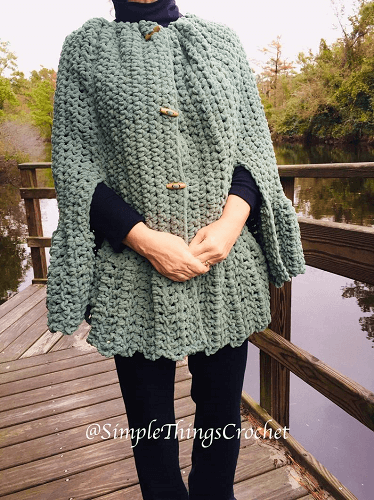 Get the Pattern by Simple Things By Tia here

12. Free Crochet Cape Pattern by Furls Crochet
This cape is the perfect topper for walking in a winter wonderland! Crochet yourself a sparkling snowflake with easy cables and charm everyone you meet! This cape pattern includes 2 sizes – misses and plus – for a perfectly cozy fit for all. Crocheted from the top down, it's flattering drape will carry you through the season!
Get the Pattern here

13. Color Block Cape Crochet Pattern by Evelyn And Peter
This Color Block Cape is definitely easy and mindless but still looks great! This is the perfect pattern to chill out with and work on at the end of a long day. It uses double crochet stitch throughout and has very minimal seaming.

It is made oversized enough so that it could be one size fits all! If you want it longer, you can easily add more rows before splitting off the front panels.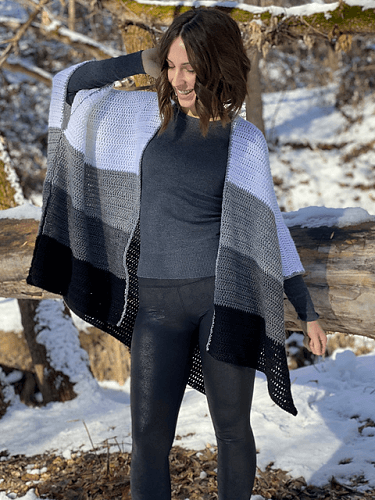 Get the Pattern here

14. Girl's Capelet Crochet Pattern by Stitch And Whimsy
This simple, stunning capelet is worked in a single piece from top to bottom. Although one size, this versatile capelet can be made to fit 12M to 5T by moving the buttons or adding extra rows for length. Ideal for spring or fall, slip this capelet over a sleeveless dress or long sleeves for extra warmth without bulk.

Perfect pattern for a beginner or advanced, this capelet features a mandarin style collar and two buttons to keep it secure while still allowing arm movement. The pattern creates a dainty scalloped edge.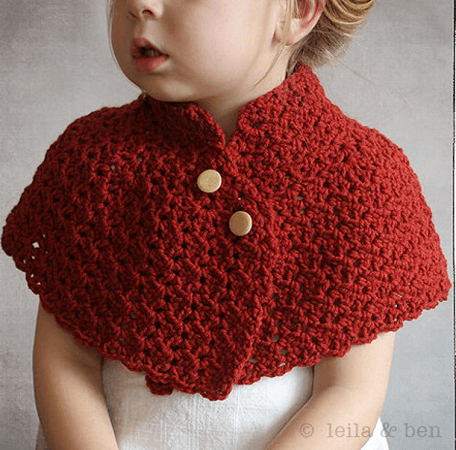 Get the Pattern by Stitch And Whimsy here

15. Crochet Little Red Riding Hood Cape Pattern by Repeat Crafter Me
Crochet a costume! This Little Red Riding Hood Cape is an easy pattern (made up of simple single crochet stitches!) and the perfect addition to a Red Riding Hood outfit! The pattern is child size but it will actually fit a wide range of ages. If you are looking for a handmade Halloween idea, this one is for you!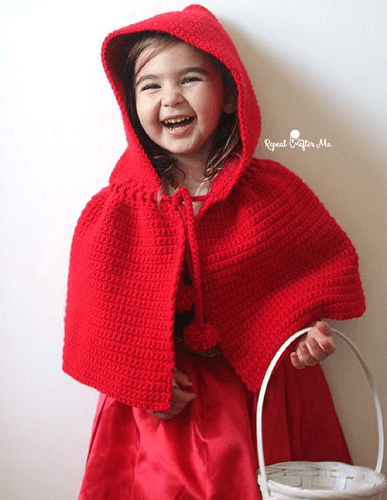 Get the Pattern here

16. Vintage Grey Capelet Crochet Pattern by Han Jan Crochet
This Vintage Grey Capelet is the perfect addition to your winter wardrobe. Effortlessly easy to wear and throw on to keep shoulders and neck snug.

The capelet is a seamless construction from the bottom up using a back loop and front post stitches for some super chunky detail and texture. A really easy garment to whip up in a variety of sizes and you can adapt the length and width to suit yourself too!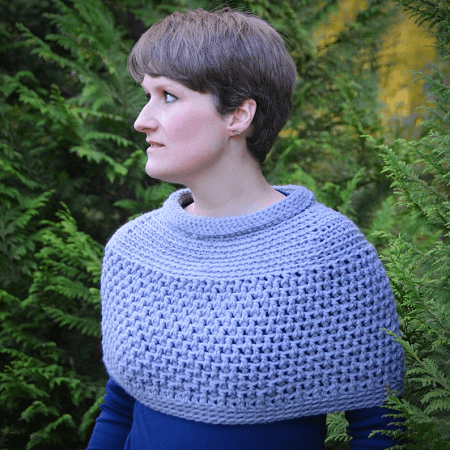 Get the Pattern here

17. Ladies Floral Cape Crochet Pattern by Crochet Hook Cottage
Make this pretty Ladies Floral Cape for yourself with this crochet pattern. With ribbing around the neckline fastened by a single button, the main part of the cape is made of 3 rows of pretty crochet flowers, separated by rows of simple crochet panels. The cape becomes fuller as it lengthens, and ends just at your elbows.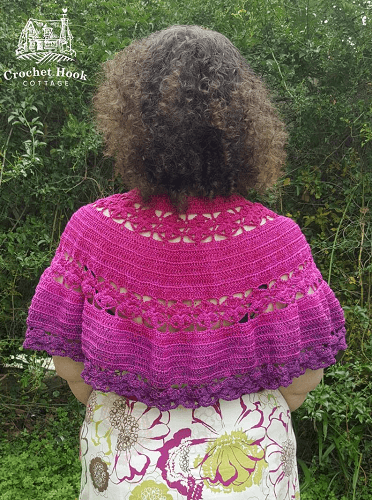 Get the Pattern by Crochet Hook Cottage here

18. Crochet Hooded Cape Pattern by Morale Fiber
If you can chain, single crochet, and double crochet, you can make this fabulous convertible cape! With a deceptively simple stitch pattern and a few quick construction elements, even beginners can work this stylish fairytale wardrobe staple.

This piece is long enough to wear as a small wrap vest, while the leaf motif drawstring can convert it to a closed, hooded capelet. The open-ended front has enough room to double up the cowl around your neck for extra warmth, and the back of the hood comes to a sweet but subtle point.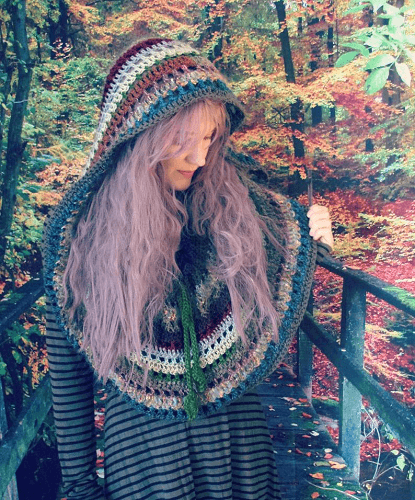 Get the Pattern by Morale Fiber here

19. Cape For A Princess Crochet Pattern by Red Heart
An elegant, crocheted cape with a lacy edge will keep your favorite princess warm while she's out trick-or-treating. Make it in gold as shown (or choose the color that best matches her costume) for an ensemble she'll never want to take off!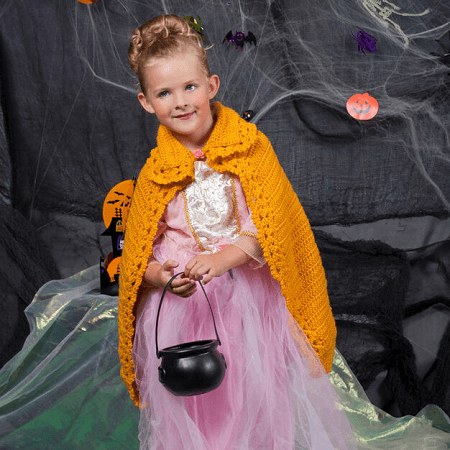 Get the Pattern here

20. Cape Crochet Pattern by Sarah Taylor Designer
This Cape Crochet Pattern produces a versatile garment that can be worn as an outer piece on cool days, as an extra layer under your outer garments, or bunched up to look like an oversized scarf.

The buttons can be done up to make more of a polo-style collar or left undone to give you the split neckline look. You can easily get the garment on and off without ruining your hairstyle, making it an ideal choice to wear as a bridal capelet for a winter wedding.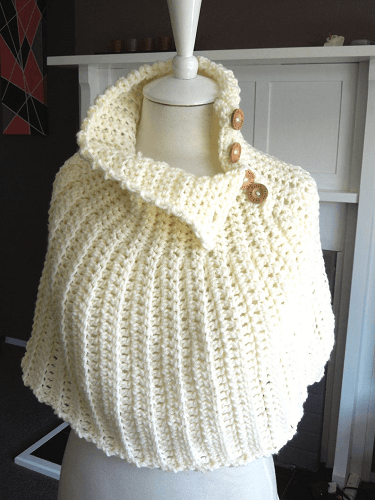 Get the Pattern by Sarah Taylor Designer here

21. Posh Cape Jacket Crochet Pattern by Briana K Designs
This Posh Cape Jacket can be worn for an office professional look or for a casual afternoon coffee date. It's simplistic yet striking. High fashion isn't always about what you can buy, but what you hand style for a personal look. It's about something that comes from within you.

This project also gives a unique opportunity for zen crochet with purpose. The easy repeats allow you to crochet in peace, enjoy the project, and unwind.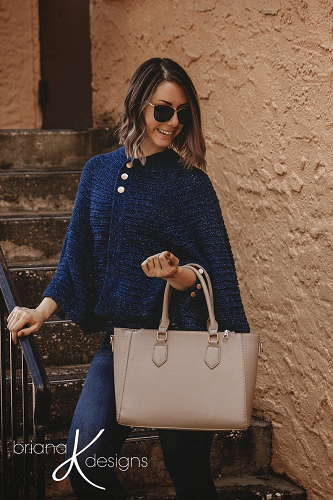 Get the Pattern by Briana K Designs here

22. Classic Capelet Crochet Pattern by Crochet Spot Patterns
This Classic Capelet Crochet Pattern comes in 9 sizes ranging from x-small to 5X. Crochet the capelet as long or short as you wish. Make it just long enough to cover the shoulders to complement a dress in the winter. Or make it long enough to go past the waist to create a warm shawl.

The capelet is crocheted from the top down, and is fastened with a simple tie at the neck. Feel free to switch the closure if you wish by adding a button or a brooch.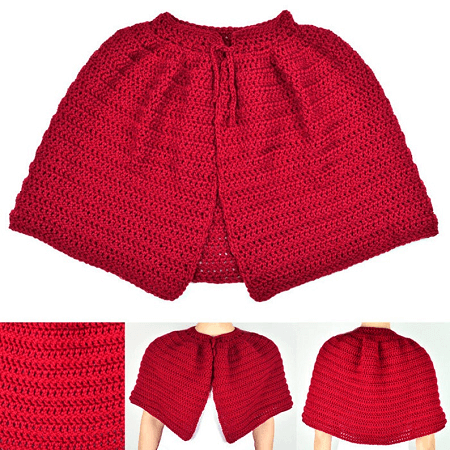 Get the Pattern by Crochet Spot Patterns here

23. Cordillera Cape Crochet Pattern by Heart Hook Home
This Cordillera Cape is the perfect piece of clothing to wear on chilly nights around the fire or while watching television with the family. This cape is perfect to wear over your favorite tee or long-sleeved top. The pattern comes in both a one-size-fits-most and a plus size (up to 6XL).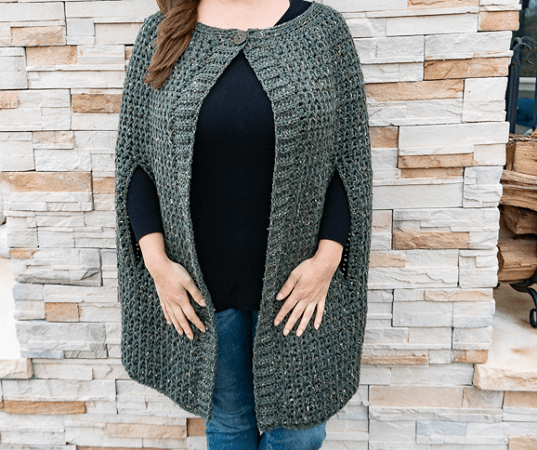 Get the Pattern here

24. Icing On The Cape Crochet Pattern by Stitches N Scraps
Wrap yourself in luxury with this Icing on the Cape! The full circle construction and soft, wool blend yarn give this cape a generous, flowing fit and amazing drape. A contrasting border adds a dramatic flair. With a single row repeat through most of the design, this easy crochet wrap really is a piece of cake – complete with icing!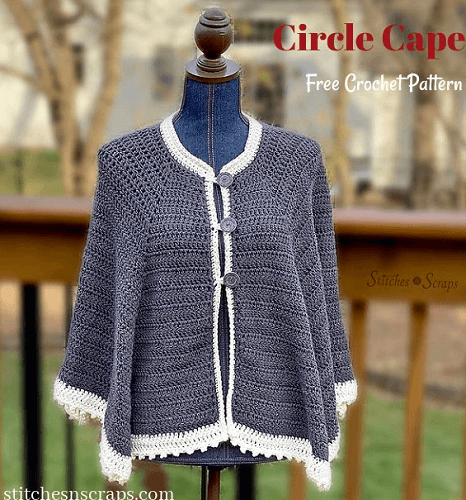 Get the Pattern here

25. Esma Cape Crochet Pattern by Lakeside Loops
This modern crochet cape was inspired by macramé! Using a simple stitch and crochet hook this trendy open cape actually looks like its' knotted inspiration. This bohemian piece is a perfect addition to your summer wardrobe.

Because of the complexity of the design, this cape is tricky to size up/down but it's designed to fit a very wide range and there are extra instructions in case you'd like to add more width for a roomier feel based on your size.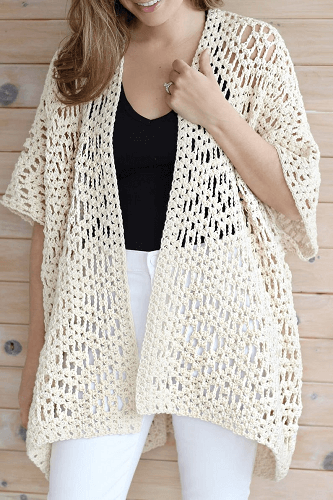 Get the Pattern by Lakeside Loops here

26. Quick And Easy Cuffed Cape Crochet Pattern by Bella Crochet
The addition of cuffs to this easy-to-make Cape keeps it in place as you go about your day, and gives the illusion of sleeves! This versatile little scarflette is quick and easy to make, and can be worn in many different ways to suit your mood! It also makes a lovely gift that is sure to be appreciated.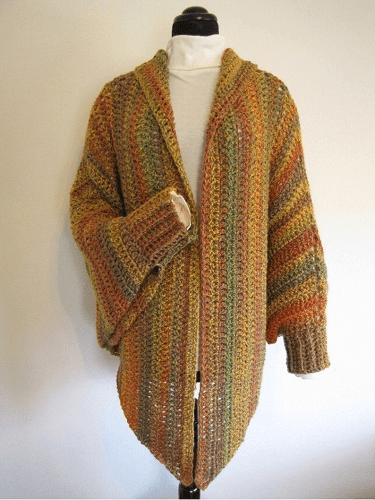 Get the Pattern by Bella Crochet here

27. Dusk Cape Crochet Pattern by All About Ami
The stunning Dusk Cape is a statement piece with its beautiful ridged texture and gorgeous drape! This cape features tapered shoulders, a delicate ribbed collar and ribbed arm openings. It's the perfect layering piece over all your outfits!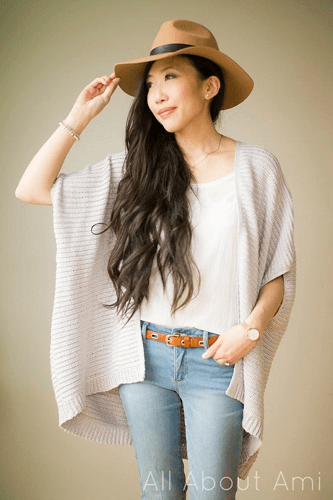 Get the Pattern by All About Ami here

28. Marlo Cape Crochet Pattern by Designs By Phanessa
Can you believe that this gem is actually a perfect project for beginners? You may still be a crocheting newbie but you certainly already have the chance to create real works of art! This turquoise cape is so subtle, elegant, and absolutely unique.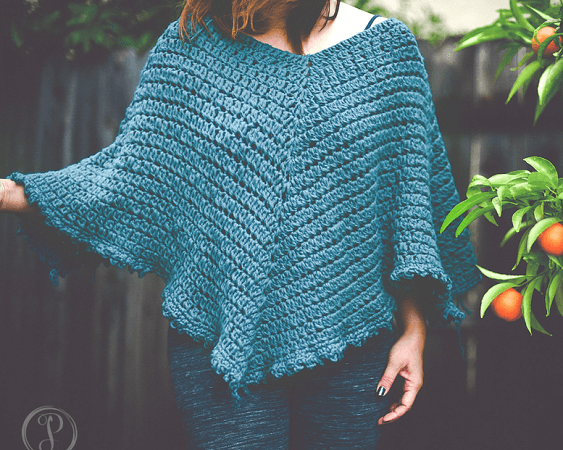 Get the Pattern here

29. Rainbow Hero Cape Free Crochet Pattern by Jessie At Home
This Rainbow Hero Cape will make any little girl feel super! The pattern is easy to memorize, so once you have a few rows done, you can just pick it up any time and get crocheting without having to follow along with the pattern. You can make it as long or short as you want then just add a few buttons and you're good to go!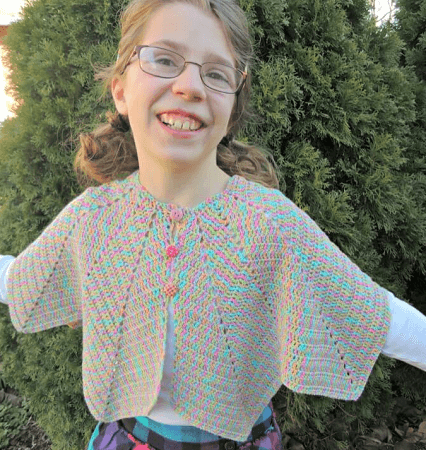 Get the Pattern here

30. Cowl Neck Capelet Crochet Pattern by The Snugglery Patterns
Is there anything that combines understated elegance with cozy comfort quite like a cowl neck capelet? With this pattern you'll be able to make the simple yet beautiful capelet/poncho pictured in a range of sizes with a completely adjustable length.

Using a 6mm hook and worsted weight yarn, this will become your go-to cape pattern. It comes with instructions for sizes from small to 2XL+.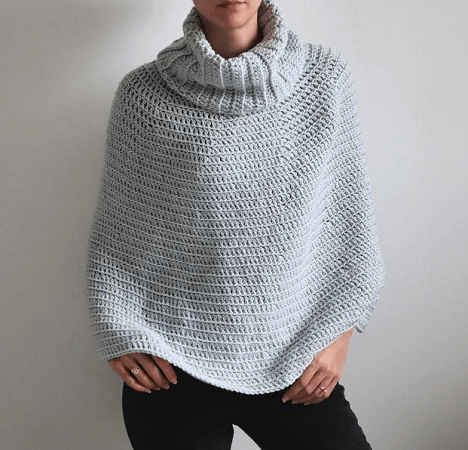 Get the Pattern by The Snugglery Patterns here

31. Lacy Bell Crochet Capelet Pattern by Love City
With its crochet shell stitch pattern and intricate design, this Lacy Bell Crochet Capelet is one item you'll want to have in your closet! This easy crochet pattern is warm and versatile and can be worn as a capelet or even as an oversized cowl on chilly days.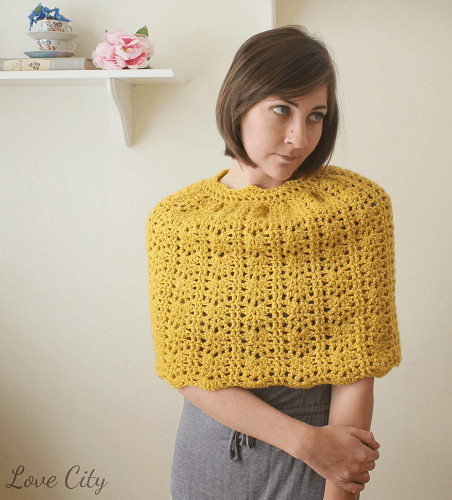 Get the Pattern here

32. Curvy Girl Cape Crochet Pattern by Nana's Crafty Home
This crochet cape is a beginner friendly pattern for a chic and upscale cape poncho that looks knit! This Curvy Girl Cape is a fabulous and flattering cape that is so easy you aren't going to believe it! Full of drape and drama, this beautiful piece is the perfect addition to any outfit to add class and sizzle!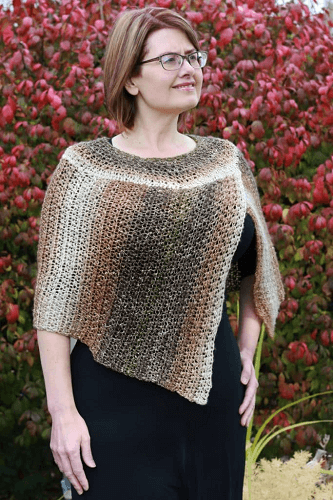 Get the Pattern here
With the different kinds of crochet capes we have here, we bet you'll add quite a few to your must-make list!

Crochet your own comfy capes and share your finished pieces on our Facebook Page. We'd love to see your efforts!

In my opinion, you can never have too many crocheted wardrobe pieces, so here are more crochet patterns that will keep you busy, stylish, and warm. Wanting to try Winter crochet ponchos, crochet baby ponchos, or maybe more crochet sweaters and cardigans?

Isn't it amazing? Do not think twice— prepare and use your yarn and hooks and start making these crochet cape patterns!