Not only do ponchos look incredibly cute when worn by an ickle baby, but they're also a fantastic choice of clothing because of the ease that you can pop them over little wriggling limbs. That's why you are sure to love these crochet baby poncho patterns you can make today!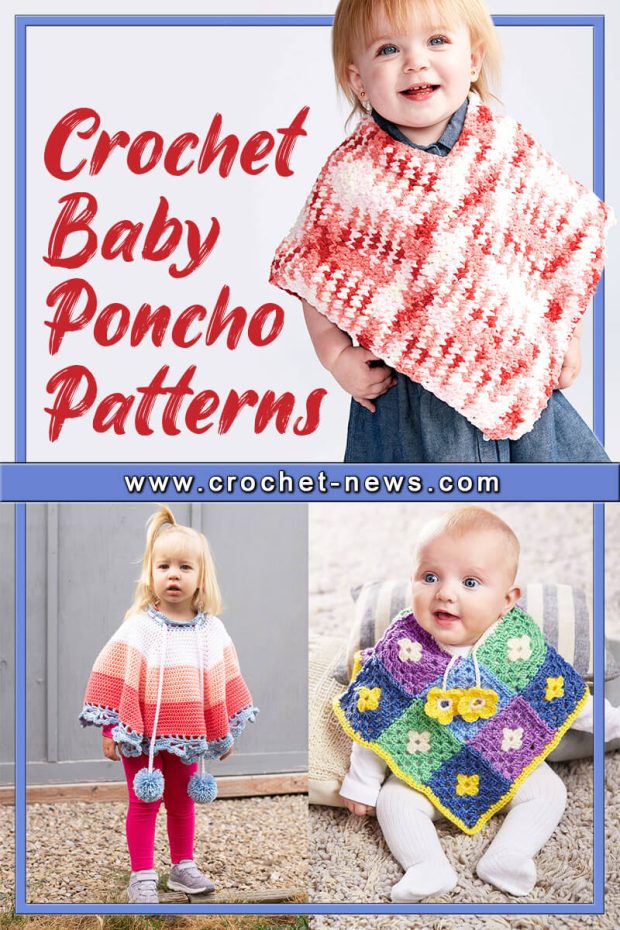 Newborn to toddlers, from chunky ones to keep baby warm, to sweet designs for playdates and outings! They're quick, they're cute, and they're surprisingly easy to crochet too! Before you know it, you'll have a beautiful finished item that you can pop over the head of the nearest cute baby – voilà!

1. Bear Cub Crochet Baby Poncho Pattern by Yarnspirations
An all-in-one head and neck cover is perfect for babies who can't keep their hats on their head! While this crochet pattern is quick to crochet and requires minimal shaping and finishing!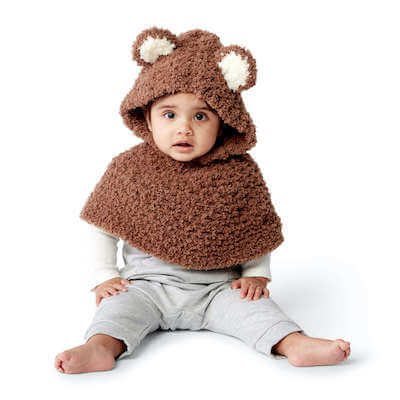 Get the Pattern here

2. Sam Kids Poncho Crochet Pattern by Muki Crafts
Light, textured and full of easy stitches, this Sam Kids Poncho Pattern was designed especially for beginner maker. Beautiful v-neck, decorated with small buttons, this poncho is perfect for layering and a staple item in any girls or boys wardrobe.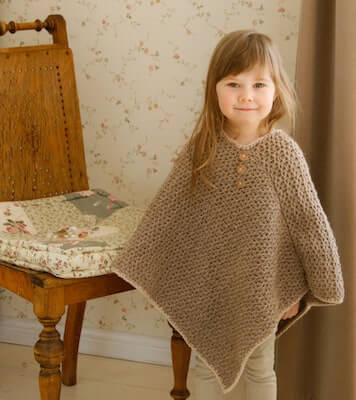 Get the Pattern by Muki Crafts here

3. Crochet Lace Baby Poncho Pattern by Newborn Knots
This pattern creates a beautiful poncho with lovely lace strips. It is simple to make using mostly chains and double crochets. The pattern comes in 4 sizes up to 24 months and works up quite quickly.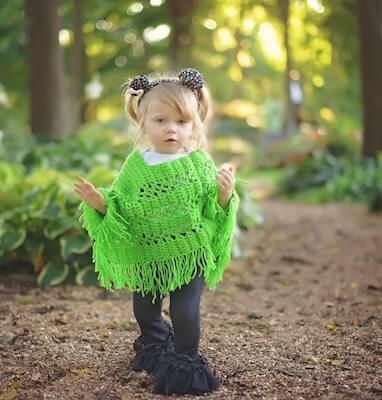 Get the Pattern by Newborn Knots here

4. Cheerful Crochet Baby Poncho Pattern by Top Crochet Patterns
This colorful cape poncho uses six calming colours to create a special gift for a cute youngster. Try playing with different colour combinations to give yours a colourful alternative look!
Get the Pattern here

5. Crochet Cozy Hooded Baby Poncho Pattern by Crochet Spot Patterns
This poncho pattern comes in 4 sizes ranging from 6 months to 6 years old. It's easy to put on crazy, wiggling children since no sleeves are required!

The poncho is crocheted from the top down, all in one piece so that no sewing is required (other than the buttons). Feel free to crochet the poncho in any color you wish or even use multiple colors to create stripes.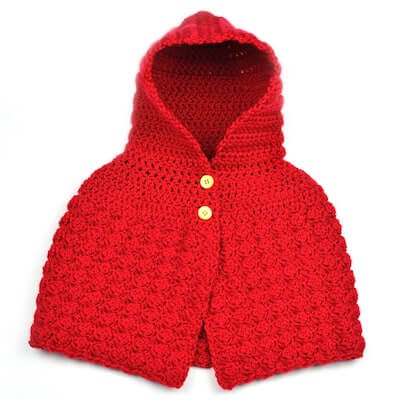 Get the Pattern by Crochet Spot Patterns here

6. Crochet Car Seat Baby Poncho Pattern by Left In Knots
This Crochet Car Seat Poncho works up quickly with super bulky yarn, and it will keep your toddlers warm and safe in their car seats this winter.

If you think mom and baby might be getting a lot of baby blankets but you still want to crochet a baby gift; consider crocheting a car seat poncho as a baby gift!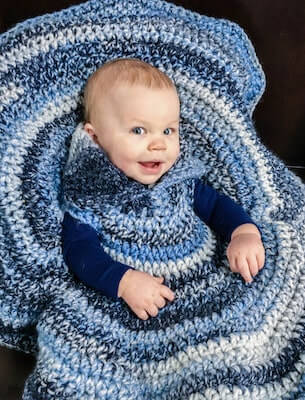 Get the Pattern by Left In Knots here

7. Simple Crochet Baby Poncho Pattern by Yarnspirations
Let them wear this sweet poncho over any outfit for a quick layer of added warmth. It makes a unique gift with personality – especially with baby's favorite color in mind!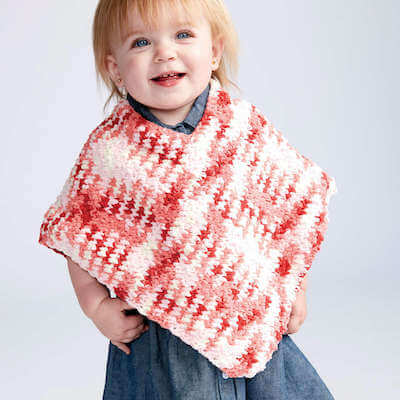 Get the Pattern here

8. Girls Color Block Poncho Crochet Pattern by Melody's Hooked
Do you know a little girl who loves to twirl? This poncho is so much fun to wear and it will keep her warm too! The fluffy pom-poms are irresistible and the lacy edging adds a feminine look.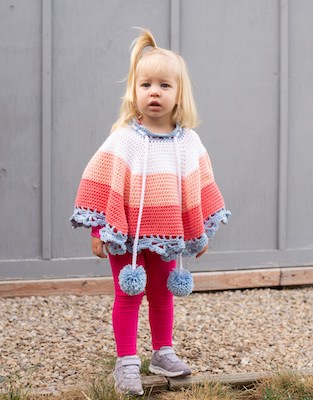 Get the Pattern by Melody's Hooked here

9. Lucky Penny Poncho Crochet Pattern by Sincerely Pam
The squishy yarn, dense fabric, and cushiony cowl make this a go-to design for the kids in winter. It's beautiful and fun to wear for all ages.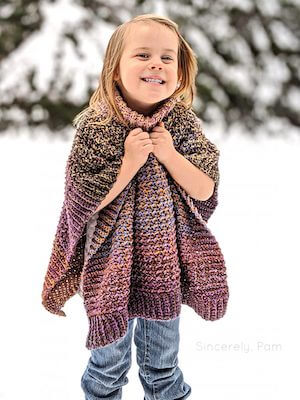 Get the Pattern here

10. Crochet Frutti Toddler Poncho Pattern by Vickie Howell
This crochet baby poncho pattern uses three basic stitches making it an easy crochet pattern. Fun pom poms add a whimsical touch to this poncho that your little one is sure to love.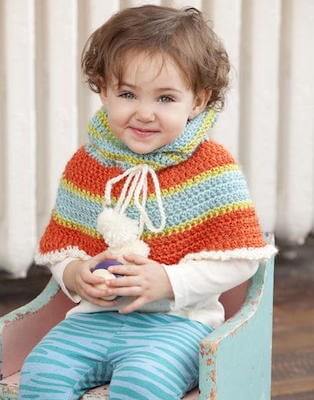 Get the Pattern here

11. Crochet Roll Neck Poncho Pattern by TC Designs UK
Create a cozy connection by making matching ponchos both you and your child cherish. This stylish poncho can be worked in sizes from baby to adult as long as you have a few measurements. The cable twist forms a detailed rib and the full circle body has a snuggly warm look and feel.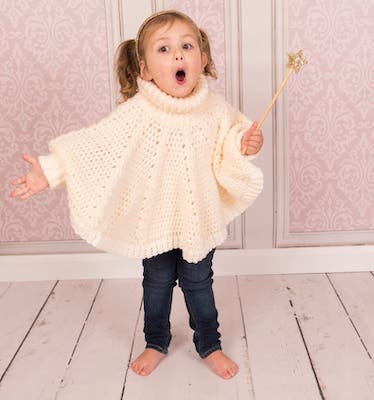 Get the Pattern by TC Designs UK here

12. Crochet Baby Poncho Pattern by Jackie Carreira
Turn a set of granny squares into an adorable cover-up. To recreate this perfect poncho, first make 16 simple granny squares, then sew them together into two groups of eight. Next, sew the two halves together to create the front and back then finish off with simple borders at the top and bottom.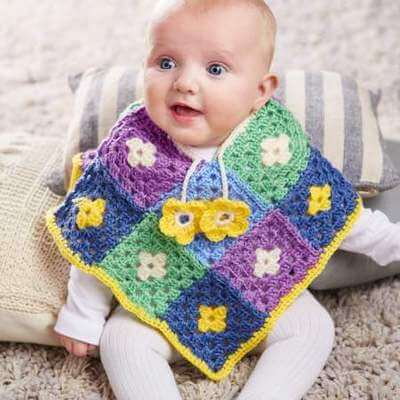 Get the Pattern here

13. Crochet Petal Baby Poncho Pattern by Yarnspirations
This crochet poncho is petal perfect, featuring cheerful shades that bring the imaginative pattern to life! Each petal is worked from the center-out, then crocheted together creating a fun scalloped hem.

This pattern includes single crochet, double crochet, half double crochet and single crochet in the back loop techniques. It's an endearing layer of warmth that really stands out on the playground!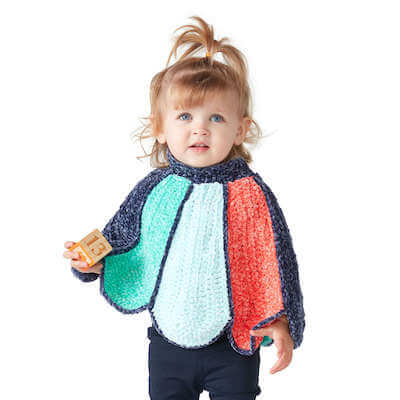 Get the Pattern here

14. Granny Square Crochet Baby Poncho Pattern by Baby Crochet Designs UK
This Simple granny style Poncho is an easy repeat pattern and works up quickly, it can be worked in an endless choice of colors. It can be made with a plain neckline, with a ribbed neck or with a hood and a shell or fringe border, the instructions are here for all choices.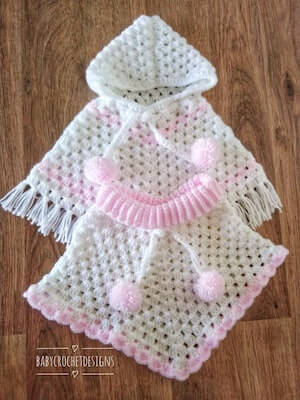 Get the Pattern by Baby Crochet Designs UK here

15. Baby Dino Crochet Poncho Pattern by Bernat
Bundle them up in the warmth of this crochet poncho that shows everyone baby's love for dinosaurs! A delightful color-blocking dinosaur silhouette is incorporated into the poncho shape, with spikes as appliqués. This playful pattern will engage you with single crochet, increases, decreases, and color blocking techniques. Give this imaginative gift that's offered in 6/12 and 18/24 month sizes.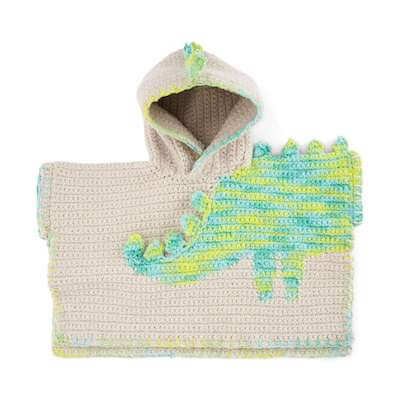 Get the Pattern here
WHIP UP A WARM COVER-UP FOR THE LITTLE ONE IN YOUR LIFE WITH THESE CROCHET BABY PONCHO PATTERNS!
You'll love crocheting these mini fashions in the softest colors for your special little bundle of joy. Be sure to share your makes on our Facebook Page so we get to see them!

Complete the look with other crochet patterns for babies: Crochet Baby Jacket Patterns, Crochet Baby Socks Patterns, Crochet Baby Turban Patterns, Crochet Baby Booties Patterns, Crochet Baby Hat Patterns, and so much more!

Get started on your next baby project today with one of these gorgeous crochet baby poncho patterns. With multiple sizes and styles, these pieces are perfect gifts any time of year!