You know what every dog needs? A crocheted dog toy, that's what! We figured everything else in our lives is covered in yarn, why not let the pooches in on the fun too? These crochet dog toys patterns are perfect for your furry friends!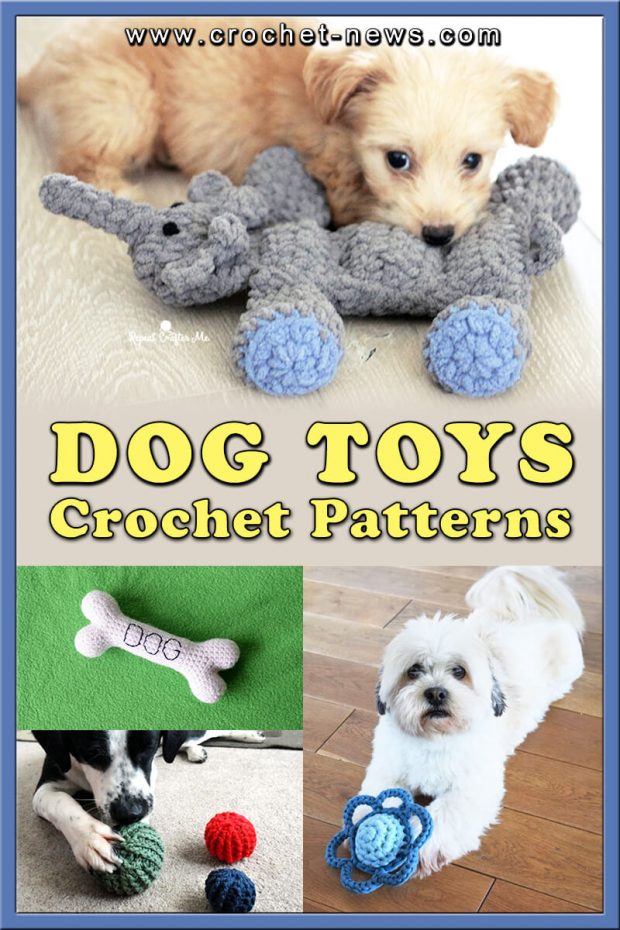 10 Crochet Toy for Dogs
Toys are a necessity for keeping dogs happy, active, and out of trouble, but spending money on them doesn't have to be part of the equation.
Luckily, you can create your own dog toys which are fun for Fido and gentle on your wallet. Just explore these brilliant crochet dog toy patterns, where you're to find a project you and your four-legged friend will love!

1. Dog Bone Crochet Pattern by Vliegende Hollander
Surprise your pets with a homemade crochet dog toys! With this clear and easy to follow crochet dog toy pattern, you can make your very own dog bone, and personalize it with your own pet's name embroidered on it.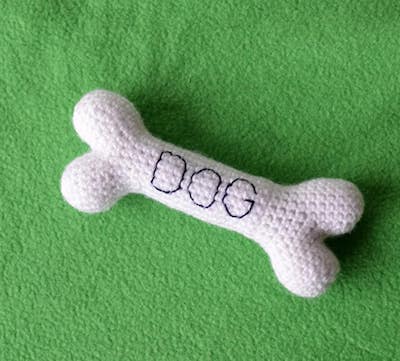 Get the Pattern by Vliegende Hollander here

2. Crochet Dog Toy Free Pattern by Be A Crafter
A simple and fast diy project to try with scrap yarn – crochet dog toy. You just need basic crochet skill and some colorful leftover yarn to create this fun and inexpensive toy for your paw-friends.
Handle for hand and big knot at the other side for jaw – let's play "Tug of War".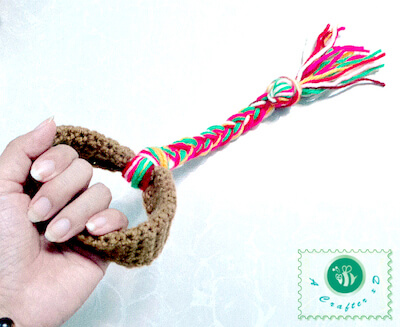 Get the Pattern here

3. Giant Turkey Leg Crochet Dog Toy Pattern by Stitchin' The Night Away
Here's another great toy you can make for you favorite four-legged friend. Using the very small hook makes the stitches nice and tight; which also makes for a very durable and long lasting toy.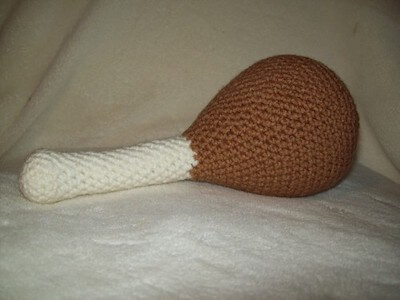 Get the Pattern here

4. Textured Ball Dog Toy Crochet Pattern by Crochet Spot Patterns
Here's a quick pattern to crochet for your lovable pooch. This pattern set contains 3 different ball sizes so you can crochet the one that best suits your dog's size. The balls have a nice textured pattern to keep your dogs engaged.

You can also add a bell, rattle, or squeaker inside the ball. The balls are fun to toss around and play fetch with, but are not intended to be chew toys for strong chewers.
If you're doggie will share, you can also give these cute balls to babies who are starting to explore different textures!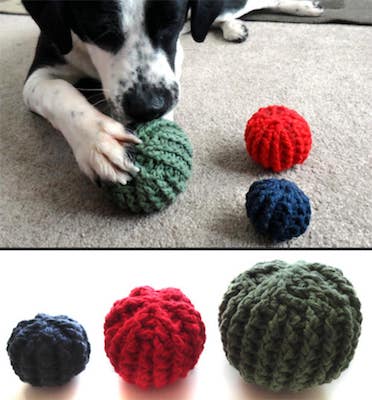 Get the Pattern by Crochet Spot Patterns here

5. Frisbee Crochet Dog Toys Pattern by Sara Sach
Instead of hard, plastic Frisbees or balls, give your dog a toy that's easy to catch and carry. Make a few dog toys using this easy crochet pattern.
You can even use reflective yarn for night-time play. These crochet dog toys are light for easy tossing, and travel far in the air.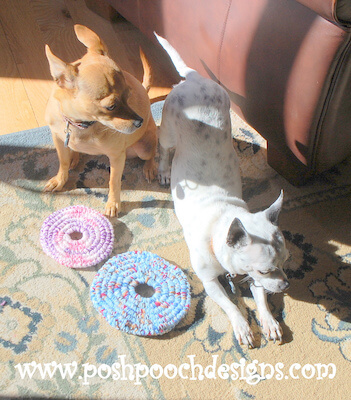 Get the Pattern here

6. Flower Dog Toy Crochet Pattern by Hobbii
Treat the dog and make your own unique toy. The flower is absolutely perfect and is crocheted in the Bungee Mini around a tennis ball. Your dog will love it!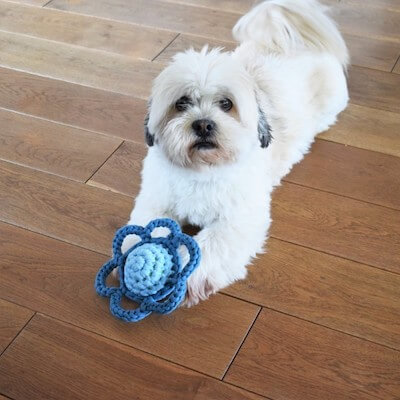 Get the Pattern here

7. Crochet Dog Toy Free Pattern by Heart Hook Home
This crochet dog toy free pattern is so simple. We'll use three strands of t-shirt yarn to make a super tight i-cord, then bore out the sides of two tennis balls using paddle bits in order to shove them on the ends. This project is super quick and super easy (if a bit of a workout).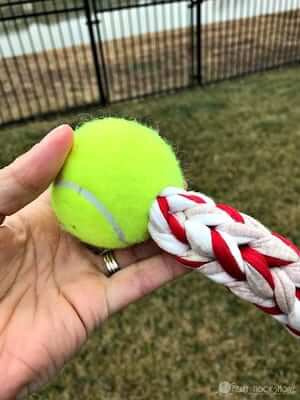 Get the Pattern here

8. Elephant Squeaker Crochet Toy For Dogs by Repeat Crafter Me
Save up the squeakers from the toys your dog kills, and put them in a new one! This cute rag doll can also be made without squeakers for playing fetch.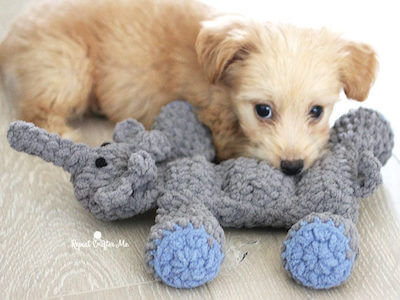 Get the Pattern here

9. Dog Toy Water Bottle Crochet Pattern by Jasmine Art Woks
It looks unsightly having a bunch of empty water bottles laying around the house. Here's your solution! Crochet this colorful water bottle cover using cotton yarn to make the perfect dog toy. This dog toy is super fast and fun to make!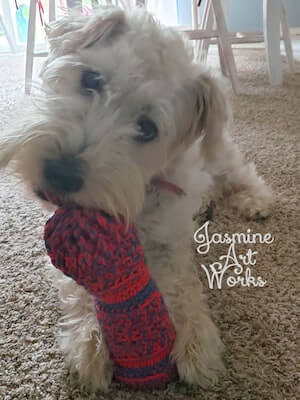 Get the Pattern by Jasmine Art Works here

10. Squeak Rubber Chicken Amigurumi Pattern by Natalina Craft
This Free Amigurumi Rubber Chicken crochet pattern is great to create a funny chicken. It is the perfect toy for all chicken lovers or even for a dog!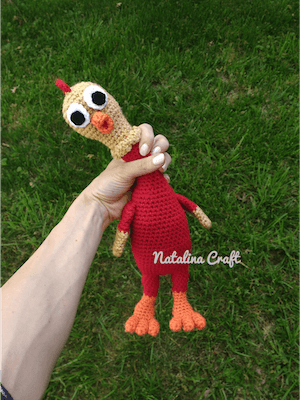 Get the Pattern here
TRY A FEW OF THESE CROCHET DOG TOY PATTERNS AND LET US KNOW HOW THEY WORK!
If you decide to have a go at these dog toys, please share your wonderful creations with us on Facebook.

Now that you've made fun toys that'll keep your four-legged friends busy for hours, it's time to make them these crochet dog sweaters to keep them warm or take that perfectly adorable pet photo. Also, do check our list of cool crochet dog accessories here.

Whichever crochet dog toys you decide on, we're paw-sitive that any dog – big and small – will love these handmade gifts!