There are so many cool things I can buy for my dogs that it's no wonder I spend a small fortune on my canine pals. Of course, they're worth every penny and more. However, I think it would be much cooler If I could save money and tackle these crochet dog accessories I am sharing with you today. Let's take a look at them for inspiration!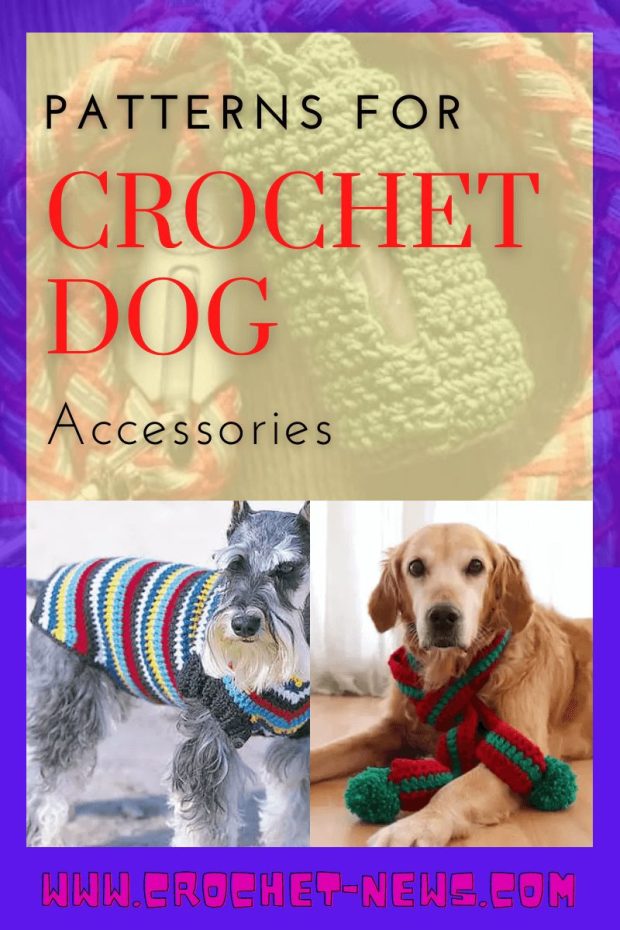 As I hadn't had a dog since I was a child, I was quite surprised there was so much to learn when it came to dog things. From collars to dishes, we've been learning as we go, and who would know there would be so many choices? I'm loving the handmade items the best though, so I hopped over the internet to find some faves.

From cool dog hats to show off to pretty collars for all the walks we'll inevitably take together, here are the best crochet dog accessories to make now!

1. Crochet Dog Bandana Pattern by The Loophole Fox
There's something absolutely adorable about a dog wearing a bandana. I'm not normally a dog-wearing-clothes person, but even I have to admit that they look so stinking cute with a bandana. This pattern comes in 6 sizes so you can make one for yours or make a bunch to donate to dog shelters, too!

This crochet dog accessory is a fast and easy project that is fantastic for donating or gifting. You can make several from this crochet dog bandana pattern in different sizes to donate to dog (or cat!) shelters, crochet one as a gift for friends with dogs or one for your own pup!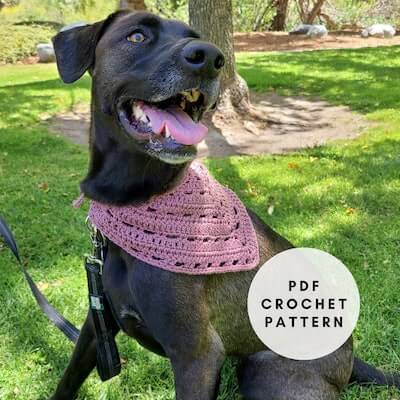 Get the Pattern by The Loophole Fox here

2. Crochet Dog Crown Pattern by Pawsome Crochet
This beginner friendly project is an excellent stash buster, works up quickly, and is an adorable accessory for all of your four-legged friends!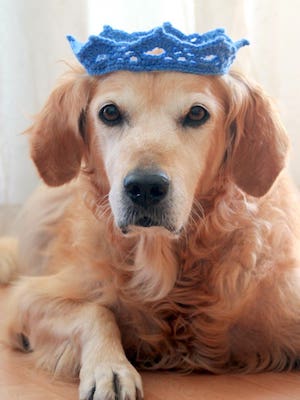 Get the Pattern by Pawsome Crochet here

3. Crochet Dog Collar And Headband Pattern by Golden Lucy Crafts
These dog accessories will make a beautiful photo prop for any celebration with your four-legged friend. This crochet dog collar and headband set also will make a wonderful gift for other pet lovers in your life! It is easy to make and is a wonderful project for beginners.

Although these crochet pet accessories are made for a large sized dog, the pattern can be easily adapted to any size. The cute headband can also be worn 2 ways — as a headband or as a collar.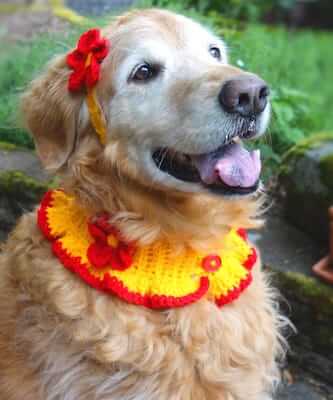 Get the Pattern here

4. Crochet Dog Bow Tie Accessories Pattern by Sunflower Cottage Crochet
This bow tie will make your dog look dapper and handsome and is the perfect doggy photo accessory! You could also use this to side onto a little girl's hairband or adorn the front of a dress.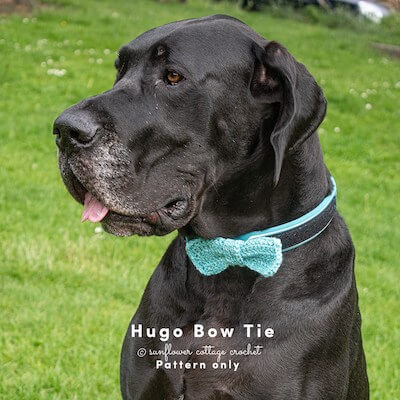 Get the Pattern by Sunflower Cottage Crochet here

5. Crochet Dog Poop Bag Holder Pattern by Heart Hook Home
Do you take your dogs on walks frequently? If so, it is inevitable that you'll need dog poo bags at some point along the way, and what better way to walk the dogs than in style using this snazzy dog poop bag dispenser pattern? This dog waste bag holder uses very little yarn and works up super fast!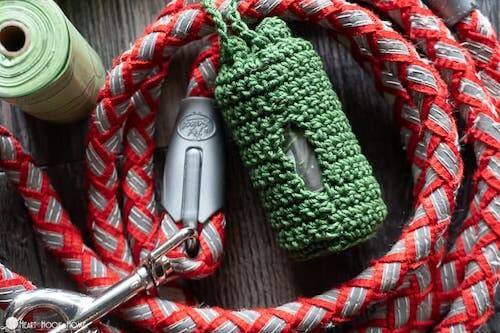 Get the Pattern here

6. Crochet Dog Scarf Pattern by Pawsome Crochet
This scarf works up quickly and makes for a fun, easy-to-wear winter accessory for larger dogs. The scarf is adjustable and just slips over your dog's neck, making it fast and easy winter crochet project for your pet or the pet lover on your Christmas list.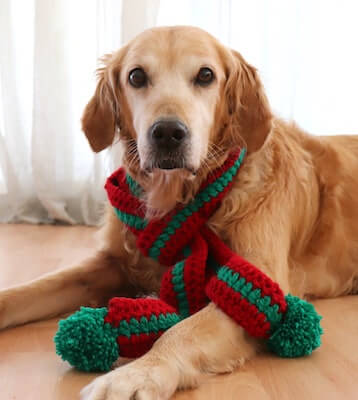 Get the Pattern by Pawsome Crochet here

7. Boho Crochet Dog Collar Sleeve Pattern by I Like Crochet
This collar sleeve has a subtle texture created using the spike stitch and single crochet. The pattern includes two sizes: a narrower overlay to cover a 0.5-1" wide pet collar and a wider overlay for a 1-1.5" wide pet collar.

A great way to spruce up a dingy collar, the durable acrylic overlay works up quickly and can be made using scraps of any 3 weight yarn.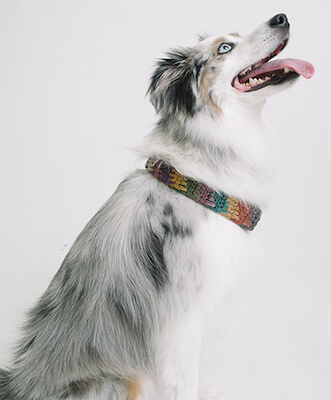 Get the Pattern here

8. Crochet Dog Booties Pattern by The Knitting Scientist
Just like human feet, canine paws can get chilly in the winter. If you can crochet, helping your friend can be very easy. By repeating some basic crochet stitches, you can quickly create booties for your dog's paws. Warm your pooch's fet with some handmade crochet booties and show him how much you care.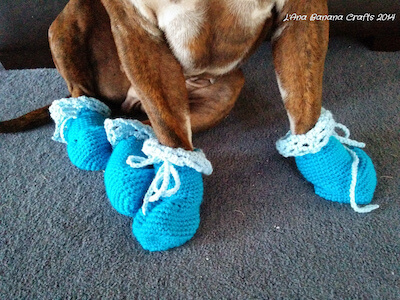 Get the Pattern here

9. Crochet Doggie Hat Pattern by Jessie Plaskett
This pattern is for a super cute and cozy crochet hat for any large-szied pup. This hat features ear holes, ear flaps, and a cute pom pom on top. Perfect for photo props, gift-giving, and for keeping your pet warm and stylish!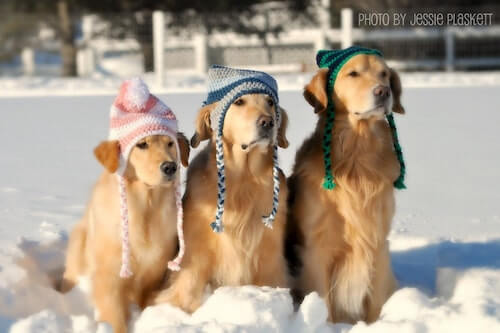 Get the Pattern by Jessie Plaskett here

10. Crochet Dog Scarf Accessory Pattern by Cats Yarn Creations
Make your furry best friend their very own scarf! This is a gentle dog scarf that slips over any dog head (or cats!) and is completely adjustable with its fully functioning buttons. The pattern is super easy to learn and is for sizes XS-L!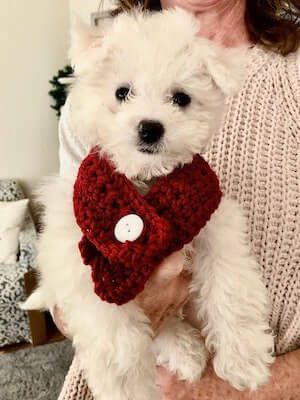 Get the Pattern by Cats Yarn Creations here

11. Crochet Chunky Dog Leash Pattern by Camexia Designs
Let's spoil our furry friends and make something unique for them! Here'a a fun and quick crochet project for a chunky leash worked in a super bulky yarn for strength and texture.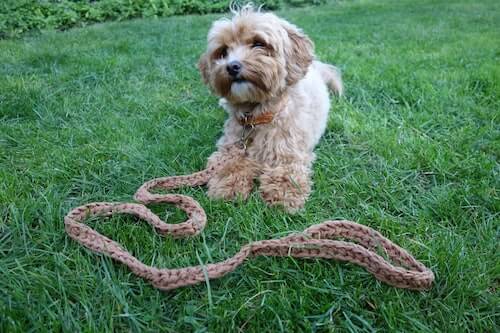 Get the Pattern by Camexia Designs here

12. Crochet Dog Coat Pattern by Yarnspirations
Love keeping your pup in the latest winter looks? Your little buddy will be the talk of the dog park in this bright and bold coat. Whether big or small, your dog will look adorable in whichever color you choose!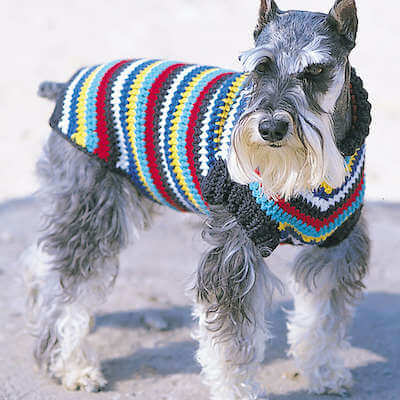 Get the Pattern here
I HOPE YOU FIND CROCHET DOG ACCESSORIES HERE THAT YOU LOVE! AS FOR ME, I LOVE THEM ALL!
I would love to see pictures of your pet in these adorable accessories. Share images with us on our Facebook Page. We may just repost our fav pictures!

If you are on the hunt for more fun pet crochet projects, check out our collection of Crochet Dog Toys Patterns, Crochet Dog Sweaters, Crochet Dog Hat Patterns, Crochet Cat Toy Patterns, and Crochet Cat Bed Patterns.
Our dog shows us unending loyalty and love, so let's mix it up and reward Fido with something other than a chewy treat. Happy crocheting with your favorite crochet dog accessories!