These 10 Crochet Dinosaur Blanket Patterns will make people of all ages smile as they cuddle up inside!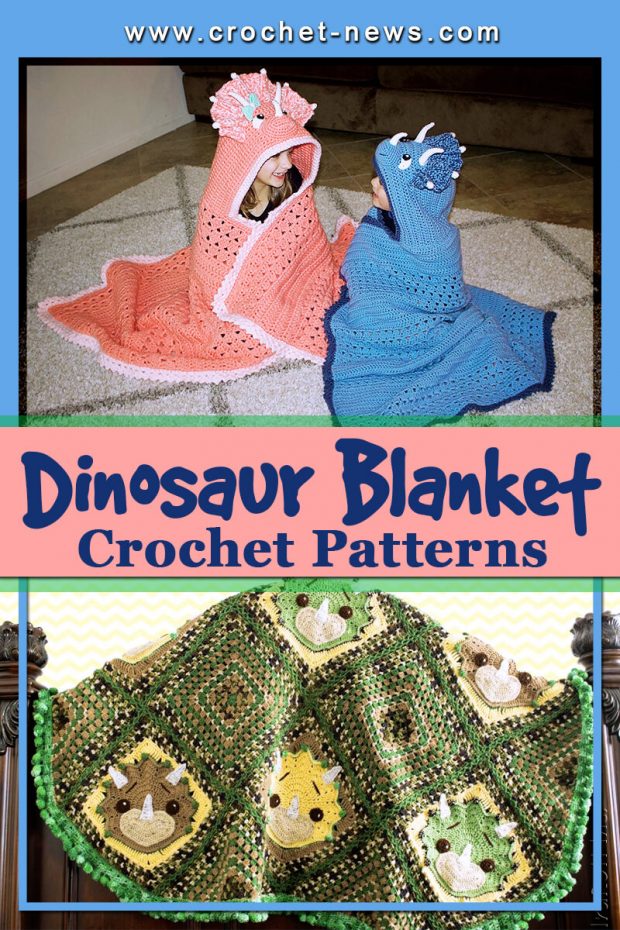 What do we love more than a cuddly blanket? A blanket with a built-in friend! Crochet can do just about anything – including bringing prehistoric creatures back to life Well, okay, not quite but these dinosaur blankets sure are cute!

Though they're popular with kids thanks to the imaginative details, adults may like how they add a whimsical sense of humor to their home decor.

1. Crochet Dinosaur Baby Blanket Pattern by Owl B Hooked
This Crochet Dinosaur Baby Blanket features a subtle, peek-a-boo dinosaur design with no need for several color changes or ends to weave in. Or add all the color your heart desires!

Simple, modern and unique, it makes for a special newborn baby or 1st birthday gift. The size allows it to be used as a security or snuggle blanket through toddlerhood as well!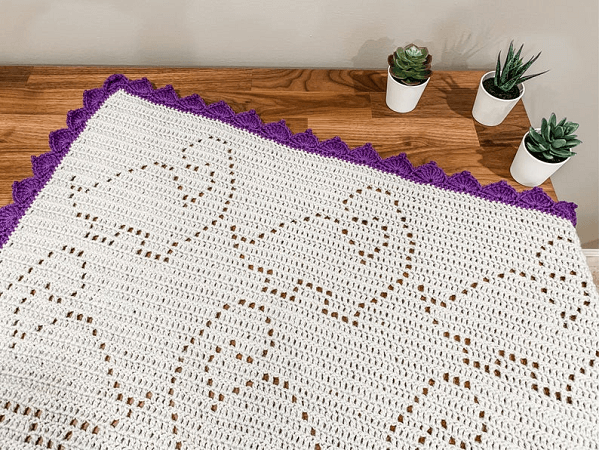 Get the Pattern by Owl B Hooked here

2. Hooded Dinosaur Blanket Crochet Pattern by Crafting Happiness UK
The Hooded Dinosaur Blanket is suitable for girls or boys alike and comes in two versions: triceratops or stegosaurus so you can choose the design you like best.

The actual blanket can also be customized to fit a child or an adult and the pattern is explained in a way that you can make it as big or small as you would like it to be.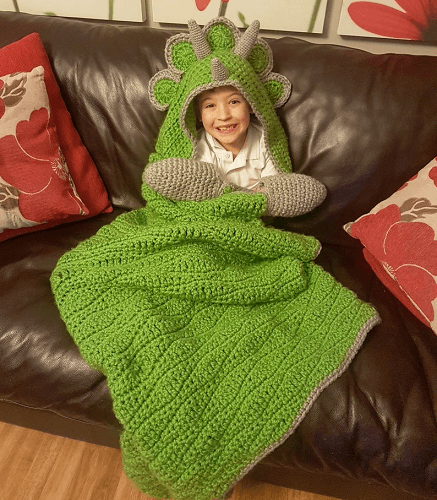 Get the Pattern by Crafting Happiness UK here

3. Crochet Dinosaur Afghan Blanket Pattern by Lovable Loops
Get ready to crochet a cozy and warm blanket with this Crochet Dinosaur Afghan Pattern. It's so simple and so lovable! If you master corner to corner crochet, this pattern is easy peasy.

The finished blanket/graph with border measures 30 inches by 30 inches. Your blanket may be smaller or larger depending on your gauge.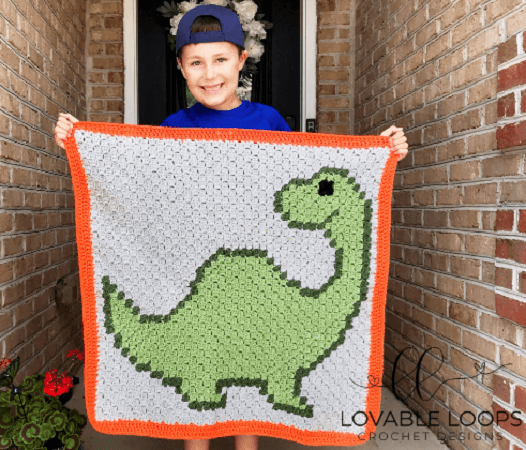 Get the Pattern here

4. Dinosaur Baby Blanket Crochet Pattern by But First Crochet
The adorable baby T-rex Dinosaur Baby Blanket is the perfect baby shower or birthday gift!

It works up quickly and is sure to be a crowd-pleaser. This blanket pattern is the perfect addition to the nursery or kid's bedroom. The size is ideal for a newborn, toddler, or as a security blanket.
Get the Pattern by But First Crochet here

5. Tops, The Triceratops Dinosaur Blanket Crochet Pattern by Ira Rott Patterns
Tops, the Triceratops Dinosaur Blanket will make bedtime full of lasting memories any child will enjoy!

The pattern could be easily adapted for that special little girl in your life, just by switching the colors and possibly adding a bow or flower to her head.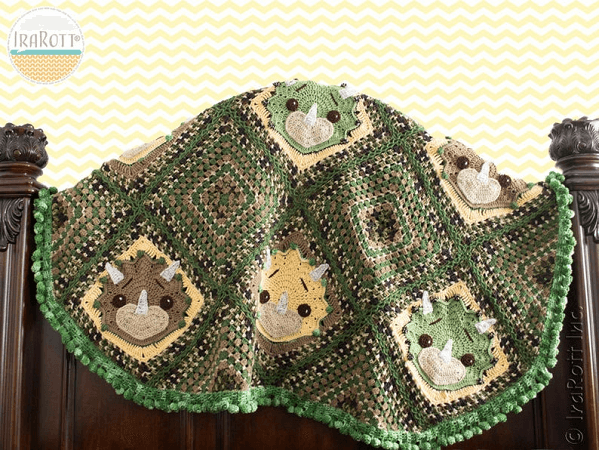 Get the Pattern by Ira Rott Patterns here

6. Crochet Dinosaur Granny Square Blanket Pattern by Maria's Blue Crayon
This Crochet Dinosaur Granny Square Blanket is comprised of granny squares and 4 crochet dinosaur appliques. Each will be made separately then sewn onto the granny squares.
This blanket is the perfect size for a baby nursery or toddler. You can choose to make this blanket any size you'd like by simply adding more squares.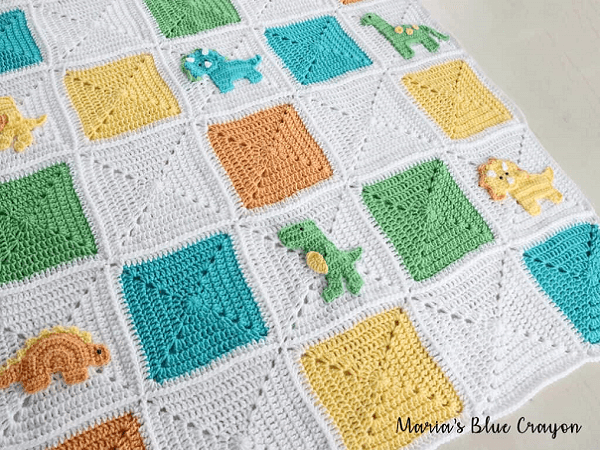 Get the Pattern here

7. Stegosaurus Blanket Crochet Pattern by MJs Off The Hook Designs
This Stegosaurus Blanket is designed to cocoon only around the feet, the rest of the blanket opens up to lay over the body.

The blanket uses 2 strands of bulky weight yarn and a 16mm Q hook. The pattern is a simple design using basic stitches and comes in preschool to large adult sizes with tips on how to modify the pattern for infant sizes.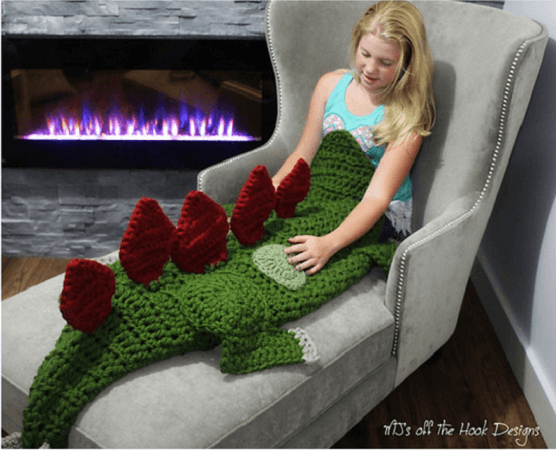 Get the Pattern by MJs Off The Hook Designs here

8. Crochet Triceratops Blanket Pattern by Bri Abby HMA
We know everyone loves hooded blankets so we couldn't pass up the opportunity to make an awesome Crochet Hooded Triceratops Blanket.

This is perfect for dinosaur lovers of all ages. Don't worry it also comes in a girl version so everyone can have one. The pattern includes instructions to make this hooded triceratops blanket in either chunky yarn or worsted weight yarn.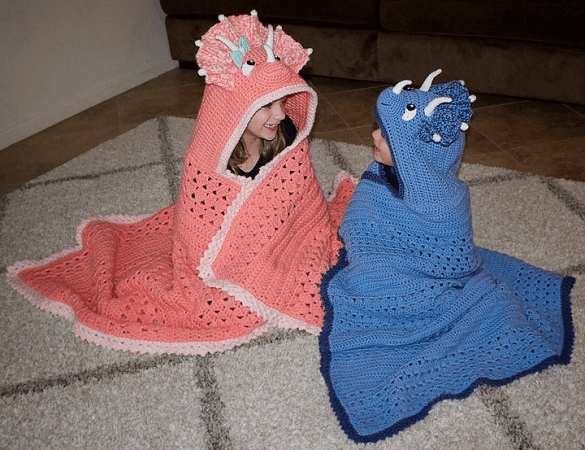 Get the Pattern by Bri Abby HMA here

9. Dino Baby Hooded Blanket Crochet Pattern by Saskia Van Hecke
This absolutely adorable Dino Baby Hooded Blanket is in shape of a dinosaur. Moms to be will love receiving it!

Those front fhino hornd and back spikes are really fun to crochet and look so great, it really sets this pattern apart from all others.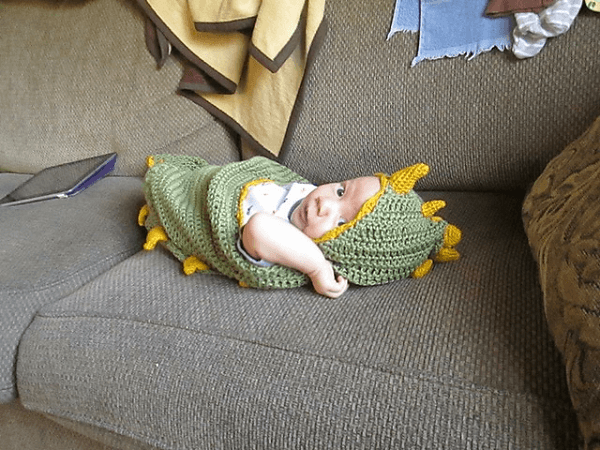 Get the Pattern here

10. Dinosaur Blanket Crochet Pattern by Luz Patterns
This Dinosaur Blanket is a roar! The whimsical design is perfect for play and snuggling. Crochet it in your kiddo's favorite colors to match the bedroom decor!

This unisex green and brown textured blanket is a fun one to create. The pattern comes in sizes for toddlers, older children, and adults. Worked with bulky yarn and a large K crochet hook, you'll find the design to be extra snuggly.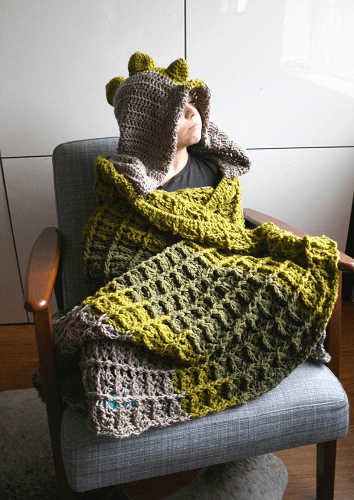 Get the Pattern by Luz Patterns here
Embrace the imagination and create a crochet dinosaur blanket today!
We can't wait to see your very own creations. Share them on our Facebook Page, pretty sure everyone else would love to see them!

Looking for more dinosaur patterns other than these blankets? Drive your kids wild with excitement with these 30 Crochet Dinosaur Patterns that are a lot nicer to live with than their inspiration!
What are you waiting for? Bring prehistoric times into your home with these impressive crochet dinosaur blanket patterns.