Get ready to meet one of nature's most powerful animals, Hippopotamus, with these 12 crochet hippo patterns! If you love hippos and pretty much anything with an hippo on it, this collection will surely make you happy!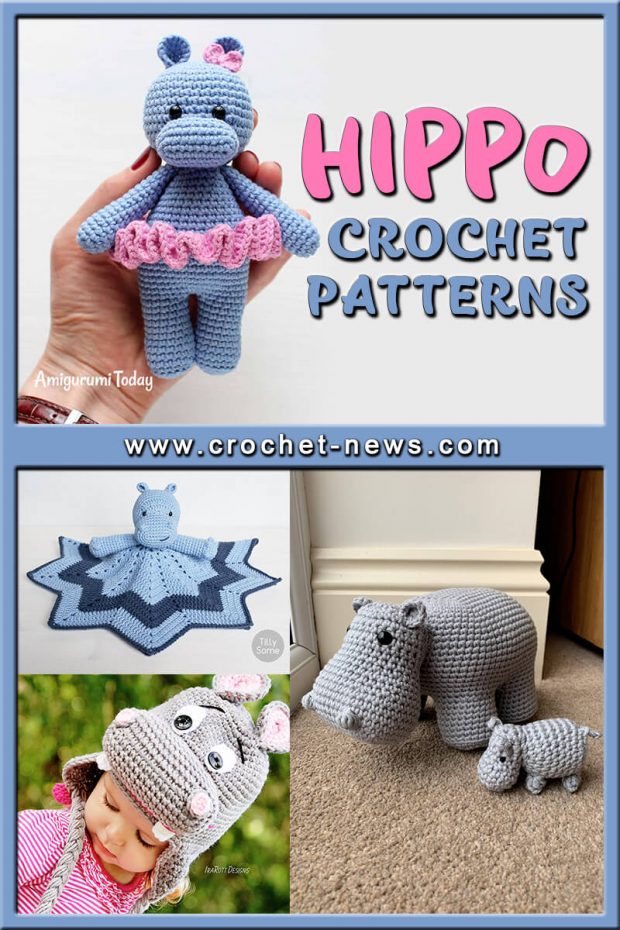 Whether you want to make a homemade baby shower gift, a toy for a child, or some hippo home decor items, you're sure to find the right hippo for you!

1. Christmas Crochet Hippopotamus Pattern by Red Heart
This lovable hippo has a big heart and he's just the gift to delight the kids on Christmas morning. The song makes you smile, and so too will your original toy in shades that you like. This huggable crochet hippo toy has a removable hat and a whimsical personality, so stitch up a delightful plaything for children of all ages.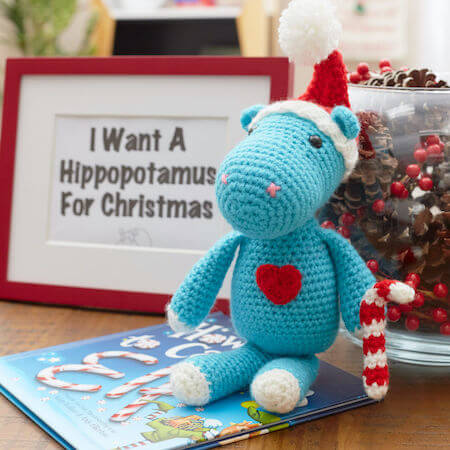 Get the Pattern here

2. Crochet Hippo Amigurumi Pattern by Loops And Love Crochet
This Hippo Amigurumi is the perfect size for playing with and cuddling! For an extra soft and cuddly hippo, you can use a worsted-weight velvet/chenille type yarn for this project, but it also works up wonderfully in a regular worsted yarn too.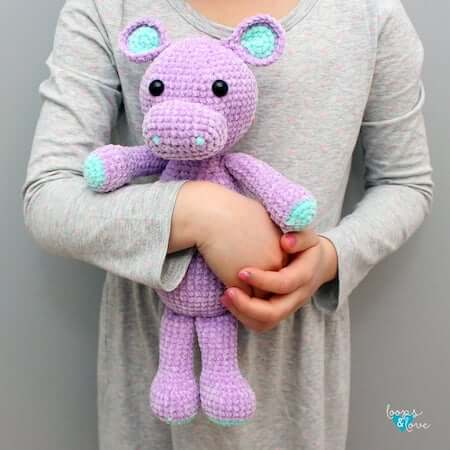 Get the Pattern by Loops And Love Crochet here

3. Crochet Hippo Pattern by Crochet Verse
With this pattern, you get the life-sized baby pygmy hippo pattern and the coordinating hippo beanie (4 sizes newborn/small child/teen-adult/large adult!). Every single human needs a life sized realistic baby pygmy hippo. You can even dress the finished hippo in any 3-6 month baby clothing, how cute is that?!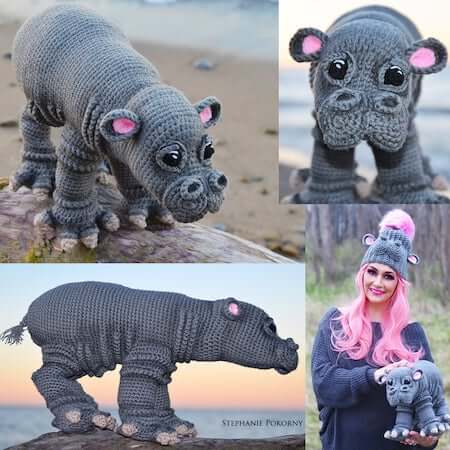 Get the Pattern by Crochet Verse here

4. Crochet Hippo Rattle Pattern by A Purpose And A Stitch
This Hippo Rattle is super cute and adorable, functional as a teething ring and a rattle, with an easy grip for baby! These little guys are so sweet and soft you may just want to keep him for yourself!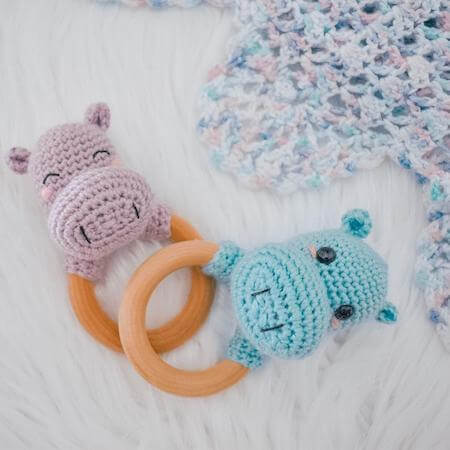 Get the Pattern here

5. Crochet Hippo Backpack Pattern by Chabe Patterns
Practice tapestry crochet to make the hippo print and form the bag. Then make the hippo's head that will work as a lid and adds the fun touch to the design. The backpack straps can be crocheted for 3-6 year old kids (one size only).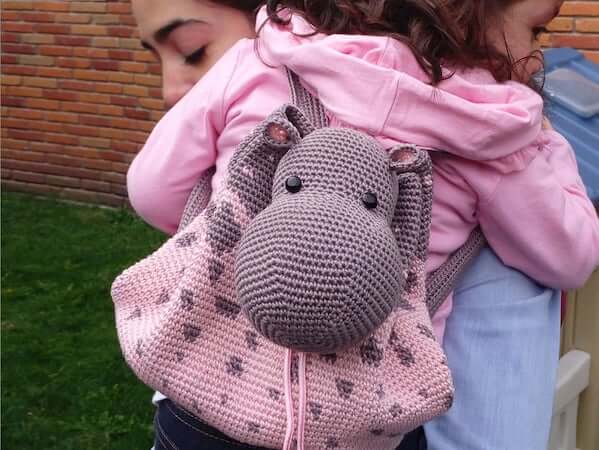 Get the Pattern by Chabe Patterns here

6. Cuddle Me Hippo Amigurumi Pattern by Amigurumi Today
This lovely Cuddle Me Hippo Amigurumi will bring a smile to any face! She's a super-friendly playmate. Her hobbies include cuddling, dancing, and going to exciting adventures. This little cutie can definitely make its owner happy!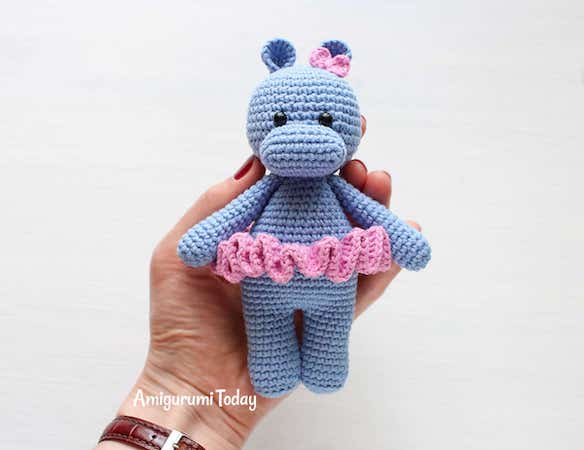 Get the Pattern here

7. Crochet Hippo Hat Pattern by Ira Rott Patterns
Who doesn't love a cute, cuddly hippo? This Hippo Hat features cozy earflaps and sweet hippo ears. Find new or vintage buttons to give your baby hippo a fun look! This happy little hippopotamus hat is great for anyone, any age!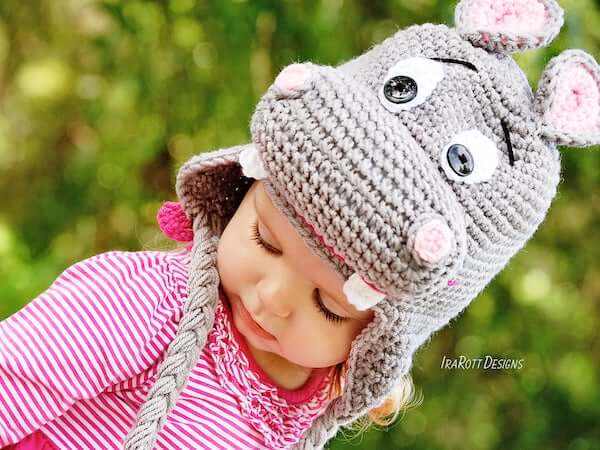 Get the Pattern by Ira Rott Patterns here

8. Crochet Hippo Curtain Tie Back Pattern by Cosy Patterns
You can make a real statement in your home by adding amigurumi curtain tie-backs to your windows. Crochet curtain tie-backs don't have to be boring, after all.

This Hippo Amigurumi Curtain Tie Back is a fun and quick crochet project that can give that personal touch to the style of your space without taking up a lot of your time. Feel free to change the colors around!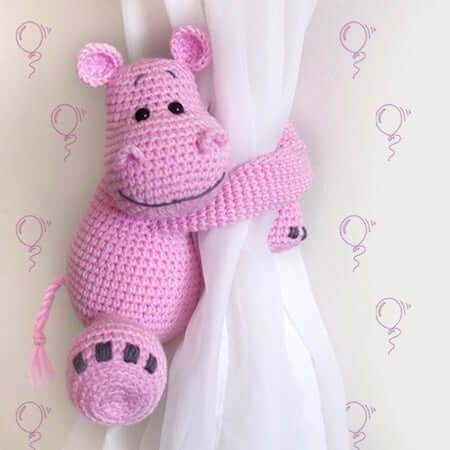 Get the Pattern by Cosy Patterns here

9. Small Free Hippo Crochet Pattern by Kristi Tullus
This tiny hippo has huge nose and stumpy little legs, small enough to sit on your palm. It's a really quick and easy project you can complete in a couple of hours, although the small details like ears, legs and tail can be a bit fiddly to make.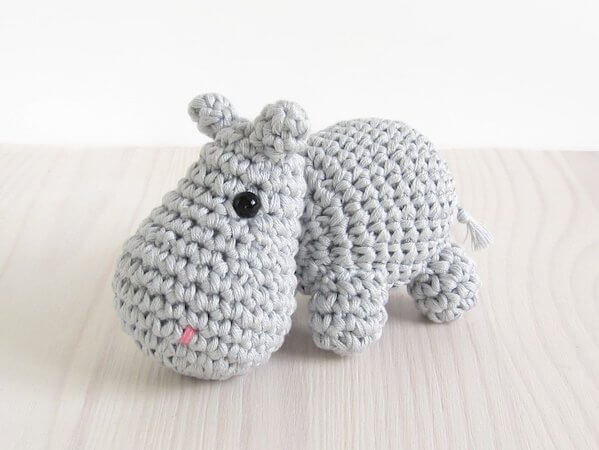 Get the Pattern here

10. Crochet Bulky Hippo Blanket Pattern by Dana Dee Crochet
This is a crochet pattern for a thick and bulky hippo blanket for two people to share! This whimsical hippo has an adorable face and body, which lies flat across two people, and also has a cocoon leg for each person's feet! Of course, if you don't want to share, you can use one hippo leg for each of yours!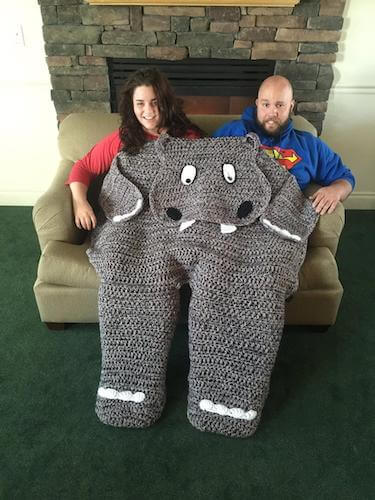 Get the Pattern by Dana Dee Crochet here

11. Mother And Baby Hippo Crochet Pattern by Lau Loves Crochet
With this design, the adult hippo's body has an internal pocket which opens to reveal the baby hippo inside! The baby hippo is made in one piece and so doesn't require any sewing together and the amount of separate pieces are kept to a minimum with the adult hippo too.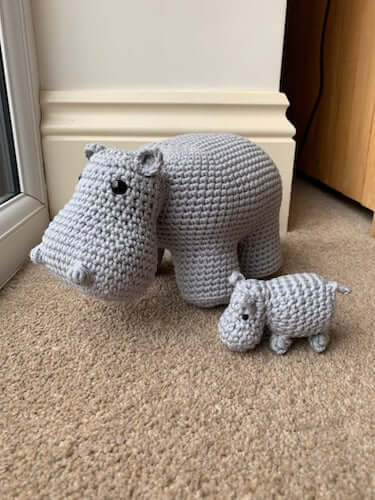 Get the Pattern by Lau Loves Crochet here

12. Crochet Hippo Lovey Pattern by Tilly Some
Are you looking for a cuddly crochet lovey with an adorable amigurumi character a child can hug? This adorable Hippo Lovey is a plush toy and security blanket all in one! It's perfect for baby's little hands and will surely become a friend for your baby. You can create something really special for your little one! More Baby Lovey patterns here.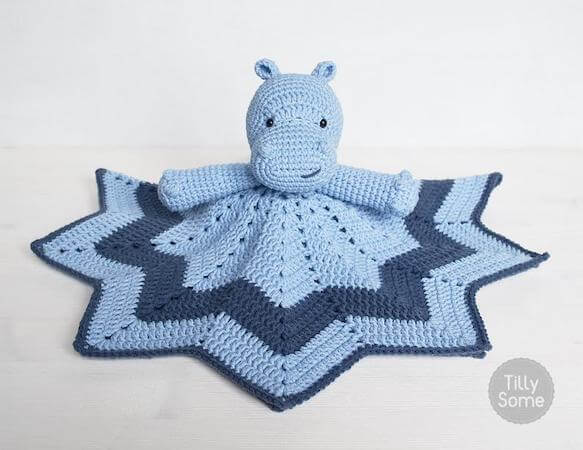 Get the Pattern by Tilly Some here
With their large barrel-shaped body, short legs, a short tail and enormous head, what's not to love? Time to give this adorable crochet hippo patterns a whirl.
Enjoy your adorable hippos, and don't forget to share your work with us on our Facebook Page.

If you love animals but hippos aren't quite your thing, we also have gathered patterns for Rhino, Elephants, Giraffes, Lions, Panda, Sloth, Koala, Bears, and so much more! Make one of each animal and enjoy a real homemade family zoo in your own home.

For now, pick your favorite crochet hippo patterns, get your hook out and start whipping up a bloat!