Make the king of the jungle with these mighty crochet lion patterns – beautiful crocheted toys to blankets for a project that will be a roaring success!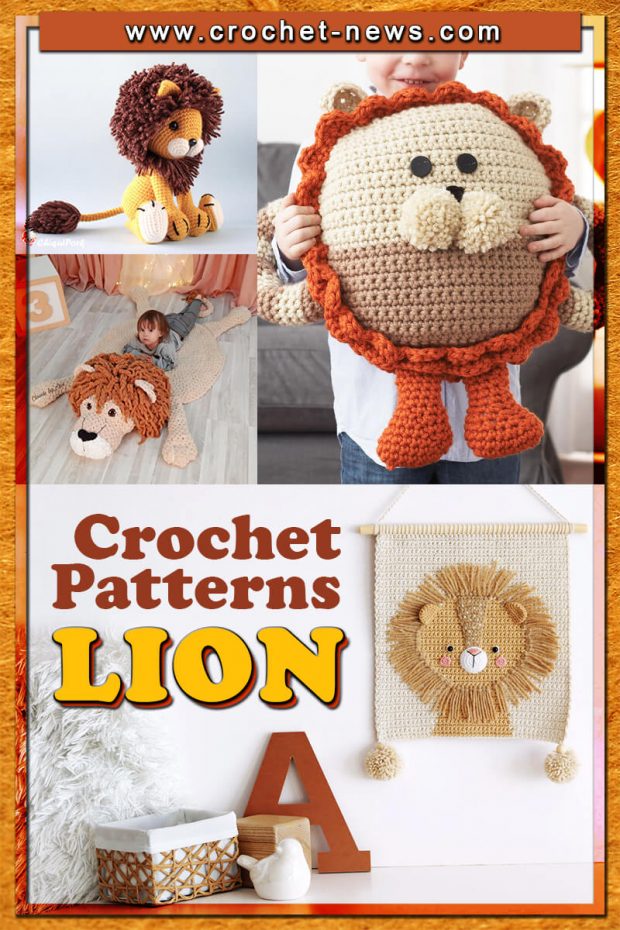 In case of bravery, the lions are at the top of the list, and you can remove the fear of them from the kid's minds by making some of these beautiful lions that are all beautiful and would catch your attention first while seeking out some perfect room decorations!

1. Lion Baby Rug Crochet Pattern by Clouds By Iris
You'll love this big cuddly lion, complete with a fluffy mane and big, soft paws. This pattern comes with 2 versions as well. A larger one and a smaller one. And you don't need a hook because this one is made using arm crochet!

It's best worked up with puffy yarn because the puffier the yarn the softer and more cuddlier the finished lion.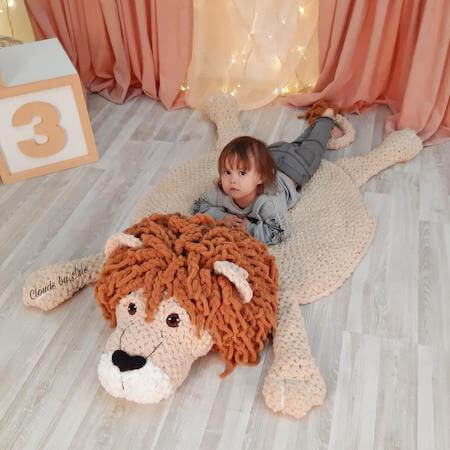 Get the Pattern by Clouds By Iris here

2. Crochet Hooded Lion Blanket Pattern by MJs Off The Hook Designs
Wrap yourself in this cozy Hooded Lion Blanket. Perfect for cuddling, play and display. This blanket features a gorgeous textured stitch with a Loopy stitch mane. Mitts with detailed paw prints and tail. Loops can be cut and brushed for a shaggy look. Pattern includes a video tutorial on our webpage!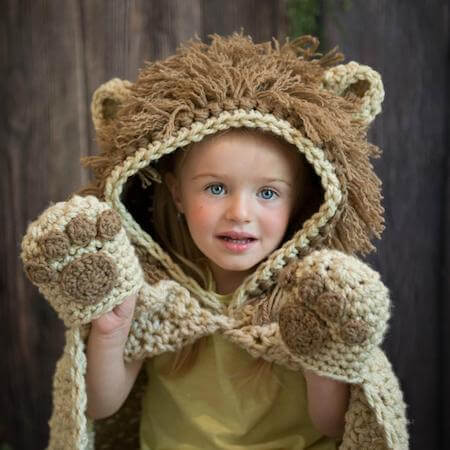 Get the Pattern by MJs Off The Hook Designs here

3. Huggable Lion Pillow Crochet Pattern by Yarnspirations
This adorable lion goes everywhere with kids. Make a keepsake quality cub in your child's favorite colors and finish a brand new friend with just the right personality. This little guy makes a cheerful buddy who loves hanging around and making kids smile.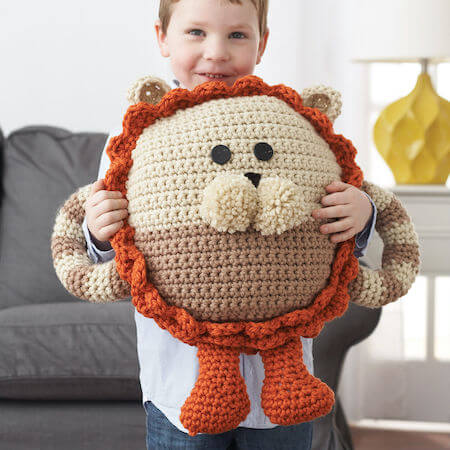 Get the Pattern here

4. Atlas, The Lion Amigurumi Pattern by Projectarian
This hefty babe is almost the size of a real baby big cat, and with the option to put weights inside his body and make him using the lush merino yarn kit, he becomes a weighted therapy toy and an heirloom.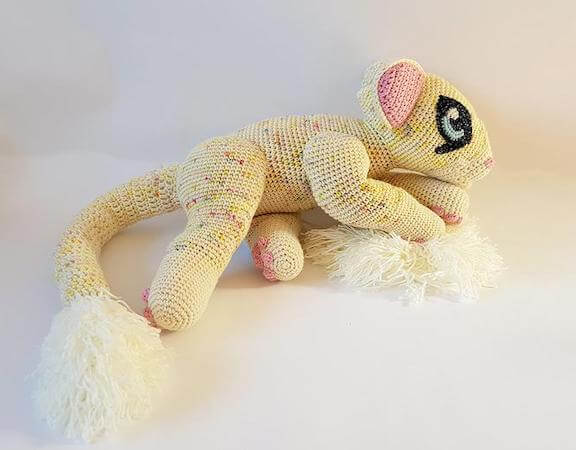 Get the Pattern by Projectarian here

5. Ragdoll Lion Crochet Pattern by Spin A Yarn Crochet
Who is the king of the amigurumi jungle? This cute guy! For all the lovers of safari animals, this cute lion will surely make a great gift. It features a shell stitch mane and a gentle facial expression that is quite easy to crochet.

The Ragdoll Lion is a unique amigurumi made in the ragdoll-style; separate pieces worked in flat rows and joined together to give it that charming and distinctive 2-D appearance.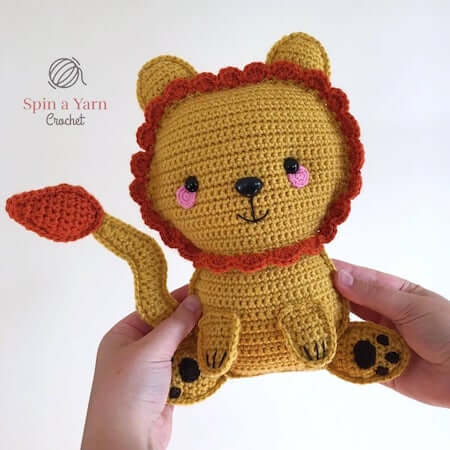 Get the Pattern by Spin A Yarn Crochet here

6. Free Crochet Lion Pattern by The Friendly Red Fox
He takes a lot of time keeping up with his mane, and always in search of the perfect hair product. This lion is about 12 inches tall (a little less when he is sitting) and the perfect size for cuddling.

This is a great pattern for an advanced beginners, but even a determined beginner can make this work! This lion was made so his legs could sit out, in, or "stand up!" Either way you pose him, he is the best little play buddy!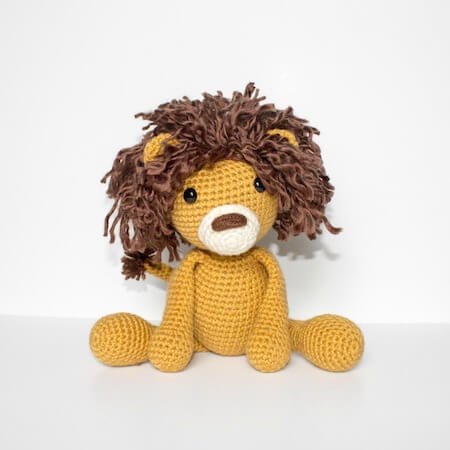 Get the Pattern here

7. Crochet Lion Lovey Free Pattern by See Love Share
This little lion lovey will make the perfect Baby Shower gift or to make for a special little person in your life. his works up fairly quickly and has a granny square-like base that the little lion head sits in the middle of.

Little ones will hold on to it, hug it, or drag it around behind them. No matter how they find a way to love them, this pattern is something you need to try.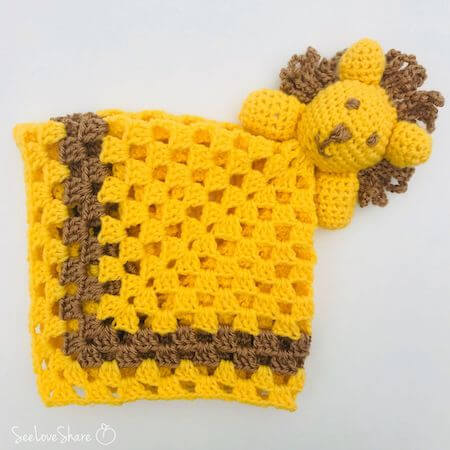 Get the Pattern here

8. Crochet Lion Wall Hanging Pattern by Demi Deco Shop
Now this is a cheerful project! If you need a quick, cute crochet pattern to spend your weekend working on, try this Crochet Lion Wall Hanging! Wall hangings are very on trend now, so be sure to make one for you or your kid's bedroom. It could be the start of a safari themed child's bedroom!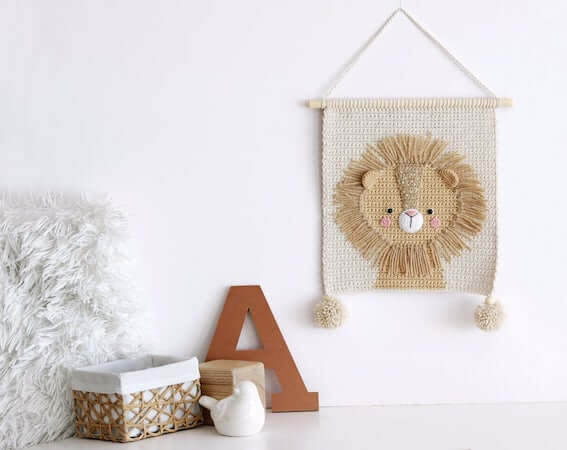 Get the Pattern by Demi Deco Shop here

9. Tiny Amigurumi Lion Pattern by Amigurumi Today
Are you looking for a small cute amigurumi lion? If you are, then you are really going to love this little king of the jungle. Crochet this small amigurumi lion that you can use in a number of different ways for both decorative and gift-giving purposes! This free crochet lion pattern is the perfect size for traveling, bookshelves, and little hands.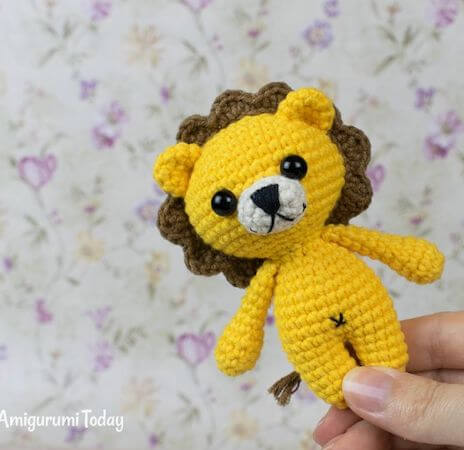 Get the Pattern here

10. Crochet Lion Floor Pillow Pattern by Yarnspirations
Transform three pillows into an adorable lion! Learn how to crochet the trinity stitch, use simple shaping techniques and practice beginner-friendly embroidery with this free crochet floor pillow pattern.

Plus, create a fringe mane and make a fun tassel tail for the lion. This design works up quickly with bulky yarn. Folded or flat, these versatile pillows let kids lounge in style.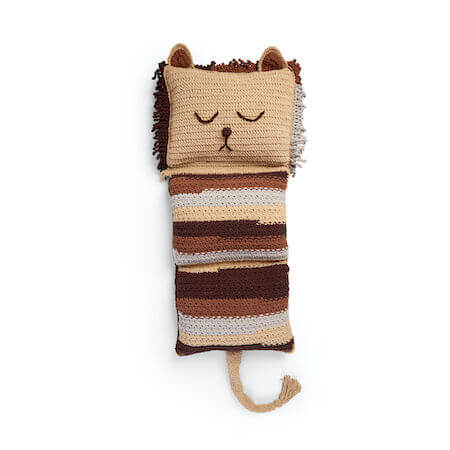 Get the Pattern here

11. Lion Folding Baby Blanket Crochet Pattern by Crafting Happiness UK
What a great idea! A cuddly warm blanket that the baby can play with and then it folds into a decorative toy. This blanket is perfect for a minimalist home, it's gender-neutral and looks gorgeous when folded and rested on the armchair or baby cot.

Use it as a blanket in the pram or car seat or use it as a playmat at home, and when you are done, fold it away and display it in your nursery. Hung it on the baby cot and the baby will be entertained looking at it.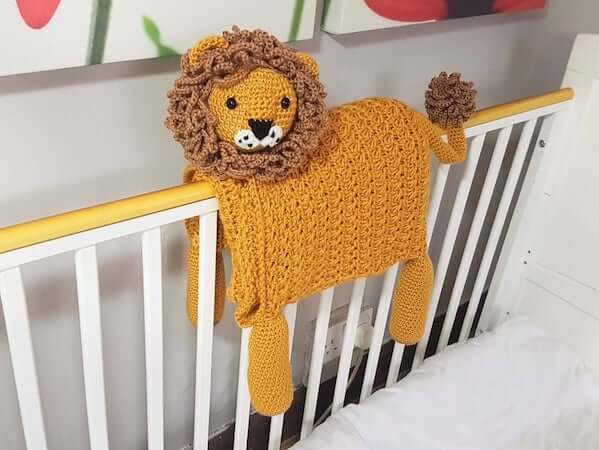 Get the Pattern by Crafting Happiness UK here

12. Tyrion, The Lion Amigurumi Pattern by Chiqui Pork
This stuffed lion is crocheted from acrylic worsted yarn using a 3.25mm hook. With these, Tyrion ended up being a nice huggable lion soft toy and is perfect size for young children.

Choose the color you want your lion to be in start your lion amigurumi craft. Creativity is at play here, so feel free to pick any color you wish your lion plush toy to be in, so your creation will be as unique as you are!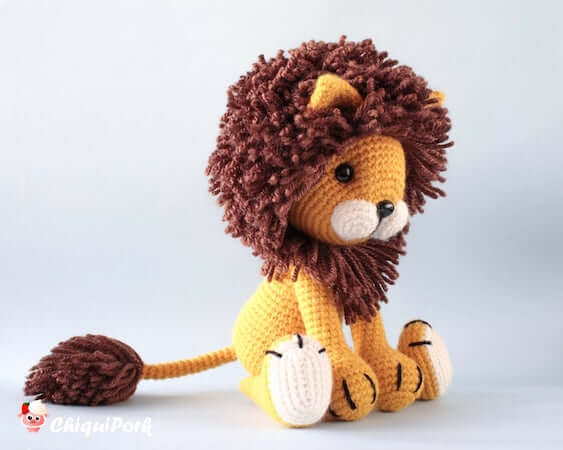 Get the Pattern by Chiqui Pork here

13. Lion Amigurumi Crochet Pattern by Dinegurumi
Isn't this lion amigurumi the most realistic-looking one on this list? This Lion Amigurumi Crochet Pattern is not for the faint of heart though, because the designer rated it as an advanced pattern or for those experienced crocheters. This beautiful lion will fit perfectly in any safari scenes and will be a great addition to your home decors, as well.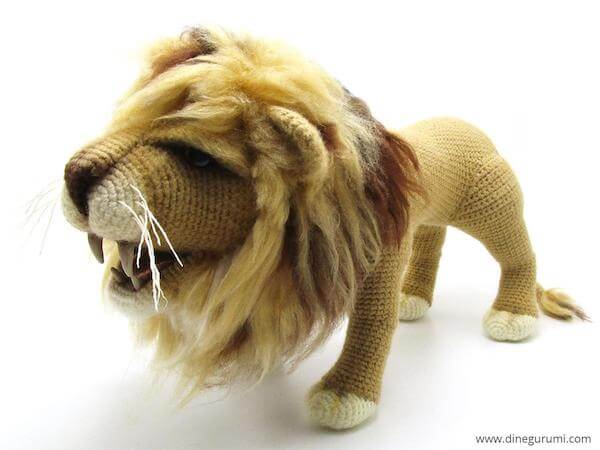 Get the Pattern by Dinegurumi here

14. Crochet Lion Applique Pattern by Passionate Crafter
This Crochet Lion Applique can be used for a wide variety of craft projects and would be perfect to decorate baby's clothes or you can make a bunch of them to create a bunting for a child's room.

This precious lion is perfect for both girls and boys! This applique works up quick and easily and has very simple and easy to follow instructions.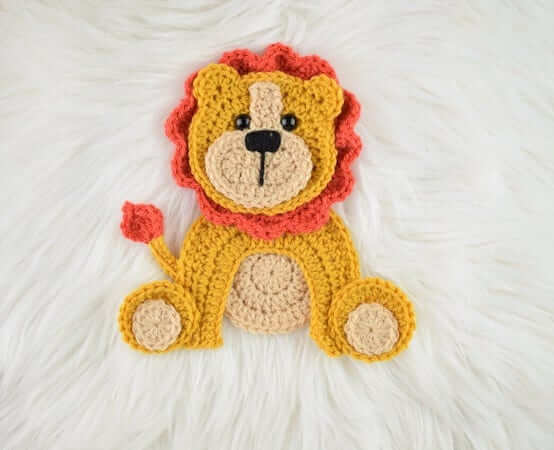 Get the Pattern here

15. Logan, The Lion Backpack Crochet Pattern by One And Two Company
Does your little one love to travel and explore? Logan the Lion is a perfect companion! Logan is a sweet and friendly little guy who's always on the prowl for an adventure. Imagine all of the fun your child and Logan can have together.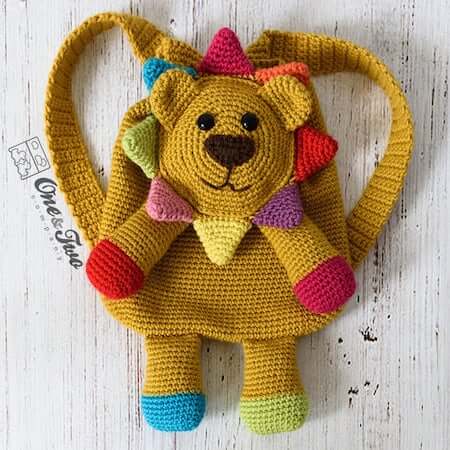 Get the Pattern by One And Two Company here
Don't get us wrong – these crochet lion patterns are loved by adults just as much!
Please post your crocheted lions on our Facebook Page – we adore seeing you bring these patterns to life! And for more adorable amigurumi patterns, check out our collection of patterns for crochet dinosaur, giraffe, sheep and lamb, and teddy bear! The little ones in your life will always get to hold on to the keepsake you made with your bare hands.
You should probably start making these crochet lion patterns! After all, who would not want to have a miniature version of the king of the jungle?