If you know someone who adores the goat or is guilty of being one, then you should check out these crochet goat patterns below.

Goats symbolize fertility, ceaseless energy, and vitality. It may have horns and emit a tangy scent but for some people, they tend to be haunted by its beauty and have chosen it as their favorite farm animal in the planet!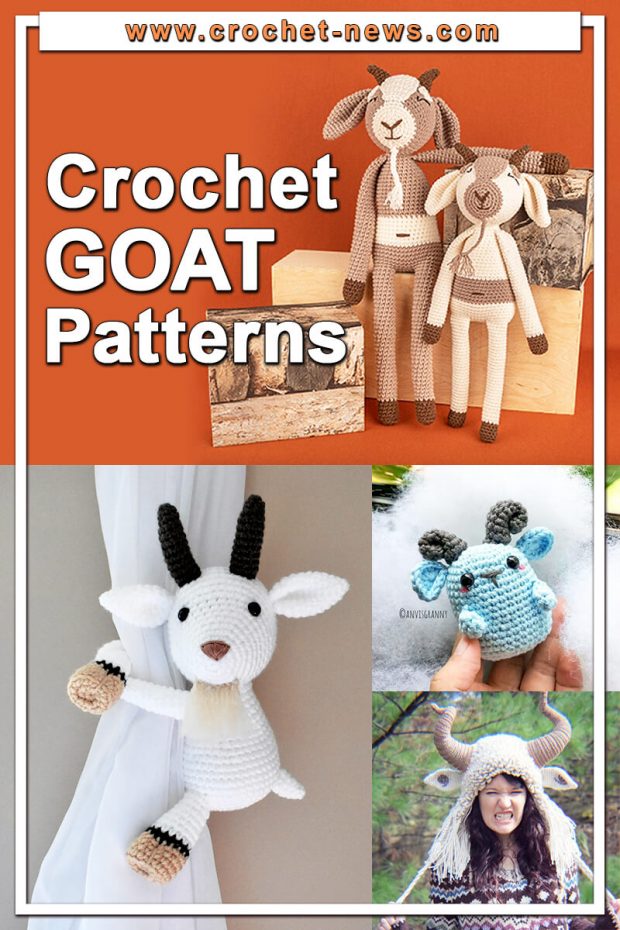 Get those hooves in the air for some exciting and unique goat-themed projects. Whether you like your goats cute, mystical or fierce, you will find your perfect horned friend here!

1. Free Crochet Goat Pattern by The Friendly Red Fox
This sweet little crochet goat pattern is about 8 inches tall when sitting and about 4 inches wide. She is crocheted in parts and then put together.
With her sweet face and floral crown, she is sure to be a favorite! Her pattern is relatively easy to follow, suitable for most beginners.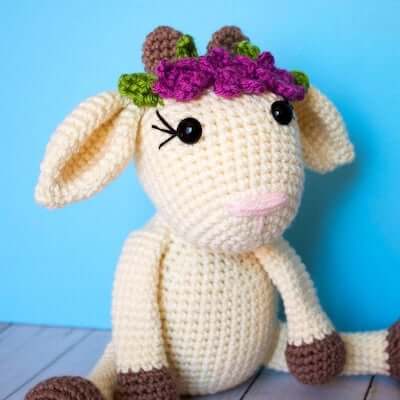 Get the Pattern here

2. Gordy, The Amigurumi Goat Crochet Pattern by Little Muggles
Gordy is a kind and thoughtful little goat whose sweet and playful nature captures the hearts of everyone around him! You can make Gordy in either the standing or sitting position. This pattern includes instructions for both.

When made with the indicated yarn and hook size, Gordy is about 11 inches tall when standing and 9.5 inches tall when sitting. (including his horns!).

Made in celebration of the Year of the Goat, this little doll makes the perfect gift for anyone born under this zodiac sign!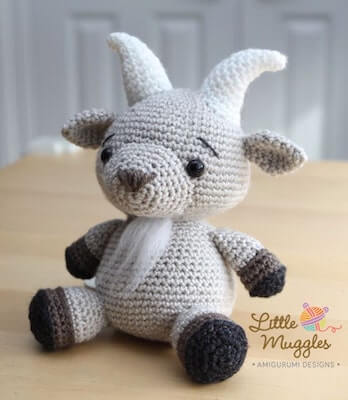 Get the Pattern by Little Muggles here

3. Goat Skull Amigurumi Crochet Pattern by Deprecat
A great gift for those that love displaying animal skulls – without having to worry if the skull is ethically sourced!

This amigurumi goat pattern will teach you how to create your own life-size goat skull, and even includes instructions on how to create your own mount to display your skull on the wall!
A great gift for fans of animal specimens, taxidermy, or your witchy friends!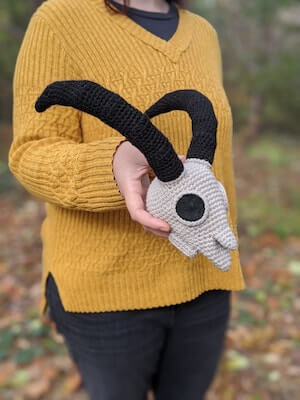 Get the Pattern by Deprecat here

4. Crochet Goat Hat Pattern by Morale Fiber
This twisty-horned, shaggy eared monstrosity could also be a ram, a yeti, a Wild Thing, or any number of raucous beasts. This Intermediate level crochet pattern uses techniques like single crochet, chain stitch, back loop only crochet, magic ring, and working in the round.

The fuzzy, furry pile on the fabric comes from a dense layer of chain loops worked onto the hat every other round – it's very warm as well as having a truly unique texture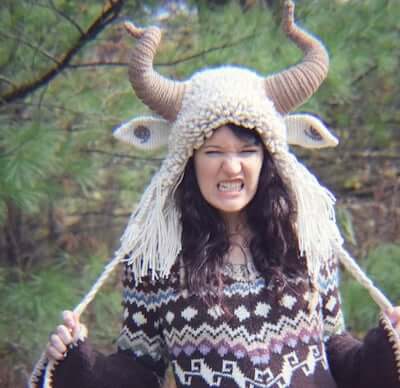 Get the Pattern by Morale Fiber here

5. Gus Goat Crochet Pattern by Yarn And Color Shop
Gus Goat might be the funniest of the gang with his stylish goatee, heavy eyebrows and suborn horns. They are able to sit nicely on their rumps.
Another great feature is that the arms and legs are crocheted straight onto the body, which saves on the sewing!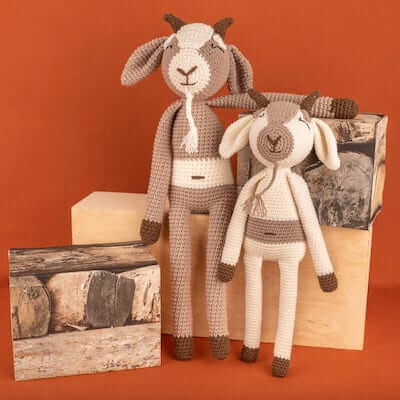 Get the Pattern by Yarn And Color Shop here

6. C2C Goat Crochet Pattern by Lovable Loops
Turn this C2C Goat into a graphghan, wall art, or large pillow. This fun corner to corner graph is perfect for beginner crocheters.
It is fairly small and don't use too many colors. It would be a fun crochet gift for a farm animal loving child, friend, or family member.
It would also make an awesome baby shower gift for a farm-animal themed nursery.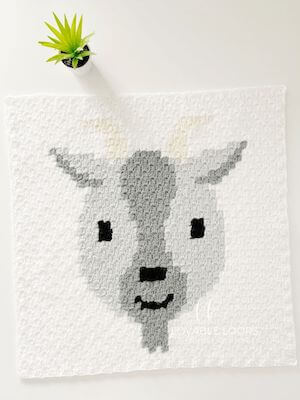 Get the Pattern here

7. Crochet Nubian Goat Pattern by The Knot Kid
Meet Zoey! She is a super cute and cuddly Nubian goat made with super fine extra soft woolike yarn making her a perfect cuddle buddy for any age.
She measures 7 inches tall sitting and would make the perfect shelf or desk buddy, if you're not into cuddling.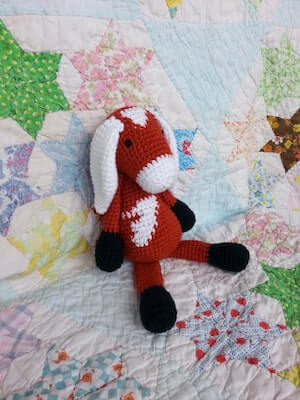 Get the Pattern by The Knot Kid here

8. Crochet Goat Applique Pattern by Little Bamboo Handmade
This adorable goat appliqué can be added to clothing, backpacks, or even used as a fun art project. This easy pattern has endless possibilities.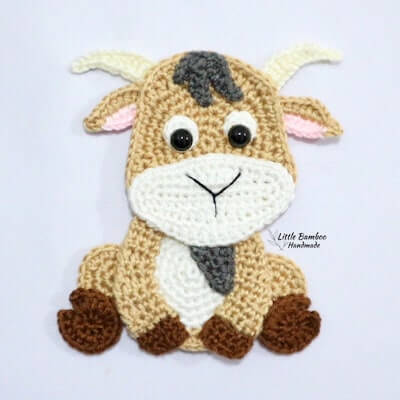 Get the Pattern by Little Bamboo Handmade here

9. Crochet Goat Curtain Tie Back Pattern by BB Adorables
This Crochet Goat Curtain Tie Back is not only a curtain tie, it's also a cute home decorator, nursery room gift, or as a toy for your the kids.
The height of this goat is 18 cm (7 inches) in the sitting position (without including the horns) and the arms' length is 20 cm (8 inches) but whatever hook sizes you use, your goat will turn out great!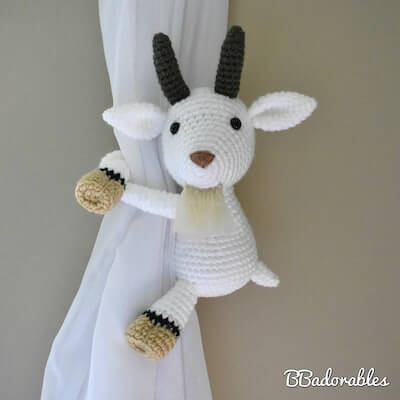 Get the Pattern by BB Adorable here

10. Goat With Kid Crochet Pattern by Lau Loves Crochet
With this design, the adult goat's body has an internal pocket which opens to reveal a kid inside!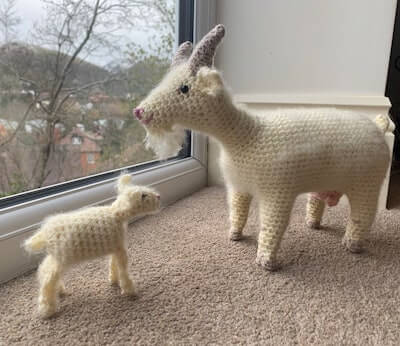 Get the Pattern by Lau Loves Crochet here

11. Farmyard Goats Amigurumi Crochet Pattern by Planet June
This Farmyard Goats Amigurumi Crochet Pattern is a mix-and-match pattern that lets you choose the options you want, to make many different types of goat.
Make any of my three pictured options in any colour(s), or assemble your own custom goat from all the included options – it's up to you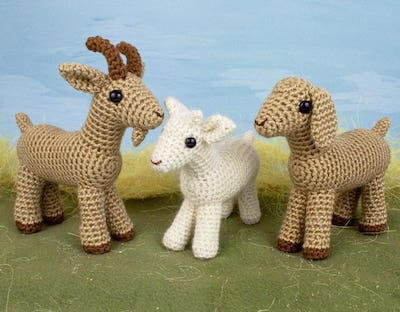 Get the Pattern by Planet June here

12. Zodiac Goat Free Amigurumi Pattern by Anvi's Granny Handicrafts
With the step-by-step, and easy-to-follow crochet goat pattern and the detailed crochet goat video tutorial, you can learn how to make a goat crochet plush toy within a few hours. It's a great pattern for yarn stash-busting crochet project and is convenient for busy or lazy crocheters.

You can use this little crocheted goat as a keychain, a paper-stop if you put a rock inside, or simply a small stuffed animal in the farmhouse decoration. Or better yet this goat amigurumi pattern is a fun and meaningful birthday gift.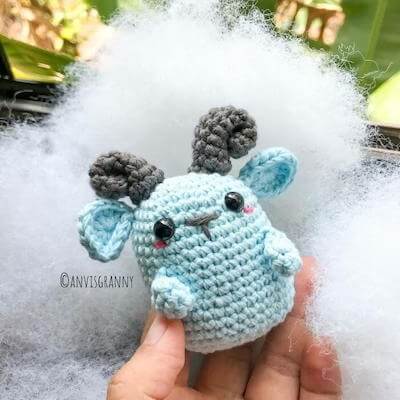 Get the Pattern here

13. Gilbert, The Goat Crochet Pattern by Hello Yellow Yarn
Gilbert has lost his bleat! A vivid green patch of grass is sure to cheer him up and his bleat will return! He is the cutest baby toy and is just the right size for carrying everywhere, playing with on the go, or snuggling during quiet time.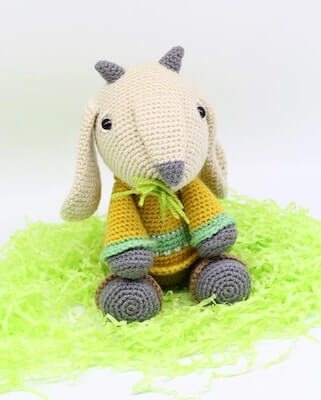 Get the Pattern by Hello Yellow Yarn here

14. Gidget, The Goat Crochet Pattern by Manic Yarn
Gidget is just a girl and a goat. She's a little thing – a great size to hop in your bag and join you on many adventures!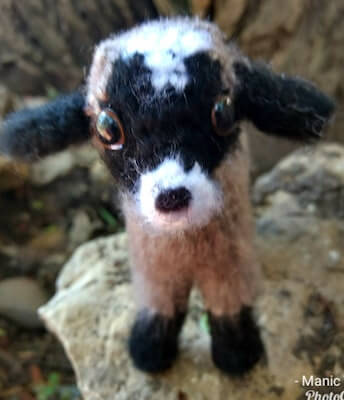 Get the Pattern by Manic Yarn here

15. Free Goat Hat Crochet Pattern by Lovable Loops
You'll love this adorable and free crochet goat pattern! The crochet pattern is written for sizes 0-3 months through adult. So you can make one for each of the family!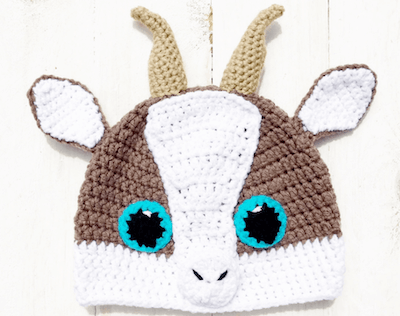 Get the Pattern here
CAST ON SOME CUTE FARMYARD FRIENDS WITH THESE CROCHET GOAT PATTERNS!
Keep in touch on the Crochet News Facebook Page and feel free to post and share pictures of your crocheted projects. We'd love to see!

Crochet your own amigurumi farmyard! Populate the fields with a rooster, cow, a sheep, a horse, a pig, a chicken, and numerous other lovely farmyard creatures.

For now, let's get our hands busy with these super cute crochet goat patterns today!