Clip clop along with these crochet horse patterns we got for you today! If you have a horse fanatic in your life, this lovable herd of cuteness is the perfect addition to any stable.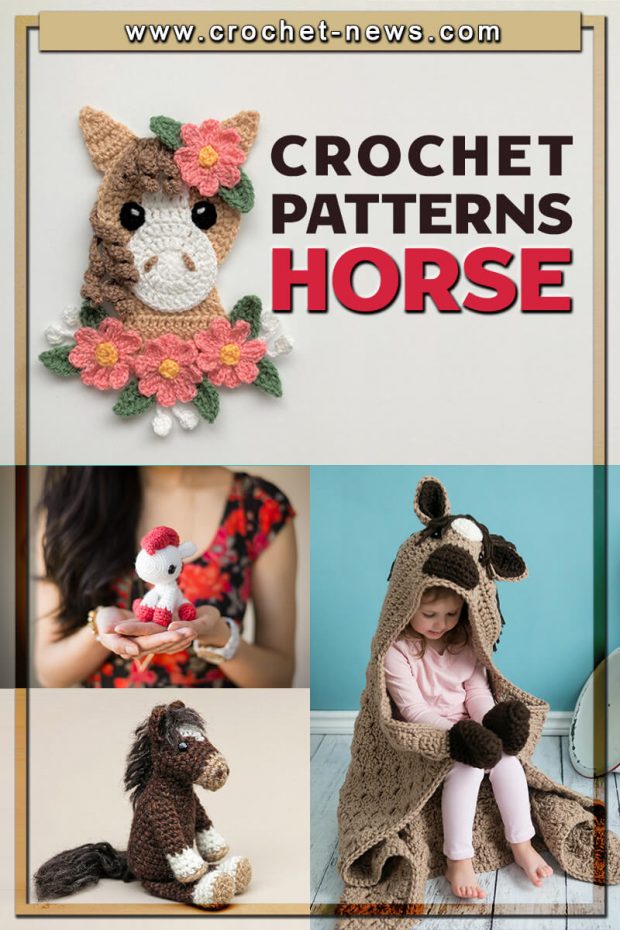 There are various adorable animals to create, and one of the most underrated is a horse. All you see are fancy unicorns and llamas. But farm horse or a pony will be a lovely squishy toys as well!
So, for all your family's equine needs, here are some horse-themed crochet patterns that will surely hit the spot!

1. Farm Horse Baby Blanket Crochet Pattern by Crafting Happiness UK
What a great idea! A cuddly warm blanket that the baby can play with and then it folds into a decorative toy. This blanket is perfect for a minimalist home, it's gender-neutral and looks gorgeous when folded and rested on the armchair.

Use it as a blanket in the pram or car seat or use it as a play mat, and when you are done, fold it away and display it in your nursery. Hung it on the pram and the baby will be entertained looking at it.

More crochet baby blanket patterns here. Check them out for more ideas!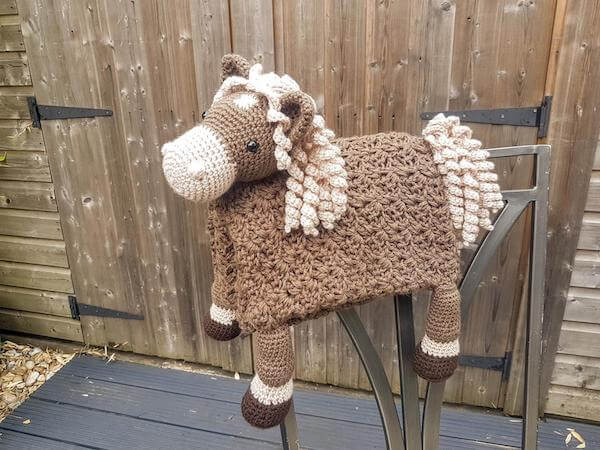 Get the Pattern by Crafting Happiness UK here

2. Lucky, The Amigurumi Horse Pattern by Little Muggles
Lucky is a fun and rewarding little crochet project. He makes a very unique and special gift for people of any age, and is especially ideal for anyone born in the Zodiac Year of the Horse! He sits at approximately 8.5 inches tall when made with the recommended yarn and hook size.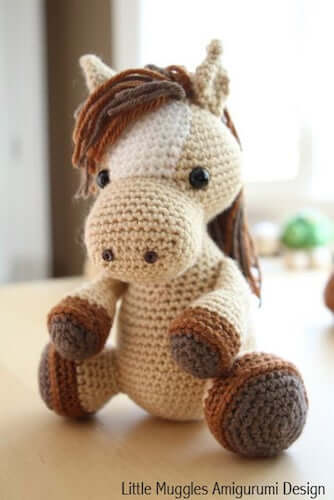 Get the Pattern by Little Muggles here

3. Farm Horse Crochet Pattern by Amigurumi Today
This crochet farm horse is not only sweet and extra cuddly, but it also happens to be just the right size for constant companionship! Measuring about seven inches long, this stuffed amigurumi horse doesn't take up too much space so it can easily go on family vacations, basket dinners, and any other trips that might call for a soft friend.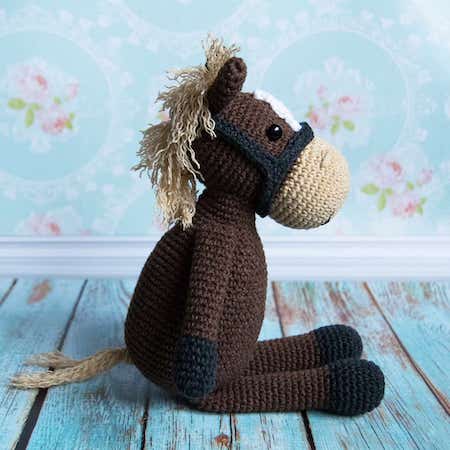 Get the Pattern here

4. White Horse Crochet Pattern by Doll Patterns Shop
This white horse is made with white Chenille yarn. It's approximately 30cm tall and 20cm wide, It can stand on it's own because of a framework inside the body, legs and head. Therefore you ca adjust the position of the head and legs as you wish. You can also make the horse without frame than it's suitable for children.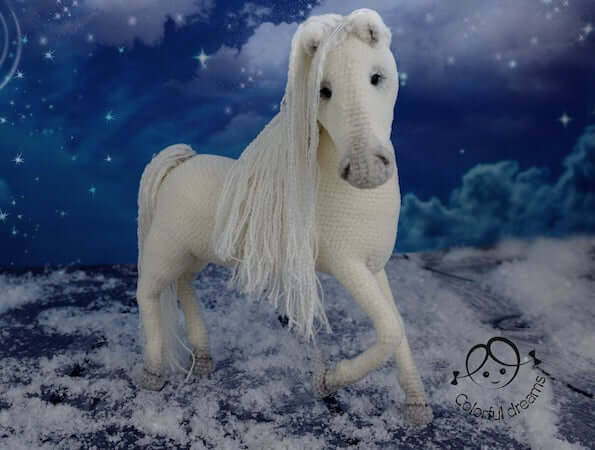 Get the Pattern by Doll Patterns Shop here

5. Amigurumi Horse And Donkey Crochet Pattern by Grace And Yarn
These two come together rather quickly for their large size. By changing the colors you could also have a super cute zebra or even add a horn for a unicorn.

For a more anthropomorphic, softie-type horsey toys, why not explore the amigurumi horse and donkey pattern? These large stuffs have some cute accessories and are overall simply adorable. Additionally, these are so customizable that you can match any recipient.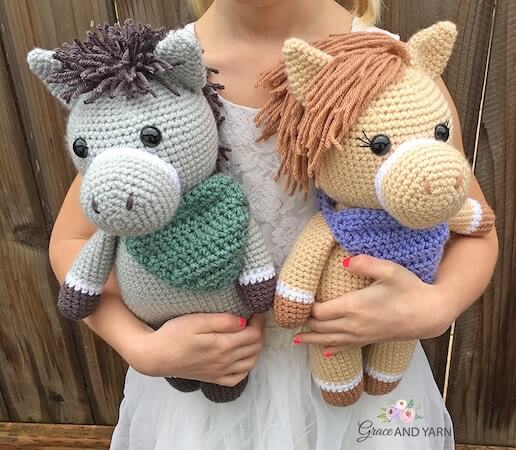 Get the Pattern here

6. Amigurumi Mini Horse Pattern by Sunshine Over Texas
Meet "Ginger" the tiny Chestnut mare! From her itty bitty hooves to her tiny blaze and untamable poof of a mane, she is a feisty little thing full of personality and spirit! A tiny 2 inches tall, she works up in only a few hours, resulting in a guaranteed cuteness overload! Will little Ginger be the next Amigurumi project on your crochet hook?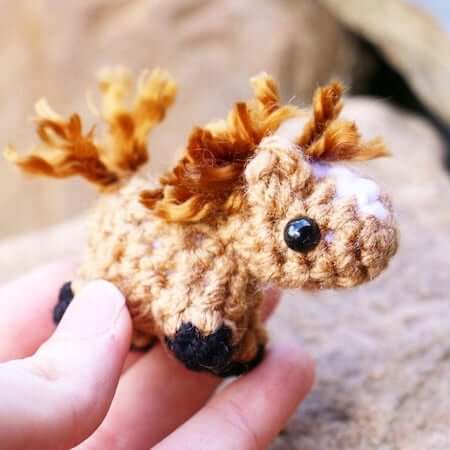 Get the Pattern by Sunshine Over Texas here

7. Crochet Horse Pattern by Violets And Heather
This super soft & cuddly horse works up quickly due to the super bulky yarn and would be perfect for a baby shower gift or a child of any age (you can choose to leave off the pearl embellishments if you like).

She is made working in continuous rounds with individual pieces sewn together. She measures approx. 14" when sitting and 21" when standing. These measurements are when Super Bulky Yarn (6) and an 8 mm hook are used.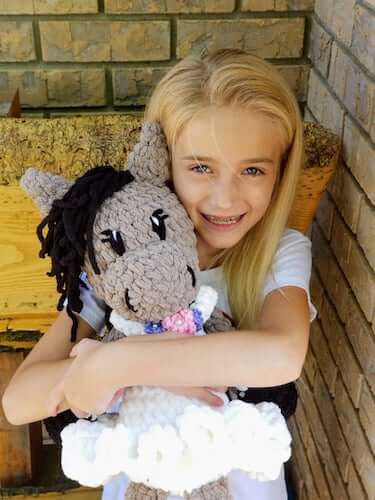 Get the Pattern by Violets And Heather here

8. Floral Horse Applique Crochet Pattern by Wilky Wooly Designs
Fans of decorative appliques and horses will adore this fun little addition to their collection. This crochet floral horse head is adorable and just the thing to embellish backpacks, denim jackets, pants, and more! The appliques work up to be about 20.5cm high and 16.5cm wide with a 3.5mm hook.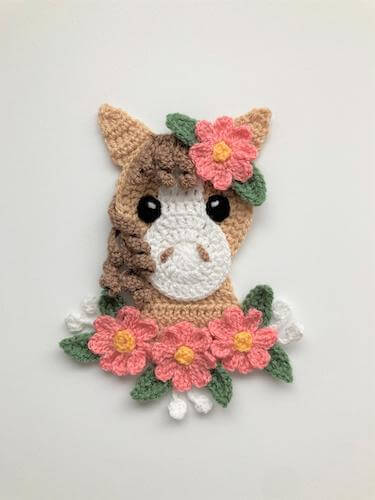 Get the Pattern by Wilky Wooly Designs here

9. Hooded Horse Blanket Crochet Pattern by MJs Off The Hook Designs
Not only is this Crochet Horse Blanket adorable but it's also warm and cozy. Your little or big ones will have hours of fun playing and cuddling with their favourite farm animal.

The hooded horse blanket is a C2C (corner-to-corner) design. It's a pretty textured stitch that works up quickly in double crochet. The horse doesn't require any colour changes making it an easy blanket to complete.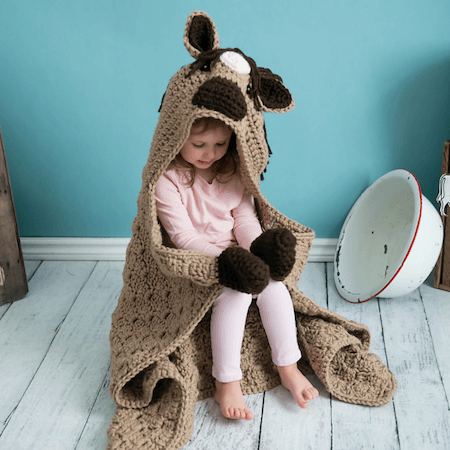 Get the Pattern here

10. Horse Bookmark Crochet Pattern by Little Owls Hut
Crochet a cute little bookmark buddy to keep you company while you read! These happy horses are an avid readers and would love to live inside your favorite book. He would make a fabulous page finder for any horse lovers.A great gift for children, too!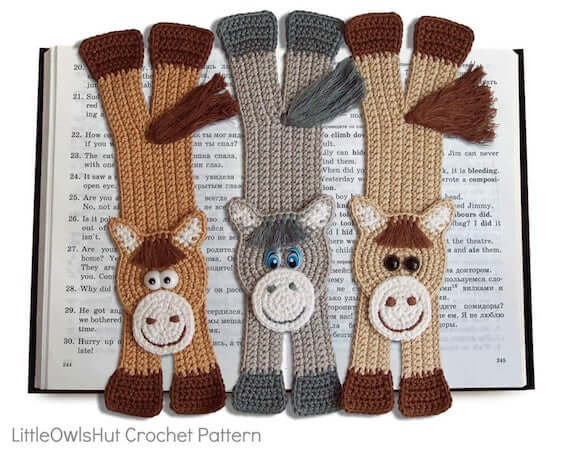 Get the Pattern by Little Owls Hut here

11. Night Mare Amigurumi Crochet Pattern by Crafty Intentions
This Night Mare Crochet Pattern comes with instructions for the body, legs, head, eyelids, two sets of ears, wings, two types of manes and one type of tail!

A Night Mare from this pattern is 14 inches tall from hoof to ears, 15 inches long from nose to tail, 3.5 inches wide from side to side, and the wing is 15 inches long from base to tip.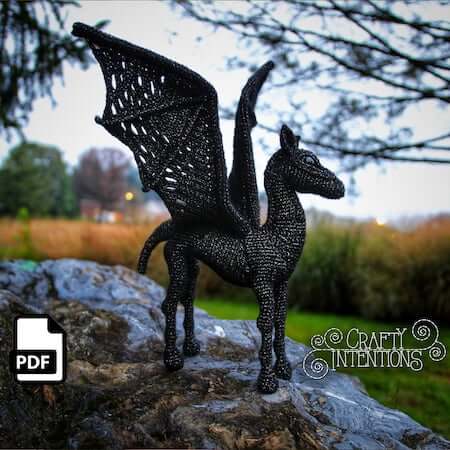 Get the Pattern by Crafty Intentions here

12. Pony Crochet Pattern by All About Ami
Crochet your own sweet little pony using this crochet pattern. It contains clearly explained instructions and pictures to help you crochet this pony with a whimsical, puffy mane and tail! Make in her a rainbow of colors for all the horse, unicorn, and pony-lovers in your life, and for those born in the Year of the Horse!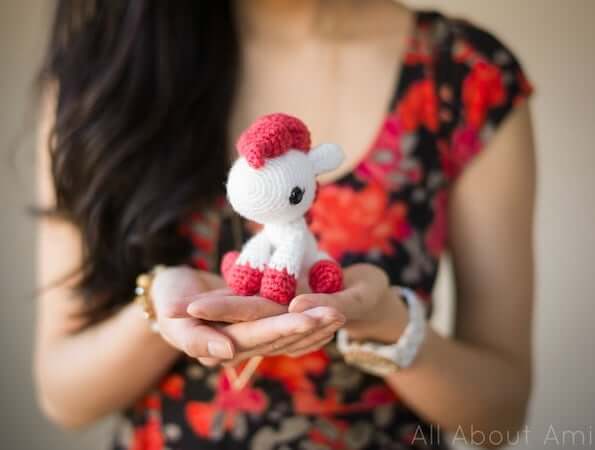 Get the Pattern here

13. Crochet Horse Baby Blanket Pattern by Owl B Hooked
Simple, modern and gender neutral design, this Crochet Horse Baby Blanket makes for an adorable and unique 1st birthday or baby shower gift. The written size allows it to be used as a security or snuggle blanket well into toddlerhood!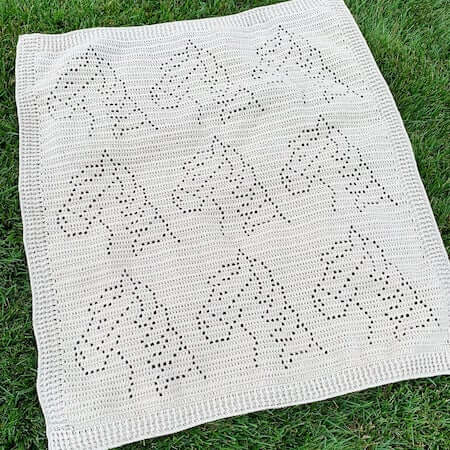 Get the Pattern by Owl B Hooked here

14. Free Horse Crochet Pattern by Craft Passion
Free crochet pattern of a handsome Horse Amigurumi, Hessy, that you can crochet by following the instructions and written pattern. An absolutely perfect gift for those that love Animal & Wildlife.

Both Horse and its foal are crochet from the same pattern. The foal appears in a smaller size because it is crochet from a slightly lighter yarn than the horse. Apart from the yarn, horse and foal are using a different kind of eyes to make them look a little bit distinctive.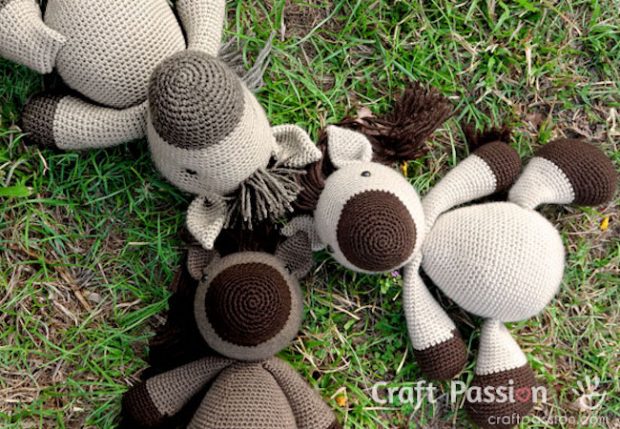 Get the Pattern here

15. Realistic Amigurumi Horse Crochet Pattern by Sons Popkes
With this easy pattern, you can make a realistic looking, majestic and cute horse. Use any color you like to create your own! This lovely fuzzy horse is made with a 100% wool with a lot of fuzziness. He is 6 inch / 15.5 cm when sitting.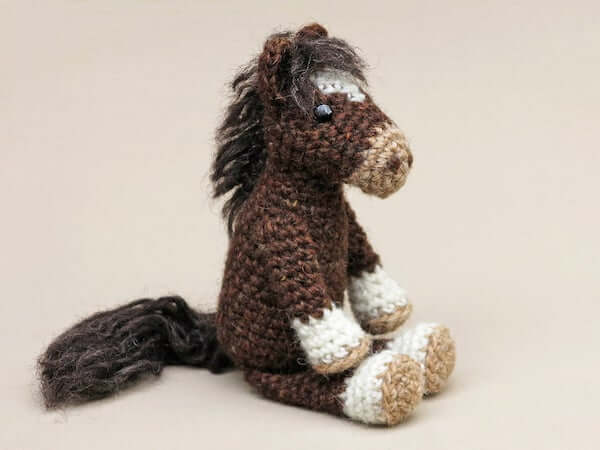 Get the Pattern by Sons Popkes here
Who wouldn't want a cute crochet horse to call their own? We know you want one!
We can't wait to see your creativity and all the different colors you folks come up with. When you complete one, please post it on our Facebook Page. We love seeing your work!

We can't forget about unicorns. They are horse-like creatures after all. Here are 37 crochet unicorn patterns for more equestrian projects.

What are you waiting for? You'll be racing to create all fifteen of these pretty crochet horse patterns!