This year, instead of pulling out the same basket you always use during Easter, try these creative crochet Easter basket ideas that make a serious statement.
The key to a good Easter basket might be the goodies you nestle inside it, but without the basket itself, you've got nothing. And while it may be hard to compete with all the treats and toys tucked inside, these crochet Easter baskets will steal the show — moments before the Easter Bunny's treasures have a chance to.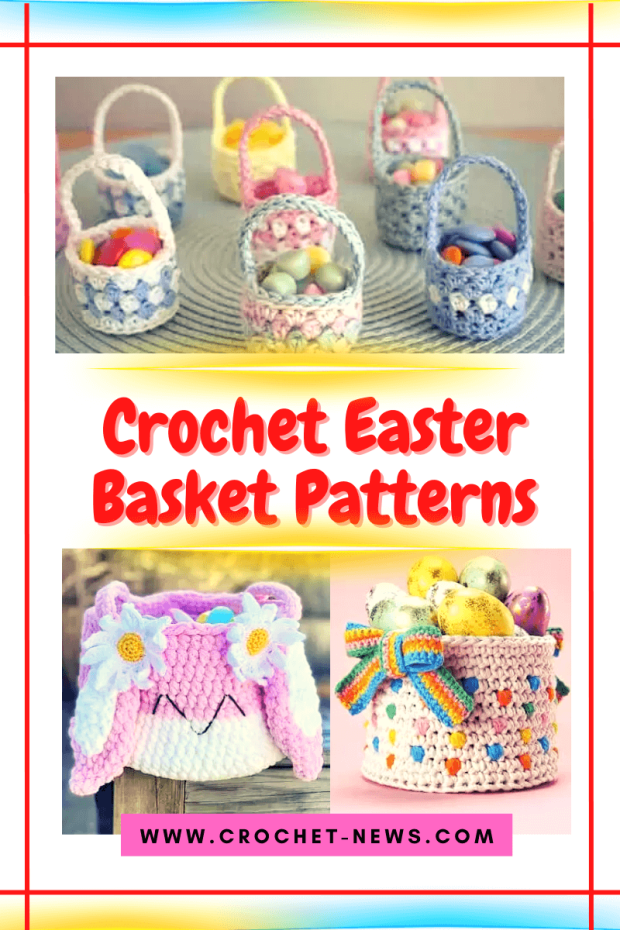 21 Crochet Easter Basket Patterns
Though the traditional store-bought options are simple and work just fine, why not treat the babies, toddlers, tweens, teenagers, and—hey—even the adults in your life to something a little more special this Easter?
1. Spring Easter Basket Crochet Pattern by Petals To Picots
Here's a pretty flower basket to add a little color to your days or to decorate for Easter baskets for your little loves. Fill it with colorful crochet eggs or yummy Easter treats.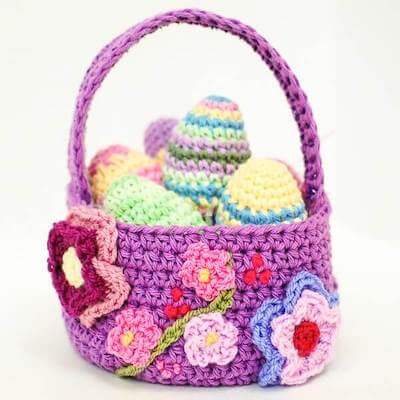 Get the Pattern here
2. Easter Bunny Basket Crochet Pattern by Petals To Picots
A darling little bunny basket to fill with Easter treats! This Easter Bunny Basket Crochet Pattern is quick and simple to work up and features long bunny ears that double as a handle. Enjoy adding your own embellishments and personalizing your bunny's face.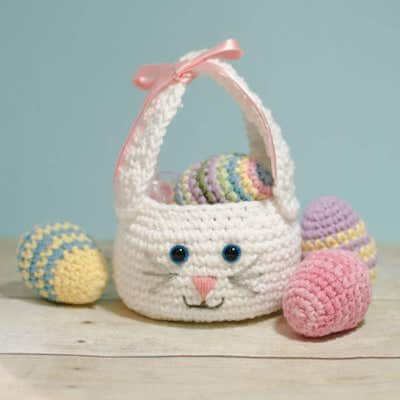 Get the Pattern by Petals To Picots here
3. Crochet Easter Basket Pattern by My Fingers Fly
Crochet an easy Easter basket and use flower buttons to decorate the sides. This pattern uses a double strand of worsted weight yarn in several colors, along with worsted paired with eyelash yarn for the "grass" section at the bottom.
Sew on multicolored flower buttons and embroider the flower stems for a beautiful springtime basket.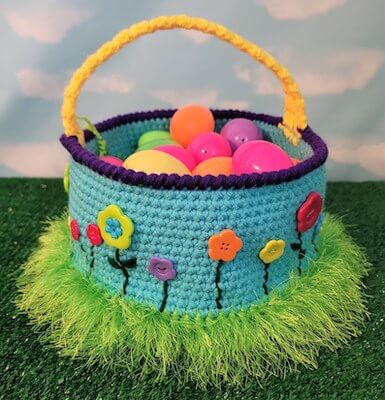 Get the Pattern by My Fingers Fly here

4. Bunny Crochet Egg Basket Pattern by Yarnspirations
The Easter egg hunt is on, so let's make an adorable basket to collect them all! Featuring sweet bunny silhouettes, make the version shown or imagine your own combination of shades. Create a basket that any child will love to use on their next big adventure!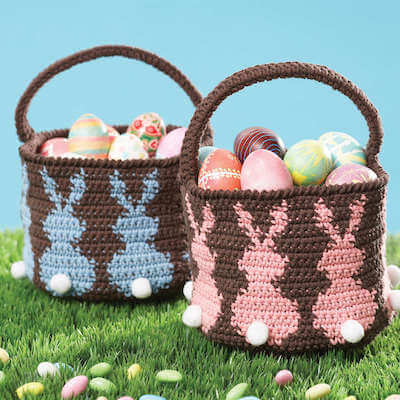 5. Mermaid Crochet Easter Basket Free Pattern by Crafty Kitty Crochet
Make your spring mermagical with this adorable Mermaid-Themed Easter Basket! The scales and tiny fin make this handmade basket amazingly aquatic, and any mermaid lover is sure to cherish it!
The finished result looks adorable, and the design is surprisingly simple — plus, there are tons of photos to guide you along the way!
Get the Pattern here
6. Free Easter Basket Crochet Pattern by Gathered
Jazzy dots and bright stripy bows make this crochet Easter basket fun, jolly and all ready for swallow up lots of chocolate goodies.
Although it's perfect for storing your chocolate eggs, we think this crochet Easter basket would make a great storage solution for the whole year round — how about using it to store your yarny bits, or even as a houseplant pot cover!
Get the Pattern here

7. Mini Chick Easter Basket Crochet Pattern by Winding Road Crochet
This Mini Chick Easter Basket is perfect for Easter or spring decorations. This pattern works up in about 30 minutes and will be a great Easter basket filler for any child. Fill this basket with Easter candies to be enjoyed by everyone.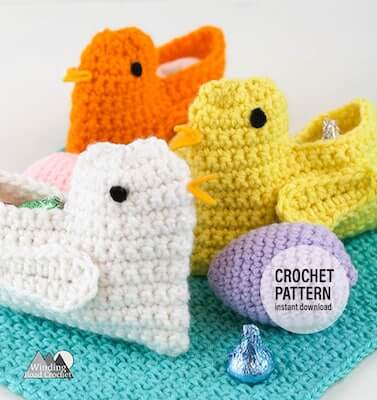 Get the Pattern by Winding Road Crochet here
8. Blooming Easter Basket Crochet Pattern by Blackstone Designs
This Blooming Easter Basket features fun textures, flowers, and a braided handle. Crochet Easter baskets are totally adorable and they're lot of fun to create and decorate! The best part about this basket is that you can leave the handle off and use it as a decor piece instead!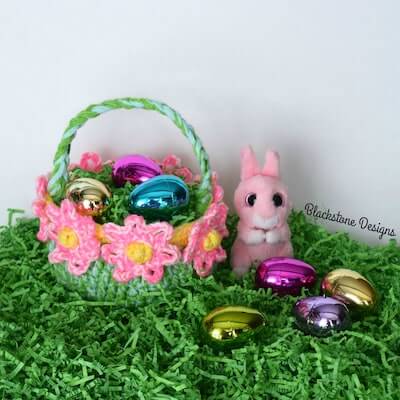 Get the Pattern by Blackstone Designs here

9. Rabbit And Lamb Easter Baskets Crochet Pattern by Moji Moji Design
Make a bouncing bunny or a lolloping lamb with this pattern, or if you can't decide which you like best why not make them both?

The sturdy design of these baskets will ensure your characters are always in good shape no matter how many Easter egg hunts you go on or how many spring gifts you pack into them.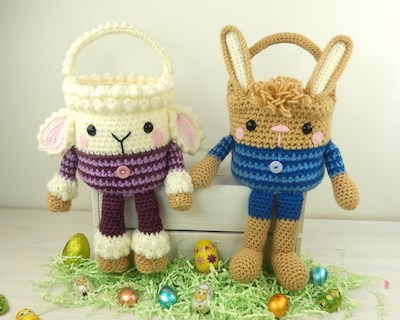 Get the Pattern by Moji Moji Design here

10. Woven Easter Basket Crochet Pattern by Crystalized Designs
With character and color, this basket is the perfect choice for many occasions! The stitch combinations offer a unique and fun texture. Children will be sure to love their basket as much as they love the delights inside!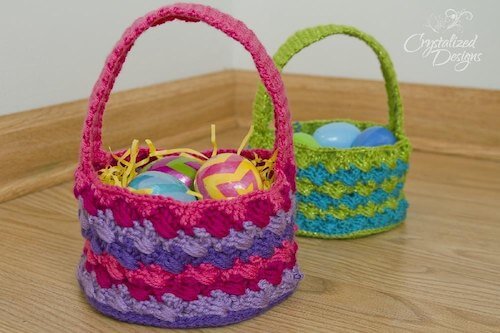 Get the Pattern by Crystalized Designs here

11. Crochet Carrot Basket Pattern by Skip To My Lou
A darling little crochet carrot basket filled with chocolate eggs will be the hit at your Easter celebrations. How about using these cute baskets as a favor on each plate for Easter dinner?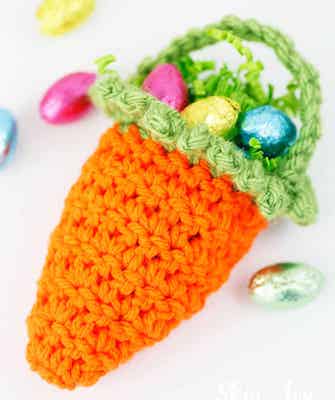 Get the Pattern here

12. Mini Easter Basket Crochet Pattern by Annie's Granny
These mini baskets are quickly and easily made and can be varied endlessly by crocheting them in one ore more colors. They will make a fun surprise for the children, a great Easter present, or an unusual Easter dinner table decoration.
This is a great project if you want to use up some leftover yarn as each basket will only use up 5 grams.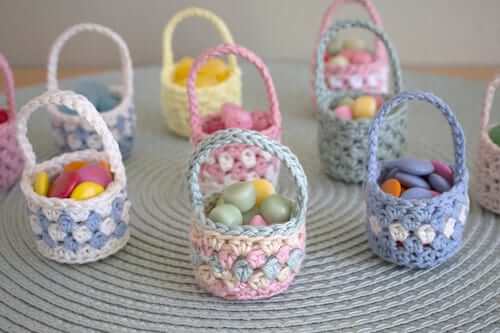 Get the Pattern by Annie's Granny here

13. Darling Daisy Bunny Basket Crochet Pattern by Crafty Kitty Crochet
Just in time for Easter, here's an adorable and easy to make DIY basket that is sure to brighten up any gift! And it's not just for the holidays — use this sweet rabbit basket for home decor and storage all year round! It's the perfect accent to a kids' room, nursery, craft room, home office, etc.

If you are using it as an Easter basket, it doesn't get much more springy that this happy little bunny with daisies on its ears!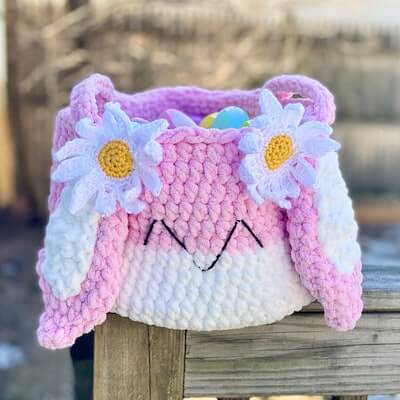 Get the Pattern by Crafty Kitty Crochet here

14. Cross Crochet Easter Basket Pattern by Desert Blossom Crafts
A Christian twist on the classic crochet Easter Basket — meet the Cross Basket! This design features simple single crochet, an elegant crab stitch edging, and of course a cross applique on the front.

At around 5″ in diameter, I would classify this pattern as a mini Easter basket. I'd like to use it for decor around the house. However, I think you could also make it work with a handle if you wanted to use it for a little one collecting Easter eggs!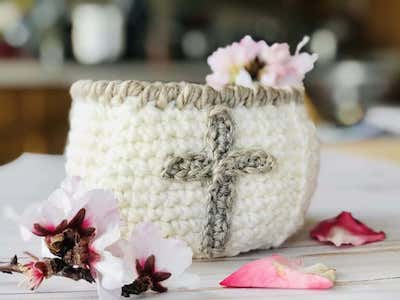 Get the Pattern here

15. Crochet Easter Egg Basket Pattern by Whistle & Ivy
This darling Crochet Easter Egg Basket Pattern is perfect for gathering all the candy and eggs! It's generous sized and features a color work Easter egg on the side.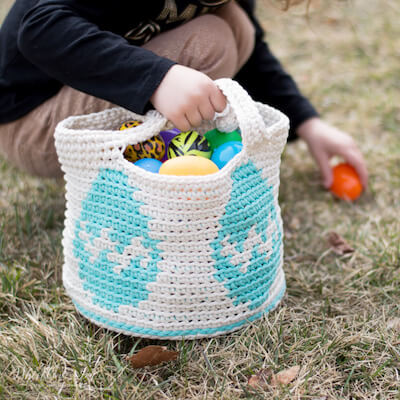 Get the Pattern here

16. Crochet Easter Baskets Pattern by Avondale Patterns
This crochet pattern is for a collection of Easter Baskets, all ready to be filled with little eggs!

The large ruffle basket is just the right size for small hands to hold which searching for hidden eggs at a treasure hunt. The medium sized flower basket holds just 3 little chocolate eggs and so is ideal to make as small gifts to give to a group of children, maybe at a party or at school.
And of course we can't leave out the dollies! The teeny weeny basket holds just one mini chocolate egg, just big enough for Barbie to carry! So everyone is catered for!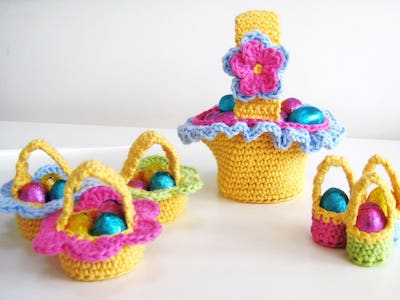 Get the Pattern by Avondale Patterns here

17. Easter Basket Crochet Pattern by Knitting With Chopsticks
Burst out your scrap yarn! These cute Easter crochet baskets only require a few meters of super bulky yarn. Quick and easy, this is a perfect handmade addition to your Easter festivities.

You can also make these simple crochet baskets to match a wedding theme and have flower girls carry their flowers in them.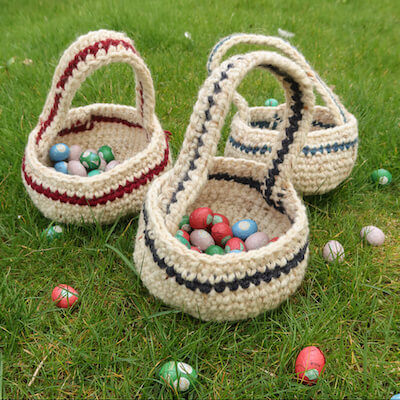 Get the Pattern here

18. Plushy Watercolor Easter Basket Crochet Pattern by Fiber Flux
This Plushy Watercolor Easter Basket is a pretty little basket that can be used to fill with treats, add some springy decor to your space, or accompany you on an egg hunt!

Crocheted up super fast with squishy yarn and a big hook, it also features a removable buttoned-on handle that makes it easy to swivel around to move it out of the way or remove it all together for a completely different look!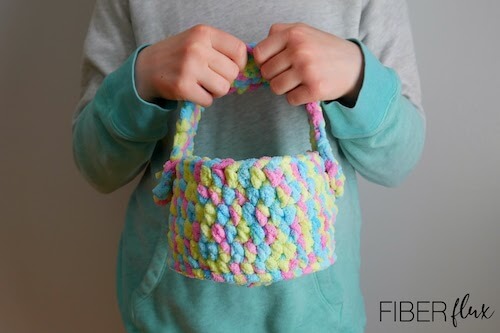 Get the Pattern here

19. Easter Baskets Crochet Pattern by Briana K Designs
Easter with a bit of sparkle! All ages will enjoy the whole collection of Easter Baskets for collecting eggs or for nice storage baskets for toys. Easter baskets do not get any cuter than this and the unique construction creates a sturdy side to make egg hunting a success.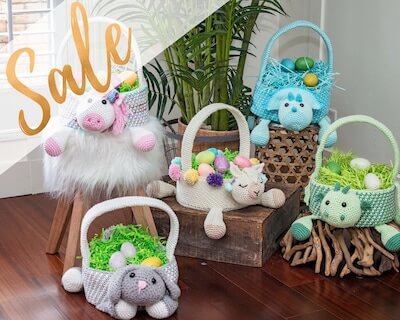 Get the Pattern by Briana K Designs here

20. Easter Egg Basket Crochet Pattern by Maya Kuzman
These little baskets will certainly make your Easter much joyful and cheerful! Easter Eggs are one of the most beautiful and appreciated symbols of Easter. They convey the everlasting notion of fertility, new life and re-birth. These flower–resembling baskets are wonderful way to display your Easter eggs, decorate an Easter scene or give as gifts.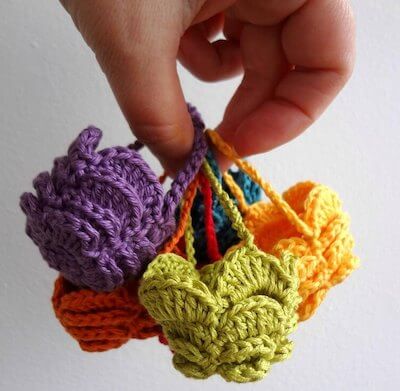 Get the Pattern by Maya Kuzman here
21. Crochet Flower Easter Basket Pattern by Nana's Crafty Home
This simple and easy basket works up quickly in bulky yarn with beginner friendly single crochet stitches. Sides are worked in the back loop to create a bit of texture.

The fun part of this basket is the addition of button flowers and stems worked with surface crochet around the outside. Video tutorial is provided to help with finishing details of basket including adding the stems and buttons!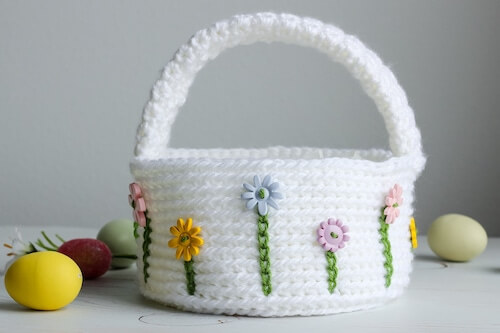 Get the Pattern by Nana's Crafty Home here
FROM A BASKET WITH A CHEERY SIGN OF SPRING TO A MORE CLASSIC DESIGN, THESE CROCHET EASTER BASKET PATTERNS ARE JUST PERFECT FOR THE HOLIDAY.
I can't wait to see your creations! Make sure to share your finished works in the Crafting news Facebook Page so we can all see!
If you fancy some more fantastic Easter crochet make, check out these projects ranging from adorable bunnies and chicks to, of course, Easter eggs galore!
Once your crochet Easter Basket is ready to go, fill it up with candy and other treats to share with your loved ones! Happy Easter, everyone!