Butterflies are a frequent decorative motif and are a particular favorite amongst crocheters. But butterflies did not start as a beautiful creature. They started as an average looking (sometimes scary) caterpillar that nobody wants to look at. Today, let's give these crochet caterpillars a spotlight!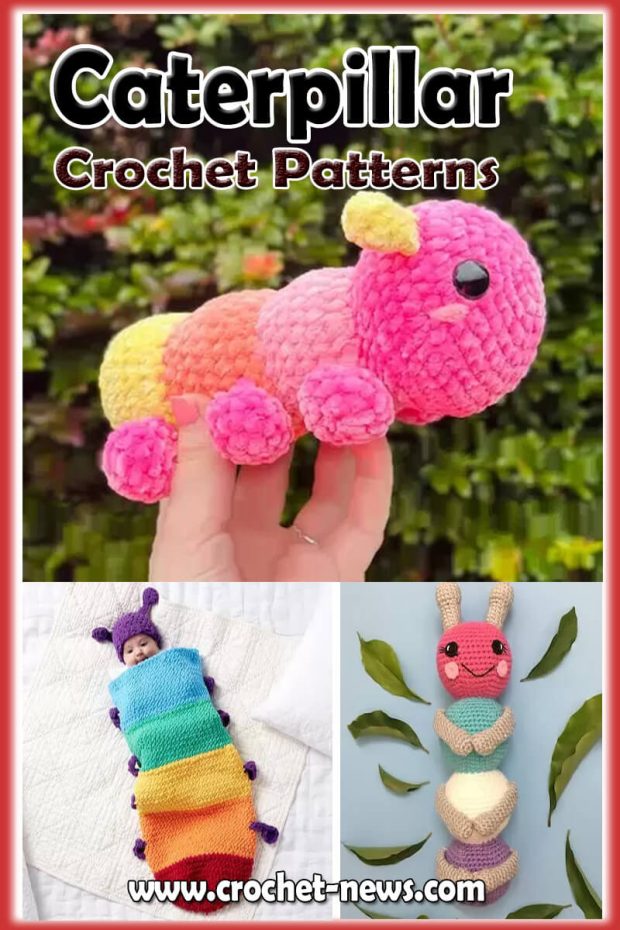 Summer is on the way! Lovely weather and all those beautiful colors outside. These cute caterpillars will fit right in, don't you think?
They're perfect to welcome Spring and to make for the kids who have all even obsessed with The Very Hungry Caterpillar book at one stage or the other. So, if you're looking for a fun project you can finish in an afternoon, give these crochet caterpillar patterns a try!
15 Crochet Caterpillar Patterns

1. Crochet Cuddly Caterpillar Pattern by Grace And Yarn
If you have a little one who is fascinated with bugs and insects they will love this cuddly caterpillar, too! The body is worked as one piece and the arms are made for fast and easy sewing, making this a perfect pattern for beginners.

This is also a great way to use up left over yarn as each segment only requires a small amount!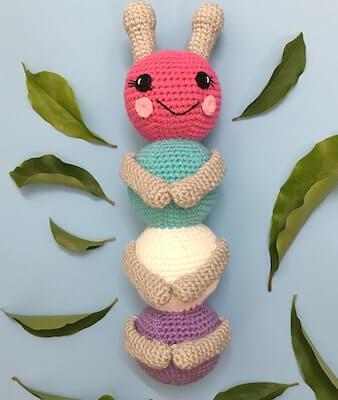 Get the Pattern here

2. Crochet Caterpillar Pattern by On A Whim Crochet
How cute is this little crochet caterpillar? He'd make a great accompaniment to a child's favorite book!
He's made of individual crocheted disks which are threaded onto a chain-stitched body and then attached to a stuffed head. He can be made with any color scheme at all, so he makes a great stash buster!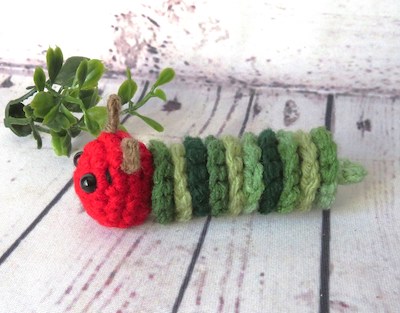 Get the Pattern by On A Whim Crochet here

3. Snuggle Sack Free Crochet Caterpillar Pattern by Yarnspirations
Make your snuggle bug even cozier in this adorable crochet snuggle sack! Worked in half double crochet in the round, simple increases and decreases bring this adorable caterpillar to life. Make this project plush and vibrant in a rainbow of delightfully playful colors!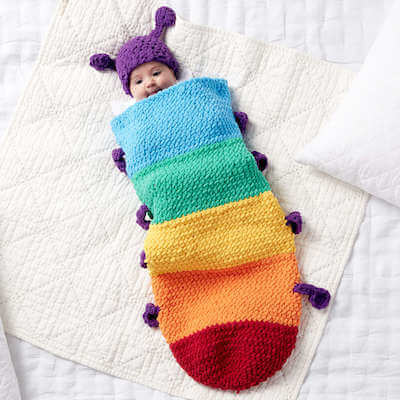 Get the Pattern here

4. Crochet Caterpillar Applique Pattern by Golden Lucy Crafts
This adorable applique is made from hearts. You just need to crochet hearts and then sew them together! It will make a cute embellishment for your kid's clothes, blankets, hats, or bags.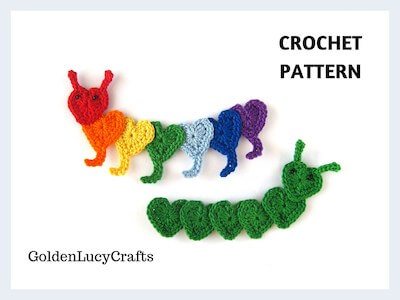 Get the Pattern by Golden Lucy Crafts here

5. African Flower Crochet Caterpillar Pattern by Flower Safari
This dazzling caterpillar is made from African flowers that are joined together. The beautiful hexagonal shape of the traditional African flower is an eye-catching way to craft a design.
The complete size change according to the number of body parts you make & how tight you are going to make the flowers.
Find more African Flower crochet motif here.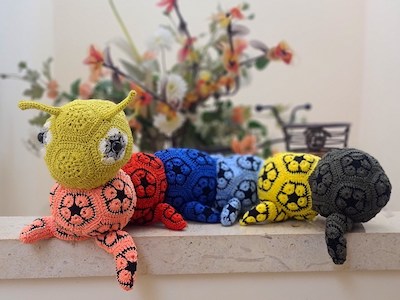 Get the Pattern by Flower Safari here

6. Cecropia Moth Caterpillar Crochet Pattern by Kabelbinder
This prickly alien is the caterpillar of the cecropia moth, one of the largest moths in North America. The caterpillar can be found on maple, cherry or birch trees and measures about 4-6 inches (10-14 cm). Here's a crochet pattern to help you make an even bigger one with a finished size of 17 inches.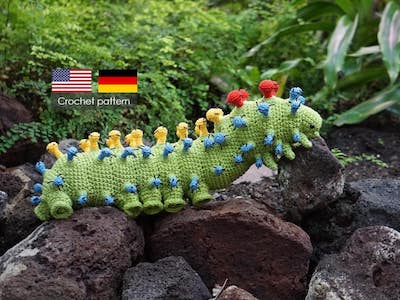 Get the Pattern by Kabelbinder here

7. Crochet Caterpillar Rattle Pattern by Lets Get Crafting Magazine
This cute and colourful rattle is the perfect size for small hands to grab and shake and will encourage babies to look, listen and touch. It's great for using up your oddments of yarn, and of course you can mix and match shades to suit.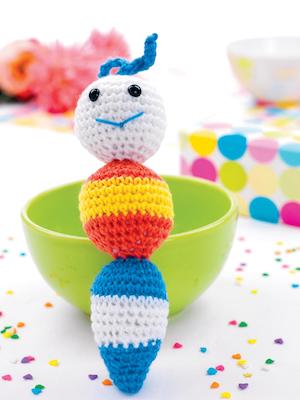 Get the Pattern here

8. Calliope, The Caterpillar Crochet Pattern by Projectarian
Don't be fooled by those big shining eyes, Calliope, the Caterpillar is a yarn bandit! Lock up your stash because she will track it down and haul the booty away in the blink of an eye!

Calliope is a modular amigurumi with customizable length so you can make your caterpillar longer or shorter by adding more segments with the option of including or excluding the legs, spines and scales on each segment. This model is almost entirely crocheted in one piece with no sewing except to attach the face and eyes.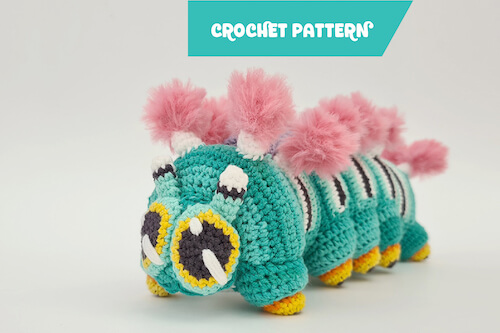 Get the Pattern here

9. Crochet Caterpillar Plushie Pattern by Crochet Grove
Your kids will have the time of their lives with this adorable caterpillar plushie. Colorful and soft, your little one won't get enough of this fuzzy plush and will love to take it anywhere!
Get the Pattern by Crochet Grove here

10. The Very Hungry Caterpillar Crochet Pattern by Tiffy Happy Crafts
This all-time favorite character, The Very Hungry Caterpillar from The World of Eric Carle, is now in a cuddly, huggable toy that is sure wiggle its way into your heart.
Little ones can play with their very own 16-inch colorful companion featuring the instantly-recognizable color palette of the hungriest caterpillar that ever was, including his red head, purple ears, and oversized eyes.
Get the Pattern by Tiffy Happy Crafts here

11. Crochet Amigurumi Caterpillar Pattern by Crafty Intentions
In this Crochet Amigurumi Caterpillar Pattern, there is one body that you can customize with two different face plate options. The caterpillar is made in all one piece except for the face plate. There is a very small amount of sewing to secure the faceplate and soft sculpt the body!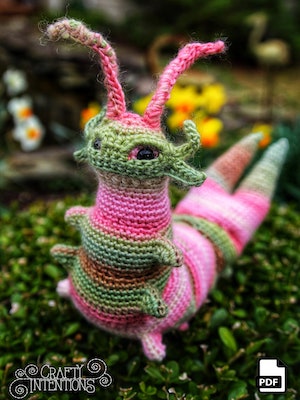 Get the Pattern by Crafty Intentions here

12. Crohet Caterpillar Baby Rattle Pattern by Dudefs World
Give those little hands and mouths something to explore with a delightful Crochet Caterpillar Baby Rattle. Wonderfully soft and colorful, this rattle makes the teething process easier while also helping a child learn to grip things and develop coordination.
Get the Pattern by Dudefs World here

13. Crochet Monarch Butterfly Caterpillar Pattern by Jenna Wingate Designs
This is a crochet pattern to make a large Monarch Butterfly Caterpillar. It doesn't have to wait to transform into a butterfly—it's already beautiful with its realistic features.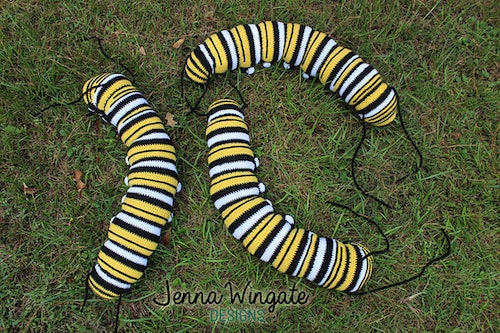 Get the Pattern by Jenna Wingate Designs here

14. Hungry Caterpillar Storytime Toy Crochet Pattern by JMC Creations 91 VT
Make this beloved children's book come to life with this creative storytelling aid! Each piece of food fits perfectly inside a very very hungry caterpillar bag that you can feed in real time to the story!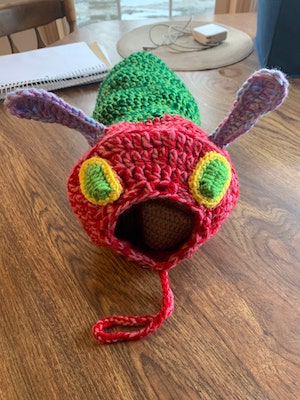 Get the Pattern by JMC Creations 91 VT here

15. Crochet Caterpillar Toy Pattern by Cute Crochet By Steph
With this reversible toy, a caterpillar goes through metamorphosis and becomes a beautiful butterfly with one flip! It would make a great educational toy to teach metamorphosis or just a fun toy in general.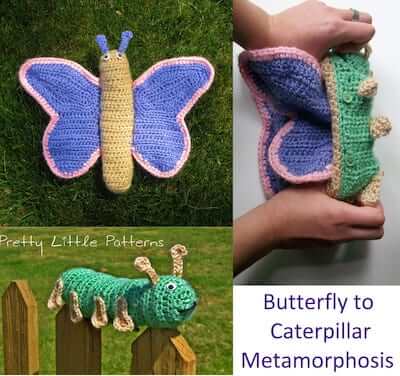 Get the Pattern by Cute Crochet By Steph here
I HOPE YOU'LL TRY MAKING SOME OF THESE CUTE CROCHET CATERPILLAR PATTERNS!
I would love to see everyone's creations, so please do share your crocheted pieces on our Facebook Page. We can't wait to see your very own colorful little buddies.
For more delightful menagerie of crocheted insects, check out our patterns for: Dragonfly Crochet Patterns, Crochet Butterfly Patterns, Crochet Bee Patterns, and Amigurumi Ladybug Patterns.

 These crochet caterpillar patterns are fun, adorable, and easy patterns that will work up fast and will allow you to use up yarn ends. Happy crocheting!