See what the buzz is about these 17 Crochet Bee Patterns!
The Weather's warming – which means those buzzing bees are starting to bumble from bloom to bloom. While some are afraid of them, I think they are super cute with their fuzzy yellow fur and black stripes.
Plus, bees are so important to our ecosystem. And our (and our kids') understanding and appreciation of them are vital to their care and preservation.
Celebrate the cuteness of these little critters by crocheting them. They won't sting this time!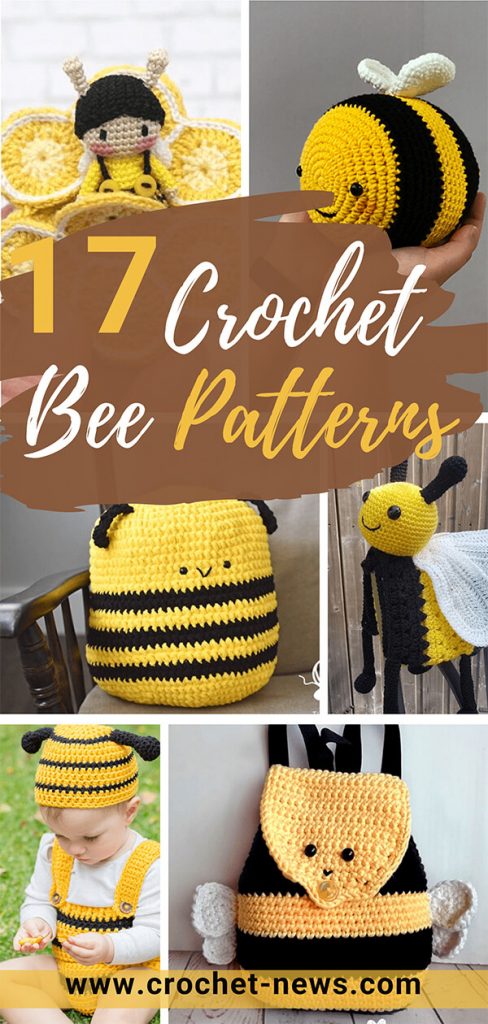 1. Bumble Bee Crochet Pattern by Spin A Yarn Crochet
This is a unique amigurumi made in the ragdoll-style; separate pieces worked in flat rows and then joined together to give them that unique 2-D look.
This sweet little Bumble Bee is sure to create a buzz at the next baby shower you attend!
Either as a cuddle buddy or wall decor, this boisterous bee would make a beautiful gift.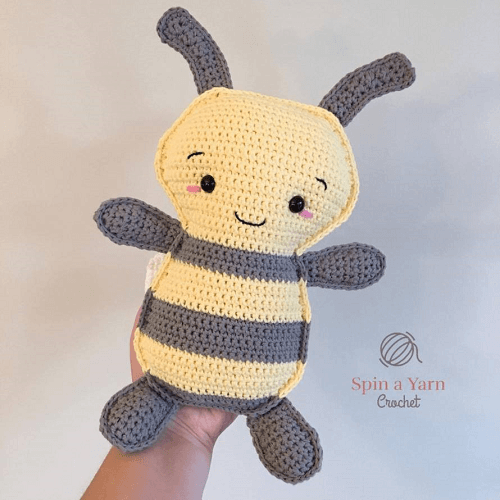 Get the Pattern here

2. Bee Applique Crochet Pattern by Fancy Infancy Crochet
How cute is this bee? Use this bee applique crochet pattern to personalize your baby knitted clothes, blankets, hats, or everything that comes to mind!
If you will use the similar yarns and hook size as the designer's, your finished applique will be 8×10 sm = 3.1×3.9.
You can use the pattern to make larger or smaller applique by using finer or bulkier yarn.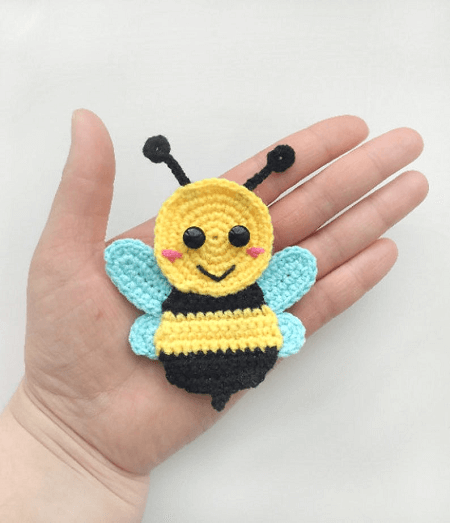 Get the Pattern by Fancy Infancy Crochet here

3. Bee Baby Blanket Crochet Pattern by Crafting Happiness UK
What a great idea! A cuddly warm blanket that the baby can play with and then it folds into a decorative toy.
This blanket is perfect for a minimalist home, it's gender-neutral and looks gorgeous when folded and rested on the armchair.
Made with double knit (light worsted) yarn, the pattern will create a blanket that is warm and soft, but light in weight, perfect for babies of all sizes and ages.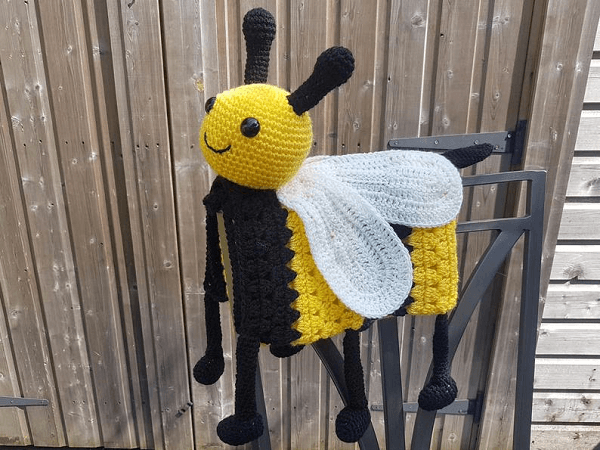 Get the Pattern by Crafting Happiness UK here

4. Crochet Bumble Bee Backpack Pattern by Crochet For You
This little Bumble Bee Backpack is perfect for kids to carry out their own stuff.
It has a cute smiling bumble bee face on the flap, yellow and black stripes on the body of the bag and small wings, too.
The key here is the bag uses basic crochet stitches along with the bulky and sturdy yarn. This makes for a project that works up quickly, and is deeply satisfying too!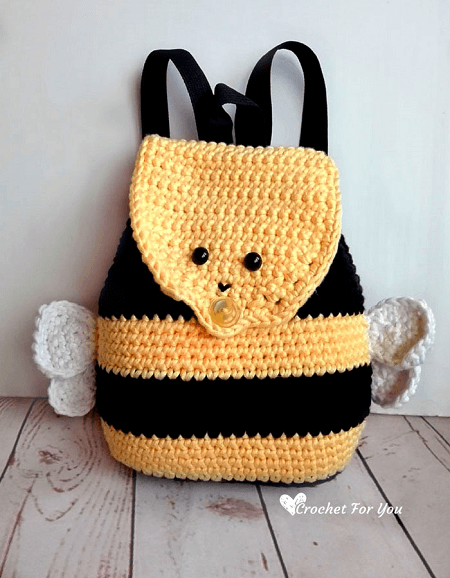 Get the Pattern here

5. Amigurumi Bees Crochet Pattern by All About Ami
The pattern will give you instructions in making Bumble the small bee and the Queen Bee.
These amigurumi bees will have you buzzing with excitement! They are quick and simple crochet projects, perfect for beginners!
Whether you make the tiny bees or the Queen Bee, they are sure to brighten your day!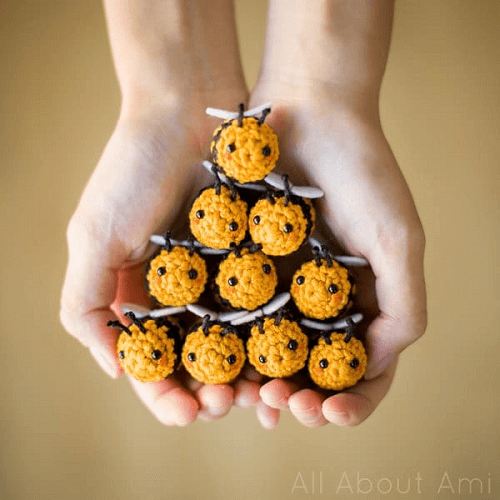 Get the Pattern here

6. Crochet Bee Pattern by Grace And Yarn
Whether you are new to amigurumi or have grown a passion for making stuffed animals, this pattern is for you.
Minimal sewing is involved and they can be worked up in an afternoon! Finished bees are about 9.5 inches tall, perfect for cuddling!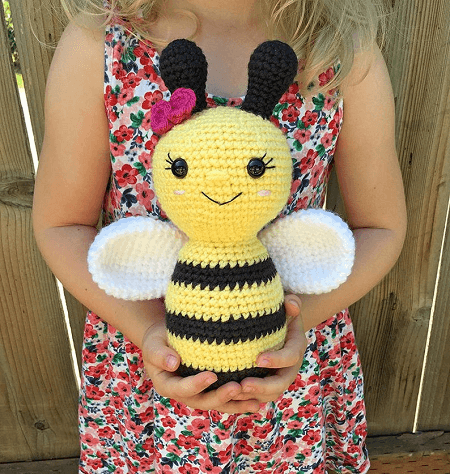 Get the Pattern by Grace And Yarn here

7. Chubby Bee Amigurumi Pattern by Anniegurumi
Crocheting toys is so much fun, and this Chubby Bee would be perfect in nurseries, as gifts for little ones, or even as a small pillow/cushion in a child's room.
The pattern is perfect for beginners as you can practice increasing and decreasing, and there is a minimal attaching required.
You will absolutely adore this chubby bee and his sweet face!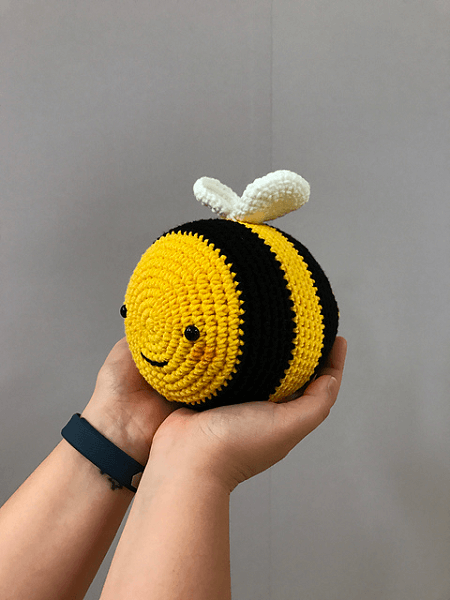 Get the Pattern here

8. Bumble Bee Hat And Playsuit Crochet Pattern by Hopeful Honey Designs
From the lively antennae to the golden, honey tones, this Bumble Bee Hat and Playsuit Set make up the sweetest outfit for any little bee to adorn as he or she flits swiftly from blossom to blossom.
Whether paired with a cozy, long-sleeve onesie on those trips to the park or used as a darling photo prop, this ensemble is crochet must!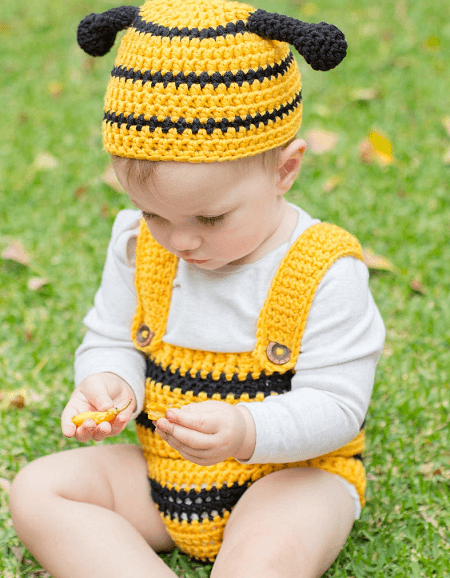 Get the Pattern by Hopeful Honey Designs here

9. Bee Beanie Crochet Pattern by Hailey Bailey
Due to many color changes and the use of a grid, the pattern for this cute bee beanie may be tricky for beginners.
If you are familiar with working with grids and working with several color changes, the pattern would be relatively simple to complete.
The pattern includes suggested average adult head measurements but you can create this to fit any size noggin (including kids!)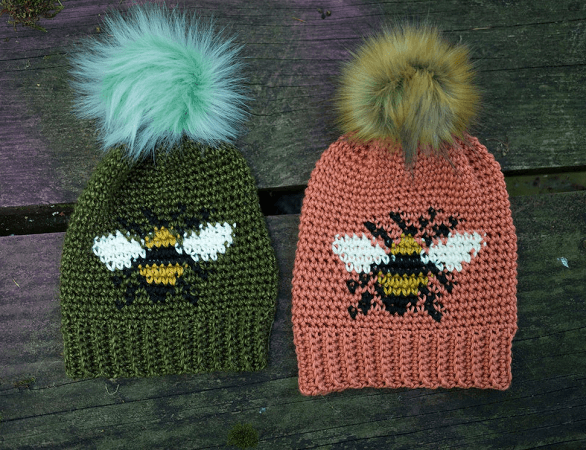 Get the Pattern by Hailey Bailey here

10. Bee Rattle Crochet Pattern by One And Two Company
Makes this cute and easy to crochet Bee Rattle for the baby of the house!
This will make the baby discover new textures, sounds, feelings, and will be an inseparable friend.
This can either be made as a rattle or as a stand-alone small bee toy. You can also make it in any color that you choose.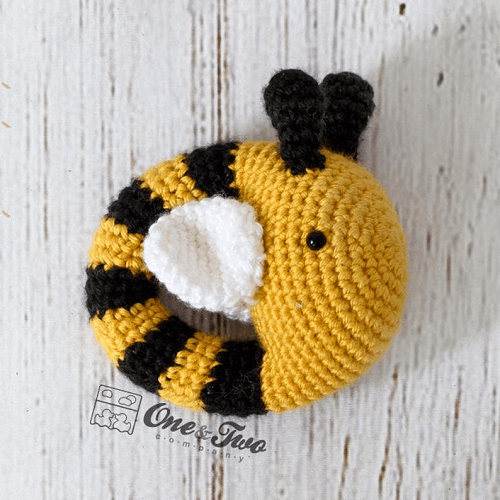 Get the Pattern by One And Two Company here

11. Bee Mine Headband Crochet Pattern by The Stitchin Mommy
With a few thin strands and a bee applique, this crochet headband pattern is absolutely adorable.
In fact, you can work up a bunch of these bee appliques to put on other crochet projects, too!
Either way, this crochet headband is perfect for your daughter going back to school after spring break with a new 'do and a new accessory to go with it.
Get the Pattern here

12. Crochet Bee Pillow Throw Pattern by While They Dream
This Bumble Bee Throw Pillow uses Bobble Stitches to create a beautifully textured throw pillow.
A gorgeous, modern accent piece for your home! Perfect for tossing on a chair, bed or sofa, and to liven up your decor.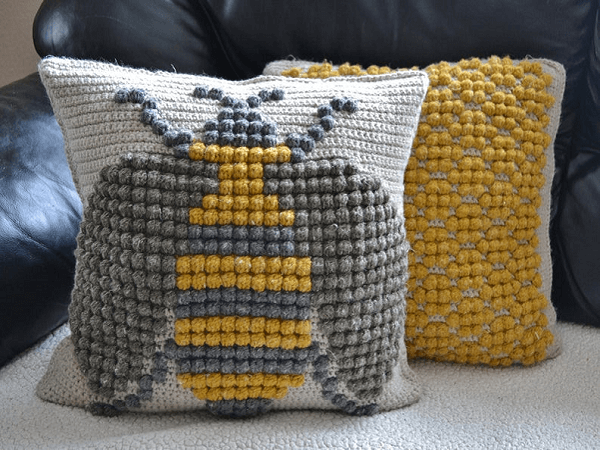 Get the Pattern here

13. Soft And Dreamy Bee Amigurumi Pattern by Amigurumi Today
Designed to be cute and cuddly, this Soft and Dreamy Bee is something that you can definitely catch and keep to yourself!
This bee is made in the amigurumi crochet technique, mostly with single crochet stitches, the work is done in rounds.
The size of finished amigurumi is about 18 cm (7″) – just the right size for your child's cuddle buddy.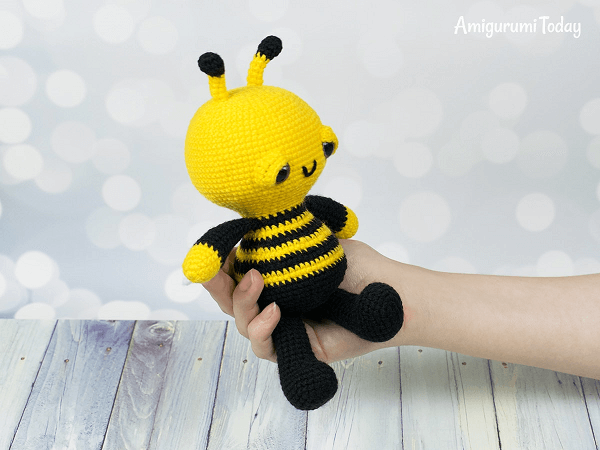 Get the Pattern here

14. Crochet Bee Plushie Pattern by The Turtle Trunk
You won't believe how easy this pattern is! Beginner friendly, this crochet bee plushie works up so fast using Super Bulky Yarn!
Put one on your seat to keep you company or keep him on your bed because he is also a great cuddly, bedtime friend.
Being super soft and squishy – this plushie is a great way to make a pillow more fun for a kid too!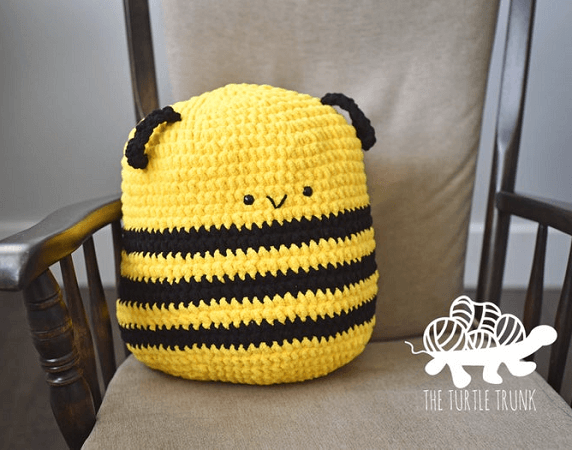 Get the Pattern by The Turtle Trunk here

15. Amigurumi Honeycomb And Bee Pattern by Pink Mouse Boutique
This amigurumi honeycomb and bee is the cutest little pattern on this list!
If you have the dexterity, you'll have a darling little bee. This little guy is just so adorable and you will love his honeycomb sleeping bag, too.
A pocket-sized honeycomb and bee will make a nice little gift for a gardener or bee-loving friend.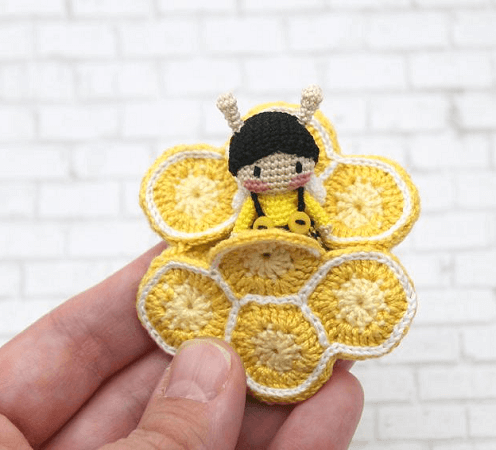 Get the Pattern by Pink Mouse Boutique here

16. Crochet Honeycomb With Bees Blanket Pattern by Crafting Happiness UK
Made with bright happy shades of yellow and smiling bee appliques, this crochet honeycomb with bees blanket will brighten any nursery or room.
It is a modular pattern, meaning you can make it as big or small as you like by adding as many hexagons as you like.
This beautiful bee blanket crochet pattern is the perfect summer project to make for a beekeeper or bee lover.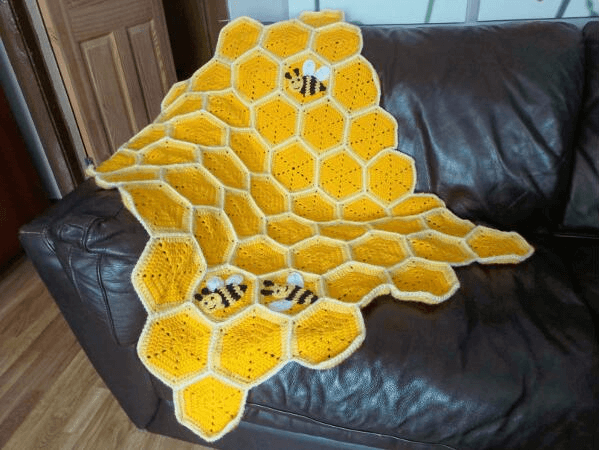 Get the Pattern by Crafting Happiness UK here

17. Bumble Tee Crochet Pattern by Hailey Bailey
Another fun and unique pattern with the crochet bee motif – a Bumble Tee!
The pattern is fully customizable. It is written based on measurements and can be easily adjusted to your custom measurements.
You can also modify the length and width of this top. as well as if you would like it to have longer or shorter sleeves.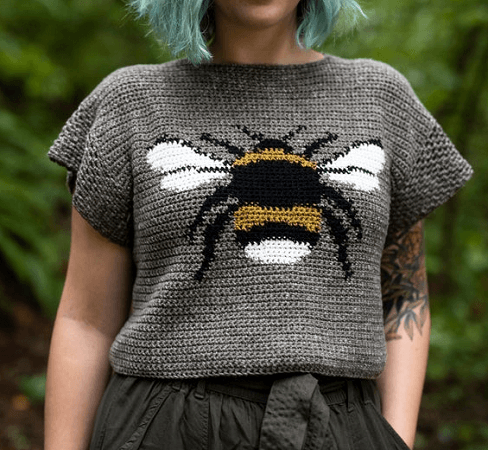 Get the Pattern by Hailey Bailey here
I hope you'll try making some cute crochet bees – it will be a fun project, particularly for the Spring!
Make them for you, your kids, your friends, and everyone you know who loves bees! Just don't forget to share your finished works on our Facebook Page. We'd love to see it too!
For more adorable crochet patterns specifically for babies and kids, we have lots of crochet baby toys and crochet blankets. Check them out!
For now, let's get your hook buzzing with these beautiful crochet bee patterns!