See what the buzz is about these 47 Crochet Bee Patterns! The Weather's warming – which means those buzzing bees are starting to bumble from bloom to bloom.
While some are afraid of them, I think they are super cute with their fuzzy yellow fur and black stripes.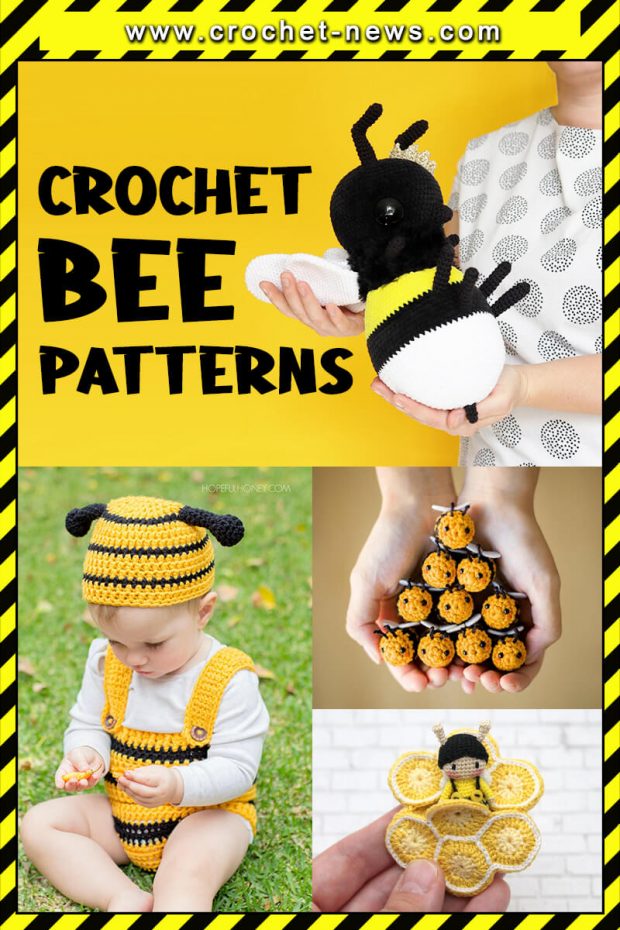 47 Bee Crochet Patterns
Plus, bees are so important to our ecosystem. And our (and our kids') understanding and appreciation of them are vital to their care and preservation. Celebrate the cuteness of these little critters by crocheting them. They won't sting this time!
1. Bumble Bee Crochet Pattern by Spin A Yarn Crochet
This is a unique amigurumi made in the ragdoll-style; separate pieces worked in flat rows and then joined together to give them that unique 2-D look.
This sweet little Bumble Bee is sure to create a buzz at the next baby shower you attend! Either as a cuddle buddy or wall decor, this boisterous bee would make a beautiful gift.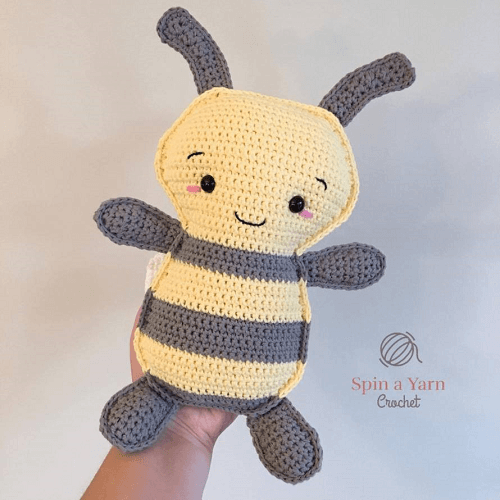 Get the Pattern here

2. Bee Applique Crochet Pattern by Fancy Infancy Crochet
How cute is this bee? Use this bee applique crochet pattern to personalize your baby knitted clothes, blankets, hats, or everything that comes to mind!
If you will use the similar yarns and hook size as the designer's, your finished applique will be 8×10 sm = 3.1×3.9. You can use the pattern to make larger or smaller applique by using finer or bulkier yarn.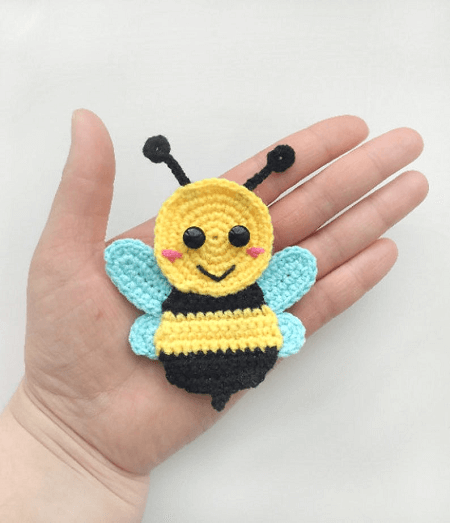 Get the Pattern by Fancy Infancy Crochet here

3. Bee Baby Blanket Crochet Pattern by Crafting Happiness UK
What a great idea! A cuddly warm blanket that the baby can play with and then it folds into a decorative toy.
This blanket is perfect for a minimalist home, it's gender-neutral and looks gorgeous when folded and rested on the armchair.
Made with double knit (light worsted) yarn, the pattern will create a blanket that is warm and soft, but light in weight, perfect for babies of all sizes and ages.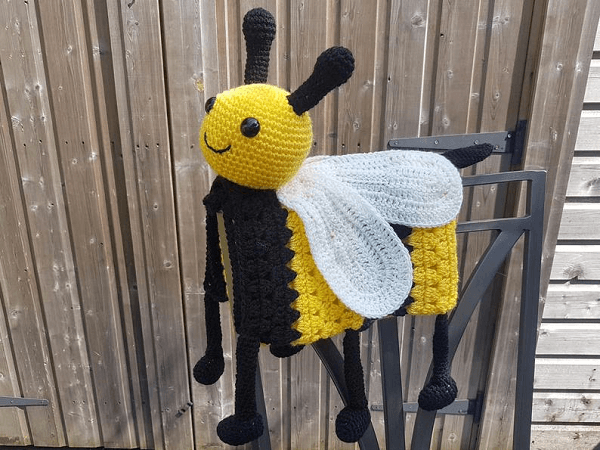 Get the Pattern by Crafting Happiness UK here

4. Crochet Bumble Bee Backpack Pattern by Crochet For You
This little Bumble Bee Backpack is perfect for kids to carry out their own stuff.
It has a cute smiling bumble bee face on the flap, yellow and black stripes on the body of the bag and small wings, too.
The key here is the bag uses basic crochet stitches along with the bulky and sturdy yarn. This makes for a project that works up quickly, and is deeply satisfying too!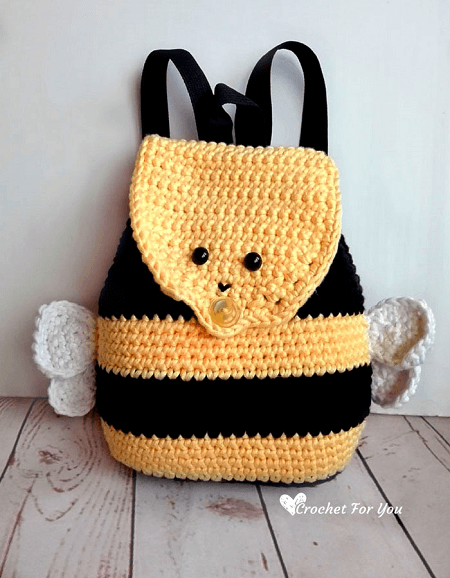 Get the Pattern here

5. Amigurumi Bees Crochet Pattern by All About Ami
The pattern will give you instructions in making Bumble the small bee and the Queen Bee. These amigurumi bees will have you buzzing with excitement! They are quick and simple crochet projects, perfect for beginners!
Whether you make the tiny bees or the Queen Bee, they are sure to brighten your day!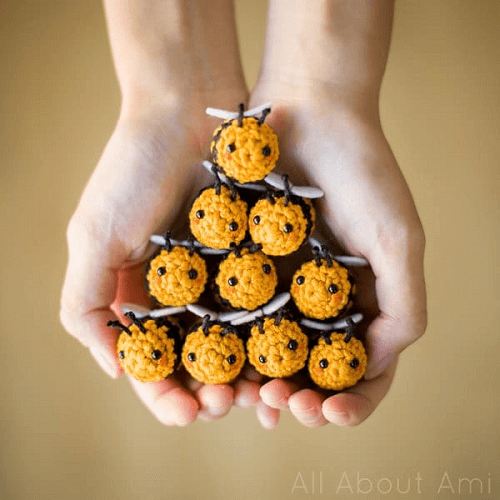 Get the Pattern here

6. Crochet Bee Pattern by Grace And Yarn
Whether you are new to amigurumi or have grown a passion for making stuffed animals, this pattern is for you.
Minimal sewing is involved and they can be worked up in an afternoon! Finished bees are about 9.5 inches tall, perfect for cuddling!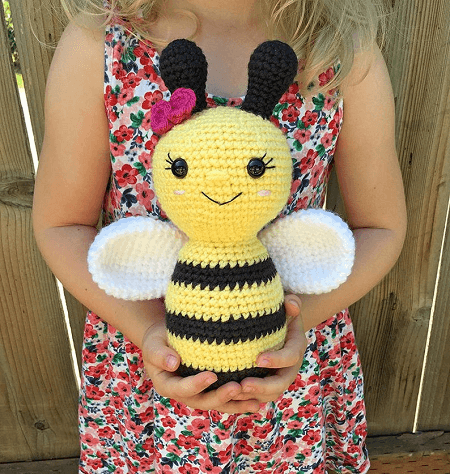 Get the Pattern by Grace And Yarn here

7. Chubby Bee Amigurumi Pattern by Anniegurumi
Crocheting toys is so much fun, and this Chubby Bee would be perfect in nurseries, as gifts for little ones, or even as a small pillow/cushion in a child's room.
The pattern is perfect for beginners as you can practice increasing and decreasing, and there is a minimal attaching required. You will absolutely adore this chubby bee and his sweet face!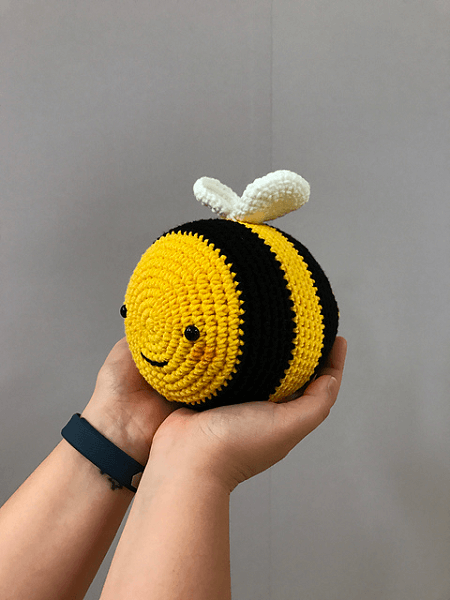 Get the Pattern here

8. Bumble Bee Hat And Playsuit Crochet Pattern by Hopeful Honey Designs
From the lively antennae to the golden, honey tones, this Bumble Bee Hat and Playsuit Set make up the sweetest outfit for any little bee to adorn as he or she flits swiftly from blossom to blossom.
Whether paired with a cozy, long-sleeve onesie on those trips to the park or used as a darling photo prop, this ensemble is crochet must!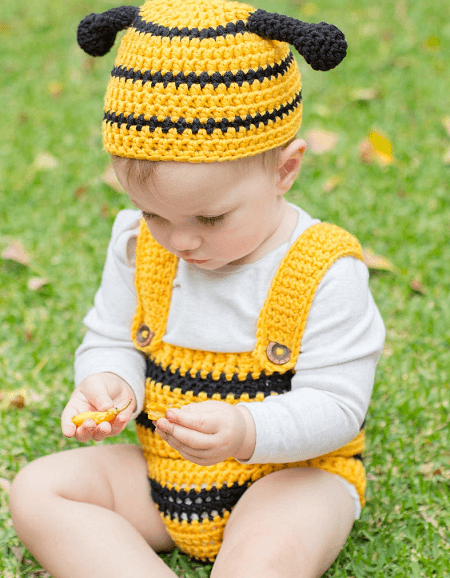 Get the Pattern by Hopeful Honey Designs here

9. Bee Beanie Crochet Pattern by Hailey Bailey
Due to many color changes and the use of a grid, the pattern for this cute bee beanie may be tricky for beginners.
If you are familiar with working with grids and working with several color changes, the pattern would be relatively simple to complete.
The pattern includes suggested average adult head measurements but you can create this to fit any size noggin (including kids!)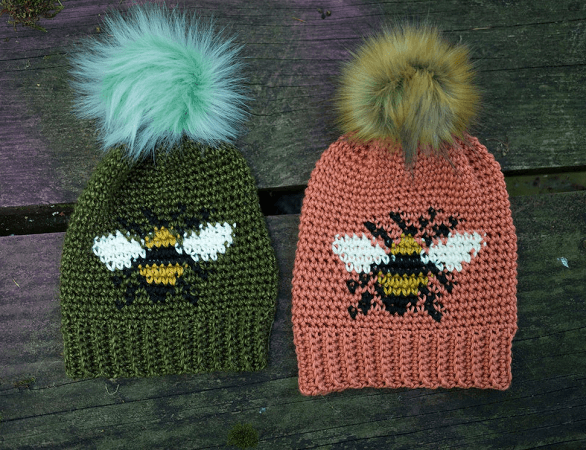 Get the Pattern by Hailey Bailey here

10. Bee Rattle Crochet Pattern by One And Two Company
Makes this cute and easy to crochet Bee Rattle for the baby of the house! This will make the baby discover new textures, sounds, feelings, and will be an inseparable friend.
This can either be made as a rattle or as a stand-alone small bee toy. You can also make it in any color that you choose.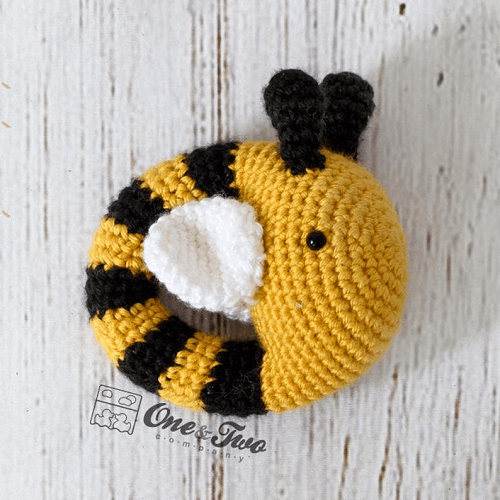 Get the Pattern by One And Two Company here

11. Bee Mine Headband Crochet Pattern by The Stitchin Mommy
With a few thin strands and a bee applique, this crochet headband pattern is absolutely adorable. In fact, you can work up a bunch of these bee appliques to put on other crochet projects, too!
Either way, this crochet headband is perfect for your daughter going back to school after spring break with a new 'do and a new accessory to go with it.
Get the Pattern here

12. Crochet Bee Pillow Throw Pattern by While They Dream
This Bumble Bee Throw Pillow uses Bobble Stitches to create a beautifully textured throw pillow.
A gorgeous, modern accent piece for your home! Perfect for tossing on a chair, bed or sofa, and to liven up your decor.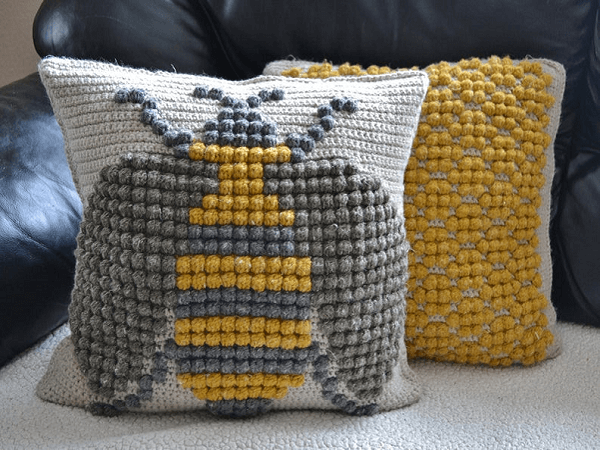 Get the Pattern here

13. Soft And Dreamy Bee Amigurumi Pattern by Amigurumi Today
Designed to be cute and cuddly, this Soft and Dreamy Bee is something that you can definitely catch and keep to yourself!
This bee is made in the amigurumi crochet technique, mostly with single crochet stitches, the work is done in rounds. The size of finished amigurumi is about 18 cm (7″) – just the right size for your child's cuddle buddy.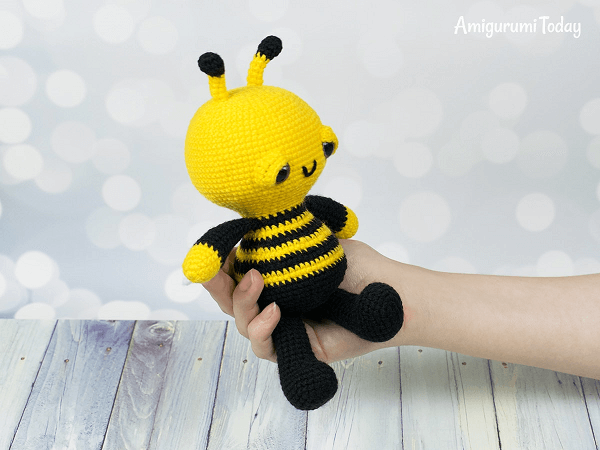 Get the Pattern here

14. Crochet Bee Plushie Pattern by The Turtle Trunk
You won't believe how easy this pattern is! Beginner friendly, this crochet bee plushie works up so fast using Super Bulky Yarn!
Put one on your seat to keep you company or keep him on your bed because he is also a great cuddly, bedtime friend. Being super soft and squishy – this plushie is a great way to make a pillow more fun for a kid too!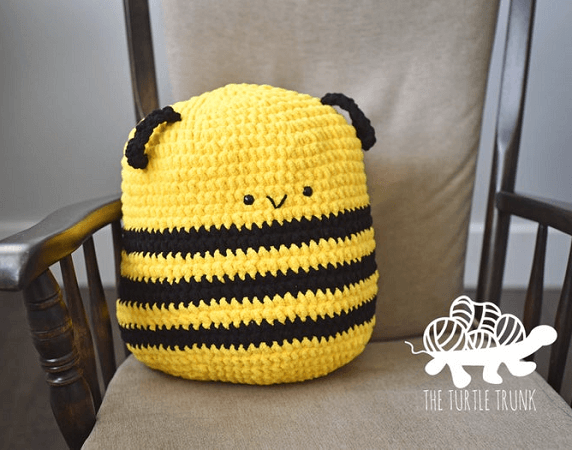 Get the Pattern by The Turtle Trunk here

15. Amigurumi Honeycomb And Bee Pattern by Pink Mouse Boutique
This amigurumi honeycomb and bee is the cutest little pattern on this list! If you have the dexterity, you'll have a darling little bee.
This little guy is just so adorable and you will love his honeycomb sleeping bag, too. A pocket-sized honeycomb and bee will make a nice little gift for a gardener or bee-loving friend.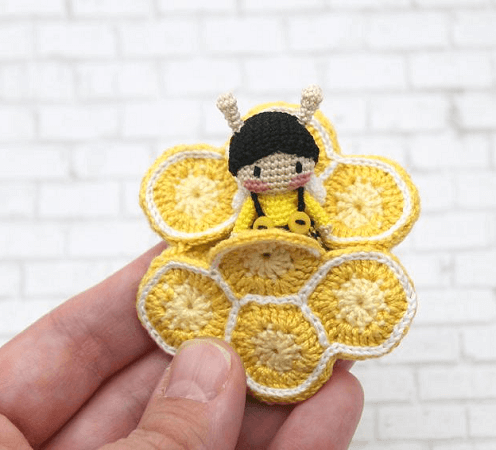 Get the Pattern by Pink Mouse Boutique here

16. Crochet Honeycomb With Bees Blanket Pattern by Crafting Happiness UK
Made with bright happy shades of yellow and smiling bee appliques, this crochet honeycomb with bees blanket will brighten any nursery or room.
It is a modular pattern, meaning you can make it as big or small as you like by adding as many hexagons as you like.
This beautiful bee blanket crochet pattern is the perfect summer project to make for a beekeeper or bee lover.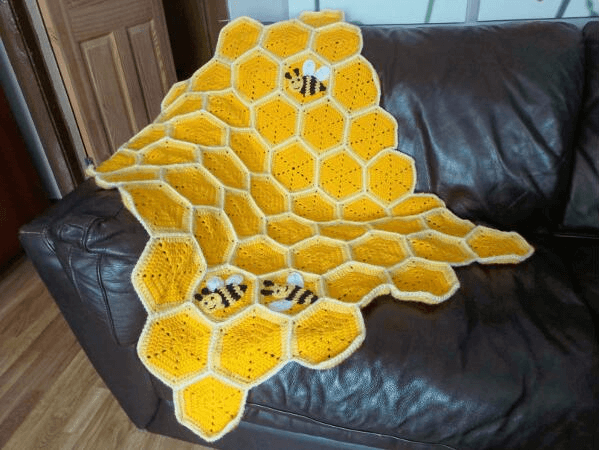 Get the Pattern by Crafting Happiness UK here

17. Bumble Tee Crochet Pattern by Hailey Bailey
Another fun and unique pattern with the crochet bee motif – a Bumble Tee! The pattern is fully customizable. It is written based on measurements and can be easily adjusted to your custom measurements.
You can also modify the length and width of this top. as well as if you would like it to have longer or shorter sleeves.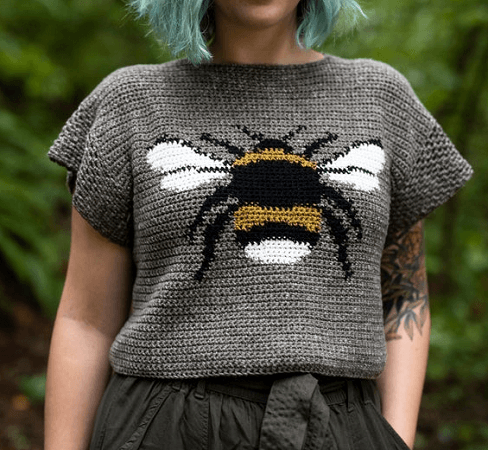 Get the Pattern by Hailey Bailey here

18. Bumble Bee Crochet Snuggle Sack Pattern by Yarnspirations
Let's get buzzy on our bumble bee snuggle sack! This pattern will provide you with all you need to achieve the soft finish of a beloved favorite. This sweet-as-honey project is certain to be a hit at the next sleepover.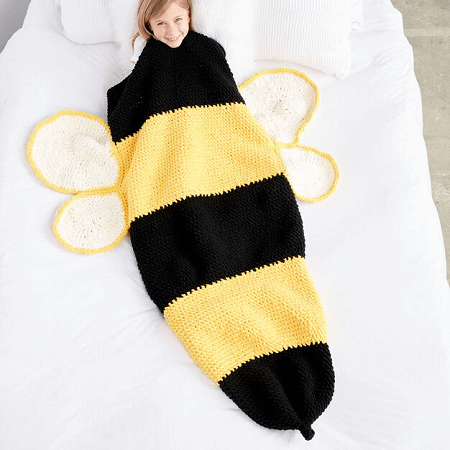 Get the Pattern here

19. Amigurumi Honey Bee In Crochet Beehive Pattern by Pink Mouse Boutique
The little bee is busy looking for delicious flowers. And when the day is over? Then she fly home to her hive. If you like anything with bees, this pattern includes instructions on how to make the honeycomb house and bee in the picture that you will absolutely adore!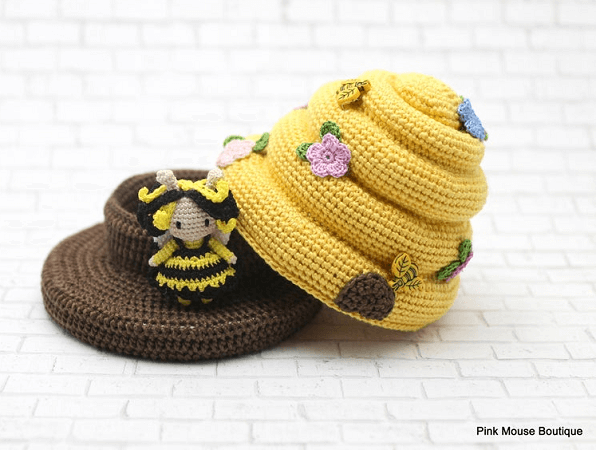 Get the Pattern by Pink Mouse Boutique here

20. Bumble Bee Cushion Crochet Pattern by Little Doolally
Inspired by nature and the delights of Summertime, this Bumble Bee Cushion is great to make with full instructions. With a buttoned opening on the back to take the pad in or out for washing. Ideal to brighten up any seat or room and great to make for a gift!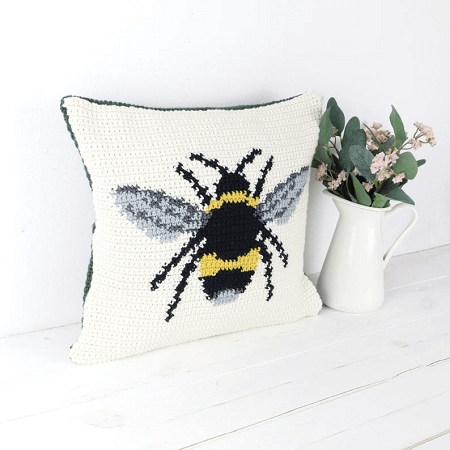 Get the Pattern by Little Doolally here

21. Crochet Benevolent Bumble Bee Pattern by Moogly
This Benevolent Bumble Bee is big, sweet, and ready for a cuddle – no stings, we promise! This pattern is also made amigurumi style (but so big!) – the rounds are worked in spirals, with no joins.

It does feature appliqued on facial features and feet – so if you make it for a child under age 3, you may want to skip the feet altogether and embroider on the facial features instead.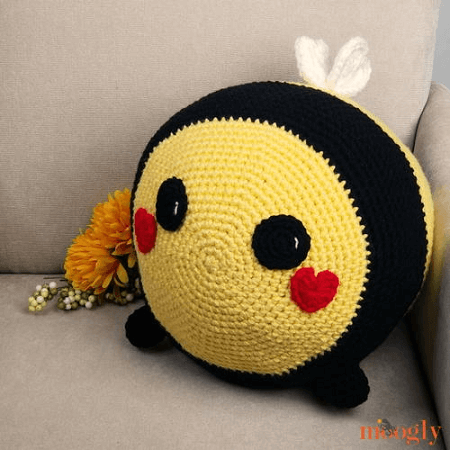 Get the Pattern here

22. Amigurumi Beehive Crochet Pattern by Vliegende Hollander
Have your own Amigurumi Beehive, sitting safe and sound on your dresser, or hanging on your room. When made with the described hook size and yarn, the beehive will stand 22cm/9″ tall.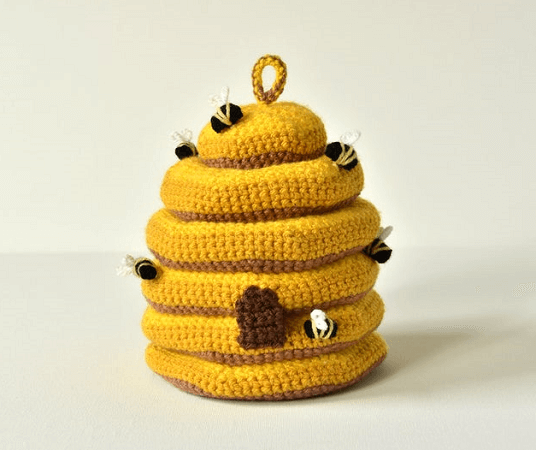 Get the Pattern by Vliegende Hollander here

23. Amigurumi Bumblebee Pattern by Hooked Up By Robin
How sweet and fluffy is this adorable bumblebee? It's such a squishy, cute toy, that's going to be your kid's best friend! You can hang it as a window decoration as well, eventually, the bumblebee's place is in the sky!

This happy little chub-bee little fella could be the amigurumi ray of sunshine you have been looking for!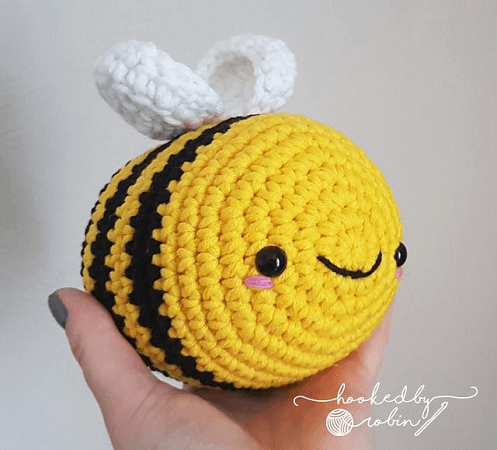 Get the Pattern here

24. Bees Baby Mobile Crochet Pattern by Elisa's Crochet
Busy bees fly as we watch them buzz on this fabulous crib mobile. This pattern would be great in a baby's play area or in a garden nook or sunroom.
With just a small amount of time and scrap worsted weight yarn, you can create this one-of-a-kind nature-inspired mobile! This makes a great gift for a baby or looks great hanging on your porch.
Get more crochet baby mobile patterns here.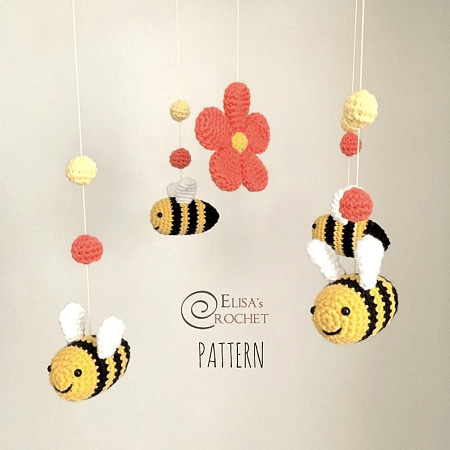 Get the Pattern by Elisa's Crochet here

25. Bee Rattle Crochet Pattern by Raula Toys
These adorable bee rattles will make any baby happy! These makes a wonderful gift for your lovely newborn. The amigurumi toy develops baby's touch, hearing, and fine motor skills. Use organic cotton yarn to surround your little one with only the purest things!
Also see: Crochet Baby Rattle Patterns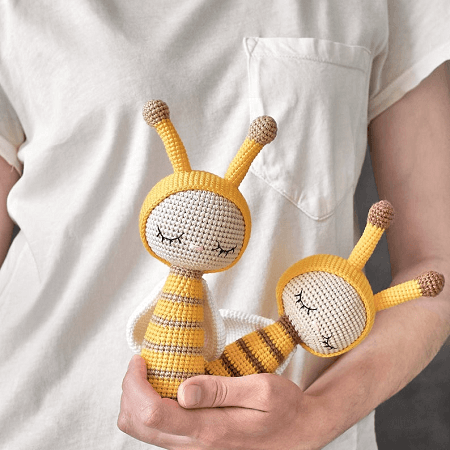 Get the Pattern by Raula Toys here

26. Amigurumi Bee Crochet Pattern by Amigurumi Toy Pattern
This cute amigurumi bee will be a wonderful decoration for your home, as well as an original Valentine's Day gift, Mother's Day, or Birthday. Really easy pattern, it works up in no time!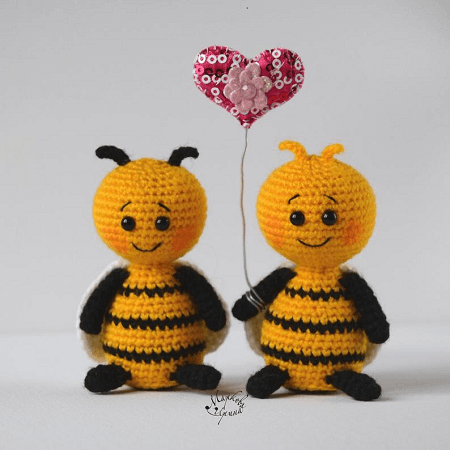 Get the Pattern by Amigurumi Toy Pattern here

27. Amigurumi Honey Bee Free Pattern by Amigurum
With a small amount of yellow, black/brown, and white yarn, you can create an adorable amigurumi honey bee. Give as a gift, use to decorate a child's room, or let this cheerful bee keep you company at your desk.

This little bee is sure to awaken your love of making fun and adorable crocheted toys for all your friends and family.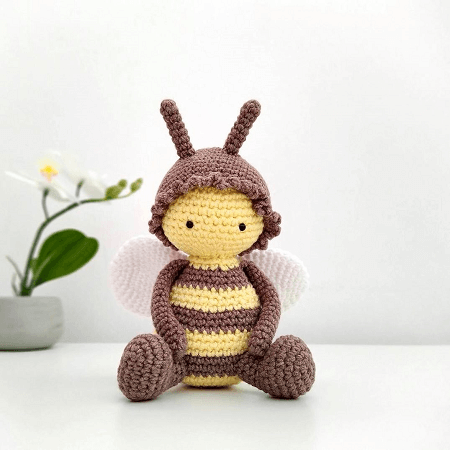 Get the Pattern here

28. Burt, The Baby Honey Bee Crochet Pattern by Storyland Amis
Burt, the baby Honey Bee looks perfect paired with a bee pun Valentine's Day card, don't you think? You could also modify these bees to be ladybugs or butterflies. Use your imagination!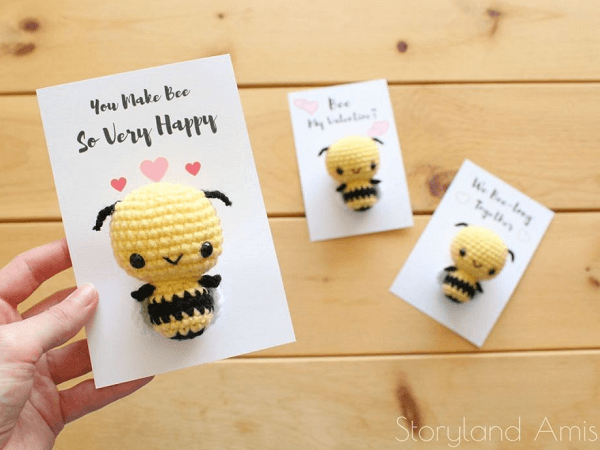 Get the Pattern here

29. Crochet Bumblebee Pattern by Complicated Knots
This beautiful bumblebee makes a wonderful desk buddy and adds a decorative touch to plants, bags, and any other creative project you can imagine! The finished bee, when made with a 3.25 mm hook using 8-ply yarn measures 18cm from nose to end.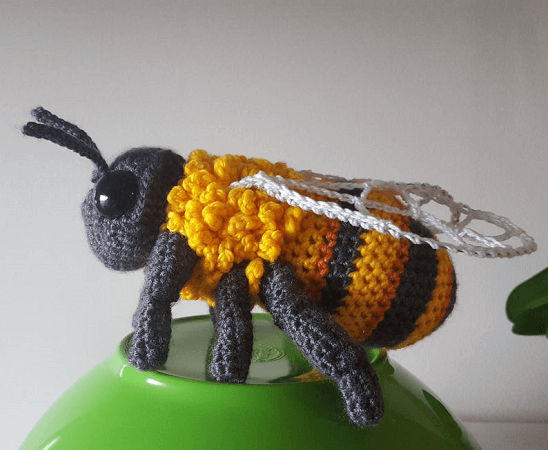 Get the Pattern by Complicated Knots here

30. Henry And Honey Bumblebee Crochet Pattern by Red Heart
How adorable is this cute pair of crochet bumblebees for your collection? Place them on a shelf near the honey, or string them up as a cute decoration by the window. They're delightful to stitch and add a fresh touch of whimsy to the kitchen.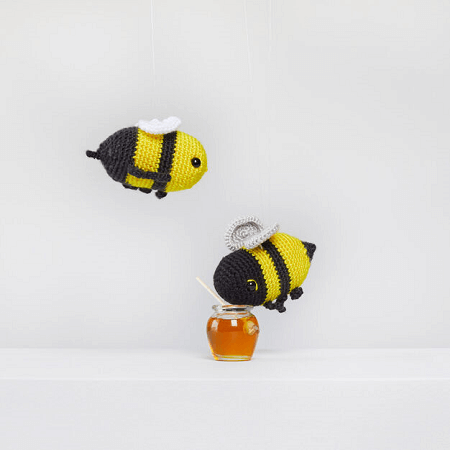 Get the Pattern here

31. Crochet Bee Pattern by Lalylala
This lovely amigurumi Bee is adorable, but also very educational! Crochet your own Bee Life Cycle Playset from this pattern, containing an egg, a honeycomb, a lovely little larva, and her bee wing jumpsuit. Even a beautiful crochet flower is featured in the pattern!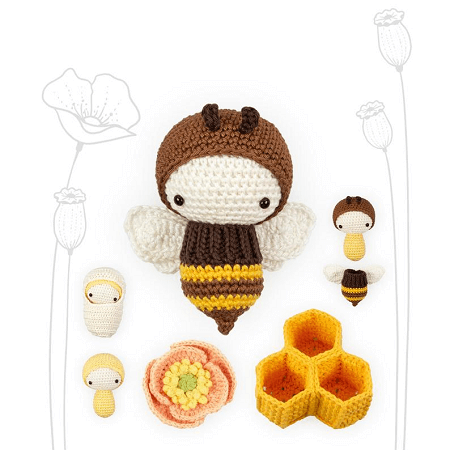 Get the Pattern by Lalylala here

32. Bee Curtain Tieback Crochet Pattern by BB Adorables
This Bee Curtain Tieback is not only a curtain tie, it's also a cute home decorator, nursery room gift, or a toy for your kids. The height of this bee in the sitting position is 19 cm (7.5 inches).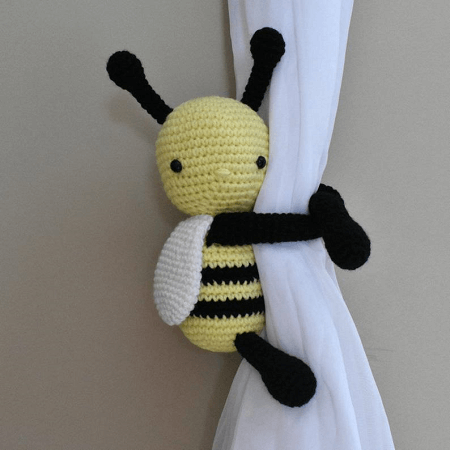 Get the Pattern by BB Adorables here

33. Bee Scrubby Crochet Pattern by Yarnspirations
This cheerful crochet mitt will help you buzz right through that pile of dishes or happily join you in the bathroom for a sweet shower! Pair your bee with a jar of honey for the perfect gift!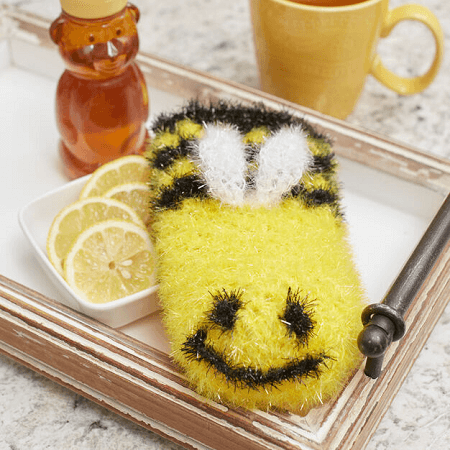 Get the Pattern here

34. Buzzing Beehive Crochet Blanket Pattern by Briana K Designs
Worked as instructed, the blanket sizes as a throw. With a small weight yarn and going down a hook size it would be perfect for a non-gendered baby blanket and gift. Can you just image how this one would win over with loved ones?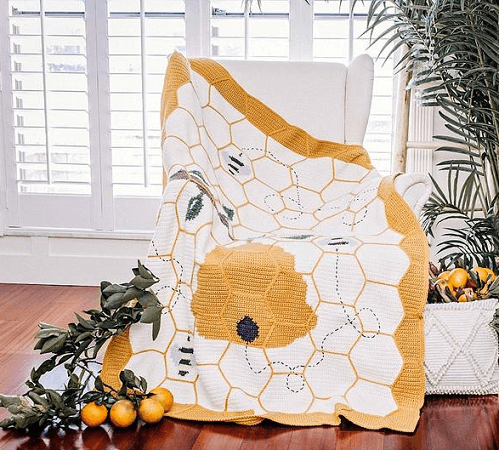 Get the Pattern by Briana K Designs here

35. Mila, The Bee Crochet Pattern by Irene Strange
Mila the Bee is the cuddliest fluffiest baby bumblebee you will ever make – the squishy body mixes different yarn textures for a very tactile huggable toy. Keep the wings extra flat with a bit of blocking or stuff with crinkle material to make it even more fun for the little ones!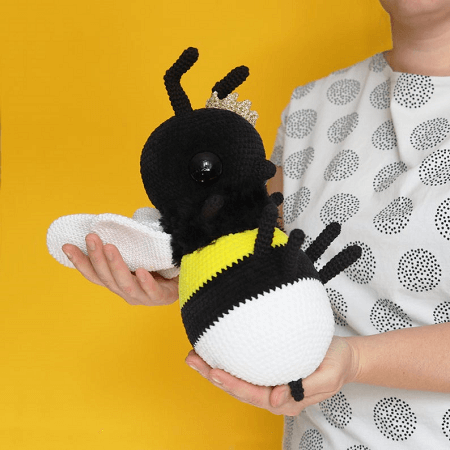 Get the Pattern by Irene Strange here

36. Busy Bee Fair Isle Crochet Pillow Pattern by Little Doolally
Inspired by beautiful Fair Isle patterns and the bright and bold colors of Summertime, this cushion is great to make. With a buttoned opening on the back to take the pad in or out for washing. Ideal to brighten up any seat or room and great to make for a gift!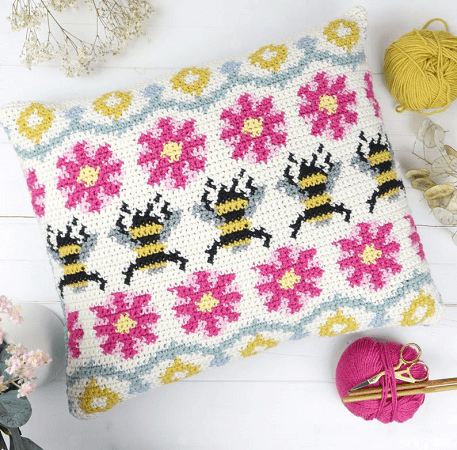 Get the Pattern by Little Doolally here

37. Bumble Bee Crochet Pattern by Annamaria Majlath
These bumblebees not only serve as a wonderfully cuddly toy, but also wonderfully as a gawking doorstop. Squishy, smiley, and super fun to snuggle with. The simple pattern will delight the bee lover in your life!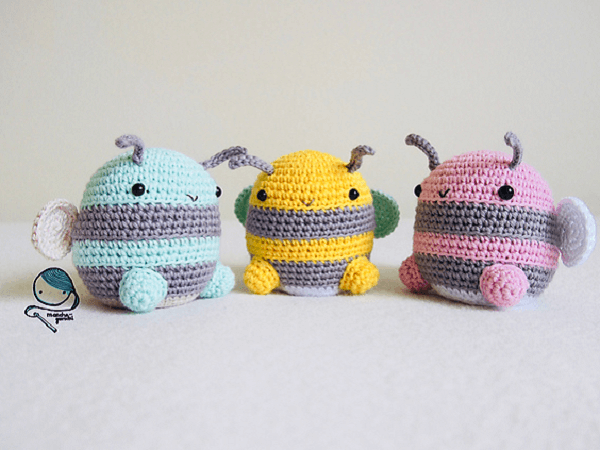 Get the Pattern here

38. Realistic Bumblebee Amigurumi Pattern by Yarn Andy
Make a swarm of bumblebees with this fun and detailed pattern that will show you how to make the body and limbs of a realistic bumblebee with poseable legs.

Crochet a realistic bee as a toy or as a brooch, add movable legs, eyes and antennae for extra details. All these details are in the pattern.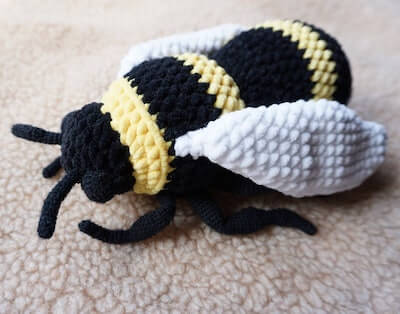 Get the Pattern by Yarn Andy here

39. Crochet Bumble Bee Amigurumi Pattern by Hookabee
Crochet a larger than life bee, that is cuddly! This big bee amigurumi stuffed animal (named Bobby!) is approximately 11.5 inches long when crocheted with worsted weight yarn, but don't worry, he doesn't sting.
Get the Pattern by Hookabee here

40. Amigurumi Bumble Bee Pattern by The Loopy Lamb
Barnabee Bumbles is cute and cuddley, oversized amigurumi bee. Barnabee Bumbles is, when crocheted to gauge, approximately 17″ tall. That's a big bumble! Instructions are included in the pattern to have nearly invisible colour changes so your toy looks as polished as possible.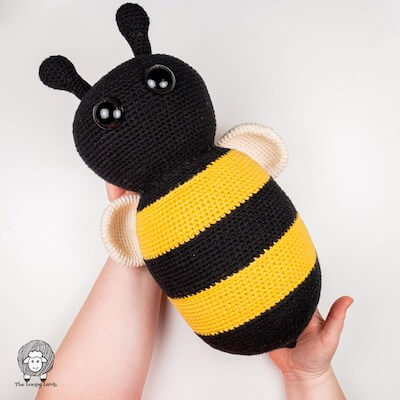 Get the Pattern here

41. Bee Stacking Toy Crochet Amigurumi Pattern by Elisa's Crochet
If you are looking for something more than just a cute amigurumi, look no further! Here's a fun and adorable stacking toy – so easy to create that you'll want to make more than one!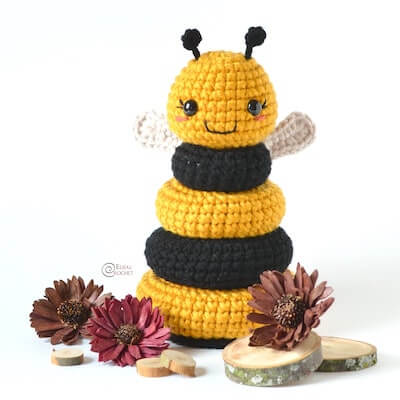 Get the Pattern here

42. Crochet Amigurumi Bumble Bee Pattern by Hobby Craft
Discover how to crochet an adorable amigurumi bumblebee with this pattern. Perfect for crocheters with some amigurumi experience, this bumblebee is ideal for making as a happy addition to your spring décor – or as a gift for someone special!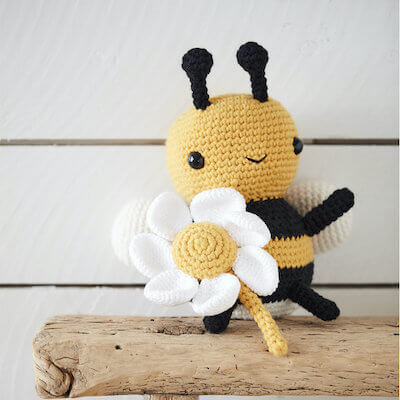 Get the Pattern here

43. Amigurumi Bumble Bee Pattern by Crafting Happiness UK
Make this amigurumi bee toy in different sizes by using the same pattern with 3 different yarn weights and hook sizes. The large size is the size of a small pillow, the small size is great as a toy.
Makes the perfect gift for your little one or a great baby shower gift for an expecting mom, perfect to decorate any nursery or kids room.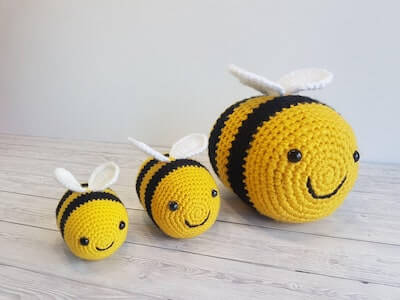 Get the Pattern by Crafting Happiness UK here

44. Amigurumi Bee Pattern by Kornflake Stew
This adorable little bee is so easy and quick to make, but the cutest little bee around. Make him with a plush yarn for a super squishable friend, or make him with cotton yarn and he'll make the cutest baby gift. He has a floppy head so he can lay on his tummy too.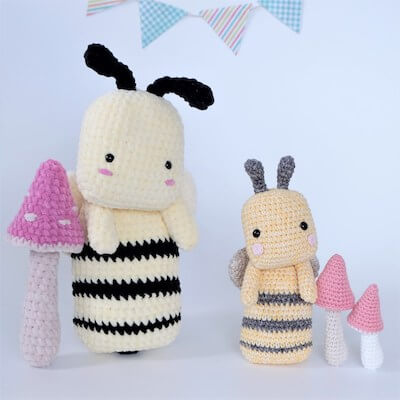 Get the Pattern by Kornflake Stew here

45. Bumble Bee Rattle Amigurumi Pattern by Kristi Tullus
This chubby little bumble bee is is crocheted around a rattle made of a plastic egg from a Kinder Surprise chocolate egg filled with small glass beads. But you can always use fiberfill to stuff the body.
Get the Pattern here

46. Chubby Bumble Bee Amigurumi Pattern by Stringy Ding Ding
This chubby little baby will be yours forvever! He is just a small a handful, but quite easy to make. He has a cute fluffy brown ring around his neck that resembles a scarf.

He has antennae and wings, but promises to never leave your side. He can be made with simple and easy to read directions and just a couple of colors of yarn. It is really hard to resist this little fellow.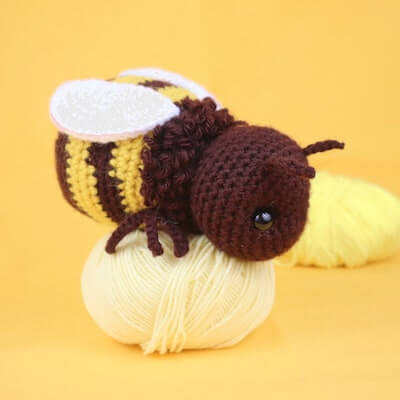 Get the Pattern by Stringy Ding Ding here

47. Amigurumi Bee Free Crochet Pattern by Asmi Handmade
Learn to make this squishy and cuddly Amigurumi bee using the Amigurumi Bee Free Crochet Pattern. It's made using worsted weight yarn and is the perfect size for a cuddler toy.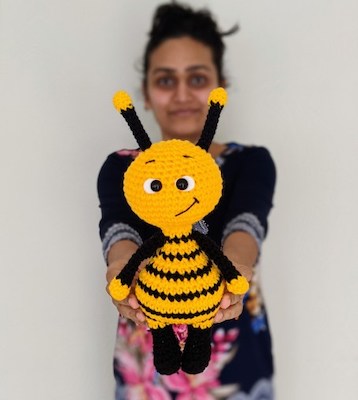 Get the Pattern here
I hope you'll try making some cute crochet bees – it will be a fun project, particularly for the Spring!
Make them for you, your kids, your friends, and everyone you know who loves bees! Just don't forget to share your finished works on our Facebook Page. We'd love to see it too!
For more adorable crochet patterns specifically for babies and kids, we have lots of crochet baby toys and crochet blankets. Check them out!
For now, let's get your hook buzzing with these beautiful crochet bee patterns!