If you've ever wanted to know how to crochet a blanket, these 37 Crochet Blanket Patterns will help you finally do it!
No matter the time of the year, it's always handy to have a handmade blanket to pull out a moment's notice.
For the summer months, they can be your escape from the cooler, drafty conditions indoors; while in the winter, they can provide refuge and warmth from the crisp air outside.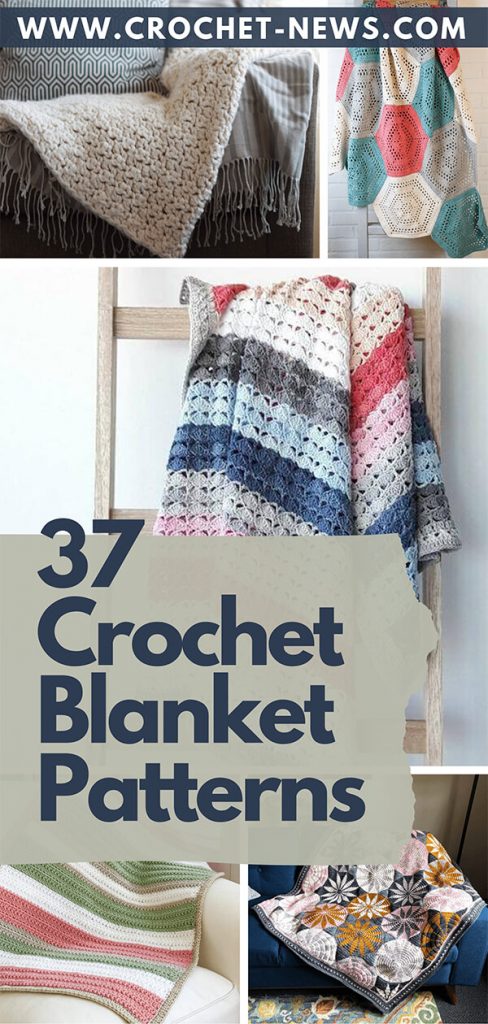 Not only are these crochet blankets perfect for warmth, but they would also add an extra special accent to your beds and living rooms.
Now, scroll through and let your eyes feast on these goodies!

1. Easy Crochet Blanket Pattern by Daisy Cottage Designs
Use this Quick and Easy Crochet Blanket Pattern to make a beautiful, textured blanket!
The variation of stitches keeps it from being boring, and yet it's repetitve enough to work on while you're watching TV, listening to an audiobook, or visiting with friends.
You'll have a finished blanket in your lap in just a few nights if you set your mind to it.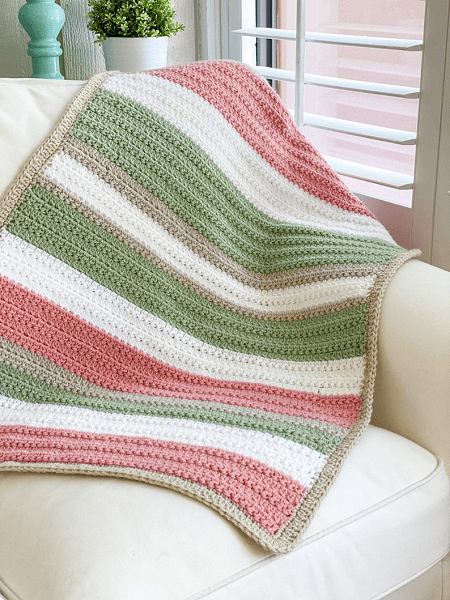 Get the Pattern by Daisy Cottage Designs here

2. Buttons And Braids Crochet Blanket Pattern by The Hat And I
An easy blanket to make with lovely results! With just 3 stitches to know (chain, slip stitch, and single crochet), this one is designed for new crocheters.
It's also perfect for experienced crocheters looking for a quick to memorize, easy project to take on the go.
This beautiful easy crochet blanket has 14 decorative buttons but the blanket can be made without them.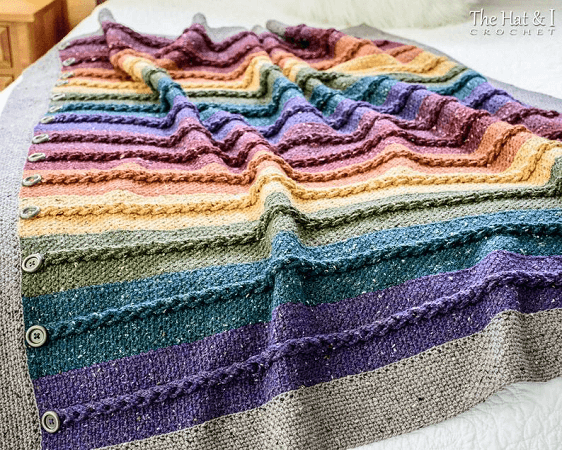 Get the Pattern by The Hat And I here

3. Simple Striped Tunisian Crochet Blanket Pattern by 1 Dog Woof
This Simple Striped Blanket is a Tunisian crochet blanket that has easy color changes making it a great beginner project for anyone venturing into Tunisian crochet for the first time.
The tunisian crochet makes this blanket thick and warm, while providing lots of texture on both sides of the blanket.
Learn the 7 Tunisian Crochet Stitches here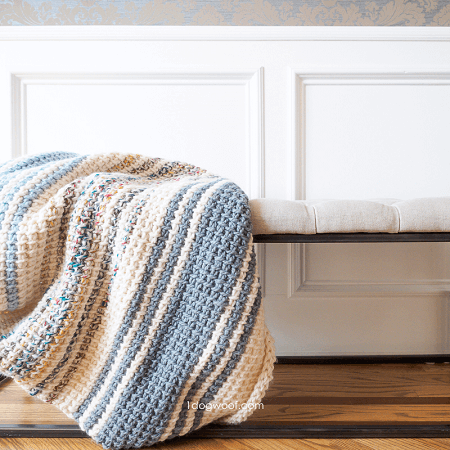 Get the Pattern here

4. Chunky Icelandic Crochet Blanket Pattern by Mama In A Stitch
This gorgeous Chunky Icelandic Crochet Blanket is a breeze to make as it's done with a large hook and super bulky yarn.
While this one is made in a fresh cream color, you could choose any color that goes with your home decor. The texture is created by using simple single and double crochet stitches.
The size included is for a lapghan/toddler which measures 36″ X 40″. However, it is easily customizable and the pattern includes tips on making this blanket any size that you'd like.
If you think a lapghan is the way to go, here is our compilation of lapghan crochet patterns you can choose from.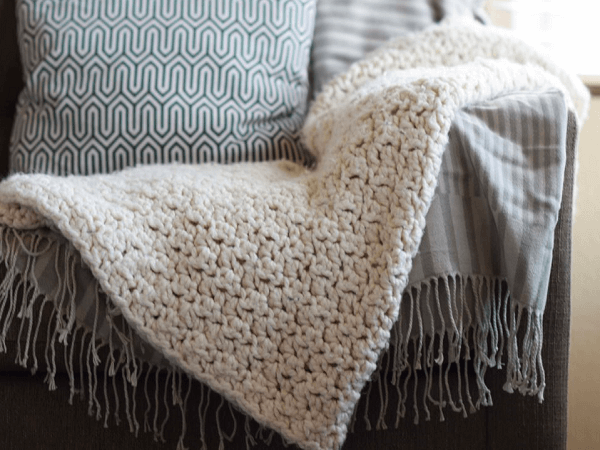 Get the Pattern here

5. Marguerite Crochet Blanket Pattern by Mobius Girl Design
This Marguerite Blanket is a study in color, texture, and geometry. Its modern design complements a wide range of decor styles.
The materials needed include approximately 3500 m of DK weight yarn. You will also need 5.5 mm and 4.5 mm crochet hooks, a tapestry needle, and scissors.
The crochet level is intermediate based on the use of tapestry crochet and joins as you go techniques.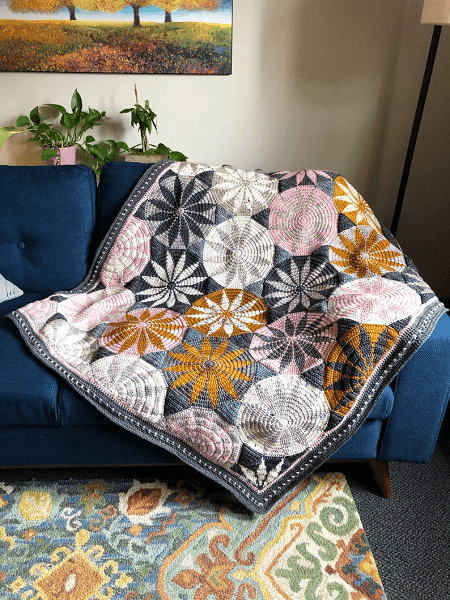 Get the Pattern by Mobius Girl Design here

6. Granny Square Blanket Crochet Pattern by Deborah O Leary Pattern
This Granny Square Crochet Blanket is made with a timeless yet simple square that could be used for a throw, a baby blanket, or even as a table runner.
The square is very easy, especially since it is one color, so you have very few ends to weave in. The picture shows a full-size throw using worsted weight yarn.
A nice gift for a wedding or a baby shower!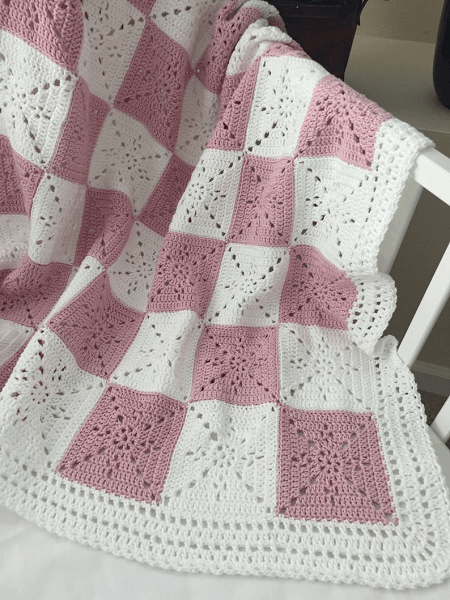 Get the Pattern by Deborah O Leary Pattern here

7. Ombre Textured Blanket Crochet Pattern by Dabbles And Babbles
If you're looking for a beautiful crochet blanket that can rival dusk itself, this Ombre Textured Crochet Blanket is for you!
This blanket has beautiful shades of white, peach, and dusty rose creating a gradient throughout the length of it.
With a vast array of special stitches such as the Even Berry Stitch and Waistcoat Stitch, this blanket is truly something special.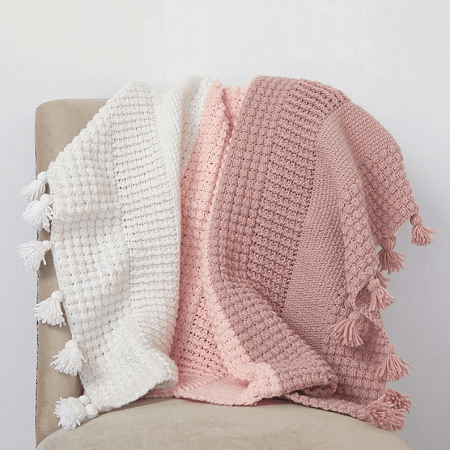 Get the Pattern by Dabbles And Babbles here

8. Easy Weekend Chevron Crochet Blanket Pattern by Double Crochet
Even if you're just learning how to crochet a blanket, you can handle this pattern with easy crochet stitches.
Combine that with thick and bulky yarn, you'll be able to start and finish this Easy Chevron Crochet Blanket Pattern in the same weekend.
The pattern uses the simple double crochet stitch and finished off with a cute little fringe on each edge of the chevron blanket for a beautiful effect.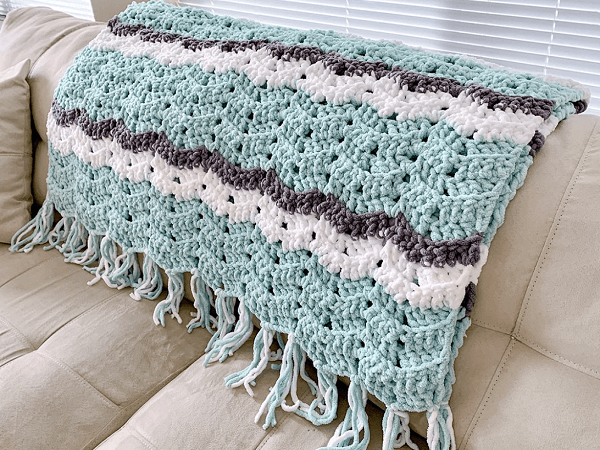 Get the Pattern here

9. Chunky Crochet Blanket Pattern by Rescued Paw Designs
Because this Chunky Crochet Blanket Pattern uses super bulky yarn, like Lion Brand Thick Quick, this project will work up very quickly.
This is one of those blanket crochet pattern that once you finish those beginning rows, you can let your mind wander, watch TV, listen to music, and just crochet!
The final homemade product will be sure to keep you warm on those cold winter nights still ahead.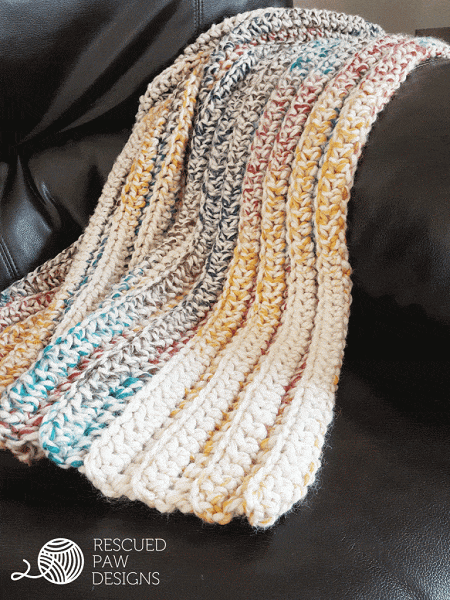 Get the Pattern here

10. Moon And Stars Tunisian Crochet Blanket Pattern by Exquisite Crochet UK
The night sky can appear in so many ways depending on the time, season, weather and this ever-changing scenery was an inspiration behind this Moon And Stars Tunisian Crochet Blanket.
This blanket is a beginner-friendly Tunisian crochet project introducing several different techniques used in Tunisian crochet that can be a great stepping stone to learning this crochet style.
The pattern is written for toddler/ small child size of the blanket; however, the design can be modified easily by adding or reducing star or moon sections vertically or horizontally to make the final blanket larger or smaller according to your specific need.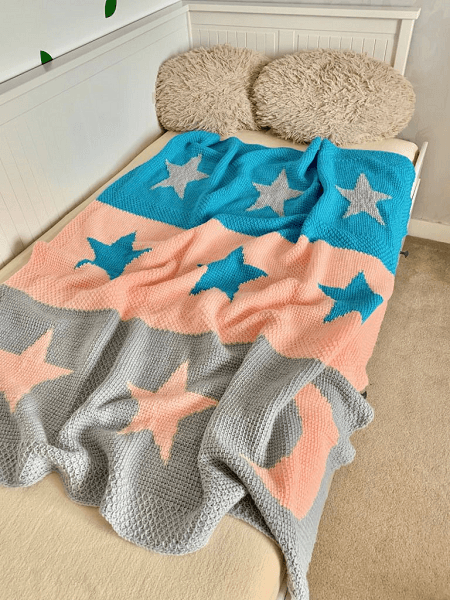 Get the Pattern by Exquisite Crochet UK here

11. Casablanca Blanket Crochet Pattern by Nurturing Fibres
Add a fun, yet classic blanket to your collection. Pom-poms add a whole lot of fun to this Casablanca Blanket!
This super cozy blanket is made with eco-cotton yarn, so it's kind to the environment and soft on your skin.
The design puts a twist on the trend if diamond motif blankets by adding puffy pompoms to the edge. This mostly grey blanket is dressed up with pretty pops of pink color.
It is sophisticated but also joyful!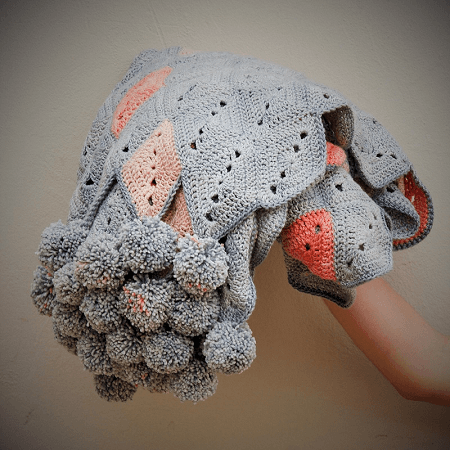 Get the Pattern here

12. Mosaic Blanket Crochet Pattern by Lilla Bjorn Crochet
This Mosaic Blanket is made in a special crochet technique with only basic stitches involved. It is adjustable and can be made in any size.
With a little bit of attention and concentration, you will create a bright and unique gift for yourself or your friends.
While this isn't necessarily the simplest project, this blanket can be made by just about anyone if they take enough care. The colors for the pattern are unlimited!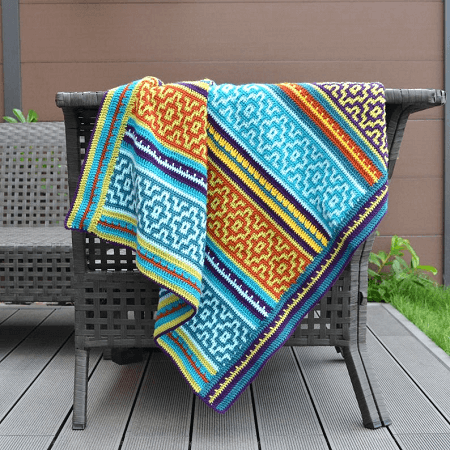 Get the Pattern by Lilla Bjorn Crochet here

13. Rainbow Ruffle Free Crochet Blanket Pattern by Dada's Place
This Rainbow Ruffle crochet blanket is super warm, soft, cuddly, and so easy to make!
The pattern is unbelievably simple, the entire blanket is crocheted in double crochet. The ruffle is added at the end, in front loops between two different colors.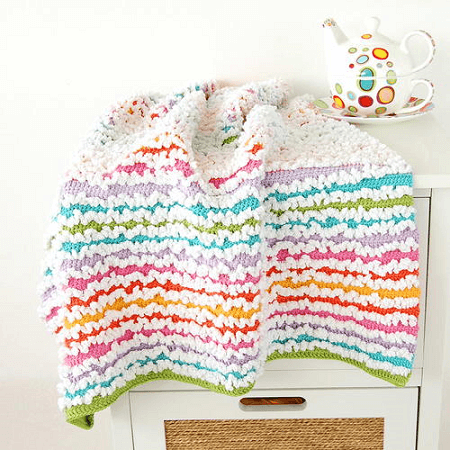 Get the Pattern here

14. Bobble Throw Blanket Crochet Pattern by Modern Made Shop
This cozy warm Bobble Throw Blanket is ideal for adding modern texture and style to your farmhouse decor.
The unique stitches help give plenty of dimensions and visual interest, and this blanket works up quickly!
When finished, the size of this blanket will be approximately 55″ x 45″. You can personalize this blanket by choosing your own colors.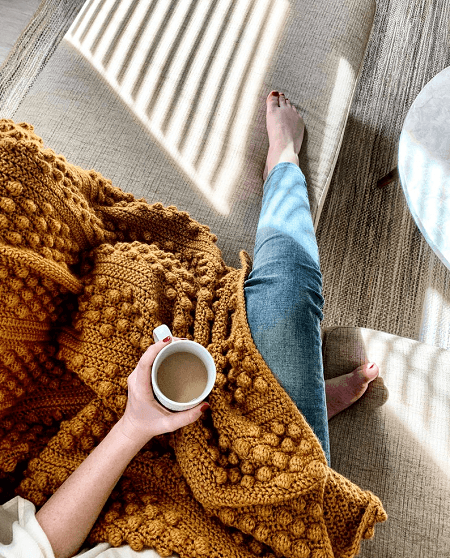 Get the Pattern by Modern Made Shop here

15. Dainty Diamonds Crochet Blanket Pattern by Ivy And Mabel
Want an afghan that's sleek and elegant but doesn't take forever to work up? This light and delicate blanket is the perfect project for you to try!
This Dainty Diamonds Crochet Blanket is a fun design that whips up quickly and can be made with yarn of any ply and fiber.
The blanket pictured below is made with gradient yarn and measured approximately 28 x 28 inches.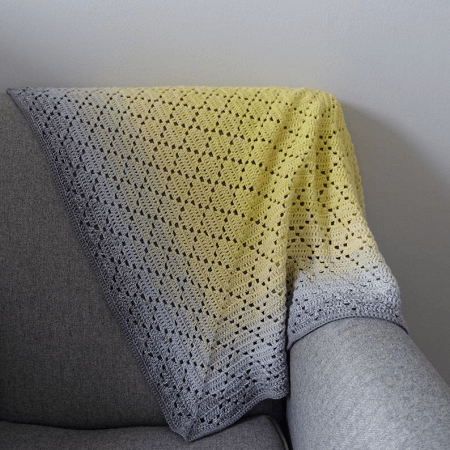 Get the Pattern by Avondale Patterns here

16. Bulky Cable Braided Blanket Crochet Pattern by Rebecca's Stylings
The design of this bulky cable braided blanket is a cozy cuddly motif that is quick to make and beautiful to display.
The Irish tradition of Aran cabling decorates this blanket with the intertwining strands of history and elegance.
The bulky yarn used to make this blanket generates a heavy, warm result that is a perfect companion to a roaring fire and hot chocolate.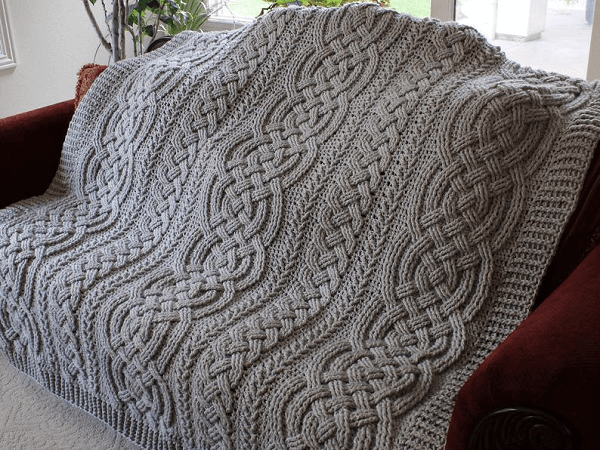 Get the Pattern by Rebecca's Stylings here

17. Crochet Ripple Blanket Free Pattern by Melanie Ham
If you love simple yet classic looking projects then this Ripple Free Crochet Blanket Pattern is for you! And if you are seeking to learn how to crochet ripples, this is the perfect place to start.
The alternating color changes are easy to remember, so you will have the hang of the ripple pattern down well before you've completed the blanket.
You can also blend yarn colors to create a softer effect when changing colors.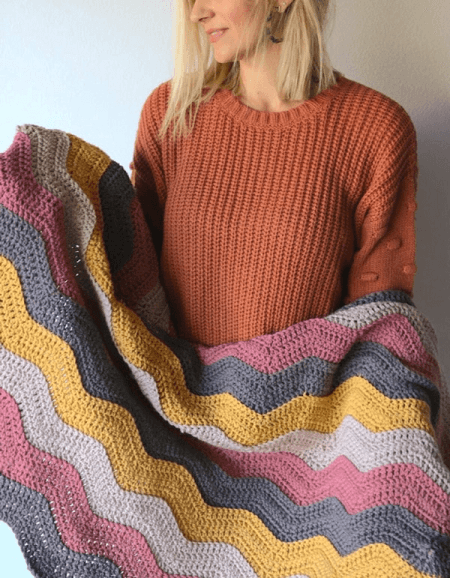 Get the Pattern here

18. Hexagon Free Crochet Blanket Pattern by Winding Road Crochet
This free Crochet Hexagon Blanket Pattern uses hexagon blocks, so you can make a modern baby blanket or easily customize the size however you wish.
After making just few hexagons, you will have the pattern memorized and be able to work on it anywhere!
If you love to crochet blankets, but you are facing warm weather or you are often on the go, this blanket may be the perfect project for you.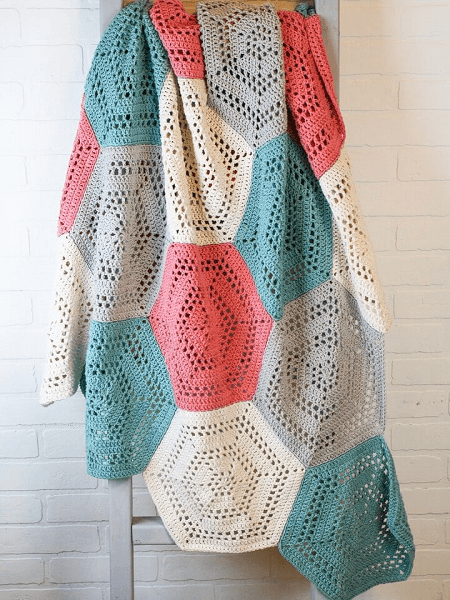 Get the Pattern here

19. The Hawthorn Afghan Free Crochet Blanket Pattern by Persia Lou
Make a beautiful, cozy, and colorful crochet afghan!
This beautiful blanket incorporates striped, lacy stitches, and chunky tassels, and it will quickly become the favorite blanket in your home.
It combines a bold colorful edging with a pretty hawthorn fan stitch for a look that you will just love.
This Hawthorn Afghan Crochet Pattern makes an easy crochet blanket that looks great draped over a sofa and is wonderful to cozy up under on a cool night too.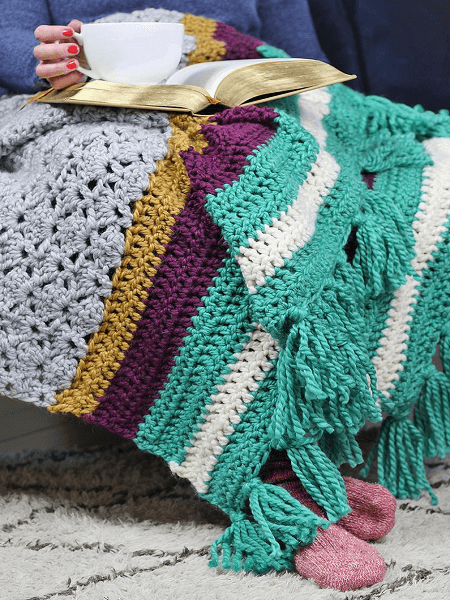 Get the Pattern here

20. Waffle Texture Crochet Blanket Pattern by DeBrosse NYC
This Waffle Texture Crochet Blanket features an eye-catching grid design.
Despite its intricate aesthetic, the making process is incredibly cathartic and can be worked quite effortlessly. Pairs perfectly with a good Netflix binge!
This crochet blanket pattern has a wonderful texture to it, making it extra cuddly and warm. You'll have lots of fun making this blanket and seeing the texture coming!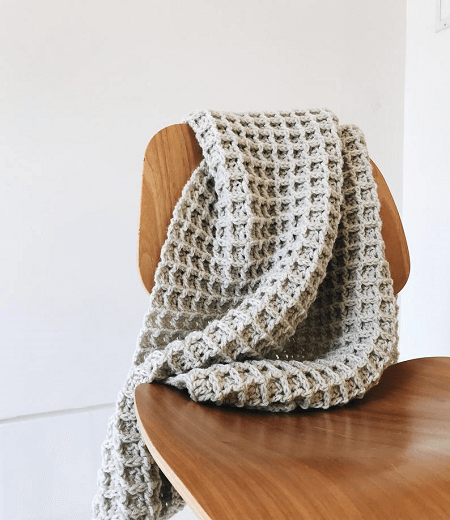 Get the Pattern by DeBrosse NYC here

21. Sunflower Crochet Blanket Pattern by Libby Craft Makes
Plant an entire sunflower patch without leaving your favorite comfy chair with this beautiful Sunflower Crochet Blanket Pattern!
Who doesn't love sunflowers! They are so happy and bright! The finished sunflower blanket would look lovely draped over the bed, sofa, or a chair.
You can easily make it bigger or smaller, so the blanket can be anything from a baby blanket to a king sized bedspread. Feel free to get creative!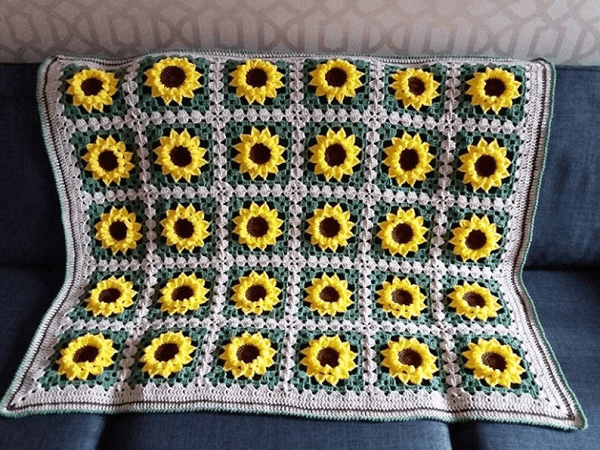 Get the Pattern by Libby Craft Makes here

22. Sedona Fringed Crochet Throw Blanket Pattern by Make And Do Crew
Monochromatic doesn't have to be boring! In this modern fringed crochet throw free pattern, two weights of yarn combine to add instant style and texture to any room of your house.
You'll be able to whip up the blanket portion of the pattern over a weekend and add the fringe while watching TV during the week. It's a super fun, satisfying project that you can enjoy for years to come!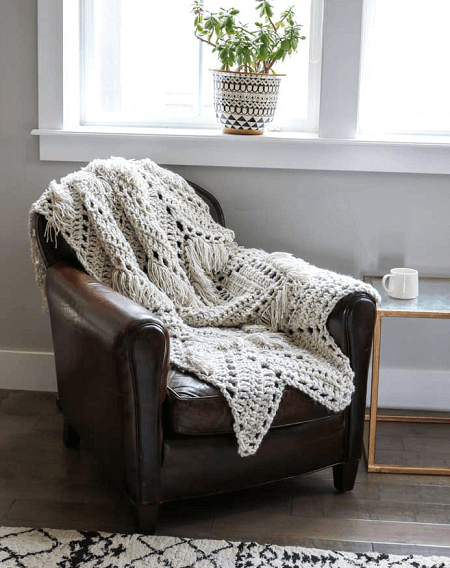 Get the Pattern here

23. Chasing Colors Free Crochet Blanket Pattern by The Purple Poncho
This Chasing Color Crochet Blanket is so pretty and warm. It's a great blanket to chase the colors and see how the next section will look. It can be hard to put down and is a great way to use up leftover yarn.
This size of this blanket is easy to customize and you can plan out colors in advance. It used lots of colors, but this blanket would be pretty in only a few, or lots of random ones, too!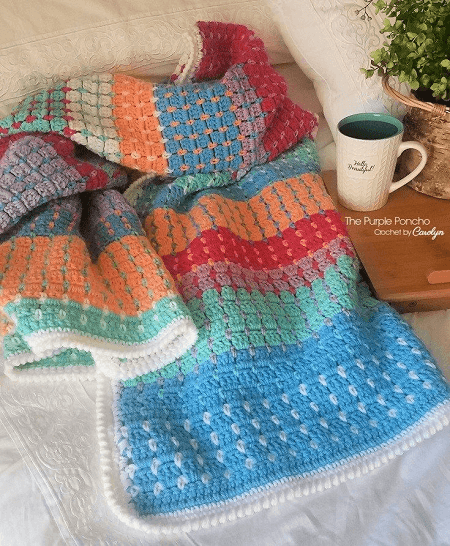 Get the Pattern here

24. Chunky Basketweave Blanket Crochet Pattern by Hooked On Homemade Happiness
This Chunky Basketweave Blanket is blooming with texture and makes a perfect afghan. It works up surprisingly quick and you'll be warm and toasty in no time!
You will love the texture of the basketweave stitch paired with super bulky yarn. They go together perfectly!
With a simple 5 row repeat, this basketweave stitch is easy to create and turns out absolutely gorgeous.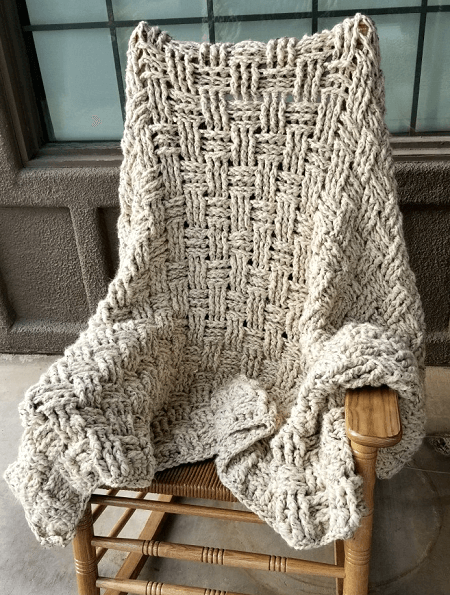 Get the Pattern here

25. Old Fashioned Throw Blanket Crochet Pattern by Sewrella
This crochet old fashioned throw blanket includes an easy pattern and video tutorial featuring the mini bean stitch in 12 sizes!
This thow blanket is just warm and cozy enough, as well as light enough to use year round.
You could make it in a solid color like the one pictured, or create a striped pattern. a two-tone stripe effect – anything goes. This blanket is totally customizable!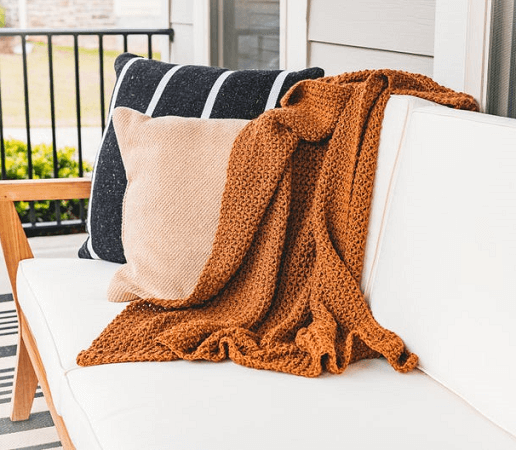 Get the Pattern by Sewrella here

26. Growing Ivy Crochet Blanket Pattern by Yarnspirations
Lush and lacy, this crochet blanket is a rich option that you'll be proud to display in your home.
Working in Bernat Super Value for eye-catching stitch definition, watch ivy leaves come to life as you work strategically-placed double crochet stitches, chains, and easy increases and decreases to reveal a bold chevron design.
The charming knotted fringe is added in a contrasting shade for the perfect finishing touch to this botanical beauty. It's a great project to get you in the mood for warmer weather.
Check out our roundup of bernat blanket crochet patterns for more designs made from bernat yarns.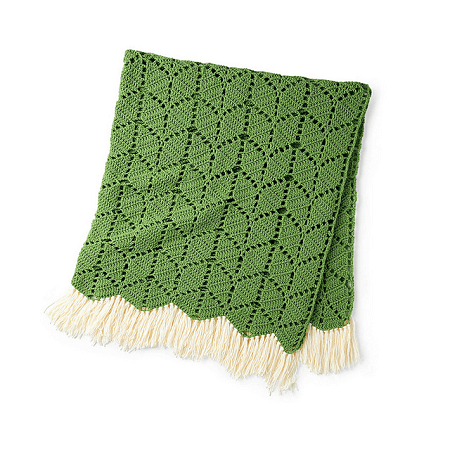 Get the Pattern here

27. Stabby Granny Star Crochet Blanket Pattern by Bright Red Cherries
This Stabby Granny Star Crochet Blanket Pattern is the perfect pattern to use up your stash of yarn. It's so much fun to see how the colors come out!
Alternatively, you can change colours whenever you want
You could make it as a gift or treat yourself, either way, the finished blanket will be treasured forever!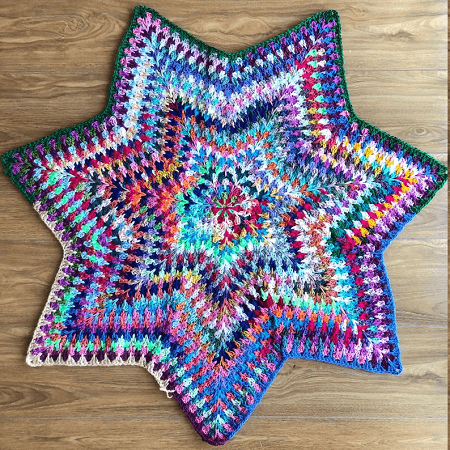 Get the Pattern by Bright Red Cherries here

28. Lakeside Throw Blanket Crochet Pattern by Petals To Picots
This Lakeside Throw Blanket is stylish enough to leave out as a decor accent but cozy enough for when you need some time to rest and restore.
It just begs you to curl up for a while and indulge in a good book or movie. And best of all, it's the perfect pattern for all crochet experience levels.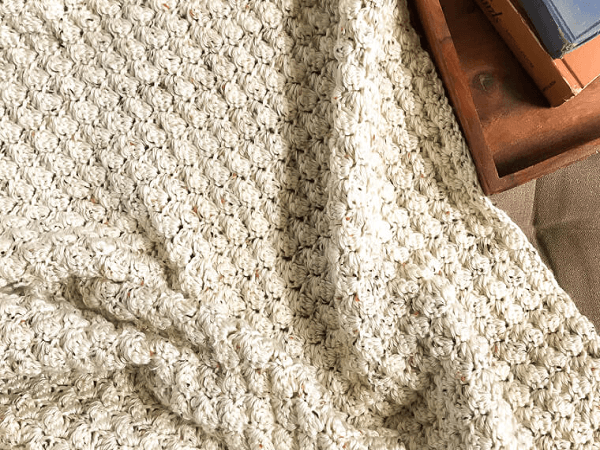 Get the Pattern here

29. Bohemian Nights Blanket Crochet Pattern by The Hat And I
A beautiful and cozy boho throw for the free-spirited. This Bohemian Nights Blanket is perfect for snuggling or draping across a guest bed!
When made with super bulky yarn, this blanket will measure 50″ x 62″. Use up scrap yarn for a unique, one of kind blanket for yourself or someone special.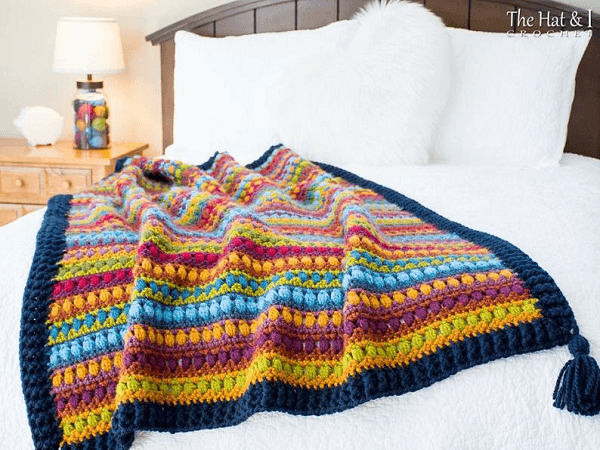 Get the Pattern by The Hat And I here

30. Knit Look Crochet Throw Blanket Crochet Pattern by Mama In A Stitch
Luxurious velvet yarn and modern crochet stitch work make this a timeless blanket that's perfect for year-round use.
Understated ribbing gives this crocheted afghan the look of knit and the comfort and quality of an expensive store-bought throw blanket.
A perfect for gift giving or to make as a special throw blanket for yourself!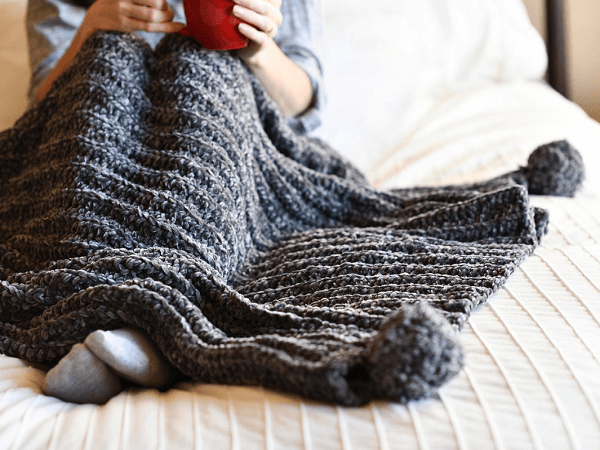 Get the Pattern by Mama In A Stitch here

31. Flight Of The Dragonfly Crochet Blanket Pattern by Auburn Craft
Dragonflies are always a reminder of summer day trips. This lovely crochet blanket features a dragonfly design, bobbles stitches, and a nice "fluffy" border.
This Flight of the Dragonfly Blanket will be a very pretty throw to make you cozy during summer nights.
This blanket crochet pattern is very easy to follow and the blanket grows up quickly!
Get the Pattern by Auburn Craft here

32. Easy Primrose And Proper Crochet Blanket Pattern by Kirsten Holloway Designs
Spring is coming in, and this Easy Primrose and Proper Crochet Blanket Pattern is just the project to help you welcome it!
Its lacy stitch design is feminine and delicate while providing just the right amount of warmth for chilly spring days.
Even if you are a beginner this easy crochet blanket pattern is one you'll be able to figure out quickly!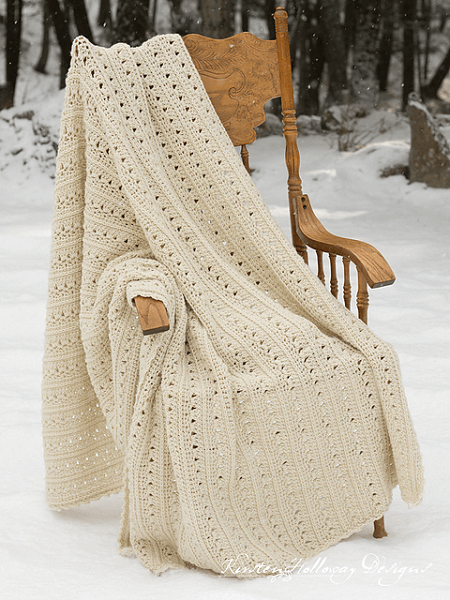 Get the Pattern here

33. Sea Shell Blanket Crochet Pattern by So Happy In Red
This Sea Shell Blanket will make you dream of summer, every time of year. It's a fun crochet blanket to make, and you can make it in any size you like.
So if you would love to make a crochet baby blanket, a crochet blanket for a children's bed, or a lovely crochet throw for your living room, this crochet pattern will be perfect for you.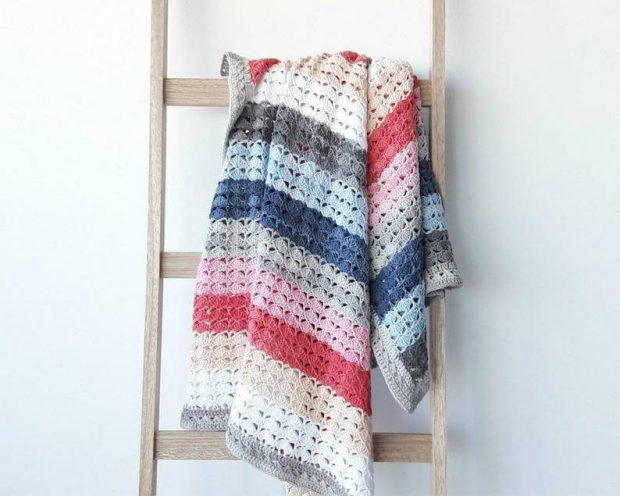 Get the Pattern by So Happy In Red here

34. Chunky Chevron Throw Blanket Crochet Pattern by Krista Cagle
If you love chunky yarn and want to work up a crochet blanket fast then this is the pattern for you! This Chunky Chevron Throw Blanket is an easy project that works up pretty quickly.
This blanket is a half double crochet chevron pattern, which is a little different than most of the other chevrons you may see.
This throw is a great pattern to mindlessly watch Netflix with, carry with you anywhere, or crochet up quickly if you're in a time crunch because of the ease of the stitch.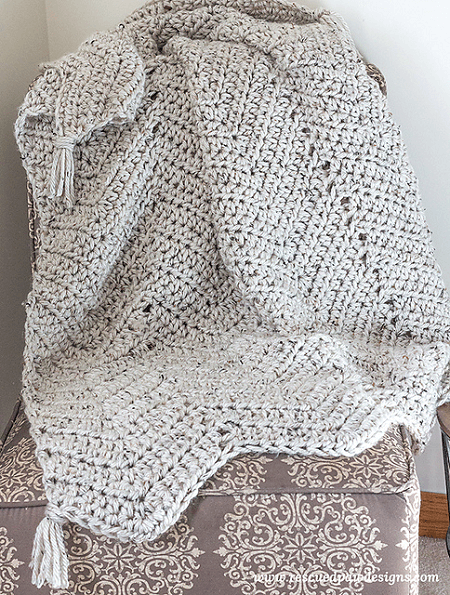 Get the Pattern here

35. Fireplace Afghan Crochet Pattern by Crochet Dreamz
This crochet afghan designed with the gorgeous Caron Cakes yarn will take a permanent piece near your fireplace.
The warm colors on this colorway flow seamlessly making it look all the more toasty and comfortable. The perfect blend of colors would make you want to curl up and read a book.
This design will look great in a single color as well. So make it in a color that matches your decor.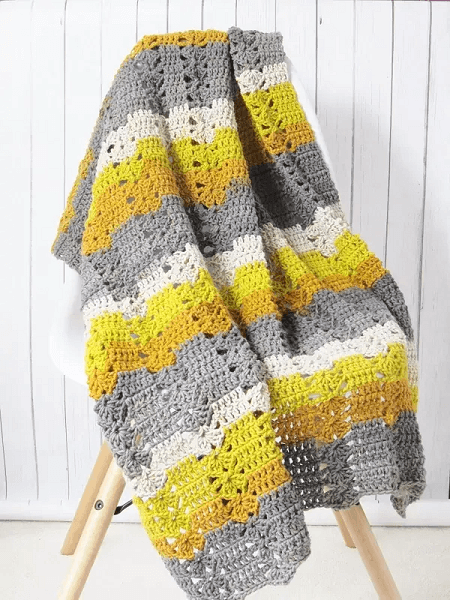 Get the Pattern here

36. Princess Dress Blanket Crochet Pattern by Carol Hladik Designs
Shaped like elaborate ball gowns, this whimsical Princess Dress Blanket resembles fancy frocks worn by the like of Cinderella and Belle.
Just slip your arms into their sleeves and marvel at how regal you suddenly feel.
Although the designer created the directions with adults in mind, there are four sizes available – two for grown-ups, one for a toddler, and another to fit a child.
If you're a kind of person who prefers to curl up with a blanket as cute as it is cozy, then this blanket have you covered – literally!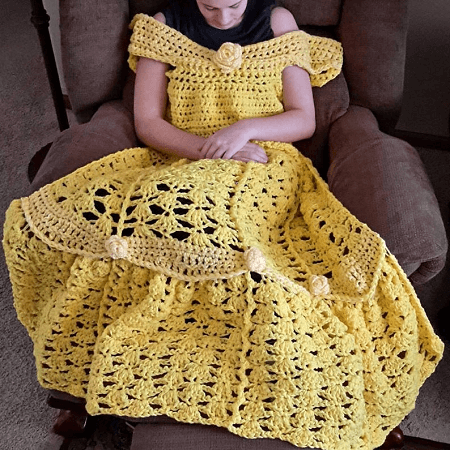 Get the Pattern by Carol Hladik Designs here

37. Midnight Diamond Blanket Crochet Pattern by Catherine Crochets
This is a crochet pattern for a blanket made using tapestry crochet and would be suitable for an intermediate crocheter looking to try tapestry crochet for the first time.
This Midnight Diamond Blanket is made of squares that are joined together to form an attractive tile-like pattern.
The finished blanket, made with DK yarn, measures 88 cm by 113 cm. However, you can easily vary the size of your blanket by making more or fewer squares.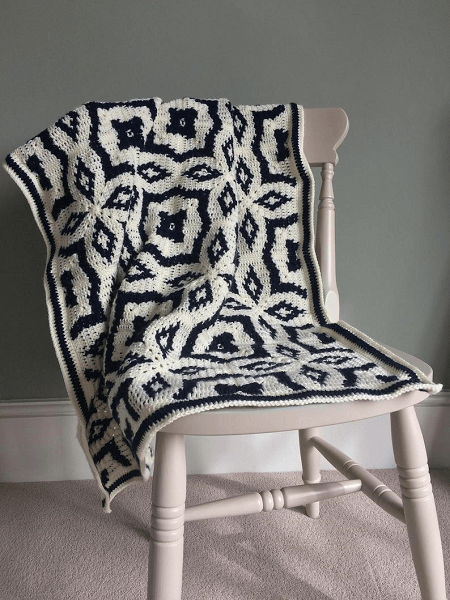 Get the Pattern by Catherine Crochets here
Crochet Blanket Patterns Frequently Asked Questions
Should I make a blanket?
Crocheting a blanket requires significant time, energy, and yarn investment, but the results can be truly impressive. You should crochet a blanket if you have a lot of yarn that you want to use up and if you find a pattern you really like.
Why are crochet blankets so popular?
Blankets are "mindless" projects that do not require the maker to think much. For this fact, you can do multiple things like read or binge-watch Netflix shows while they make the blanket.
It's often the first project any beginner can start with because of the simple rectangular (sometimes square) shape.
What is the quickest crochet stitch for a blanket?
A simple, repetitive stitch pattern is usually required if you want something that works up quickly. Anything based on the double crochet stitch should work up quickly, as should any open stitch pattern (with small gaps created by crochet chains).
What's the difference between a crochet blanket, throw, afghan, lapghan, and baby blanket?
Blankets, throws, afghans, lapghans, and baby blankets are all references to crocheted fabric coverings. Blankets and afghans are the largest, with throws, lapghans, and baby blankets all referring to smaller sized versions.
How long does it take to crochet a blanket?
Crocheting a blanket takes about 20 hours on average. Casual crocheters can complete an average blanket in a month or two, but time frames vary depending on the complexity of the pattern and the thickness of the yarn, ranging from a week to a year.
What types of yarn is best for blankets?
If you're looking for yarns that are easy to wash, consider acrylic fiber content or an easy care fiber like wool, cotton, linen, silk, or blends like cotton-wool blend.
Choose a natural fiber such as 100% alpaca wool or 100% merino wool if you want the best wool for blankets that will last longer. If you want the softest yarn for blankets, look for wool blends or premium acrylic yarns.
How many skeins of yarn for a blanket?
Crocheting a blanket requires 1-18 skeins of yarn, or approximately 900-4,000 yards. This will be determined by the size of your project and the number of colors used in the pattern. Expect more balls if you're making something larger or incorporating multiple colors into one design!
The type of yarn also matters: thinner strands require more balling, whereas thicker strands can get away with a few inches added to their total number count.
Can you crochet a blanket in one day?
Yes, you can! Just look for a pattern that uses simple stitches, simple row repeats, and super chunky yarn to make a blanket in a day!
What is the best size for a crochet baby blanket?
Crochet baby blankets range from 11″ x 11″ for a lovey/security blanket all the way to 42″ x 60″ for a crib blanket.
What size should a crochet blanket be?
Crochet blankets are available in sizes ranging from 40″ x 48″ for a lapghan to 98″ x 110″ for a king-size blanket, and crochet throws are available in sizes ranging from 52″ x 60″ for a small throw to 60″ x 72″ for a large throw.
Which of these crochet blanket patterns you've decided make?
Start creating crochet blankets today and don't let the cold catch you off guard!
Share your finished snuggly blankets with us on our Facebook Page. We'd love to see you cuddling up under those. You've earned it! And we have a lot more fun crochet blanket patterns for the whole family. Be sure to also check them out!
We hope there's a crochet blanket pattern in here that you love. Make one or more of these blanket crochet pattern for a chilly weather.