When ladybug season arrives (spring and summer), celebrate this little garden critter with these 10 Amigurumi Ladybug Patterns that you will love!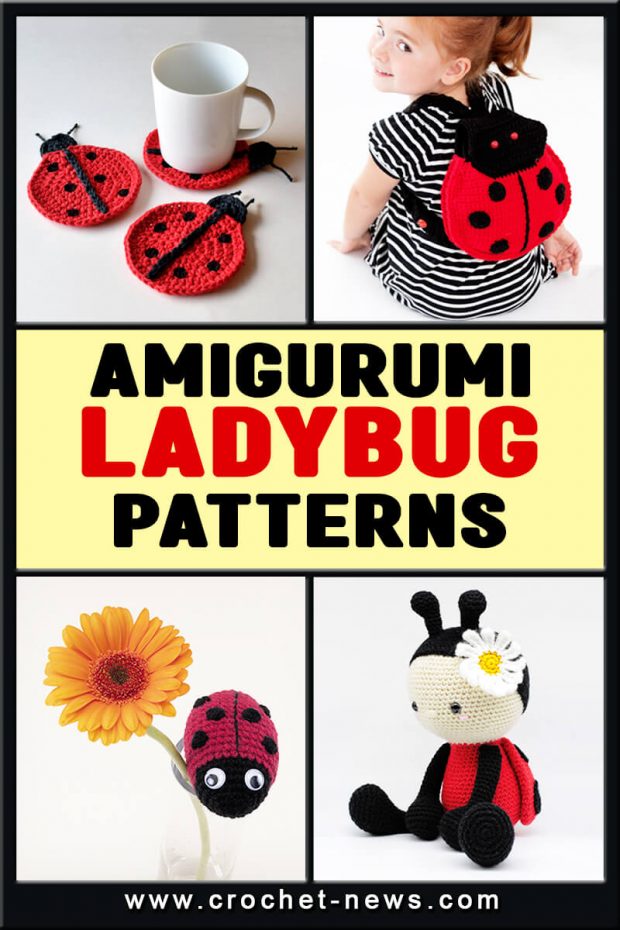 There's just something about ladybugs that really captures our imagination.
Perhaps it's their vivid red and black patterns, or maybe it's how harmless they are.
Whether you make something to leave in your garden, something for your kids to play with, or something that you can use and wear, there's no better way to welcome the months of warmer weather than by filling your house with the read and black patterns of this adorable critter!
1. Amigurumi Ladybug Pattern by Susan Yeates
This crochet ladybug pattern free amigurumi is super cute, spring is on the way! Here's a cute little amigurumi ladybird named Spot, by Susan Yeates.
This lovely little mini-beasty has been named Spot for obvious reasons!
The downloadable PDF pattern includes a colour PDF with a list of the exact materials and tools required, full step by step instructions (UK terms) and colour photos too!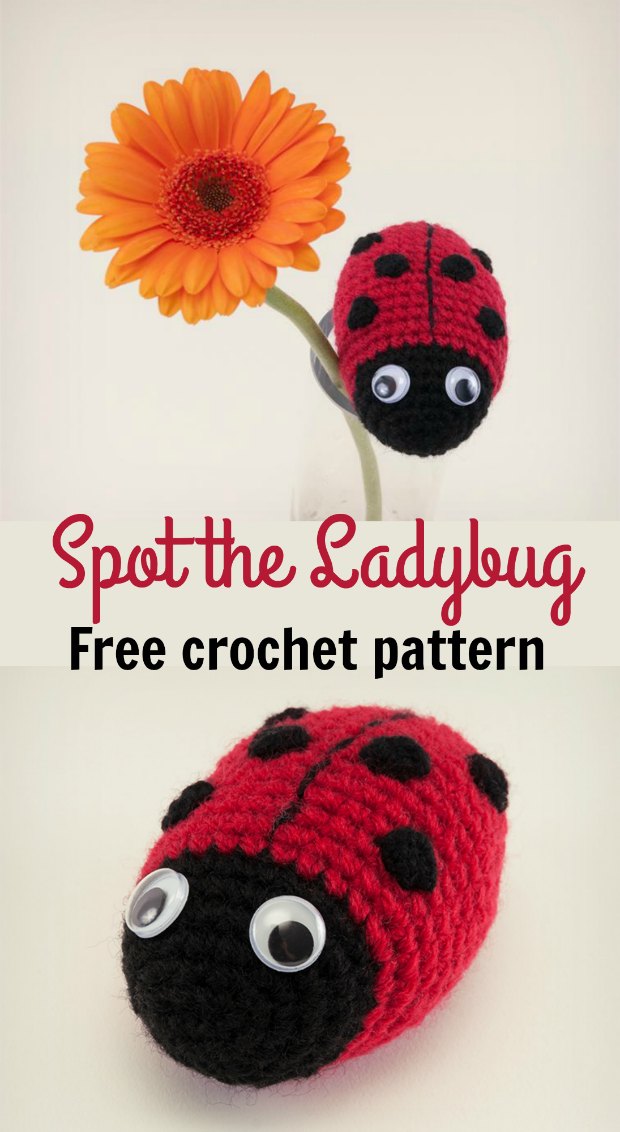 This spotty crochet ladybird pattern is a two-colour variation on the simple sphere. The body is constructed in a single piece but slightly flatter than a sphere to mimic the shape of the insect.
The spots are crocheted separately using thinner yarn and sewn onto the top of the wings.
Ideal beginner amigurumi crochet ladybug pattern to try.
Crochet Ladybug Amigurumi Pattern Materials
Red and Black DK yarn
A thinner black yarn than a DK such as 4ply
3.5mm and 2.5mm crochet hooks
Darning needle
Get The Pattern By Susan Yeates Here

2. Crochet Ladybug Blanket Pattern by Color And Shape Design
This Crochet Ladybug Blanket Pattern is easy to complete. The blanket when finished reads, "ladybug, ladybug, fly away home".
The entire blanket requires only three crochet stitches – chain stitch, single crochet, and the popcorn stitch, and can be customized to your own color choices.
A perfect gift for the ladybug lovers in your life!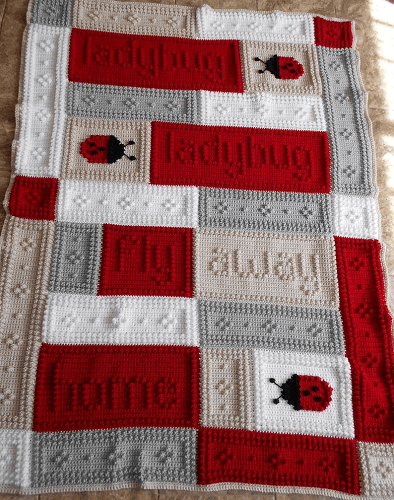 Get the Pattern by Color And Shape Design here

3. Backpack Ladybug Crochet Pattern by Yarnspirations
Little ladies love carrying their special things in this little lady – crochet ladybug backpack, that is!
Stitched with machine wash and dry Red Heart Super Saver yarn, this bag keeps looking great for every child's adventures.
Keep it classic in familiar colors, or craft your crochet backpack in any shades that please. This crochet ladybug pattern is a fun break from décor and garment projects.
Get the Pattern here

4. Crochet Ladybug Amigurumi Pattern by Hello Yellow Yarn
This ladybug enjoys playing and running around in the meadow. She also loves to sit and relax on all the colorful flowers, admiring the sunshine!
She measures approximately 38cm (15 inches) tall when done with an 8 ply (US Light Worsted / UK DK) yarn and a 4mm crochet hook.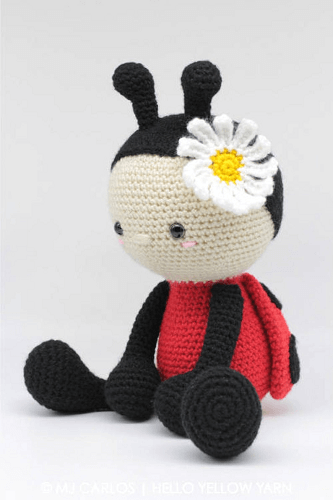 Get the Pattern by Hello Yellow Yarn here

5. Crochet Ladybird Applique Pattern by Repeat Crafter Me
This sweet little ladybug would make a great appliqué for a hat and a cute embellishment on a headband, but could also become a pin, magnet and more! Whatever you make with it, it is perfect for your love bug!
The crochet ladybird should measure approximately 3×3 inches using worsted weight yarn and a size F crochet hook.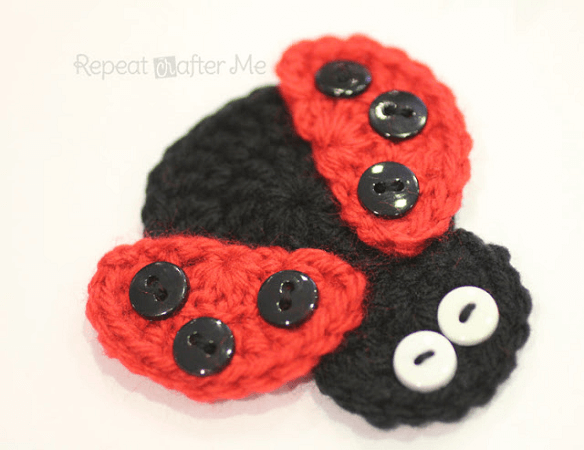 Get the crochet ladybird pattern here

6. Curtain Tie Back Crochet Ladybug Pattern by BB Adorables
This Ladybug Curtain Tie Back makes a beautiful welcome to the world or baby shower gift and adds so much cuteness to a nursery or children's room.
The crochet ladybug in the sitting position is 19 cm (7'5 inches) using a 3.50 mm hook and the arms' length is 20 cm (8 inches) but whatever hook sizes you use, your ladybug will turn out great!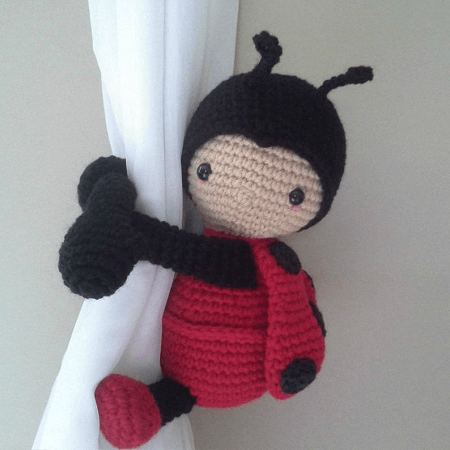 Get the Pattern by BB Adorables here

7. Coin Purse Ladybug Crochet Pattern by Lau Loves Crochet
This charming ladybug coin purse is perfect for everyday use but also can be a really unique accessory for any themed event.
The purse is made Patons DK smoothie in red, black and white. This yarn is 200m per 100g.
Any yarn of the same weight would be suitable for this pattern. You will also need an arch frame kiss purse clasp to secure your coins!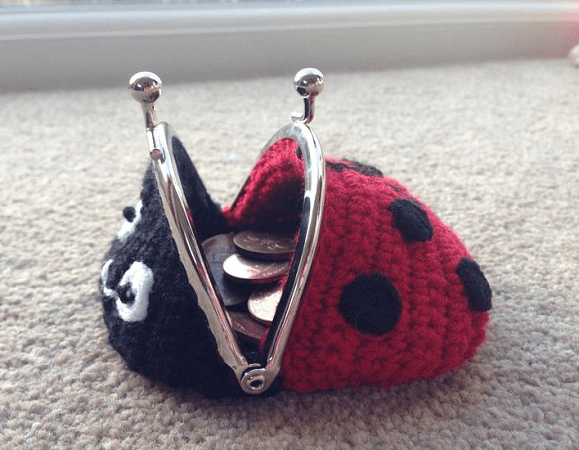 Get the Pattern by Lau Loves Crochet here

8. Ladybug Kawaii Cuddler Crochet Pattern by 3am Grace Designs
Here is a beautiful softie project that will definitely put a touch of spring in your crocheting projects.
This Ladybug Kawaii Cuddler is a large (11×10″) amigurumi toy for young and old alike. A ladybug cuddler will also be great as a summer pillow.
This is an easy/beginner level crochet pattern. The techniques you will need to know are single crochet, single crochet increase, single crochet decrease, half double crochet, double crochet, triple crochet, chain stitch, and slip stitch.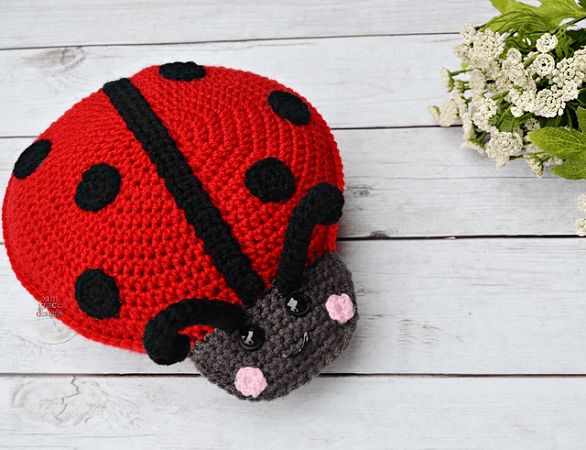 Get the Pattern here

9. Crochet Ladybird Toy Pattern by Lovely Baby Gift
This lovely little crochet ladybird pattern is a playful little friend! She's very squishy which makes her a great choice for cuddling, playing, or even for a stress ball.
Ladybird toy can be made with sport or worsted weight yarn. The finished ladybug size is about 4.7 x 3.9 inches (12 x 10 cm) when done with sport weight yarn and size C crochet hook (2.75 mm ).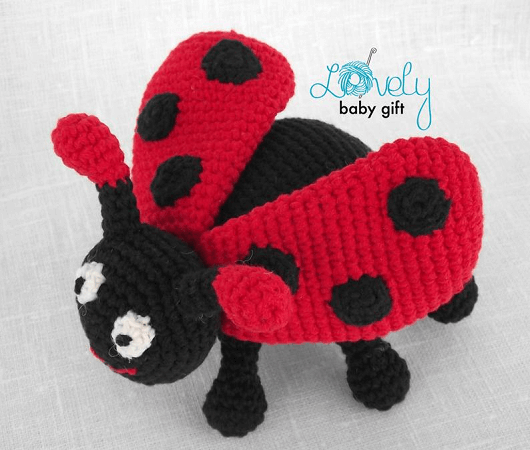 Get the Pattern by Lovely Baby Gift here

10. Coasters Crochet Ladybug Pattern by Xasper8ing
These Ladybug Coasters are adorable for spring and summer decor! The pattern is simple, quick, and fun to customize what you'd like (make it blue!).
They are made with 100% cotton yarn – wonderfully effective means of absorbing moisture and protecting furniture.
They are big enough for your favorite mug or a small morning bowl!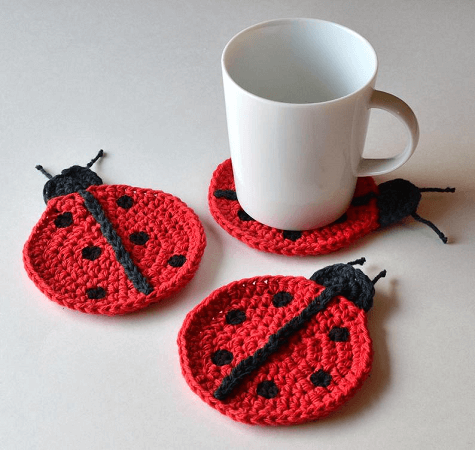 Get the Pattern by Xasper8ing here
After all, these cute little crochet ladybug deserve more spotlight right?
Fill your need for the cute, the sweet, and the adorable by making some of these crochet ladybird patterns.
And don't forget to share your finished works with us on our Facebook Page. We love seeing your creativity!
Also, take the time to browse all the other patterns we have here. Like these dragonfly patterns, bat patterns, spider patterns, and a lot more. You will surely find something interesting to crochet next.
With these crochet ladybug patterns, we don't have to wait for Spring to have a sight of those cute red and black critters we always adore!