If you feel all enticed to have that perfect weekend of unwinding, then, we got you covered. This FREE Blanket Dragonfly Crochet Pattern will definitely turn you, from stressed to a calm and relaxed state of mind and body.
Are you longing for a relaxing afternoon even just for this weekend? Imagine yourself reading a book while drinking a cup of tea, or binge-watching your favorite Western series, not minding the time passing.
Then you felt a little cold and you cozy yourself up with a blanket feeling all comfortable and warm. Just feeling the texture of the blanket makes you want to snuggle it up with your special someone or even with your pets.

ABOUT THE CROCHET DRAGONFLY BLANKET PATTERN
Crochet by Maria of Pattern Paradise skillfully designed this gorgeous crocheted dragonfly blanket to bring comfort to everyone. The materials used to make this blanket have formed a soft and silky texture that will be enjoyed by anyone who feels and touches it.

The pattern brings out a very nature friendly vibe which is also perfect outdoors. You can use this during a picnic in the park or if you feel like chilling on the pool side with a good book. This dragonfly crochet blanket is also excellent for cuddling up on the couch while watching your favorite TV shows or movies.
Creators can also give this blanket as a gift to their friends and relatives. It can also be given as a gift during baby showers because of its soft fabric, the little ones will definitely have a nice and comfortable afternoon naps.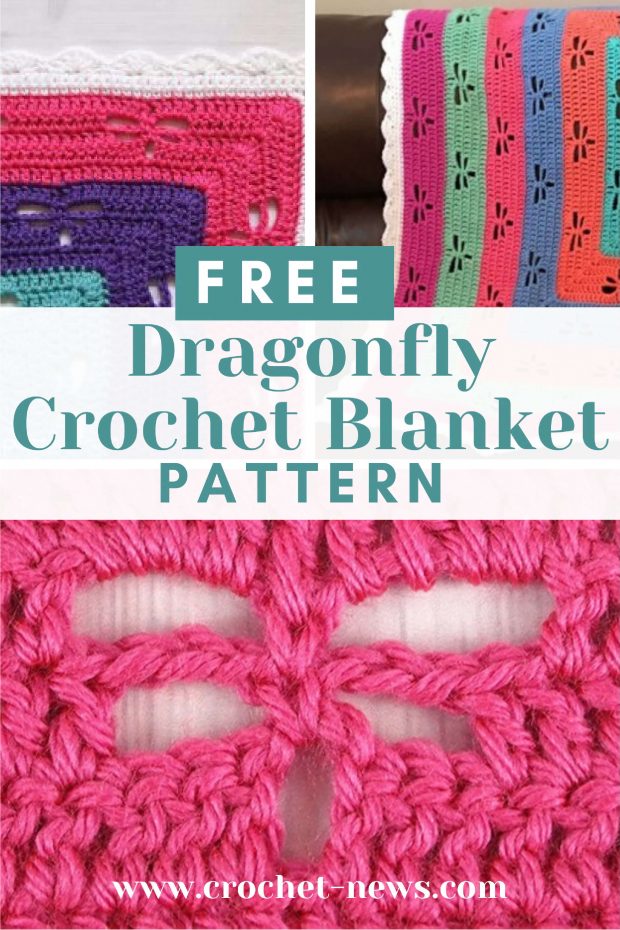 LEVEL OF KNOWLEDGE IN CROCHETING
Makers of this pattern do not to need have expertise to create their very own dragonfly crochet blanket for it is labeled as an easy pattern. You just have to make sure you have all the crocheting materials needed and know all the basic stitches of crocheting to create this masterpiece.

MATERIALS NEEDED IN MAKING YOUR OWN DRAGONFLY CROCHET BLANKET
YARN – Worsted weight yarn in 7 colors of your choice

Specific yarn and yard used is Hobby Lobby's I Love This Yarn:


Color A in Hot Rose – 6.5 ounces, 329 yards

Color B in Turquoise – 1.5 ounces, 76 yards
Color C in Mango – 2.25 ounces, 115 yards
Color D in Medium Blue – 3 ounces, 153 yards
Color E in Tropical Pink – 3.75 ounces, 190 yards
Color F in Ocean – 4.75 ounces, 241 yards
Color G in White – See Border Instructions
HOOK – any hook size that can help you obtain gauge or an H-8 5 millimeter in size

14 double crochet stitches and 8 rows = 4 inches or 10 centimeters for the gauge


Yarn needle for weaving in ends

APPROXIMATE SIZE OF THE DRAGONFLY CROCHET BLANKET
Length: 40 inches
Width: 40 inches

STITCHES IN CROCHETING THE DRAGONFLY BLANKET PATTERN

The dragonfly blanket crochet pattern features lively and eye-catching colors that is perfect for a day of relaxation. It's also quite simple with an easy pattern to follow. The pattern also uses 6 bold yet adorable patterns, but you could easily mix and match those colors, depending on your preferences.

So, what are you waiting for? Start now and give yourself and your loved ones the gift of a calm and relaxing weekend with this FREE Dragonfly Crochet Blanket Pattern!