If you're looking for the perfect project to work in spring, this beautiful collection of crochet butterfly patterns is just the thing!
Because of their beauty and wild colors, butterflies are a frequent decorative motif and are a particular favorite amongst crocheters.
They can be stitched directly into a pattern,used as a repeating pattern, or as a single decorative motif attached to a larger work.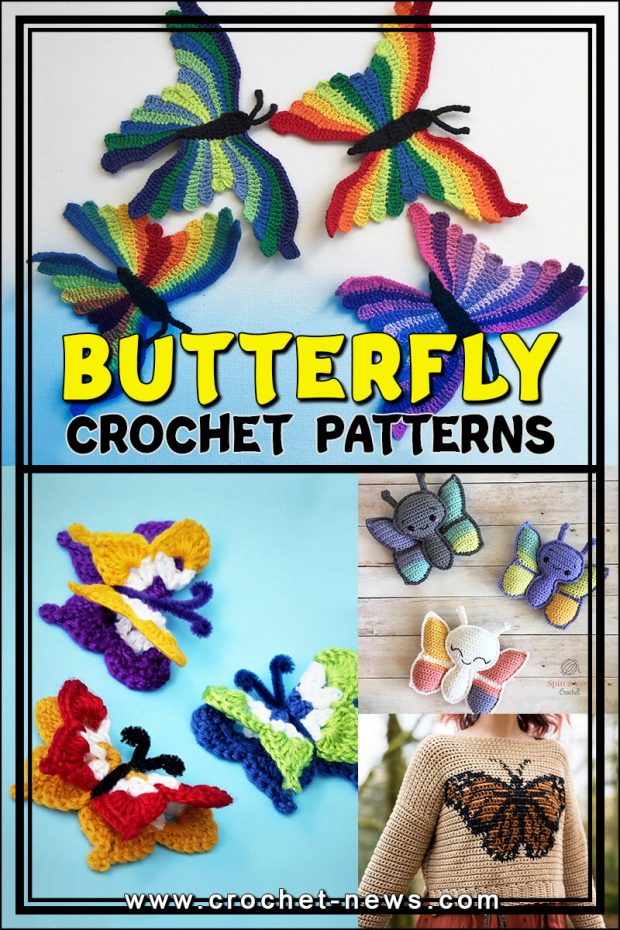 These butterfly crochet patterns are just as pretty as the real thing and we know you'll love them!
1. Crochet Butterfly Mobile Free Pattern by The Hat and I
The crochet butterfly mobile pattern is not hard to follow. The instructions are given in quite concise and simple English in US.
Combine that with the rich content of illustrations and diagrams and pictures that are contained within and you can't fail to make your own stunning crochet butterfly mobile.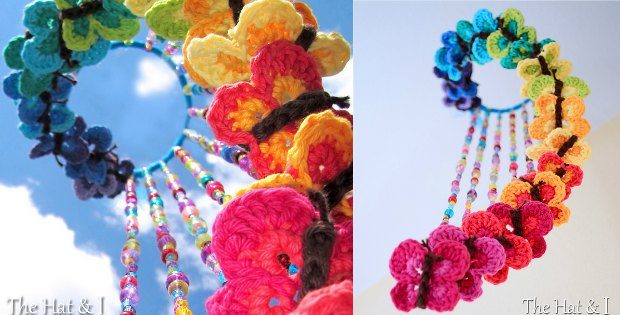 Get the pattern here

2. Butterfly Amigurumi Crochet Pattern by Spin A Yarn Studio
This Amigurumi Crochet Butterfly Pattern is a unique amigurumi made in the ragdoll-style; separate pieces worked in flat rows and joined together to give it that charming and distinctive 2-D appearance.
These butterfly crochet would work great as wall accents in a little one's bedroom or nursery, as a mobile (with a smaller weight yarn and gauge), a throw pillow on a little one's bed (with heavier weight yarn and gauge), as a rattle, or simply to play with!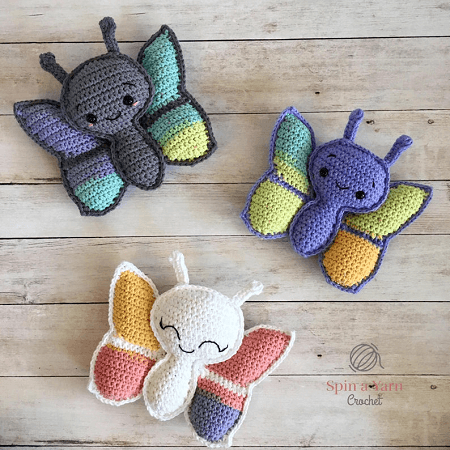 Get the Pattern by Spin A Yarn Studio here

3. Life Cycle Play Set Butterfly Crochet Pattern by Lalylala Crochet
This Crochet Butterfly Life Cycle Play Set is adorable, but also very educational!
Crochet your own Butterfly Life Cycle Playset from this pattern – containing an egg, a cocoon, a lovely caterpillar, and her beautiful wing set.
Even a leaf to feed your caterpillar is featured in the pattern.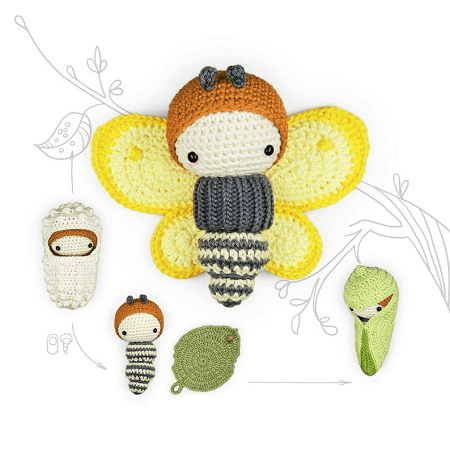 Get the Life Cycle Play Set Butterfly Crochet Pattern here

4. Barefoot Sandals Free Crochet Butterfly Pattern by Repeat Crafter Me
What do you think of this pretty butterfly barefoot sandals to show off this coming season?
Watch your babies dancing with your handmade butterflies on the grass, your little ones will be the cutest and most adorable angels around.
This crochet butterfly pattern is easy to make and you basically need to crochet the butterfly with a foot ankle bracelet.
You can easily alter the length and width of the straps by chaining more (or less).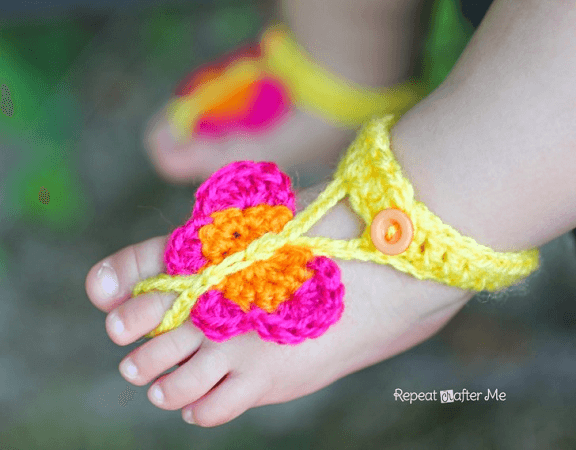 Get the Pattern here

5. Baby Rattle Butterfly Crochet Pattern by Amigurumi Today
This Baby Rattle Butterfly Crochet Pattern makes a wonderful gift for your lovely newborn. The amigurumi toy develops baby's touch, hearing, and fine motor skills.
You'll need three colors for eyes (white, black, and blue or green) and six more colors for the butterfly itself. All colors are up to you!
Use organic cotton yarn to surround your little one with only the purest things!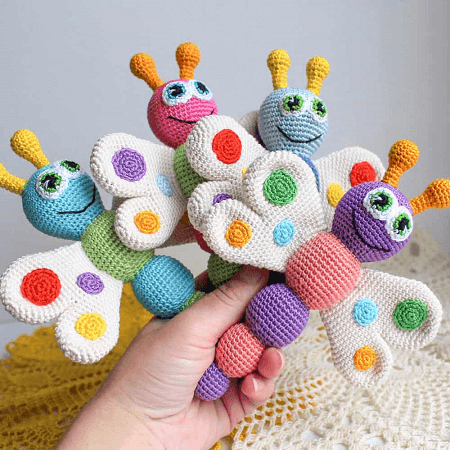 Get the Pattern here

6. Butterfly Crochet Amigurumi Pattern by Crafty Intentions
This Butterfly Crochet Amigurumi Pattern comes with instructions for a realistic butterfly body and four individual styles of butterfly wings!
These butterfly crochet are ready to flutter into your home and sit patiently wherever you put them.
The butterfly crochet pattern features stunning wing styles ranging from extremely simple to textured and complex and clear step by step instruction with a lot of row-by-row photos.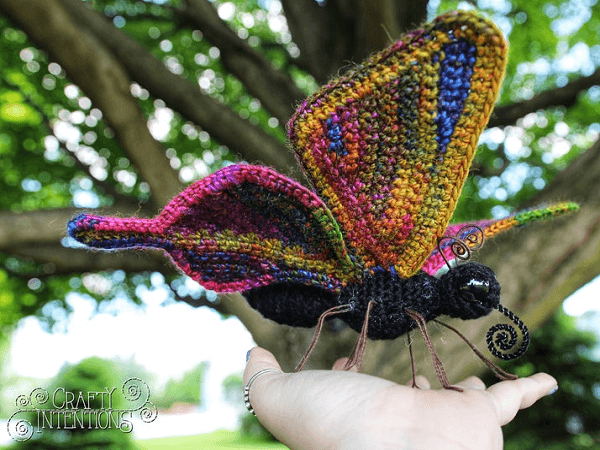 Get the Pattern by Crafty Intentions here

7. Crochet Butterfly Pattern by My Picot
This Crochet Butterfly Pattern can be used as the cutest embellishment for accessories, baby blanket, or pillow. You can also create a wonderful wall display.
Feel free to use any type of yarn (or even thread) for this project.
Get the Pattern here

8. Rug Crochet Butterfly Pattern by Ira Rott Patterns
The colors and intricate detail in this stunning butterfly rug are a sight to behold It will look great in a baby nursery or a favorite space in your place.
This beautiful rug measures approximately 56" (142.25 cm) across & 42" (106.75 cm) from the top of the head (excluding antennae) down to the tip of the tail.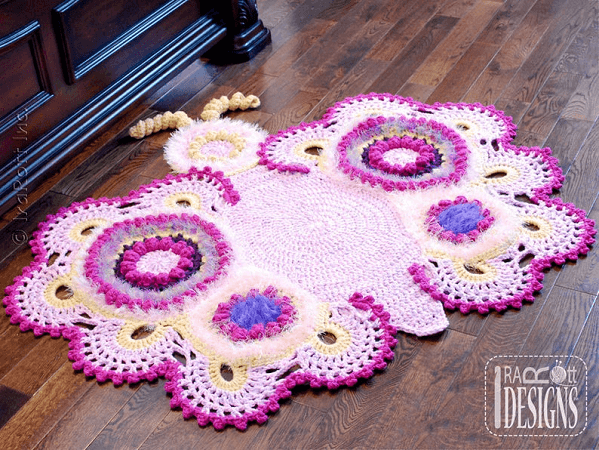 Get the Pattern by Ira Rott Patterns here

9. Amigurumi Free Crochet Butterfly Pattern by Loops And Love Crochet
These Amigurumi Free Crochet Butterfly Pattern is so fun to make and are perfect to get you excited about spring and summer!
You can't really tell in the photo, unless you look really hard, but the purple and blue butterfly bodies are done in sparkle yarn.
When finished, these crochet butterfly measure about 6.5 inches wide (from wing tip to wing tip) and 6.5 inches tall (from antennae to the bottom of the body).
There are so many possibilities with body and wing colors that you could make a whole family of butterflies, each one looking unique!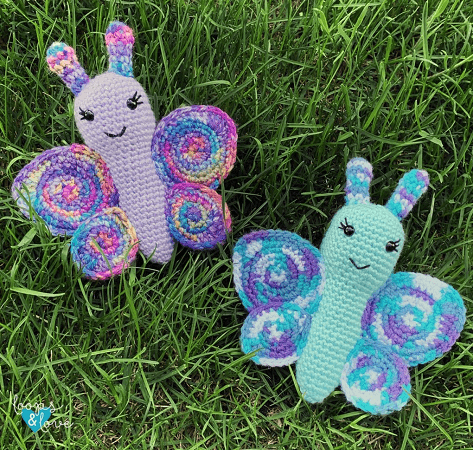 Get the Pattern here

10. Butterfly Crochet Pattern by Kerri's Crochet
These butterflies are not sweet and girly, but natural and sophisticated. As you can see, they look very different depending on the colors you choose, so be sure to choose the right palette!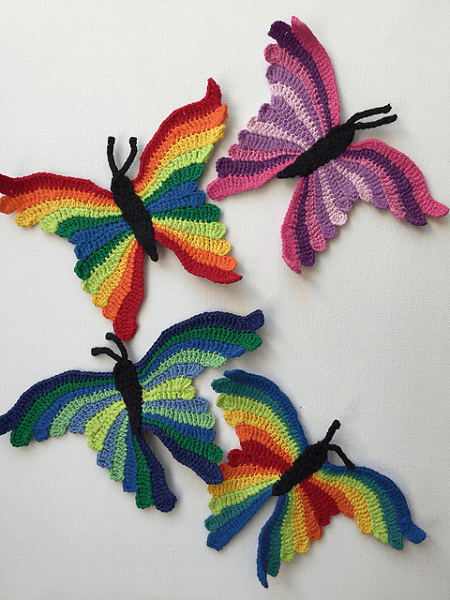 Get the Pattern here

11. Butterfly Crochet Pattern by Stitching Tog
Adorable little crochet butterflies that work great from appliques, hair accessories, magnets, and more.
You'll love making different color combos with your scrap yarn and will have a pile of butterflies before you know it.
As you can tell, these butterflies are quite puffy. They're made mostly of puff stitches. Chains, slip stitches, and one single crochet also make importance appearances in this Butterfly Crochet Pattern.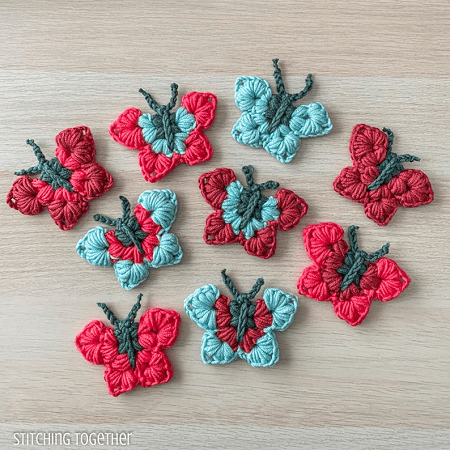 Get the Pattern by Stitching Tog here

12. Butterfly Garden Baby Booties Crochet Pattern by Hopeful Honey
Nothing is quite so cute as the teeny tininess of a newborn baby's plump, little feet. Dress up those little tootsies this summer with a pair of butterfly booties, which although small, are filled with pretty details.
Sturdy soles and vintage t-straps add a touch of whimsical charm to these snug-fitting booties, making them a classic staple for any bub's wardrobe as she flits swiftly from blossom to blossom.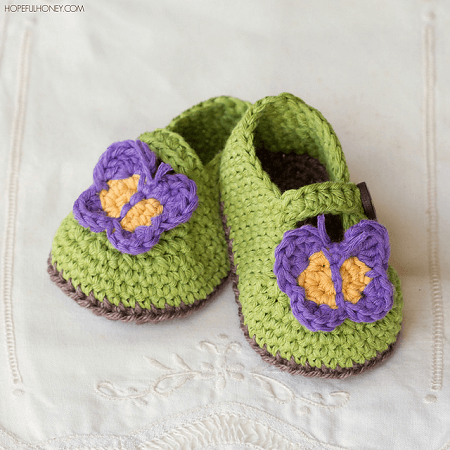 Get the Pattern here

13. Applique Crochet Butterfly Pattern by Golden Lucy Crafts
This beautiful crochet Butterfly applique is made from crocheted hearts. You just need to make hearts according to the instructions and then sew them together!
This Applique Crochet Butterfly Pattern is easy and fun to make and the result is very cute!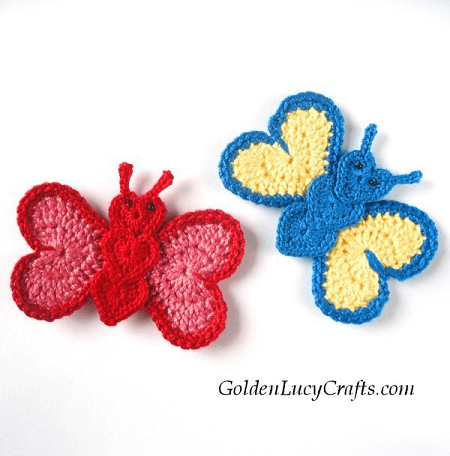 Get the Pattern here

14. Butterfly Wall Hanging Crochet Pattern by Little Doolally
A delightful butterfly and nature-inspired wall hanging to brighten up your home.
Inspired by weaving, this Butterfly Wall Hanging decoration is very textured and would look great in any room!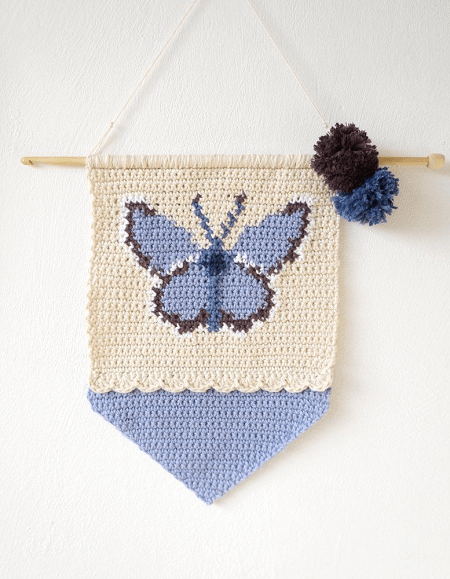 Get the Pattern by Little Doolally here

15. Blanket Butterfly Crochet Pattern by Owl B Hooked
This blanket butterfly crochet features a subtle, peek-a-boo butterfly design with no need for several color changes or ends to weave in. Or add all the color your heart desires!
Simple and modern, it makes for a special newborn baby or 1st birthday gift.
The written size allows it to be used as a security or snuggle blanket for a toddler as well!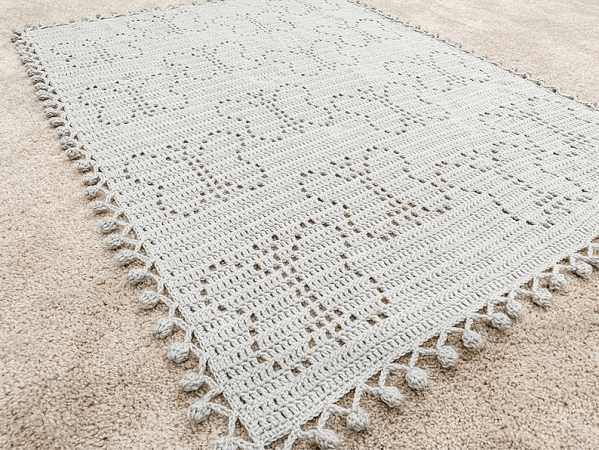 Get the Pattern by Owl B Hooked here

16. 3D Crochet Butterfly Pattern by The Easy Design
This simple 3D Crochet Butterfly Pattern works up super quick, and is a delightful way to use up your bits of yarn.
With the same pattern make different sizes of butterflies, by changing your yarn and hook.
Feel free to mix and match different colours to create your own unique butterflies! Invest your imagination and you'll get an even better results!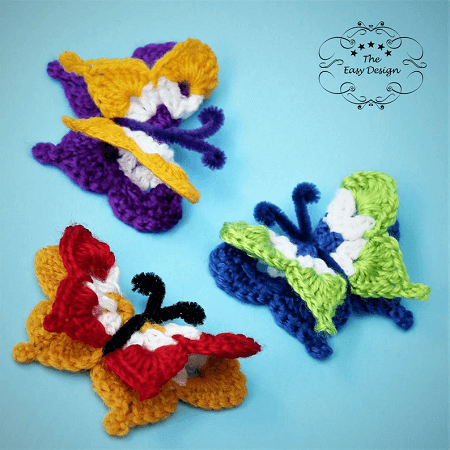 Get the 3D Crochet Butterfly Pattern here

17. Jaycee Shawl Butterfly Crochet Pattern by Wilmade
This Jaycee Butterfly Shawl is a crochet butterfly shawl mainly made with double crochet stitches and chains. A fun project for advanced crocheters or adventurous beginners.
This design features butterflies and raised shell stitches forming beautiful waves.
The entire butterfly crochet pattern is made out of 10 rows that can be repeated as many times as you want. This way you can easily adapt the pattern for a kids' size or adult size.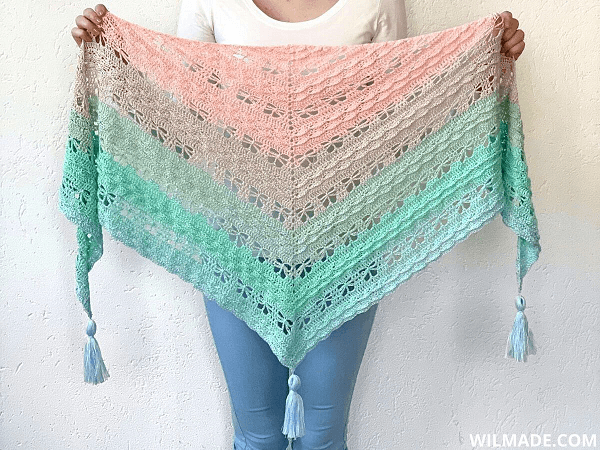 Get the Pattern here

18. Amigurumi Butterfly Crochet Pattern by Soft Toy For Joy
The amigurumi butterfly measures 18 cm (7 inches) if using worsted weight yarn on a 3.0 mm crochet hook.
To make this toy you should be familiar with the basic crochet techniques such as single crochet, increase, decrease, etc.
Tis adorable little crochet butterfly is a perfect gift for baby shower or 1st birthday party, a room decoration, and great friend for your kids and you!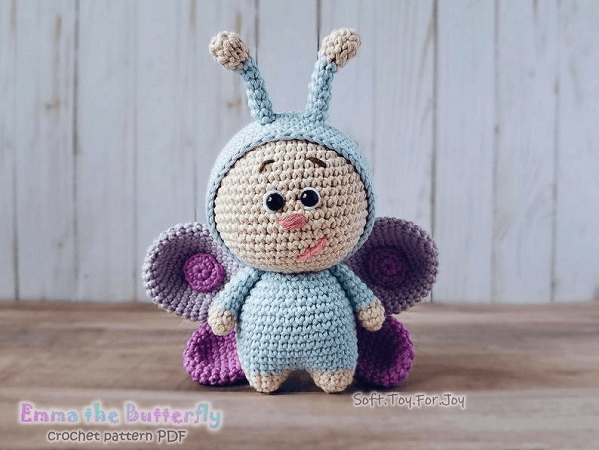 Get the Pattern by Soft Toy For Joy here

19. Butterfly Coin Purse Crochet Pattern by Lilla Bjorn Crochet
This Butterfly Coin Purse is made in overlay crochet technique with lots of cables and front post stitches.
Both sides can be made exactly the same or with a different order of colors to make your purse look unique.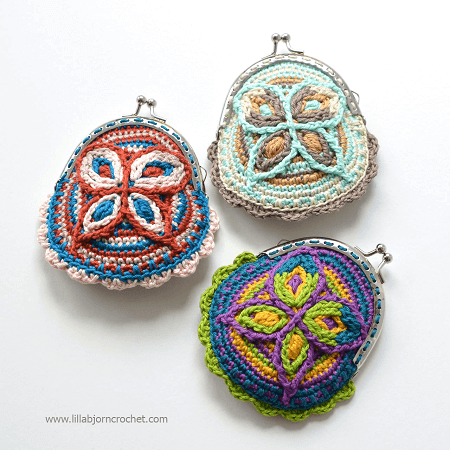 Get the Pattern by Lilla Bjorn Crochet here

20. Potholder Butterfly Crochet Pattern by Hoooker
Who doesn't love butterflies? Now you can have them in your kitchen with this crochet pattern for a butterfly potholder!
The finished size for the potholders is approximately 7.5 inches (19 centimeters) square.
The butterfly crochet pattern, graph, and written instructions are for potholders but you can also use the graph to make washcloths, scarves, squares for baby blankets or afghans, or anything else involving color change squares.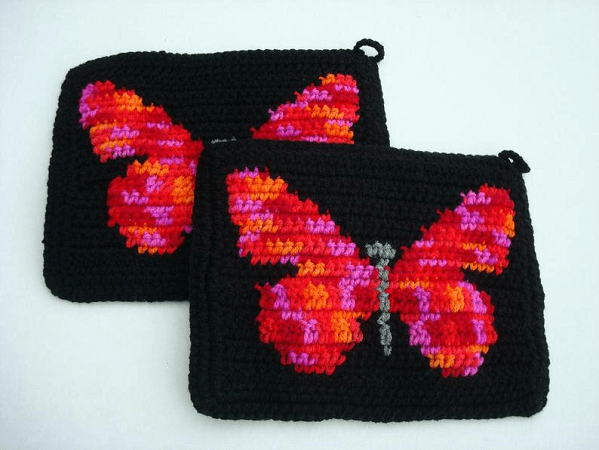 Get the Pattern by Hoooker here

21. Rattle Butterfly Crochet Pattern by Enjoy Toys Designs
This happy little butterfly rattle will make any baby smile! The height of the finished toy is about 14 – 15 cm (5.5 – 5.9 inches).
This rattle toy is unique and useful for child development because it has small ears and horns that children will chew with pleasure, a comfortable thin handle for tiny little hands, and warm colors to attract attention.
It could be a great gift for newborns and babies!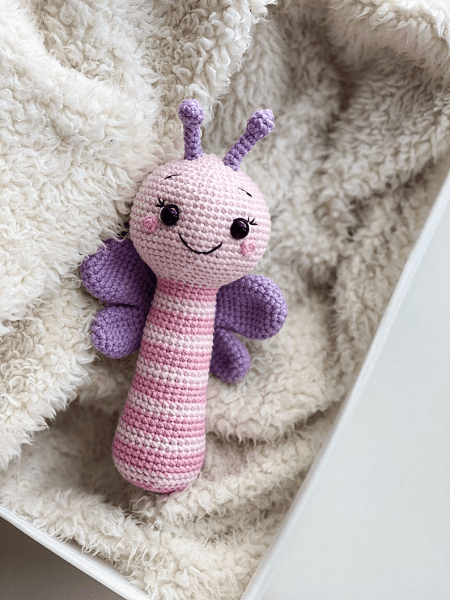 Get the Pattern by Enjoy Toys Designs here

22. Kawaii Cuddler Free Crochet Butterfly Pattern by 3am Grace Designs
This Kawaii Cuddler Free Crochet Butterfly Pattern is an easy/beginner level crochet pattern. It can be made in many different colors and shades.
The techniques you will need to know are single crochet, single crochet increase, single crochet decrease, puff stitch, chain stitch, and slip stitch.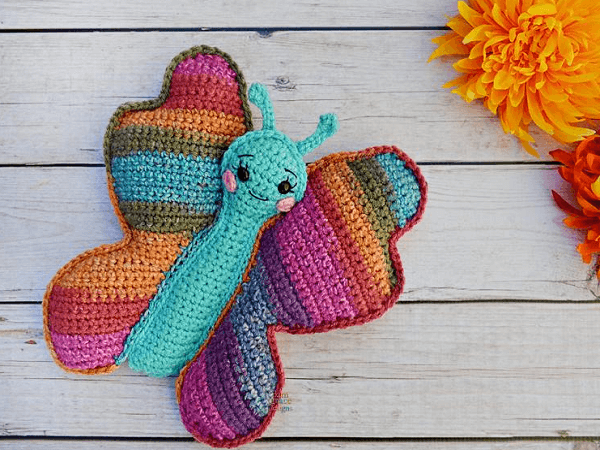 Get the Pattern here

23. Hooded Blanket Butterfly Crochet Pattern by MJs Off The Hook Designs
Wrap yourself in this cozy Hooded Butterfly Blanket. Perfect for cuddling, play, and display.
This Butterfly Blanket features large wing panels and circle granny squares that are seamed together to form beautiful wings.
The color effect is made by combining 2 strands of Bernat Pop. The body and hood of the blanket are worked in 1 strand of Bernat Softee Chunky.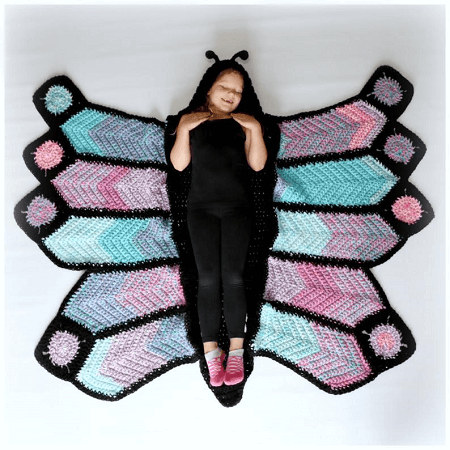 Get the Pattern by MJs Off The Hook Designs here

24. Crochet Butterfly Doily Pattern by Maggie's Crochet
This beautiful crochet doily is an amazing addition to your living space. This large doily, 18 inches tall and 20 inches wide, is ideal for table decorations, a setting place for vases, or as a simple embellishment to a room.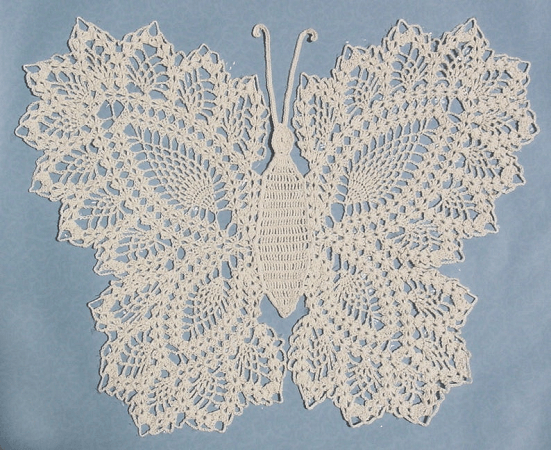 Get the Pattern by Maggie's Crochet here

25. Sweater Butterfly Crochet Pattern by Hailey Bailey
This Sweater Butterfly Crochet Pattern is written based on measurements and can be easily adjusted to your custom measurements.
The crochet butterfly pattern includes suggested measurements to create adult sizes Small, Medium, and Large just as a guideline, but the pattern includes sizing tips to customize your sweater to fit any size, width, or length.
This sweater is perfect for any woman who wants to celebrate butterflies. Wear it with a simple pair of jeans and skirt and you have an instant fashion statement!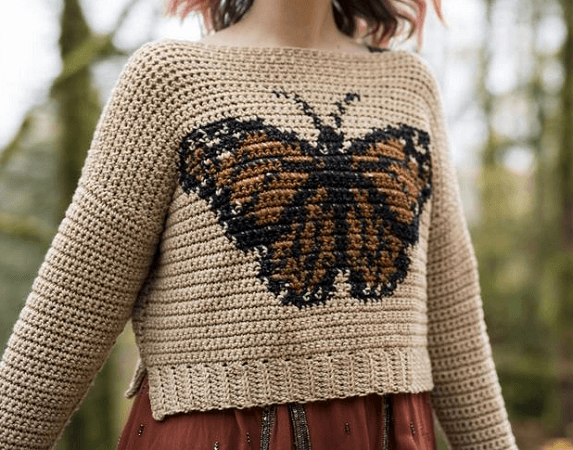 Get the Pattern by Hailey Bailey here

26. Wonder Wings Crochet Butterfly Pattern by Drops Design
Butterfly appliques are simple little projects that work up quickly. They can be attached to any garment, from hats to scarves to sweaters or simply adhered to a pin, barrette, or hair clip.
This pretty little butterfly is crocheted using three different colors of lightweight yarn. It is very textured and has lots of dimensions.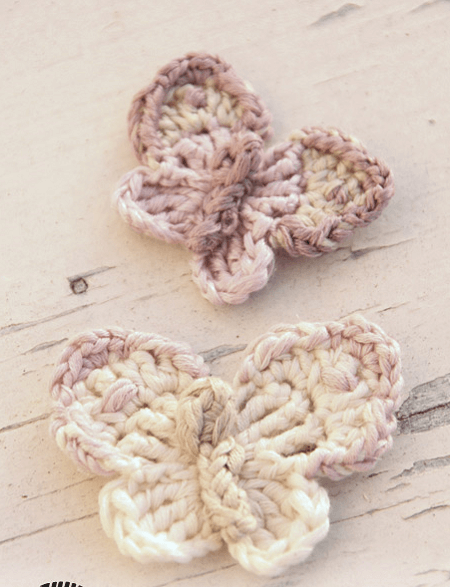 Get the Pattern here

27. Crochet Lace Butterflies Bookmark Pattern by Olga Poltava
Dainty and beautiful, this Crochet Lace Butterflies Bookmark is a great way to hold your place in your favorite book.
Worked in crochet thread, it's a simple project that would make a fantastic introduction to lace-like crochet patterns. Make some for yourself and a few to give away as gifts.
The pattern can also be used as a beautiful lace edging or trim. Simply crochet until your have a lace ribbon of desired length.

Check out our roundup of crochet bookmark patterns for more personalized designs.
Want to try something new? Here are more cross stitch bookmark patterns.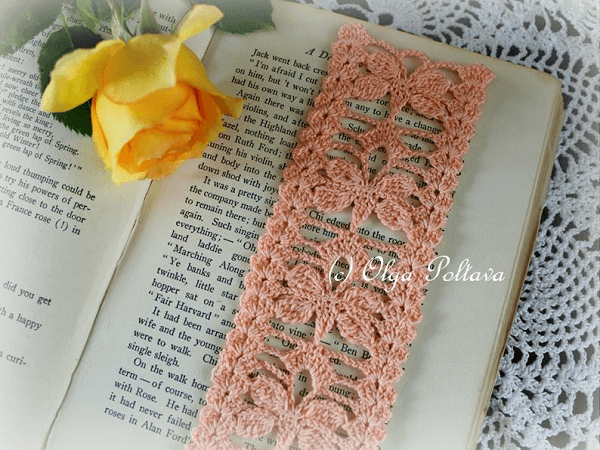 Get the Pattern by Olga Poltava here

28. Crochet Butterfly Purse Pattern by Avondale Patterns
This is a crochet pattern for a fabulous butterfly-shaped girls handbag, embellished with little butterflies on the strap.
The front wings are multi-colored and the back wings are plain. Also, the button closure faces the back of the bag so as not the interfere with the butterfly design on the front of the bag.
It would make a lovely gift for a little girl or for making in volume to sell at fundraising or charity events.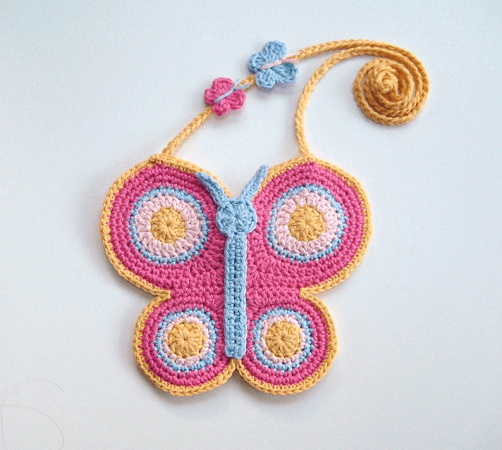 Get the Pattern by Avondale Patterns here
Get your hooks out and let's start making some crochet butterfly patterns!
Now you know how to crochet a butterfly. We can't wait to see your very own colorful little buddies. Please share a pic of your finished crochet butterflies on our Facebook Page. We'd love to see how they turned out!
Don't go far because more gorgeous animal roundups are just around the corner!
We have gathered crochet patterns for zoo animals, sea animals, and even mythical creatures like crochet dragons and crochet unicorns. They are too adorable to pass on! Check them out here.
For now, let's get hooking with these crochet butterfly patterns – enough to keep us busy for some time.