If you're hungry for some badass dragon project, you'll love these 25 crochet dragon patterns. All the dragons are mighty and strong but the ones we have found for you today are also absolutely adorable!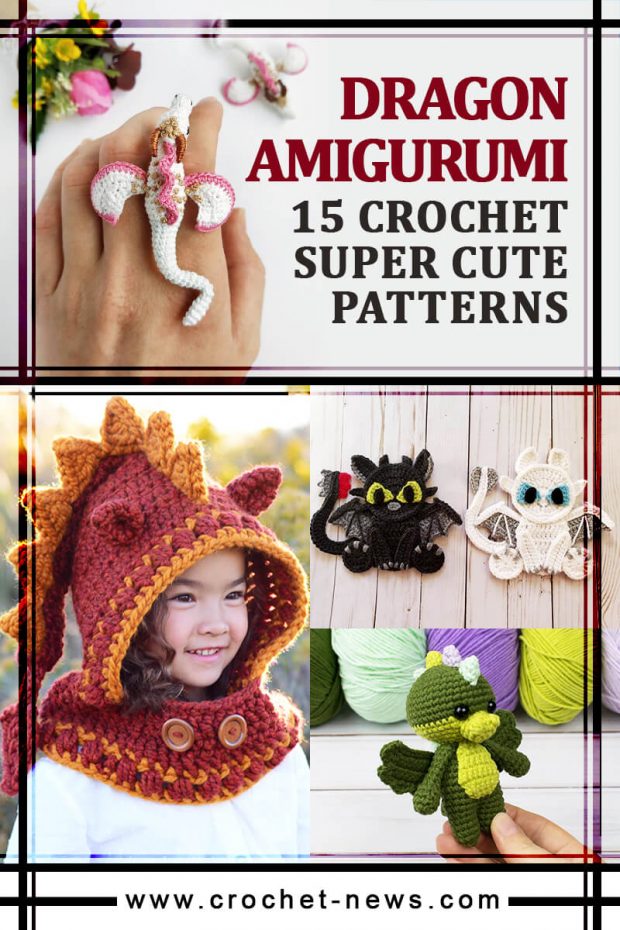 Make one for yourself and send the rest to conquer the hearts of your kids, family members, and friends. Nothing will stop the dragon from spreading joy and love for crafts around!
25 Crochet Dragon Amigurumi Super Cute Patterns

1. Crochet Amigurumi Dragon Pattern
Meet Crochet Dragon Delna. This amigurumi dragon pattern is just adorable, and we think you'll love her too.

A great pattern to crochet for the little ones in your life as a toy, or even turn her into mobile and she'll be flying high all day and night. What a treat for the kids!

The colors can be changed to your child's favorites. Navy blue with a gold or yellow looks absolutely amazing. A great combo for the boys.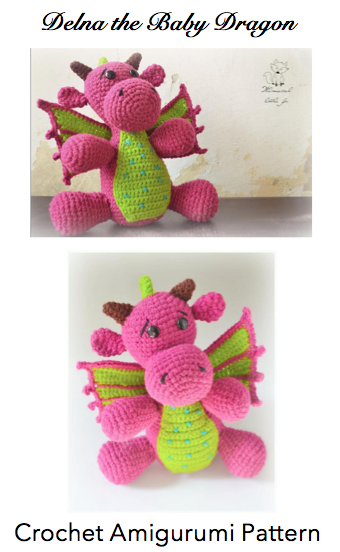 Skill Level: Intermediate
Size: Approx. 10″ (25.4cm) high
Materials:
650 yards worsted weight yarn
G/4mm crochet hook

2. Miniature Amigurumi Dragon Pattern by Nansy Oops
This crochet dragon is so cute, mainly because there are so many tiny details to make up this miniature dragon. You can see its eyes, its little wings, and its cute little face.

The final size will depend on the yarn you use. To get the smallest size (20 mm [0.8 inches]), use embroidery thread.

This tiny amigurumi dragon will be a great addition to your collection of miniature figures.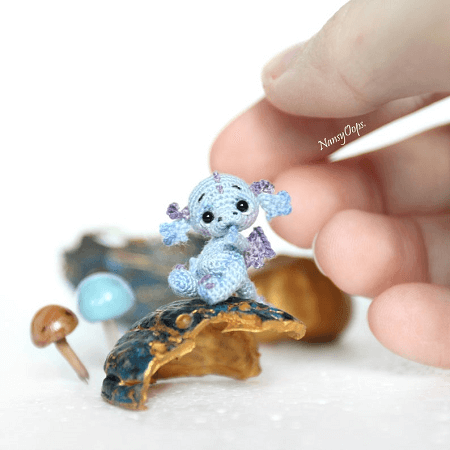 Get the Pattern by Nansy Oops here

3. Orbit, The Dragon Crochet Pattern by Projectarian
Meet Orbit, the baby dragon. She shakes you warmly by the hand with her squidgy little chubby pink paw! Orbit is pleased to meet you – you can tell by the way she puffs stars from her smiling snout!

Although Orbit is an intermediate pattern, don't be scared to try it no matter what your skill level! She will be the perfect companion for your little princess or prince!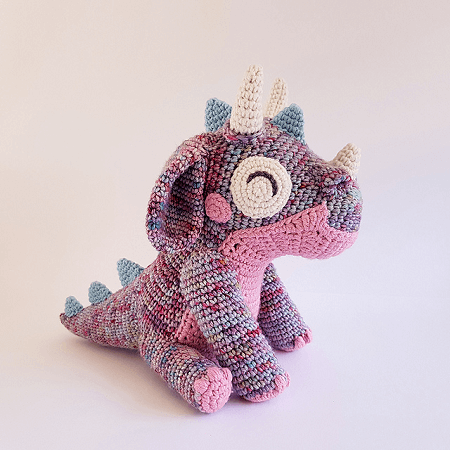 Get the Pattern here

4. Crochet Dragon Pattern by Krawka
Both of these dragons (black and white) are almost the same, they are 43 cm (16.9 inches) long.

This Crochet Dragon Pattern is for the medium-advanced crocheters. You should know basic crochet stitches including chain, slip stitch, single crochet, decrease, increase, and how to start with a magic ring.
Get the Pattern by Krawka here

5. Amigurumi Dragon Pattern by Ami Amour
Get all fired up with this Dragon Amigurumi! This cute little crochet dragon measures approximately 5 inches/13 cm tall. He may look cute, but beware as he is a frieze fire-breathing creature and can burn you to a crisp!

He is a fire-breathing creature that has a contrasting color rim at the top of his wings. The fun flame accessory makes for some awesome photoshoots!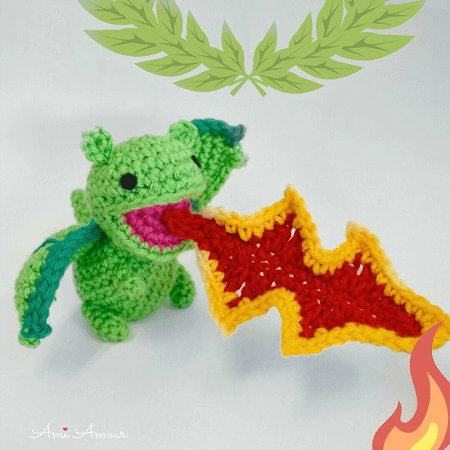 Get the Pattern here

6. Little Dragon Crochet Pattern by Doll Patterns Shop
Isn't this crochet dragon so adorable and pretty? You can't help but fall in love with her eyes, her cute face, and her added heart accessory. Girls would definitely want to receive this as a gift!
This Little Amigurumi Dragon Crochet is very soft and cuddly. She is crocheted from chenille wool and stands about 27 cm tall.
Get the Pattern by Doll Patterns Shop here

7. Drake, The Dragon Crochet Pattern by Moji Moji Design
Drake is a sweet and cuddly amigurumi dragon measures approximately 9″ (22 cm) tall when crocheted using light worsted weight (DK/8 ply) yarn and a 3 mm hook.

Some dragons are fierce and awesome, breathing fire, but this dragon is just cute and cuddly, perfect to be your friend.

With this dragon crochet pattern, you can make a dragon with claws, spikes, and horns but they will be just a big softy at heart.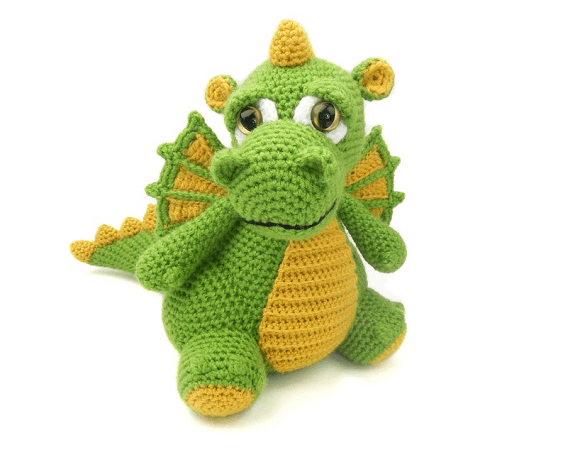 Get the Pattern by Moji Moji Design here

8. Tiny Amigurumi Dragon Pattern by Amigurumi Today
This tiny dragon is a cute, mini plush of magic and joy! This little fantasy creature is a quick, easy, and with just a little bit of sewing.

I'm not sure how he actually flies or gets around with those tiny set of wings, but I've heard teleportation is a possible skill that dragons wield. Especially if they're this cute, because their humans will probably be more than happy to pick them up and plop them wherever they want to be!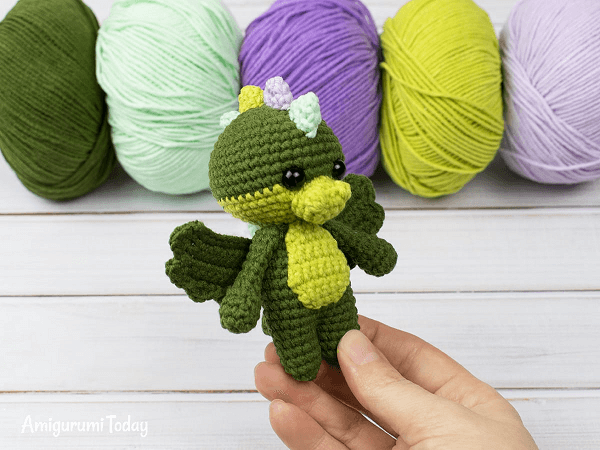 Get the Pattern here

9. Adult Dragon Crochet Amigurumi Pattern by Crafty Intentions
A sweet, sleek Dragon ready to take off into the sky – right after they cuddle with you for one more minute!

The effect is amigurumi-like, though there are some distinct techniques used that are not used in single crochet-only amigurumi.

The pattern includes options for ornamentation that you can use to create your own unique Dragon! The perfect toy for a girl or boy, young or old!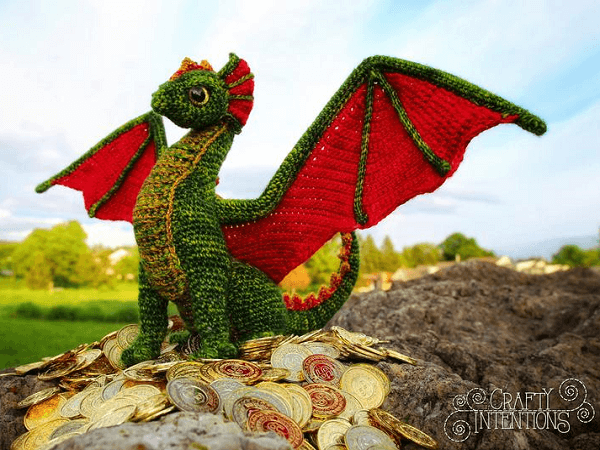 Get the Pattern by Crafty Intentions here

10. Drew, The Dragon Crochet Pattern by Il Dikko
The classic dragon gets a very cute and cuddly makeover in this beautiful little toy. Drew, the dragon is perfect for any fantasy-loving little ones this cuddly toy is sure to delight!

The eye-catching colors are perfect for babies and toddlers while the complex design is sure to delight older ones as well!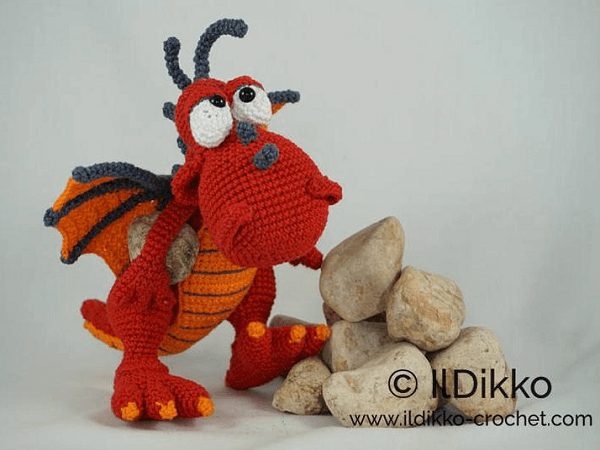 Get the Pattern by Il Dikko here

11. Dragon Security Blanket Crochet Pattern by One And Two Company
This Dragon Security Blanket is perfect for the fantasy-minded baby! He is fiercely protective and loyal, making him the perfect little friend!

Make this for boys and girls in your life – just change your colors. Sure you'll have fun whipping up one!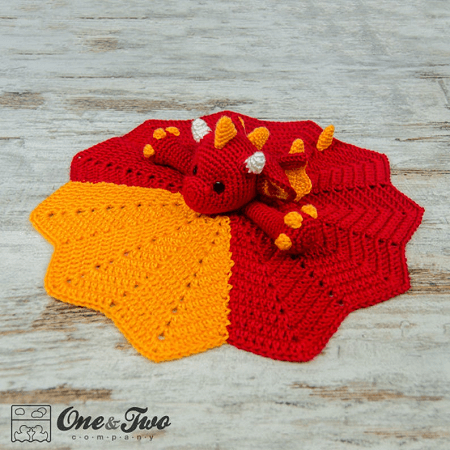 Get the Pattern by One And Two Company here

12. Crochet Dragon Hand Puppet Pattern by The Hook Nook Life
This Crochet Dragon Hand Puppet Pattern is the perfect addition to your child's puppet collection!

It could be a villain or the lovable misfit to your unicorn and princesses. Great for creative play and storytime. It could also be made in cotton yarns for a bath puppet!

The size is made in one size, fitting children through adults, so that parents can play too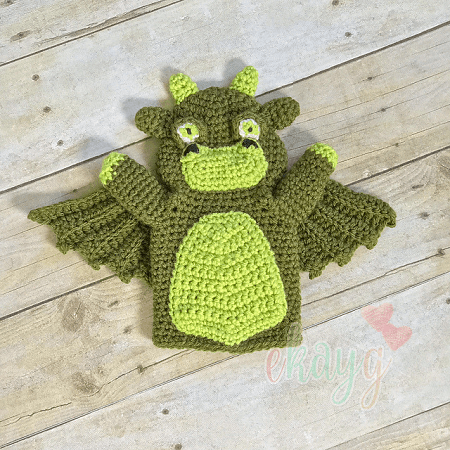 Get the Pattern here

13. Dragon Brooch Crochet Pattern by Crochet Pattern By Lily
Ready to train your dragon? This tender and beautiful dragon brooch will brighten up any outfit.

You would become a true Mother of the Dragons and even make Daenerys envious! The body, horns, and wings have a wireframe inside, the pattern give a detailed instruction on how to do it.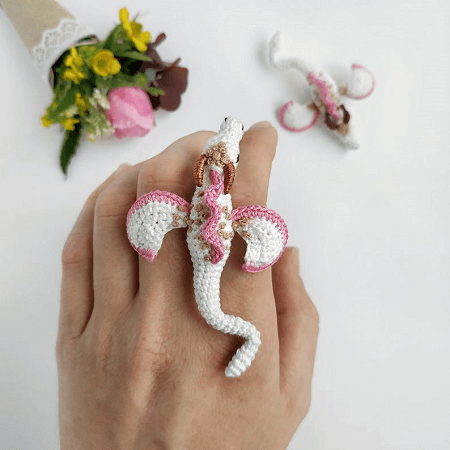 Get the Pattern by Crochet Pattern By Lily here

14. Lucky Dragon Hoodie Crochet Pattern by The Hat And I
This Lucky Dragon Hoodie is a ferocious dragon to keep you warm and turn heads! Get your dragon on! This is a must-have hoodie for the dragon lovers!

Choose your favorite dragon color and make it unique. Use it during the cold months to keep you warm or turn it into a cool dragon costume.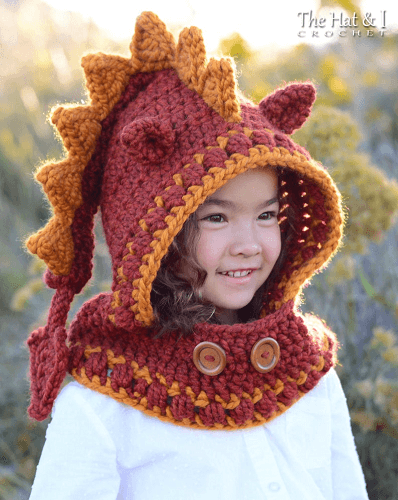 Get the Pattern by The Hat And I here

15. Lovable Applique Dragon Crochet Pattern by The Yarn Conspiracy
This Lovable Dragons Applique is so much fun to do that can be used to enhance or decorate many items like blankets, clothes, bags, and more. So many possibilities!

These dragons are about 7.5″ x 8″. You can adjust the size by using a different hook size.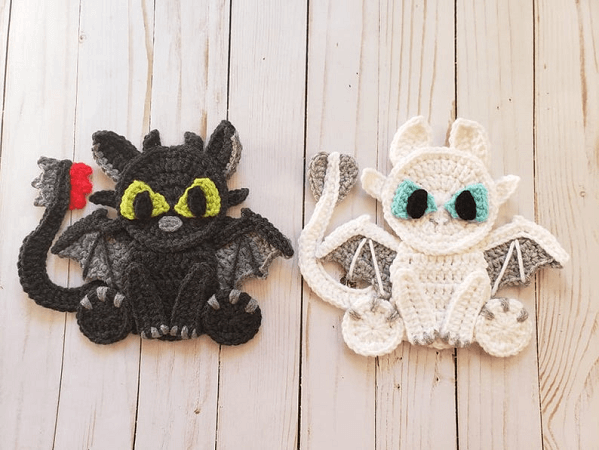 Get the Pattern by The Yarn Conspiracy here

16. Kiefer, The Forest Dragon Crochet Pattern by Overton Fancies
Kiefer, the forest dragon is huge! Who is up for the challenge of this advanced-level dragon pattern? This is the kind of crochet project that win over just about any youngster. Who wouldn't want to ride their own dragon?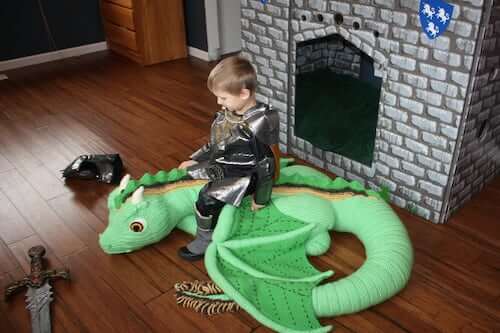 Get the Pattern by Overton Fancies here

17. Mermaid Dragon Crochet Pattern by Sweet Softies
Check out this unique dragon whose body shape is quite different from what we've seen so far. It's long and slender and even has a mermaid tail! And look at that face. Such a cute little thing! This fantasy amigurumi doll is easily customizable with different yarn colors.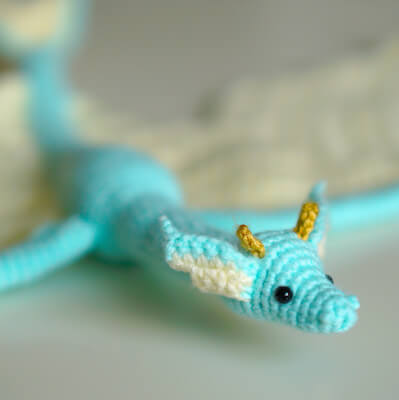 Get the Pattern here

18. Charlie, The Celestial Dragon Crochet Pattern by Hooked By Kati
Charlie the Celestial Dragon is a fun and challenging amigurumi pattern or even a great piece of home decor for any dragon-lover. Her body twists in a curlicue, allowing her to stand up on her tail or wrap around your arm.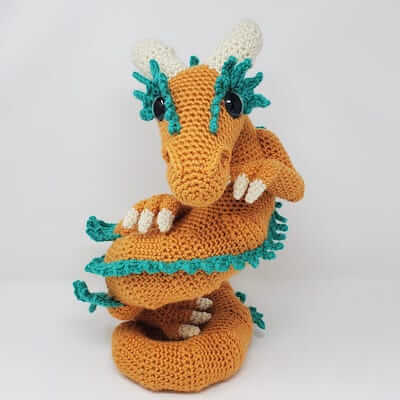 Get the Pattern by Hooked By Kati here

19. Crochet Dragon Pattern by Vera Jane Crafts
No need to fear the fire of this darling dragon that's sure to become a hit with any child! Make it as designed or give it a whacky personality using colors of your choice. This irresistible new friend is extra soft and cozy – the perfect pal for kids of all ages and a cuddle companion for yourself!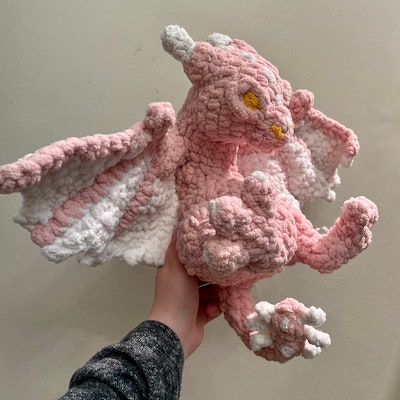 Get the Pattern by Vera Jane Crafts here

20. Epic Pride Dragon Wings Crochet Pattern by Crafty Intentions
I especially love these rainbow wings. The wings are designed as an add-on to the base Adult Dragon pattern listed above, and together they make this stunning Pride dragon!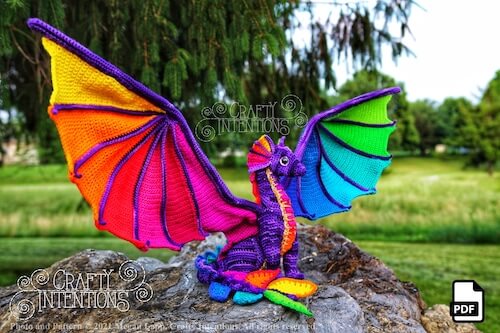 Get the Pattern by Crafty Intentions here

21. Crochet Winter Dragon Pattern by Mary Abbie 986
A beautiful decoration for the holidays. This dragon will make your home cozier during the winter months and the perfect toy for a girl or boy, you'd or old!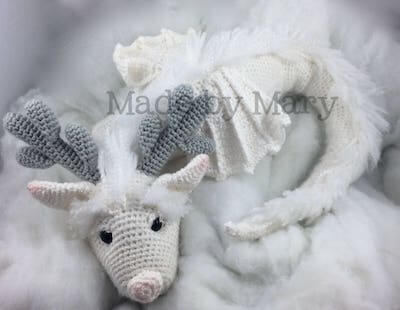 Get the Pattern by Mary Abbie 986 here

22. Amigurumi Crochet Dragon Pattern by Supergurumi
How do tiny things just become instantly cuter? I can't handle this Amigurumi! This adorable baby dragon amigurumi will sit right in your hand–like it just hatched out of its own little dragon egg! So adorable!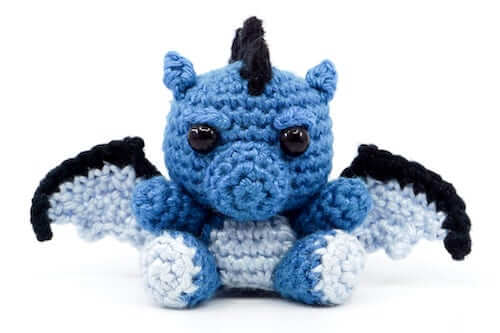 Get the Pattern here

23. Yoki, The Dragon Amigurumi Crochet Pattern by DIY Fluffies
This fattie little one is so much fun to make! This pattern requires a bit more experience, but nothing to fear. You'll get the hang of it in no time!

This crochet dragon will definitely turn heads! With its big belly and overall cuteness, Yoki the Dragon would make adults and children alike happy.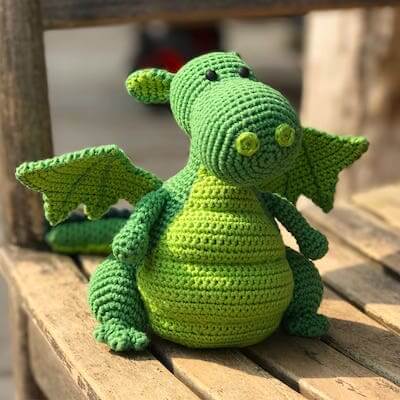 Get the Pattern by DIY Fluffies here

24. Crochet Dragon Pet Bracelet Pattern by Making Things Knotty
Everyone wishes they could have a cute tiny dragon pet to wear on their arms, right? This dragon pet is wearable and comes with a number of scale, fin, and wing options, allowing you to create a wide range of dragon pets!

This simple dragon requires no sewing, and you can choose how many detail pieces to put on to make your own unique dragon pet. This is easy to make and great for markets!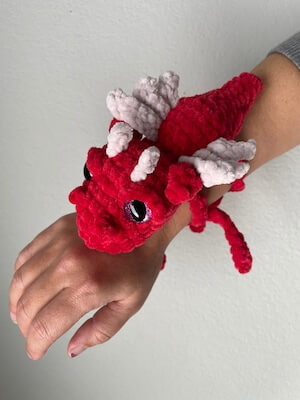 Get the Pattern by Making Things Knotty here

25. Spikey, The Dragon Amigurumi Crochet Pattern by Dinegurumi
Believe it or not, stuffed toys get feelings, too. Unfortunately, Spikey here did not get spared. Spikey is a dragon crochet stuffed toy that looks sad and lonely. He needs friends – so better give him to your family and loved ones!

Spikey features three rows of prominent spikes running down its back starting from the head. It is in a semi-crouched position, with defined fingers and toes.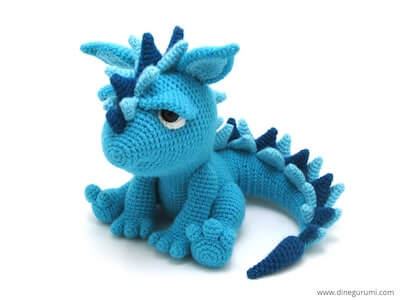 Get the Pattern by Dinegurumi here
Which of these crochet dragon patterns are you going to try? Tell us how it goes in a comment!
We'll hope you're all fired up about these patterns and we'd love to see how all your fantastic dragons turn out. Be sure to post your projects on our Facebook Page!
Have you been looking for the best mythical creature crochet patterns? We also have a round-up for Crochet Dinosaurs, Phoenix, and Unicorns. You've come to the right place because we have plenty!

For now, let's indulge our fiery dragon dreams with a few of our favorite crochet dragon patterns!