When the air gets chilly and the turkey is gobbling in the background – it will be Thanksgiving again. And it's never too early to get your outfit ready for the season!
These 10 Crochet Turkey Hat Patterns don't just stop at Thanksgiving, these hats could also be used for Halloween, Christmas, or just for a fun family photoshoot.
Whether you want a turkey hat for you, your friends, your kids, or your pets, one of the patterns below should be the right one for you!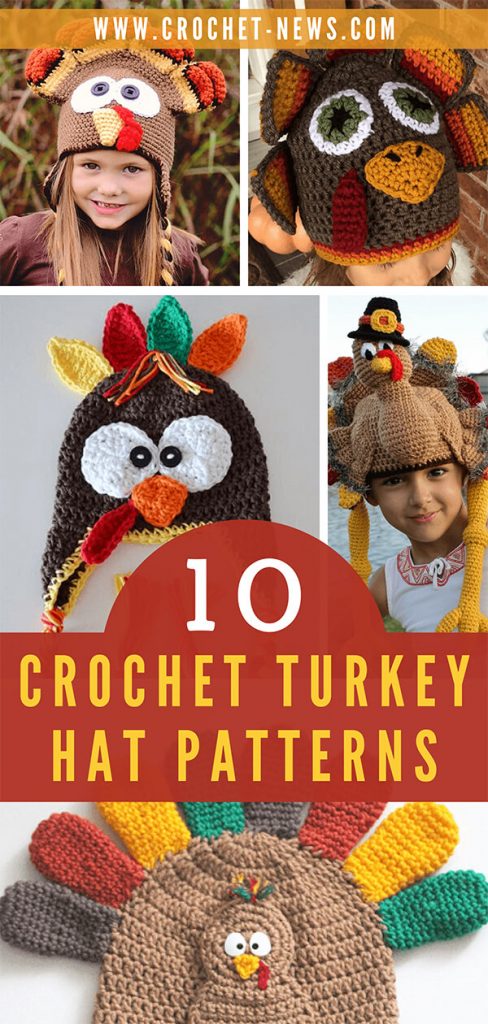 1. Crochet Turkey Hat Pattern by Repeat Crafter Me
This Crochet Turkey Hat is a must-have for any age!
It has a very cute design and can be made with worsted weight yarn so it can definitely keep your head warm during those cool or cold upcoming days.
The pattern comes in many size options. Fun for the whole family!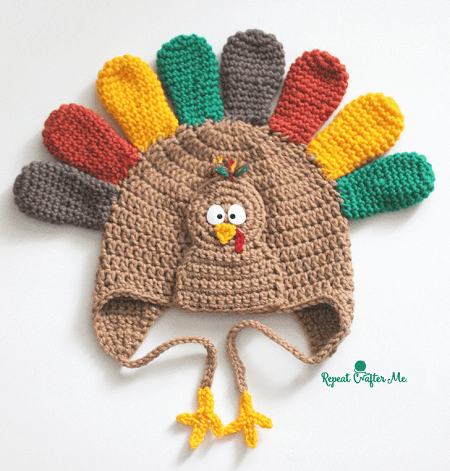 Get the Pattern here

2. Turkey Thanksgiving Crochet Hat Pattern by Top Stitches Crochet
Display your love of Thanksgiving with this Thanksgiving Crochet Turkey Hat!
This hat is made with soft, durable acrylic yarn and features a 3-D amigurumi-style design that looks stunning from every angle.
Your loved one (or you!) will adore this one-of-a-kind turkey hat that is both perfect for Thanksgiving dinner or a photoshoot.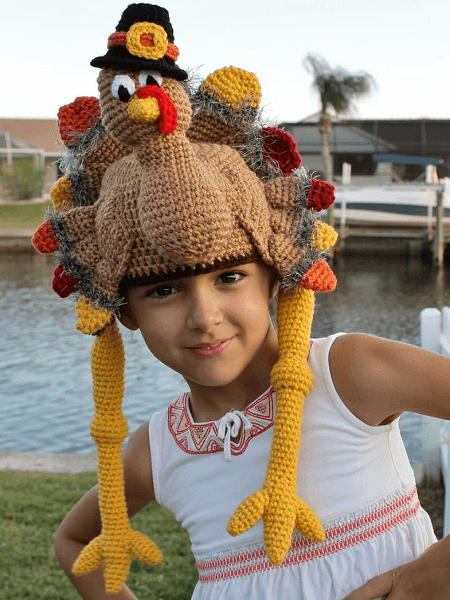 Get the Pattern by Top Stitches Crochet here

3. Dindon, The Turkey Hat Crochet Pattern by Ira Rott Patterns
Dindon, the Turkey Hat Crochet Pattern comes in 8 sizes for your family to have a memorable Thanksgiving or just wear it on a cold winter's day.
It has earflaps so it will keep your head nice and cozy if the weather has turned cold where you live.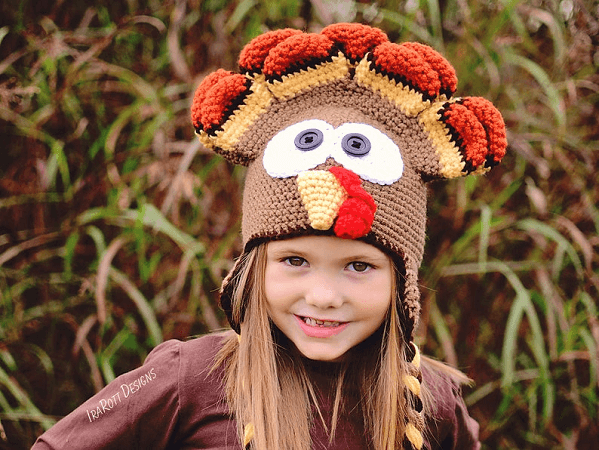 Get the Pattern by Ira Rott Patterns here

4. Crochet Turkey Hat Free Pattern by Crochet For You
Looking for a cute turkey hat pattern for Thanksgiving? This is a quick and easy project you can make for your little one!
This awesome turkey hat is perfect for a first Thanksgiving outfit, or Thanksgiving photo prop.
The pattern comes in toddler size but there is a size guide you can follow to make this hat in any size.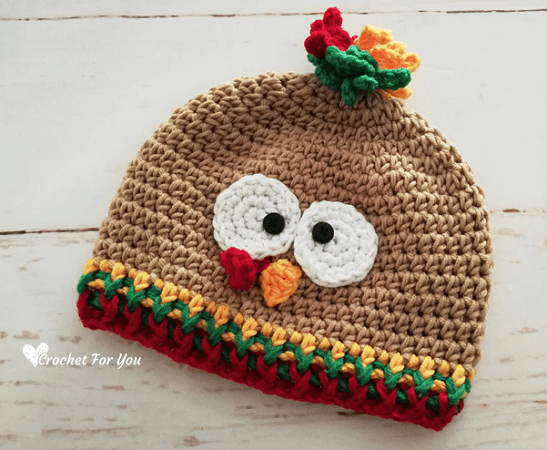 Get the Pattern here

5. Crochet Turkey Hat Pattern For Pets by Okie Girl Bling n Things
Is your pet ready for Thanksgiving? If not, here's your chance!
The pattern is meant for cats and smaller sized dogs but you could probably also adjust the size a little by going up or down hook sizes.
Make your pets say "gobble!" this thanksgiving with this super cute crochet turkey hat!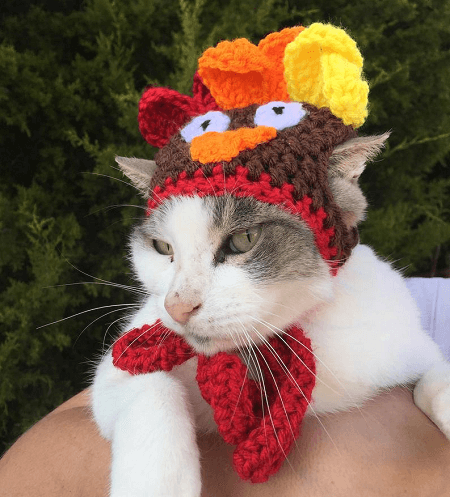 Get the Pattern by Okie Girl Bling n Things here

6. Free Crochet Turkey Hat Pattern by The Stitchin Mommy
The Stitchin' Mommy created this free crochet hat pattern for newborns.
Baby's first Thanksgiving will look as cute as can be when the pictures prominently feature this holiday crochet hat!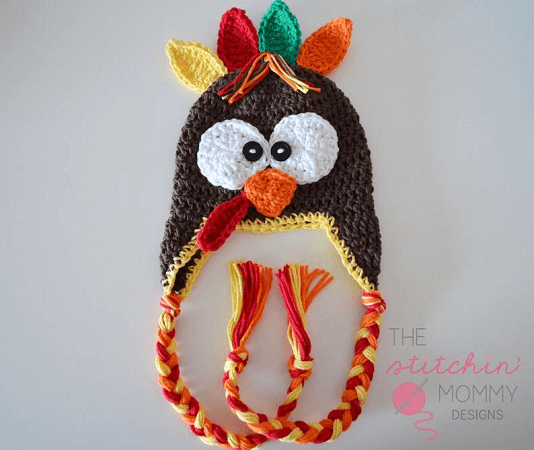 Get the Pattern here

7. Crochet Turkey Beanie Pattern by 12 Twenty Two Designs
This is such a cute Crocheted Turkey Hat that is perfect for the holidays!
The pattern has instructions to make this hat for a newborn all the way up to an adult. This hat is perfect for boys or girls.
Make one for each member of the family!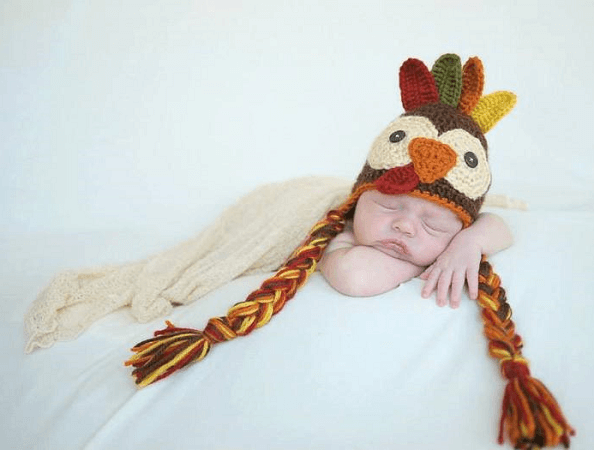 Get the Pattern by 12 Twenty Two Designs here

8. Cooked Turkey With Veggies Crochet Hat Pattern by The Ruthless Crafter
This Cooked Turkey Crochet Hat complete with Veggies is sure to make a statement this holiday!
This a full feast that includes tomatoes, potatoes, and carrots to give your hat the most delicious finishing touch.
With this funny crochet turkey hat, you are sure to liven up an event and turn heads. No hiding when wearing this one!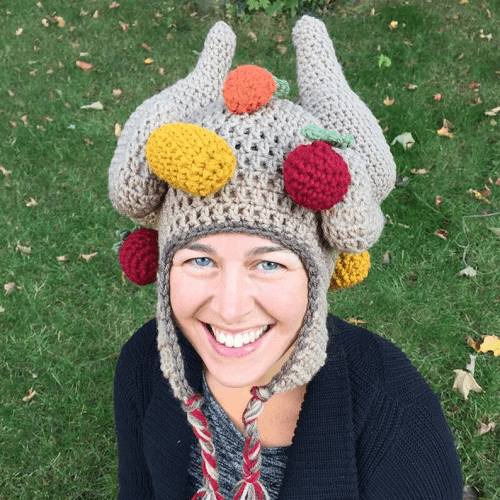 Get the Pattern by The Ruthless Crafter here

9. Crochet Turkey Hat Pattern Free by Elizabeth Ruth
This crochet turkey hat pattern is great for Thanksgiving, Halloween, or Christmas!
More than just a source of warmth on a cool day, this hat is also a fun accessory that can double as a Halloween costume!
It's designed with instructions for every size from baby to adult, so you can make one for anybody!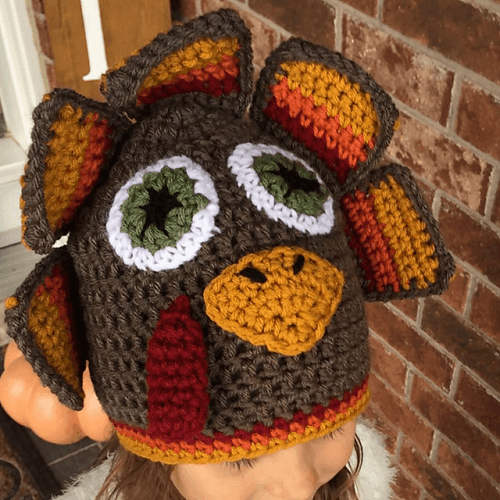 Get the Pattern here

10. Turkey Hat Crochet Pattern by Sharpin Designs
Who doesn't want a turkwy hanging out on their head? Be the hit of Thanksgiving this year with this turkey hat!
Everyone loves turkey-now you can use one to keep your head and ears warm. There are even legs that serve as ties to keep the hat securely on your head.
The perfect prop for a Thanksgiving costume!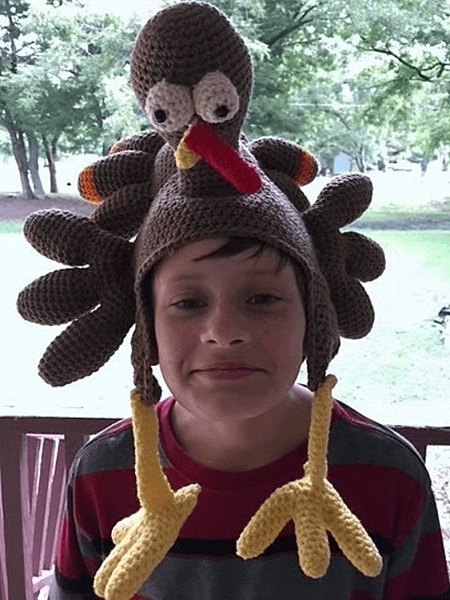 Get the Pattern by Sharpin Designs here
Are you going to make a Crochet Turkey Hat for your whole Family?
When you're done, be sure to share photos of your finished turkey hats or perhaps your goofy family picture wearing one on our Facebook Page. We'd really love to see it!
We have a lot more crochet hat patterns for kids, adults, and pets that you may also like to add to crochet line-up. Check them out too!
Have fun crocheting these Crochet Turkey Hat Patterns and bring a smile to those who see them!