Do you want to have good dreams everywhere you go? Well, that can happen because we have collected 26 Crochet Dreamcatcher Patterns that are waiting to be made!
Dream catchers are aesthetically pleasing and are believed to trap bad dreams in their web, and the morning light melts them away. They act as dream filters, allowing only good dreams to reach the sleeper.
Crocheted ones look stunning, especially if adorned with beads, stones, and feathers. They can also be a very thoughtful gift for someone who believes in their mystic properties.
They go so perfectly in your car, room, office or bedroom wall, pretty much anywhere you can think of.
Read on for great ideas and inspiration!

1. Crochet Dreamy Dreamcatcher Pattern by Megmade With Love
Breathtaking and absolutely stunning, this doily dreamcatcher looks like an invitation to a beach wedding. What better way to bring the ocean's breeze inspiration in your home than this delicate Crochet Dreamy Dreamcatcher Pattern.
Made on a 7-inch diameter ring, this whimsical crochet pattern makes a unique and glorious gift for any dreamer at heart.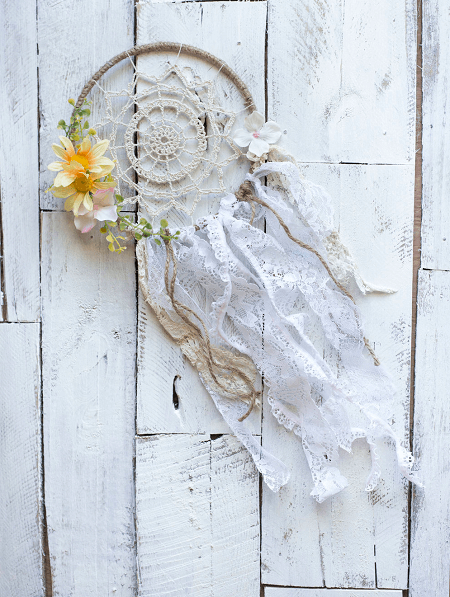 Get the Pattern here

2. Crochet Dreamcatcher Wall Hanging Pattern by Mid Knits
Make your own super-sized dreamcatcher inspired wall hanging with this crochet pattern. This pattern includes complete instructions for how to make and assemble the wall hanging and crochet patterns for the doily center and the feathers.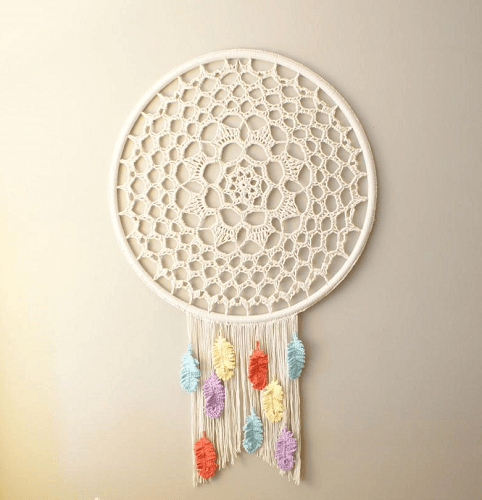 Get the Pattern by Mid Knits here

3. Crochet Dream Catcher Pattern by Yarn Plaza
This cheerful dreamcatcher is the perfect decoration to catch your most beautiful dreams! It will catch your most precious stories and dreams and keep them safe.
Don't want to use it as a dreamcatcher? This colorful decoration will look beautiful in your living room, entrance or veranda.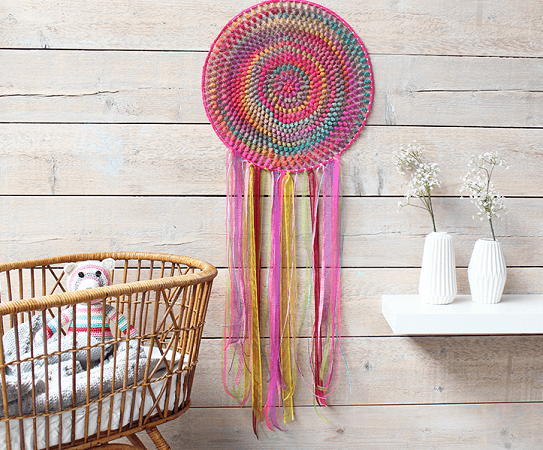 Get the Pattern here

4. Star Dreamcatcher Crochet Pattern by The Chilly Dog
This is a fun way to take a relatively simple crocheted doily design to the next level. Decorate your dreamcatcher by attaching lengths of assorted ribbon, yarn or string to the bottom half of the ring.
This is a great way to incorporate pretty bits and pieces from your yarn stash.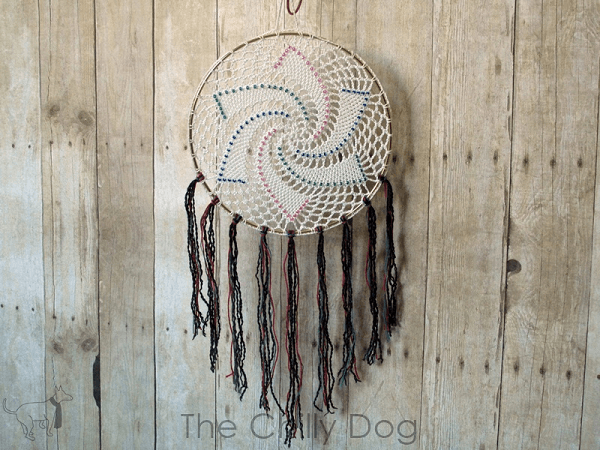 Get the Pattern here

5. Crochet Diamond Hanging Dreamcatcher Pattern by Addicted 2 The Hook
A piece of art, this large dreamcatcher wall hanging is impressive at a huge 78 cm across. You can easily adjust the size by changing your hook size. Make this in black color or bright ones to show your funky personality!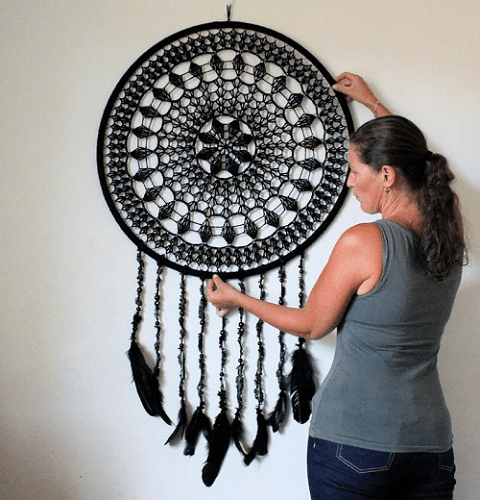 Get the Pattern by Addicted 2 The Hook here

6. Dreamcatcher Crochet Pattern by The Loopy Stitch
This black dreamcatcher is the perfect addition to your midnight bohemian style. A simple and quick pattern that works up quicker than you think it would.
Get the Pattern here

7. Crochet Feather Dreamcatcher Pattern by Let's Create A Gift
Make your own chic, eye-catching dreamcatcher with this pattern. Hang this above your bed, as decor in your house, or give it as a homemade gift. Feel free to add your own personal touches and finishes to make it your own.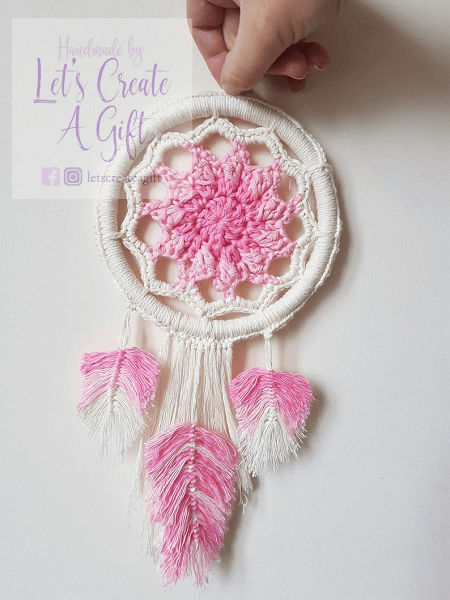 Get the Pattern by Let's Create A Gift here

8. Easy Crochet Dreamcatcher Pattern by Craft Bits
Get crafty and make this super cute, easy, and simple crochet dreamcatcher. This is a straightforward design that uses an embroidery hoop for the center and combines mixed media ribbons for the tassels that hang down.
A beautiful color palette is shown here, but of course, you could design your own in any style.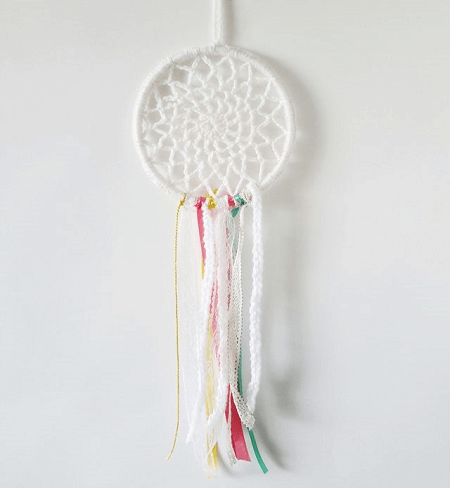 Get the Pattern here

9. Crochet Winter Dream Catcher Pattern by Crafty Cruella Shop
A giant, sparkly, frosty white snowflake, paired with cool blue & purple stars, & let's not forget the tassels! This would make a lovely gift or maybe it's for yourself?
Either way, I'm sure you'll enjoy hooking up this simple yet beautiful design.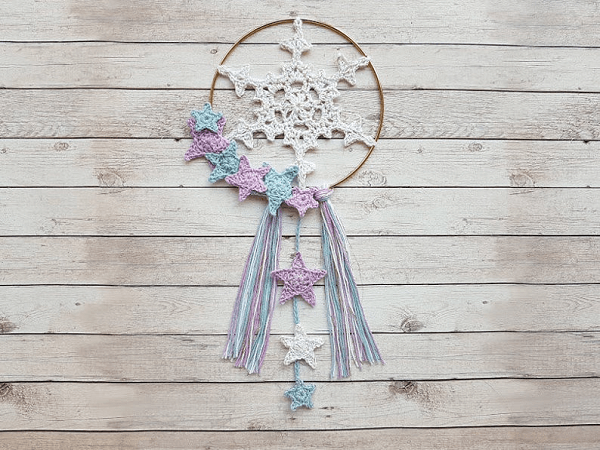 Get the Pattern by Crafty Cruella Shop here

10. Crochet Flower Dreamcatcher Pattern by A Crafty Concept
This piece would be so pretty in a nursery, bedroom or any room in the house really! This crochet dreamcatcher pattern is a very easy crochet pattern and perfect for beginners.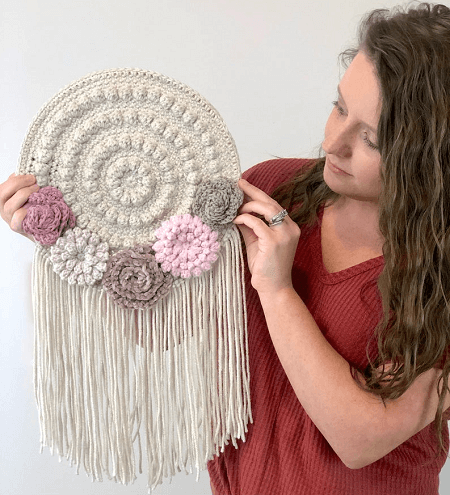 Get the Pattern by A Crafty Concept here

11. Mandala Dreamcatcher Crochet Pattern by Kristin Omdahl
A quick and thoughtful, handmade gift that brings joy and peace all year long, this Mandala Dreamcatcher Crochet project is the perfect gift! Make one for yourself, and anyone on your list!
Adding the gorgeous feathers below the fringe adds a bohemian flair and is totally inspired by dreamcatchers.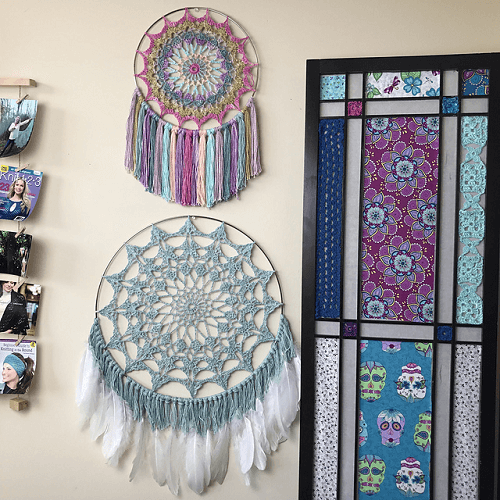 Get the Pattern here

12. Colorful Dream Catchers Crochet Pattern by Elealinda Design
Crochet yourself colorful dreamcatchers for good dreams in the bedroom and children's room, but also just as a great decoration for kitchen, living room, garden. There are no limits to your creativity.
Crocheting these dreamcatchers is very simple and is therefore also wonderful for beginners.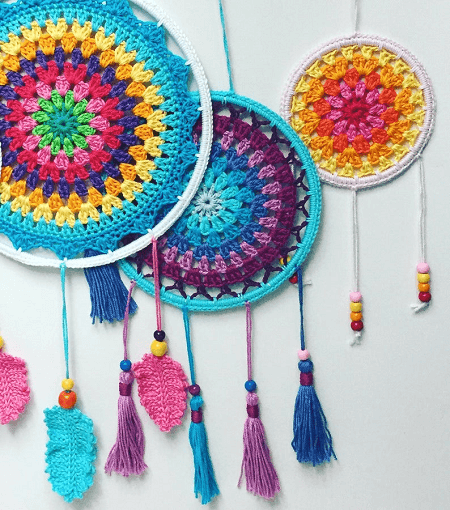 Get the Pattern by Elealinda Design here

13. Granny Dream Catcher Crochet Pattern by Mid Knits
Dream catchers are not all made with hoops. You can make a unique one by using a granny square pattern. You will love how the yarn tassels on this one bring color to an otherwise white design.
The tassels seem to be what ties many of the non-traditional shapes together, giving them that dream catcher feeling in a new way.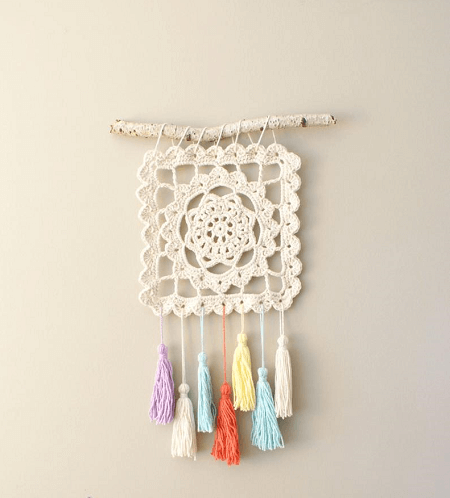 Get the Pattern by Mid Knits here

14. Boho Dream Catcher Crochet Pattern by Top Knotch
This is a fun dream catcher with a word dream on it. This dreamcatcher defends you from bad dreams and will be a great wall hanging decor for your bedroom, or your kid's room. Add your own embellishments or display as is.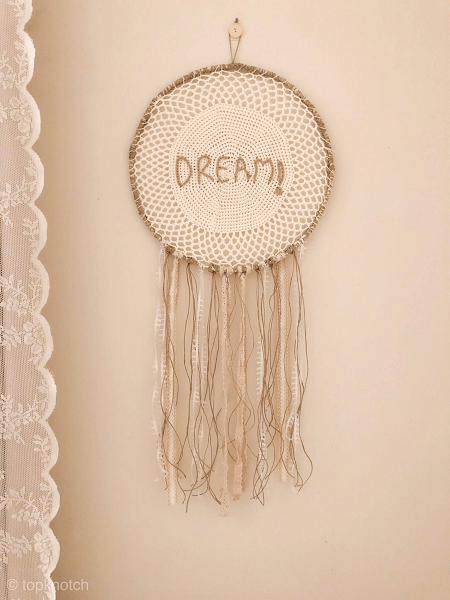 Get the Pattern here

15. Dreamcatcher Baby Bib Crochet Pattern by Tender Warm Creations
This is a super cute crochet bib perfect for photoshoots, or if you want to make a great baby shower gift. This is also perfect for that boho, rustic chic, shabby chic themed nursery, girl's room or even for you!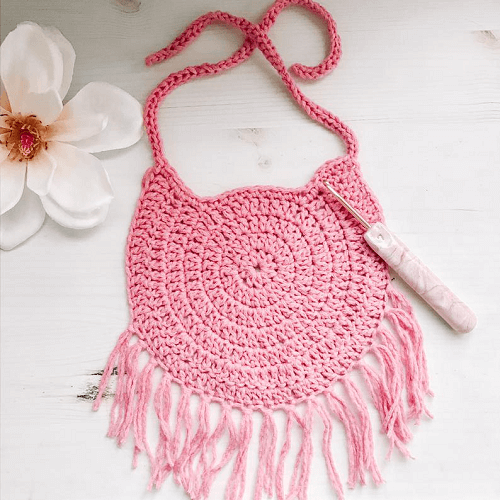 Get this Pattern by Tender Warm Creations here

16. Doily Dreamcatcher Crochet Pattern by Of Mars
These dreamcatchers are the perfect addition to any wall! This is a quick, fun and easy project that is perfect for anyone with basic crocheting knowledge.
The dreamcatcher can easily be made larger or smaller by using a larger hook, yarn, and hoop size.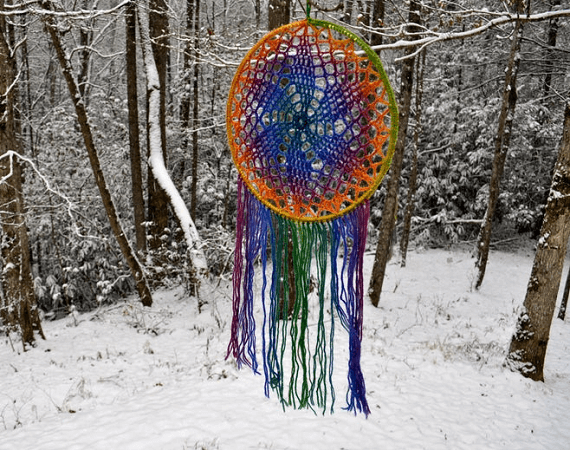 Get the Pattern by Of Mars here

17. Crochet Mini Dreamcatcher Pattern by Picot Pals
This mini dream catcher would look really cute as a key fob or a bag charm. If you have no hula hoops on hand, you can use a recycled plastic base for this dream catcher.
Add some tassels, pompoms, beads, or any other tiny crafty things you have on hand as an embellishment.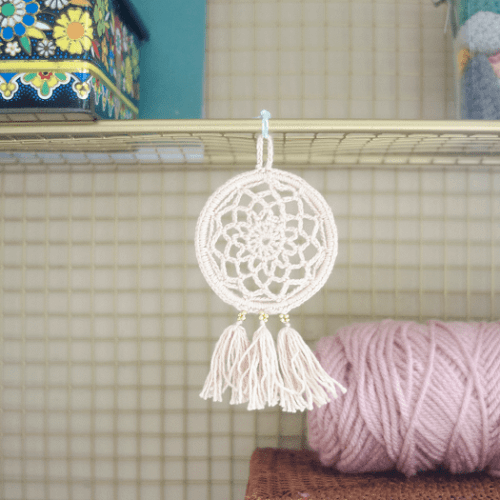 Get the Pattern here

18. Dreamcatcher Earrings Crochet Pattern by Chalia's Craft
These pretty beaded dream catcher earrings are easy to make and fun to wear! Enjoy embellishing them with little charms, feathers and or beads.
They are lightweight but big enough to make a statement! You might need them in different colors!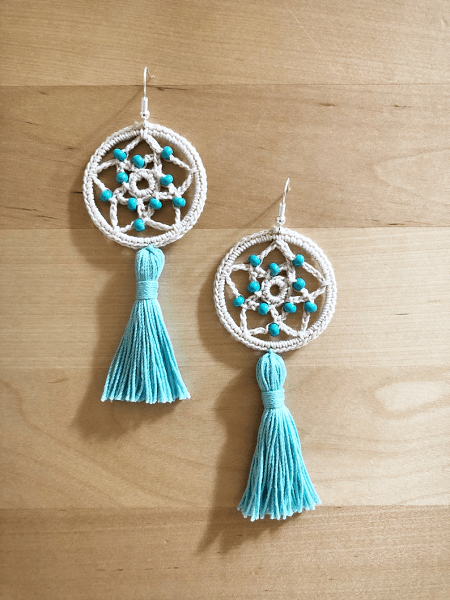 Get the Pattern by Chalia's Craft here

19. Free Crochet Dream Catcher Pattern by Mollie Makes
Colorblocked felt feathers add a touch of whimsy to this dreamcatcher. The long adjustable string lets you easily untie and re-tie it wherever you want – hang it from a window, keep it in a nook in your hallway, or display it at your desk.
And because it's so quick and easy, you'll probably find yourself wanting to whip up more!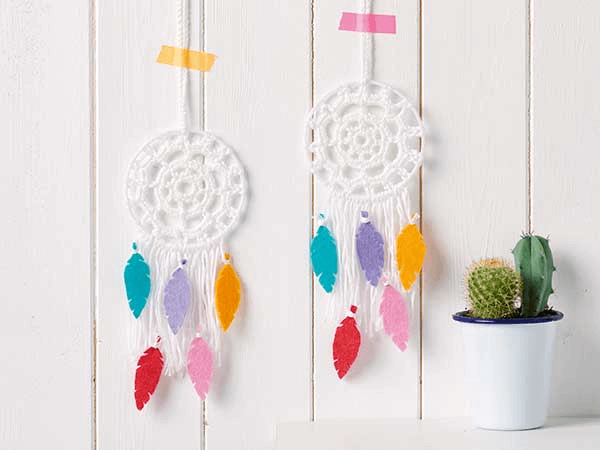 Get the Pattern here

20. Crochet Lace Dream Catcher Pattern by Etty 2504
This crochet lace dream catcher is a beautiful boho chic decoration that could be a perfect Christmas gift, housewarming gift, birthday gift, or Mother's day gift.
This pretty dream catcher will make a beautiful addition to any room, its calm peaceful look will add instant beauty to your home.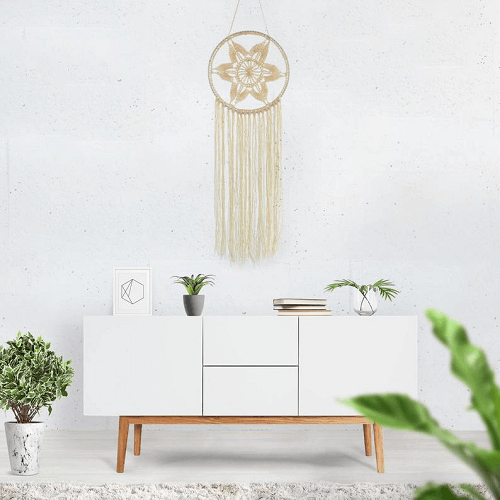 Get the Pattern by Etty 2504 here

21. Crochet Small Mandala Dreamcatcher Pattern by The Pixi Way
This is a small dream catcher with crochet feathers that you can hang on your car mirror, above your bed or anywhere in your house for a harmonic decor. This also makes a perfect gift for any occasion!
Get the Pattern by The Pixi Way here

22. Rainbow Vortex Dreamcatcher Pattern by Lynn Stott
These dreamcatchers are so joyous and bright. They look brilliant outside or indoors too. Brighten up a kid's room, nursery or playroom with the colorful hues of this Rainbow Vortex Dreamcatcher!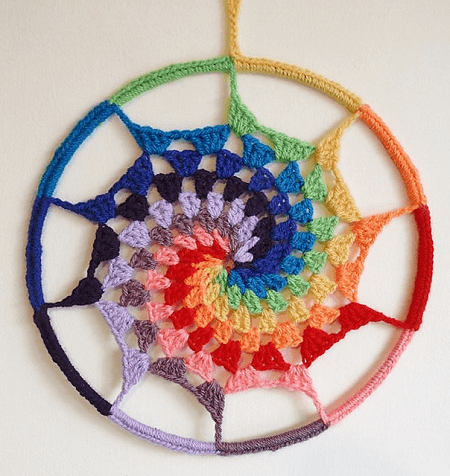 Get the Pattern here

23. Crochet Unicorn Dreamcatcher Pattern by Crochet Rox
Adorned with feathers, ribbons, and buttons, this adorable sleepy unicorn is ready to catch whispers of magic and take you on a fabulous adventure in your dreams. Perfect gift for a baby girl, or a full-grown one. This design is a great stash buster!

Check Out More Crochet Unicorn Patterns Here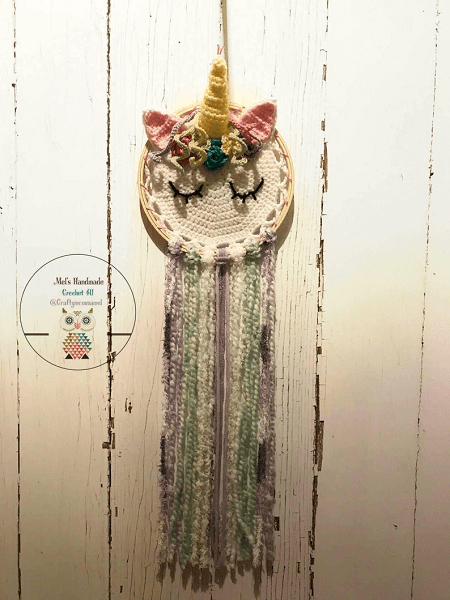 Get the Pattern by Crochet Rox here

24. Wildflower Dream Catcher Crochet Pattern by Crochet With Phyllis
A bright and colorful dream catcher reminiscent of the Indian Blanket wildflower. This wildflower dream catcher is sure to bring the feeling and renewing of Spring to your home!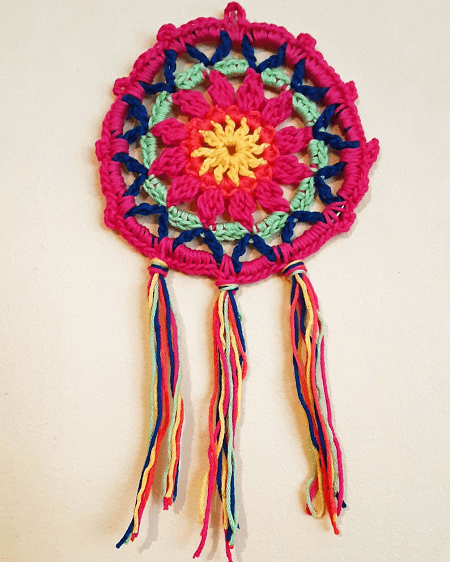 Get the Pattern by Crochet With Phyllis here

25. Crochet Lacy Stripes Dreamcatcher Pattern by Mid Knits
This Crochet Lacy Stripes Dream Catcher is colorful and relaxing, perfect if you are looking to add a bohemian piece of décor in your home. This would look great in a bedroom, nursery, or living room.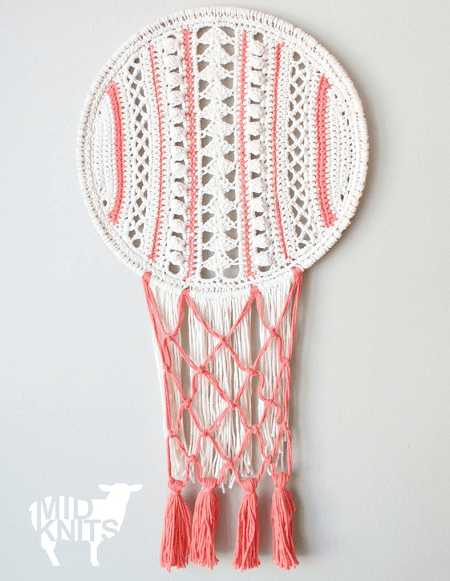 Get the Pattern by Mid Knits here

26. Small Crochet Dream Catcher Pattern by Ja Ki Gu
This small crochet dream catcher pattern is the ultimate quick and easy crochet project. You'll only need a small amount of yarn, knowledge of basic crochet stitches, a metal ring; and about an hour of your time.
I love the look of this round crochet dream catcher in cozy, earthy tones of natural jute, but it looks just as amazing when worked in crisp off-white cotton.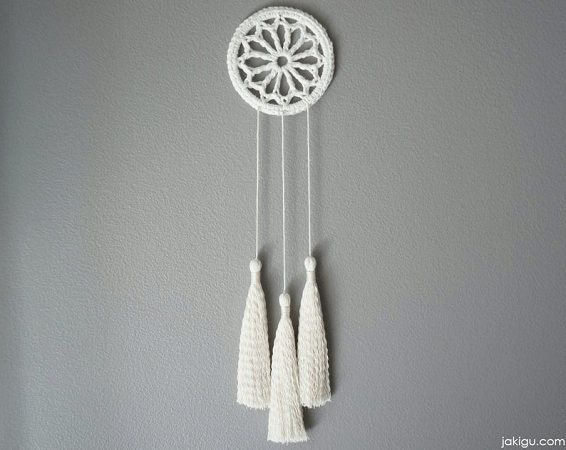 Get the Pattern by Ja Ki Gu here
Crochet Dreamcatcher Pattern by Poppy and Bliss
For the Dreamcatcher Pattern, you will be using both basic crochet stitches, such as single crochet and double crochet, and intermediate crochet skills, including working "in the round." This pattern is for a 30" diameter dreamcatcher.
This is a great pattern to follow and complete and looks spectacular with the Tunisian crochet feathers attached.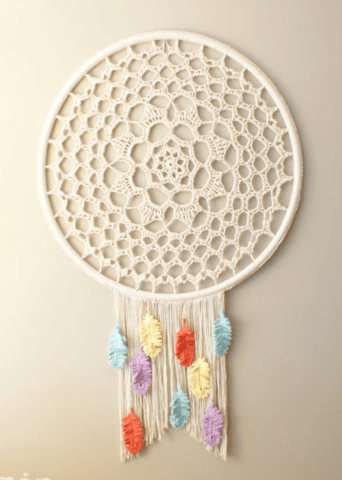 Crochet Dreamcatcher Materials
You will need a Size G/6 and Size P (US) or 4.25 mm and 10.0 mm size crochet hooks.
Yarn Needle
30" diameter hoop.
Cotton Yarn: 14 oz/710 yards (400 grams/650 meters)
Dreamcatcher Pattern available here
Excited by all these ideas? When are you planning to make your next crochet dreamcatcher?
When you're done making, please share pictures on our Facebook Page. We'd love to see how you adorn these pretty dream catchers. Make them whatever your heart desires!
If you're craving for more crochet home decor inspiration, be sure to check our Crochet Home Decor Archives. You will surely find something you can use to furnish and decorate any room in your home.
Have fun with these Crochet Dreamcatcher Patterns, filter out those bad dreams, and sleep more soundly tonight!