With these crochet doily patterns, you can make crochet doilies in various shapes, sizes, and colors.
It's a great crochet project and is ideal for lighting up your interiors, providing a splash of colors or pastel shades to the aesthetics.
Crochet doilies are great for beginners for they work up quickly and don't require much yarn.
They can be used as decoration on tables, or even framed as beautiful wall art. The possibilities are endless!
Read on for some fresh and vintage inspirations to get you started with doily making.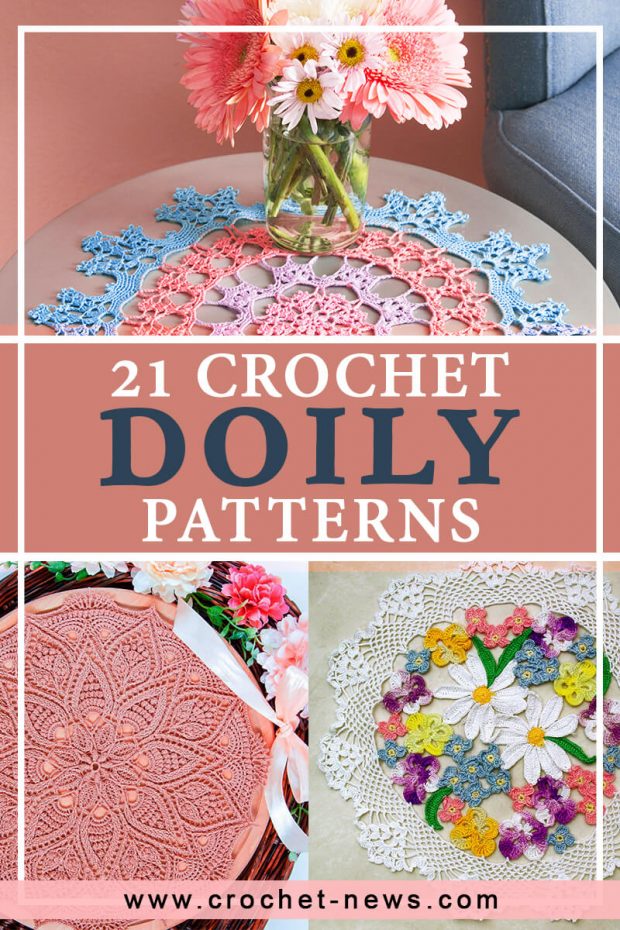 1. Shamrock Soiree Crochet Doily Pattern by Draiguna
This Shamrock Soiree Crochet Pattern will bring a bit of elegance to your table this St. Patrick's Day.
It could also be a great display of your Irish heritage at any time of year.
This textured doily has 23 rounds and measures about 10 1/2″ in diameter.
Texture is added to the doily by working around the posts of certain stitches.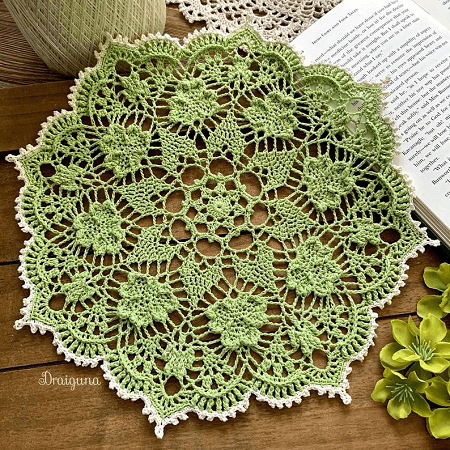 Get the Pattern by Draiguna here

2. Scalloped Round Doily Crochet Pattern by Yarnspirations
The beloved look and delicate beauty of this Scalloped Round Doily add soft sophistication to any interior setting.
Stitch in Aunt Lydia's Classic Crochet Thread as shown, or imagine something more distinctive.
Its simple lines come to a perfect finish with a lacy scallop you'll adore.
Display it in the bedroom, living room, or use it as a service setting for food when the family is over.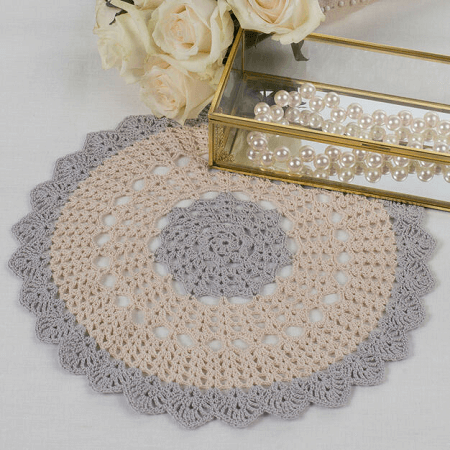 Get the Pattern here

3. Autumn Leaves And Lace Doily Crochet Pattern by Cat Lady Crochet Shoppe
The intricate design of this Autumn Leaves And Lace Doily features up to four different types of beautiful autumn leaves in all their seasonal splendor!
It features beech, maple, oak, and ash leaves. Each leaf is crocheted separately in a unique way, then all are joined together with beautiful lace webbing.
It can be made in a variety of autumn colors – suggested leaf colors for realism are included in the pattern but the possibilities are endless!
Get the Pattern by Cat Lady Crochet Shoppe here

4. Mandala Crochet Doily Pattern by Sew Happy Creative
This Mandala Crochet Doily will look stunning in any color recipe! It's perfect for injecting some color into your home and is a nice, bright way of protecting furniture as well!
The doily crochet pattern makes a medium-sized mandala approximately 22.5cm/9″ using 4ply yarn, using DK yarn will make a larger mandala.
Get the Pattern by Sew Happy Creative here

5. Starshine Doily Free Crochet Pattern by Aunt Lydia
This Starshine Doily is made deliciously modern again in any color that suits your décor.
Select your shade and have fun crocheting this beautiful doily that's perfectly sized for use in the bedroom, living room, or dining areas.
This ornamental mat is ideal to protect tabletops, decorate surfaces, or use it as a pretty setting to present food.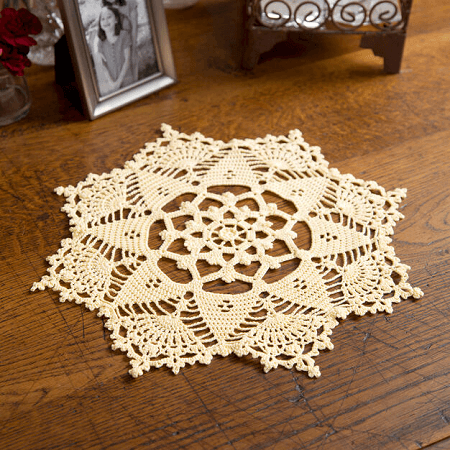 Get the doily free crochet pattern here

6. First Timer Doily Crochet Pattern by Crochet Spot Patterns
Are you ready to crochet your first doily? Here is a pattern just for you!
Crochet doilies can be intimidating, but this First Timer Doily Crochet Pattern uses basic crochet stitches and a slightly thicker thread to make a doily that is easy to crochet.
Even though the pattern is easy, it doesn't lack in interesting shaping or lacework.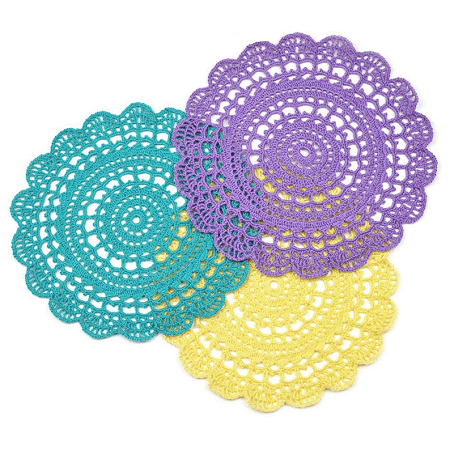 Get the Pattern by Crochet Spot Patterns here

7. Crochet Doily Baby Blanket Pattern by Red Heart
Doily fans will love how their favorite design comes to life on this precious Crochet Doily Baby Blanket.
If you're a fan of crocheting in the round, this pattern is definitely a must-try!
Simply start at the center and watch the star pattern appear, then finish with a multi-color border.
Handmade originals stand apart at baby showers, so make one for a little bundle of joy.
Get the Pattern here

8. Pineapple Doily Free Crochet Pattern by Craft Passion
The favorite pineapple motif gets spiced up with adorable puff stitches in this beautiful design.
The puff stitches give it a more exquisite texture presence.
This Pineapple Doily is well adaptive, you can make puff stitches in any round at the middle of the doily, you can also replace the puff stitch with other similar stitches– bobble and popcorn stitch.
You will love the heirloom look that this doily gives, it simply brightens up the table gracefully and tastefully.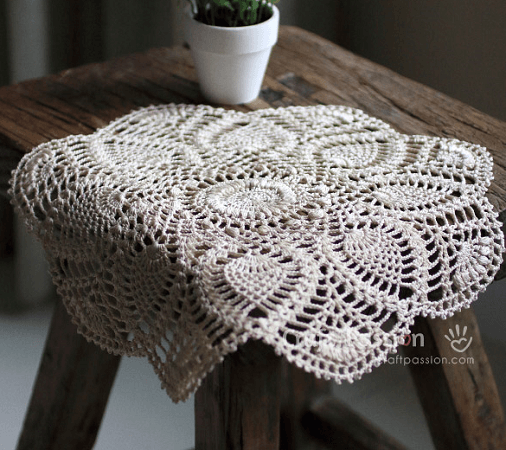 Get the Pattern here

9. Crochet Flower Bouquet Doily Pattern by Maggie's Crochet
This Crochet Flower Bouquet Doily is a gorgeous vintage-inspired piece filled with beautiful Spring flowers!
Using bright colors and intricate stitches, this will give you a beautifully textured result.
Display your work throughout your home and your guests will surely be impressed!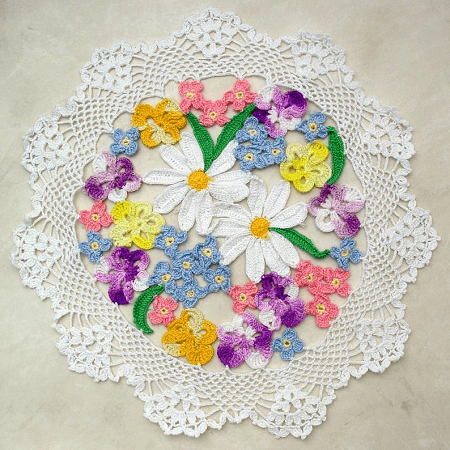 Get the Pattern by Maggie's Crochet here

10. Chunky Crochet Doily Pattern by Petals To Picots
If you aim for lightweight, portable, and bright colors projects, you can make up some chunky crochet doilies to place around the house!
This is such a great classic crochet doily pattern that you can begin with immediately when you're itching to crochet.
Crocheted in a thicker yarn, these doilies work up quick and make for pretty decorations around the house.
Use them as coasters or hang them up on the wall for something a little different.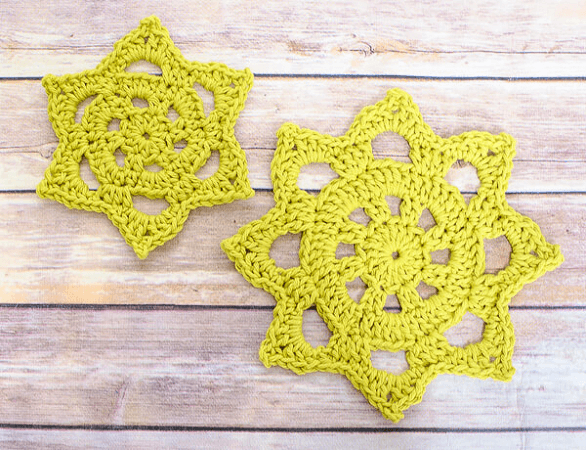 Get the Pattern here

11. Crochet Lace Round Doily Pattern by Olga Poltava
Create an elegant lace doily with this Crochet Lace Round Doily Pattern. This delicate beauty will look great with photos and candles just about anywhere around the home from the kitchen to the living room and bedrooms.
The design looks a bit intriguing, but the pattern is fairly easy to master. The finished doily measures about 15 inches in diameter after blocking.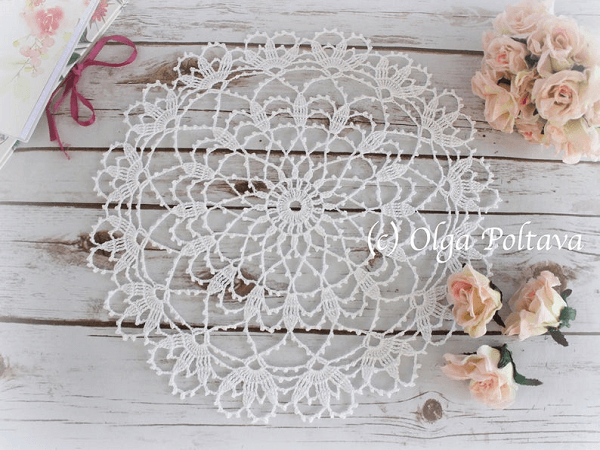 Get the Pattern by Olga Poltava here

12. Wisteria Doily Free Crochet Pattern by Yarnspirations
Try this new twist on the doily that's perfectly at home in traditional or modern room settings.
It's definitely a keepsake item of warmth for this fresh version of the classic doily.
This Wisteria Doily is designed in soft shades of Aunt Lydia's Classic Crochet Thread, but imagine the effect you prefer and complete a decorative piece that reflects your style.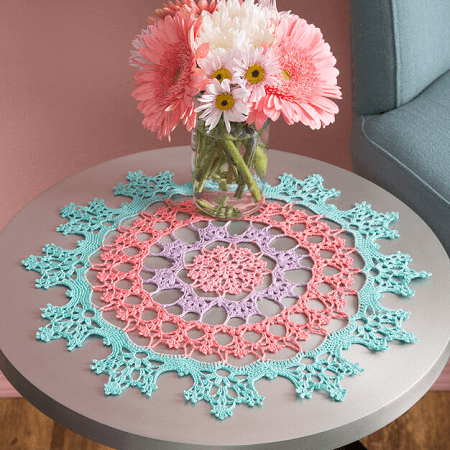 Get the Pattern here

13. Follow Me Doily Crochet Pattern by Dada's Place
Simple and elegant, this Follow Me Doily is the perfect crochet project for beginners. Or an ideal project for a lazy and relaxing weekend.
You can make this doily to treat yourself, or you can tell someone how important he/she is by gifting them this beautiful handmade doily.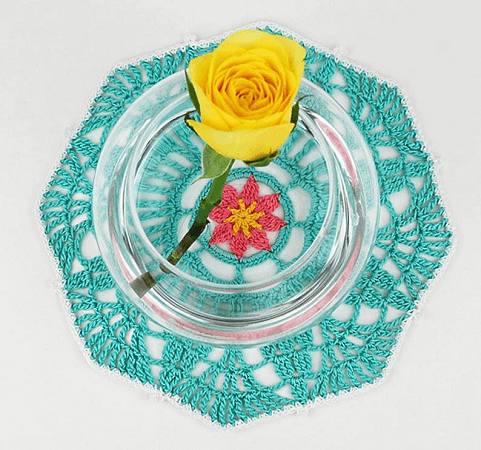 Get the Pattern by Dada's Place here

14. Crochet Calla Doily Pattern by Susiluoto
This Crochet Calla Doily Pattern is an advanced pattern. You will need to work front and back post stitches, clusters, two stitches together, and popcorns.
Using recommended thread and hook this pattern will use approximately 550-600 yards of thread.
And your finished doily will be about 13" in diameter from point to point.
Get the Pattern by Susiluoto here

15. Heartblossoms Crochet Doily Pattern by Draguina
This beautiful Heartblossoms Crochet Doily has 12 rounds and measures about 11″.
It's a round doily with a heart theme – a lovely, richly textured and lacy pattern that will be a wonderful addition to any sideboard or table.
Make this in Aunt Lydia's Fashion Crochet Thread, either making it full of passion or imagine a color that expresses your affection.
Enjoy it on Valentine's Day or any time of the year!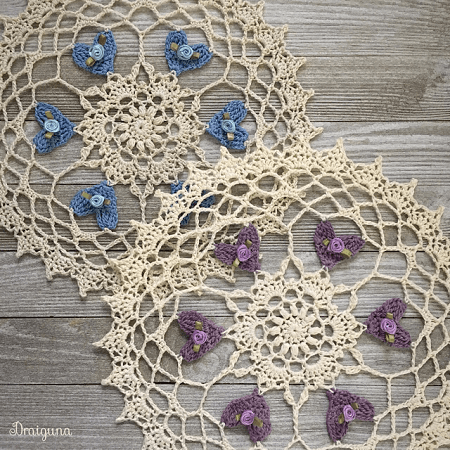 Get the Pattern here

16. Doily Free Crochet Pattern by Rescued Paw Designs
This large, Doily Free Crochet Pattern is a simple design that's easy to crochet and works up fairly quickly!
As well as being an easy crochet project, it makes an amazing statement piece for your home.
The pattern is perfect for making table doilies.
It would look great in the center of a coffee table or even on top of an entry table!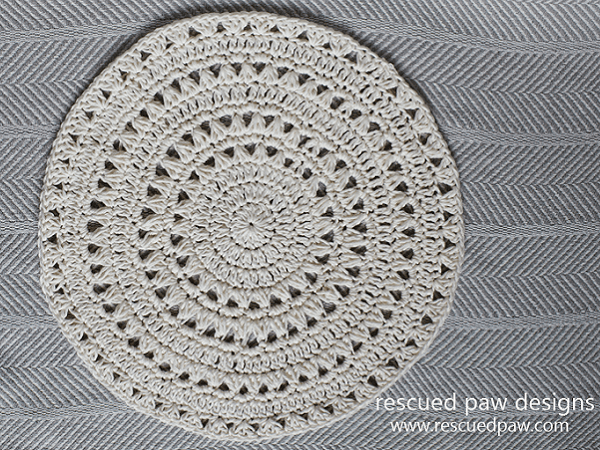 Get the Pattern here

17. Crown Of Skulls Doily Crochet Pattern by Creative Works By Annie
A festive decoration featuring a skull motif in the beautiful doily way.
It will ensure that your house will look unique and festive – not to mention – scary!
These little skulls will give a charming yet spooky element to your table setting perfect for Halloween fun and party.
This Crown Of Skulls Doily is measuring at 24 inches across when made from cotton crochet yarn.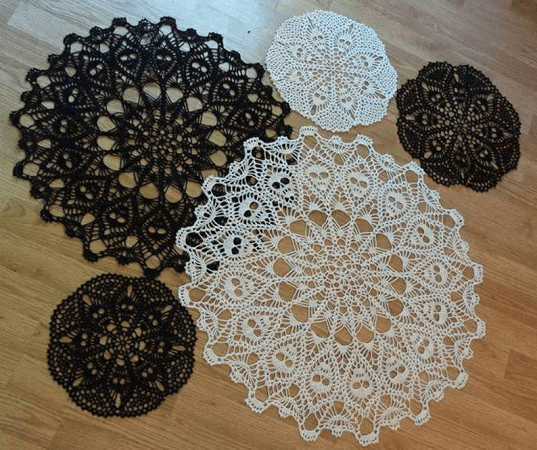 Get the Pattern by Creative Works By Annie here

18. Crochet Pear Blossoms Doily Pattern by Crochet For You
This Crochet Pear Blossoms Doily has a vintage look and little lacy touch. Work this up in the classic white of a doily or get creative with more colorful yarn choices.
The pattern looks very delicate when you look at it first, but there is no need to worry too much about it .
You only need to know basic crochet stitches – chain, single crochet, half double crochet, double crochet, and slip stitch.
Get the Pattern here

19. Sun Blossom Mandala Doily Pattern by Yarnspirations
Many people and cultures have found meaning in the mandala, the circle with a center. This piece will add a superb decorative masterpiece in your home decor!
This Sun Blossom Mandala Doily has been beautifully designed with interesting crochet stitches so that you can take your own journey as you create it and then display it.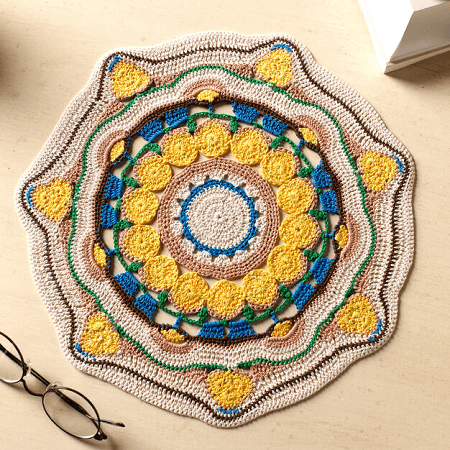 Get the Pattern here

20. Chunky Doily Rug Crochet Pattern by Craft Foxes
Think you have no patience for crocheting doilies? Think again! Stitched on a giant hook with three strands of yarn held together, this Chunky Doily Rug Crochet Pattern works up quickly and makes a major statement in any room.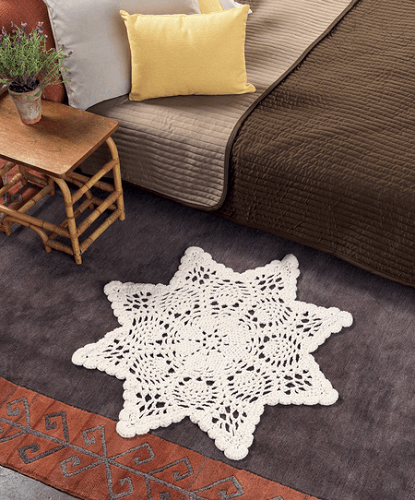 Get the Pattern here

21. Doily Hoops Free Crochet Pattern by A La Sascha
What do you get when you combine a doily with an embroidery hoop? A Doily Hoop!
One of the best ways to display a crochet doily is to encase it in a beautiful embroidery hoop and hang it on your wall as art.
That is the intention for these two small (3″) crochet doily patterns. These sweet, simple designs are also great as motifs for other projects, too.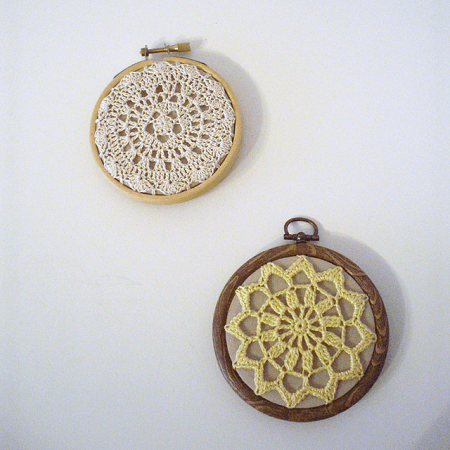 Get the Pattern here
Have you picked your favorite crochet doily patterns yet?
Go ahead and decide the one you want to work on first and get started. When you're done, be sure to post some finished pictures on our Facebook Page. We'd love to see how it turns out!
For more decorative patterns for your home, check out this page for Crochet Decors. We have tons of patterns you can choose from.
We hope it helps! Enjoy creating your favorite crochet doily patterns!