Crocheters will learn how to stitch personalized messages and monograms into pillows, scarves, throws, and more, and to create bold three-dimensional letters to display or give with these crochet letters patterns!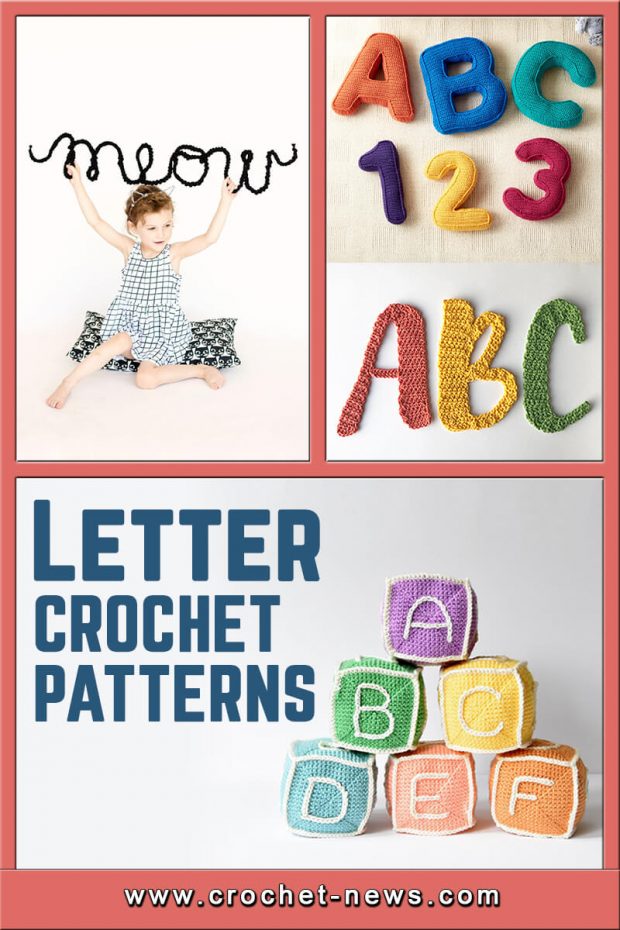 With patterns for upper and lowercases, crocheters and typography enthusiasts alike will love crafting endless personalized lettered creations.
18 Crochet Letters Patterns
It's a fantastic way of using up leftover yarns. Crochet your little one's name, a favorite word of your own, or the entire alphabet!

1. Capital Letters Crochet Pattern by Change Path Crochet
Crochet pattern for 3.5″ tall capital letters, A to Z. Perfect for personalizing signs, blankets, pillows or anything else you can sew it on! Use them to add a name, monogram, or your favorite phrase to your craft.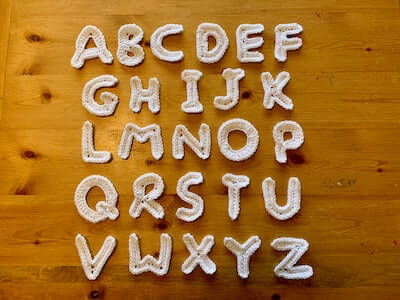 Get the Pattern by Change Path Crochet here

2. 3D Crochet Alphabet Pattern by Vliegende Hollander
Do you also love the trend of having large 3D letter decorations in your house? Now you can make your own with this very clear and easy to follow crochet pattern. Using this letter crochet pattern, you can create the entire alphabet!

Of course, you can combine letters to make words like 'love' or 'home', which would look lovely as a decoration in your house!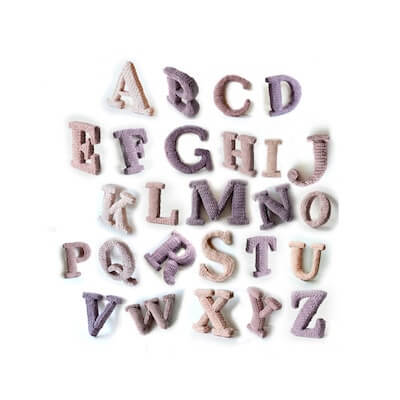 Get the Pattern by Vliegende Hollander here

3. Alphabet Granny Square Letters Crochet Pattern by Mary Walker
Use your letters in scarves, throws, blankets, pillows and so much more. With the ease of a classic granny square, you can fill the need of many designs that require letters.
Personalize baby blankets, show your team spirit, give gifts of love with words of inspiration; there's no limit to what you can create!

Complete alphabet includes a standard written pattern that applies to all the letters. Just one pattern to learn!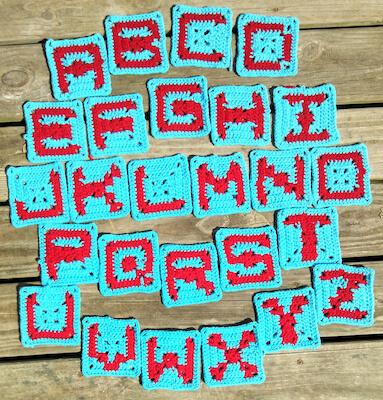 Get the Pattern here

4. Crochet Alphabet Cushion Pattern by Chloe Bailey
Create your own monogram alphabet cushions! Inspired by a love for all things personalized, the Alphabet Cushion pattern includes all 26 letters of the alphabet.
Adding a trendy touch to your home decor, the pattern is also perfect for making unique and individual gifts!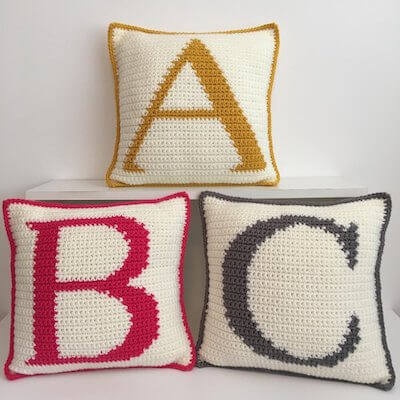 Get the Pattern by Chloe Bailey here

5. Crochet Alphabet Blanket Pattern by Lovable Loops
This Alphabet blanket would make an amazing baby shower gift or gift for a classroom teacher. You can make the blanket as pictured, with the entire alphabet.
Or, you can make a blanket out of someone's initials or even spell a name or word. The possibilities are endless!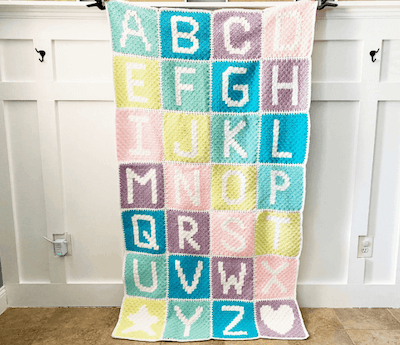 Get the Pattern here

6. Mosaic Alphabet Crochet Pattern by Tinna Crochet
The idea behind this Mosaic Alphabet is to allow crocheters to add writings to their mosaic projects. The pattern includes all the letters in the English and Icelandic alphabet, as well as the numbers and a small heart just for fun!
Get the Pattern here

7. Crochet Letter Basket Pattern by Crafty Crochet Design 1
Included in this pattern is a round by round written instructions indicating when to change colors and increase to create a finished letter basket.
This letter crochet pattern includes all 26 letters of the alphabet with round by round instructions and charts too!

You can create this pattern using a material of your choice. The picture shows it completed in T-Shirt yarn but the patten also tells you how to use ' normal' yarn as well.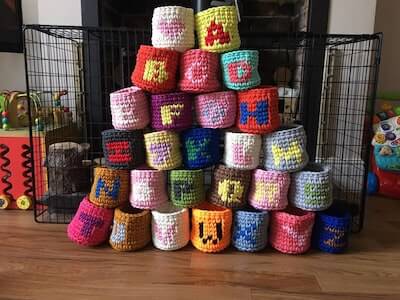 Get the Pattern by Crafty Crochet Design 1 here

8. Crochet Letters Pattern by The Home Maker By Emily
Perfect for a variety of projects, these letters can be added as an initial to baby blankets, hats, and sweaters, used as a creative embellishment to any handmade pillow, home decor, Christmas ornaments, or even as a way to teach your children the alphabet – the possibilities are endless!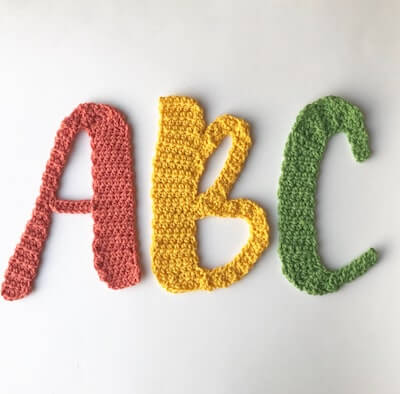 Get the Pattern by The Home Maker By Emily here

9. Crochet Letters And Numbers Pillow Pattern by Yarnspirations
Crochet something truly meaningful for you and your child. These soft, squishy letter and number pillows are an ideal way to teach your child while sharing warm moments together.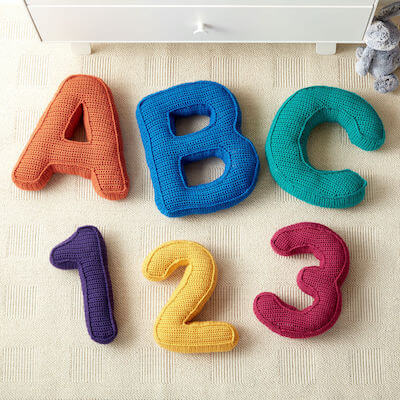 Get the Pattern here

10. Crocheted Wire Letters by Delia Creates
Whether you're brand new to crocheting, or just looking for a quick, satisfying project; this spin on textured typography fits the bill.
The only stitch you need to know is the first and most basic stitch of crocheting: the chain stitch.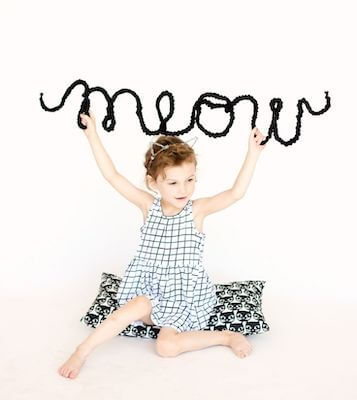 Get the Pattern here

11. Crochet Letters Bunting Pattern by Avondale Patterns
This delightful bunting makes a wonderful personalized gift for a little baby and would look gorgeous hanging on their bedroom or playroom wall.

The pattern made the sample bunting with the name "Emily" but charts for every letter of the alphabet are included so you can create the bunting in any name you wish.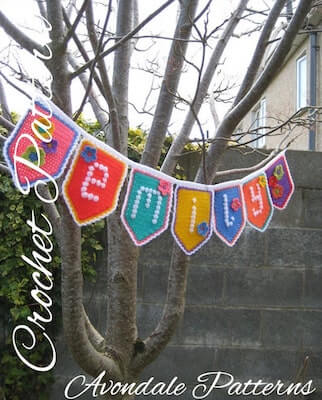 Get the Pattern by Avondale Patterns here

12. Upper Case Alphabet Letters Crochet Pattern by The Baby Crow
This is a pattern which contains all 26 Upper Case Letters of the alphabet individually plus a bonus heart! Popcorn stitches do more than add a pop of texture — they can also be handy for crocheting letters and numbers.

Each letter is housed within an individual square that gets crocheted together to form a word. With this method, no one will miss your 3D design.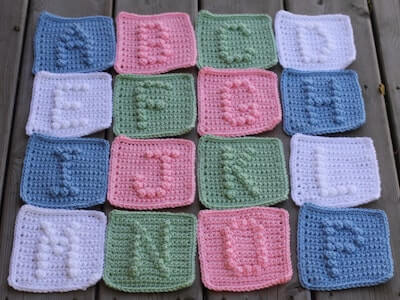 Get the Pattern by The Baby Crow here

13. Filet Crochet Block Alphabet Chart Pattern by Leah Spell
If you're making a lacy project, you also want lacy letters. Enter filet crochet, which uses a grid to create a variety of designs.
Bonus: while it looks fancy, the technique is pretty simple to pick up — all you do is chain and double crochet. The chart comes with detailed grids so you can crochet any letter your heart desires.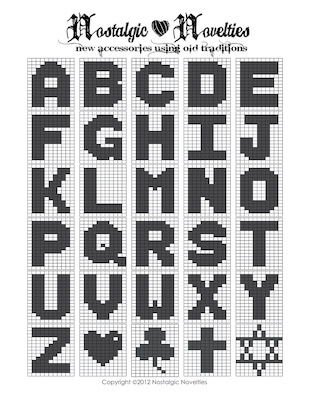 Get the Pattern here

14. Crochet A To Z Letters Pattern by Red Heart
Craft crocheted letters to personalize or send a message with handmade projects. Each letter is 2″ tall and can be sewn or applied with fabric glue once complete.
Simply select the shades that speak to you. This fun project inspires you to enhance blankets, bags, scarves and so much more!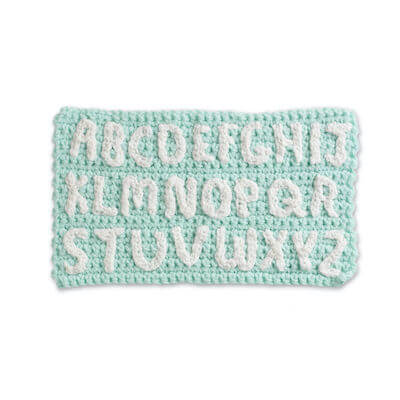 Get the Pattern here

15. Amigurumi Alphabet Letters Crochet Pattern by Amigurumisnl
These Amigurumi Alphabet Letters will really rock for educational purposes for kids. Or use these letters to create a personal decor statement in any room space or in the kids' bedroom.
These giant stuffed letters will make super comfy pillows too!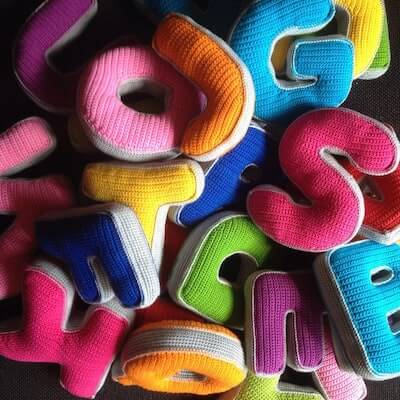 Get the Pattern by Amigurumisnl here

16. Crochet Letters Coffee Cozy Pattern by Lakeside Loops
With 12 original designs plus every letter of the alphabet this crochet coffee cozy pattern will help you create endless gifts for friends and family.

Crochet your husband's initials on his coffee jacket or maybe an anchor on a cold summer beverage sleeve for a friend. The possibilities are endless with this twist on tapestry crochet.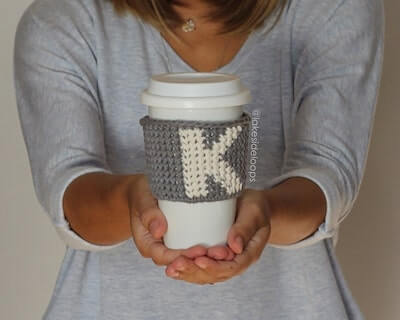 Get the Pattern by Lakeside Loops here

17. Crochet Alphabet Toy Blocks Pattern by Vliegende Hollander
This Baby Blocks Crochet Baby Toy Pattern is perfect to make for a baby or shower gift, or just a fun weekend project to make for your own little one. Perfect for your baby or toddler to learn all the numbers and letters and make fun combinations.

The set exists out of six blocks, featuring the numbers 0 through 9 and all the letters of the English alphabet. Of course, you can also add more letters, signs, or symbols if you like.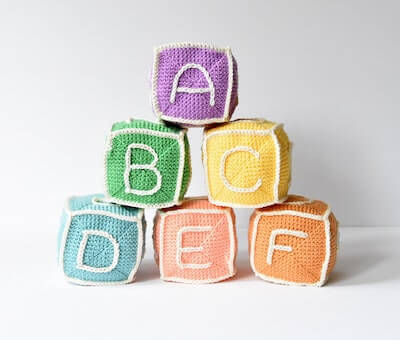 Get the Pattern by Vliegende Hollander here

18. Crochet Alphabet Lowercase Letters Pattern by Jenny R. Brown
Make your crocheted and knit projects even better by personalizing them with this easy-to-follow pattern of every lowercase letter of the alphabet.
You can use the finished motifs to appliqué on hats, blankets, pillows banners, garlands – or any other yarn project.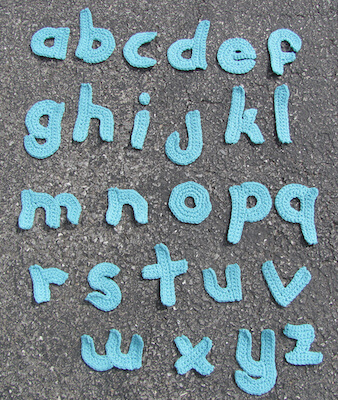 Get the Pattern here
FROM SIMPLE TO STUFFED 3D LETTERS, THESE CROCHET LETTER PATTERNS WILL BE YOUR NEXT FUN CROCHET PROJECTS!
Don't forget to share pictures of your projects with us on our Facebook Page. We can't wait to see what you make!

For more easy projects to make for your home, be sure to have a look at this collection of home decor crochet patterns we have on our site. From simple to complex projects, you'll surely find something to crochet next!
What are you waiting for? Use these crochet letters in endless different ways! You'll be hooked!