These 10 Crochet Ferret Patterns will help you make this cute little critter.
Are the kids bugging you to buy them a pet ferret? They're not real ones but the kids (and you!) will surely love them too!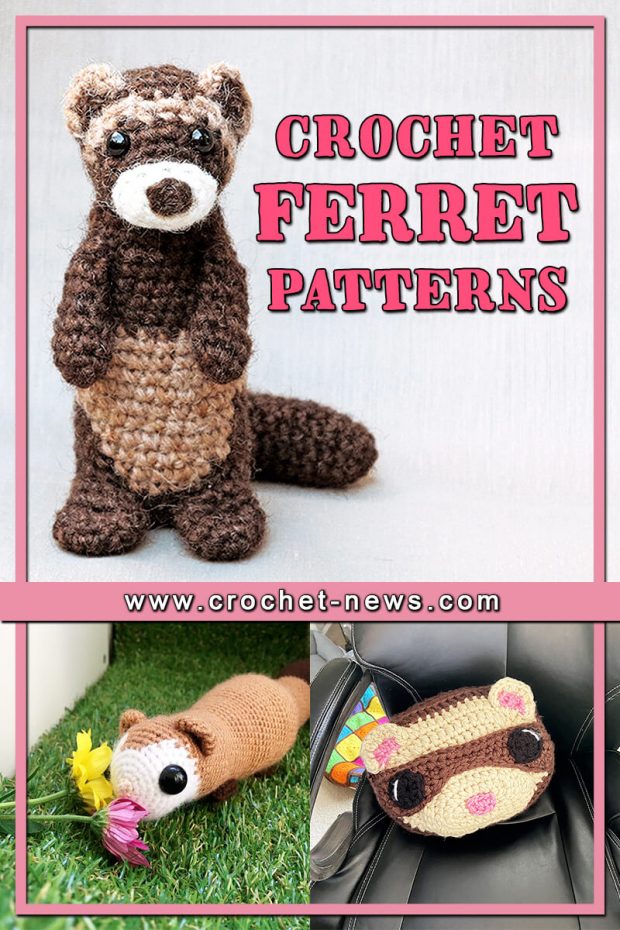 Browse through and choose your favorites!

1. Ferret Amigurumi Pattern by Mongoreto
This playful ferret cannot wait to become a part of your family! Aren't those striped jumpers so lovable?
Made with very simple lines, this Ferret Amigurumi is so easy to make! They measure approximately 25 inches long – just the right size for a kid's toy!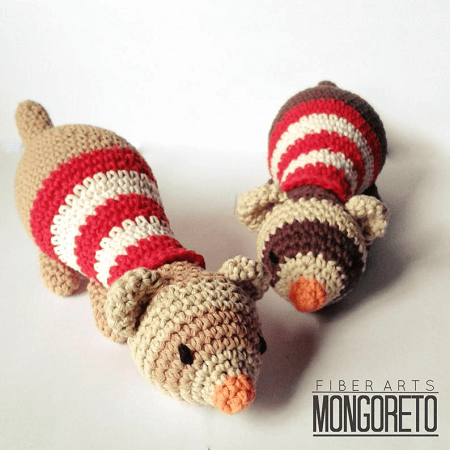 Get the Pattern by Mongoreto here

2. Crochet Fuzzy Ferret Pattern by Cg Toys
This cute little ferret is looking for a loving friend. Will it be you?
With this Crochet Fuzzy Ferret Pattern, you will be able to make an adorable amigurumi ferret that for sure will be ready for hugs whenever you need them.
The finished toy measures about 25cm from head to tail when using a 2.5mm crochet hook. This pattern involves some tapestry crochet.
Get the Pattern by Cg Toys here

3. Tono, The Blackfoot Ferret Amigurumi Pattern by Eva Peñafiel
Meet Tono, The Blackffor Ferret Amigurumi. This cute little and curious critter will look perfect on your desk, cabinet, or anywhere else you'd like to keep it.
He measures 18 inches long (45 cm). Soft and sweet he is perfect for cuddling at nap time or sitting adorably on a nursery room shelf, too!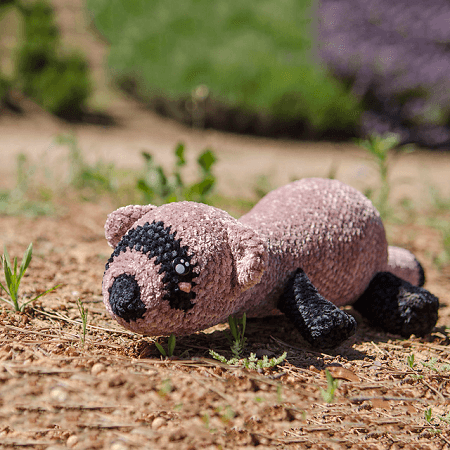 Get the Pattern here

4. Fidget, The Ferret Pillow Crochet Pattern by The Cheerful Chameleon
Add a little ferret charm to your everyday decor with this adorable Fidget Throw Pillow!
Intermediate Skill level is required to make Fidget. While the pattern is made as easy as possible to understand, previous crochet knowledge is needed for basic stitches and techniques.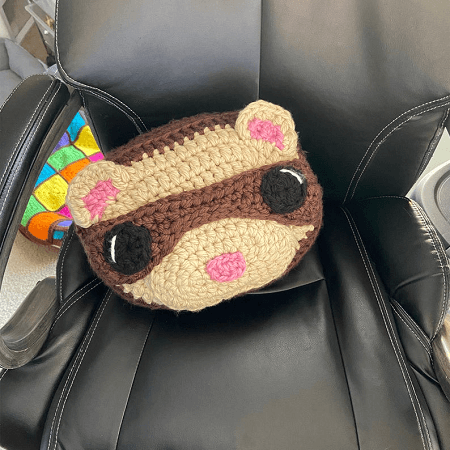 Get the Pattern by The Cheerful Chameleon here

5. Wallace, The Ferret Amigurumi Crochet Pattern by Lou Ki Studio Crafts
Meet Wallace, the cheeky but oh-so-sweet ferret! He is made using DK yarn and a 3mm hook, and when finished measures approximately 20cm tall.
This cute crochet ferret is a great little gift for any animal lover. His bright little eyes and cute nose look just like the real thing!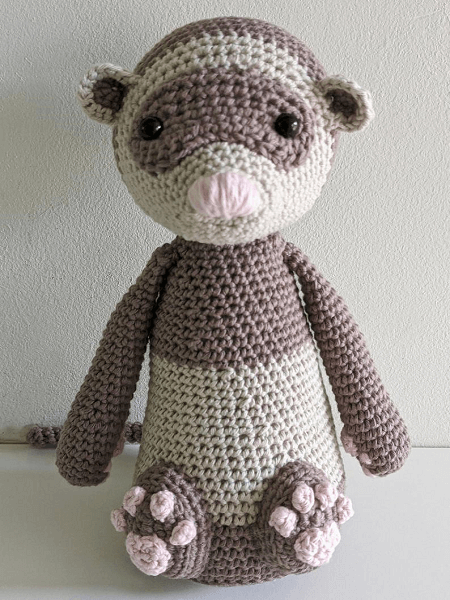 Get the Pattern by Lou Ki Studio Crafts here

6. Crochet Ferret Pattern by Carolyne Brodie
This Crochet Ferret Pattern is an intermediate pattern. The instructions are detailed and easy to follow if you know the basic crochet stitches and techniques used to make amigurumi.
This ferret measures 10" tall when using a D hook. He looks so friendly, doesn't he?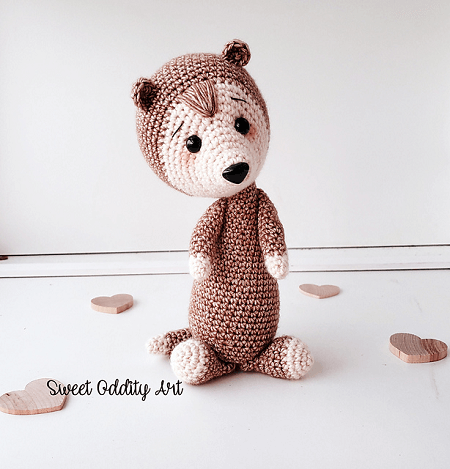 Get the Pattern here

7. Phineas, The No Fuss Ferret Crochet Pattern by Manic Yarn
Phineas the Ferret really is the perfect pet!
No feeding or maintenance required! All he needs is a little love to be happy. Make him a member of your or a loved one's family and enjoy him for years to come!
He measures 14 inches when made using a 3.75mm hook. You can also use a wire brush for "Fuzzing" if desired.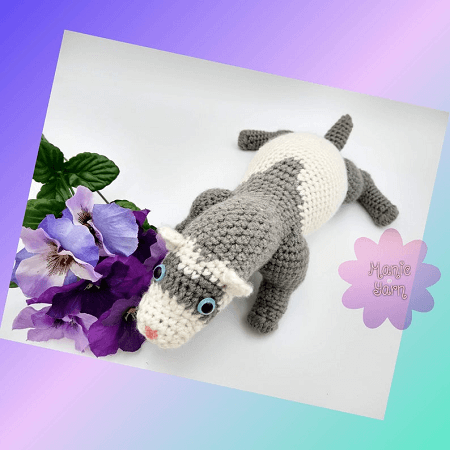 Get the Pattern by Manic Yarn here

8. Crochet Ferret Polecat Pattern by Sons Popkes
With this easy pattern, you can crochet a special animal. Make a ferret and use the colors you prefer!
You can also make the wild ancestor of the ferret, the polecat. This Crochet Ferret Polecat Pattern is easy and quick to crochet and the colour changes are written in stitch color.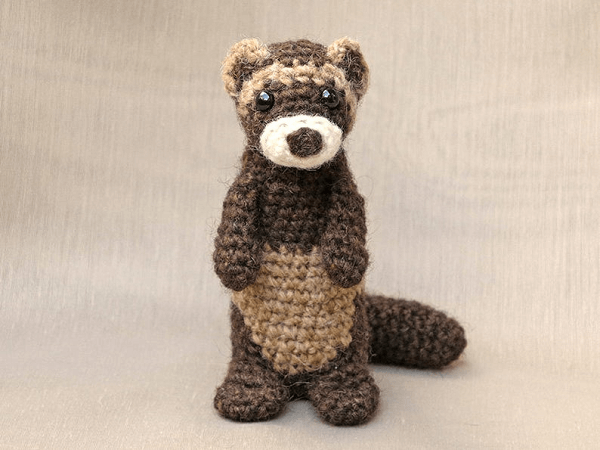 Get the Pattern by Sons Popkes here

9. Fuzzy Ferret Amigurumi Pattern by Planet June
This Fuzzy Ferret Amigurumi is perfect for a special gift for a ferret fan, a favourite toy for your child, and an adorable friend just for you!
The pattern includes full instructions to make a single-color ferret and a dual-color ferret.
Fuzzy Ferret has been designed to be approximately life-sized, at 14″ long by 4.5″ tall (although size will vary slightly depending on yarn used).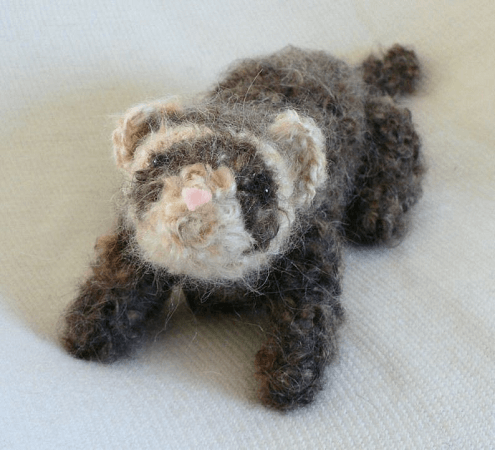 Get the Pattern by Planet June here

10. Ferret Coin Purse Crochet Pattern by The Cheerful Chameleon
Ferrets are masters of collecting treasures, so what better critter is there to help protect them? This adorable Fidget the ferret change purse is sure to keep those shiny coins safe.
This Ferret Coin Purse Crochet Pattern uses worsted weight 4 yarn and a 4mm hook.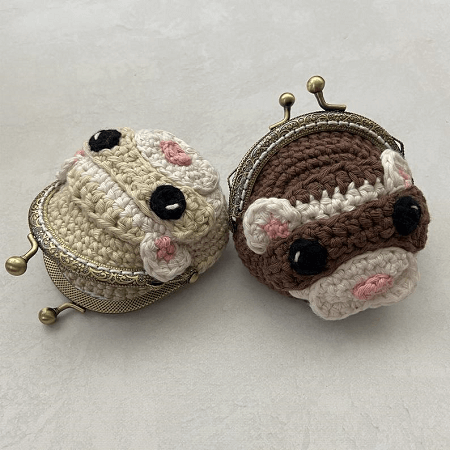 Get the Pattern by The Cheerful Chameleon here
These crochet ferret amigurumi patterns are so cute you won't know which one to make first!
When you're done making your own sneaky little critter, be sure to share them with us on our Facebook Page. We always love seeing you bring these patterns to life!
And if you wish to see more adorable crochet patterns, check out our round-up of Crochet Elephant Patterns, Tiger Crochet Patterns, and Kangaroo Patterns.
Happy crocheting with these sweet crochet ferret patterns!