Browse through these 10 crochet kangaroo patterns to start your crocheting journey with a hop, skip, and a jump! From sweet little toy project to playful accessories, find the perfect kangaroo for you.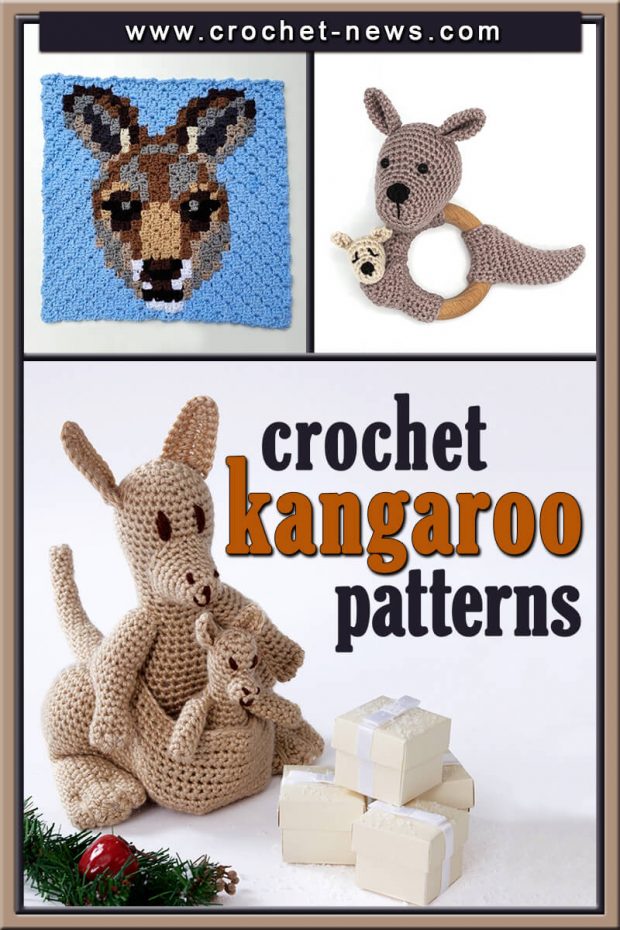 10 Kangaroo Crochet Patterns
The sight of a hopping kangaroo with a joey in its pouch is indeed splendid. And, if you have a little kangaroo lover at home, who keeps hopping around the house just like one, you can consider furthering his interest in Kangaroos by giving him a crocheted one. Which one will you make first?

1. Mama Kangaroo And Joey Crochet Pattern by Yarnspirations
How sweet is this unique toy for children of all ages? Easily craft the amigurumi kangaroos you envision in any color, or choose shades that make them smile. It's a thoughtful gift for any child that reminds them how much you care.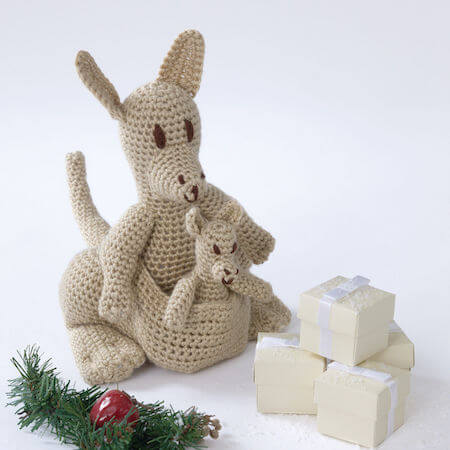 2. Crochet Kangaroo Applique Pattern by Repeat Crafter Me
This little crochet Kangaroo will bounce right onto your blanket to represent the letter K! The little pouch stays open so you can put a little baby kangaroo in there or maybe a sweet little note for the person receiving the blanket!?

This adorable crochet Kangaroo Applique is not only fun as embellishment, but it can also serve as an excellent learning tool for young children.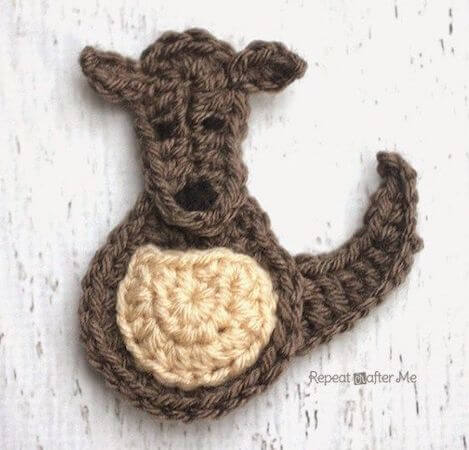 Get the Pattern here

3. Kangaroo Amigurumi Crochet Pattern by Patchwork Moose
This is Evie, a sweet little amigurumi kangaroo, looking for a cuddle. Evie measures about 7-8 inches sitting to the top of her head in a DK yarn, but she can be made from any weight yarn and appropriate hook for different sizes.
This kangaroo crochet pattern contains instructions for both a sewn jointed kangaroo with moveable limbs and a kangaroo with fixed arms and legs.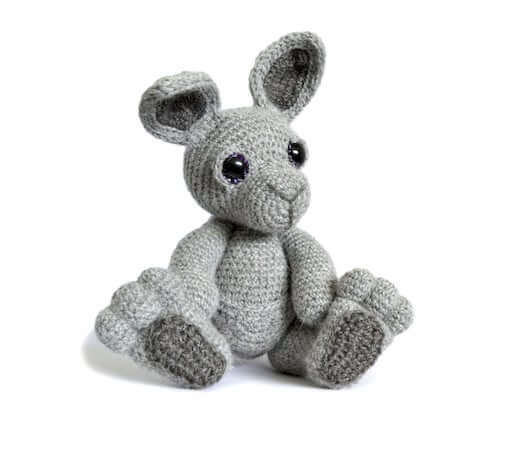 Get the Pattern by Patchwork Moose here

4. Mama Jill And Little Joey Kangaroo Crochet Pattern by Hello Yellow Yarn
Mama Jill loves hopping along the forest to gather flowers to display on her hat. She also enjoys basking under the warm, summer sun. Although Little Joey doesn't really like the summer heat, he is very lucky to stay in Mama Jill's pouch for shade!

Mama Jill measures approximately 26cm (10 inches) tall and Little Joey measures 13cm (5 inches) tall when made with an 8 ply (US Light Worsted / UK DK) yarn, 3mm and 3.5mm crochet hooks.
Get the Pattern by Hello Yellow Yarn here

5. Crochet Kangaroo Hat Pattern by Ira Rott Patterns
You're sure to love this Crochet Kangaroo Hat. It would be perfect to wear with a Halloween costume or just to wear all winter long to keep warm. It's cute enough for a child but adults can wear this hat, too!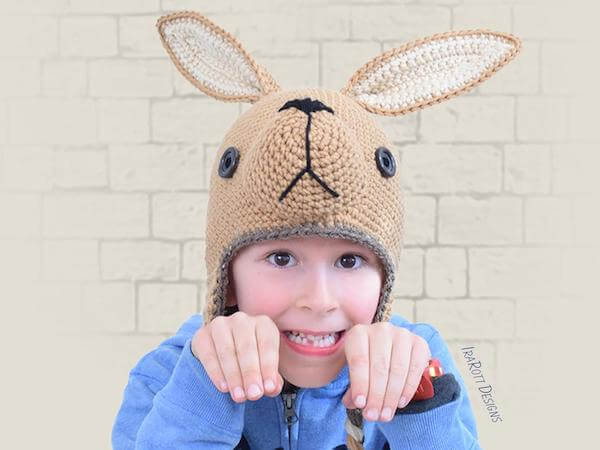 Get the Pattern by Kangaroo Patterns here

6. C2C Square Kangaroo Crochet Pattern by My Hobby Is Crochet
This Kangaroo C2C Square is a free crochet pattern with row by row color counts and graph! Use it on its own to make pillow covers, wall hangers, etc.. or add it to the other animal blocks to make a lovely animal themed blanket!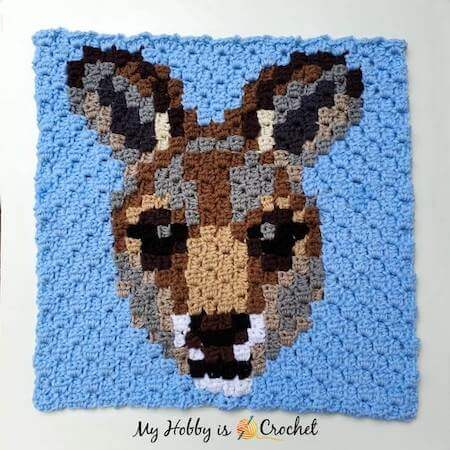 Get the Pattern here

7. Ragdoll Crochet Kangaroo Pattern by Ala Sascha
These Kangaroo and Baby Kangaroo Ragdolls will melt anyone's heart! Even though the body is flat like a lovey, this animal will leave much more room for imagination and be a best friend to toddlers and even older children.
This is an easy crochet kangaroo pattern which works up rather fast.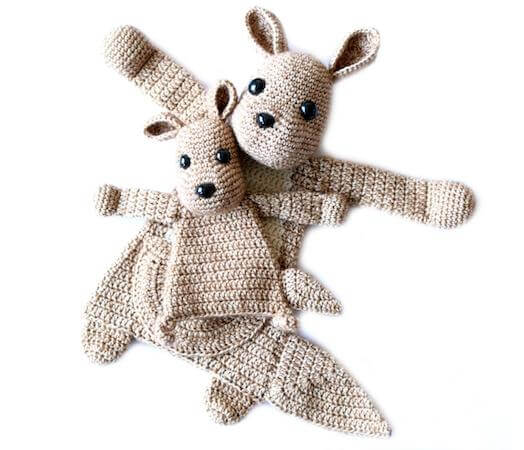 Get the Pattern by Ala Sascha here

8. Kira, The Kangaroo Crochet Pattern by Lalylala
Kira can be seen from afar by her long scarlet colored scarf – so the koalas sometimes call her the "Red Kira". In her spacious pouch she keeps everyday things and her impressive collection of antique cushion springs – and of course her baby kangaroo feels most at home here.

She will measure 27 cm (10.5 inches) if using fingering weight yarn on a 2.25 mm crochet hook.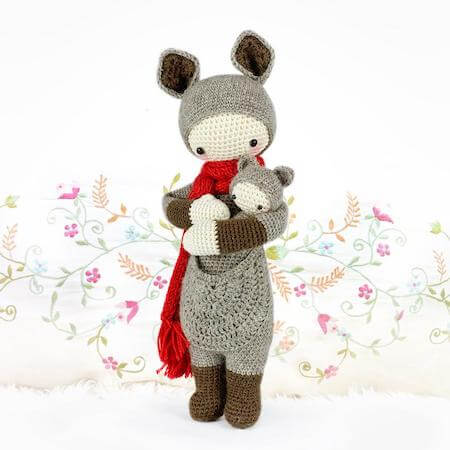 Get the Pattern by Lalylala here

9. Kangaroo Crochet Pattern by 3am Grace Designs
This Kangaroo Crochet Pattern is a beginner-level pattern. The techniques you will need to know are single crochet, single crochet increase, single crochet decrease, and half double crochet. The finished project is 13″ x 16″ using the recommended hook size.

You are welcome to go up or down a hook size to create a different dimension. You can even hold two pieces of yarn together with a larger hook to create a giant cuddler. The sky is the limit!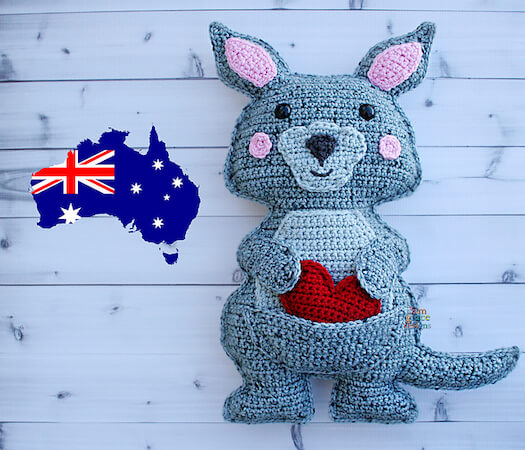 Get the Pattern by 3am Grace Designs here

10. Kangaroo Rattle Crochet Pattern by KNUFL
This Kangaroo Rattle is your little one's new best friend! This baby toy is the ideal size for baby to grasp onto and the gentle rattle sound is stimulating for your baby. Be sure to use super fine yarn to make it suitable for babies.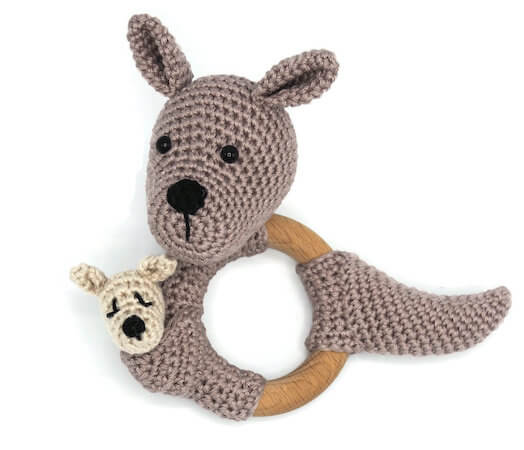 YOUR HANDMADE ZOO IS NOT COMPLETE UNTIL SOME OF THESE CROCHET KANGAROO PATTERNS ARE CALLING IT HOME!
Crochet animals are so cute, and they're always a fun choice when you're looking for your next DIY project. Here are Crochet Tiger Patterns, Hedgehog Crochet Patterns, Crochet Whale Patterns, and Crochet Monkey Patterns to choose from.

So, if you're an animal lover and enjoy making different kinds of animals with your own hands, then these cute crochet kangaroo patterns are something you will adore! Get crocheting!