These 15 mischievous crochet monkey patterns are as fun as, well, a barrel full of monkeys! Bring on the shenanigans, crack yourselves up, swing by your toes and get your curiosity going!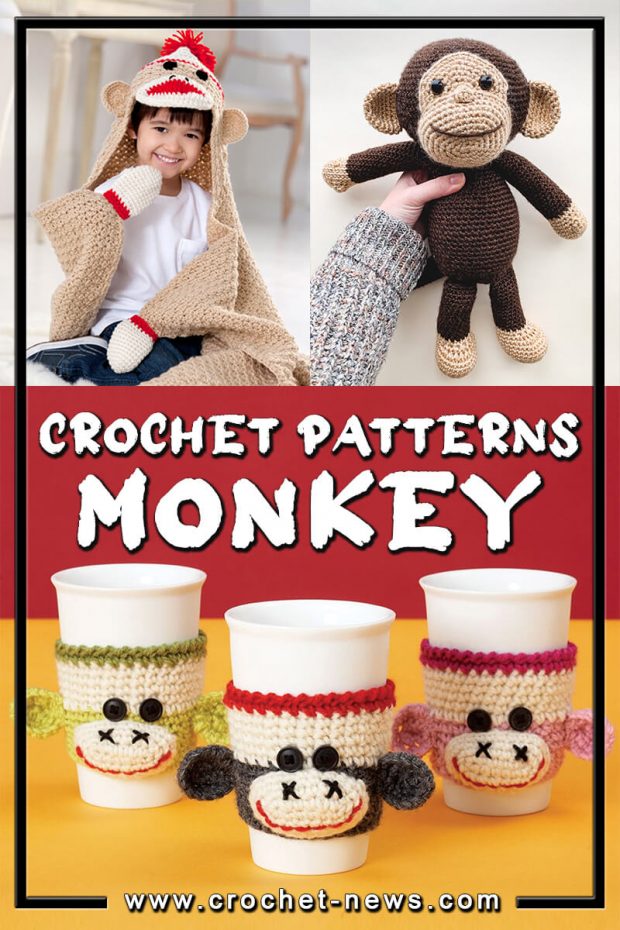 15 Monkey Crochet Patterns
Craft cheeky chimps and swinging primates, with these playful crochet designs that are sure to keep your hands full! From sweet little toy project to playful accessories, find the perfect monkey for you, whether you are a beginner or advanced crocheter.

1. Crochet Sock Monkey Blanket Pattern by Red Heart
Everyone loves sock monkeys, so stitch this iconic character as part of a crochet blanket that will delight children of all ages! With its cozy hood and mitts, this heartwarming project is easy to customize and gratifying to give to any special child. Enjoy this imaginative project that's an unexpected gift idea.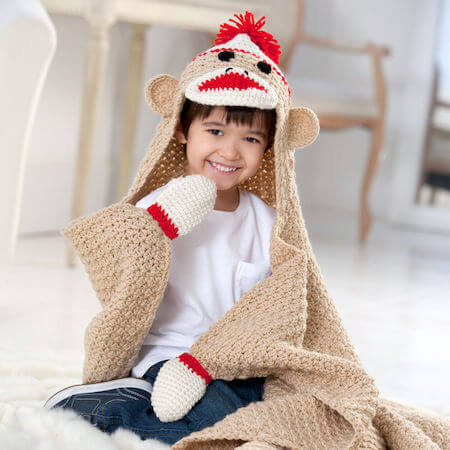 Get the Pattern here

2. Monkey Amigurumi Crochet Pattern by Spin A Yarn Studio
This cheeky monkey would be great as a wall-hanging in a nursery or a little one's bedroom or even just to hang from a shelf. You can crochet anything you want to put into the monkey's little hands (a banana?!) or keep it simple by leaving his hands empty (all the better to get into mischief!).
The branch is totally optional as well; it makes a fun addition to a wall-hanging but is not necessary for this little guy to monkey around. This Monkey pattern is a unique amigurumi made in the ragdoll-style; separate pieces worked in flat rows and joined together to give it that charming and distinctive 2-D appearance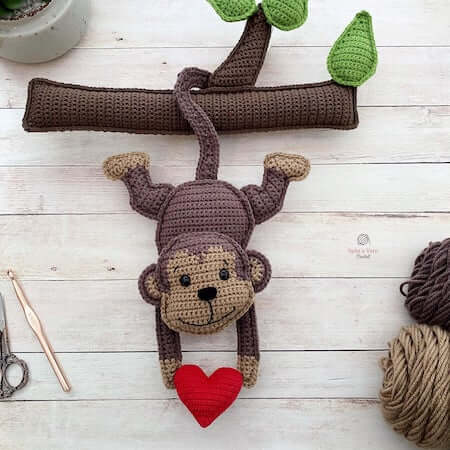 Get the Pattern by Spin A Yarn Studio here

3. Crochet Monkey Girl Pattern by Lilleliis
Crochet your little girl the most precious friend! You will have lots of fun combining her face from cotton fabric and felt. You may get amazing result by using a piece of your childs old favourite garment as a face.
Fun tail that can be attached to her body make her irresistible!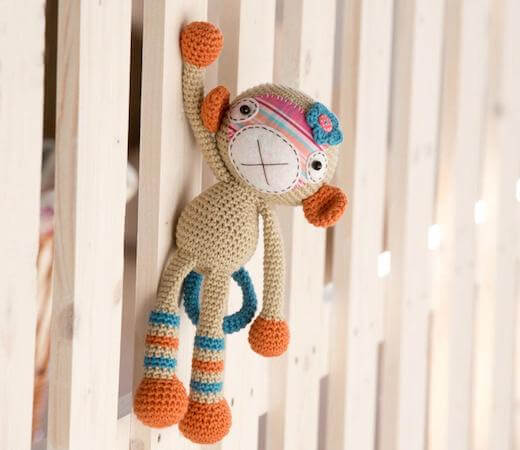 Get the Pattern by Lilleliis here

4. Crochet Happy Monkey Pattern by Sewrella
This monkey is the silliest, happiest around and he's sure to bring smiles to everyone he sees. Simple amigurumi techniques and whimsical features make this monkey cute and easy to make.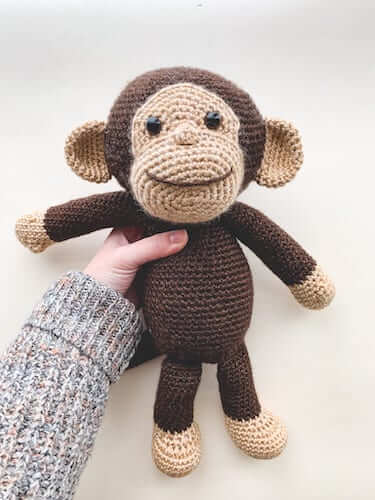 Get the Pattern here

5. Monkey Bookmark Crochet Pattern by Little Owls Hut
Is there any place you'd rather have a monkey hang out than in a book? This cute amigurumi monkey pattern features the monkey eating a banana. You will love the detail on the tail also, as it is a curly spiral that hangs out the bottom.
Love monkeys and love to read? If you've got a monkey lover in your life, this Monkey Bookmark Crochet Pattern is for you!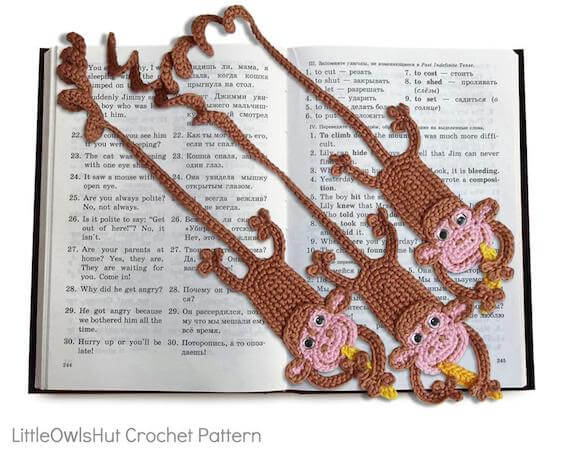 Get the Pattern by Little Owls Hut here

6. Free Crochet Monkey Hat Pattern by The Friendly Red Fox
This Hat Free Monkey Crochet Pattern is perfect for the little monkey in your life. Made with sweet little ears, a sweet little expression, and those fun tassels. I call my boys monkeys at least once a day and think there just may be some other little monkey children there!
This hat comes in toddler, child and teen/adult size. So no matter how old your little monkey is (or if you are one yourself!) your head is covered.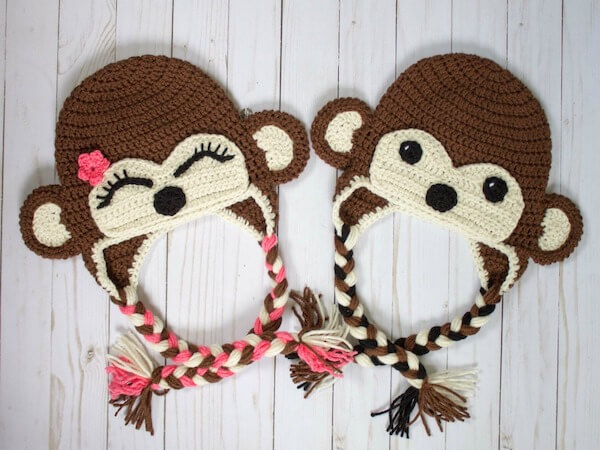 Get the Pattern here

7. Crochet Baby Monkey Pattern by All About Ami
Crochet your own adorable baby monkey using this crochet pattern! This pattern contains clearly explained instructions and pictures to help you crochet this monkey along with his favorite snack, a banana.
The optional wiring makes his tail, arms and legs poseable!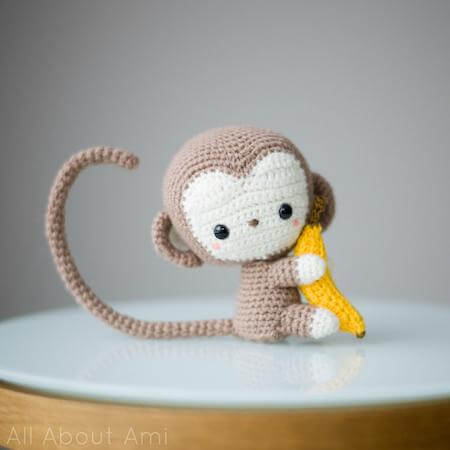 Get the Pattern by All About Ami here

8. Crochet Monkey Coaster Pattern by Monika Design
Make pretty monkey coasters with this very easy crochet monkey pattern and give someone a beautiful handmade Christmas gift. Mr. and Mrs. Monkey would look super sweet on a table, desk, or anywhere else you'd like some company. Kids will love them too!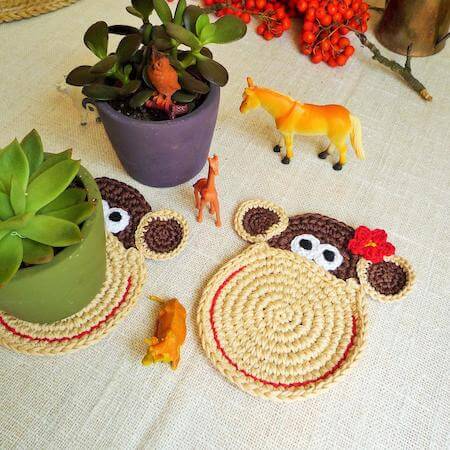 Get the Pattern by Monika Design here

9. Michael, The Monkey Crochet Pattern by Crochet 365 Knit Too
Meet Michael the Monkey! Oh so cute crochet monkey pattern that you will love to crochet! Perfect to make for a gift or you may find he is way too cute to give away and you need to keep him for yourself!
The pattern includes detail instructions on how to make the monkey, construct, and assemble monkey for that adorable look you love!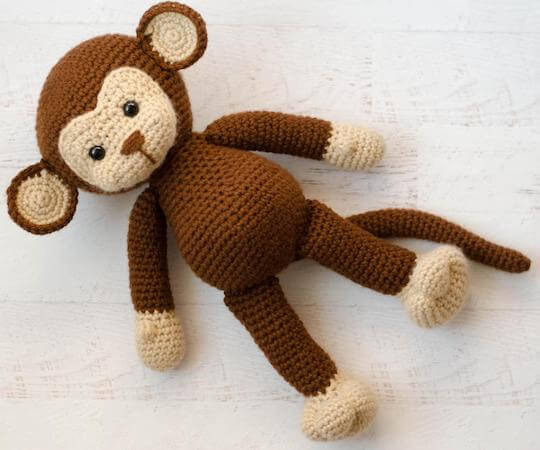 Get the Pattern here

10. Crochet Sock Monkey And Baby Hat Pattern by Yarnspirations
Look no further than this imaginative project to please all the moms on your list! Create an adorable crochet sock monkey and matching hat for baby, in any wonderful shade that inspires you.
Or, stitch it as shown for a classic look that everyone loves. The pattern is available in baby and toddler sizes, so welcome a bundle of joy, or delight a little one on their birthday!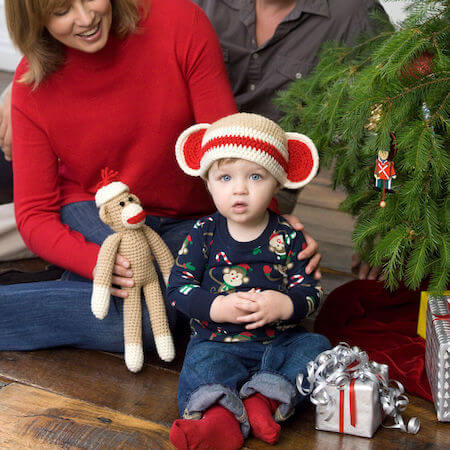 Get the Pattern here

11. Mike, The Monkey Amigurumi Pattern by Sugaridoo
Kids go bananas over this cuddly doll you create as their new loyal buddy! Let kids use their imaginations by choosing the colors for their new pal, then get busy crafting this handmade classic. It's a toy that any child loves and will always keep close by.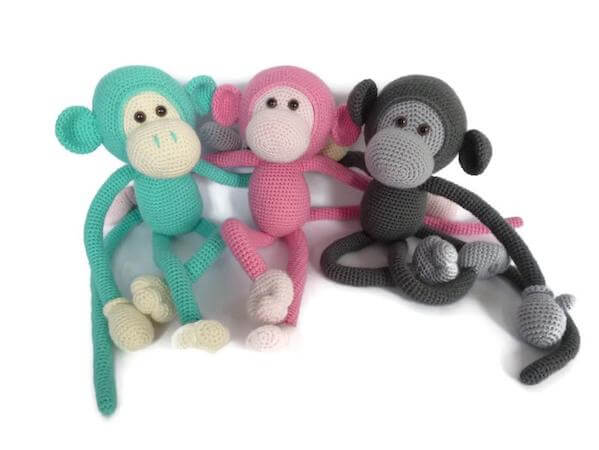 Get the Pattern by Sugaridoo here

12. Spunky, The Little Sock Monkey Amigurumi Pattern by Ira Rott Patterns
Spunky is the cutest little sock monkey – even though he is made from yarn and not from socks. He likes to play hide-and-seek and be a little silly. We know you love this piece of nostalgia that brings fond memories to mind.
Make your timeless toy as shown for a classic look, or explore the colors you imagine. Either way, finish a soft, wool toy to be cherished for years!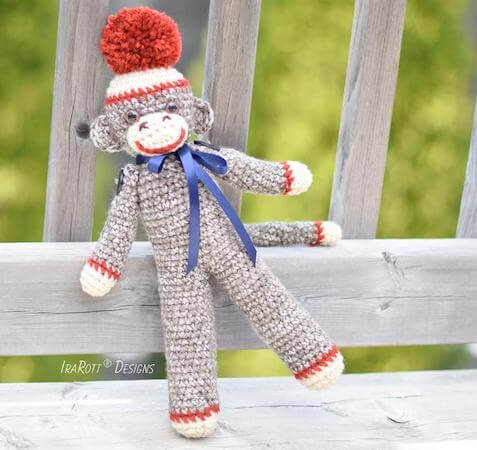 Get the Pattern by Ira Rott Patterns here

13. Crochet Monkey Amigurumi Pattern by Craft Passion
This Crochet Monkey Amigurumi is made with a more contemporary style, using colorful stripes, that sets it apart from most other crochet sock monkeys. She is about 18" tall and crocheted from light worsted acrylic yarn.

You can make the crochet stuffed monkey bigger by using a heavier-weight yarn (like worsted yarn) or 10-ply yarn with the appropriate hook size. If you want a smaller monkey, use a lighter-weight yarn.Different yarns mean you can create a whole crochet monkey amigurumi family. Fun, isn't it?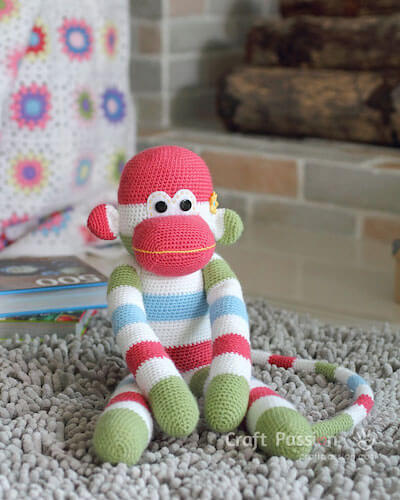 Get the Pattern here

14. Monkey Cup Cozy Crochet Pattern by Yarnspirations
Wrap a monkey around your cup. It will keep your hands warm and brighten up your morning at the same time. This crochet pattern uses very simple crochet stitches and works up quickly. This cozy is crocheted with the perfect stretch to fit your cup, making it the ideal gift for any coffee fan.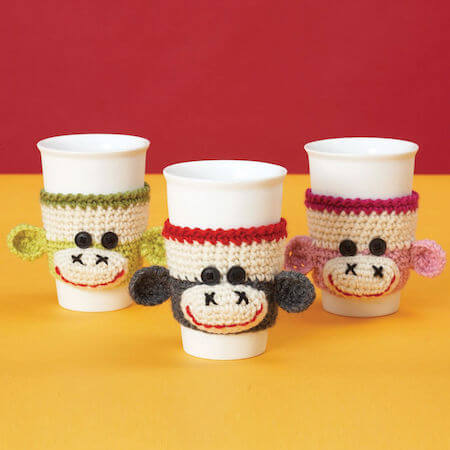 Get the Pattern here

15. Monkey Curtain Tie Back Crochet Pattern by Cosy Patterns
This adorable Monkey Curtain Tie Back is perfect for any nursery, baby room, or playroom! They will add to jungle-themed nursery so perfectly. They would also make cute gifts for so many occasions including baby showers and birthdays!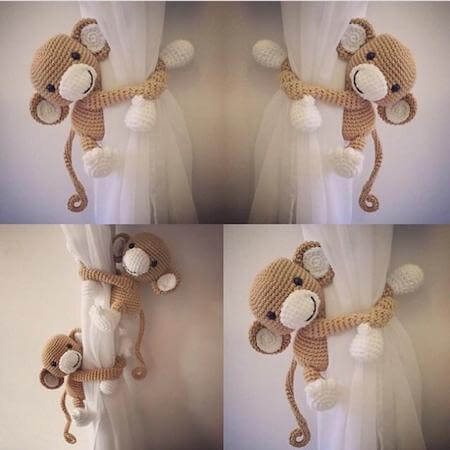 Get the Pattern by Cosy Patterns here
GO BANANAS FOR THESE MISCHIEVOUS CROCHET MONKEY PATTERNS!
When you have finished your monkeys, please feel free to send along pictures of your creation or post on our Facebook Page for all to enjoy! And crochet up a zoo with our Crochet Bear Hats Patterns, Moose Crochet Patterns, Chameleon Patterns, Ferret Crochet Patterns and many more.

It doesn't take long to crochet a zoo, let's begin with a crochet monkey pattern today!