Earn some real brownie points by hooking up these 12 adorable hedgehog crochet patterns! Choose your favorite and invite a crocheted hedgehog to your home.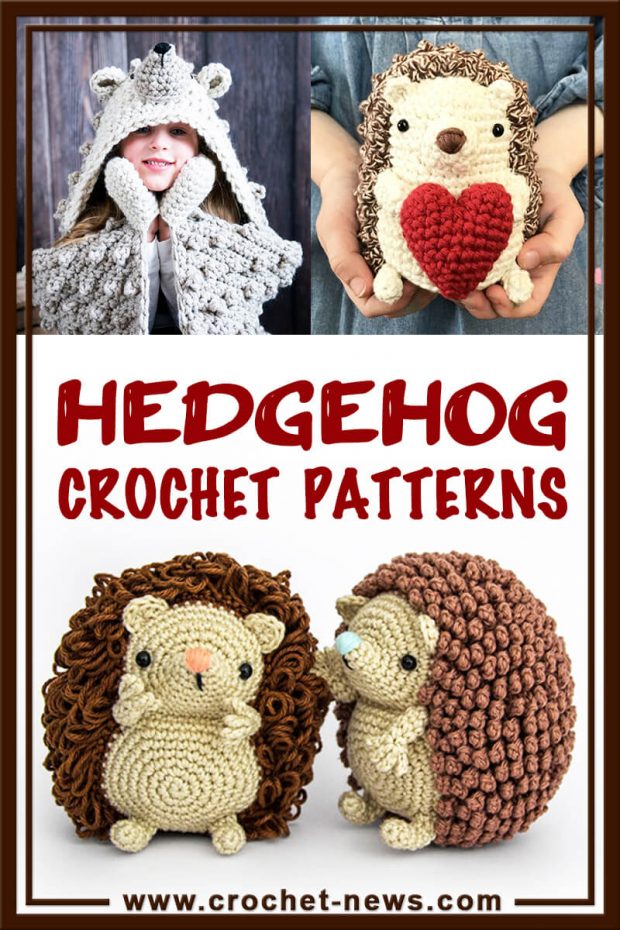 12 Crochet Hedgehog Patterns
Hedgehogs are a huge trend right now and it's not hard to understand why –these friendly little animals are incredibly endearing and are too cute for words! We've rallied up a few of our favourite online critters to celebrate. Which one will you make first?

1. Crochet Hedgehog Pattern by Crochet To Play
This hedgehog is sweet and round (and softer than the real thing!). He's the perfect Valentine's Day or year-round gift for a loved one. The hedgehog body is crocheted in the round and the spines are worked in rows and then added to the body.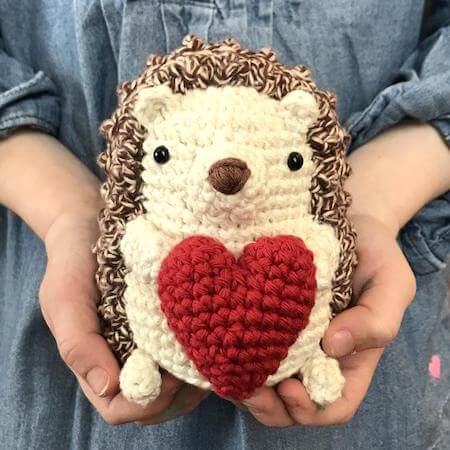 Get the Pattern by Crochet To Play here

2. Hooded Woodland Hedgehog Blanket Crochet Pattern by MJ's Off The Hook Designs
Wrap yourself in this cozy Hooded Woodland Hedgehog Blanket. Perfect for cuddling, play and display. This hedgehog blanket features mock popcorn stitches, mittens and detailed Hedgehog hood continuing the mock popcorn stitch with color changes for lighter colored face.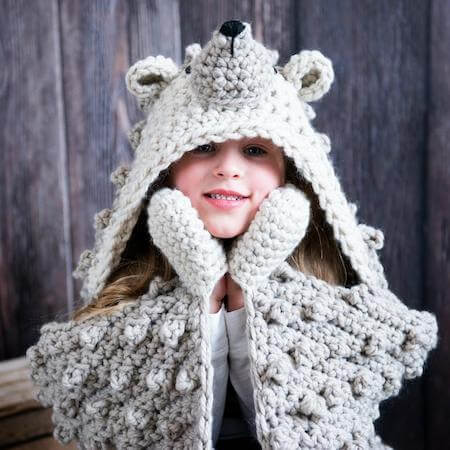 Get the Pattern by MJ's Off The Hook Designs here

3. Hedgehog Taggie Baby Toy Crochet Pattern by 1 Dog Woof
Combine colorful ribbon and crochet to make an adorable Hedgehog Taggie Baby Toy. Use it as a teether or just a softie friend for your babies. This toy would make a great gift at your next baby shower.
The ribbon taggies are worked directly into the crochet stitches. It's an easy crochet toy pattern that you can work up in no time!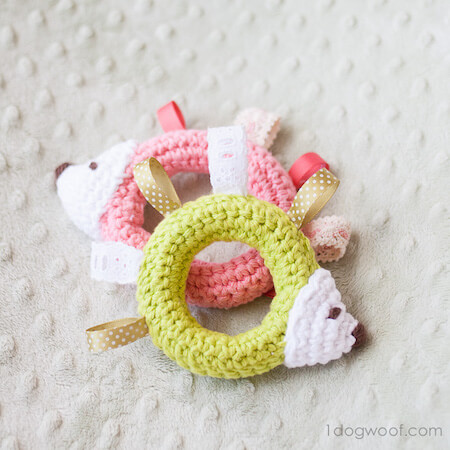 Get the Pattern here

4. Harper Hedgehog Crochet Pattern by Red Heart
This amigurumi crochet animal is creatively designed with multi-color yarn for whimsical appeal. His head and body are stitched in continuous rounds (spiral). Then we added fluffy spines to take the cuteness factor over the top!
Crochet it as a gift for kids of all ages, or add it to your own zoo of imaginative toys!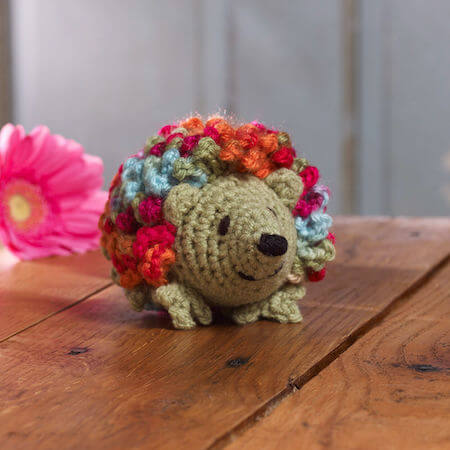 Get the Pattern here

5. Crochet Hedgehog Bookmark Pattern by Emma Crochet Design 4 U
This cute hedgehog pattern is unlike the others, as it is attached to a paper clip rather than being something that goes into your book. You will like the alternative of the cute critter sitting at the top of the book, as it eliminates some of the bulkiness of having a crochet piece inside your pages if your book pages are on the thinner side.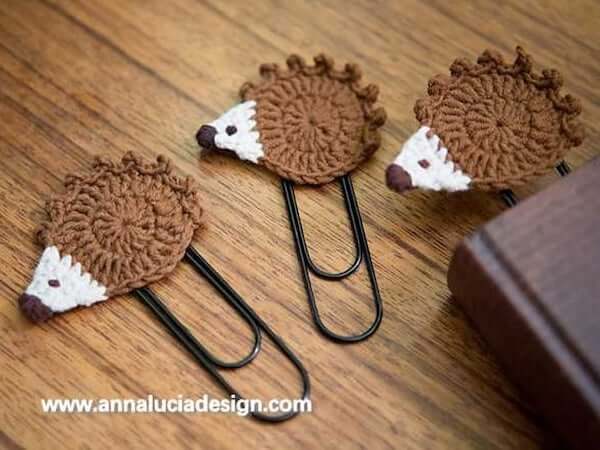 Get the Pattern by Emma Crochet Design 4 U here

6. Woodland Hedgehog Amigurumi Crochet Pattern by Mama In A Stitch
Hedgehogs have become so popular, and this little one works up in no time and is very simple to make! Perfect for the upcoming fall season, a fun little woodland creature to gift to someone or make for yourself.

You will use a size F crochet hook, worsted weight yarn, and fun fur to make the back. If you know how to crochet in the round and do simple decreasing and increasing, this little animal will be a breeze!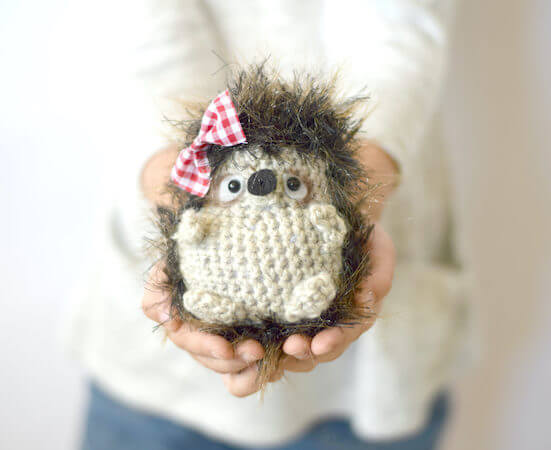 Get the Pattern here

7. Amigurumi Hedgehog Crochet Pattern by Irene Strange
Complete with his own basket and blanket, this prickly picnicker is a fun project for advanced hooksters. Bring Hester Hedgehog out of hibernation with light beige and brown yarn and a whole lot of loop stitch to make his trademark spikes.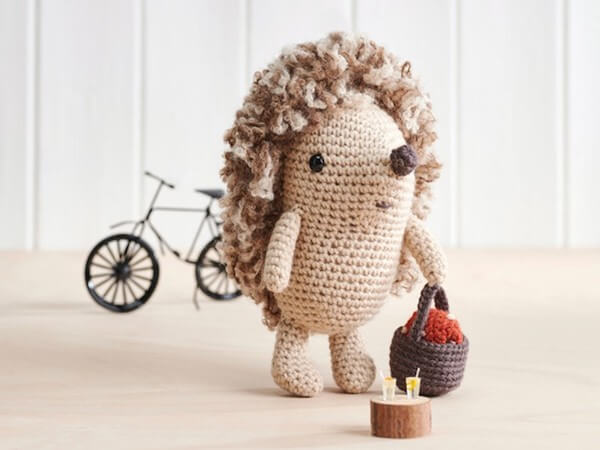 Get the Pattern here

8. Roly, The Hedgehog Crochet Pattern by Airali Design
Roly is a cute little hedgehog who unlike his peers has great faith in all humans and animals. He is a curious hedgehog, he is not afraid and never feels the need to roll into a ball in self-defense so his spines have become so soft to be stroked!

This crochet amigurumi pattern includes 2 spines/spikes option: loop stitch and non-loop stitch. Feel free to pick the spine option you like the most!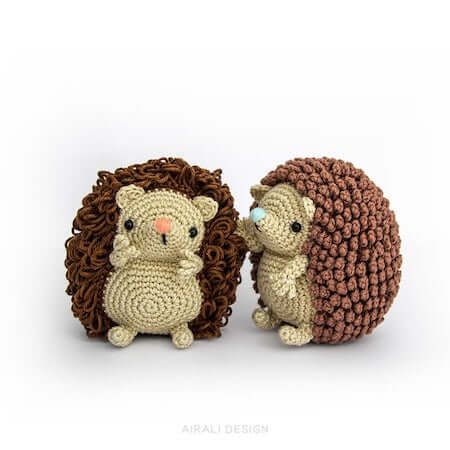 Get the Pattern by Airali Design here

9. Hedgehog With Hoglet Crochet Pattern by Lau Loves Crochet
With this design, the adult hedgehog's body has an internal pocket which opens to reveal the baby hoglet inside! Newborn hoglets are born without any quills and then soft cream quills appear through their skin a few hours later –whether or not to add any quills to your hoglet is therefore entirely your choice.

The pattern includes the instructions for both the adult hedgehog, her baby hoglet and a caterpillar. Aren't they so cute?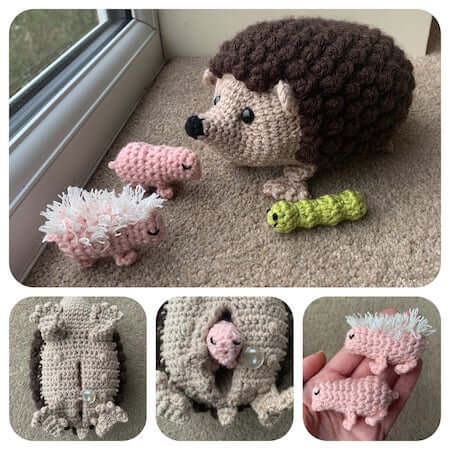 Get the Pattern by Lau Loves Crochet here

10. Crochet Hedgehog Keychain Pattern by ATERG Crochet
Love hedgehogs? Crochet yourself or friends these cute ones in all kind of color combinations for a lovely ornament or keychain. These small, cute hedgehogs will be a perfect gift, if you have to quickly make a bunch of them.
These keychains are great stash-buster, too. Don't you think?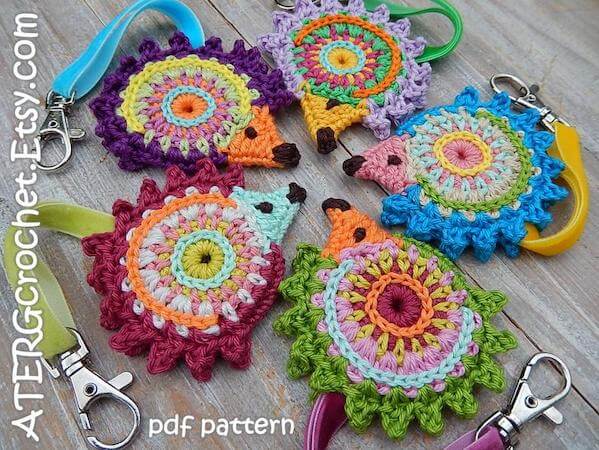 Get the Pattern by ATERG Crochet here

11. Free Crochet Hedgehog Pattern by Repeat Crafter Me
Cute, cuddly, and quick to crochet! One of our most favorite woodland creatures, the hedgehog can be crocheted is no time at all. This is a simple pattern but can also be customized. You could use the loop stitch to make the back "spikey" or use fur yarn instead.
Add a tiny crochet heart to the side of it for a Valentines day gift. So many little ways to tweak this pattern and make it extra special!
Get the Pattern here

12. Mini Hedgehogs Crochet Pattern by Sachiyo Ishii
Master bobble stitch to crochet these little sweethearts. Bedecked in flowers, Harry, Hanna and Hal are enjoying the warmer summer months! The pattern has cleverly used bobble stitch to create their 'prickles'; it's an easy technique to learn and is great for adding texture to the projects.
Finish off the trio with black bead eyes and use dark brown yarn from your stash to embroider their features.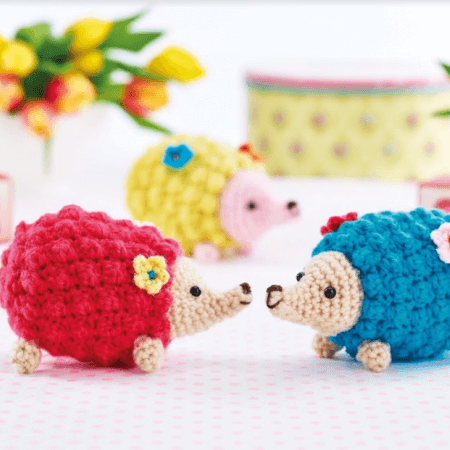 Get the Pattern here
HEDGEHOGS AREN'T HUGGABLE IN REAL LIFE – BUT THESE HEDGEHOG CROCHET PATTERNS SURE ARE!
While you may be cautious in real life because you know they're prickly and covered in spines, these cuties will do you no harm! If you make one, please do share your makes with us on our Facebook Page!

Crochet animals are so cute, and they're always a fun choice when you're looking for your next DIY project. For more animal patterns, don't miss our Squirrel, Monkeys, Whales, Bear Hats, Opossum and Moose Patterns.

If you weren't the biggest fan of hedgehogs before, these adorable hedgehog crochet patterns will certainly change your mind!