These crochet tiger patterns could become your kid's best toy to snuggle and play with. There is a little bit of everything listed here. From plushies to hats to blankets!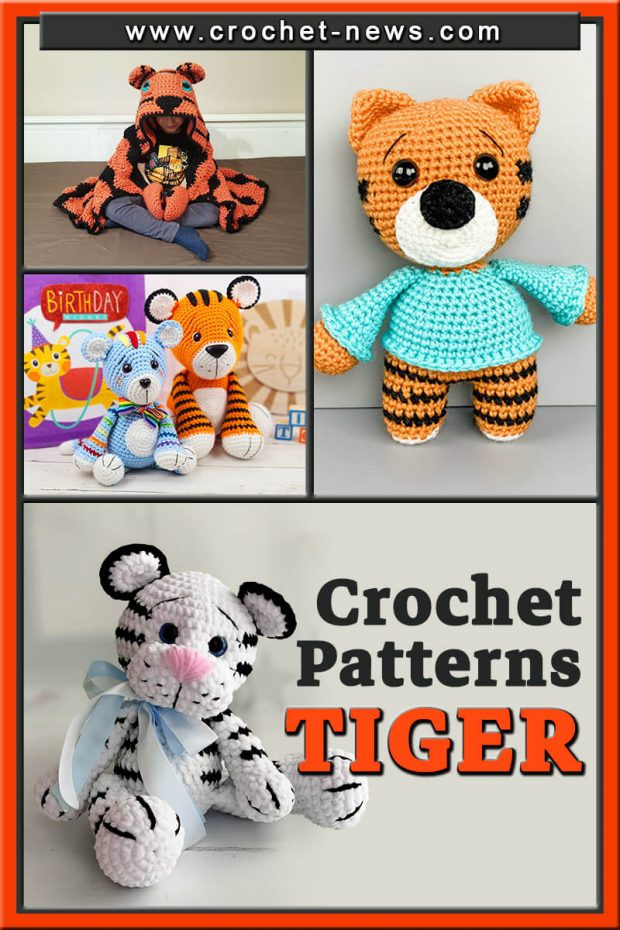 Tigers are one of the most loved animals on the planet. With their beautiful coat of reddish-orange with dark stripes, and for being the largest wild cat in the world, it's easy to see why they are a favorite.

1. Free Crochet Tiger Amigurumi Pattern by The Friendly Red Fox
This Friendly Tiger is about 8 inches tall. The legs are made separately and then attached to form the body. The body will decrease and then increase into the head. You will attach the snout, arms, and ears. Then you add the sweater edge detail. The options for the color choices with his little sweater are endless!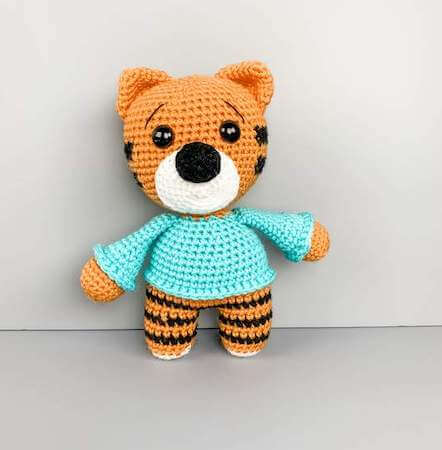 Get the Pattern here

2. Crochet Tiger Baby Booties Pattern by Traverse Bay Crochet
Create these adorable Crochet Tiger Baby Booties with this easy cute pattern! So fun to make and look absolutely darling on little feet! The pattern is written in newborn, 0-6M, 6-12M and 12-18M sizes, just change the hook size to change the size!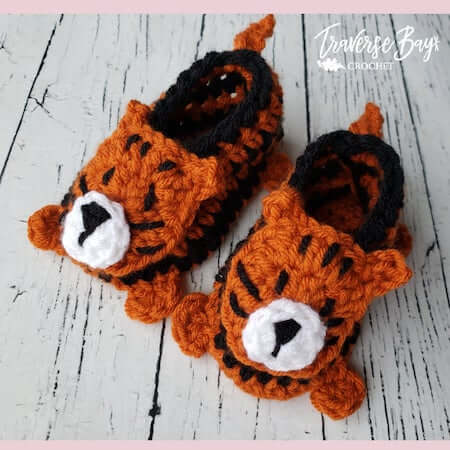 Get the Pattern by Traverse Bay Crochet here

3. Crochet White Tiger Pattern by Dan Art Estonia
With this easy crochet pattern, you can make yourself this lovely whit tiger for you and your loved ones. The size of a finished toy is about 30-32cm(12.59 inches) if using indicated yarn and hook.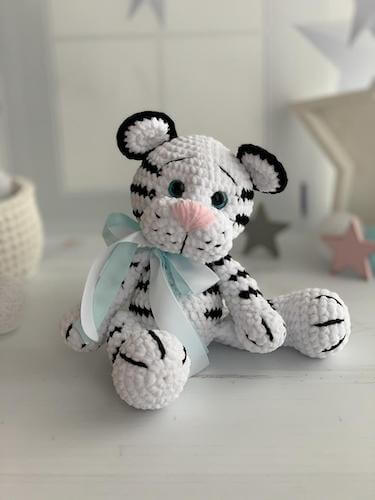 Get the Pattern by Dan Art Estonia here

4. Heart Tiger Applique Crochet Pattern by Golden Lucy Crafts
The face of this Crochet Tiger Applique is made from a heart shape. This shape gives her nice puffy cheeks! This cute heart tiger would be wonderful for a zoo themed nursery. It also would make a cute and attention grabbing embellishment for your kid's clothes, blankets, hats or bags.

It is perfect for those who admire this beautiful and strong animal! It also will look awesome on a handmade greeting card.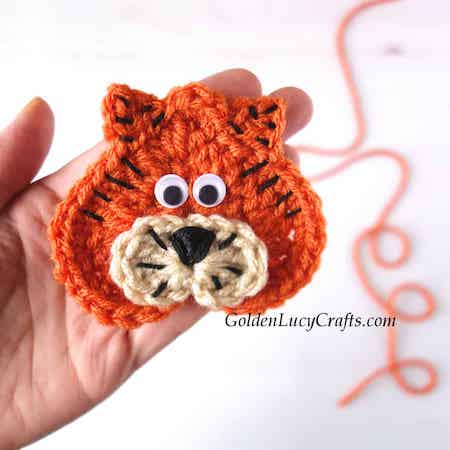 Get the Pattern here

5. 2in1 Safari Tiger Hooded Blanket Crochet Pattern by Crafting Happiness UK
This beautiful 2in1 Tiger Hooded Blanket is also a decoration for your room. Use it to keep warm and snugly, and when you are done with it, fold it and display it on your sofa, armchair or bed.

The pattern contains instructions for you to make a child or adult hooded blanket in the shape of a jungle tiger. The blanket is suitable for girls and boys, adults and kids alike. Made with super chunky (super bulky / #6) yarn, this blanket is warm and soft and works up in no time.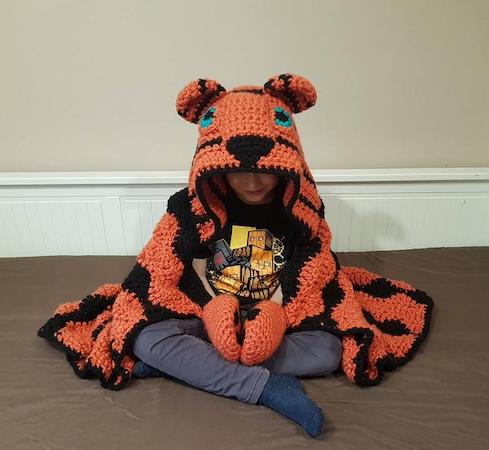 Get the Pattern by Crafting Happiness UK here

6. New Year Tiger Crochet Pattern by Yarnspirations
Ring in the "Year of the Tiger" with this sweet amigurumi tiger featuring orange and black stripes. It's super cute at only 7″ tall using brown and orange colors, or choose shades that speak to you. It's an adorable creation that's a fun gift for any child.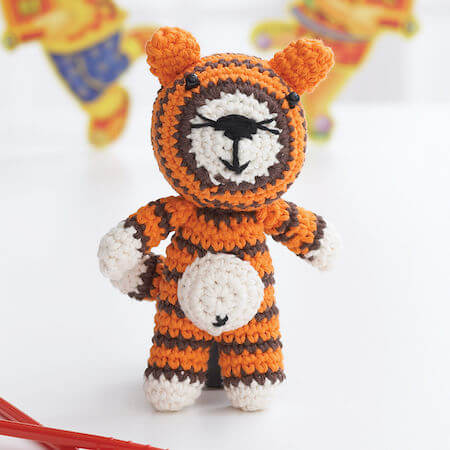 Get the Pattern here

7. Tiger Crochet Pattern by Sweet Oddity Art
Please your kids with this innocent crochet amigurumi, the legendary crochet tiger, would make a pretty cute birthday gift! This would be the most eye-catching toy in the kids' playroom and can make the baby boys and baby girls busy playing for hours!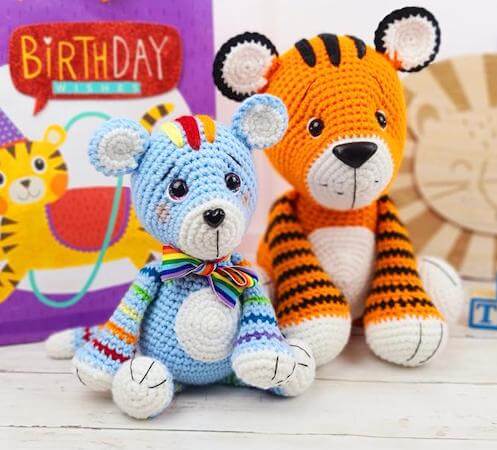 Get the Pattern by Sweet Oddity Art here

8. Tiger Curtain Tie Back Crochet Pattern by Cosy Patterns
These adorable crochet stuffed tiger curtain tie backs are perfect for any safari nursery, baby room, or playroom! They would also make cute gifts for holidays, birthdays, or baby showers.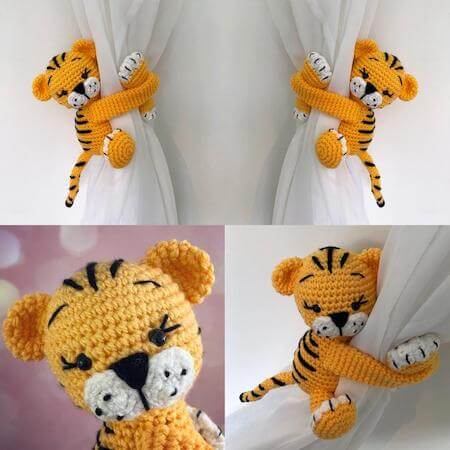 Get the Pattern by Cosy Patterns here

9. Crochet Tiger Hat Pattern by Repeat Crafter Me
This gorgeous tiger hat comes with beautiful braids that can be tied together to make hat stable over the head. You can make it for boys and girls and in any size! It is great for a fun hat or to use as a photo prop.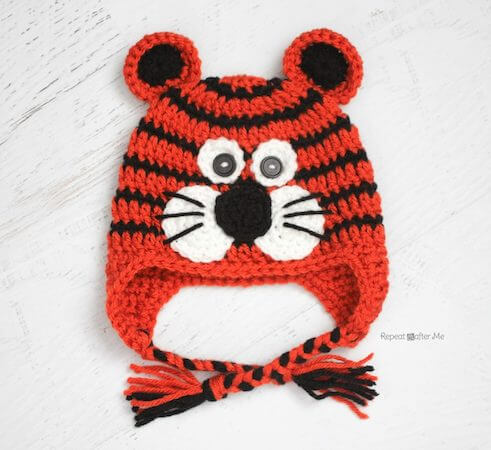 Get the Pattern here

10. Machli, The Tiger Amigurumi Pattern by Crochet With Halline
Isn't Machli the most realistic-looking tiger on this list? He will fit perfectly in any jungle scenes and will be a great addition to your home decors, as well. The tiger will be about 22cm high and 26 cm long without the tail.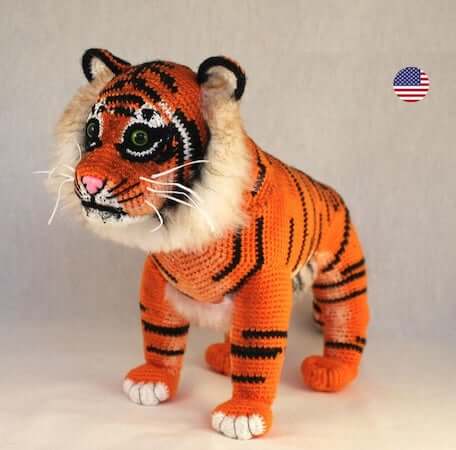 Get the Pattern by Crochet With Halline here

11. Chinese New Year Tiger Pattern by All About Ami
Crochet your own adorable tiger with stripes, cute paws and long tail in a sweet sitting position! This amigurumi tiger is the perfect gift for tiger lovers and those born in the Year of the Tiger!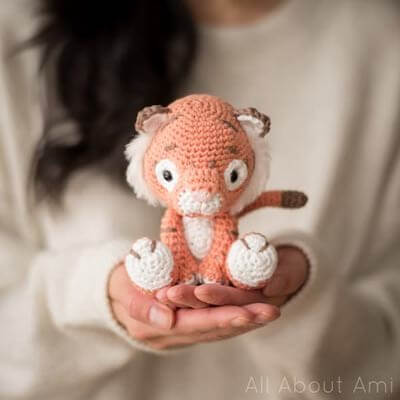 Get the Pattern here

12. Theo, The Tiger Amigurumi Pattern by Hobby Craft
Theo the tiger was always the littlest cub in the rainforest, longing to be as big and bold as his fierce friends. He's determined to make this year his year, so he's summoning all of his bravery and strength to go on some fun adventures!

Celebrate the Year of the Tiger this Chinese New Year with a super-cute amigurumi tiger! Perfect for beginners, this roarsome creation can be whipped up in an afternoon.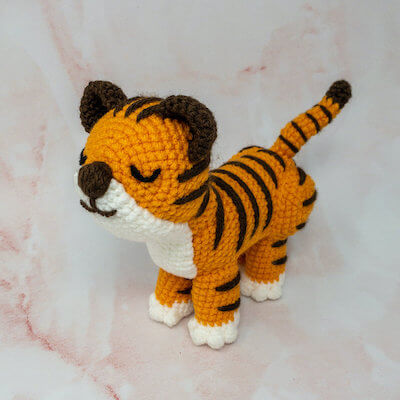 Get the Pattern here

13. Thomas, The Tiger Crochet Pattern by Moji Moji Design
'Roar!' says Thomas in his scariest voice – but no one's fooled and no one runs away. He's really just a cute and cuddly tiger cub made out of squishy, squashy yarn who feels much more at home in a toy box than a jungle!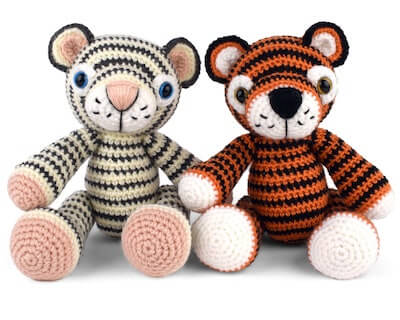 Get the Pattern by Moji Moji Design here

14. Amigurumi Tiger Crochet Pattern by Sachiyo Ishii
Perfect your color change skills with Arnie the tiger! They say a tiger doesn't change his stripes and we hope this little fella never does because he's simply adorable! This roarsome project is made with a gorgeous golden yellow yarn, but orange would be a great choice too of course!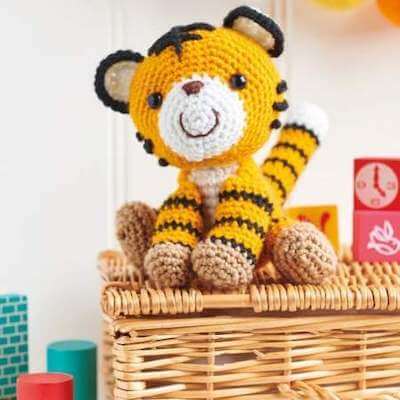 Get the Pattern here

15. Crochet Tiger Wall Hanging Pattern by Demi Deco Shop
Now this is a cheerful project! If you need a quick, cute crochet pattern to spend your weekend working on, try this Crochet Tiger Wall Hanging! Wall hangings are very on trend now, so be sure to make one for you or your kid's bedroom. It could be the start of a safari themed child's bedroom!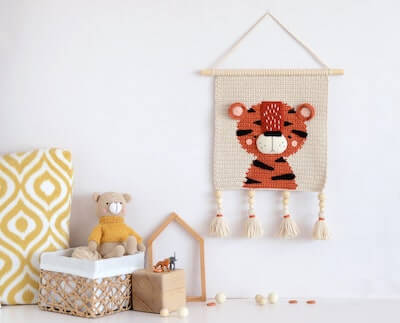 Get the Pattern by Demi Deco Shop here

16. Amigurumi Crochet Tiger Pattern by Sons Popkes
With this rather easy pattern, you can make a beautiful, realistic looking, playful crochet tiger amigurumi. Koji, the Amigurumi tiger is made with a 100% wool and he is sitting 5.8 inch/ 14.8 cm.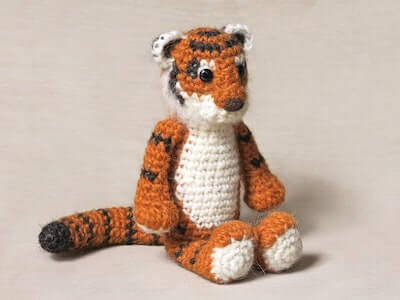 Get the Pattern by Sons Popkes here

17. Romeo, The Tiger Amigurumi Pattern by Amigurumi Today
We all love wild cats, but they just don't make great roommates. This super cute amigurumi tiger, on the other hand, certainly does! The size of the finished toy is about 15 cm (6″) when sitting.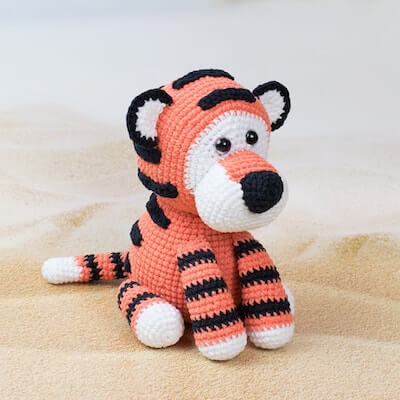 Get the Pattern here

18. Thomas, The Tiger Free Amigurumi Pattern by Jess Huff
Thomas, the Tiger can't change his stripes, but we'd never want him to because they present a fun colorwork challenge!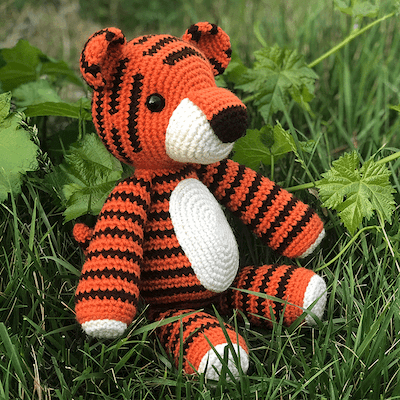 Get the Pattern here

19. Crochet Tiger Cot Blanket Pattern by Crafty Penguin Crochet
This super cute Tiger blanket is very versatile and can be used as a cot blanket, pram blanket, play mat, comforter or toy. The blanket will keep baby both entertained and cosy, the ripple blanket stitch is soft and warm and the amigurumi head, tail and legs are fun to play with but not to heavy or bulky when it is used as a blanket, it is easy to store as it is designed to be hung over a cot.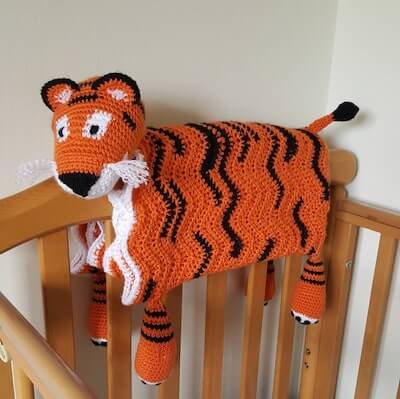 Get the Pattern by Crafty Penguin Crochet here

20. Sundog, The Tiger Mask Crochet Pattern by Projectarian
A mask pattern that will literally put a smile on your face! Wear this tiger muzzle as a fancy-dress item, winter warmer or just for fun.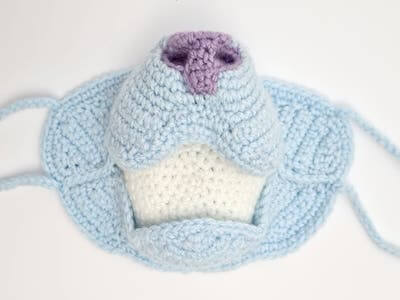 Get the Pattern by Projectarian here
TIME TO GIVE THESE CROCHET TIGER PATTERNS A WHIRL!
When you make your own version of these tigers, please do share your finished works on our Facebook Page. We'd love to see what you came up with!

If these crochet tiger patterns have triggered your love for wildlife, do check out our crochet patterns based on other zoo and wild animals like Lions, Elephants, Giraffe, Snakes, Hedgehogs, Monkeys, Hippos, and Bear Patterns. Make one of each animal and enjoy a real homemade family zoo in your own home!

So, if you're an animal lover and enjoy making different kinds of animals with your own hands, then these cute crochet tiger patterns are something you will adore! Get crocheting!