If you know someone (or you are that someone) who loves swans or just really wants to see more of them, this collection of crochet swan patterns is just the thing you need.

Swans are big birds so having one at home or giving one to a friend would be a bit of a struggle, however, these crocheted ones are equally as majestic and are sure to give you a smile!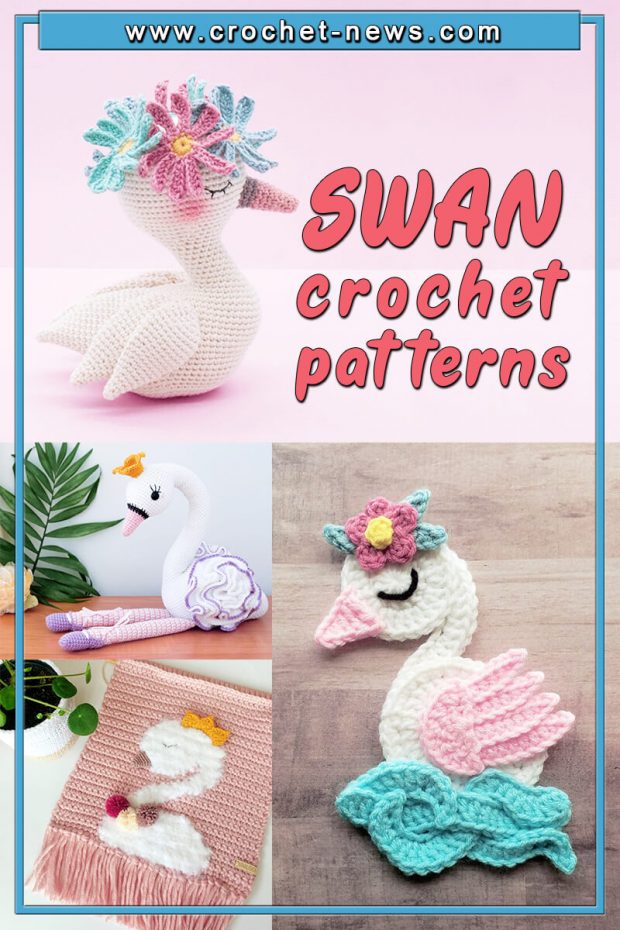 These patterns range from simple crochet patterns to projects designed for your children. Complete these projects and decorate your home with everyone's favorite charismatic birds!

1. Amigurumi Swan Free Crochet Pattern by Spin A Yarn Crochet
These amigurumi swan would make a really sweet addition to a nursery or as a baby shower gift (or even a Mother's or Father's Day gift?).
But you could also make two swans and put them together as a beautiful, handmade wedding or bridal shower gift.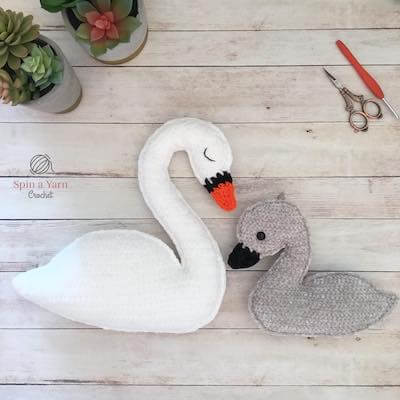 Get the Pattern here

2. Crochet Swan With Hatching Cygnet Pattern by Lau Loves Crochet
With this design, the adult swan's body has an internal pocket which contains an egg which then opens to reveal the baby cygnet inside that!
This pattern includes the instructions for both the swan, her egg and her baby.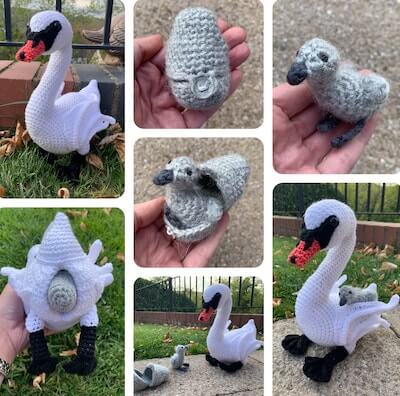 Get the Pattern by Lau Loves Crochet here

3. Swan Crochet Pattern by Grace And Yarn
Create your own crochet swan with this easy to follow pattern! The finished swan will be about 15 inches tall and work up quite quickly!

This pattern is worked in the round with the body and head as one piece. You will want to be familiar with working in a magic circle and sewing of parts.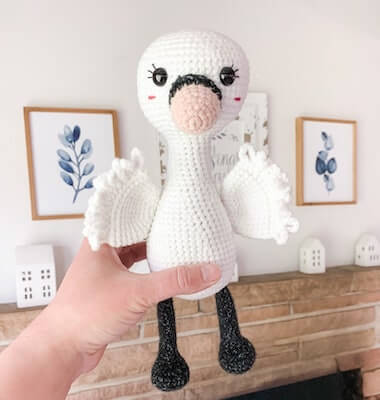 Get the Pattern by Grace And Yarn here

4. Crochet Swan Centerpiece Pattern by Bella Crochet
A crochet swan pattern, a lovely ornament or table decoration, it would look wonderful on a wedding table and then become a keepsake for the bride. An interesting project, a super gift, a great wedding item.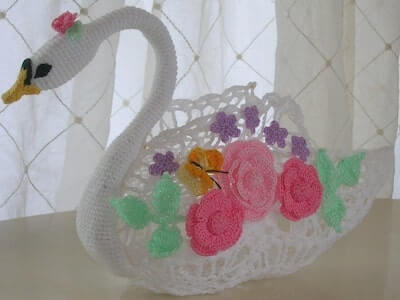 Get the Pattern by Bella Crochet here

5. Puffy Cluster Scarf Free Crochet Swan Pattern by Craftsy Amore
This is a fun project to crochet for little ones, especially those who love swans or ballets. You only need one skein of yarn to make this adorable scarf, which makes it a quick pattern when you're running out of time for a gift.
It'll entertain children for hours, as this scarf doubles as a toy and a warm accessory in the winter.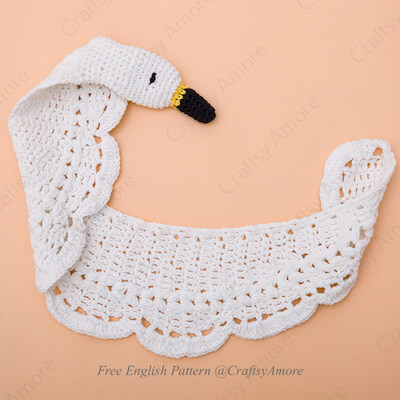 Get the Pattern here

6. Summer, The Swan Scrubby Amigurumi Crochet Pattern by Critterific Crochet
An adorable bath time friend or small stuffed animal depending on which included base pattern you decide to use.
These hand size amigurumi are the perfect size to sit atop your favorite lovey size blanket! Cute and versatile pattern!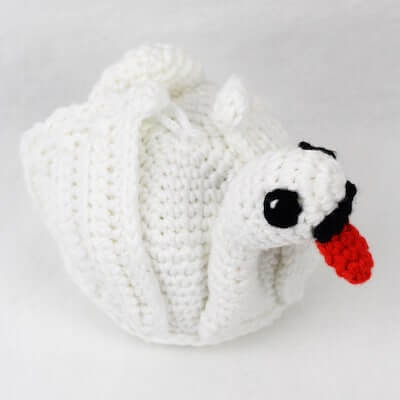 Get the Pattern by Critterific Crochet here

7. Clara, The Amigurumi Swan Bird Crochet Pattern by The Little Hook Crochet
Clara is a sweet and endearing little personality who is perfect for your office, the kids' room, or place her on a shelf to add a touch of whimsy. It's a wonderful project that engages from beginning to end, and beyond.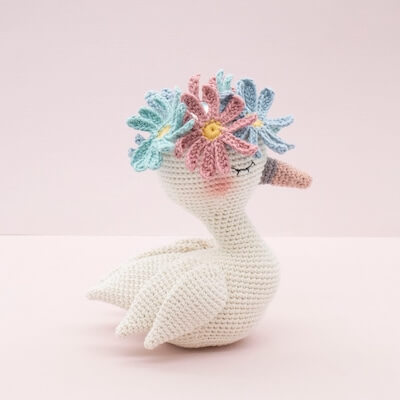 Get the Pattern by The Little Hook Crochet here

8. Crochet Swan Princess Pattern by My Crochet Wonders
This amigurumi swan princess toy is structured enough for room decor yet soft and huggable enough for playtime. The size of the ready bird while sitting is about 25 cm. with Sport / 5 ply (12 wpi) yarn and 2.00 mm crochet hook size (US – B/1; UK – 13).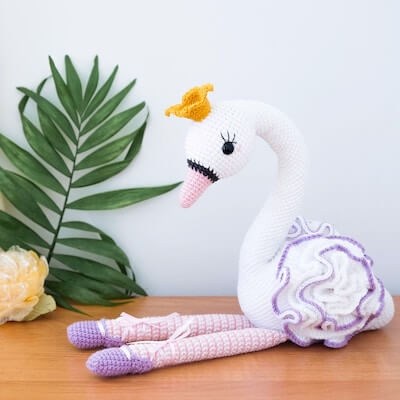 Get the Pattern by My Crochet Wonders here

9. Crochet Swan Wall Hanging Pattern by Manuska
Now this is a cheerful project! If you need a quick, cute crochet pattern to spend your weekend working on, try this Crochet Swan Wall Hanging!
It's a fun tapestry crochet project, so be sure to make one for you or your daughter's bedroom.
For more wall hanging ideas, check out these macrame wall hanging patterns.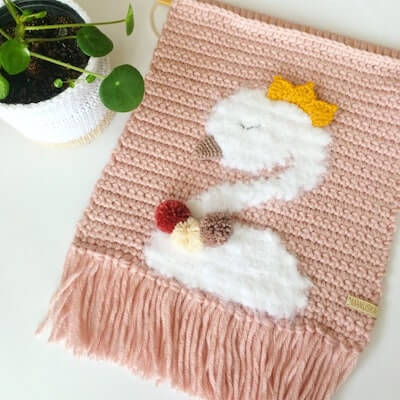 Get the Pattern by Manuska here

10. Stella, The Swan Applique Crochet Pattern by The Yarn Conspiracy
Fans of decorative appliques and swans will adore this fun little addition to their collection. This crochet swan is adorable and just the thing to embellish backpacks, denim jackets, pants, and more!
Stella, the Swan measures about 7.5"x 5.5" but you can adjust the size by using a different hook size.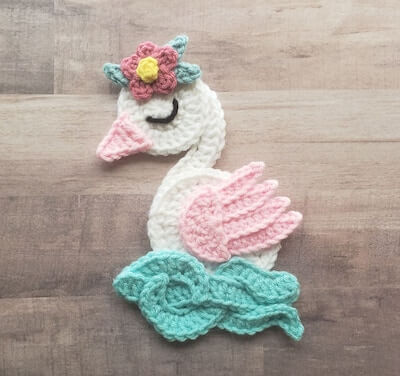 Get the Pattern by The Yarn Conspiracy here

11. Crochet Swan Slippers Pattern by Yarnutopia
This free crochet swan pattern is an unbelievable versatile pattern not only because you can make them any size but also you can use the same guidelines to make gorgeous Flamingpes, Ducks, Peacock, and more! With these super cute booties, you and your little one can totally stand out in a crowd!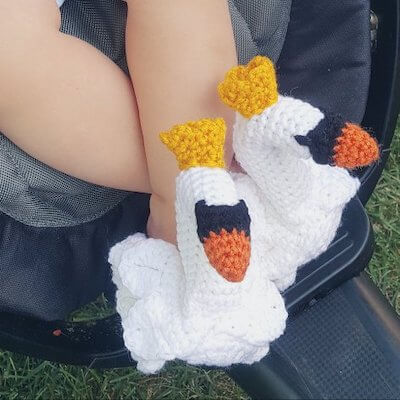 Get the Pattern here
LET YOUR CREATIVE URGES TAKE FLIGHT WITH THIS WONDERFUL COLLECTION OF CROCHET SWANS TO MAKE.
Keep in touch on the Crochet News Facebook Page and feel free to post and share pictures of your gorgeous projects. We'd love to see!

Are you fond of birds? Here are Crochet Peacock Patterns, Crochet Flamingo Patterns, Crochet Penguin Patterns, Crochet Duck Patterns, Crochet Chicken Patterns, Crochet Bird Patterns and Crochet Owl Patterns to try!

For now, let's get hooking with these crochet swan patterns – enough to keep us busy for some time.