Everyone has their favorite animals, and birds are no exception. From cute to realistic, crochet some feathered friends to brighten up your home all year long! These crochet bird patterns below include cardinals, hummingbirds, robins, and more.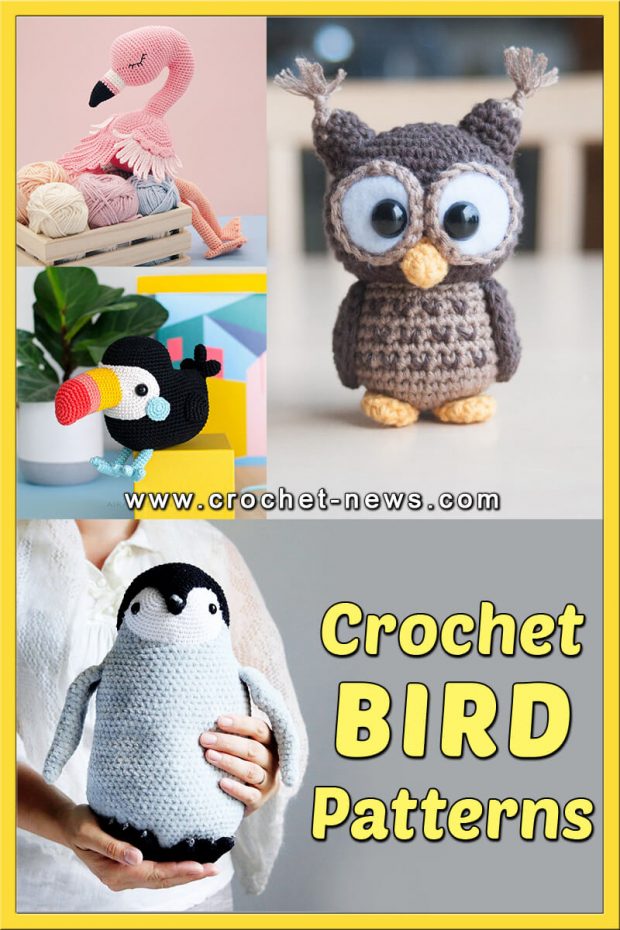 Amateur and veteran ornithologists alike, if you love birds, you'll love any of these bird-themed patterns that cover almost every bird species. What's your favorite bird? Wild birds, domesticated birds, it doesn't matter. If it chirps, peeps, or hoots, you'll find it here!

1. Benedict And Bertie Free Crochet Bird Pattern by Red Heart
No matter how grouchy these birds are, they simply can't help being utterly adorable! This pair of crochet bird amigurumis will steal your heart, so add them to your collection of crazy characters! Display them on your desk or place them on a shelf to bring smiles to the faces of those who pass by!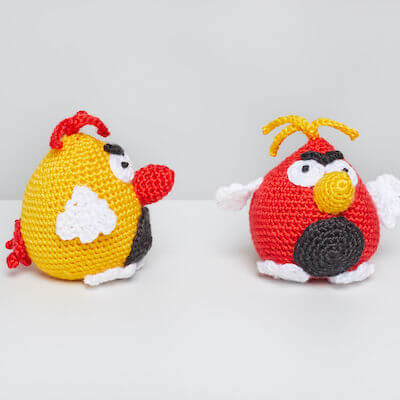 Get the Pattern here

2. Song Bird Crochet Amigurumi Pattern by Crafty Intentions
This Song Bird Crochet Pattern comes with instructions for several different options to create your very own song bird!

There are two tail patterns, two body patterns, two wing style patterns, three beak style patterns, and two types of legs/feet. Any of these can be combined! These cute little birdies are not shy, and will stick around anywhere you want them to!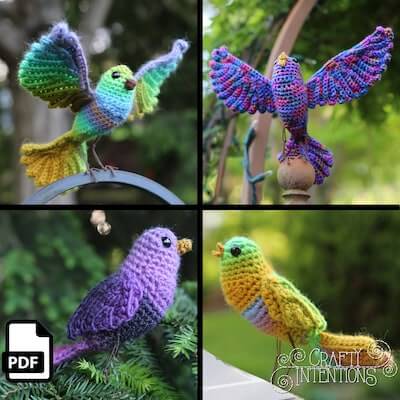 Get the Pattern by Crafty Intentions here

3. Parrot Crochet Bird Pattern by CARO Created
This parrot bird amigurumi is a nice toy for any child who would like to adopt a bird but isn't old enough to care for the real thing.

Kids who love pirate tales of adventure may want to add this feathery pirate companion to their collection of toys for pretend play!
Get the Pattern by CARO Created here

4. Crochet Love Bird Applique Pattern by Golden Lucy Crafts
You can make this Crochet Love Bird Applique Pattern in early anticipation of Valentine's Day because uses a heart for its wings which makes it perfect for this romantic holiday.

You can also make this crochet bird without a heart-wing, and you can use it for any other embellishment. This cute crochet bird applique can be used to decorate and personalize hats, bags, t-shirts, baby blankets, or other things that you can think of!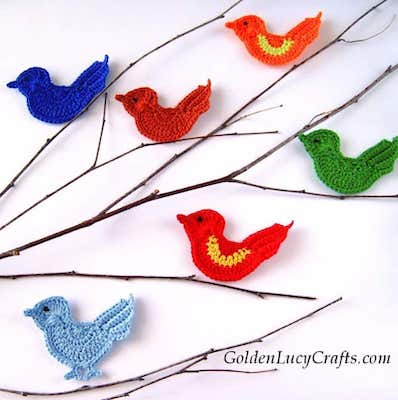 Get the Pattern here

5. Crochet Robin Bird Amigurumi Pattern by Little Conkers
This crochet pattern is for a totally adorable tubby robin which you can make as a hanging ornament or to stand on a surface.
The finished robins make a great gift for a nature-lover or would be perfect as a Christmas tree decoration, twig tree ornament or to decorate your table. Use different colours for Easter ornaments, a sweet baby's mobile, bag charm, or even an original toy for your cat!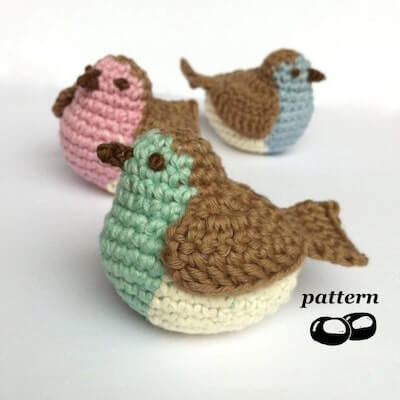 Get the Pattern by Little Conkers here

6. Little Penguin Pip Crochet Pattern by Irene Strange
Penguins are flightless birds and this Little Penguin Pip is here to welcome the first snow! Emperor penguins chicks have got to be the fluffiest and cutest of all penguins, with a soft fluffy grey body that's just asking for a cuddle – but got to catch (or crochet) one first!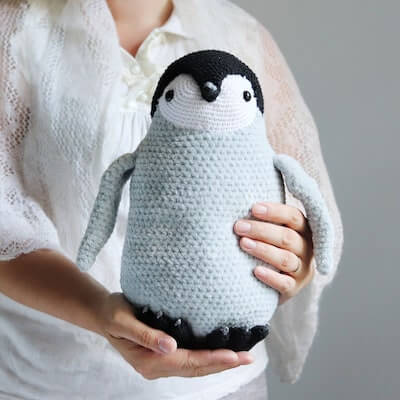 Get the Pattern by Irene Strange here

7. Crochet Bird Amigurumi Pattern by Amigurumi Today
Have you ever seen more adorable than this little purple bird? This lovely toy will bring joy both to adults and children, so don't look further for a beautiful and original gift!

This Crochet Bird Amigurumi Pattern is designed to suit intermediate skill level. You can use different colors and their combinations to create a unique crochet bird amigurumi.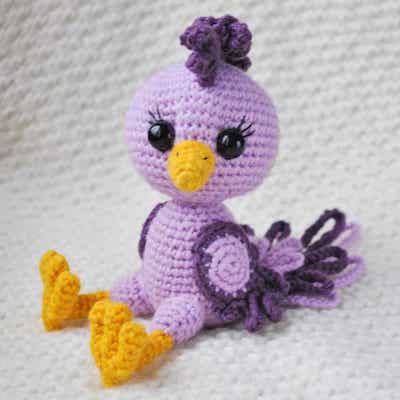 Get the Pattern here

8. Free Crochet Bird Amigurumi Pattern by Craft Passion
Meet the cozy, cutie-pie Fur Bird amigurumi inspired by the Angry Birds Movie. Be fully creative in any way you want with multi-colored yarns and felt.

This crochet bird pattern can be a way to brighten up the surroundings. Whether it is a craft room, study room, working desk, or window sill, Fur Bird amigurumi is a happy little bird toy to have around.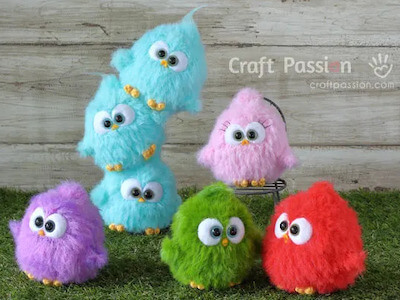 Get the Pattern here

9. Crochet Sparrow Bird Pattern by Amber Craft Store
Make the most realistic crochet sparrow of your life today! Designed to be realistic in all their natural cuteness, this sparrow bird makes a great addition to your seasons table and certainly put a nice touch to your household decoration.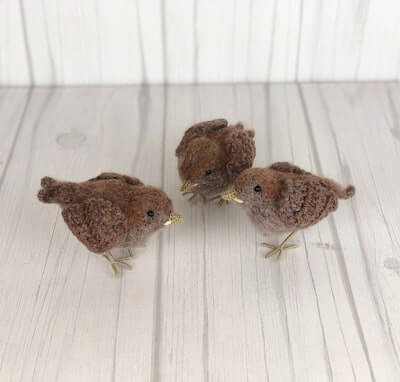 Get the Pattern by Amber Craft Store here

10. Crochet Cockatoo Pattern by Belle And Grace HMC
Watch the eagerness in your child's eyes when they see this unique amigurumi cockatoo, sure to bring a smile to their face and provide tons of fun. Great for flying about and sharing adventures, this bird toy is full of cuddly huggable fun!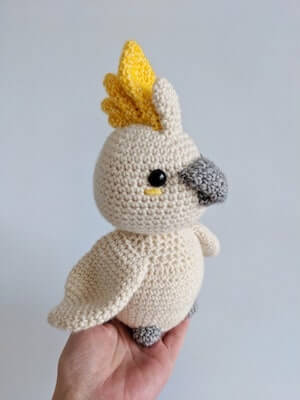 Get the Pattern by Belle And Grace HMC here

11. Free Amigurumi Birds And Birdhouse Pattern by Furls Crochet
Spring is in the air, the birds are chirping and the sun is shining! Celebrate the season by getting out your hooks and crocheting your very own little birdhouse and sweet little birdie set! This pattern includes the pattern for the birdhouse, plus the sweet little bird, grass mat and trees!
Get the Pattern here

12. Crochet Chicken Bean Bag Pattern by Petals To Picots
These crochet chickens will make the cutest little kitchen pets. You will love how adorable these little crochet chicks look propped on your kitchen windowsill! And they are fun and easy to make too! Its pyramid-shaped can be seated well and cute enough to catch kids' eyes for playing.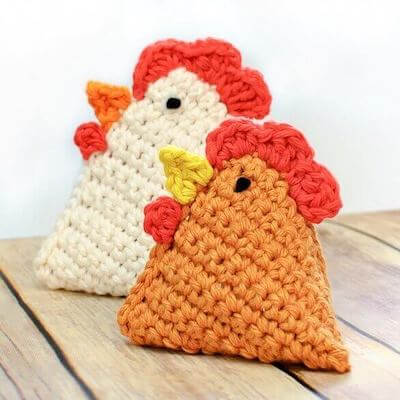 Get the Pattern here

13. Crochet Bird Pot Holder Pattern by All My Styles
This pretty bird pot holder will make your kitchen feel like Spring all year round. This pattern is for a colorful (and thick) bird potholder. It is made of two thicknesses that are crocheted together.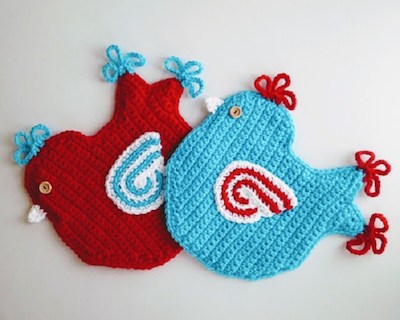 Get the Pattern by All My Styles here

14. Toco, The Toucan Crochet Bird Pattern by Airali Design
Why not bring a bit of the lush, warm tropics to your home with this crochet bird amigurumi pattern? Get a warm and sunny feeling with Toco, the toucan!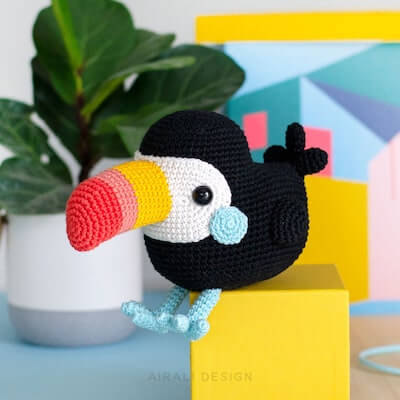 Get the Pattern by Airali Design here

15. Albert, The Owl Crochet Pattern by Em Sa Crochet
This cute little bird owl named Albert would make a perfect toy and a gift for any kid! Those huge adorable eyes, the little orange beaks, and the fact that they could fit in the palm of your hand! So cute!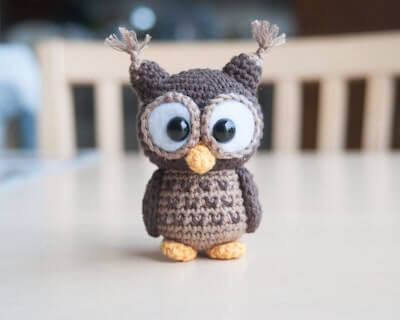 Get the Pattern by Em Sa Crochet here

16. Free Crochet Bird Decoration Pattern by Gathered
Hook up a beautiful crochet bird to decorate your Christmas tree with this free bird decoration pattern! Christmas isn't all reds and greens, decorate your tree with some bright and colourful crochet with the help of this free crochet bird decoration pattern!

This cute and colorful bird decoration uses clever stripes and shapes to create a unique ornament that is also super-fun to hook up!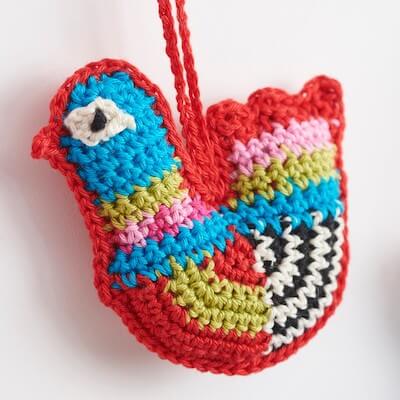 Get the Pattern here

17. Crochet C2C Sparrow Square Pattern by Repeat Crafter Me
A sweet little Sparrow C2C Square is just what we needed! The color possibilities are endless so feel free to turn your sparrow into a cardinal, blue jay, or more! The finished squares are 12×12 inches.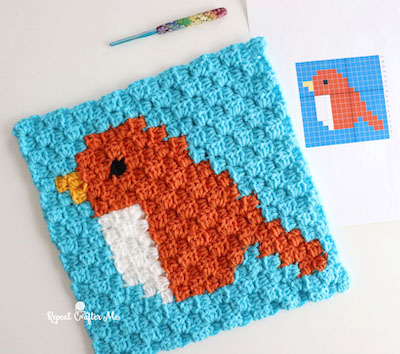 Get the Pattern here

18. Colibri, The Hummingbird Rug Crochet Pattern by Ira Rott Patterns
Colibri, the Hummingbird is a tiny little bird full of life and color. This vibrant rug will brighten up your home and fill your heart with thoughts of spring.

Make it using the suggested 4-color theme or use your own colors. You can even turn this pattern into a wall hanging or an applique for a blanket by using a single strand of yarn with a smaller size hook.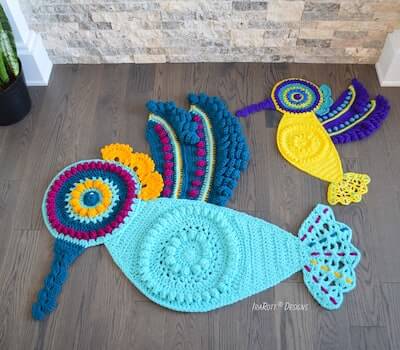 Get the Pattern by Ira Rott Patterns here

19. Crochet Crow Pattern by Deprecat
Make just one, or make a whole murder of these adorable little crows! Perfect for decorating your home for Halloween, or as a gift for any bird-loving or witchy friends!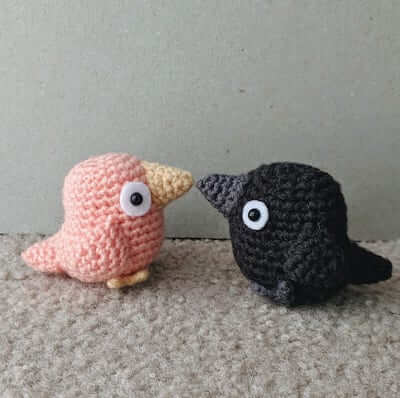 Get the Pattern by Deprecat here

20. Bob And Betty Bird Crochet Pattern by Ashley Parker
This crochet bird pattern makes both of my little friends Bob and Betty Bird. This is a quick and easy amigurumi bird pattern that makes two chubby little birds who are ready for spring. They're all dressed up to celebrate the spring season and make new friends after a long winter away.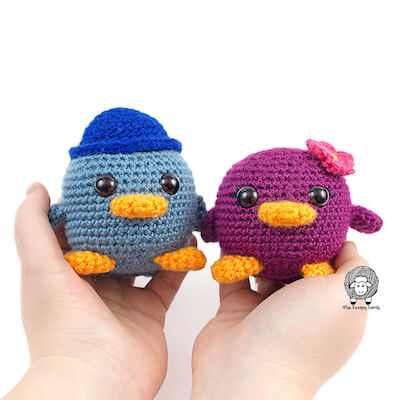 Get the Pattern here

21. Flo, The Flamingo Bird Crochet Pattern by The Little Hook Crochet
This flamingo toy is structured enough for room decor yet soft and huggable enough for playtime. Flo is 11.5 inches/29 cm tall from head to feet if made with 4-ply fingering yarn and a 2.5 mm hook.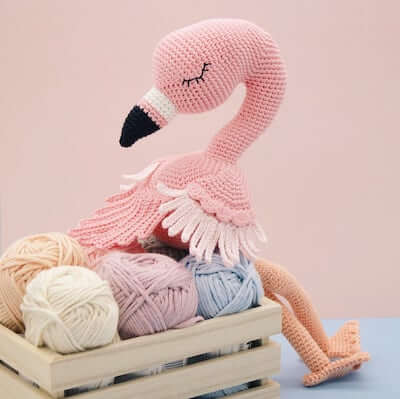 Get the Pattern by The Little Hook Crochet here

22. Bird Crochet Keychain Pattern by Chai Coffee Crochet
This small crochet bird keychain a quick amigurumi pattern and a great scrap yarn project to crochet. Plus, it's so easy that it's a good crochet keychain pattern for beginners!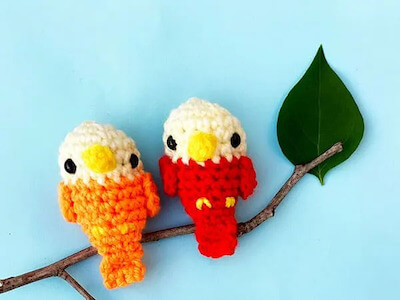 Get the Pattern here

23. Crochet Cardinal Pattern by TN Gifts UA
What a cute little red Cardinal is this! He is a must make to add to your collection. He has the cutest little 'look' with his jaunty ' up-do' and he seems to make everyone smile!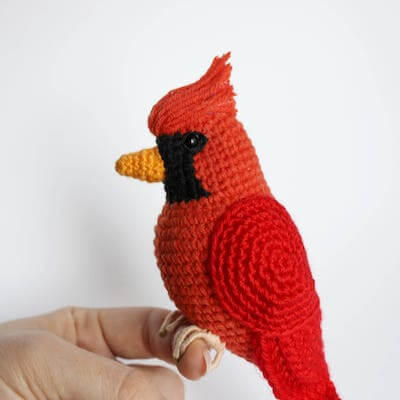 Get the Pattern by TN Gifts UA here

24. Oswald, The Ostrich Crochet Bird Pattern by Il Dikko
The ostrich is among the largest types of birds in the world and no birds can match their speed on land. Are you fast enough to catch this adorable ostrich? Hurry up and take your hook out before he runs off the store!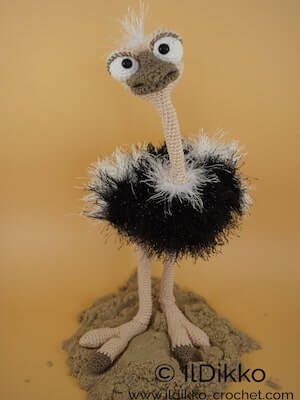 Get the Pattern by Il Dikko here

25. Realistic Peacock Crochet Pattern by Hooked By Kati
Is there anything more regal than a peacock? This magnificent bird transfers beautifully to a crochet stuffed animal. He can show off his glamorous tail as a soft sculpture in your home. He can also make a lovely gift to hug and snuggle.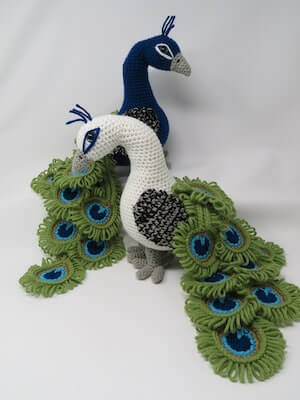 Get the Pattern by Hooked By Kati here
WITHOUT A DOUBT, THIS COLLECTION OF CROCHET BIRD PATTERNS IS A BIRD LOVERS DELIGHT!
You'll be amazed at how quickly and easily you can create your own flock of crocheted birds. Once you're done, remember to share your progress on our Facebook Page.

No sooner will you finish one that you'll want to start on another little feathered friend to keep it company. Here are more collection of patterns for different birds we have on our site: Crochet Eagle Patterns, Crochet Cockatoo Patterns, Crochet Parrot Patterns, Crochet Rooster Patterns, Crochet Swan Patterns, Crochet Peacock Patterns, Crochet Flamingo Patterns, Crochet Penguin Patterns, Crochet Owl Patterns, and Crochet Duck Patterns.

Create your own flock with these crochet bird patterns and you never know – you may end up with a home full of them!