Do you know someone who has a passion for parrots? They either have pet parrots, they want pet parrots, or they are collecting parrot things. If you are at loss for what to get the parrot-lover in your life, then this list of crochet parrot patterns will help you get the ideas flowing and more!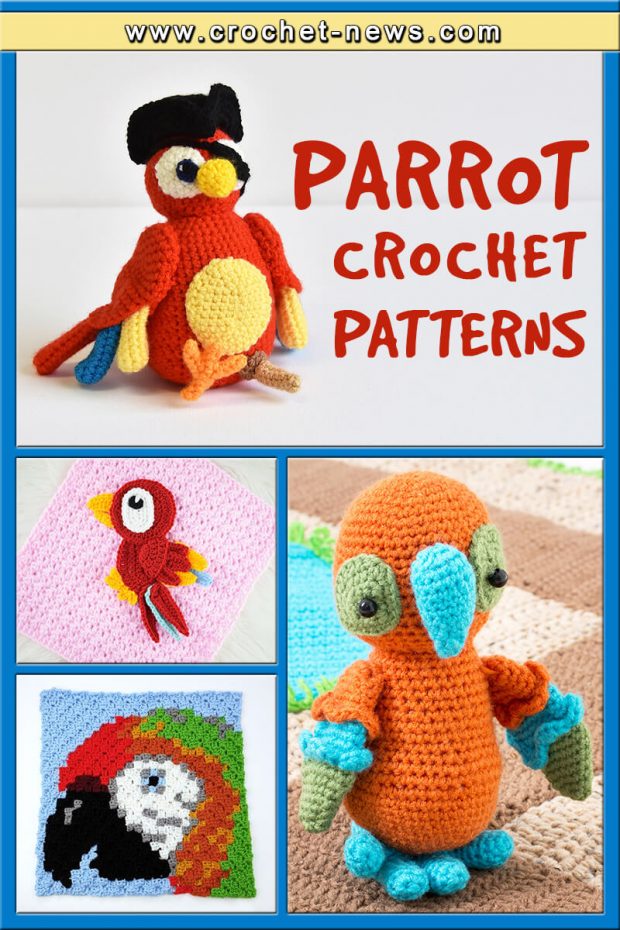 It's no wonder that parrots are one of the world's favorite pets. They are colorful, quite intelligent, highly sociable, and long-lived creatures.
Parrots are fun, remarkable and brilliant to keep as pets. But if you can't afford to get one, these crocheted ones below are as cute as the real thing!

1. Pedro, The Parrot Crochet Pattern by Amigurumi Today
Pedro, the Parrot is something that you can definitely catch and keep to yourself. With his cute, cuddly size and adorable looks, one can't help but squeal at the sight of him!
This little amigurumi parrot is the perfect addition to any home!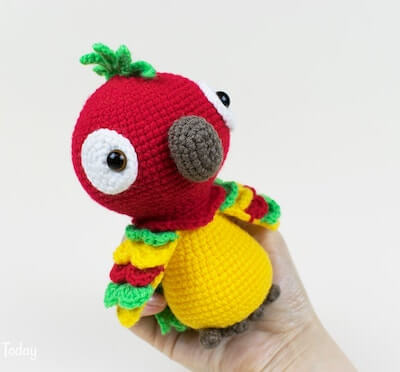 Get the Pattern here

2. Free Crochet Parrot Pattern by Red Heart
It's great to have a parrot with you to enjoy the journey through Africa! Choose fun bright colors to crochet your parrot. This free crochet parrot pattern shows two clever options.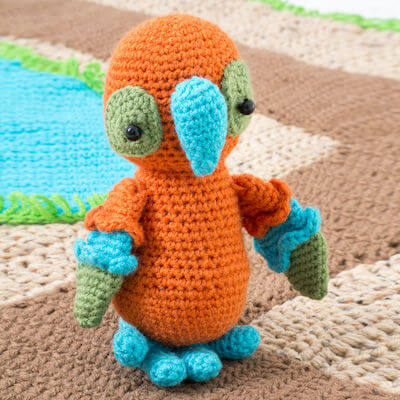 Get the Pattern here

3. Crochet Amigurumi Parrot Pattern by Deramores
This cute, colourful amigurumi parrot, is perfect as a gift for any animal lover. Crocheted by mainly working in the round, this crochet parrot is a born entertainer and is a great feature on any window sill in your home or as the perfect toy for a child within the family.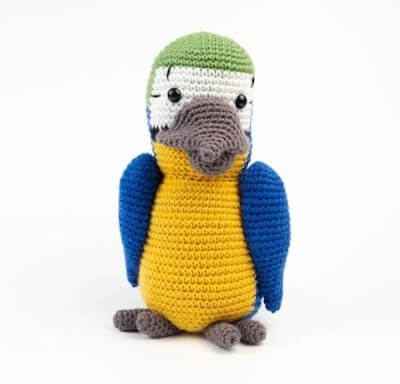 Get the Pattern here

4. Paulo And Paula Parrot Amigurumi Crochet Pattern by Moji Moji Design
Paulo and Paula Parrot are a chirpy pair who love puffing up their plumage to show off a fabulous froth of fluffy feathers.
They like Flamenco dancing together where they really get to their stuff. If you asked them how they felt I'm sure they'd say they were 'frilled' to meet you!

This is one pattern with two distinct colourways (but feel free to invent more if you have a favorite type of parrot you would like to make!)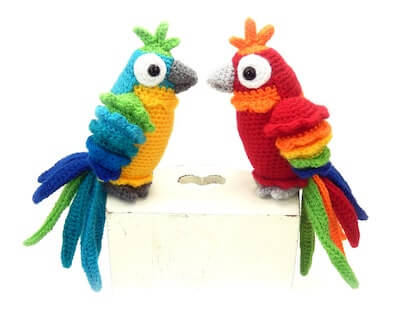 Get the Pattern by Moji Moji Design here

5. Crochet Parrot Brooch Pattern by Crochet Toys Basket
This Parrot Brooch is sure to brighten up your mood even on a cheerless day. This is a perfect accessory for any coat, jacket or even bag.
Easy to make with full instructions and photos to guide you through. They can be made up in a few hours and would make the ideal last minute gift!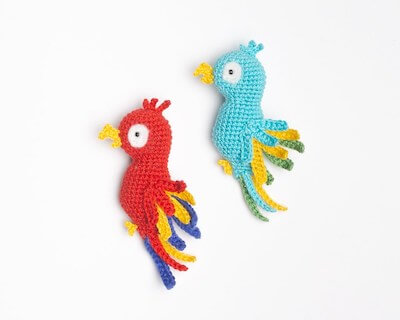 Get the Pattern by crochet Toys Basket here

6. Pirate Parrot Crochet Pattern by Vliegende Hollander
The pirate crochet parrot is here, with his mighty pirate hat and wooden leg! Now you can make your very own pirate parrot or party parrot with this easy to follow crochet pattern.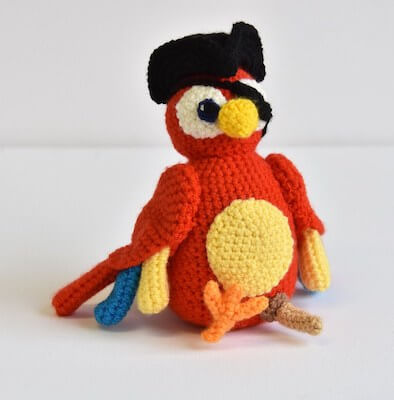 Get the Pattern by Vliegende Hollander here

7. Crochet Parrot Pattern by CARO Created
This amigurumi parrot is a nice toy for any child who would like to adopt a bird but isn't old enough to care for the real thing.
Kids who love pirate tales of adventure may want to add this feathery pirate companion to their collection of toys for pretend play!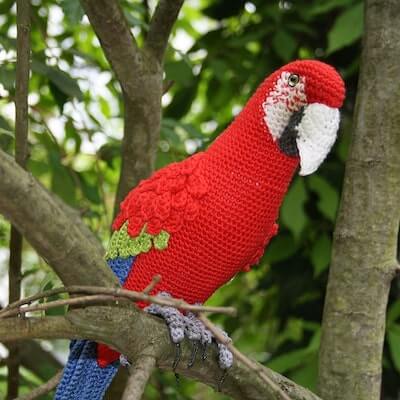 Get the Pattern by CARO Created here

8. Chili, The Parrot Bookmark Crochet Pattern by Il Dikko
You won't lose your place in your books with this feathered friend! In only one or two evenings you will be able to complete your own!
We also have a lot more Crochet bookmark patterns here.
Get the Pattern by Il Dikko here

9. Crochet Parrot Applique Pattern by Passionate Crafter
We all love the beautiful colors and patterns of a parrot, but many people don't know that crocheting is another way to capture their beauty!

This Crochet Parrot Applique is a great crocheting project for beginner crocheters since it's not as complicated to make as the amigurumi one.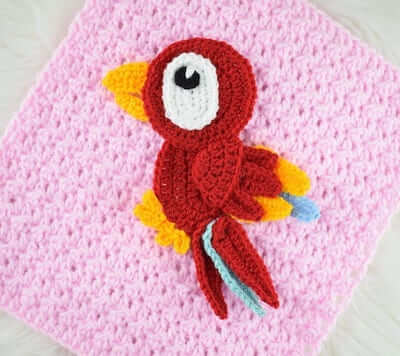 Get the Pattern here

10. Crochet Parrot Egg Cozy Pattern by Spring Freshness
Let's add some color therapy to your everyday life, beginning at breakfast time! I present you a colorful, joyful parrot as an egg cozy.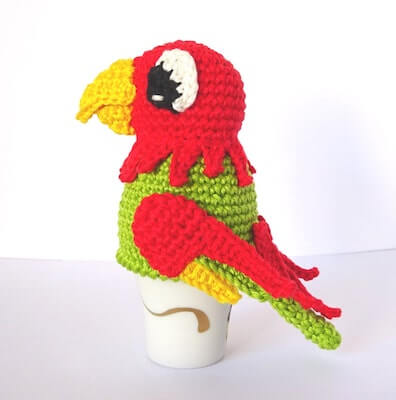 Get the Pattern by Spring Freshness here

11. Crochet Parrot C2C Square Pattern by My Hobby Is Crochet
Try this Parrot C2C Square to make an admirable masterpiece for your home decor. Make it in different colors and stitch several blocks together to make a blanket in the size you wish.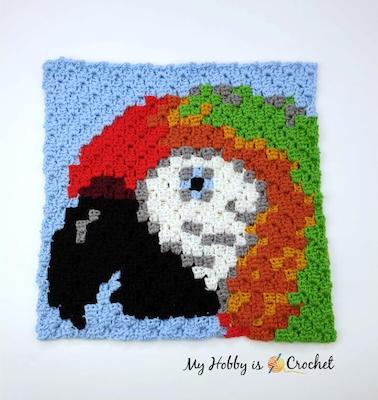 Get the Pattern here

12. Captain Jack Parrot, The Pirate Crochet Pattern by Erika Elfsberg
Captain Jack Amigurumi Parrot is a large project 11″ in height. While still easy, its a great project for a beginner to work on a more substantial design than a keychain-sized ami toy.

This amigurumi parrot pirate will be a favorite toy for any kid who likes softies, but in particular for those kids, for whom pirates are an important part of playtime.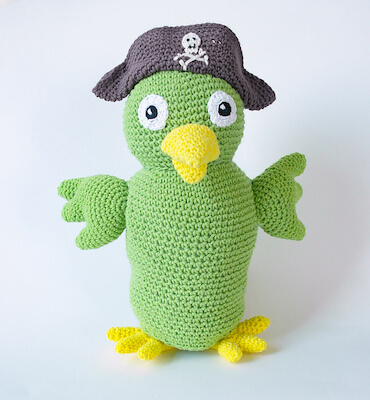 Get the Pattern here
MAKE A BUNCH OF THESE CROCHET PARROTS IN DIFFERENT SHADES, KEEP A FEW FOR YOURSELF AND GIVE THE REST TO YOUR FRIENDS!
Keep in touch on the Crochet News Facebook Page and feel free to post and share pictures of your gorgeous projects. We'd love to see!
Here's more bird patterns like Crochet Eagle Patterns, Crochet Swan Pattern, Crochet Cockatoo Patterns, Crochet Flamingo Patterns, Crochet Penguin Patterns, Crochet Duck Patterns, Crochet Chicken Patterns and Crochet Owl Patterns to try!
Let your creative urges take flight with this wonderful collection of crochet parrot patterns to make today!