Twitching to crochet? Get off to a flying start with this collection of crochet cockatoo patterns, which contains all the instructions you need to bring a flock of these characterful birds to life.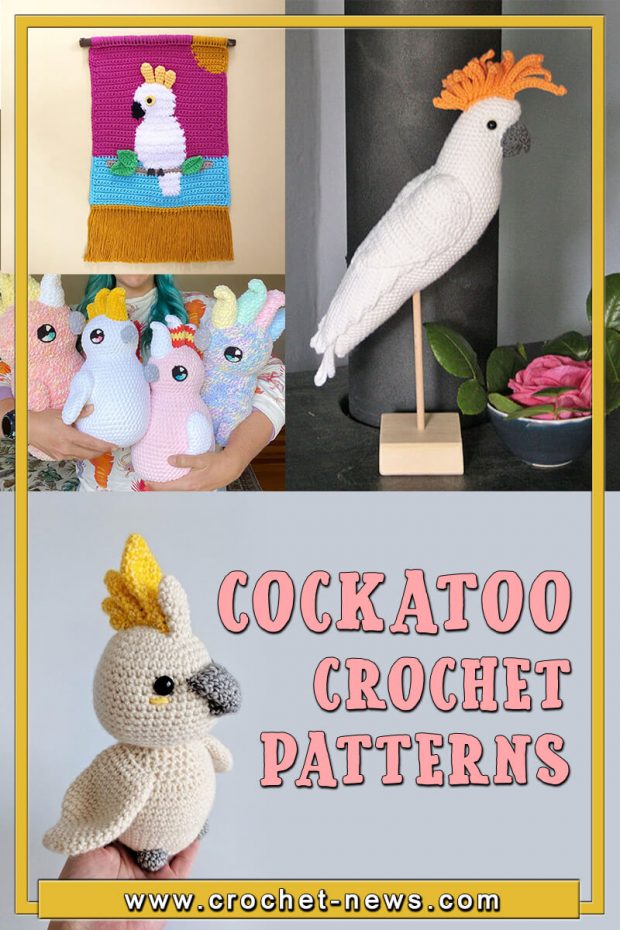 With full, clear patterns for both quick and more involved projects, you will find a little flying friend inside. Great for gifts or perching as decorations, these quirky birds are fantastic fun to make and display, whatever your crocheting experience.

1. Crochet Cockatoo Pattern by Furls Crochet
This tropical bird maybe a little less realistic, but it makes up for it with its cuteness and adorable crest. This is a wonderful bird pattern that you will greatly enjoy making, and which will be a favorite toy or decoration.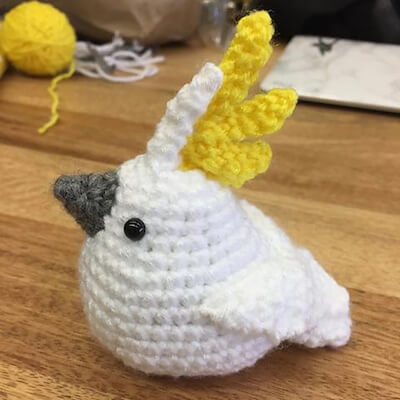 Get the Pattern here

2. Amigurumi Cockatoo Crochet Pattern by CARO Created
Take a dive through the rainforest and be the owner of your very own cockatoo with this amigurumi cockatoo crochet pattern.
At 12″ when finished, this realistic bird can be considered life-size as cockatoos are usually around 15 inches long.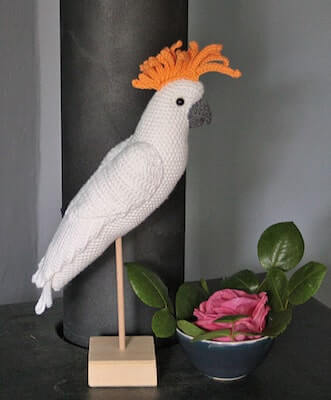 Get the Pattern by CARO Created here

3. Mabel, The Major Mitchell Cockatoo Crochet Pattern by The Little Hook Crochet
Crocheting is an interesting hobby for many reasons. One of the best things about it is that you can change the outcome just by changing the color scheme! Look how colorful Mabel is. With her sweet little details, isn't she look amazing?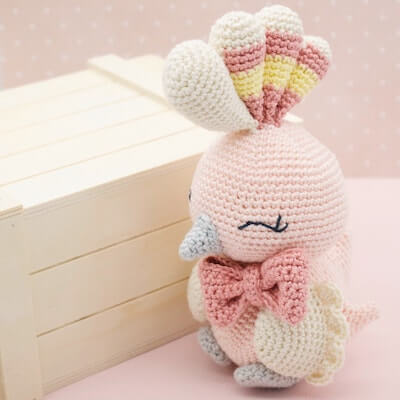 Get the Pattern by The Little Hook Crochet here

4. Crochet Cockatoo Wall Hanging Pattern by Manuska
Now this is a cheerful project! If you need a quick, cute crochet pattern to spend your weekend working on, try this Crochet Cockatoo Wall Hanging.

It's a fun tapestry crochet project, so be sure to make one for you or your kid's bedroom.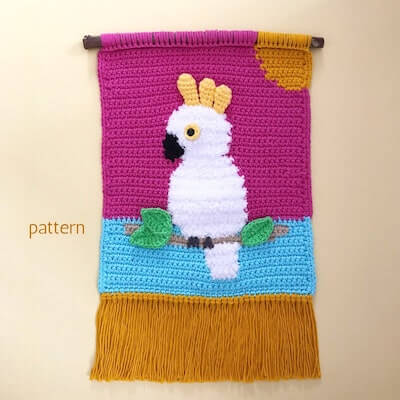 Get the Pattern by Manuska here
You might also love these Macrame Wall hanging patterns.

5. Crochet Cockatoo Applique Pattern by Kerri's Crochet
For those who want to add a bit of Australian flair to a project, try this cockatoo bird appliqué. It is easy to make and in no time, you can have a nice-sized flock to adorn bags, blankets, sweaters, hats, and anything else you would like to decorate.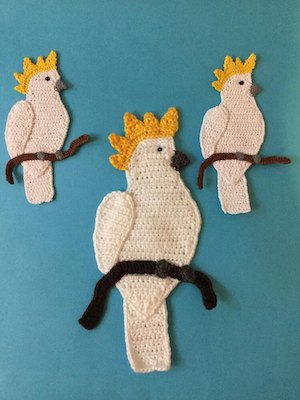 Get the Pattern here

6. Crochet Cockatoo Amigurumi Pattern by Cro With The Flo
Sulphur-crested cockatoos may act the fool, screeching and screaming in real life, but here's a pattern to hand make one that is as calm and snuggly as can be!

This cockatoo creation would be perfect for an Aussie bird lover, a kid (or adult) who needs an extra snuggly hug or as a kitschy decoration.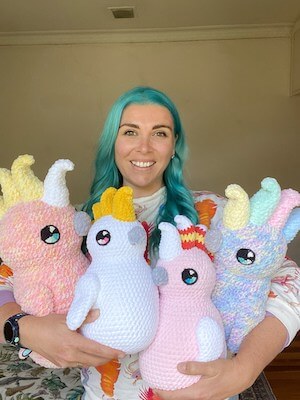 Get the Pattern by Cro With The Flo here

7. Cockatoo Crochet Pattern by Ren's Fibre Art
A cheeky little Aussie Cockatoo Pattern worked in your choice of crochet cotton or 8 ply yarn, both work up beautifully.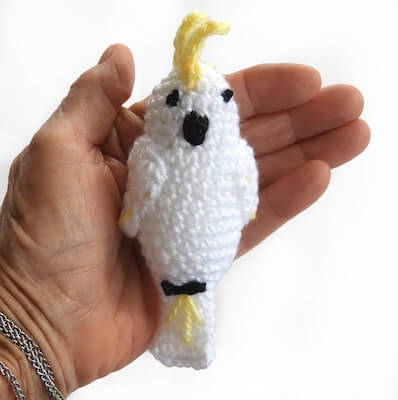 Get the Pattern by Ren's Fibre Art here

8. Percy, The Cockatoo Crochet Pattern by Belle And Grace HMC
Watch the eagerness in your child's eyes when they see this unique amigurumi cockatoo, sure to bring a smile to their face and provide tons of fun.
Great for flying about and sharing adventures, this bird toy is full of cuddly huggable fun!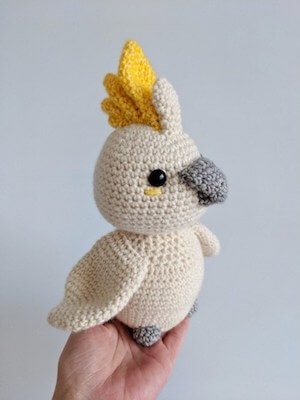 Get the Pattern by Belle And Grace HMC here

9. Crochet Cockatoo Christmas Bauble Pattern by Stitch Feet Crochet
We wouldn't usually associate cockatoos with Christmas but with its tropical-lie like feathers and santa hat, we're more than willing to make an exception for this Christmas bauble. It's a beautiful Aussie addition to your Christmas tree!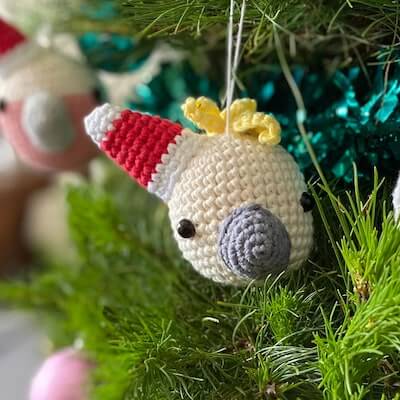 Get the Pattern by Stitch Feet Crochet here

10. Major Mitchell's Cockatoo Crochet Pattern by Rosaura Valdez
Male and female of Major Mitchell's Cockatoo look alike, so the pattern gives you the instructions to make this amigurumi with 2 options: open and closed crest.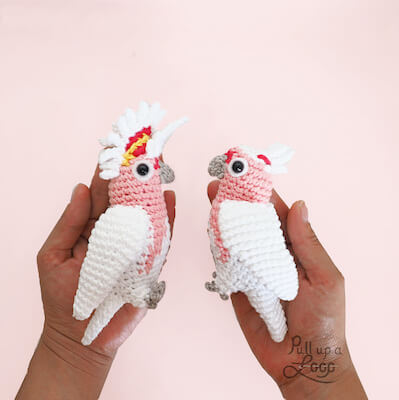 Get the Pattern here
CUTE OR REALISTIC, CROCHET SOME FEATHERED FRIENDS TO BRIGHTEN YOUR HOME ALL YEAR WITH THESE CROCHET COCKATOO PATTERNS!
We can't wait to see your very own cockatoos. Please share a pic of your finished ones on our Facebook Page. We'd love to see how they turned out!

For more feathery friends, check out out posts for Crochet Eagle Patterns, Crochet Parrot Patterns, Crochet Flamingo Patterns, Crochet Penguin Patterns, Crochet Duck Patterns, Crochet Chicken Patterns, Crochet Owl Patterns and more Crochet Bird Patterns.

For now, let's get our hands busy with these super cute crochet cockatoo patterns!