You'll be dreaming in jewel tones and feathers after a weekend making some of these 10 crochet peacock patterns. They're totally creative that we're almost tempted to starting making ourselves!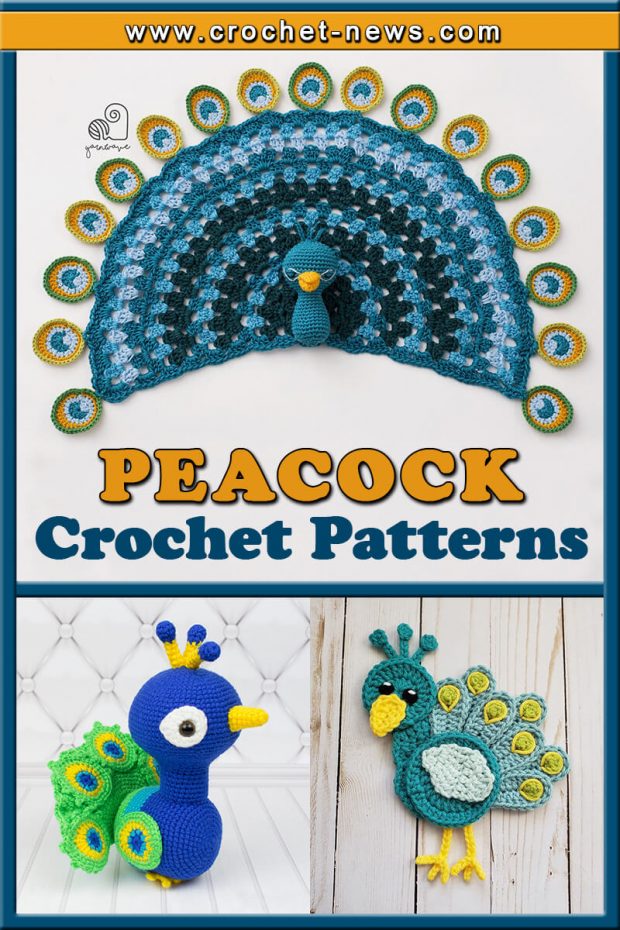 When it comes to animals who bear both impressive features and impressive colors, its hard to beat the peacock! Between the way their tails fan out impressively and the gorgeous colors you'll find on their feathers, it's no wonder many kids take a shine to peacocks when they see them in picture books or on television shows.
Naturally, the whole combination makes for a great crafting opportunity!

1. Paco, The Peacock Crochet Pattern by Amigurumi Today
Your amigurumi zoo is incomplete until Paco, the Peacock is calling it home! This incredible free crochet peacock pattern features charming details and realism while still maintaining a cuddly and cute personality.
The bright and exciting design makes this amigurumi peacock really stand out in a crowd.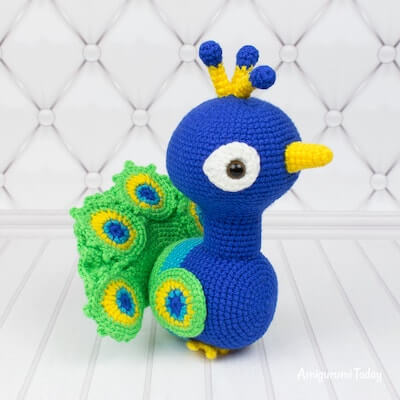 Get the Pattern here

2. Peacock Feather Earring Crochet Pattern by Steffi Glaves
This crochet peacock feather tells you how to crochet a peacock feather motif, which can be made into earrings or scaled up with thicker yarn to make larger items such as bunting, bag accessories, or appliqués to embellish other projects.

It is light, dainty, and can be easily customized by using different colors or adding bead embellishments.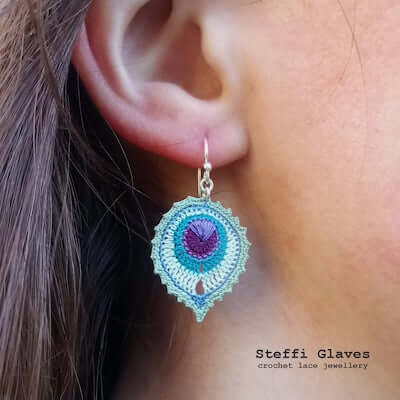 Get the Pattern by Steffi Gloves here

3. Peacock Feather Bookmark Crochet Pattern by The Curio Crafts Room
This crochet bookmark in the form of a peacock feather would make for a lovely and original birthday, teacher or Christmas gift. The possibilities for this motif are endless.

You could make garlands, wall hangings or embellish box lids, cards, hats, bags or key chains. Just enjoy playing around with them!
Check out more Cross Stitch Bookmark Patterns here.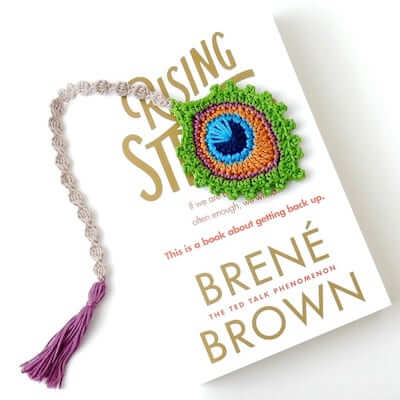 Get the Pattern by The Curio Crafts Room here

4. Crochet Peacock Pen Holder Amigurumi Pattern by Crochet & Knitting
This Crochet Peacock Pen Holder Amigurumi is really unique and eye catching for all. The peacock head pen cozy can make a boring day at the office unique and a great way to use up scrap yarn.
Give these pens as gifts for teachers, kids and all office ladies!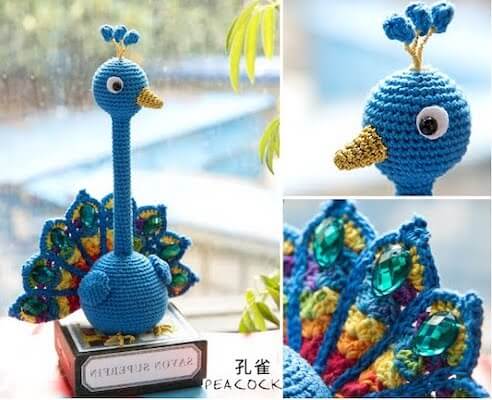 Get the Pattern here

5. Crochet Peacock Applique Pattern by The Yarn Conspiracy
This fun Crochet Peacock Appliqué can be added to any project for a splash of color! It can be used for a wide variety of craft projects and would be perfect to decorate baby's clothes, blankets, or you can make a bunch of them to create a bunting for a child's room.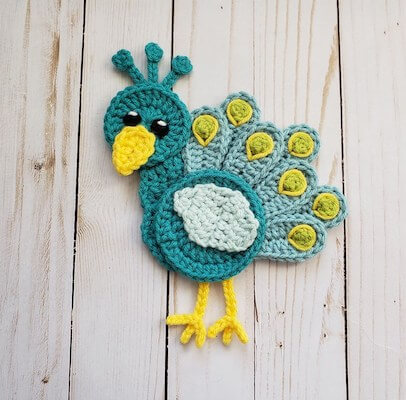 Get the Pattern by The Yarn Conspiracy here

6. Pavo, The Peacock Rug Crochet Pattern by Ira Rott Patterns
This beautiful peacock rug will create a perfect accent in your modern home or nursery room. This looks beautiful in natural tones as it does with bright and there are so many ways you can personalize it to complement your decor.

Here are more Crochet Rug Patterns that you can customize for any home decor and any room in the house including kitchen, bath, living room, entry, and more!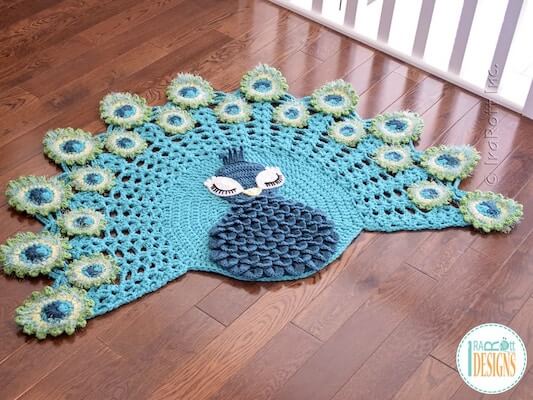 Get the Pattern by Ira Rott Patterns here

7. Free Crochet Peacock Pattern by Larah Uyeda
This amigurumi peacock pattern is for an amigurumi peacock with a finished size of around 7.5" in width. Once fully assembled the peacock will stand up on its own.

It is recommended that you use a variety of yarn shades (greens, teals, blues) to give it that fancy "peacock" look, though you could also use shades or brown and orange it you would rather make a turkey instead.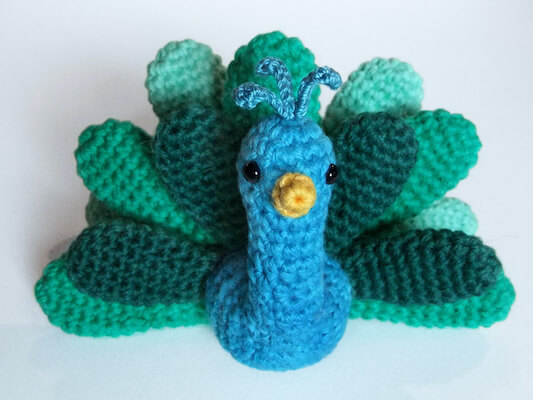 Get the Pattern here

8. Peacock Crochet Blanket Pattern by Kraftling
If you love the brilliant colors of peacock feathers and their amazing, almost hypnotic pattern, this peacock crochet blanket is an attempt to try and capture some of that mesmerizing beauty.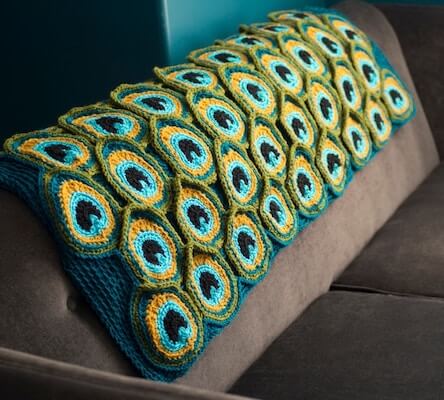 Get the Pattern by Kraftling here

9. Crochet Peacock Lovey Pattern by Yarn Wave Shop
Loveys are all the rage, and this pretty toy is the perfect companion for little hands to hug and to hold. This adorable peacock lovey is a great baby shower or birthday gift for the little ones in your life!
It's a sweet project that makes babies and toddlers feel safe and secure at naptime or on-the-go.

More crochet lovey patterns here.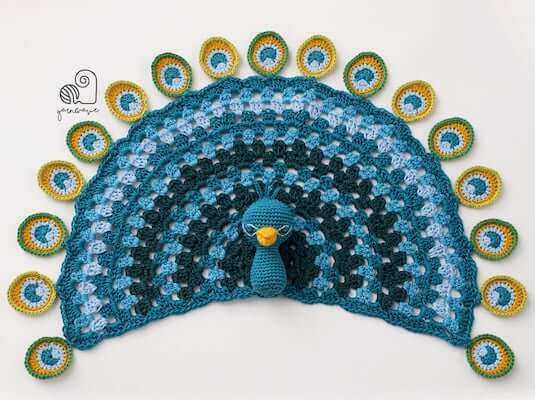 Get the Pattern by Yarn Wave Shop here

10. Tiny Crochet Peacock Pattern by Pink Mouse Boutique
If you've been looking for a new pair of tiny toys, look to this adorable bird that is full of personality. The pattern makes them exquisitely playful in your favorite blend of colors.
Craft them for your office, the kids' room, or place them on a shelf to add a touch of whimsy. It's a wonderful project that engages from beginning to end, and beyond!
Get the Pattern by Pink Mouse Boutique here
THESE CROCHET PEACOCK PATTERNS ARE FASCINATING, AREN'T THEY?
Keep in touch on the Crochet News Facebook Page and feel free to post and share pictures of your precious crocheted peacocks. We'd love to see!

Are you fond of birds? Here are Crochet Flamingo Patterns, Crochet Penguin Patterns, Crochet Duck Patterns, Crochet Chicken Patterns, Crochet Parrot Patterns and Crochet Owl Patterns to try!

I'm not sure there's anything more beautiful than the jewel tones inspired by peacocks. So this weekend, why not color up your life with one (or all) of these fabulous crochet peacock patterns!