A crochet soap saver is a genius little bag of brilliance that protects soap from crumbling and helps extend the lifespan of your bars. It also helps get every bit of use out of the soap and keeps it from slipping onto the floor when our hands get slippery!

Soap saver bags are eco-friendly pouches made for plopping a bar of soap inside and washing your hands and body for a high-quality shower experience. We have all spent too long dealing with the shower or on the bathroom sink – a better option is long overdue!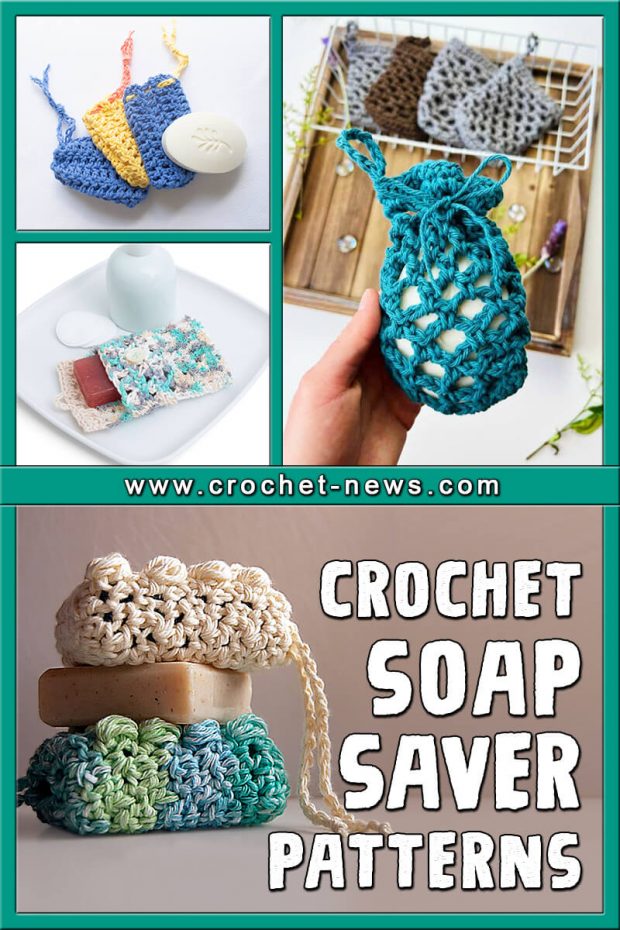 Crochet soap savers sound like a strange idea, right? But actually, they're useful and pretty! Soap bars work great as a standalone product in the shower, but they're even better when paired with a soap saver bag, especially if you make one yourself!

1. Crochet Hemp Soap Saver Pattern by Golden Berry
A slightly challenging yet very aesthetically pleasing and functional hemp soap saver pattern. The stitches make a chevron like pattern which is tight enough to keep all the tiny bits of soap in yet loose enough to let out the lather from the soap.

They are a sustainable, plastic free, biodegradable alternative to a flannel or shower pouf and help you use up every last bit of your soap bar.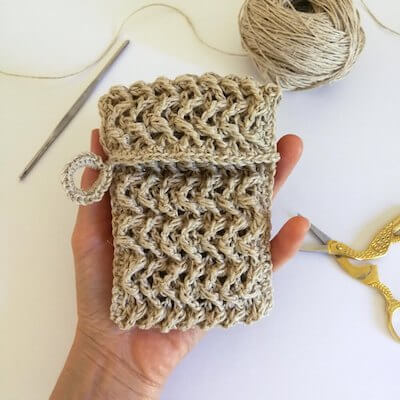 Get the Pattern by Golden Berry here

2. Easy Mesh Soap Saver Crochet Pattern by Yarnspirations
Crochet a mesh soap-saver bag to hold a bar of soap and the inevitable leftover slivers. This pattern creates a rectangle that's worked flat then folded, with the sides partially sewn up to form an envelope pouch. The crossed double crochet stitches give the pattern added interest.

Keep the flap closed with a button, then use the built-in loop to hang it out to dry after use. Quick to crochet, pair your bag with a bar of soap for a cute hostess gift.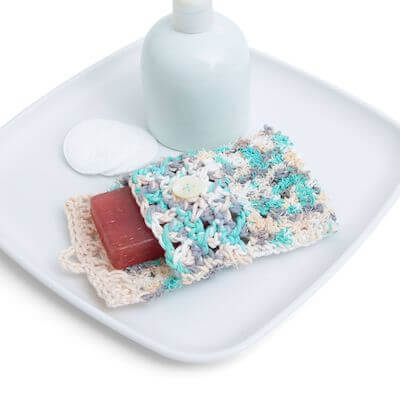 Get the Pattern here

3. Crochet Soap Saver Pattern by CAAB Crochet
This crochet soap saver pattern is so quick and easy to work up! The unique addition of an extra loop before each stitch creates a beautiful texture.

This is one of those projects that is so fast to make that it is great on repeat – for gifts or selling at craft fairs. It also only uses roughly 36 yards of yarn, so it is a perfect scrap buster project.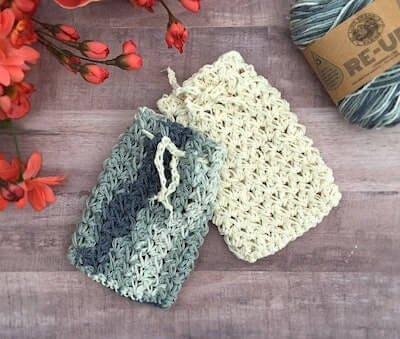 Get the Pattern by CAAB Crochet here

4. Crochet Pampering Massage Soap Saver Pattern by Moogly
Massage soap with the bumps and nubs on one side is lovely stuff. But what happens when you use soap? Within a few showers, those bumps are gone. What to do? Make the Pampering Massage Soap Saver!

This crochet soap saver pattern features 12 bumps (aka cluster stitches) on one side for perfect pampering that doesn't wear away. Paired with a gorgeous soap it makes a great gift for teachers, neighbors, babysitters – and don't forget one for yourself!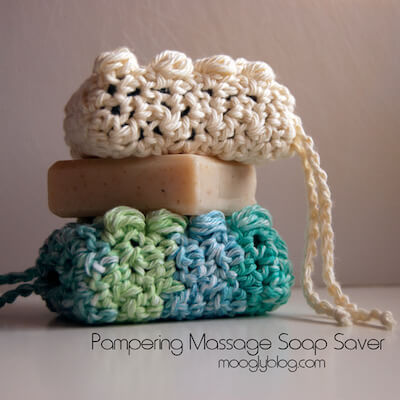 Get the Pattern here

5. Soap Sack Crochet Pattern by Lullaby Lodge
These cute soap sacks are so quick and easy to make, you could whip up a whole batch in no time at all. They use only a few grams of yarn, perfect for using up those last scraps of cotton.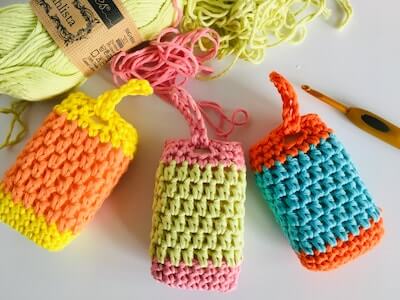 Get the Pattern by Lullaby Lodge here

6. Crochet Animal Soap Savers Pattern by Crochet Spot Patterns
Make bath time fun for children by crocheting these cute Animal Soap Savers. Choose from the bear, elephant or lion, or crochet them all! Insert a bar of soap and you're ready to shower!

The soap saver will help lather the soap and replace the need for washcloths. Not only are they cute, but they also create grip on the soap making it less slippery.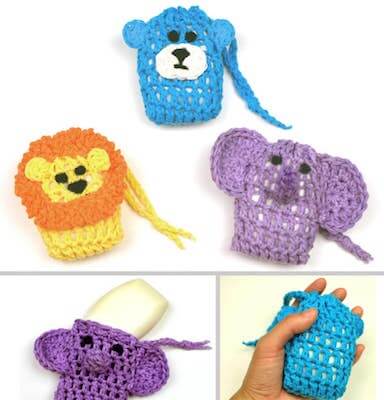 Get the Pattern by Crochet Spot Patterns here

7. Crochet Leaf Soap Saver Pattern by Moara Crochet
Crochet your own beautiful leaf soap saver, a quick project which can be made in under a hour. The texture of the stitches not only look beautiful but also help exfoliate & massage your skin while you are in the shower. Plus this gorgeous little crochet soap cover will help you enjoy your luxury soaps for longer.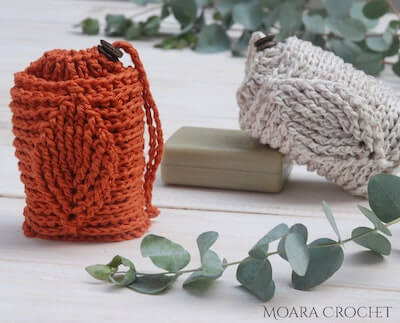 Get the Pattern by Moara Crochet here

8. Crochet Chunky Soap Saver Bag Pattern by Made With A Twist
Looking for something to make quickly to sell at your next craft fair? Or looking for a project to spruce up your shower and save time and money? Check out this Chunky Soap Saver Bag.

The soap saver is designed with chunky cotton yarn to hold up well in the shower, but also provide softness for your skin. The cobble stitch is worked on the wrong side of the project so that the treble cobbles will stick out on the right side of the fabric and provide some extra style and cleaning power!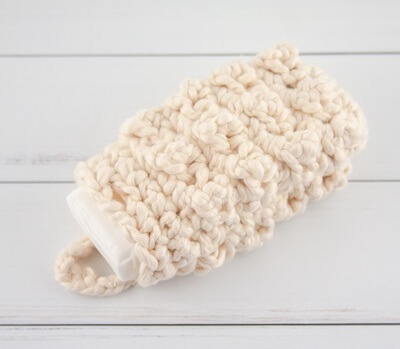 Get the Pattern here

9. Crochet Soap Saver Pouch Pattern by Sweet Softies
This mesh soap saver pouch is super quick, easy, and beginner-friendly. It's a 30-minute project, so even for you busy folks who have just a measly half-hour to spare for crafting, you can make this cute baggie in one shot!

Since this soap holder don't use up a whole lot of yarn, it can be a great stash buster if you have some extra cotton yarn lying around.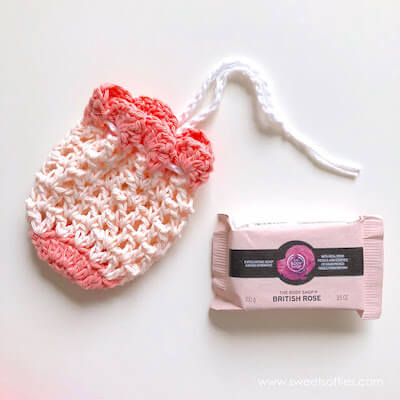 Get the Pattern here

10. Crochet Soap Saver Pattern by My Dear Knot
Loofah + exfoliator + wash cloth + soap saver = Your new favorite eco-friendly bath items! Two different styles are included in this pattern. These soap saver bags use scrubby cotton, and cotton for a luxurious soap bag that acts as a body scrubber & wash cloth while still keeping your soap lasting longer!

Use them as soap saver pouch for a soap bar, add little soap bits to it when they start to break off, shampoo bar, or as a bath mitt with your favorite body wash!
Get the Pattern by My Dear Knot here

11. 20 Minute Crochet Soap Saver Pattern by Desert Blossom Crafts
A quick, adorable pattern for gifts or craft shows: mesh crochet soap savers! This easy crochet soap saver pattern works up in just about 20 minutes. Not to mention, it is extremely useful and practical!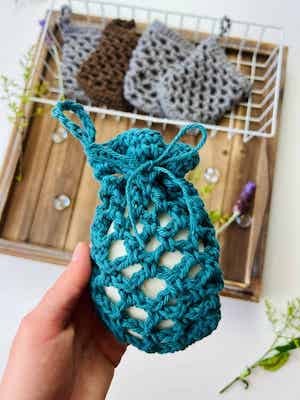 Get the Pattern here

12. Crochet Radiant Soap Saver Pattern by The Loophole Fox
This quick and luxurious crochet soap saver pattern is perfect for not only holding soap so it isn't slippery, but also creating a nice lather. This eco friendly crochet soap saver pattern is designed to be soft and have texture to bring in the luxury feeling.

The puff stitches and raised lines add a lovely texture and interesting feel, while the soft cotton yarn makes this make a winner from the get-go.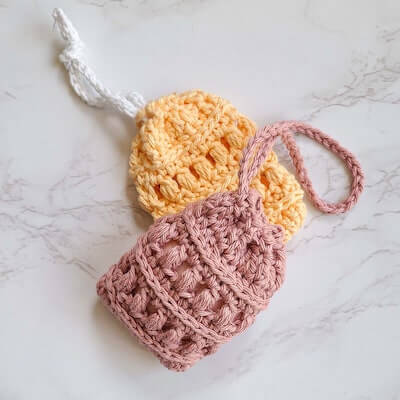 Get the Pattern here

13. Easy Crochet Soap Sack Pattern by Amelia Makes
This is a beginner-friendly crochet soap sack pattern that uses only one stitch and fits most standard soap bars. It uses medium weight cotton yarn, which is easily available, and fits most commercial bars of soap.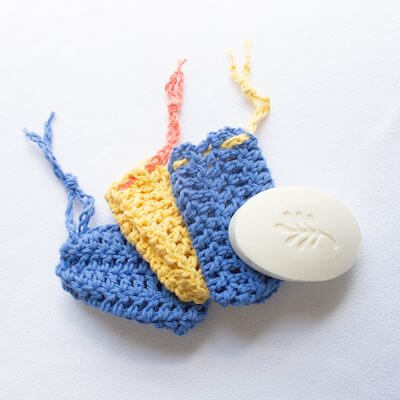 Get the Pattern here

14. Crochet Bathroom Soap Saver Pattern by Just Crochet 1
This Crochet Bathroom Soap Saver is made in a back loop ribbed stitch. It is easy and quick to make/ Decorate it with a pretty flower motif to finish it off.
Get the Pattern by Just Crochet 1 here

15. Moxie Soap Saver Crochet Pattern by Kalurah Hudson
Save your soap bar from breaking into shards when you drop it and gently exfoliate with soft cotton.
This pretty and useful soap saver will save the day! Simply unfold, place bar of soap inside and fold back over.
Also works great for soap that has already broken. Throw the pieces inside and there they'll stay. This soap saver stretches to fit many sized soaps but especially square shapes.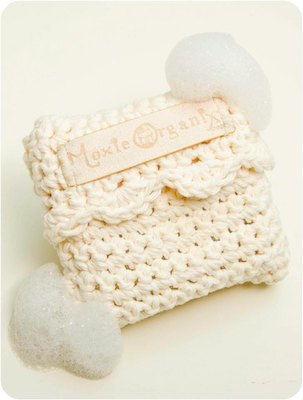 Get the Pattern by Kalurah Hudson here

16. Crochet Candy Corn Soap Saver Pattern by Stitches N Scraps
Make yourself a sweet treat for Halloween! Put your favorite bar of soap in this Candy Corn Soap Saver. Crochet lemon peel stitch makes a gentle washcloth texture, while the bag lets you use up every last bit of that special soap. It also makes a great treat bag!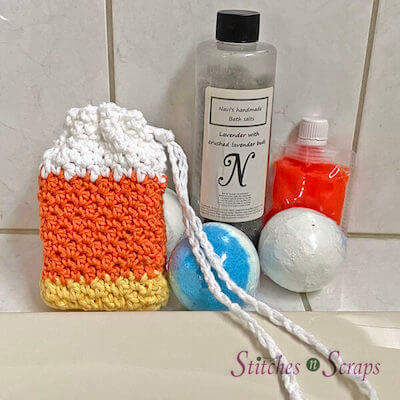 Get the Pattern here

17. Crochet Triangle Soap Pouches Pattern by Katie Campling
These useful pouches will keep your soap safe so it lasts longer by helping it to dry out between uses. It can also be used to wash with as an exfoliating cover. The pattern gets it's name from the triangle shaped trellis stitch used to create it.

The pattern provides two designs, both worked in the round. One is a rectangular shape, where you work both sides of the starting chain at the base. The other is a circular shape, which is started with the magic loop method.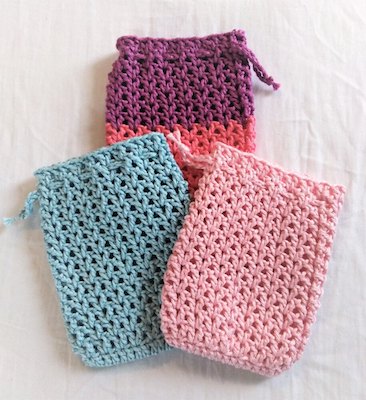 Get the Pattern by Katie Campling here

18. Crochet Simple Soap Covers Pattern by Crochet Spot Patterns
These 5 simple soap savers each have a unique look and texture. Crochet these soap savers to place your soap bars (or pieces of soap) into to create a nice lather. Soap savers are great for using up every bit of soap and preventing the soap from slipping out of your hand.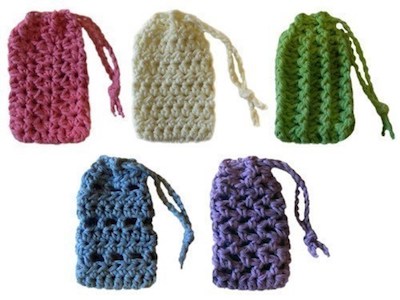 Get the Pattern by Crochet Spot Patterns here

19. Star Net Round Soap Saver Crochet Pattern by I Know Krochet
To make a fancier gift, design lacy net-like soap saver with a star design using 100% cotton yarn. This soap saver is crocheted almost entirely using chain stitches and is super easy and fast to work up. It fits snugly on a full bar of round soap.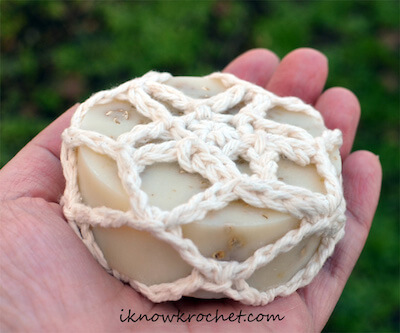 Get the Pattern here

20. Free Crochet Soap Saver Pattern by Winding Road Crochet
Make a quick and easy crochet soap saver pattern that makes a great little gift and addition to a spa set gift basket. You will use two different stitches on each side of the bag.
On one side you have the moss stitch that is open and will let you lather up the soap and on the other side you have a nice ribbed stitch that can help get you clean.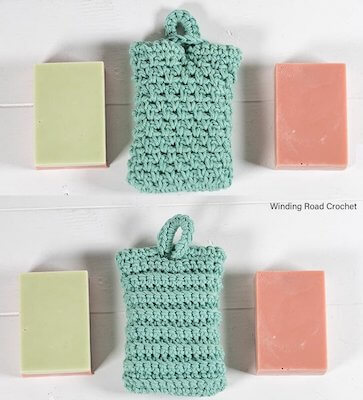 Get the Pattern here

21. Crochet Mermaid Soap Saver Pattern by Kathy's Kozies
Who doesn't love to feel like a mermaid while washing away our cares and worries. These soap savers are inspired by mermaid tails. They work up very fast and are perfect for summer markets! They are worked in one piece except for the tie, so they are nice a quick.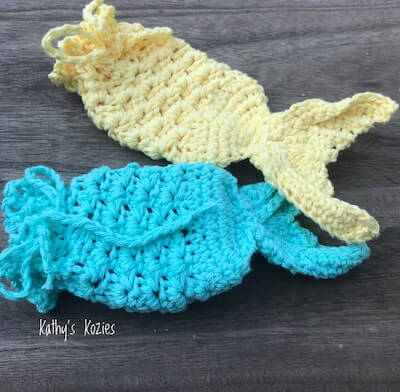 Get the Pattern by Kathy's Kozies here
MAKE A SNUGGLY HOME FOR YOUR FAVORITE SOAPS WITH THESE CROCHET SOAP SAVER PATTERNS!
No crocheter's home decor is complete without a little yarny goodness. From the garden to the kitchen and every room in between, we have easy and gorgeous patterns you'll love to stitch for all your living spaces.
Check out our collection of crochet home decor patterns which includes patterns for placemats, rugs, face scrubbies, curtains, baskets, blankets, and more!

If you give these patterns a go, please come and share how it turns out on our Facebook Page. We want to know what you've been making!

Use all the yarn accumulating in your stash by making these crochet soap saver patterns today!