Crowns and tiaras are perfect for fancy dress and birthday parties, plus they're a whole lot of fun to make and wear! Whether you want to be a queen, king, princess, or prince for a day (or night!) – you'll certainly enjoy the round-up of crochet crown patterns that we have for you below.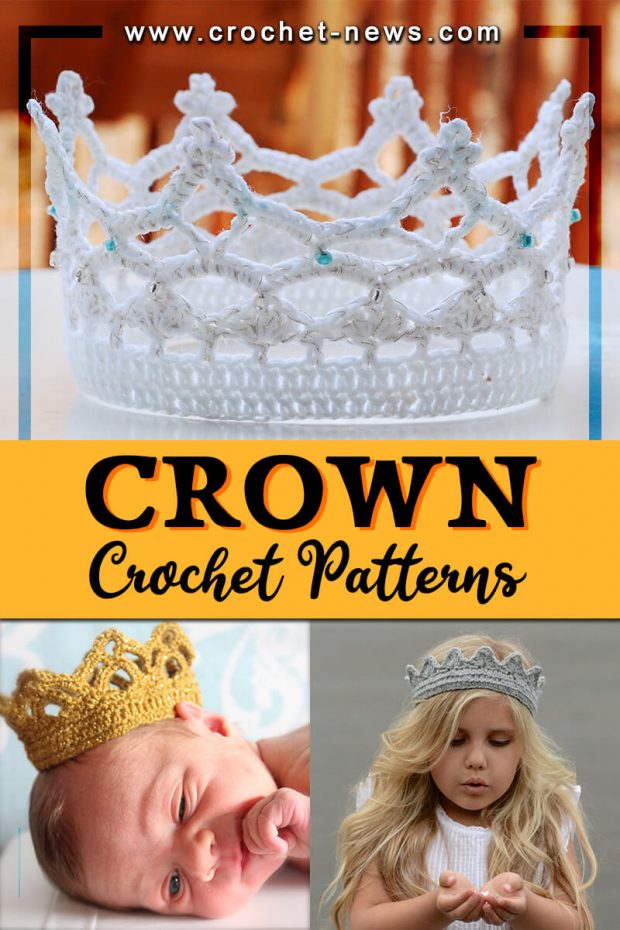 These adorable and whimsical crochet crowns will help to channel your inner Fancy Nancy and turn an ordinary day into something extraordinary!
1. Rainbow Crown Crochet Pattern by Green Fox Farms Designs
This Rainbow Crown has a lot of options for striping patterns, colors, and more so you can customize it to suit anyone!
Beyond the classic rainbow crochet crown pattern of 7 colors, you can create yours in an ombre pattern, create a color block crown with 4-5 colors, a striped crown with 2 colors or create a striping pattern of your own!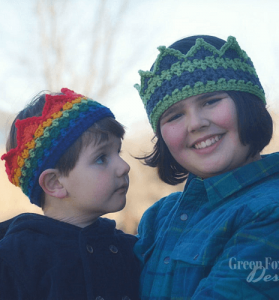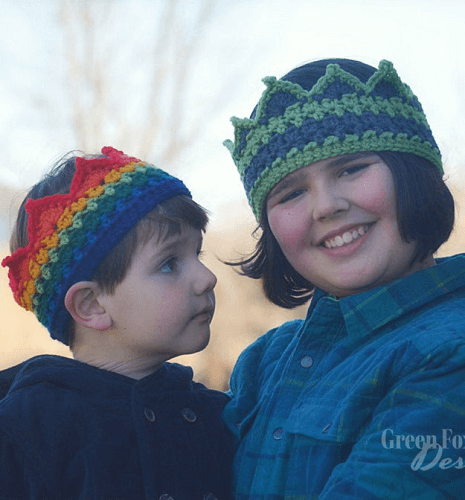 Get the Pattern by Green Fox Farms Designs here
2. Baby Crown Crochet Pattern by The Lillie Pad
Ideal for babies, children, and adults alike, this crochet crown can be handmade by you in the comfort of your own home with this beginner crochet pattern.
These crochet crowns make a perfect photo prop for newborns and babies, birthday crowns for parties, and are a must-have accessory for every child's costume and dress-up box.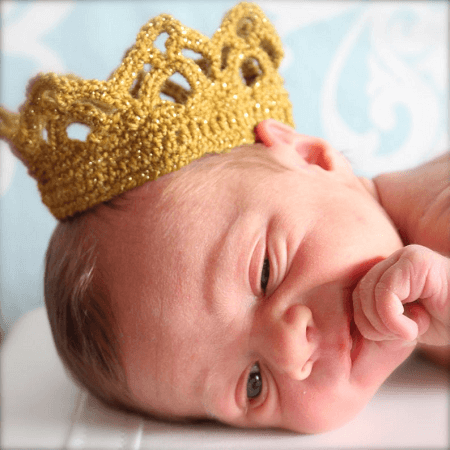 Get the Pattern by The Lillie Pad here
3. Royalty Play Crochet Crown Pattern by Yarnspirations
Make that child feel special on their birthday by dressing them up with this Royalty Play Crochet Crown Pattern by Yarnspirations. Complete it in 2 sizes, at 6-12 and 18-24 months and cherish a memorable moment with any young child.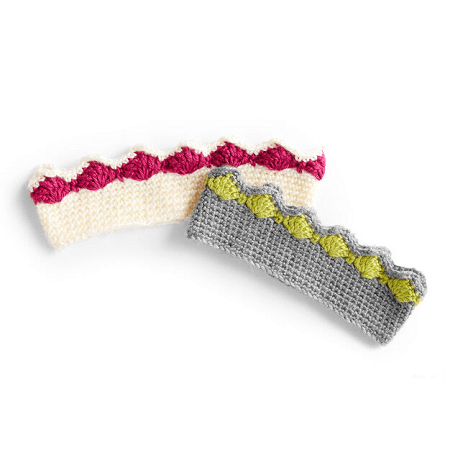 Get the Pattern here
4. Crochet Crown Pattern by Lydia Hawk Designs
Do you feel like you should have been born royal? This crown crochet pattern will have you feeling like a king, queen, prince, or princess.
The pattern comes with instructions for gold and silver and also comes with care instructions. This is one size fits all crochet hat for adults!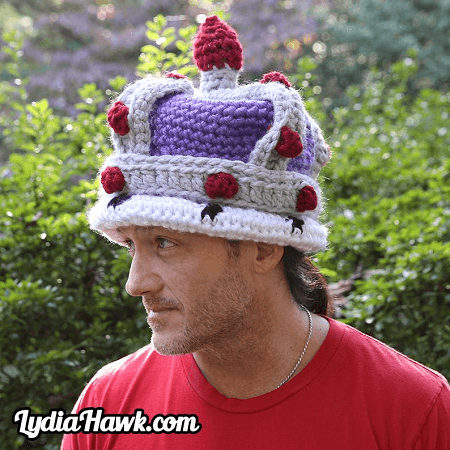 Get the Pattern by Lydia Hawk Designs here
5. Mini Crown Crochet Pattern by Three Birds Patterns
A fast and easy pattern that produces a lovely little crown that has a sturdy base perfect for sitting on a newborn head.
This mini crochet crown has a beautiful design and texture that is great for photographing. A perfect addition to a newborn photoshoot.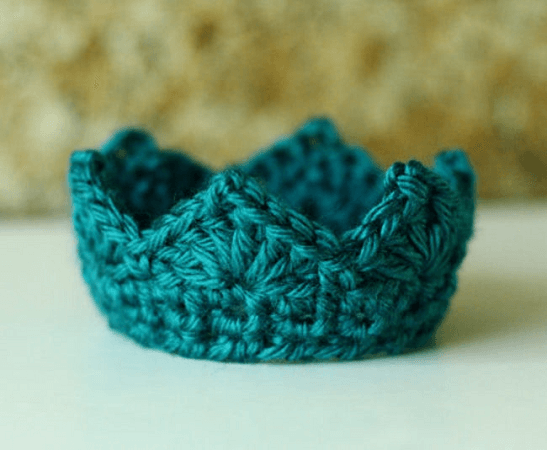 Get the Pattern by Three Birds Patterns here
6. Queen Bee Adult Crochet Crown Pattern by 1 Dog Woof
This is a powerful pattern, designed to turn normal people into royals in a blink of an eye. The crown is elegant, solid, and classy.
You will love this refined but still subtle shade of gold, but you can use any other color instead. The crochet crown will never lose its power!
This crochet baby hat is great for everyday wear, hospital hat, coming home outfit, baby photo prop, or to be given as a gift to a new parent at a baby shower!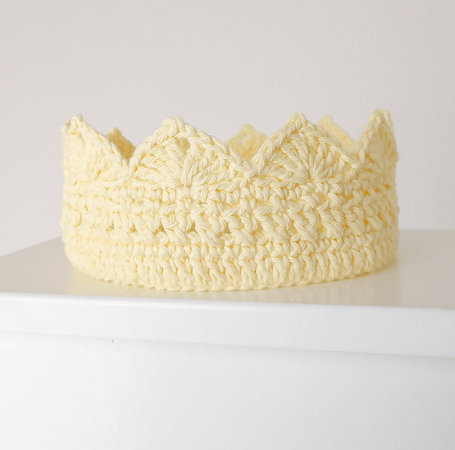 Get the Pattern here
7. Crochet Crown Hat Pattern by Knitsy Crochet
With this easy princess crochet crown pattern, you can make an adorable baby crown hat in true royal style!
The crown is crocheted onto the hat itself like a rolled brim. You can create the hat in any color that you want.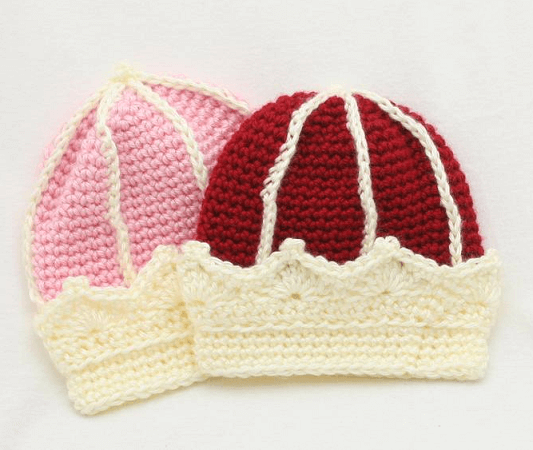 Get the Pattern by Knitsy Crochet here
8. Adult's Royal Princess Crochet Crown Pattern by Red Heart
Everyone deserves to feel like royalty and wear this beautiful princess crochet crown – at least for a day. Crochet thread with a shiny silver filament gives it a wonderful sparkle.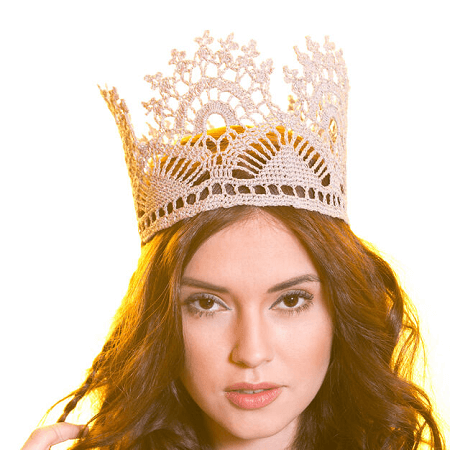 Get the Pattern here
9. Crochet Crown Ring Pattern by Sahrit
This Crochet Crown Ring is just one of those cute little precious items you just have to have! The crown crochet pattern is pretty much one size fits all, you can change the size a bit by using different hook numbers and different thicknesses of yarn.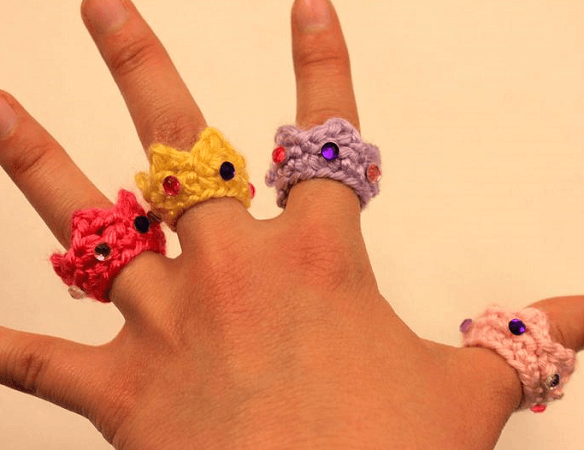 Get the Pattern by Sahrit here
10. Braid Headband Crown Crochet Pattern by Sewrella
This Braid Headband Crown Crochet Pattern is super easy to work up, 1 ball of bulky weight yarn makes 2 pieces and it's super cute for all seasons!
This is an easy level crochet pattern, and the techniques you will need to know are half double crochet, working in the back loop only, Chain stitch, and slip stitch.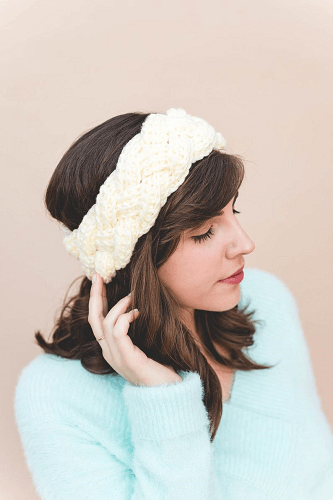 Get the Pattern by Sewrella here
11. Pet Crown Crochet Pattern by Pawsome Crochet
This beginner-friendly project is an excellent stash buster, works up quickly, and is an adorable accessory for all of your four-legged friends!
The Pet Crown Crochet Pattern includes instructions for how to make the crowns in 5 different sizes: small pets, rabbits, young kittens, adult cats/extra small dogs, small dogs, medium dogs, and large dogs.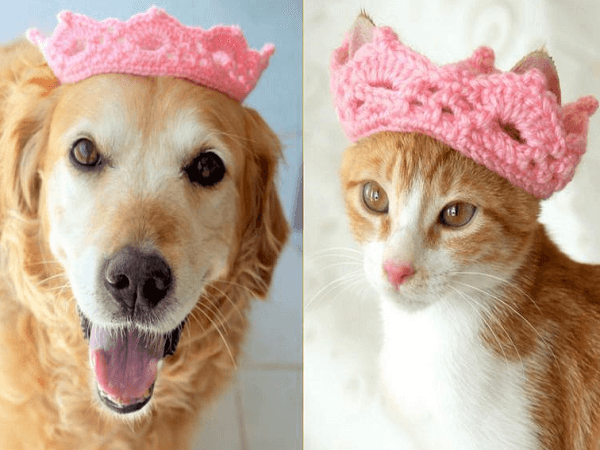 Get the Pattern by Pawsome Crochet here
12. Wild Child Princess Crochet Crown Pattern by Yarndrasil
This Wild Child Princess Crochet Crown Pattern uses some unconventional techniques (crocheting over pipe cleaners) to make sure that the tall points of the crown stay upright.
Do you have a wild thing in your life? Check out this free crochet crown pattern inspired by "Where the Wild Things Are".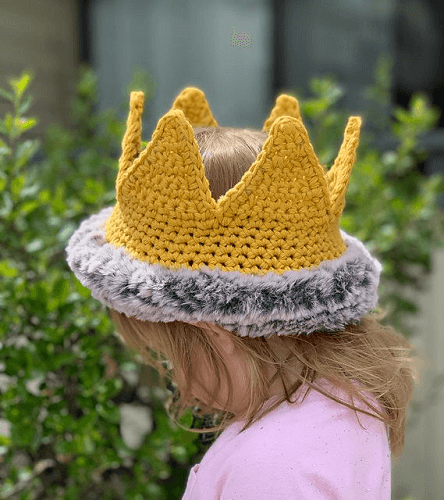 Get the Pattern here
13. Free Princess Crochet Crown Pattern by Mamachee
This Free Princess Crochet Crown Pattern is such a fun project and comes in three sizes. It's the perfect beginner-friendly crochet pattern for all the little princes and princesses in your life!
Get the Pattern here
14. Royal Crown Crochet Pattern by Vliegende Hollander
We can finally all be royals with the help of this crochet pattern for a King's or Queen's Imperial Crown! When made with the described yarn and hook size, the crown will be suitable for a head circumference of 52cm/22".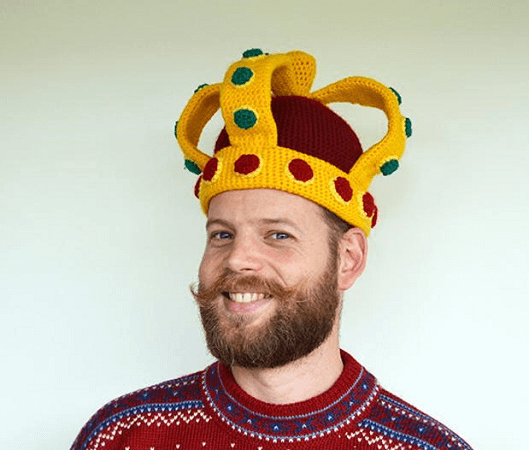 Get the Pattern by Vliegende Hollander here
15. Dinosaur Crochet Crown Pattern by Green Fox Farms
This crochet crown design is simple and fun to make, and the results are pretty great! You will be amazed as your little or big kid magically transforms into a Dinosaur before your eyes!
Your little one will be roaring non-stop when they put this crown on!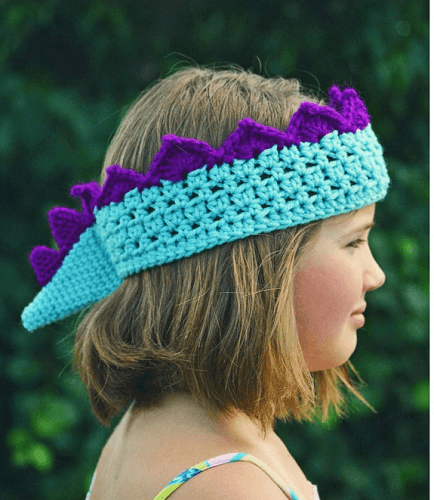 Get the Pattern by Green Fox Farms here
16. Crochet Crown Applique Pattern by Sarah London
These lovely crown appliques can instantly brighten up any attire. Put them on a sweater, blanket, or cushion. Make a string of bunting to celebrate or you could even wear it as a pin!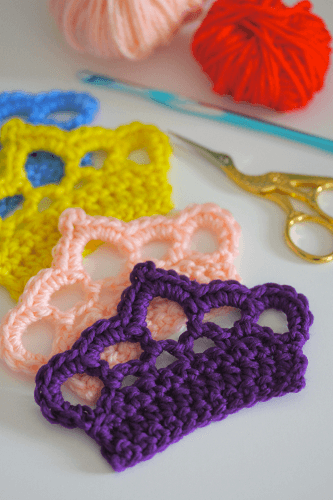 Get the Pattern here
17. Crochet Anna Crown With Hair Pattern by Yarn Hook Needles
If you're wanting to make the perfect gift for the little princess in your life, you will love this Crochet Anna Crown with Hair!
Which little, or even big girl would not want to be Anna? Indeed, everyone would, so here is your chance to make that dreams come true.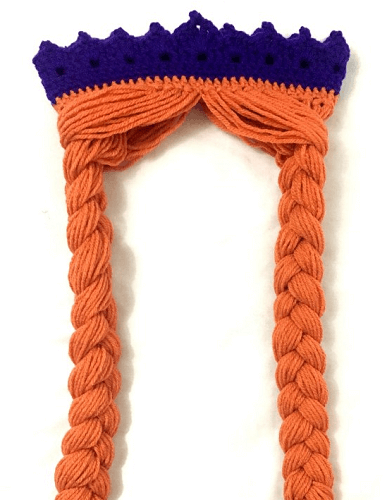 Get the Pattern here
18. Princess Crown Crochet Pattern by Ira Rott
Here is a quick and easy pattern that requires little effort. It's a good project for both a big celebration or everyday play. It includes sizes from newborn to large adults and also sizes for dolls!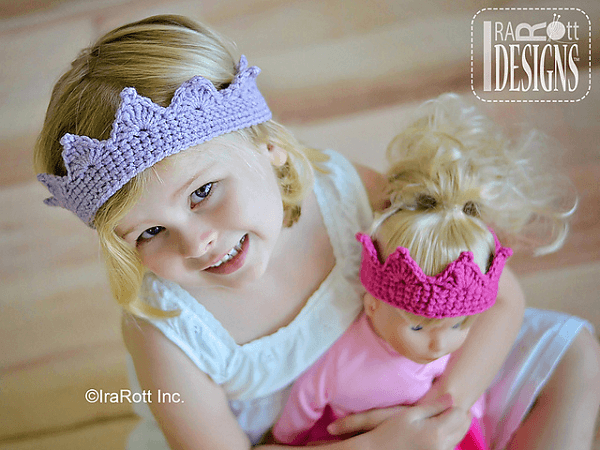 Get the Pattern here
19. Princess Crown Crochet Pattern by The Velvet Acorn
This crown crochet is handcrafted and designed with imagination in mind – perfect for the magic that lives in us all. This princess crochet crown pattern also includes instructions for the wand to pair this crown with.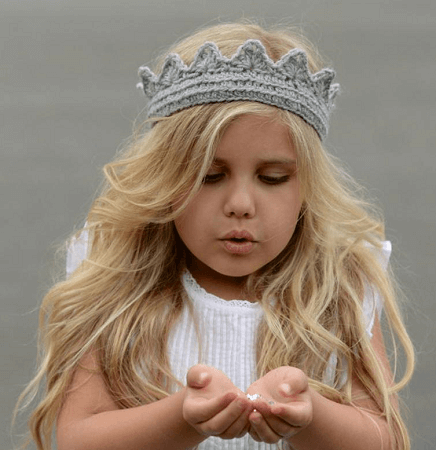 Get the Pattern by The Velvet Acorn here
20. Crochet Crown Ear Warmer Pattern by Crochet For You
Make your own Crown Ear Warmer not just for fun but keep your ears warm in the cool weather. This pattern can be easily adjusted to any size. This crown Ear warmer is perfect for Christmas, birthday parties, and as a prop.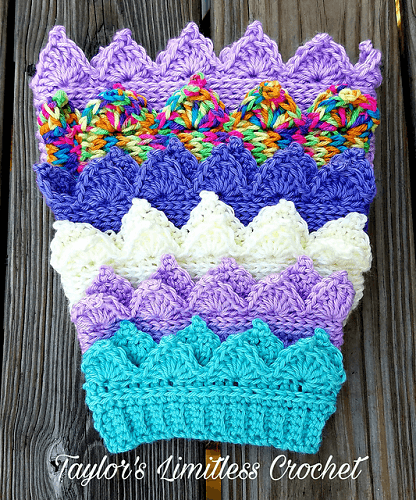 Get the Pattern here
21. Rosebud Princess Crochet Crown Pattern by Island Style Crochet
Make this Crochet Rosebud Princess Crowns in at least a gazillion different color combinations for every season. And since this pattern uses 5g or less per color, it's going to be an amazing scrap yarn project.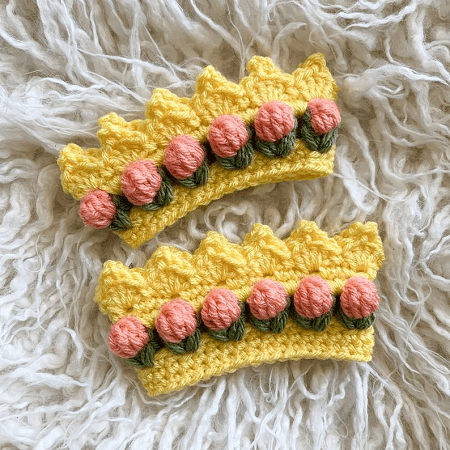 Get the Pattern by Island Style Crochet here
22. Princess Crochet Crown Pattern by Knitter Nutter
I love to crochet. And if you're reading this, I bet you do too. One of the main reasons I keep coming back to crochet is to make one unique and personal gifts for my family and friends.
Jewelry, doll clothes, afghans, are just a few of the many wonderful items I've been able to create for my loved ones over the years.
Recently, I was looking for something to make for my little girls. They love to play dress-up and they love to watch movies with princesses. Their favorite movie at the moment is Beauty And The Beast, they absolutely adore Belle.
I remember how much I loved the same things when I was a little girl, so it comes as no surprise that they spend hours doing the same thing now.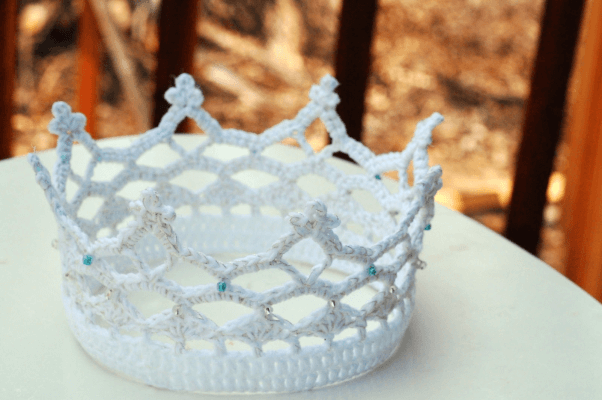 Crochet Crown For Royalty
I've made some of their play dresses and jewelry, but I began thinking that all they had were little cheap, plastic crowns.
I decided my girls will only be this young for a short time and I wanted them to have crowns they will remember.
I knew with some ingenuity I could create lovely little crowns for them to play in for a few more years until they grow a little too much to play dress up.
After making a couple of crowns for my girls, I decided to make some more for their friends to play with, as well as some for my nieces.
Then my aunt asked me to make one for my cousin to wear for her wedding. My cousin looked like true royalty gliding down the aisle to meet her betrothed with a long veil trailing behind. Just lovely, I assure you.
I love this princess crochet crown pattern because of how creative I could be. I used different colors of yarn for each crown, so each little girl could be a unique and one-of-a-kind princess.
To truly make it unique I added different sparkle with beads and thread.
Princess Crochet Crown Materials:
Cotton, sport weight yarn – I use Premier Yarns Cotton Fair (52 % cotton, 48 % acrylic)
Coordinating embroidery thread – I use DMC metallic embroidery thread.
Crochet hook in size E/ 3.5 mm
Mod Podge Stiffy or spray starch
Beads (at least size 10), pearls, other adornments
Difficulty
This princess crochet crown pattern is fairly easy. You only need to know some basic crochet stitches:
Chain stitch
Slip stitch
Single crochet
Double crochet
Treble crochet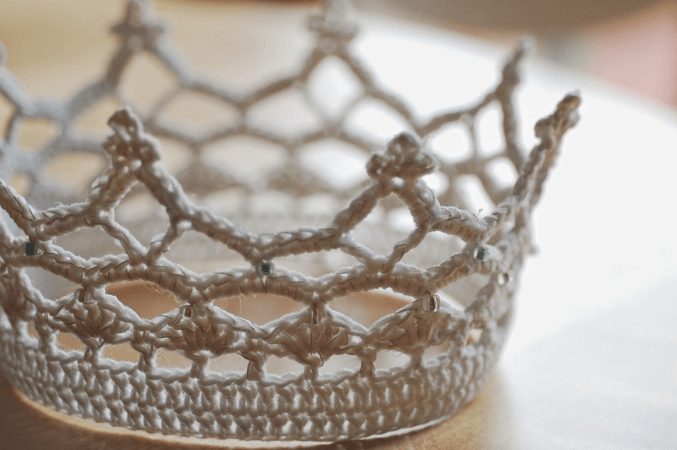 Size
The finished size is about 46 cm or 18 inches in circumference.
Tips
You can change the size of the crown by changing the yarn and hook size, or you will have to do a little math to increase the stitches.
Add sparkle and bling with beads, pearls, metallic threads, sparkle yarns, and anything else you can dream up!
You could make a smaller version to adorn an angel, a tea cozy, even make ornaments!
I know I very much enjoyed making up these princess  crochet crowns for my girls and several others. Their favorites are pink and purple with sparkly beads. I hope your princesses love the crochet crown as much as mine do.
Get the Free Crochet Crown Pattern here.
You wear that crochet crown like the magnificent royalty that you are and don't let anybody tell you otherwise!
Feel free to share your makes on our Facebook Page. May your reign be long and fair! 
Looking for hat and cap patterns instead? Check out our huge collection of Brim Hat Crochet Patterns, Crochet Cap Patterns, and Beret Crochet Patterns that are all trendy and stylish!
It's time to get the hooks ready and whip up your favorite crochet crown patterns for your family and yourself!