Most of us might see raccoons as annoying, trash digging animals, but there are still plenty of people who like these animals.
Here are some crochet raccoon patterns to get the creative juices flowing on a gift for that special person in your life who can't get enough of these animals.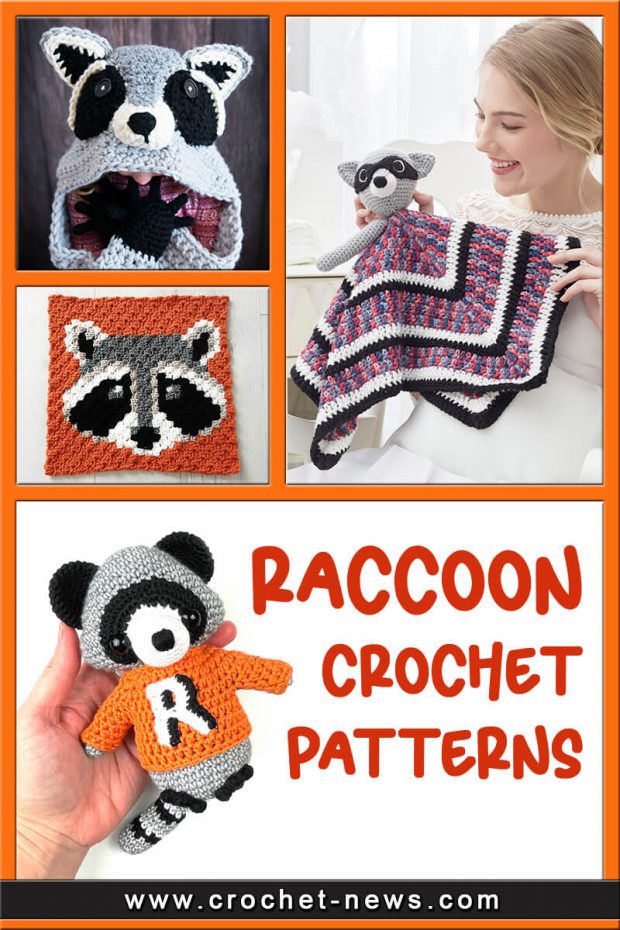 You'll see all sorts of creative raccoon toys, softies, hats and other fun accessories. Make them for you, your friends, and every rascal you know who loves Raccoons!

1. Cuddle Me Raccoon Amigurumi Pattern by Amigurumi Today
This 16 cm amigurumi raccoon with cute sly eyes will steal the heart of any child. It has a perfect size and softness for endless cuddles!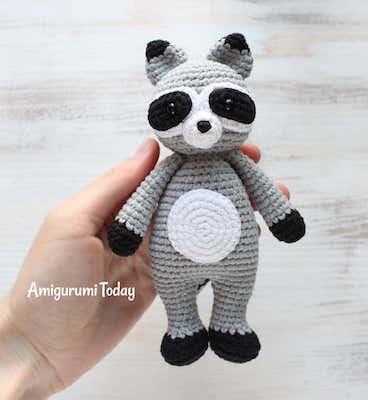 Get the Pattern here

2. Crochet Raccoon Hat Pattern by Repeat Crafter Me
A playful raccoon hat is sure to keep your little one warm and always smiling. Complete your fun new friend in whatever colors you choose!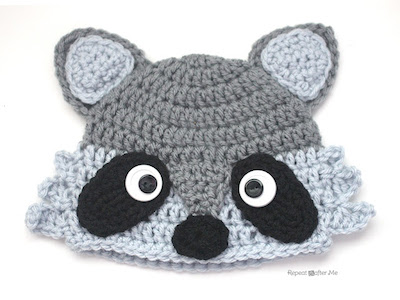 Get this free crochet raccoon pattern here

3. Rocky, The Raccoon Crochet Pattern by Yarnspirations
Say hello to Rocky, your child's newest plush toy that's perfect for cuddling. The squishy finish on this lovable toy makes it adored by kids of all ages, so be sure to gift it to any special child you love.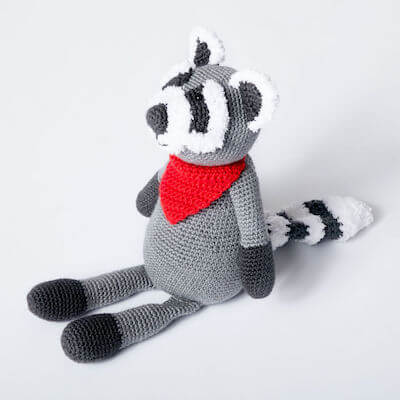 Get the Pattern here

4. Pocket Raccoon Crochet Pattern by Spin A Yarn Studio
Pocket Raccoons are a unique amigurumi made in the ragdoll-style; separate pieces worked in flat rows and joined together to give it that charming and distinctive 2-D appearance.
Stick with the nature-inspired grey shades or start your own colorful raccoon family!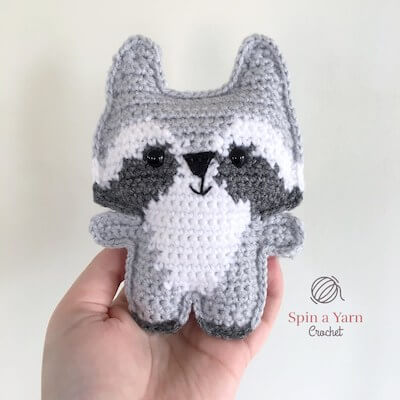 Get the Pattern by Spin A Yarn Studio here

5. Crochet Raccoon Pattern by Nansy Oops
How adorable are these tiny amigurumi sweeties? They have melted our hearts already, now they want yours! These mini raccoons need new friends and million of cuddles!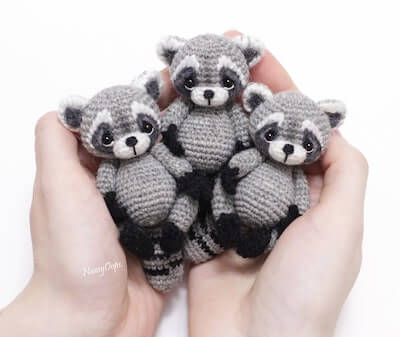 Get the Pattern by Nansy Oops here

6. Rocco, Raccoon Crochet Pattern by Irene Strange
Rocco Raccoon is dressed up and ready to go on an adventure! This is a quick project that uses small amounts of yarn – mix different fibre types to add texture.
The sweater is made separately and has some raglan-style shaping along the yoke.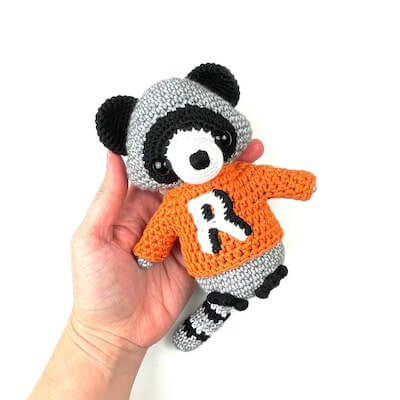 Get the Pattern by Irene Strange here

7. Crochet Raccoon Lovey Pattern by Red Heart
This cuddly bandit makes a warm and comforting companion for baby. This cute crochet raccoon lovey is a true charmer in classic shades.
Or, play around with blanket colors to create a different personality altogether. He's just the right size to hang out in the nursery or tag along when baby's on-the-go!
Check out more Crochet Lovey patterns if you love creating adorable things for that little tot.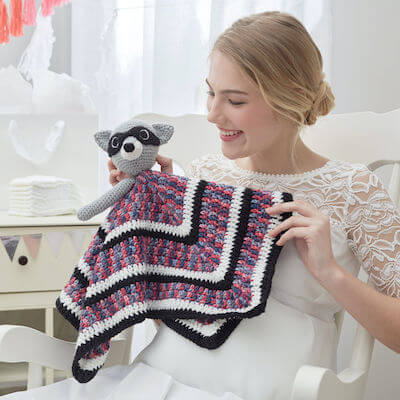 Get the Pattern here

8. Crochet Raccoon Amigurumi Pattern by Grace And Yarn
Create your own crochet raccoon with this easy to follow pattern! Finished product is about 14 inches tall and work up quite quickly!
This pattern is worked in the round with the body and head as one piece. You will want to be familiar with working in a magic circle and sewing of parts.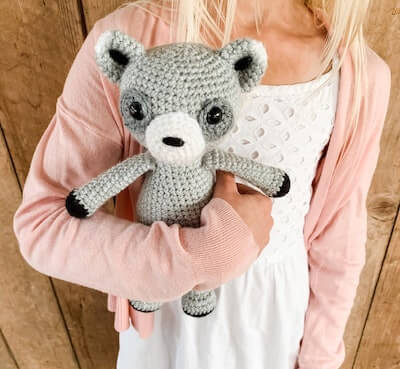 Get the Pattern by Grace And Yarn here

9. Crochet Raccoon Hooded Blanket Pattern by MJ's Off The Hook Designs
It's warm, it's adorable, it's a lil' bandit blanket with hoodie. Reveal smiles on little faces with this sweet themed blanket. Perfect for cuddling, play and display.

This racoon blanket features a tail graphed into the back of blanket, paw mittens and detailed raccoon hood. When not in use the blanket folds into a little pillow.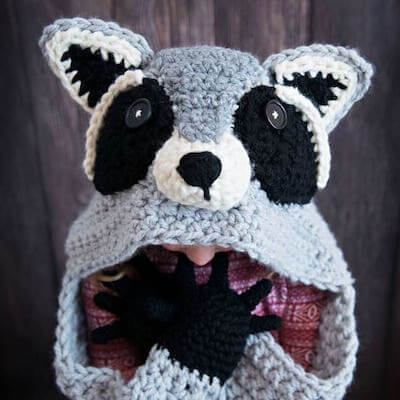 Get the Pattern by MJ's Off The Hook Designs here

10. Gigi, The Raccoon Amigurumi Pattern by Elisa's Crochet
Although he is a little garbage can overturner, you can't be angry with him, just because he's so gosh-darned cute and adorable. This shirt-sporting raccoon will definitely be a favorite with any kid!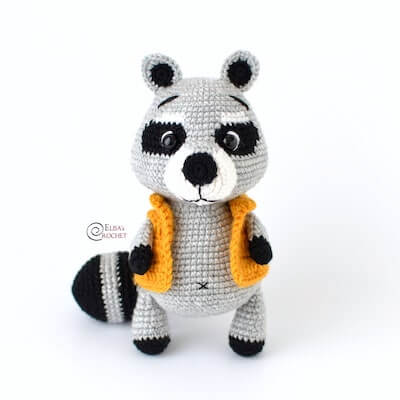 Get the Pattern by Elisa's Crochet here

11. Crochet Raccoon Pillow Cover Pattern by By Sincerely Pam
This raccoon pillow cover will make the perfect addition to your child's room! The pillow cover is designed to be removable, allowing you to remove it for easy washing!

Use the optional strap instructions to make this an exciting bag that is ideal for packing away everything needed for a sleepover!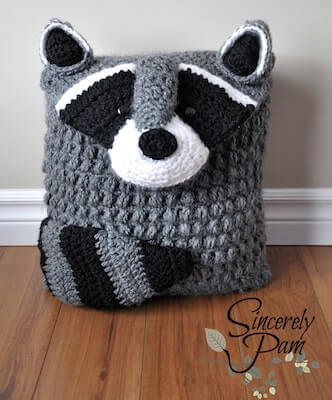 Get the Pattern by By Sincerely Pam here

12. Free Crochet Raccoon Pattern by Craft Passion
This Crochet Raccoon Amigurumi is about 10" tall. He is crocheted with a 3.5mm crochet hook in the colors gray, white and black acrylic yarns.
To make Jr. Rakku, you will use a split single crochet stitch, also known as "crochet knit stitch" or "waistcoat stitch", where the hook is inserted in between the legs of the next stitch.

You will be using this split single crochet stitch in this crochet pattern to keep the colorwork vertically straight throughout the round.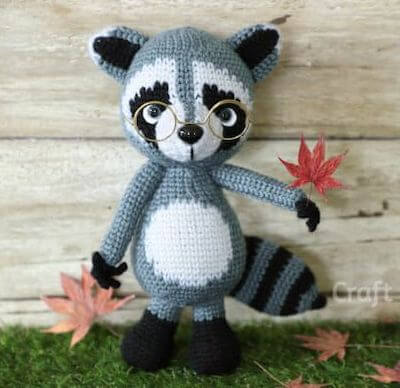 Get the Pattern here

13. Raccoon C2C Square Crochet Pattern by My Hobby Is Crochet
Here is a cute square with the face of that crafty and wily urban animal, the raccoon. However, this cute little guy won't be a pest and won't knock over your garbage bins, so you needn't worry.

This is an image made of "pixels" on a contrasting background. It's an easy project, as such, and the only real concern is to maintain the order of the pixels.
You can also vary colors, after all, why can't a modern raccoon have psychedelic colors?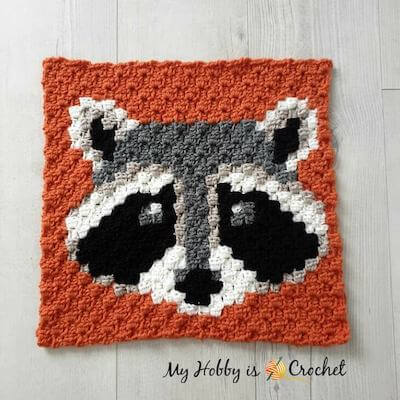 Get the Pattern here

14. Crochet Raccoon Applique Pattern by Nella's Cottage
This cute boho raccoon appliqué would make a great addition to a crochet hat, dress, blanket, or any other project you are working on. It would even look great as a decoration for a baby shower or animal themed party.

This works up to be about 7″ tall with 3.75mm hook. Crochet it in its classic color and add flowers for a boho look!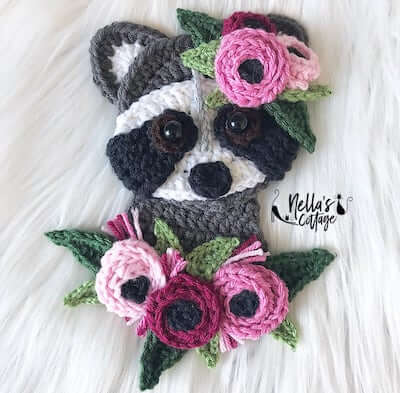 Get the Pattern by Nella's Cottage here

15. Racy Raccoon Ornament Crochet Pattern by Red Heart
Using a multi-color yarn gives this raccoon colorful markings along with his red mask and tail striping. He's easy to crochet in the colors of your choice and will add a clever note to your holiday tree.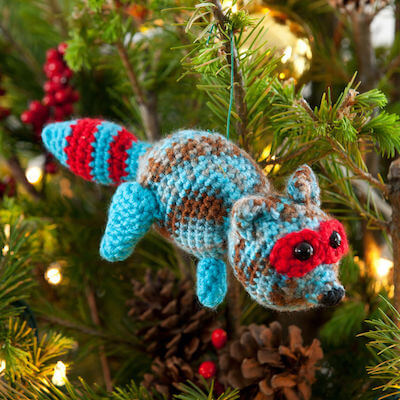 Get the Pattern here
WE HOPE YOU'VE ENJOYED THESE CROCHET RACCOON PATTERNS ROUND-UP!
Don't go far because more gorgeous animal rounds ups are just around the corner! Check out our Squirrel, Donkey, Zebra, Goat, Swan, Wolf, Otter and many more here.
And remember to post your finished pieces on our Facebook Page and share your favorite round ups with your friends, so they may enjoy these fiber goodies too.

Immerse yourself in a magical woodland with these mischievous crochet raccoon patterns today!