Even if you've been a little naughty this year, there's still time to make it up to Santa. Start by making any of these Crochet Santa Patterns to really show him you mean business!
Santa Claus is undoubtedly the star of Christmas – somebody that we wait for throughout the whole year, always aware that his elves are watching us and judging if we're being naughty or nice!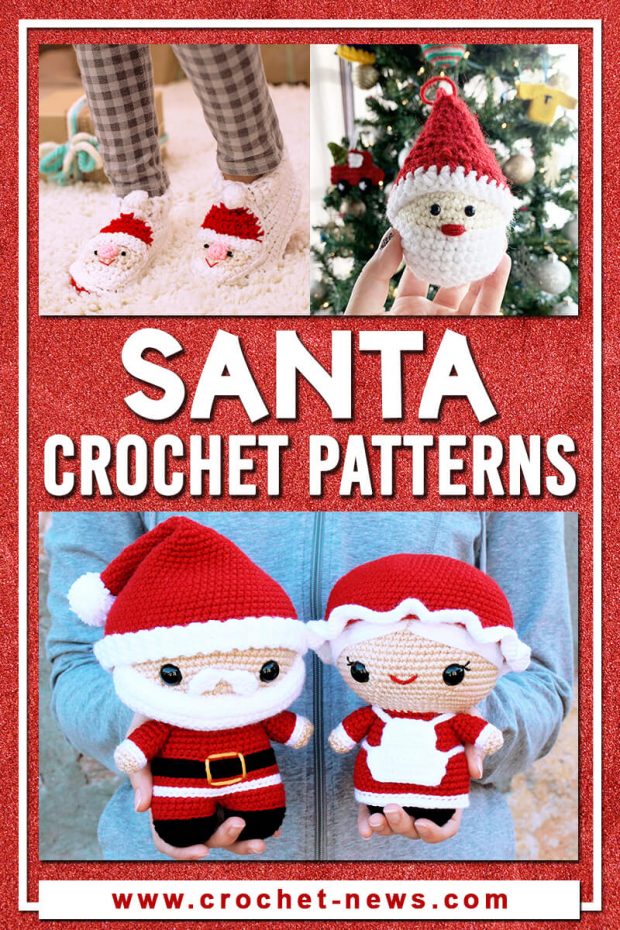 15 Crochet Santa Patterns to add some Christmas Cheer to your home

1. Crochet Santa Pudgy Pal Pattern by Bri Abby HMA
Looking for a cute, fun, and sophisticated way to decorate your home for Christmas? These Santa pudgy pals are the perfect pieces to add next to your crochet Christmas tree and other Christmas amigurumi decor.
They're a quick project making it easy to make multiple to place throughout your home, work, or give as gifts. They would also make as great toys for little hands to play with.
Above all, with these detailed instructions, even those with little crochet experience can find success in creating their own masterpieces!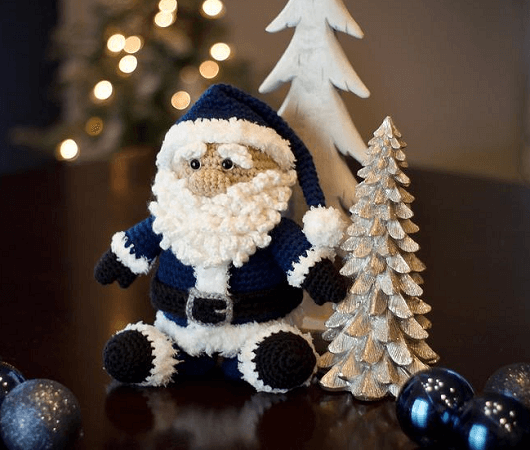 Get the Pattern by Bri Abby HMA here

2. Cuddle Sized Santa Claus And Mrs. Claus Amigurumi Pattern by Storyland Amis
Meet Cuddle-Sized Santa Claus and his sweet wife, Mrs. Claus! He is cute and cuddly and of course, he loves Christmas! Finished crochet santa measures 8.5 in. (21.5 cm.) tall w/hat, 7 in. (18 cm.) w/o hat. Mrs. Claus measures 7 in. (18 cm.) tall.
Using a series of basic crochet stitches like single crochet, there are also some HDC stitches, plus increase and decreases used.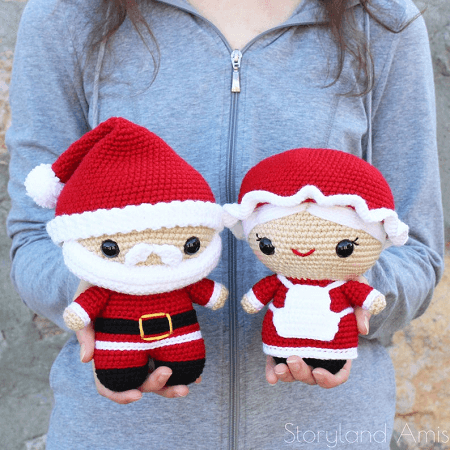 Get the Pattern by Storyland Amis here
3. Crochet Santa Amigurumi Pattern by Handy Little Me
This Crochet Santa Amigurumi Pattern is an excellent project for anyone who wants to make their own crochet Christmas decorations! The sweet little Santa is a great project you can make for yourself, the kids or to gift.
He can be made in around 7-8 hours, so there is still plenty of time to make one (or two!) before Christmas.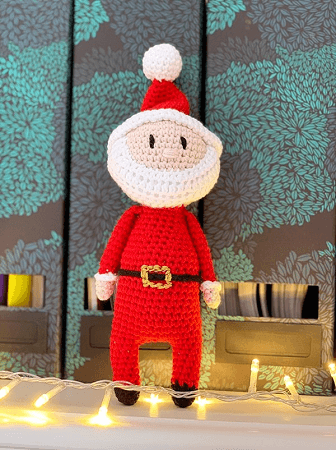 Get the Pattern here

4. Crochet Santa Claus Pattern by Airali Design
Crochet Santa amigurumi full of details: beard and moustache, festive red hat with pompom, sturdy boots (for jumping on roofs!), jacket details and belt with gold buckle plus JAYG (join as you go) technique for joining the arms.
This crochet Santa will measure 25 cm / 10 in tall when made with the indicated yarn.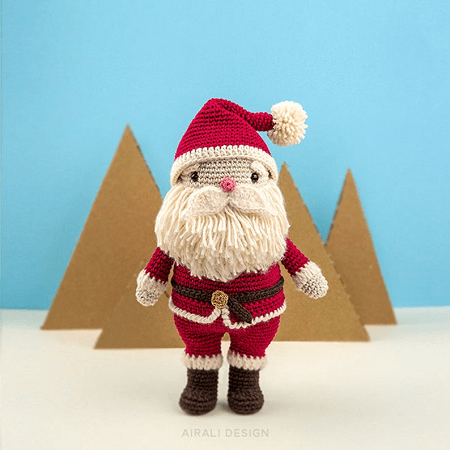 Get the Pattern by Airali Design here

5. Slippers Free Crochet Santa Pattern by Yarnspirations
Children will love sporting these crochet Santa slippers – especially since they know Santa is always watching! It takes very little time to stitch up these adorable tootsie warmers for your favorite child.
They're snowy white in Red Heart Super Saver, but you can easily stitch the body of the booties in your child's favorite shade. It's a heartwarming project to kick off the holiday season!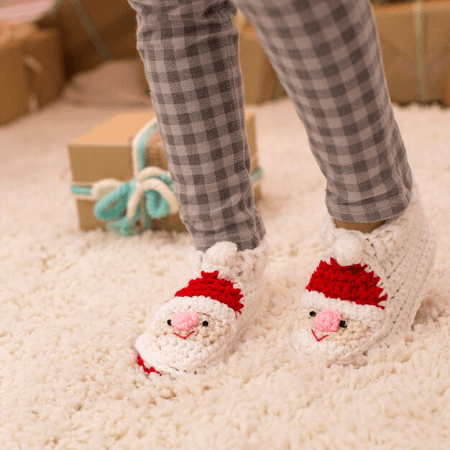 Get this free crochet santa pattern here

6. Applique Crochet Santa Pattern by Nella's Cottage
This Crochet Santa Applique can be used for a lot of things. Make garlands to decorate your home. Put them on Christmas cards, and use them for scrapbooking your favorite Christmas moments.
The possibilities are endless! This adorable applique work up to be about 8″ tall with 3.75mm hook.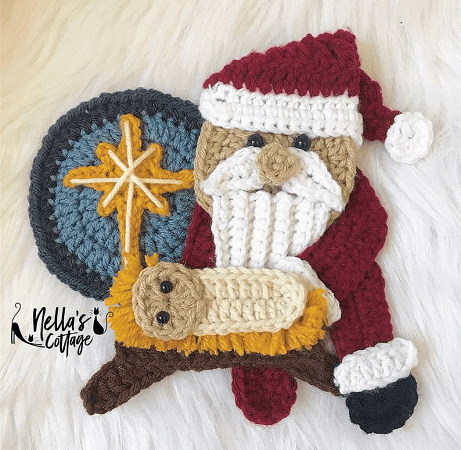 Get the Pattern by Nella's Cottage here

7. Cuddle Me Free Crochet Santa Pattern by Amigurumi Today
Place this adorable Cuddle Me Santa Amigurumi under the tree to make Christmas morning extra cuddly! The finished toy is about 16cm (6″) tall if you use similar supplies.
In case you use thicker yarn, your Santa amigurumi will be bigger.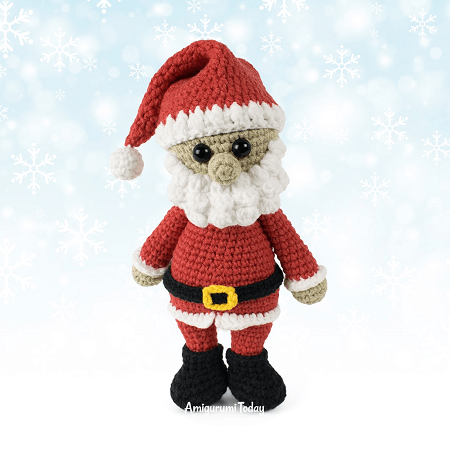 Get the Pattern here

8. Crochet Christmas Santa Sweater Pattern by Daisy Farm Crafts
Not just for Christmas, this fabulous little Santa Sweater can be made in any color and worn throughout the cold winter months. The pattern is very basic and all HDC. The finishing touch of the fur makes all the difference!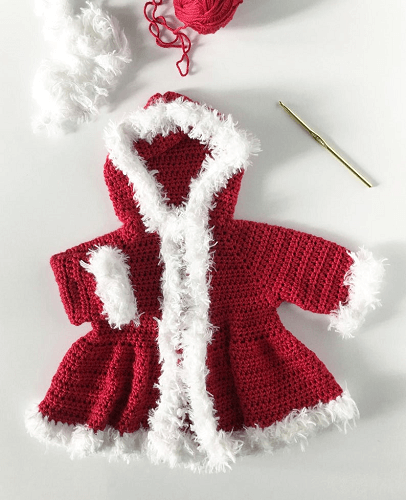 Get the Pattern by Daisy Farm Crafts here

9. Pillow Crochet Santa Claus Pattern by TLB Patterns
This adorable Santa Claus Pillow is the perfect addition to your holiday home decor. Santa is wearing a buffalo plaid hat, giving him the trendiest look for the season.
This crochet santa claus pattern uses the Intarsia crochet technique. If you are unsure how to do this, a full photo tutorial is included in the pattern.
Get the Pattern by TLB Patterns here

10. Huggable Pillow Free Crochet Santa Pattern Yarnspirations
Create a jolly Saint Nick pillow that exudes a festive spirit on your sofa, the mantle or under the tree. He's easy to stitch up in classic shades of Red Heart Super Saver, or give Santa a different color personality that makes you smile.
With so many shades to choose from, he's the perfect accent for your festive home. Be sure to craft a second pillow for the kids' room too!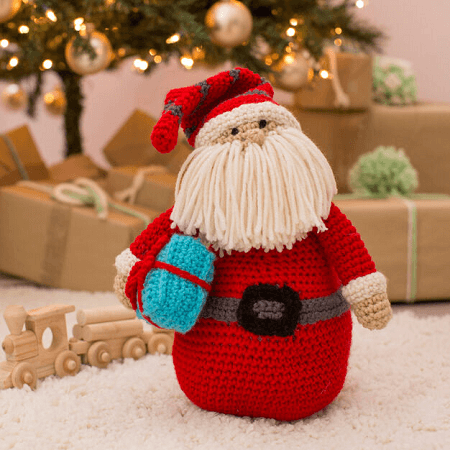 Get this free crochet Santa pattern here

11. Scandinavian Gnome Crochet Santa Claus Pattern by 1 Dog Woof
This Scandinavian Santa Gnome is a perfect little huggable friend to crochet for Christmas, as a gift or as a fun piece of holiday decor. He stands at around 15-18 inches high, but prefers to sit. He is the perfect alternative to that naughty elf who sits on the shelf!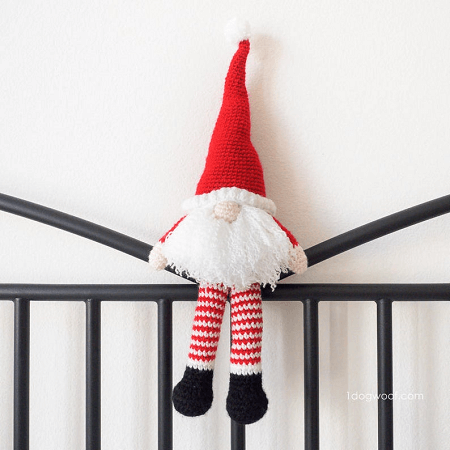 Get the Pattern by 1 Dog Woof here

12. Crochet Santa Ornament Pattern by Maria's Blue Crayon
Crochet this cute Santa Claus Ornament for your tree this year with this free pattern. He will make the perfect addition to your Christmas tree! The finished dimensions of the ornament is roughly 5″ in height when made with worsted weight yarn and 4.0mm hook.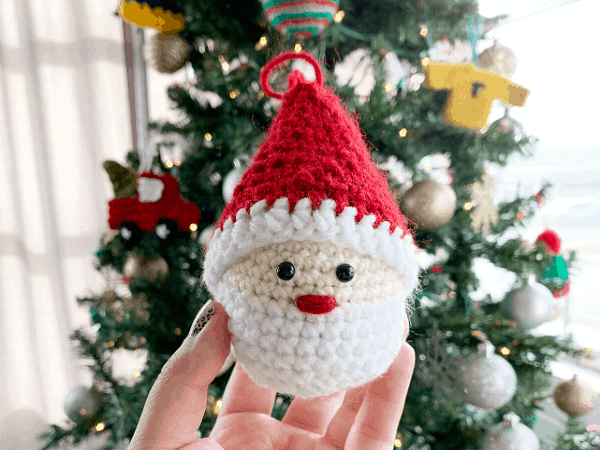 Get the Pattern here

13. Mr. Santa Crochet Pattern by Meow Knitting Boutique
Mr. Santa should measure approximately 16 cm if crocheted with a 2.00 mm hook. This bright red, bushy beard chap likes to spread Christmas cheer with you!
You should know how to magic ring, crocheting in spiral, single crochet, slip stitch, half-double crochet, and double crochet stitches, increase and decrease stitches, color changing and ability to sew multiple pieces together.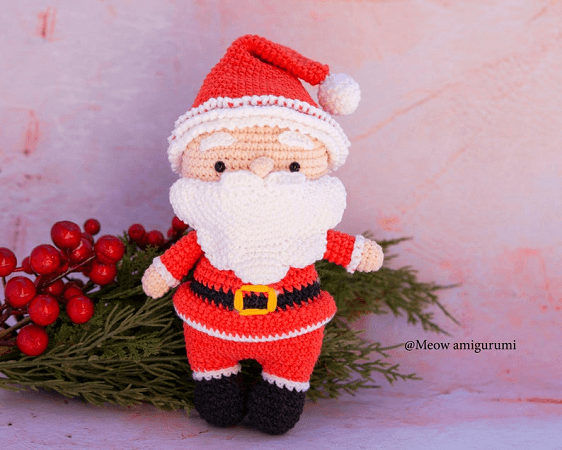 Get the Pattern by Meow Knitting Boutique here

14. Crochet Santa Hat Pattern by Crochet For You Blog
Make this fun and festive looking crochet Santa hat with bobbles and stripes. The pattern is in multiple sizes so you can make these hats for your whole family and friends.
The pattern works top-down while increasing. The stripes work in red and white color alternatively. And the bobbles in white colorwork the middle round of the red stripes.
Check out more festive Crochet Santa Hat Patterns here.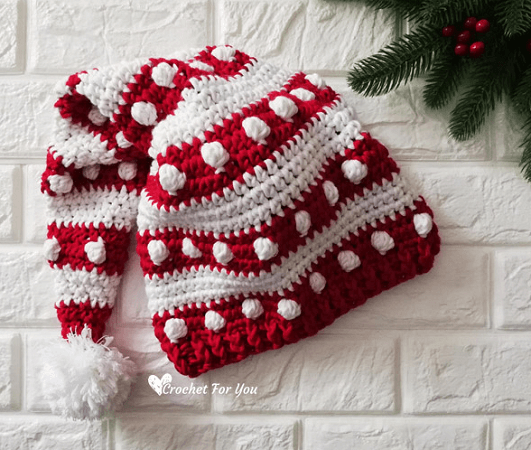 Get the Pattern here

15. Santa Bookmark Crochet Pattern by Supergurumi Shop
With this adorable Santa Bookmark Crochet Pattern, you can make a fun, quick, and inexpensive last-minute gift! The finished bookmark has a length of approximately 33 cm.
This crochet project is great for any crochet beginner and makes an absolutely adorable gift for kids or grown-ups.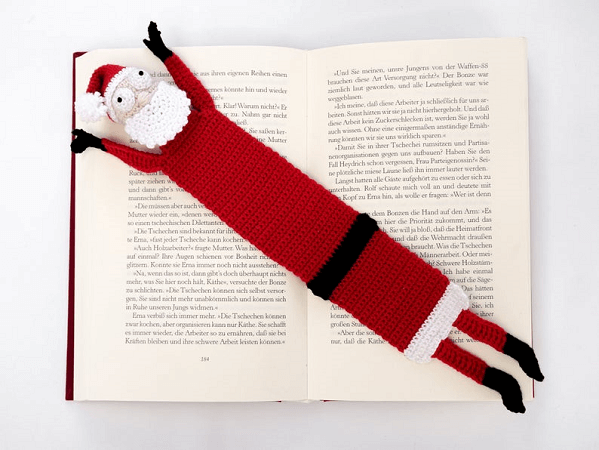 Get the Pattern by Supergurumi Shop here
Start gearing up for the holidays with these Fun Crochet Santa Patterns!
You can either make some for yourself, or for a little early gift for someone on your list!
When you're done making your own crochet Santa, be sure to share a pic on our Facebook Page and browse our collection of crochet patterns for Christmas just in case, Santa isn't enough to bring on the holiday cheer!
Here are our Favourite Crochet Christmas Pattern Lists
For now, let's get excited for the holidays, and show our support for Santa with these fun Crochet Santa Patterns. 'Tis the season, after all!