Unlike their real-life counterparts, these Amigurumi Polar Bears are super-friendly and cuddly. They're simple to make, too, and I recommend that you whip them up on a chilly weekend afternoon sat by the fire!
With their distinctive white fur, giant paws, and adorable face, it is no surprise that many people love polar bears. While polar bears are mostly associated with winter or the Christmas holidays, who says you can't love and obsess over them the whole year round?

So, who's ready to have a blizzard of fun with this list of amigurumi polar bear patterns? There's 'snow' way you should miss it!
Fun fact: Did you know that a group of polar bears has been called a celebration?
12 Amigurumi Polar Bear Patterns

1. Parker, The Polar Bear Amigurumi Pattern by Keke Grace
This cute crochet polar bear is a real fashion icon! Just look at his fabulous scarf in a modern minimalist style. The bear is soft, fluffy and quite small so you can take him with you everywhere you go. A perfect companion for long winter walks, without a doubt!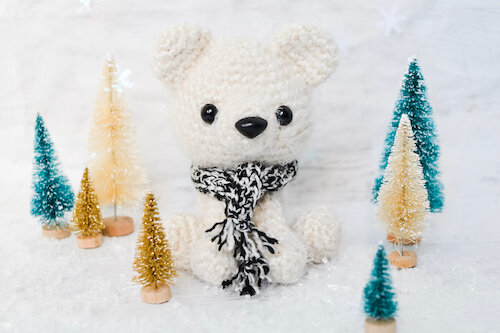 Get the Pattern here

2. Peppermint, Polar Bear Amigurumi Pattern by Crystalized Design
Stitched with wonderful fur yarn, this amigurumi polar bear is super lovable and extra fluffy! He's even ready for outdoor adventures, sporting his own winter scarf.
Make it as a heartwarming gift in any shades – if you can bear to give it away! He's a loyal companion that stimulates imaginations and brings hugs wherever he goes.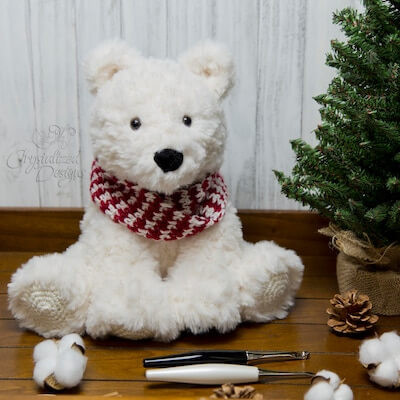 Get the Pattern by Crystalized Design here

3. Crochet Polar Bear Buddy Pattern by Repeat Crafter Me
This Crochet Polar Bear Buddy is the perfect addition to your little one's stuffy collection, it brings a whole lot of cuddles and a winter wonderland. Worked up in single crochet, this is an easy pattern to try out if you are looking for gift ideas.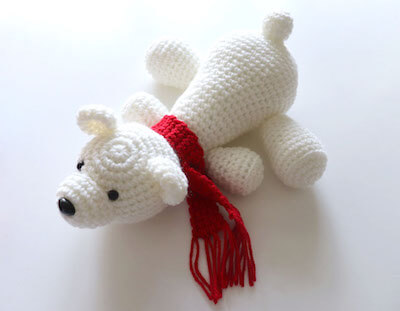 Get the Pattern here

4. Cuddle-Sized Amigurumi Polar Bear Pattern by Storyland Amis
If you want to win a little one over this Christmas, there's no better gift than Paddy, the Polar Bear, guaranteed to be the cutest cuddly toy in their bedroom by a mile. Finish off your project by giving him a cute winter scarf!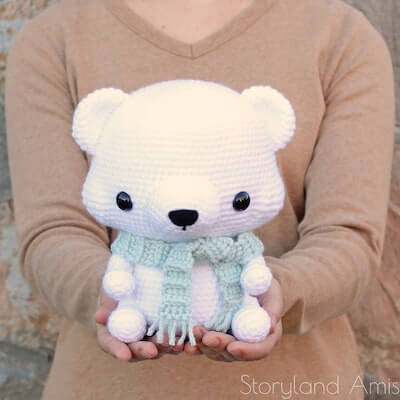 Get the Pattern by Storyland Amis here

5. Elia, The Polar Bear Amigurumi Pattern by Jo Handmade Design
Elia, the Polar Bear is a sweet little polar bear who wears a smart, cozy sweater, a scarf, and a pair of boots. The pattern also includes instructions to make a cute little robin named Gin. Display them all over the house as a heartwarming reminder of home.
Get the Pattern by Jo Handmade Design here

6. Amigurumi Polar Bear Pattern by One And Two Company
Transported from the snowy Arctic to a cozy bedroom, this Amigurumi Polar Bear Pattern is still wearing a scarf to keep out winter.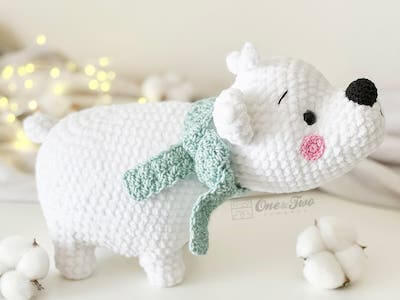 Get the Pattern by One And Two Company here

7. Shirokuma, The Polar Bear Amigurumi Pattern by Little World Of Whimsy
Shirokuma is a cuddly little polar bear that's a perfect addition to any collection and makes a great gift for kids and adults alike. With its cute round ears and fuzzy white fur, this chibi polar bear is sure to steal your heart!
Get the Pattern here

8. Amigurumi Polar Bear Crochet Pattern by Crafty Kitty Crochet
This polar bear is made with incredibly chunky faux fur yarn with only a few basic crochet stitches, and the head/body takes only 12 rounds to complete! Whether as a heartfelt gift or a cherished companion, it is sure to bring joy and comfort to people of all ages.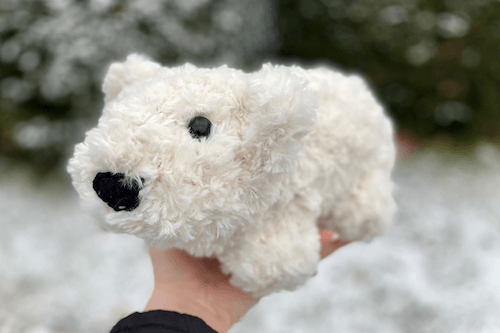 Get the Pattern here

9. Crochet Polar Bear Pattern by Crochet To Play
Perfect for gift giving, this cuddly polar bear is a fun pattern to work up during the winter season. Bundled up in his green plaid hat and cowl, this amigurumi animal makes a cute Christmas gift for kids of all ages.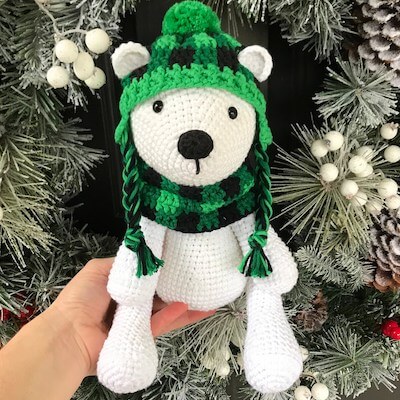 Get the Pattern by Crochet To Play here

10. Bruno, The Polar Bear Crochet Pattern by Octopus Crochet
Gone fishing? Don't forget your beanie and scarf, fishing basket, a good rod, and Bruno, the Polar Bear will tell you everything you need to know about fishing, he's an expert! A cool crochet friend to make for fishermen out there!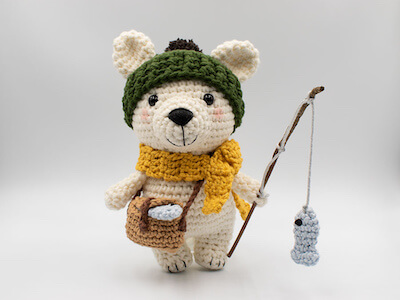 Get the Pattern here

11. Peyton, The Polar Bear Amigurumi Pattern by Sweet Softies
Meet Peyton, this adorable, big-headed little-bodied guy is made using just a half skein of super bulky yarn. He makes a sweet, handmade gift for Christmas!

Have him hold a crocheted heart for your sweetheart, or maybe give him a cute Santa hat and red scarf for some festive cheer!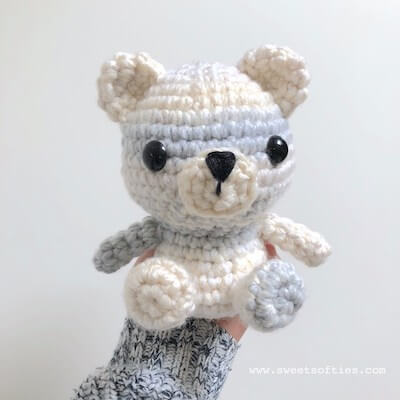 Get the Pattern by Sweet Softies here

12. Little Polar Bear And Mommy Amigurumi Pattern by Crochet Wonder Designs
This mom and baby polar bear duo will light up your arctic world! With snow-white fur and big, friendly paws, they will make a fantastic playmate for little ones! Their features are embroidered so they're safe for young children.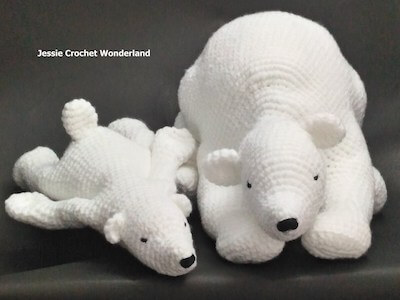 Get the Pattern by Crochet Wonder Designs here
READY TO MAKE YOUR OWN AMIGURUMI POLAR BEAR?
I would love to see your creations, so please share your photos with me on our Facebook Page if you feel so inclined!
If you are interested in making even more amigurumi animals, see all of the other patterns you can make!
I hope you've enjoyed these cuddly and cute amigurumi polar bears that you can give to just about anyone on your holiday gift list. Happy crocheting, friends!