Moths are divisive critters – people tend to either love them or really hate them. We don't view moths with the same affection as their day-flying cousins, and the irrational fear of moths is even common enough to have a name: mottephobia. Fear not, these crochet moth patterns wouldn't do any harm. In fact, do you have any idea how varied and beautiful they could be?
Once completed, these projects can either be toys, worn as an accessory such as a brooch or hair decoration, or they can be mounted in a frame or bell jar for display. You will be admiring these little creatures in no time.
12 Crochet Moth Patterns

1. Crochet Luna Moth Pattern by Stella's Yarn Universe
This Luna Moth Crochet Pattern is a great project for intermediate and seasoned crocheters! It is inspired by the Luna Moth but of course, you could use it to create different kinds of tailed moths or butterflies.
Get the Pattern by Stella's Yarn Universe here

2. Crochet Rosy Maple Moth Pattern by Lemon Yarn Creations
Rosy maple moths are the cutest and smallest moths out there, with fuzzy texture, pink and yellow markings, and a whimsical appearance. Crochet one with its natural colors or switch to your choice of combination to come up with your own version.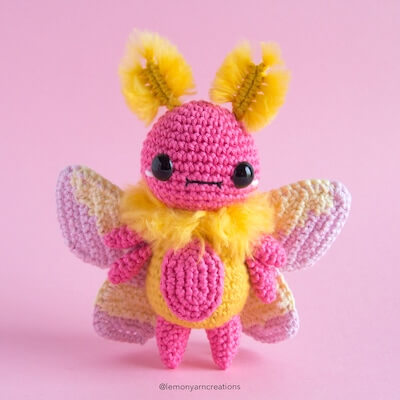 Get the Pattern by Lemon Yarn Creations here

3. Delilah, The Poodle Moth Crochet Pattern by Irene Strange
If you like moths and fuzzy friends, then Delilah the Poodle Moth is for you! She has enough fluff to go around, and her huge eyes are just begging for a hug!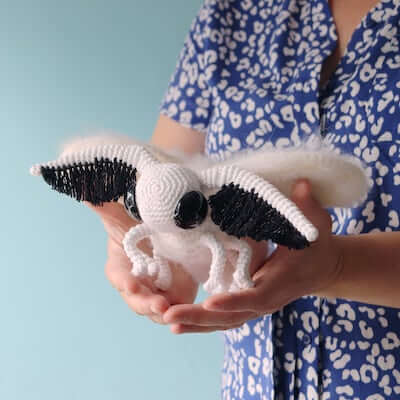 Get the Pattern by Irene Strange here

4. Crochet Moth Pattern by Skein Spider
There are so many possibilities with body and wing colors that you could make a whole family of moths, each one looking unique!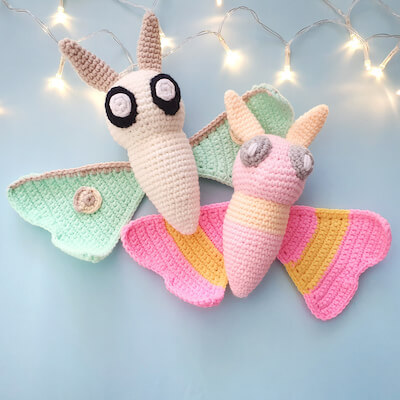 Get the Pattern here

5. Death's Head Moth Crochet Pattern by Lydia Hawk
A majority of moths are most active at night. Plus there's something about them that feels a bit spooky. So these two things combined make this Death's Head Moth feel like a natural fit when it comes to Halloween decor. Feel free to make it colors of your choice.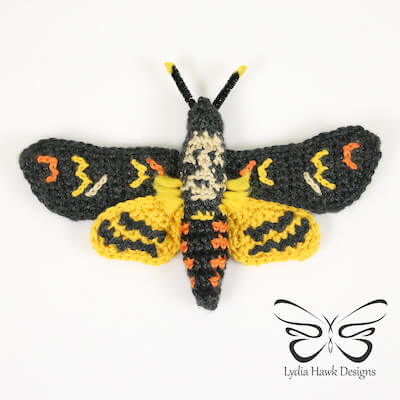 Get the Pattern here

6. Luna Moth Crochet Pattern by KAP Crochet
Luna moths are nocturnal insects and rare to see. In fast, some believe they bring good luck to those who are lucky enough to spot them!

The luna moth is known for its pale or lime green wings with dark purplish edges. While it's perfect to crochet it with its given colors, you're always welcome to play around the colors you choose for your project.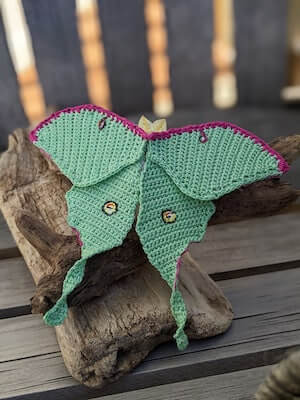 Get the Pattern by KAP Crochet here

7. Silk Moth Ruana Crochet Pattern by Hailey Bailey
The Pink Silk Moth is a stunningly colored moth found in tropical regions of Africa. This species is a soft pink shade with vivid yellow-green wing accents and, most notably, wing bottoms that extend into two long, fluttery legs.

The colors and shape of this moth's natural beauty are captured in this oversized Ruana. This versatile garment can easily transition through all seasons from a summer beach cover-up to a draped cardigan in cooler months.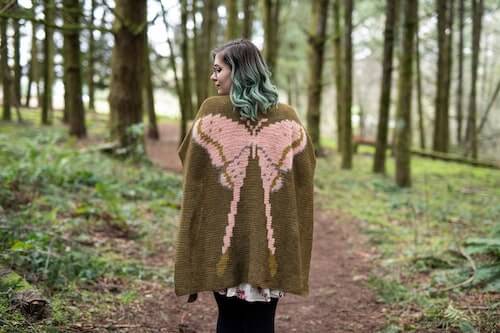 Get the Pattern by Hailey Bailey here

8. Luna Moth Butterfly Crochet Pattern by Mieks Creaties
Boasting a whimsical design, this Luna Moth Butterfly is the perfect guide to introduce wide eyed nature lovers to the wonders of the night!

This cuddly friend capture all our favorite features of these fascinating nocturnal creatures. A generously sized swallowtail wings feature colorful, embroidered eye spots, combined with a soft fuzzy body are sure to charm you.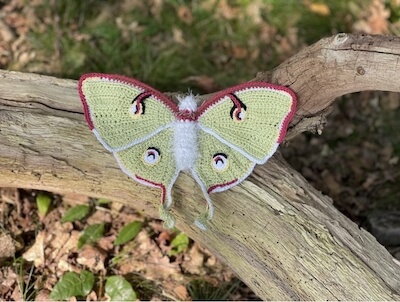 Get the Pattern here

9. Crochet Skull Moth Pattern by Lalylala
This eerily beautiful Crochet Skull Moth is a whimsically cute gift for little horror fans – the wings and skull mask of your moth can be put and taken off.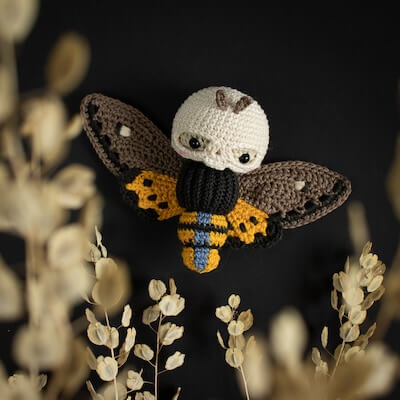 Get the Pattern by Lalylala here

10. Moth Balls Crochet Pattern by Crafty Intentions
Get ready to embark on a whimsical journey with these adorable Moth Balls. Measuring 6 inches tall, it's just the right size to fit snugly in your arms or take along on your adventures.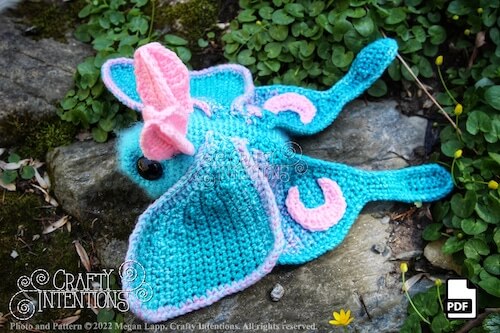 Get the Pattern by Crafty Intentions here

11. Little Moth Crochet Pattern by Critter Stitch Designs
This Little Moth Crochet Pattern is a lovely way to upcycle those scraps of yarn you've been saving for something special. Make moths or butterflies to wear on your bag or coat, perch on the wall or hang from ribbon for a beautiful tree ornament.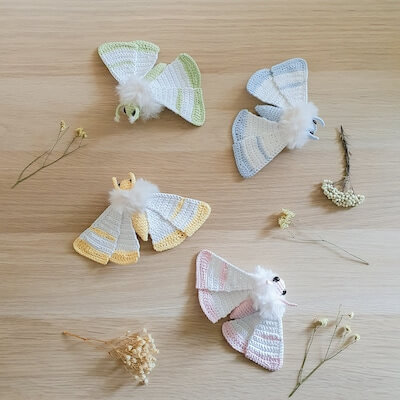 Get the Pattern by Critter Stitch Designs here

12. Let's Make Moths Crochet Pattern by Greedy For Colour
Here is a gorgeous finished moth you can frame, gift, and otherwise have a lot of fun making as you'll learn some easy embroidery techniques to embellish your winged creature. It's a great conversation piece and a lovely way to add a tiny bit of nature to your home.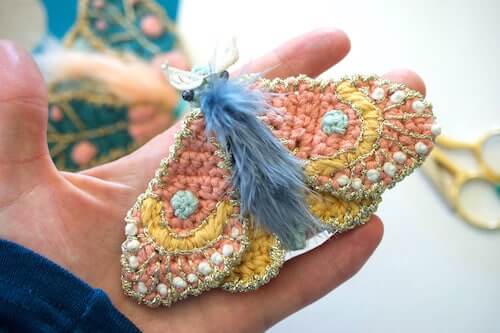 Get the Pattern by Greedy For Colour here
WITH THESE CROCHET MOTH PATTERNS, WHO KNEW THESE CREATURES OF THE NIGHT COULD LOOK SO ADORABLE?!
As always, share your versions with us on our Facebook Page. We'd love to see if you make one!
What is more fun than crocheting realistic looking critters? Make dozens of creepy (or not) crawlies with these patterns for dragonflies, caterpillars, snails, bees, butterflies, lady bugs, worms, and spiders.
Bring the beauty of nature into your home by starting with your favorite crochet moth patterns!