Snails have long been seen as boring, slow, and slimy. While there is no denying their slowness and sliminess, snails are anything but boring. Check these crochet snail patterns below that are just so adorable!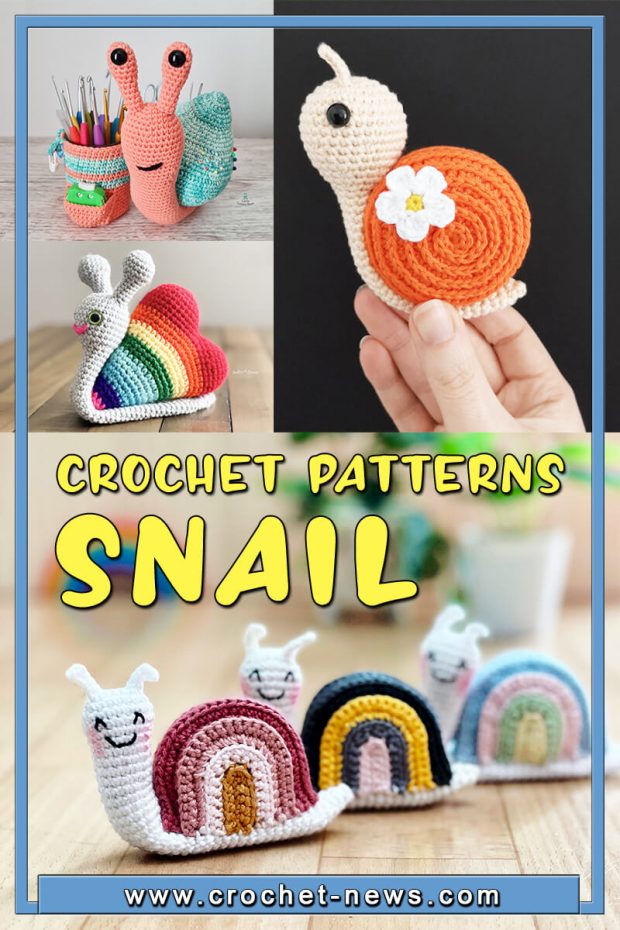 Even if you're not a fan of real-life crawlies, it just goes to show that anything can be cute in crochet form. A cuddly crochet snail – what could be better? Make one, make 20!

1. Party Snail Amigurumi Pattern by Tiny Curl
Have you ever wondered why snails only come out at night? It's because they were out there raging! Then they have to sleep all day because they were out partying all night!
The inside of a snail's shell is filled with disco balls, confetti, and cake! Now you can make your very own Party Snail Amigurumi and spread the truth about snails to all!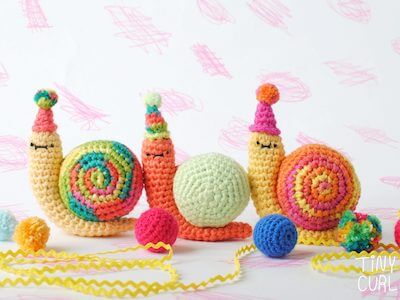 Get the Pattern here

2. Crochet Snail Couple Pattern by Red Heart
A company of 2 smiley crochet snails makes a great addition to your toy collection. Crocheted in rounds and featuring embroidery, customize them using any colors you like for the perfect gift to brighten someone's day!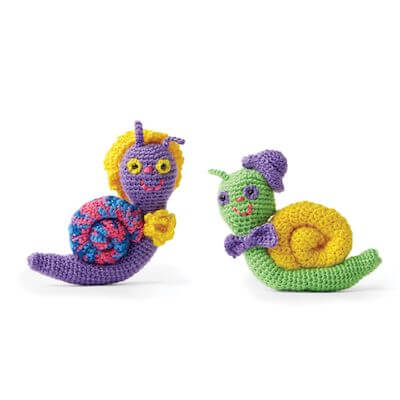 Get the Pattern here

3. Crochet Snail Pattern by Little Conkers
This little character is perfect on a twig tree – or for yarn-bombing outdoors. It's also a great fun to include it in a wreath, floral centerpiece or fruit bowl!

Carefully designed with a realistic, asymmetrical shell, this pattern uses a wide range of crochet stitches to achieve the perfect shape, making it an unusual and rewarding project.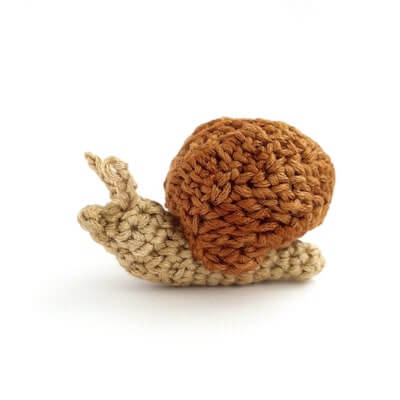 Get the Pattern by Little Conkers here

4. Snail Amigurumi Crochet Pattern by Spin A Yarn Studio
This cute amigurumi snail is actually a fairly large ami critter. Moreover, its simple, cushion-like structure makes this a cinch to work up and a pleasure to make.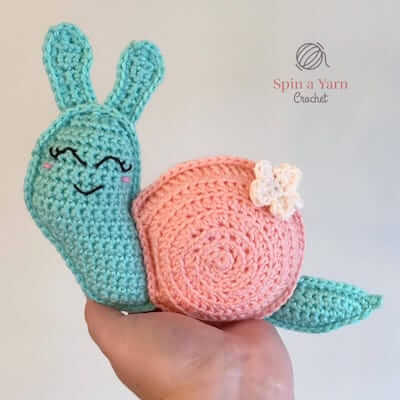 Get the Pattern by Spin A Yarn Studio here

5. African Flower Snail Crochet Pattern by Flower Safari
This dazzling Snail is made from African flowers that are joined together. The complete size should be around 18 cm high and 31 cm wide. However, the size will depend on the yarn you use and how tight you are going to make the flowers.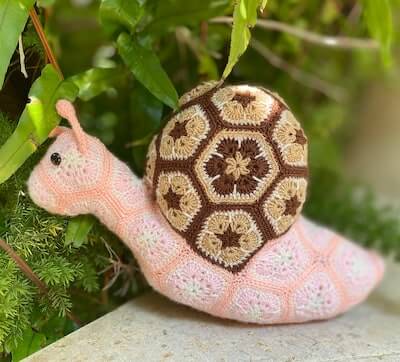 Get the Pattern by Flower Safari here

6. Crochet Snail Applique Pattern by Golden Lucy Crafts
This pattern is for a cute Crochet Snail Applique with a shell made from a heart! It is perfect for any Valentine's Day embellishments!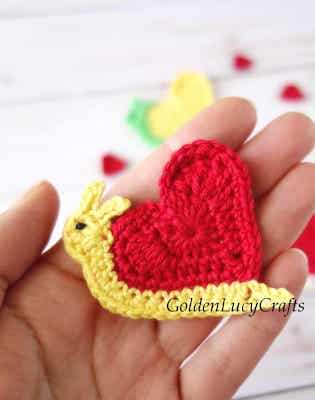 Get the Pattern here

7. Snail's Pace Crochet Blanket Pattern by Yarnspirations
Dial-up tummy time with this inventive crochet blanket project! Stitched in coordinating neutral shades, this snuggly blanket includes its own matching snail pillow/toy pal!

This entertaining pattern is easy to do, featuring single crochet, sewing, half double crochet, and chain stitch techniques. When not being enjoyed by your child, simply roll up the blanket and tuck it away inside the snail's body for storage.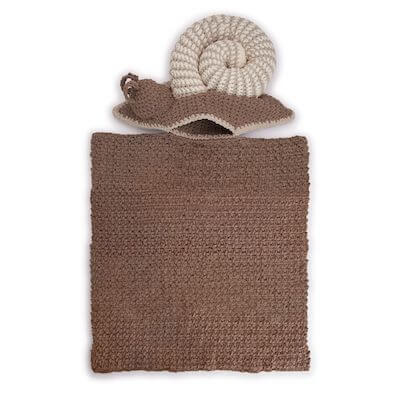 Get the Pattern here

8. Lady Snail Amigurumi Pattern by Amigurumi Today
This little Lady Snail Amigurumi would look perfect in your floral corner within cute flowerpots. Designed with a colorful shell, this pattern needs only a little yarn – great for using up oddments!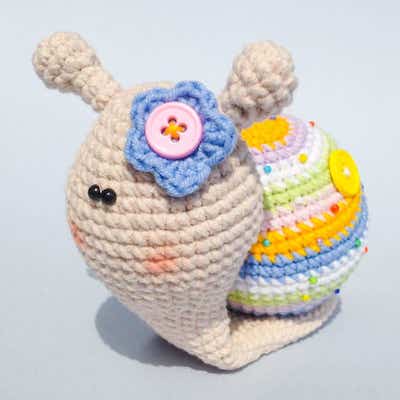 Get the Pattern here

9. Snail Crochet Pattern by The Lofty Loop
This cute little snail looks very happy, and very friendly. She will not eat your plants, and most importantly, she won't leave a trail of slime behind. She is very easy to make, and about 6 x 4 inches (15 x 10cm).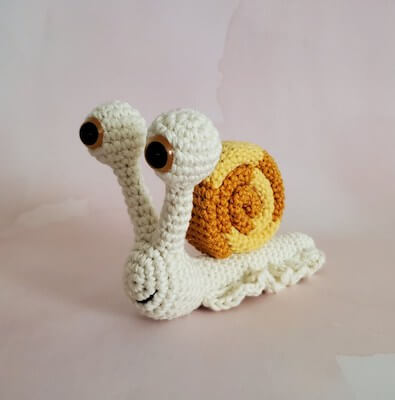 Get the Pattern by The Lofty Loop here

10. Crochet Snail Box Pattern by Pink Mouse Boutique
This snail is crocheted almost seamlessly, only the chimney is sewn to the roof. The finished snail is about 4 inches long and with the roof, about 2.5 inches tall.
The house on its back is perfect for small jewelry items: rings, earrings, and bracelets.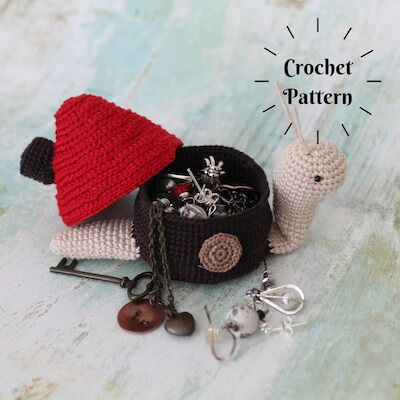 Get the Pattern by Pink Mouse Boutique here

11. Snail Amigurumi Free Crochet Pattern by Stringy Ding Ding
Take a look at this Snail Amigurumi Free Crochet Pattern! He's the perfect amigurumi to make for spring and fall – it's even better that he's very quick and easy to make.

The final result is super cute! However, please note that he can't stand up on his own, so you will need to lean him on something if you plan on displaying it.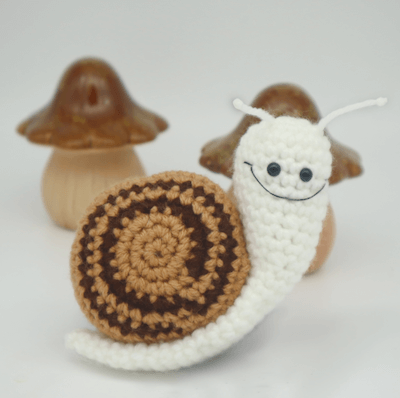 Get the Pattern here

12. Free Crochet Snail Applique Pattern by Repeat Crafter Me
This colorful snail can be made in so many different color combinations! You could also leave off the body and it would make a nice seashell. Keep this in mind for your summer/beachy crochet projects.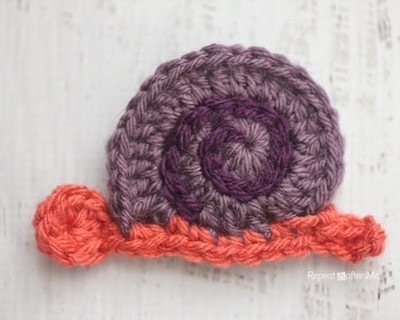 Get the Pattern here

13. Snail Caddy Crochet Pattern by Little Green Bear Shop
Sally, the snail caddy might not be the fastest, but she gets there in the end – with all the kit you need for crafting. She is 8 inches tall (when made with the recommended materials).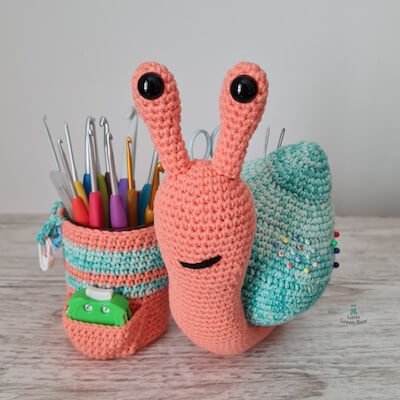 Get the Pattern by Little Green Bear Shop here

14. Cupid, The Love Snail Crochet Pattern by Ira Rott Patterns
Whether you are new to crochet or have many years of experience, take all the time you need to make this adorable Cupid The Love Snail – in fact, slow and steady wins the race.
Your heart will skip a beat when the person you care about sees your special gift.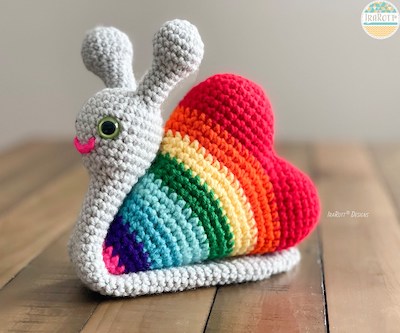 Get the Pattern by Ira Rott Patterns here

15. Giant Snail Amigurumi Crochet Pattern by Crafty Intentions
Brighten both skies and smiles with your very own Giant Snail Amigurumi! This extra large slime puppy measures approximately 10″ tall by 15″ long, and is partially filled with glass gems at the base to add weight and ensure he stands tall at all times.

Your choice of body color shows off fancy frills and is perfectly complimented with the shell and antennas. Though he has no face or limbs to show his love, this cuddly figure is sure to bring joy to your home and draw compliments from everyone who lays eyes on him!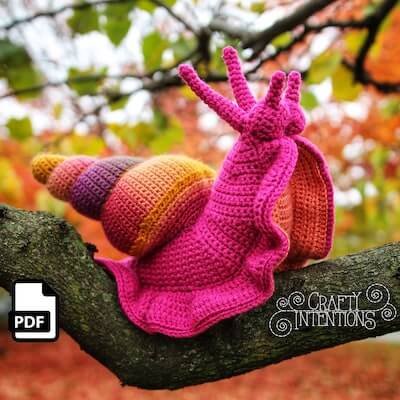 Get the Pattern by Crafty Intentions here

16. Maximilian, The Snail Crochet Pattern by Vanessa Mooncie
With his fancy, ribbon-bedecked hat, Maximilian the Snail is sure to take first place in any Easter bonnet competition.
It's all about the details for this happy chappie, with a shell embellished using slip stitches worked in a contrasting color, plus curly crocheted streamers and tiny flowers decorating his titfer.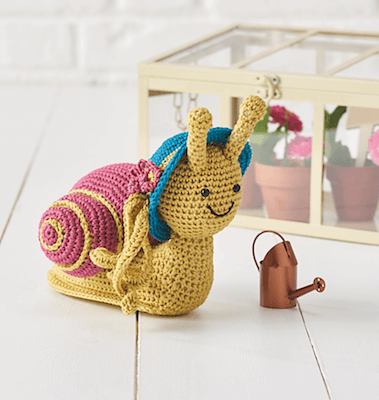 Get the Pattern here

17. Abigail, The Snail Crochet Pattern by Elisa's Crochet
Meet Abigail, the Snail! Isn't she the cutest? Have you ever heard that a snail carries its house on its back? Well, this cute amigurumi snail truly does!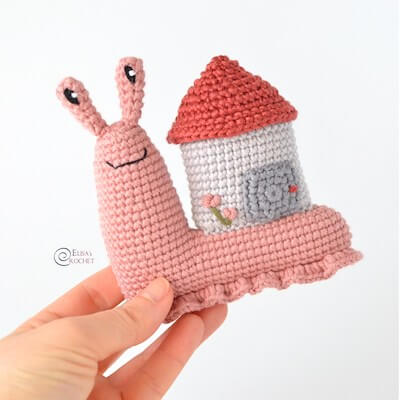 Get the Pattern here

18. Crochet Spring Snail Pattern by Stitch By Fay
Crochet a sweet Spring Snaildesigned with a beautifully textured spiral shell and flower adornment. A quick and easy make!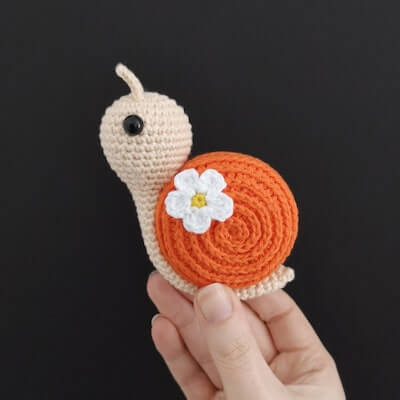 Get the Pattern by Stitch By Fay here

19. Edward, The Snail Crochet Pattern by Critter Stitch Designs
Crochet you own slugs and snails! A fun, challenging crochet pattern for a cute, realistic snail. They make perfect, well-behaved desk companions to help you deal calmly with whatever the day throws at you.
And wouldn't you lie to see a twig tree covered with these little guys?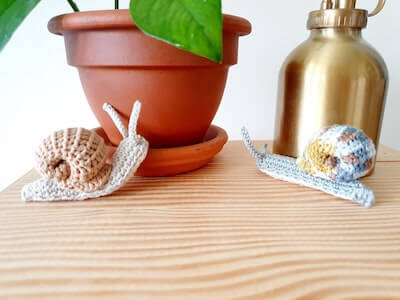 Get the Pattern by Critter Stitch Designs here

20. Crochet Rainbow Snails Pattern by Little Bichons
Meet Itsi, Bitsi & Witsi, the rainbow snails! They love rain, but their favorite thing in the world is when a ray of sunshine peeks through the clouds and makes a rainbow, matching their pretty shell!

They use very small amounts of yarn and, better still, you can customize their shells to make them as colorful as you like!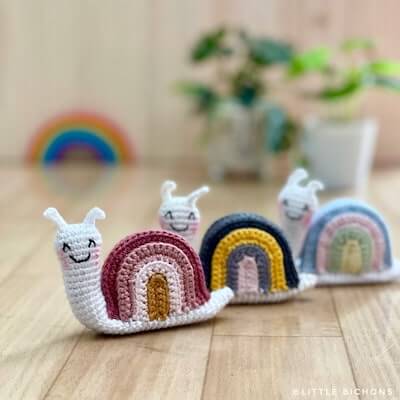 Get the Pattern by Little Bichons here
EXPAND YOUR CROCHET REPERTOIRE WITH THESE CROCHET SNAIL PATTERNS!
For more delightful menagerie of miniature insects, check out our patterns for: Dragonfly Crochet Patterns, Crochet Butterfly Patterns, Crochet Bee Patterns, and Amigurumi Ladybug Patterns.

Use them to decorate your clothes and accessories, to give as gifts – or to decorate your gift wrap and greeting cards – and to collect creative display pieces. Just don't forget to share your finished works on our Facebook Page. 
These crochet snail patterns are fun, adorable, and easy patterns that will work up fast and will allow you to use up yarn ends. Happy crocheting!