Maybe you won't want to go digging in your garden for a real worm, but I guarantee you'll want to get at least one of these crochet worm patterns onto your crochet hook!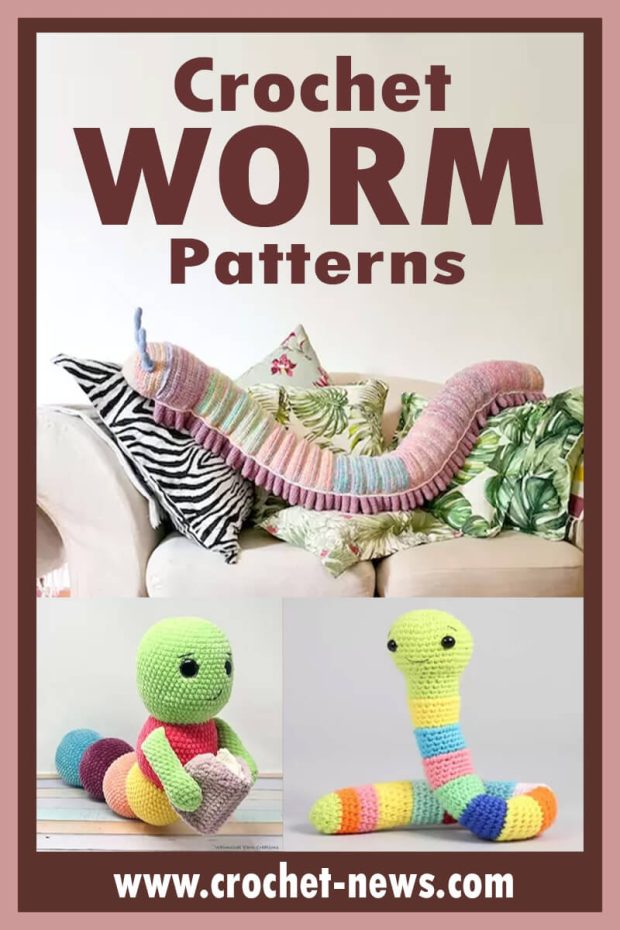 What do you do when you see worms squiggling along? Are you happy to see these tiny parts of the ecosystem, or do you run the other way? I'm not a fan of the real thing myself, but it's hard to resist a crocheted version, indeed.
They're adorable as amigurumi, and realistic renderings make it easy to appreciate the colors and details of these fascinating creatures.
12 Crochet Worm Patterns

1. Crochet Amigurumi Worm Pattern by Happy Crochet Lady
Looking for a fun, quick pattern to try? Here's one! You'll be turning your yarn into a cool little worm that can hang with you before you know it! (and dress them up in little hats!)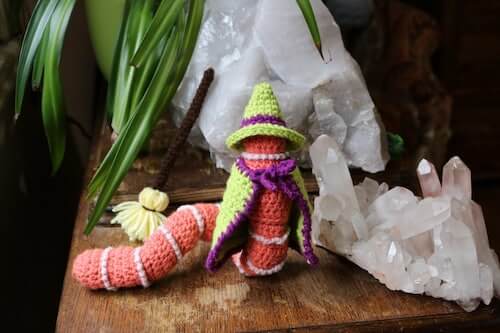 Get the Pattern by Happy Crochet Lady here

2. Crochet Bookworm Pattern by Whimsical Yarn Designs
Are you a book lover or do you know little ones that love to read? They might just want the bookworm for a book buddy. This bookworm loves to read and is always looking for a reading buddy.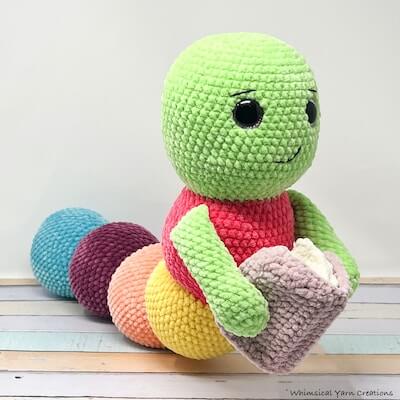 Get the Pattern by Whimsical Yarn Designs here

3. Willy, The Worm Crochet Pattern by Hobbii
Meet Willy. He is an adorable little worm who loves to play in the back garden. He is 32 cm long and crocheted in 13 wonderful colors.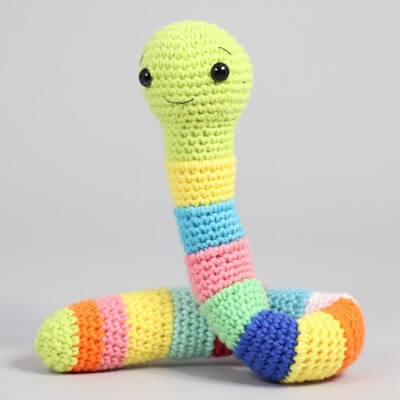 Get the Pattern here

4. Giant Crocheted Worm On A String by Instructables
Invented in 1977, the worm on a string has been a favorite childhood toy for over 43 years. In this tutorial, you will learn how to make your own 42″-52″ worm on a string amigurumi toy. Although somewhat time-consuming (but very worth it), this pattern uses very simple stitches such as the single crochet, the single crochet increase, and the single crochet decrease.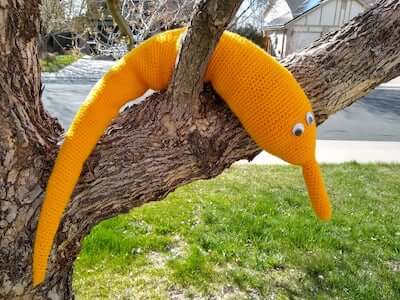 Get the Pattern here

5. Crochet Worms Pattern by Emms Crochet Shop
These adorable crochet worms are easy to customize! Switch up the colors and you can make anything from a realistic worm to a gummy worm. You can even add glasses to make a bookworm! These could be used for display or even as a toy.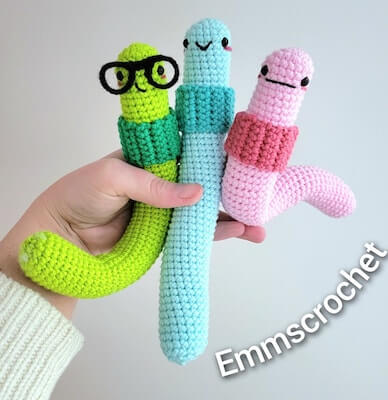 Get the Pattern by Emms Crochet Shop here

6. Iggy, The Inchworm Crochet Pattern by Theresa's Crochet Shop
This amigurumi inchworm is scooting along with a smile on its face! Craft wire is used to create the bend in the worm, so it can be arranged anywhere you want as decoration. This is a quick project and be completed by beginners.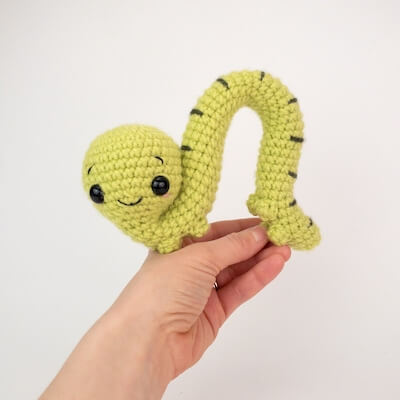 Get the Pattern by Theresa's Crochet Shop here

7. Crochet Tobacco Hornworm Pattern by Jenna Wingate Designs
We've seen lots of cute and cartoonish amigurumi worms, but this realistic Tobacco Hornworm is something totally unique! This lifelike crochet worm would make a special gift for a nature lover or insect enthusiast.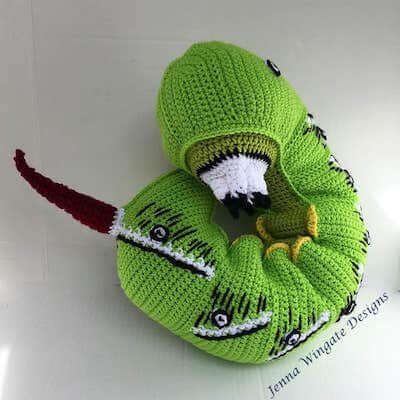 Get the Pattern by Jenna Wingate Designs here

8. Crochet Glow Worm Pattern by Crocheted By Kali C
This is a beginner-friendly pattern that makes a thoughtful DIY gift. The little glow worm with a nightcap makes a snuggly bedtime toy for a baby or child.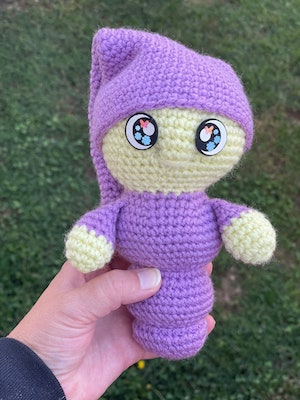 Get the Pattern by Crocheted By Cali C here

9. William, The Worm Crochet Pattern by Yarn Hook Needles
A huggable crochet worm is perfect for a summer project, don't you think? As you can see, William the Worm is large and this is what I love most about him!

This pattern is so simple. As long as you can complete a HDC (half double crochet) stitch then you can most certainly make William!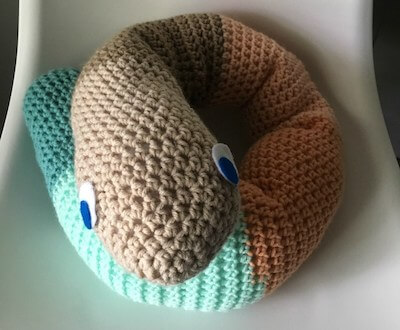 Get the Pattern here

10. Harry, The Worm Crochet Pattern by Bvoe 668
Now here is a worm I wouldn't mind seeing around my garden! He won't eat any plants. He is done all in single crochet and is a full 28″ inches long from head to tail and is a snap to make up. He will make a very colorful addition to a child's room and if made with safety eyes, he is okay for young children to play with.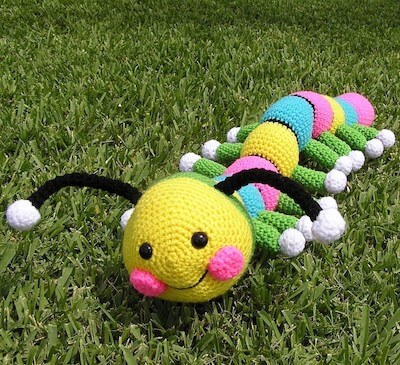 Get the Pattern by Bvoe 668 here

11. Shuttle, The Shongololo Crochet Pattern by Projectarian
Shuttle, the Shongololo is a species of millipede who live on and consume mineral-rich meteoroids in parts of the galaxy where the rocks are densely packed in asteroid clouds. They have very long bodies in order to stretch across space and move to a new meteoroid when the food runs out on their current rock.
Shuttle is a customizable millipede amigurumi, whereby you can make your critter as long or as short as you please (like a pill bug)! There is also the option in this pattern to make Shuttle furry, if you're up for a fun challenge! The furry version is smaller and simpler, to preserve your sanity, but if you're feeling extra adventurous, you can make the full-sized version furry too!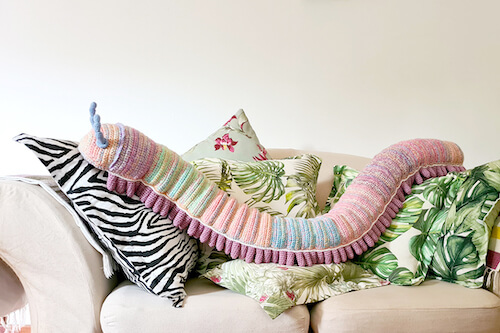 Get the Pattern here

12. Crochet Large Worry Worms Pattern by Natalia Kononenko
This worm is a "worry worm", designed as a fidget toy for anxiety relief or as a sensory toy. It can be made in different sizes so that anyone, child or adult, can keep one in their lap or their pocket to fidget with just like a stress ball. This is pattern that can be made by beginners.
Learn more about crochet worry worms here.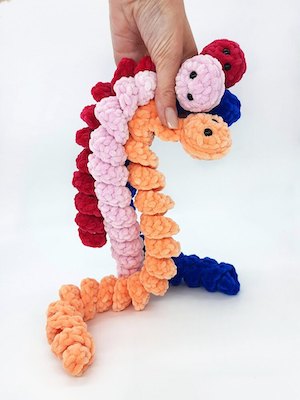 Get the Pattern by Natalia Kononenko here
THESE CROCHET WORM PATTERNS ARE TONS OF FUN FOR SOMEONE WHO ENJOYS THE CREEPY-CRAWLY THINGS IN LIFE!
Do you enjoy crocheting unique patterns like these? Then, take a look at these projects below:
We can't wait to see your creativity. When you complete one, please share it on our Facebook Page. We love seeing your work!

If you're looking for an interesting projects to make today, these crochet worm patterns will save the day!