People obsessed with HP Lovecraft will rejoice in the cosmic horror and soul-wrenching terror contained in these Cthulhu crochet patterns. The Great Old One is honored and will, perhaps, devour these Cthulhu-themed ideas, and the one who chooses to crochet them last. What awful things await the horror fiction fans who scroll below?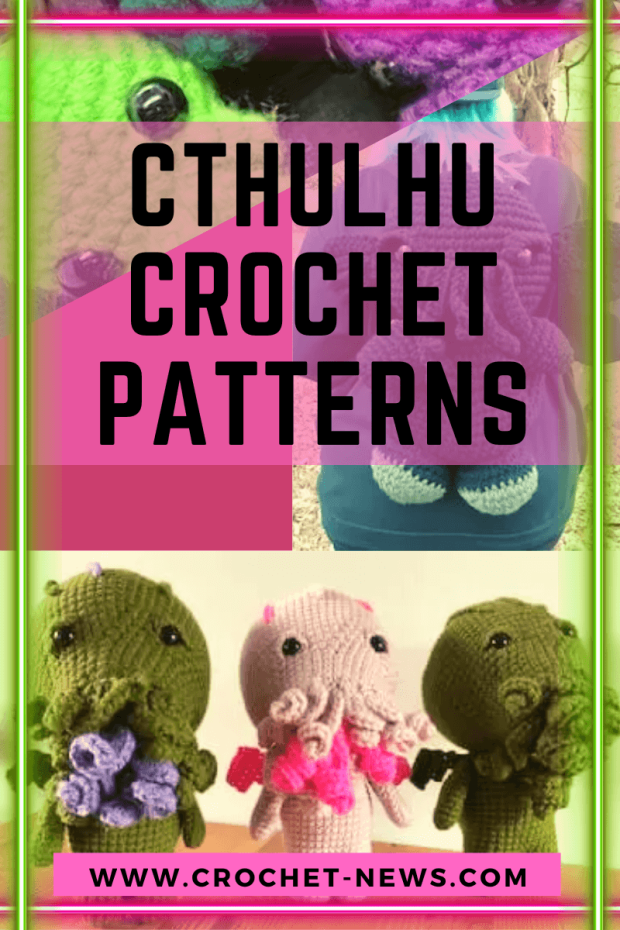 I'll admit I've never read the books, but I am familiar with some of the Lovecraftian world due to my brother's influence. I'll leave the serious Cthulhu to him, but I figured I could manage the cute stuff! Cthulhu himself is meant to be a dark and scary figure, but these Cthulhu-inspired pieces are anything but scary! Browse through to find plushies, clothing items, and even some stuff for babies (yikes!)!
15 Cthulhu Crochet Patterns

1. Mini Cthulhu Crochet Pattern by Supergurumi Shop
If you are personally averse to madness, you can crochet this small, much handier, much cuter and less vicious mini version yourself. Cthulhu is crocheted with chain stitches, slip stitches, and single crochet stitches in spiral rounds and in rows and is easy to crochet.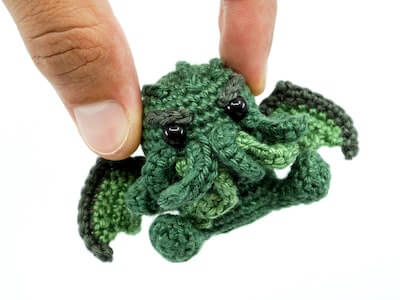 Get the Pattern by Supergurumi Shop here

2. Amigurumi Cthulhu Crochet Pattern by Blue Rabbit Toys
In the fictional universe created by turn of the century horror novelist HP Lovecraft, Cthulhu is a malevolent cosmic entity of horrific proportions, but this Amigurumi Cthulhu toy bring a different dimension to the godlike monster. This is soft and adorable, making him a cute addition to any toddler's stuffed animal menagerie.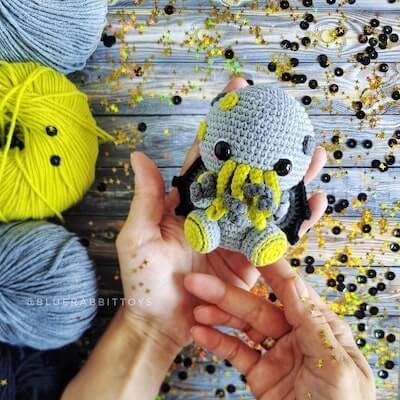 Get the Pattern by Blue Rabbit Toys here

3. Cthulhu Hat Crochet Pattern by Level Up Nerd Apparel
Heed the call of Cthulhu with this awesome piece! This crocheted hat is great in cold weather and for your next gathering with fellow fans of the Old Ones or any costume parties.
Get the Pattern by Level Up Nerd Apparel here

4. Dice Bag Free Cthulhu Crochet Pattern by Gamer Crafting Yarns
Why trust your dice to any holder? Put them in hands — or tentacles — of the Elder Gods! This striking (and roomy) Cthulhu dice bag will help you keep all those treasures right at your fingertips.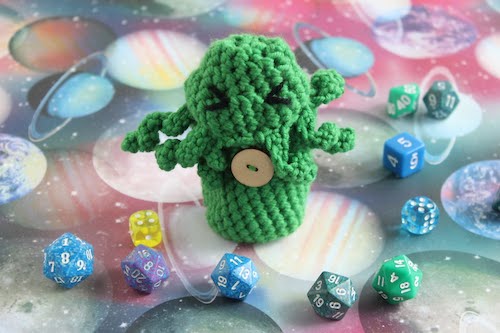 Get the Pattern here

5. Cthulhu Amigurumi Pattern by Outlaw Heart Creations
Break out your crochet hook and get spooky with this amigurumi Cute-thulhu playset pattern! Easy stitches make for a simple work-up and this play set is creepy cute at its' absolute finest! This playset includes Cthulhu, Necronomicon, Pool Floaty and Ice Cream Cone!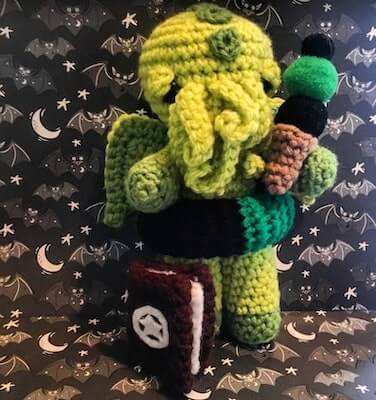 Get the Pattern by Outlaw Heart Creations here

6. Cthulhu Egg Cozy Crochet Pattern by Groaaar
Cthulhu isn't looking evil as he used to be when transformed into an egg cry. Look at his cute little wings! This Cthulhu Egg Cozy Crochet Pattern is a fun and quick project for your next breakfast or Easter brunch.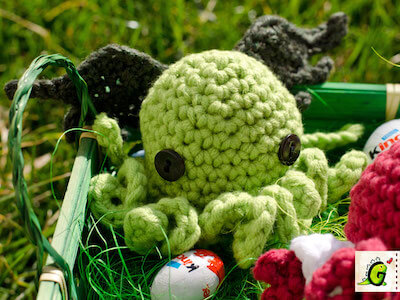 Get the Pattern here

7. Cthulhu Free Crochet Pattern by Strings & Things
Everyone needs a friend. Maybe everyone doesn't need Cthulhu as a friend, but some probably do! These adorable plushies are perfect for those people. Soft and good for cuddling or guarding your stuff — make one or two or a whole bunch of them!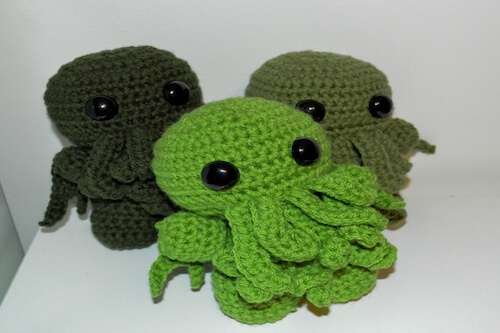 Get the Pattern here

8. Chunky Baby Cthulhu Crochet Pattern by Playful Knots
How can Cthulhu be cute? When he's a wee baby Cthulhu amigurumi! He's the perfect Halloween movie marathon companion, measuring at 13 inches tall when using the yarn listed in the pattern. Being super soft and squishy, all he wants is to be hugged.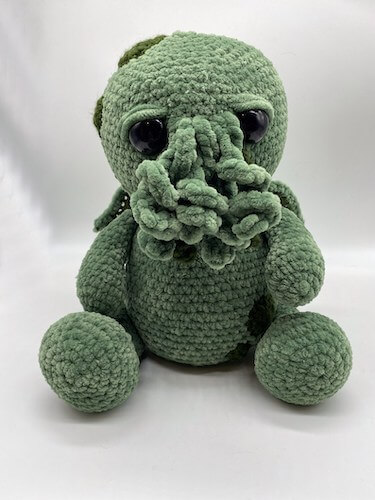 Get the Pattern by Playful Knots here

9. Cthulhu Ski Mask Crochet Pattern by Really Cool Crochet
These Cthulhu ski masks tickle the fashion sense with their tentacles—imagine it, but don't squirm! This is perfect garment to fight the chill of a harsh winter and also a way to prepare you for some type of Pirates of the Caribbean-like treasure chest heist.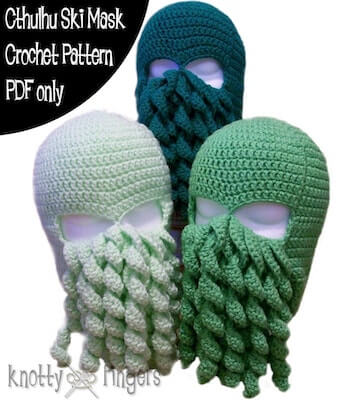 Get the Pattern by Really Cool Crochet here

10. Cthulhu Crochet Pattern by Crafty Intentions
This Cthulhu won't keep you awake all night with fear! This is a very cuddly representation of the Cthulhu depicted by H.P. Lovecraft. This figure can sit on a bookshelf with its legs dangling over the edge. A Cthulhu from this pattern is approximately 12 inches tall from head to foot, 12 inches long from back to fingertips, and 23 inches wide from wingtip to wingtip.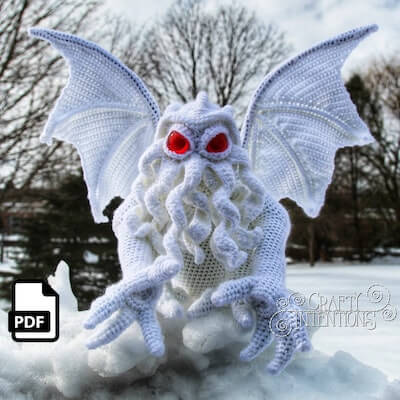 Get the Pattern by Crafty Intentions here

11. Cthulhu Keychain Crochet Pattern by Coop Creations SD
This Cthulhu keychain is the perfect sea monster companion on the go! Use it to guard your backpack, duffle bag, purse, keyring, or anywhere else you can clip it. This pattern is a great stash buster as it requires very little yarn!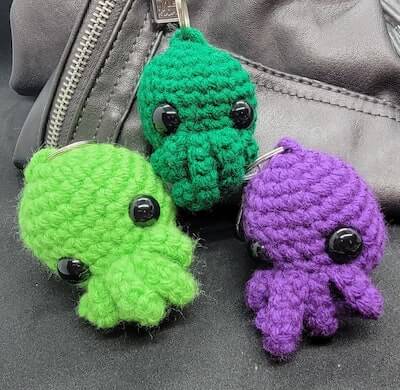 Get the Pattern by Coop Creations SD here

12. Cthulhu Backpack Crochet Pattern by Beautiful Arts N Crafts
Yet another horrendous distortion of the work of H.P. Lovecraft, this is the Cthulhu Backpack. May the Dark Ones themselves plague your dreams and devour your soul if you crochet this backpack created in the image of Cthulhu himself! The stomach/body of the bag is the compartment, only the head and limbs are stuffed.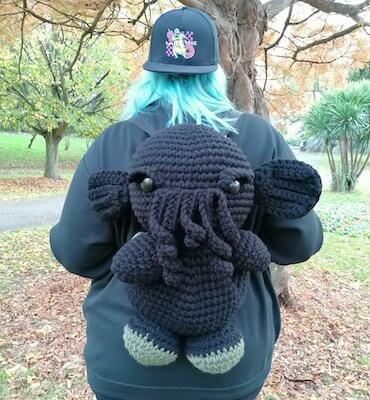 Get the Pattern by Beautiful Arts N Crafts here

13. Cthulhu Bib Crochet Pattern by Lesley Karpiuk
Every little geek needs at least one evil bib — and why not one whose tentacles will help catch the drool for you? This is a beginner's crochet project that requires 1 skein of cotton yarn to complete, using basic stitches.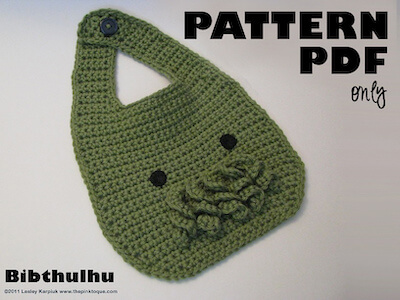 Get the Pattern here

14. Amigurumi Cthulhu Cowl Crochet Pattern by Mevlinn Gusick
Lovecraftians, rejoice! This cowl features an interpretation of Cthulhu, the most iconic of the Elder Gods of HP Lovecraft's novels. This is a truly evil, yet fashionable statement in keeping warm this season.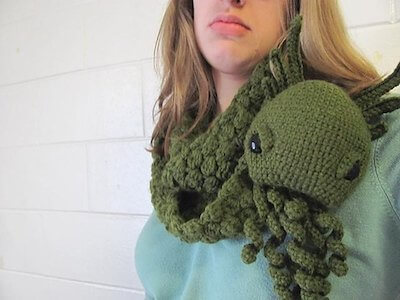 Get the Pattern by Mevlinn Gusick here

15. Crochet Cthulhu Pattern by Meigurumei
Cthulhu is here to become your new best friend! Cthulhu has an adorable personality that will be the best addition to your desk, bookshelf, backpack and even a travel companion if you'll allow!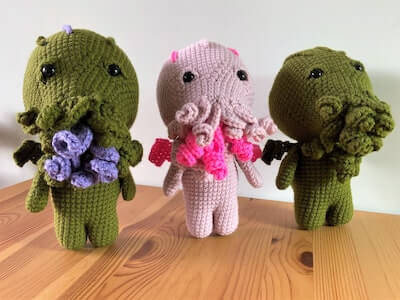 Get the Pattern by Meigurumei here
WITHOUT A DOUBT, THESE CTHULHU CROCHET PATTERNS WILL GRANT ETERNAL HAPPINESS TO ANY LOVECRAFT FAN.
When you're done creating your own adorable Cthulhu, please share the progress pictures on our Facebook Page. We'd love to see your finished projects!

 Check out our huge of collection of amigurumi patterns which includes your favorite movie characters and superheroes! Minions, Baby Yoda, Paw Patrol, Elmo, Captain America, Superman, Mario Bros, Snoopy, Totoro, and more!

Halloween or not, horror fan or not, let's appreciate these Cthulhu crochet patterns that are unspeakably great tributes to the Sleeping God. Happy crocheting!