By now, zombies have become a year-round fascination for a lot of people. While we're always down for a good zombie movie, we find that our kids get a lot more interested in the concept around Halloween, so I make sure you find a creative way to incorporate this theme into your crochet projects. Keep reading for a list of crochet zombie patterns that you can't go wrong with!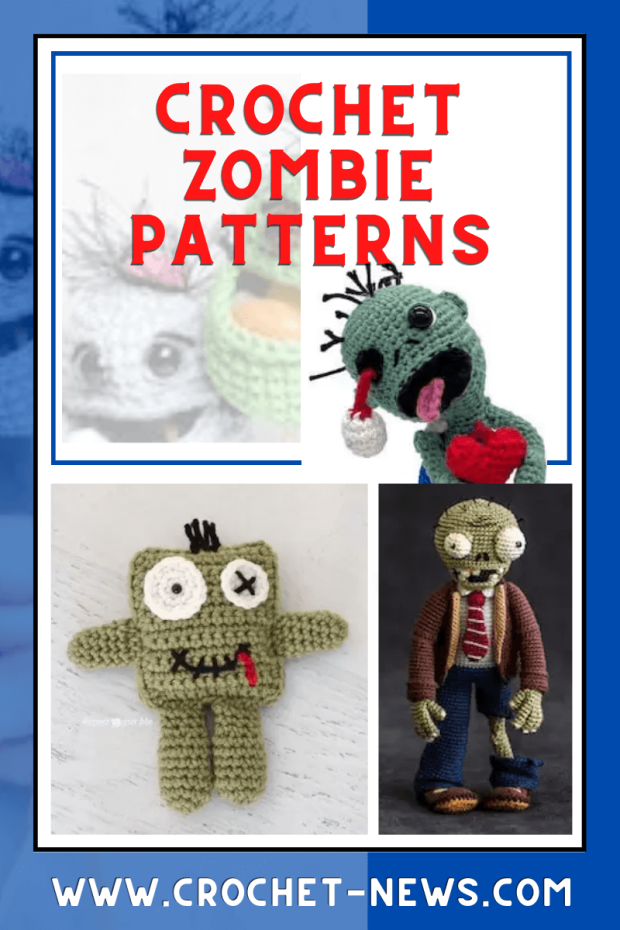 Halloween may still be a few months away, but that doesn't mean you can't start getting into the scary spirit. If you're looking for the perfect Halloween gift or decor, these crochet zombie patterns are sure to hit that sweet spot. Happy hunting!
10 Crochet Zombie Patterns

1. Crochet Zombie Pattern by Hooray It's Crochet
Meet Fred. He's heard that Valentine's Day is coming and he wants to give you his heart—literally. This cutie dead Zombie would make a wonderful present for your significant zombie loving other. Why send flowers or candy when you can create a present that comes from the heart? This amigurumi zombie can be used for Valentine's Day or for any occasion that you want to share your love.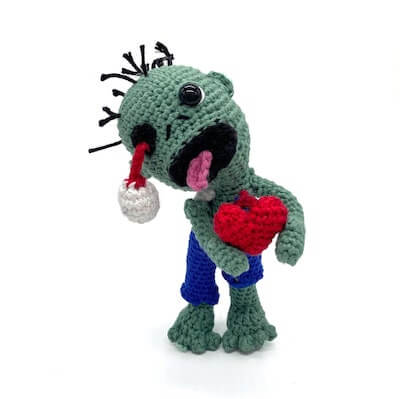 Get the Pattern by Hooray It's Crochet here

2. Friendly Crochet Zombie Doll Pattern by Repeat Crafter Me
If you are a fan of The Walking Dead TV show or you just happen to like zombies then I think you might like this crocheted zombie! Unlike typical zombies who are mindless, reanimated corpses with a hunger for human flesh, this little guy is very friendly and likes to snuggle.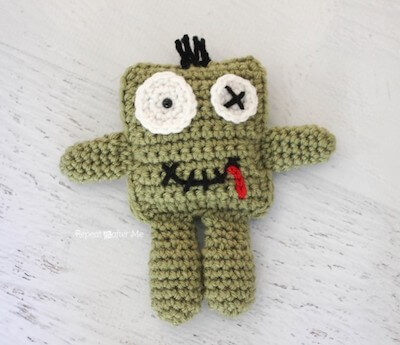 Get the Pattern here

3. Free Zombie Crochet Pattern by Spin A Yarn Crochet
Get in the spooky spirit by adding this creepy-cute zombie to your amigurumi collection this Halloween! With textured brain detailing, exposed bone, and hanging eyeball, he'll be the cutest zombie you come across this year!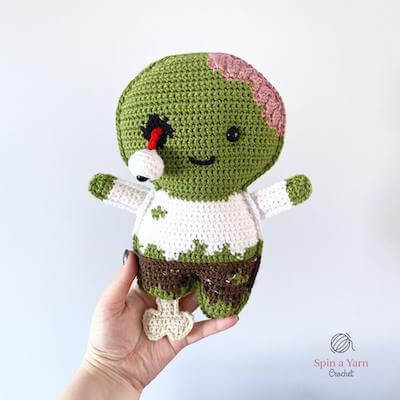 Get the Pattern here

4. Crochet Zombie Hat Pattern by Semi Sweet Crafter
Who doesn't love a gross, creepy, adorable zombie! This awesome Zombie Hat features a grossly hanging eyeball, a mouth full of gnarly chompers, and more fun than any hat should be! This hat is a perfection as gift to a zombie fan, a costume topper on a cold Halloween night or just a really fun winter hat!
Get the Pattern by Semi Sweet Crafter here

5. Crochet Zombie Couple Pattern by On A Whim Crochet
Meet Graa-aar and Err-rrr! These ghoulish yet adorable zombies are just the right touch to add to your collection of the weird and wonderful. Between the two zombies, you can mix and match the features, along with several notations for additional embellishment ideas. From severed arms to spilling intestines and dislocated eyes, you can customize your zombies just how you like them!
Get the Pattern by On A Whim Crochet here

6. Crochet Zombie Head Sweet Holder by Fibita
Gross out every trick-or-treater that makes it to your doorstep this Halloween by giving them one of these treats. Just don't forget to put the sweets inside!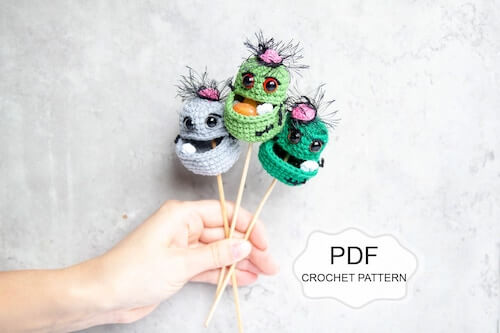 Get the Pattern by Fibita here

7. Crochet Amigurumi Zombie Fingers by Buddy Rumi
If you're plotting a Halloween party, you need one of these spooky fun Amigurumi Zombie Fingers! They're super quick to crochet and the perfect final touch for your handmade Halloween decorations!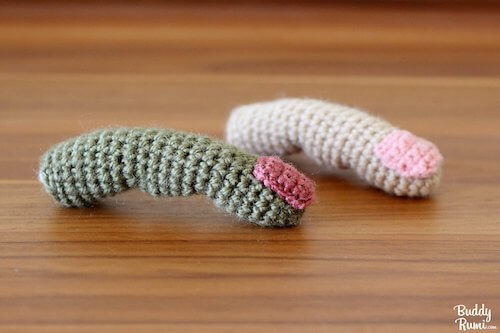 Get the Pattern here

8. Plants Vs. Zombies Crochet Zombie Pattern by Olka Novytska
Are you a fan of the game Plants vs. Zombies? Handy with a crochet hook? This Crochet Zombie Pattern will help you make one zombie character you'd surely love to keep instead!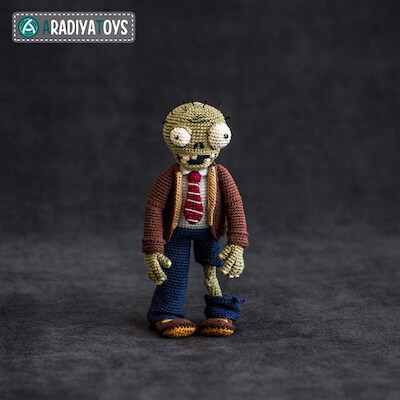 Get the Pattern here

9. Spike, The Zombie Cactus Crochet Pattern by Cara Engwerda
Spike, the Zombie Cactus is a whole lot of fun and a little bit spooky. It has brains, terrible teeth and a bone sticking out. A cute, Halloween-inspired design with just the right mix of kawaii!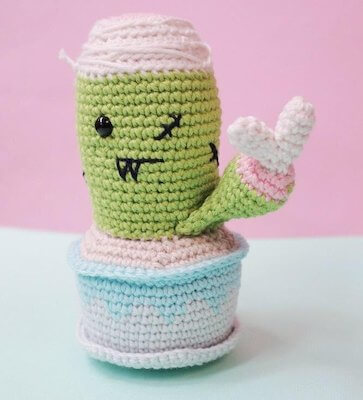 Get the Pattern by Cara Engwerda here

10. Crochet Zombie Bag Pattern by The Crochet Zombie
If you are looking for something cute for your kids on Halloween, then you have found the perfect thing. This crochet zombie bag is super easy to create and will bring kids so much spooky fun!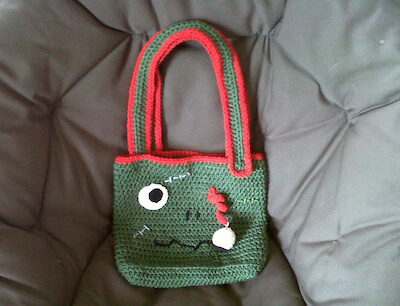 Get the Pattern here
IF YOU LOVE CRAZY THINGS, THESE CROCHET ZOMBIES ARE FOR YOU!
You could go so many different ways with these crochet zombie patterns — add tuffs of hair, change the outfit, cut off limbs, etc. I can't wait to see what you come up with! Share your makes on our Facebook Page.
If you're looking for more unique take on crochet that are murderously macabre rather than the usual cute and cuddly, check out these posts:
Are you tired of all the grotesque zombies? How about making these cute and whimsical crochet zombies? They will definitely bring a smile to everyone's faces!