If you like four-legged slimy creatures and looking for an easy spring project, these 33 Crochet Frog Patterns will easily bring spring to life!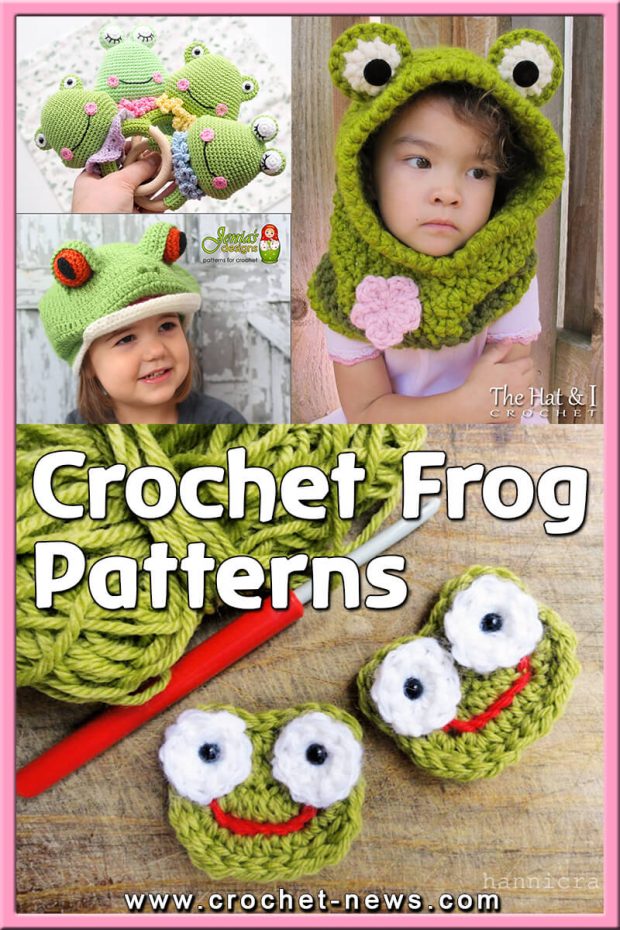 Frogs are amazing amphibians and they should be celebrated. If you're someone who's fascinated with these little green fellas, the patterns below are some inexpensive ways to please the frog-lover in all of us!
You'll find toys, hats, booties, and more. There really is something for everyone!

1. Crochet Frog Pattern by Yuki Yarn Designs
This is Fritz, the Frog. He is very flexible (especially his legs) and is fond of yoga. But he also loves to lay down and relax in the grass. Or even better… in your bed!
If done with DK/light worsted yarn and a 3.5 mm (size E) hook, the frog will be about 12.6″ / 32 cm tall, including stretched legs.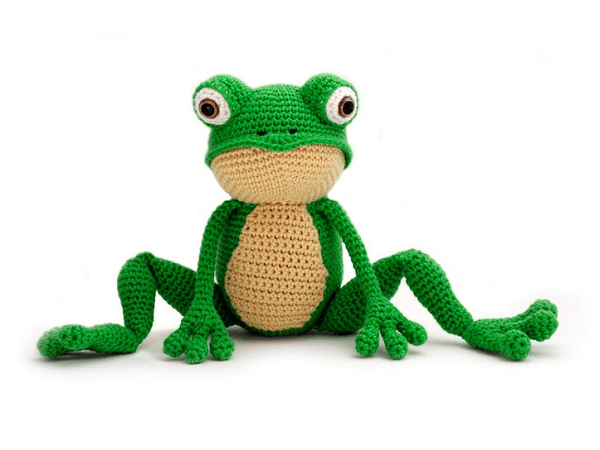 Get the Pattern by Yuki Yarn Designs here

2. Frog Coin Purse Crochet Pattern by Lau Loves Crochet
This Frog Coin Purse is absolutely adorable! This pattern is a wonderful addition to the family. the kids will love it and we're sure that it won't take long for the frog to be named either.

He is simply perfect for keeping all of those loose coins in. These are perfect to make for the kids as it will teach them how to save their money. It is also a great fashion accessory for them at the same time. All the kids at school will be wanting one soon enough.
For this pattern you will need to use a DK weighted yarn. The yarn pictured is Patons Smoothie DK in lime green.
You will also need a very small amount of black and white yarn to make the eyes of the frog.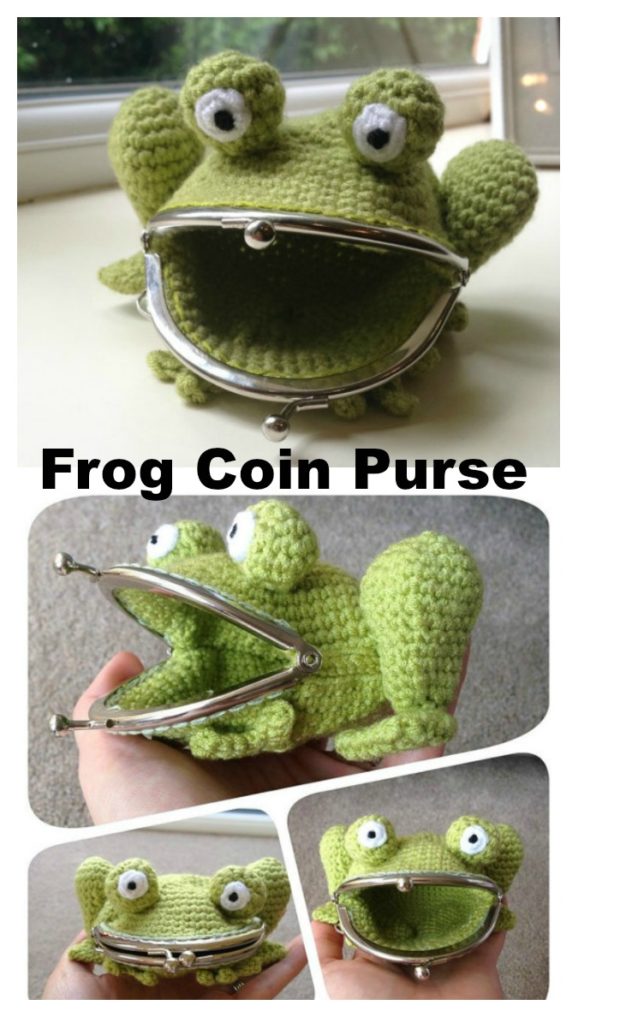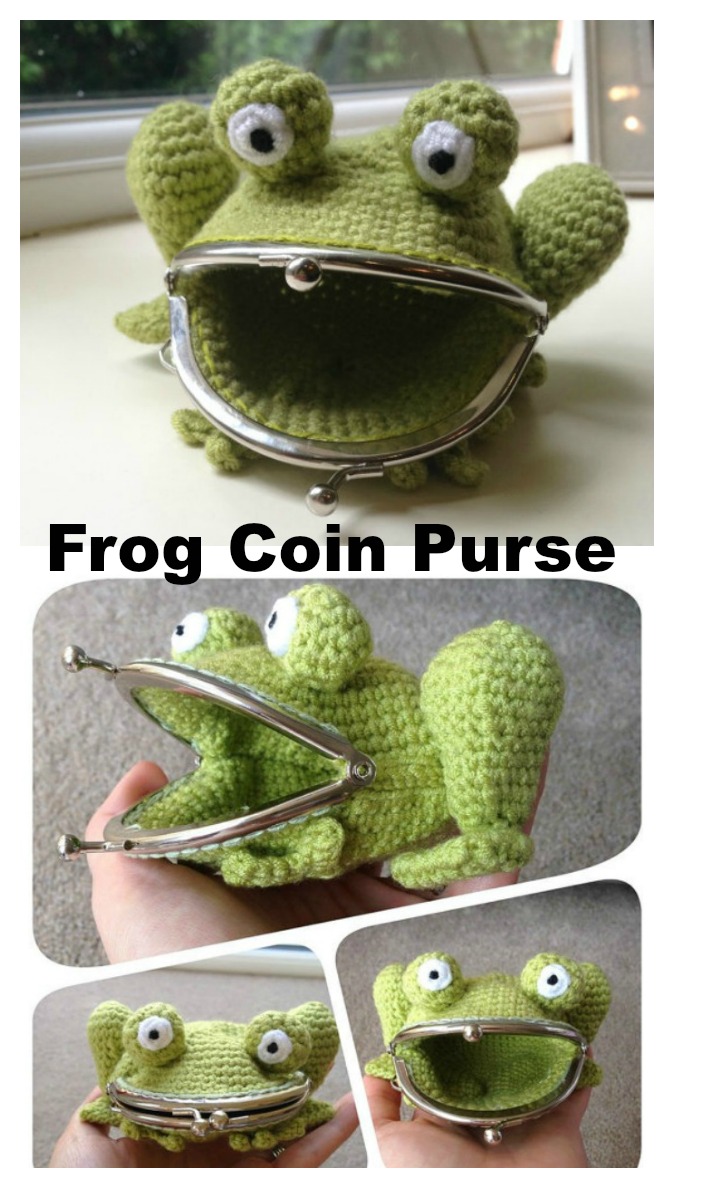 This patterns also calls for a purse clasp, in size 9cm x 6.3cm. You can purchase one here

Get the Frog Coin Purse Pattern here


3. Tiny Froggy Amigurumi Pattern by Amigurumi Space
You won't believe how easy it is to complete this Tiny Froggy Amigurumi Pattern. Make these adorable little guys for anyone who loves frogs!
You'll have so much fun making the first one that you may not want to stop. Luckily, you can make a bunch of frogs and toads in almost no time at all.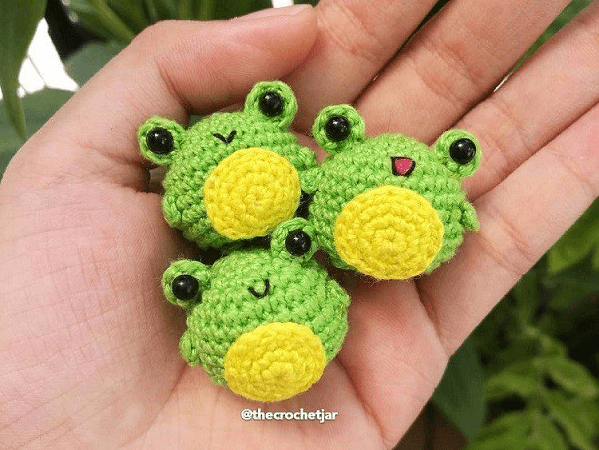 Get the Pattern here

4. Frog Bookmark Crochet Pattern by Supergurumi Shop
Frog lover in your life? Time to whip up this frog bookmark crochet pattern!
This hand-crocheted page marker will make everyone's reading even more fun. Super easy, super quick, and super adorable! What's not to love?!

Want to see more crochet bookmark patterns?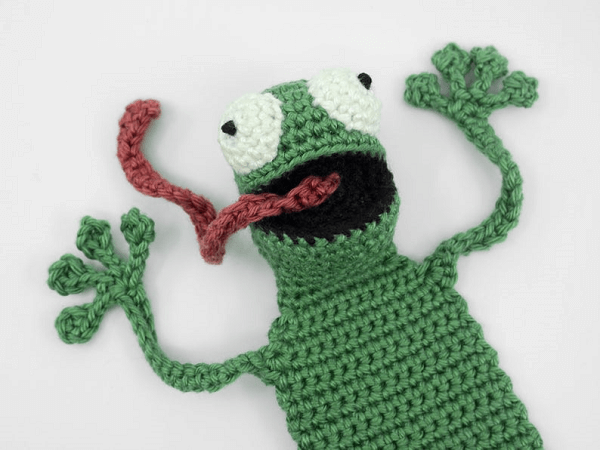 Get the Pattern by Supergurumi Shop here

5. Frog Baby Booties Crochet Pattern by Hopeful Honey
These little crochet booties will help keep even the tiniest feet warm! Ranging from size zero to six months you can help keep her warm and fashionable.
This is an easy crochet pattern to work up and why wouldn't you want to work it up? Plus these little baby booties would make a wonderful gift!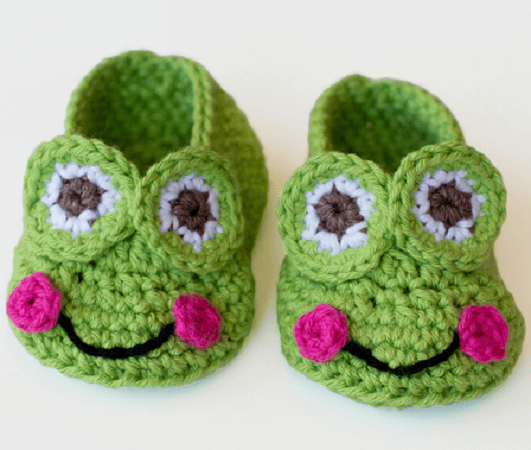 Get the Pattern here

6. Crochet Frog Hat Pattern by Repeat Crafter Me
If you need a quick and cute crochet project, this frog hat is the one for you! Because it basically only uses one color, it works up fairly fast.
This hat worked up in worsted weight yarn, features a frog's face and earflaps, perfect for staying warm in the winter's chill.
Available from sizes baby to adult, this crochet frog hat will make everyone smile.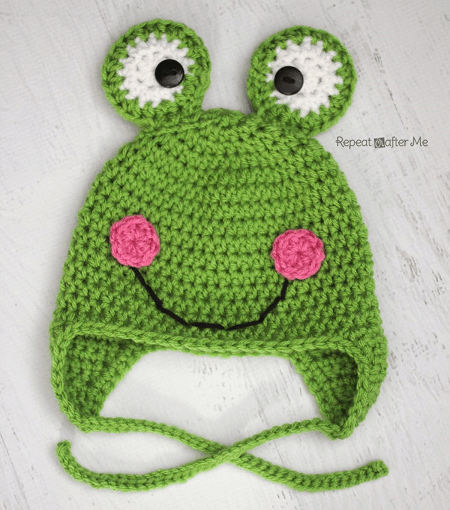 Get the Pattern here

7. Crochet Frog Baby Blanket Pattern by The Hat and I
The crochet frog baby blanket pattern is meant for beginners to intermediate crocheters. The tutorials and pdf's available are well presented and easy to follow so you don't have to leapfrog around while trying to figure it out.
On the whole, the only technical part of the crochet frog baby blanket pattern would be the tapestry, but again, the extensive tutorials have you covered there.
If you follow the instructions exactly as directed, you will be crocheting away like a pro in no time.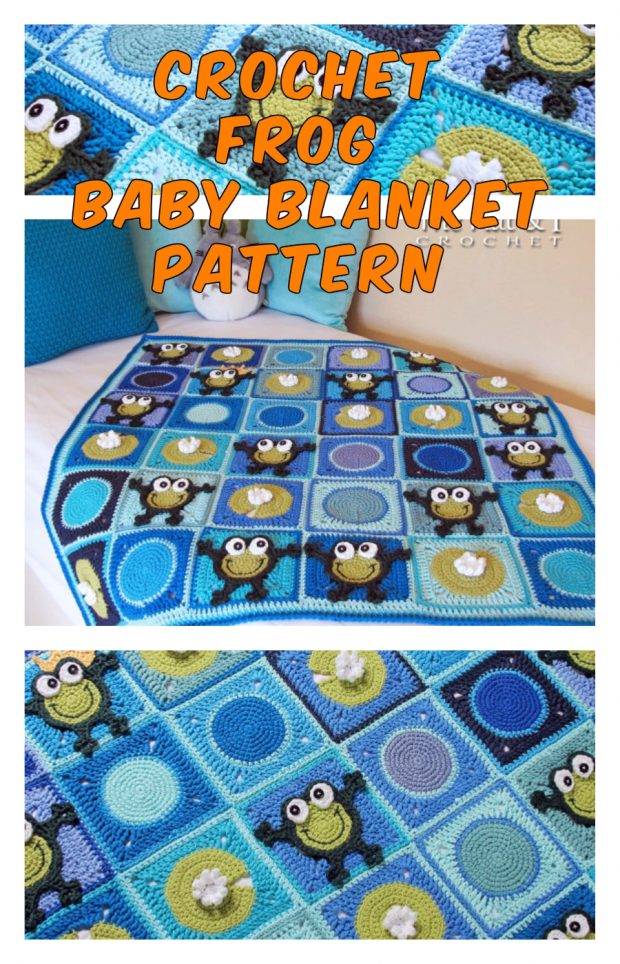 Get the Frog Blanket Pattern by The Hat and I Here

8. Prince Perry The Frog Amigurumi Pattern by Airali Design
With this crochet pattern, you can make your very own very handsome frog prince. Look at that smile! Isn't he cute?
If you're looking for something special to give as a baby shower or Valentine's present why not surprise your loved ones with an original handmade gift?
You can crochet your own cute Prince Frog! The perfect gift for your special one! Just give it a little kiss!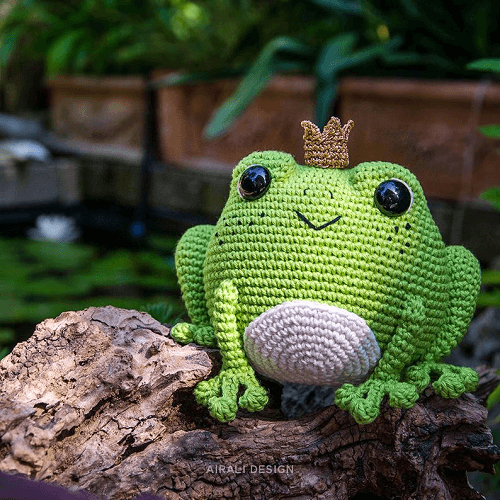 Get the Pattern by Airali Design here

9. Hooded Crochet Frog Blanket Pattern by Crafty Kitty Crochet
Hop into this fun, cute, frog hooded blanket crochet pattern – it's the perfect gift for any frog lover!
Made using chunky yarn, the pattern works up quickly and is incredibly warm and cozy.
To top it off, the hood of the blanket has big frog eyes and some bashful blush – so this is the perfect combination of amigurumi and a cozy blanket!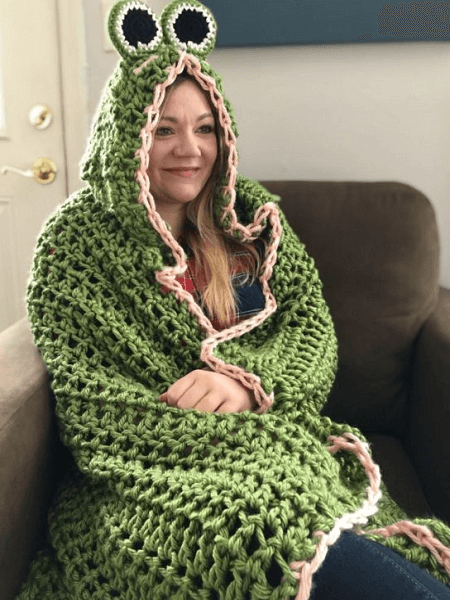 Get the Pattern here

10. Pistachio The Frog Pants Crochet Pattern by Ira Rott Patterns
Meet Pistachio, a funny little frog who likes to be silly and joke with his friends in the pond.
He has his adorable smiling face on the bum of these pants. Isn't it cute to see your little one wearing this as pajamas?
This frog pants crochet pattern comes in size newborn to 4-year old toddler.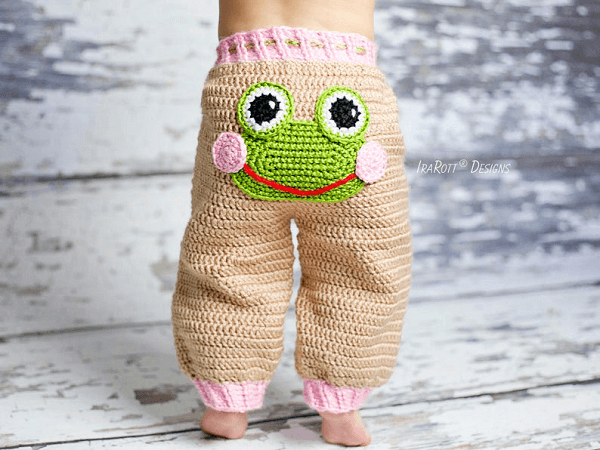 Get the Pattern by Ira Rott Patterns here

11. Crochet Ribbit Hat Pattern by Swellamy
This hat has a great personality and is so much fun to make! It is adorable in any shade of green and makes your little froggy look even more adorable! This pattern includes instructions for making the Ribbit Hat in sizes Newborn to adult.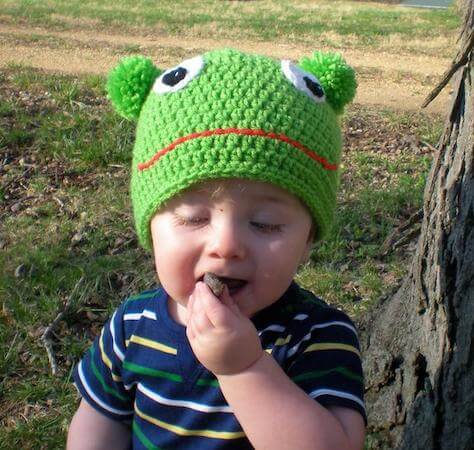 Get the Pattern by Swellamy here

12. Frog Hanging Basket Crochet Pattern by Stringy Ding Ding
Want a useful yet funny crochet pattern? Then you have to make this hilarious frog basket with this free crochet pattern!
A very original and funny basket that you can hang on the wall or furniture. The basket is with a frog motif – beautiful and very roomy. It's another fantastic project that is worth having in your home!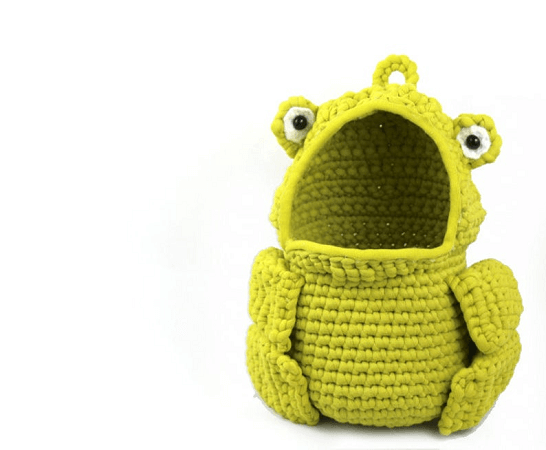 Get the Pattern here

13. Crochet Frog Rattle Pattern by R Nata
These little crochet frog rattles are great helpers and will be very happy to settle in every children's room. Your kids are gonna love them!
Crocheted with cotton yarn – these can be used as a rattle and a teether for babies to help develop grasp, coordination, attention and your baby can chew it for hours.
These cuties are great baby shower or birthday gifts for the little ones in your life!

More adorable Crochet Baby Toys and Rattle Patterns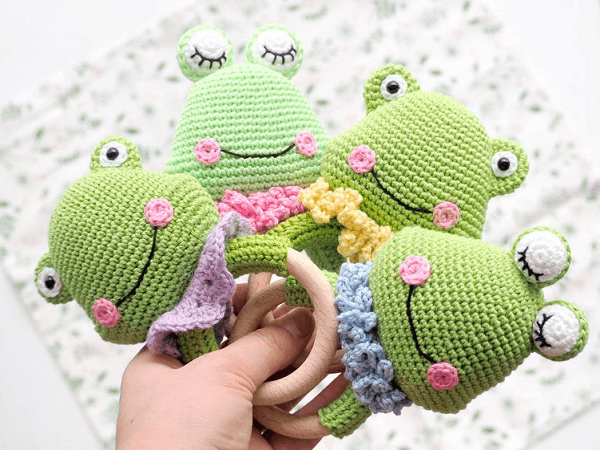 Get the Pattern by R Nata here

14. Tree Frog Hat Crochet Pattern by Jenia's Designs
This one-of-a-kind, fun, playful, and super cute Tree Frog Hat for Boys and Girls features an adorable character with realistic-looking frog features.
It's warm, fun, and practical. The pattern sizing accommodates ages from newborn to adult.
A great gift idea that is perfect for chilly days, picture time, and back to school.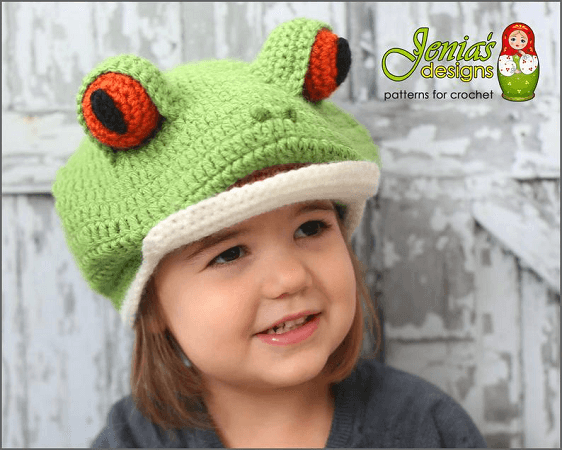 Get the Pattern by Jenia's Designs here

15. Crochet Frog Headband Pattern by Emma Crochet Design 4 U
What can be more interesting to make your own frog headband? The pattern fits both children and adults.
Learn how to create this quirky and adorable Frog Headband, a perfect way to brighten up a gloomy day!
It does not cost too much time to make it. It also can be a perfect handmade gift for your kids or friends.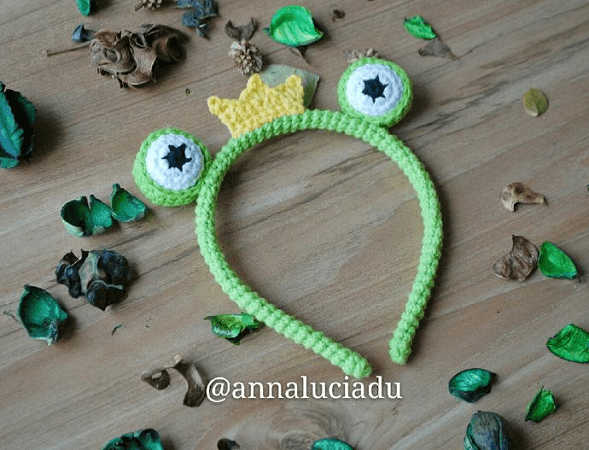 Get the Pattern by Emma Crochet Design 4 U here

16. Crochet Frog Applique Pattern by The Yarn Conspiracy
Make a crocheted frog applique that you can use for a wide variety of craft projects including card making, scrapbooking, craft embellishments, and sewing accessories.
This would be perfect to decorate skirts, blouses, sweaters, hats, scarfs, bags, gloves, baby clothes, children's clothes, accessories, cushions, pillows, home decor projects, etc.
This applique measures 6" x 5" and works up so quickly!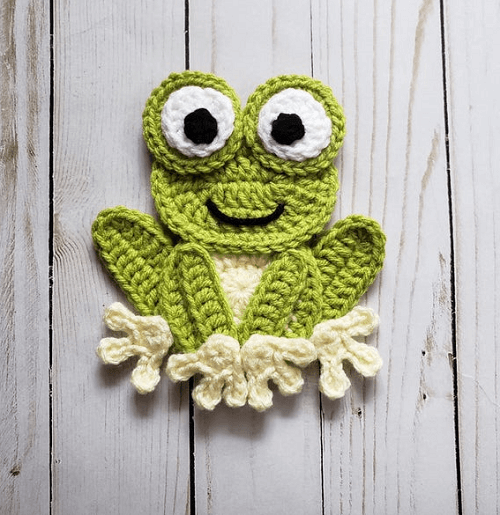 Get the Pattern by The Yarn Conspiracy here

17. Amy, The Frog Sun Hat Crochet Pattern by One And Two Company
This funny Amy the Frog Sun Hat is perfect from newborns to adults. This pattern includes 6 sizes, so you can make one for dad, for mom and your little one 🙂 It's perfect for summer for its cute brim. In this pattern you will find Girl & Boy versions.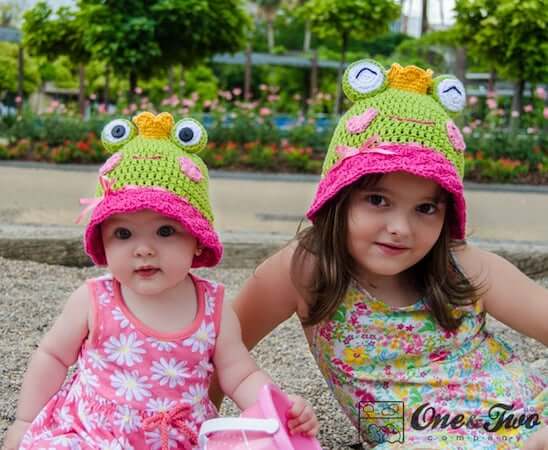 Get the Pattern by One And Two Company here

18. Mia, The Frog Free Amigurumi Crochet Pattern by Grace And Yarn
Meet Mia, the frog! She loves a high hopping adventure!
Mia measures about 13 inches tall and works up quickly. Her colors were chosen with Spring in mind but you can choose your own.
With this crochet frog, you're just a hop, skip, and a jump away from holding a cute softie in your hands!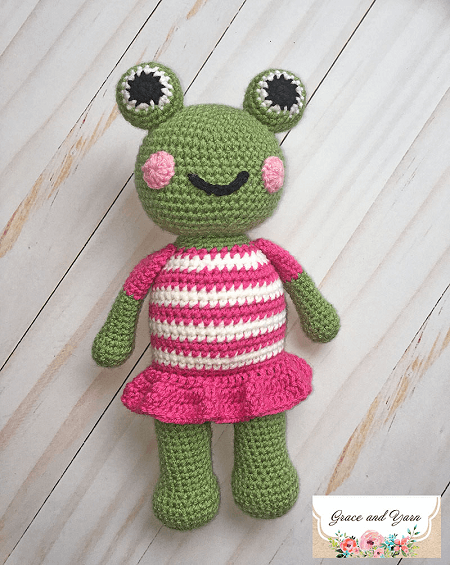 Get the Pattern here

19. Frog Hooded Cowl Crochet Pattern by The Hat And I
Get your frog on! A totally fun and functional hoodie that will add a little hop to your walk.
This frog hooded cowl crochet pattern includes three sizes: toddler, child, and adult. It's absolutely perfect to keep everyone's head and neck warm and cozy.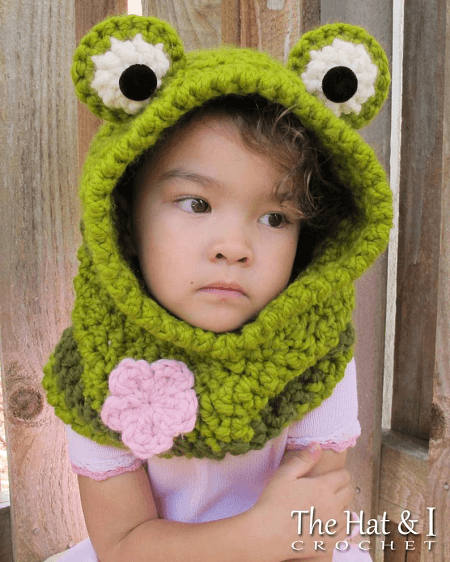 Get the Pattern by The Hat And I here

20. Five Green And Speckled Frogs Crochet Pattern by On A Whim By Lynn
Based on the "Five Green and Speckled Frogs" nursery rhyme, this fun activity toy features 5 adorable frogs, a small pond play mat complete with lily pads and bugs.
The log opens on one end to store your frogs and mat. So cute and hours of fun!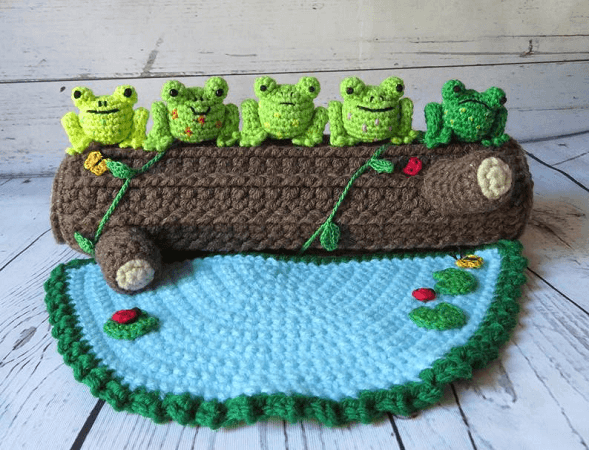 Get the Pattern by On A Whim By Lynn here

21. Frog Pillow Crochet Pattern by Anne Alster
Ths frog pillow is so adorable! Not only can your baby use it as a pillow, but they can play with it as a toy.
This whimsical pillow makes a great decorative accessory for a child's bedroom and it also offers comfort and companionship while riding in a car.
Made using acrylic yarn, the finished size of this pillow is about 37 cm (15″) in diameter and 15 cm (6″) in height.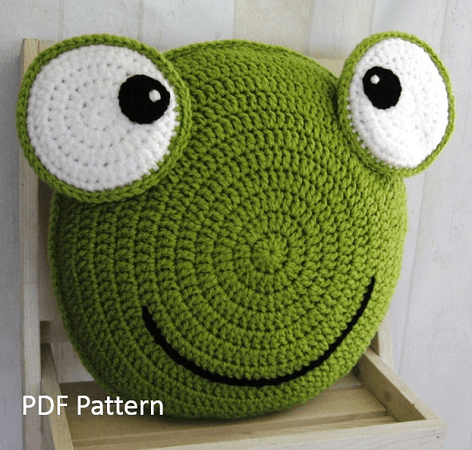 Get the Pattern by Anne Alster here

22. Frog Hat Crochet Pattern by Bailey Mille
Resting on Lily pads will look hard compared to this easy crochet hat pattern. Your bright frog hat will add a breath of freshness to your wardrobe just in time for spring. Helping you have fun and keep warm on the cool spring days and nights.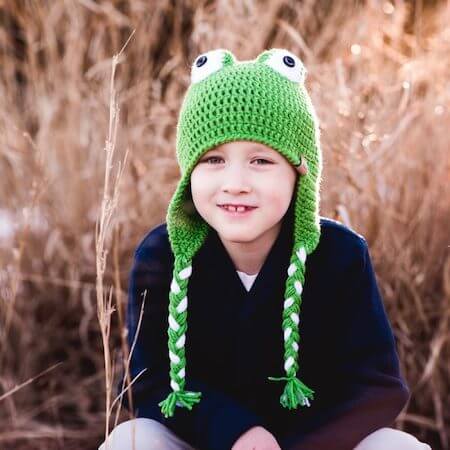 Get the Pattern here

23. Crochet Frog Purse Pattern by Deborah E. Burger
This Frog Purse, shown in shades of green, is a whimsical friend, sized for a child who may need to carry a pack of tissues, lunch money, etc. during the school day.
Made with simple crochet stitches, and then felted for a nice solid fabric, this adorable frog purse crochet pattern is surely a fun project.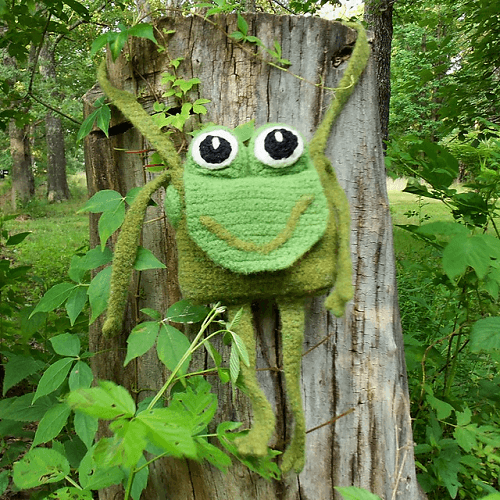 Get the Pattern here

24. Betty And Bob Frogs Amigurumi Pattern by Amigurumi By Guli
Meet Betty and Bob, the swimmer frogs. They are the perfect friends for your child, sweet and charming, you can customize it as you like.
These cute amigurumi frogs are also a fantastic gift for a nursery or even do it for you. Sure you will have fun making them!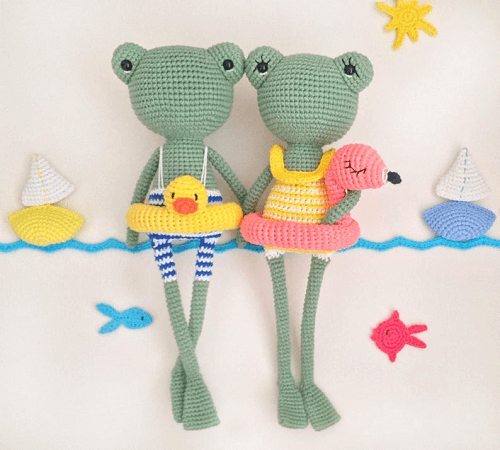 Get the Pattern by Amigurumi By Guli here

25. Crochet Frog Bucket Hats Pattern by Punk Crochetier
Make the perfect frog hat for a warm, sunny day! You can make a frilly, wavy, or flat brimmed hat. Feel free to experiment with different face designs to give your froggie hat a unique personality.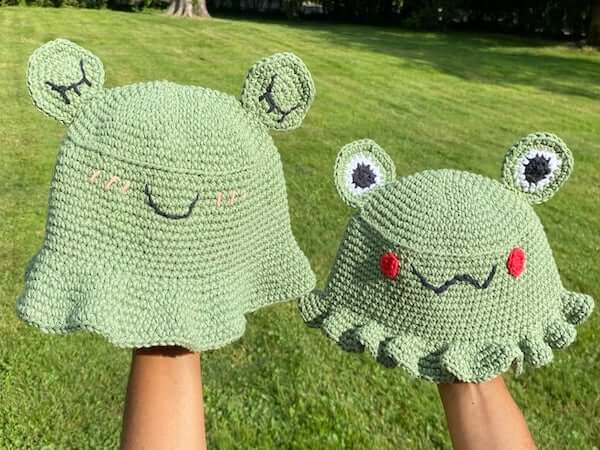 Get the Pattern by Punk Crochetier here

26. Fred The Frog Amigurumi Pattern by Il Dikko
Fred the frog, has a wireframe so he can stand on his own. You can bend his legs to make him sit in a variety of ways, you can have him dangle his legs, etc!
Green and orange yarn shades just make it look near-to-real. Plus, he comes with a cute blue scarf. Fred the frog is surely a fun treat for any frog lover in your life!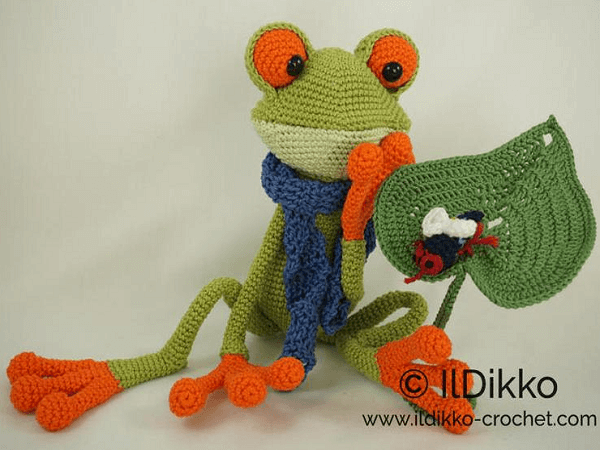 Get the Pattern by Il Dikko here

27. Crochet Frog Applique Pattern by Hanni Craft
Hook yourself a happy amphibious friend with this cute crochet frog applique pattern. A very easy pattern that is suitable for a beginner who is familiar with basic crochet stitches.
These fun fellows are made with DK weight yarn and a size G (4.00mm) crochet hook.
These handmade crochet frogs have many uses! You can sew them or stick them to hats, slippers, photo frames, books, in scrapbooks, or add them to your own handmade greetings cards.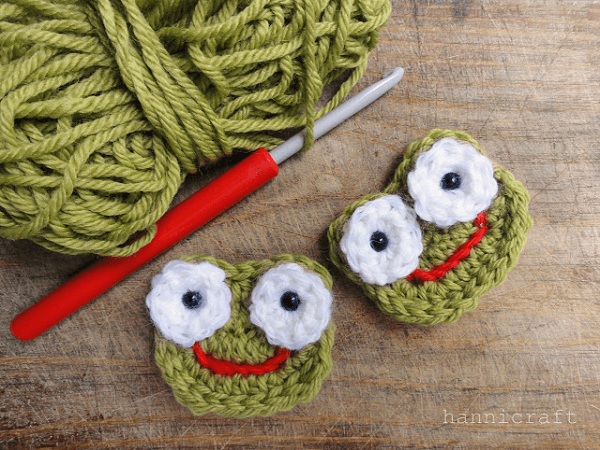 Get the Pattern here

28. Crochet Frog Coaster Pattern by The Hat And I
This crocheted frog coaster would look super sweet on a table, desk, in a kid's room, or anywhere else you'd like some company. It's big enough for a favorite mug or small morning bowl!
And just in case you happen to know any frog enthusiasts, this adorable coaster is also a perfect handmade gift for them.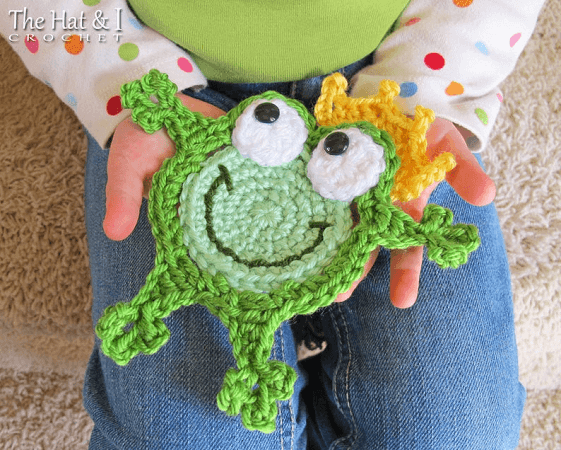 Get the Pattern by The Hat And I here

29. Frog Potholder Crochet Pattern by Hoooker
While this includes complete written instructions for the frog potholders, the pattern can also be used to make scarves, squares for blankets, etc.
Make these cute and whimsical crocheted frog potholders which measure approximately 7 inches square when finished. These are double thick potholders to protect your hands, counters, and table.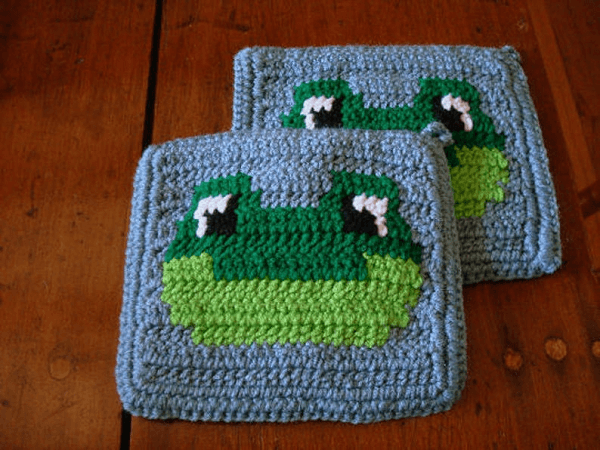 Get the Pattern by Hoooker here

30. Tree Frog Crochet Pattern by Kristi Tullus
This little tree frog is not too complicated to crochet, but it does have very tiny details and wire inside the legs, which are a bit fiddly to make.
But if you have some patience and enjoy working on small details, this tree frog crochet pattern is right up your alley.
The total size of this crochet frog will be 14 cm (or 5 1/2 inches) long, that's including the legs.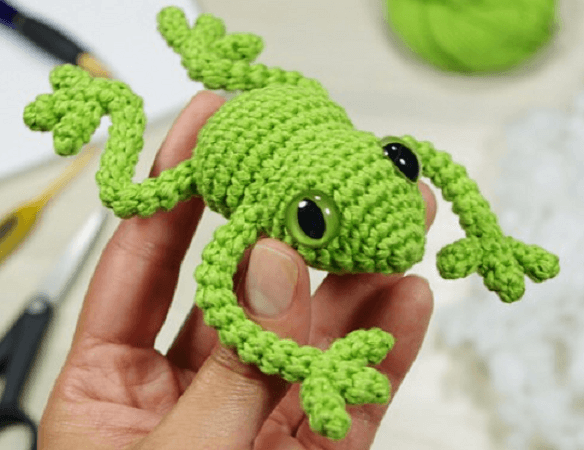 Get the Pattern here

31. Crochet Frog Hat For Pet Pattern by X Moon Bloom
Want to bring your pet to a party, but don't have a costume? This funny crochet frog hat will be a small highlight for you and your pet's evening.
This hat measures 9 inches long and 3 inches wide. This does not include the ties, which you can adjust to your desired length.
This will fit a cat, chihuahua, up to a medium-sized dog (ex: bulldog) by making the straps longer. It does look amazing on both cats and dogs!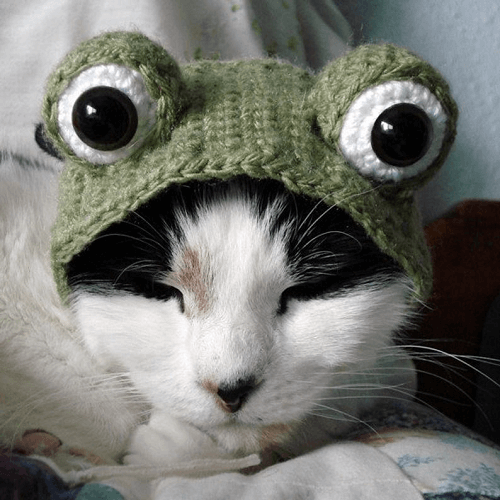 Get the Pattern by X Moon Bloom here

32. Crochet Frog Hat Pattern by Instructables
This is a very adorable and super easy frog hat crochet pattern. It works up really fast and is a great idea for last minute baby gift. You can add a cute bow or flower to make it a little feminine, or leave it just the way it is.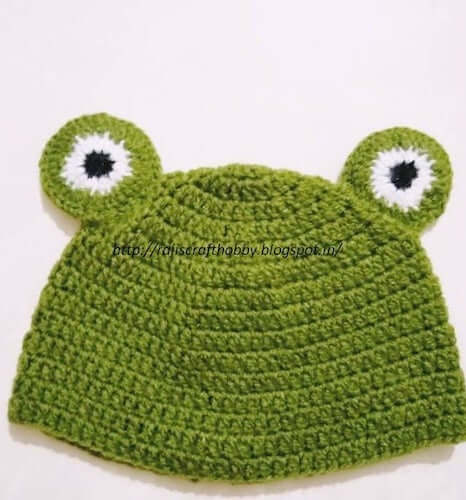 Get the Pattern here

33. Princess And The Frog Crochet Pattern by Sweet Potato 3
The frog hat and crown both come in sizes from newborn up to child. These work up quickly and would make an amazing Halloween costume for your kiddos! Make them individually for another adorable piece.

The frog hat features the big and bold eyes that are so distinct on a frog. The earflaps wrap around your little ones head to keep them nice and warm with the adorable addition of little frog feet at the end; your little one will be cute like kermit!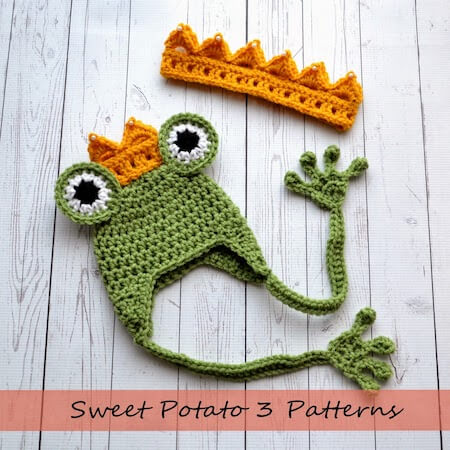 Get the Pattern here
There is really just something so adorable about these crochet frog patterns!
If you finished one, we would be so happy if you post a picture of your crocheted frogs to our Facebook Page.
And also, take time to browse all other patterns we have here. You will surely find something interesting to crochet next.
For now, let's make one (or all!) of these crochet frog patterns that are too good to ignore!