You've taken your tot to the petting zoo, but how do you teach them about species further flung? This list of adorable crochet axolotl patterns is the answer to your zoological concerns.
A super-sweet take on the limb-regenerating 'Mexican walking fish', they're hooked up in different colors, perfect for a nursery or home display!
I've been wanting to crochet an axolotl for a while now. They are so unique looking with their beautiful colors and gills around their head! What's not to love? I just think that they are so cute, too!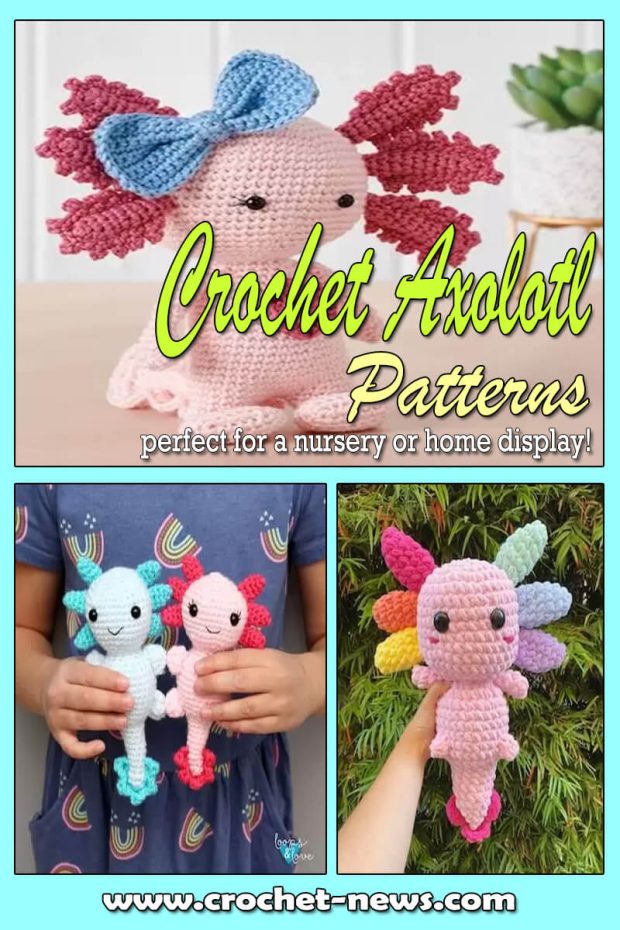 Unless you've been living under a rock, you know that the axolotl is the on-trend salamander. And our kids can't get enough of this colorful creature. They're unexpectedly cute and easy to care for, but if you aren't into getting the real thing, I have you covered with these crochet axolotl patterns.
15 Crochet Axolotl Patterns

1. Crochet Axolotl Pattern by Imagined Yarn
Axolotls are cute little Salamanders that like to swim, smile, and be your friend! So here is a pattern to make your own axolotl, in any yarn color!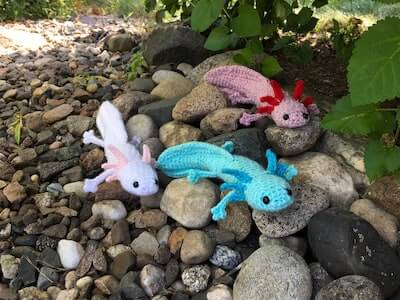 Get the Pattern by Imagined Yarn here

2. Alice, The Axolotl Amigurumi Crochet Pattern by Moji Moji Design
This pattern includes instructions for making three different versions of an Axolotl. It's your choice whether to go for a seated, vertical or horizontal style. Whichever way you make her pose you're bound to fall in love with the cute smile and wiggly gills that are Alice's famous and heartmeltingly cute characteristics.

Quick and easy to work up, you'll likely end up with a whole lotta little axolotls before too long!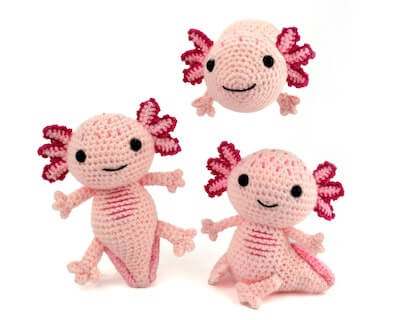 Get the Pattern by Moji Moji Design here

3. Amigurumi Axolotl Pattern by Gathered
Although this amigurumi looks like a finickity make, fussier details like the undulating gill edges and tail fin are crocheted separately and stitched on afterwards, meaning this little amphibian is easier than they look!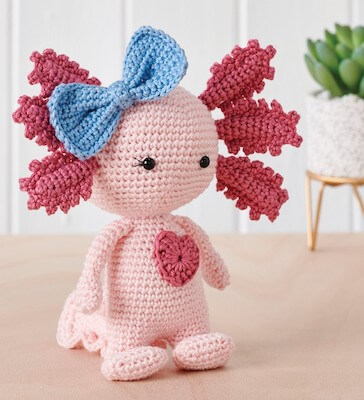 Get the Pattern here

4. Lex, The Axolotl Salamander Rug Crochet Pattern by Ira Rott Patterns
You will smile alotl just like an axolotl with this adorable rug in your room. The rug base is made using a single strand of super-bulky weight blanket yarn (6), the head ferns and tail edging are made from 2 strands of bulky weight velvet yarn (5), and the eyes are made from 3 strands of medium weight yarn (4). If you wish, you can use any super-bulky yarn (6) for the entire project.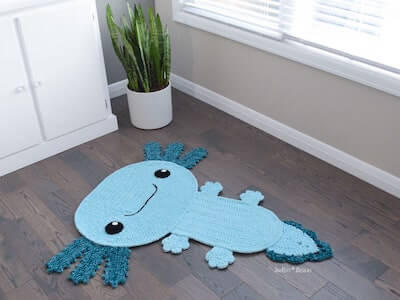 Get the Pattern by Ira Rott Patterns here

5. Pixel Axolotl Sweater Crochet Pattern by Officially Hooked Shop
This Pixel Axolotl Sweater is definitely going on my project list! There are four different sizes, but it can be altered. This pattern includes photos of different color schemes, I want to make it in all the colors!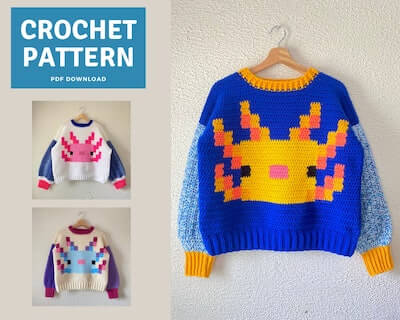 Get the Pattern by Officially Hooked Shop here

6. Baby Axolotl Crochet Pattern by Minigurumi
Here's a simple but adorable amigurumi pattern on how to crochet an adorable axotl. This project is perfect for beginners who are just starting out learning basic amigurumis or crocheters who want do a quick and easy project.
Get the Pattern by Minigurumi here

7. Amigurumi Free Crochet Axolotl Pattern by Loops And Love Crochet
This little axolotl amigurumi is such a sweet and fun project that can be made in many color combinations. For this axolotl amigurumi, the tail, body, and head are worked up in one piece from the bottom up. Then the legs, external gills, and tail fins are made separately and sewn on afterwards.

Measuring at only 5.5 inches tall, this axolotl amigurumi is the perfect size for a quick make that's great for gifting, cuddling, selling at a market, or just adding to your amigurumi collection!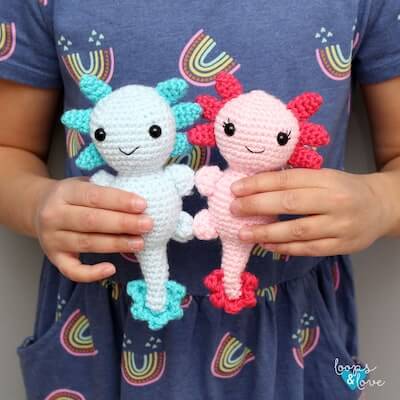 Get the Pattern here

8. Amigurumi Axolotl Crochet Pattern by Supergurumi
The axolotl, the Mexican terror of the deep, is not called "water monster" for nothing! A glance at his bloodthirsty grin immediately screams danger! This in nature maximum 30 cm long monster of the Mexican waters, you can now crochet for yourself in a much smaller, less dangerous version with this crochet pattern.

This crochet axolotl is exclusively crocheted with chain stitches and single crochet stitches in spiral rounds and row and is therefore perfectly suited for beginners.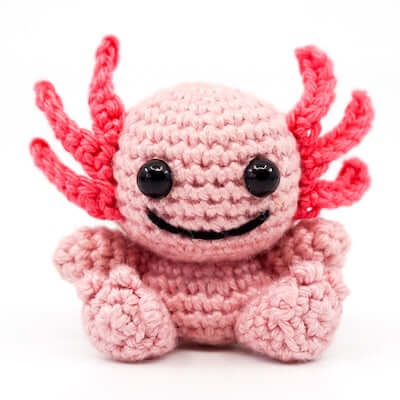 Get the Pattern here

9. Crochet Chunky Axolotl Pattern by Lenn's Craft
Here's an oversized Axolotl that can make the perfect companion, pillow, and hugging partner for you and your little one. This one is extra big and cute.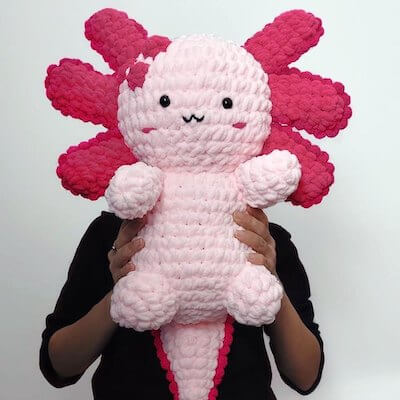 Get the Pattern by Lenn's Craft here

10. Crochet Velvet Axolotl Pattern by Katie Kitty Craft
Real Axolotls are insanely cool, but they aren't this soft and snugly and they aren't this huge. Luckily, this Velvet Axolotl plush is just as cute as the real thing!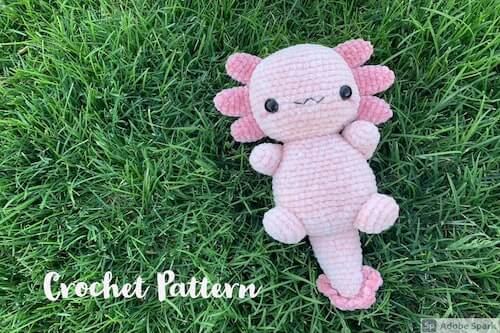 Get the Pattern by Katie Kitty Craft here

11. Crochet Axolotl Amigurumi by Knot Bad Ami
Inspired by mudkip, the cutest amphibian, the axolotl, but in pink! Cute and kawaii, this basic and beginner friendly DIY project is perfect for any crocheter and works with any type of worsted weight yarn.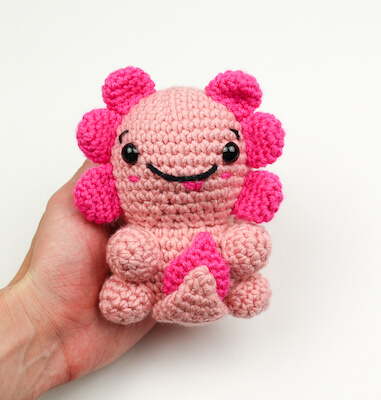 Get the Pattern here

12. Puffy Stuffy Axolotl Crochet Pattern by Erin Greene
There's something really fun about making a non-traditional looking animal even more non-traditional! The axolotl is already an interesting looking character, but to make him into a Puffy Stuffy Axolotl, with exaggerated features and sparkly yarn, is something so bizarre looking, it's adorable!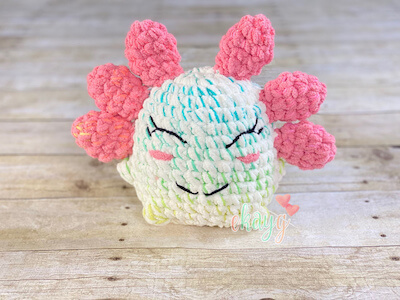 Get the Pattern here

13. Crochet Rainbow Axolotl Pattern by The Mary Jay
With this rainbow axolotl pattern, you can make your very own axolotl friend! Make it rainbow like the pattern or easily substitute the colors with your own favorites!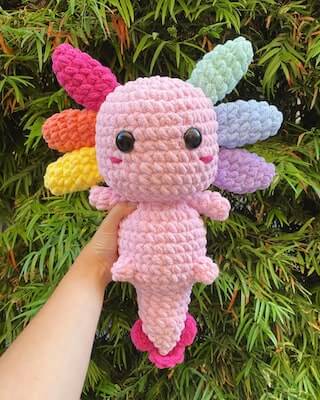 Get the Pattern by The Mary Jay here

14. Crochet Axolotl Applique Pattern by The Yarn Conspiracy
This axolotl applique can be sewn onto baby blankets, scarfs, afgans, anything you want. The appliques measure about: 8.5" x 7.5". You can adjust the size by using a different hook size and/or yarn.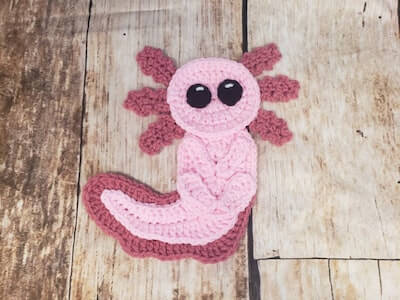 Get the Pattern by The Yarn Conspiracy here

15. Axolotl Crochet Pattern by Crochet Toys Workshop
This unique pattern is great, especially for Minecraft fans. The square head and rectangular eyes give it that pixelated look that is close to how axolotls look in the game.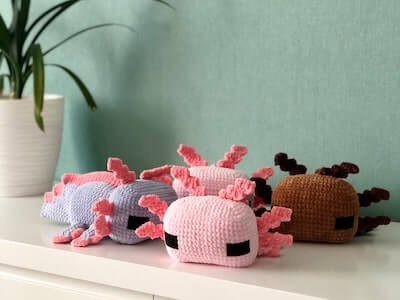 Get the Pattern by Crochet Toys Workshop here
CREATE YOUR OWN ADORABLE FINNED FRIEND WITH ONE OF THESE CROCHET AXOLOTL PATTERNS!
We'd love to see your finished work from the patterns we share. Post photos of your creations on our Facebook Page!
Would you like to crochet your own menagerie of stuffed critters? You'll definitely want to breeze through these collections to find your next project.
Now, what? Grab your hooks, unleash your creativity, and let's have a go at some of these crochet axolotl patterns!